Our Individual Plan is for individuals looking to keep track of their tasks and work. If you are interested in using only the most essential features of monday.com, this is the plan for you!
This article will walk you through all you need to know regarding the Individual Plan.
Included features
The Individual Plan includes the following features:
Main boards with limitations
The main boards are accessible and visible by all your team members. You can create as many main boards as you want however, the total amount of items you can create in your account is limited: you start off with 200 items and you can earn an additional 100 items for every person you successfully refer onto the platform.
The next part of this article will further discuss the limitations.
On the Individual Plan, you can utilize monday workdocs, a central place for you to brainstorm, plan, and execute your work and ideas. Check out this article to learn all about it.
You can communicate with your team members in context using the @mention. You can also create teams and manage all of your files through the updates section of each item.
You can use the filter located on each of your boards to sift through the tasks you are assigned to or find specific information within your board. You can learn more about it here. If you would like to filter across your monday.com account, you may need Search Everything which is only available on our Standard, Pro, and Enterprise plan.
The Files View allows you to see all the files uploaded to your board in one place. You can view them as a list or as thumbnails. From there, you can download the files, preview them, or open them in the update section where they were uploaded. To learn more about the view, check out this article.
Convert your boards into forms, send them to your contacts, and watch the submitted information roll in as new items. Click on the "All Views" tab to "Add View" to your board. Check out this article to learn more about it!
You can visualize the content of your board using the popular project management methodology known as Kanban! To learn how to use this feature, read this article.
On the individual plan, you can also take advantages of the apps that we offer in the monday apps marketplace!
With the Individual Plan, you have some limitations.
You can invite up to two members to your account.
If you're hoping to move from the free trial or a paid account to the Individual Plan, you must have 2 team members or fewer. To learn how to remove a user, check out this article.
You can't invite guests or viewers on this plan.
On the Individual Plan, you are limited to 200 items. You can have as many boards as you want in the account as long as the total number of items doesn't go over your item limit. To earn more items, you can invite your friends to try out the platform. Once they confirm, you will receive an additional 100 items.
Dashboards are a great way to display what's important in one place. With 15 widgets you can now understand project progress, track budget, estimate your teammates' workload, and much more! With the Individual Plan, you can create as many dashboards and widgets as you'd like. But each dashboard can only contain information from 1 board.
Most of the columns in the Column Center are available on the Individual Plan except the Formula and the Time Tracking columns. To learn more about our column choices, check out this article.
Managing limitations
How to manage my item limit?
To monitor your item limit, you can view your usage by clicking on your avatar: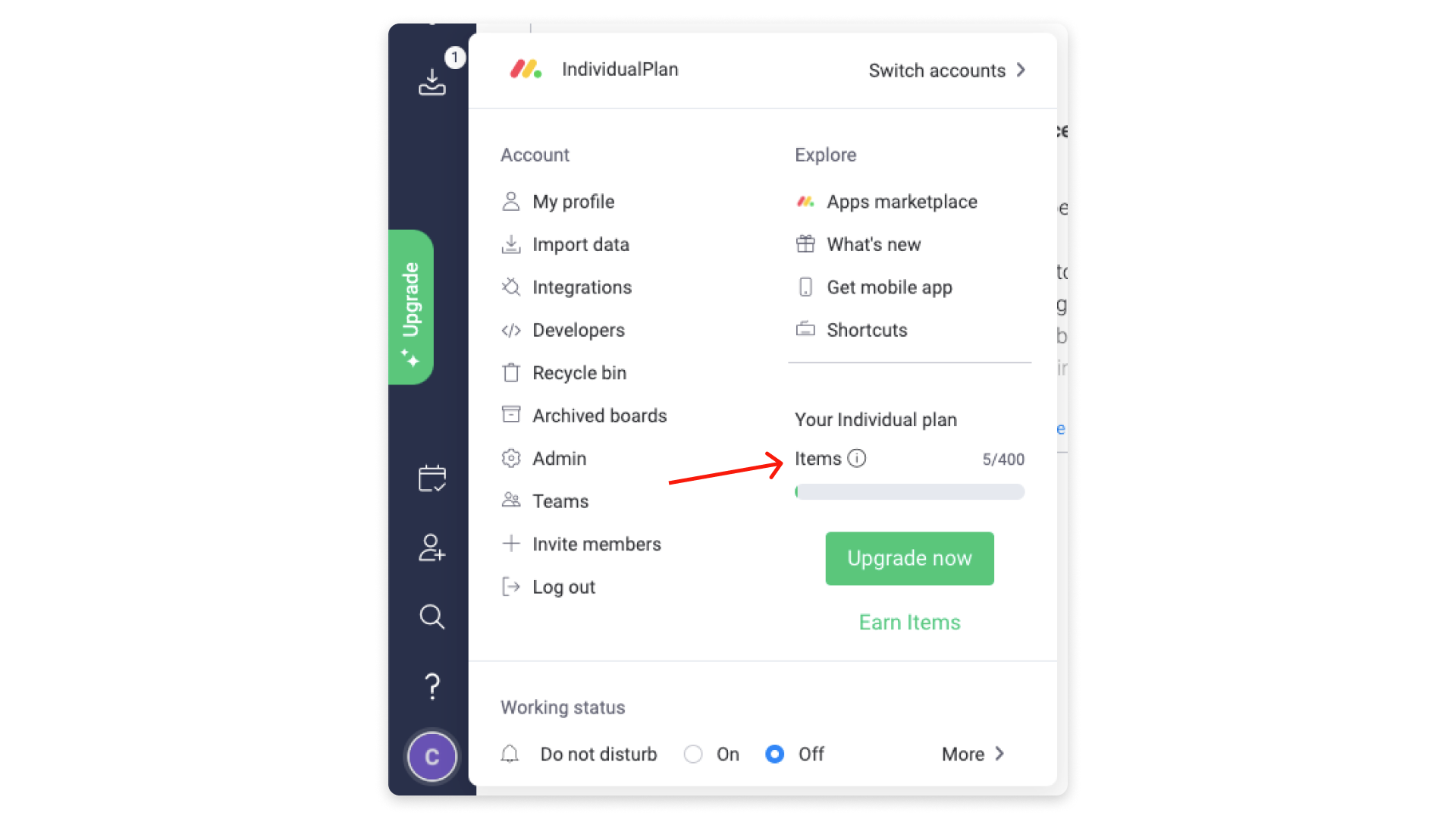 Alternatively, you can access the admin section of your account by clicking on your avatar and then "Admin" and then "Plan Details". You'll see a progress bar at the top of the page detailing your item usage:
Do archived or deleted items count towards my item limit?
Archived items do count as active items in your account since they can still be accessed at any time and restored. To read more about archiving items, check out this article.
Once an item is deleted, it will not count towards the item limit.
How do I earn items?
You can get 100 items for every person you refer to monday.com. To refer someone, click on your avatar located at the bottom left of your screen and select "Admin". Then go to "Plan Details" and click on "Let's do it":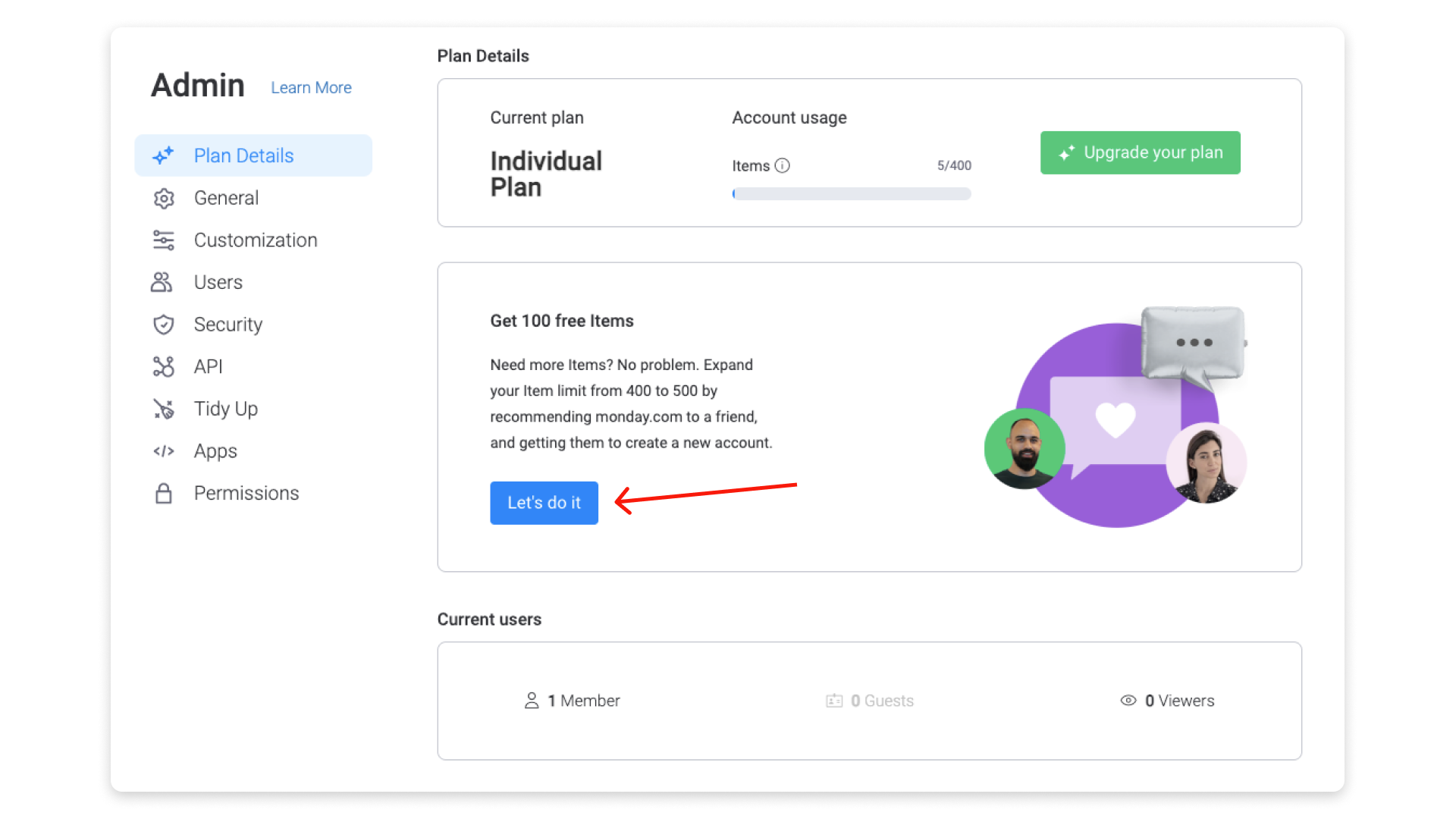 Next, you will see the option to share a link or send an invitation by e-mail:
You can also access this menu by clicking on your avatar and then "Earn Items":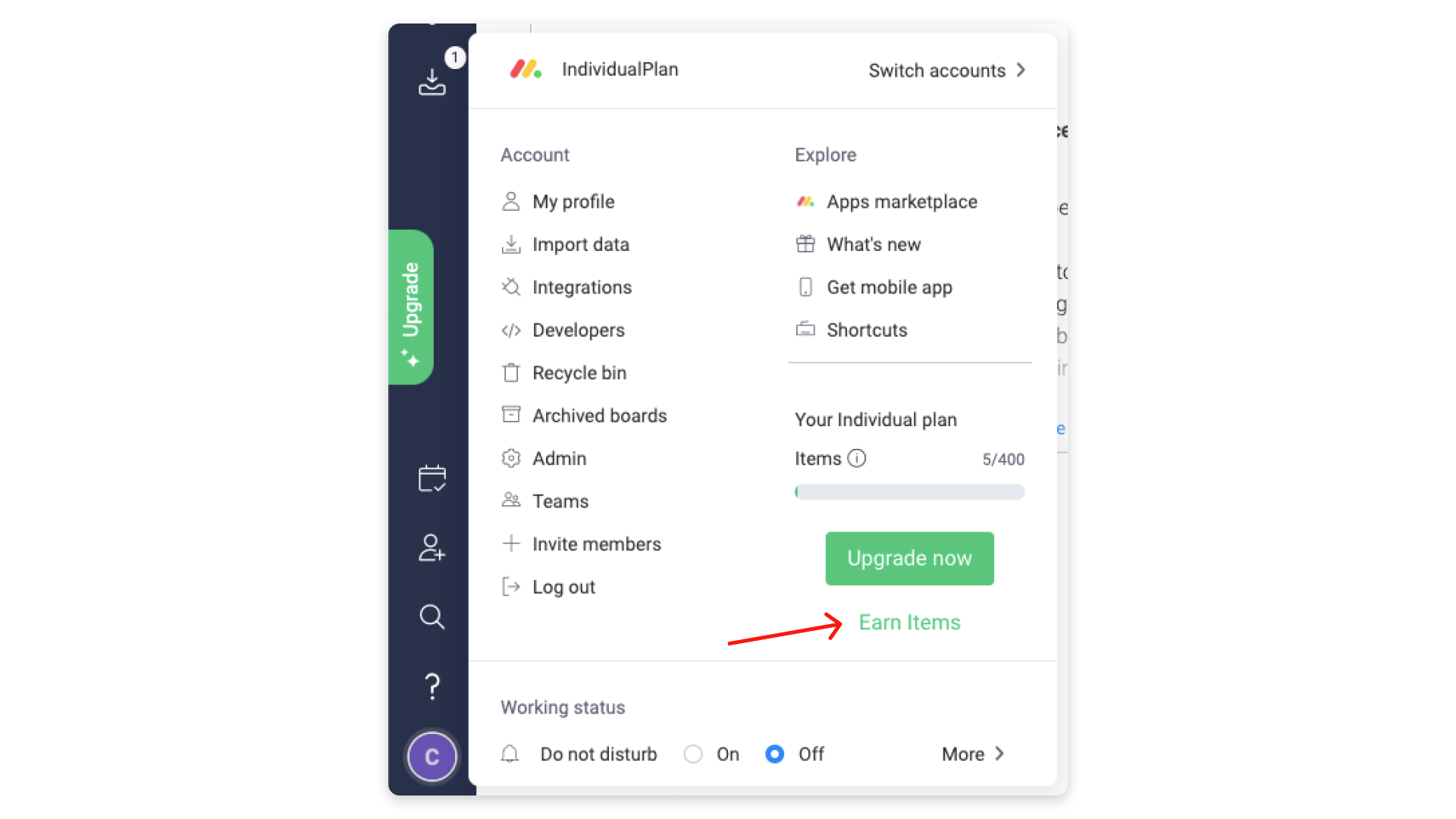 Once the person you invite signs up for their own account and verifies their email, you will receive the items. You can refer up to 8 accounts and get up to 800 additional items for a total of 1,000 items on the full account.
Note: When referring someone, none of your account information or content will be shared with that person. That person will not be part of your team in your monday.com account.
Test advanced features
If you'd like to try out some of our advanced features, you can unlock a 14 day trial. You can do that by clicking on an advanced feature and then selecting "Try for 14 days":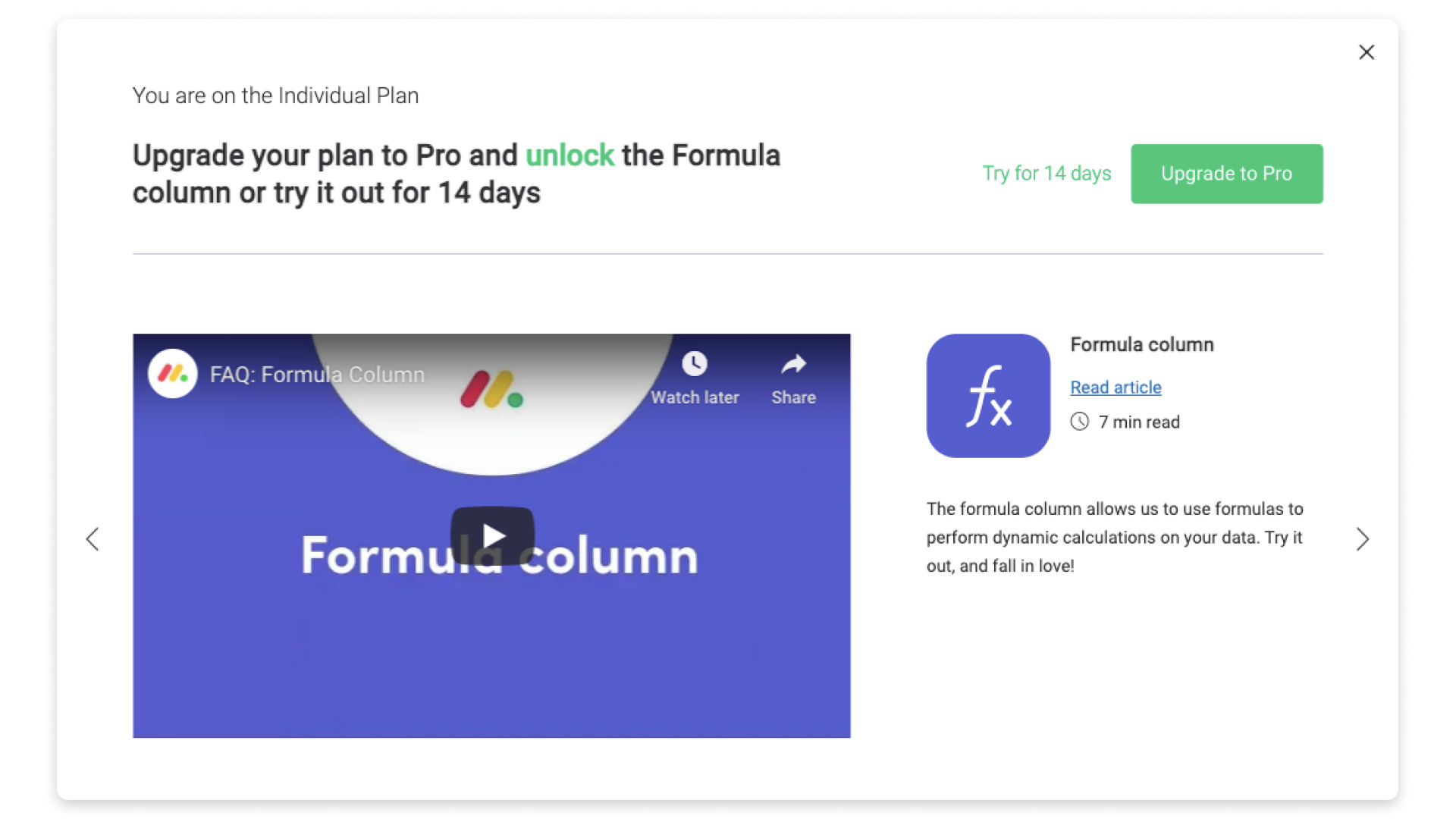 Upgrade to a paid plan
You can upgrade to a paid plan at any point! Click on your profile picture (avatar) and select "Admin". Then select "Plan Details" and click "Upgrade your plan":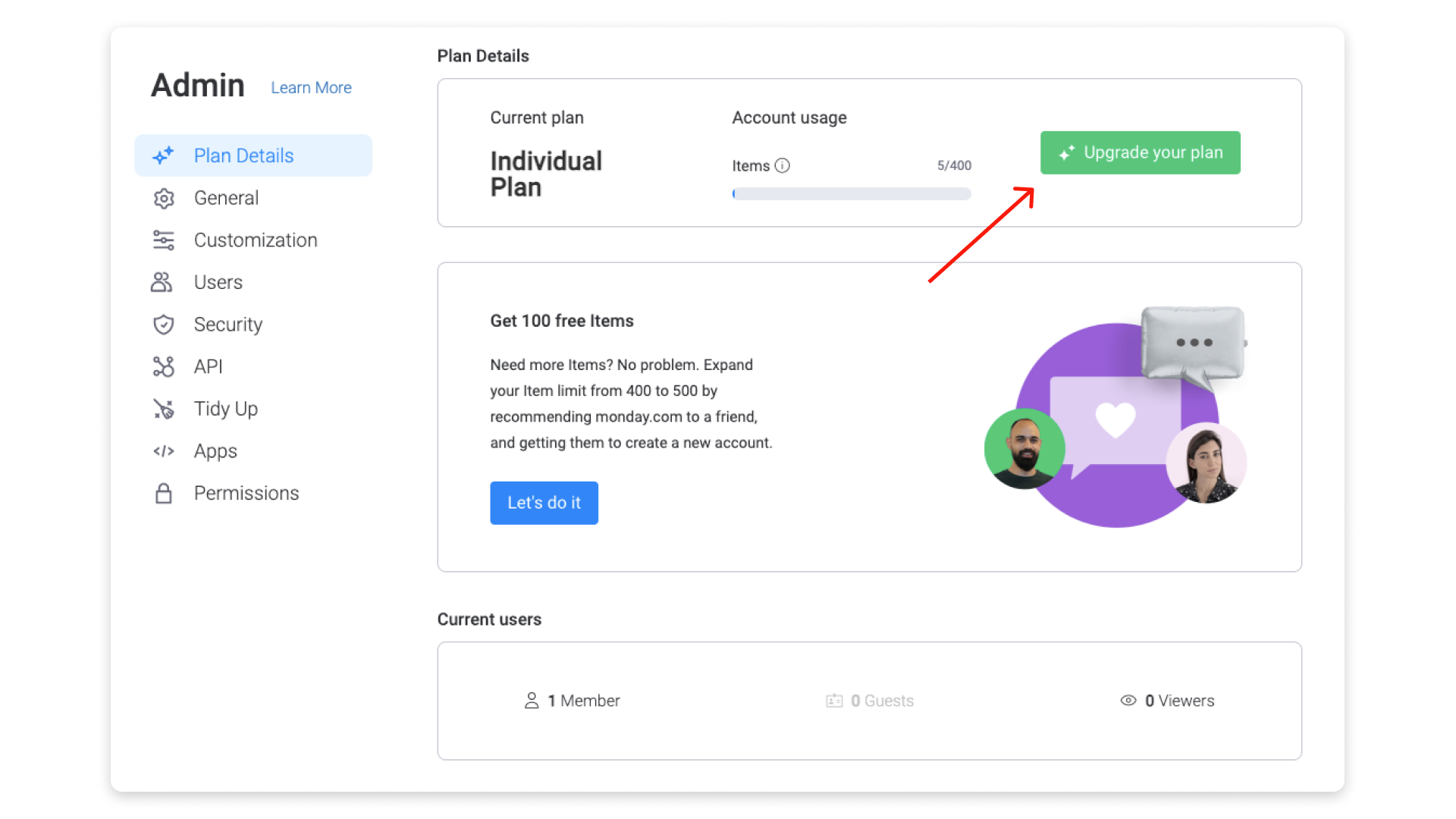 For more information about how the pricing works and our different paid plans, check out this article.
If you have any further questions, please feel free to reach out to our team at support@monday.com. We are available 24/7 and happy to assist! 😁