Ever feel like you are doing too much manual work? Wish you could have
monday.com
 take steps for you without learning to code first? You're in luck! 🍀
Our Automations allow you to use an event inside
monday.com
 (like the changing of a status) to trigger an action (like sending a notification). This is done by using predefined automation flows which we have created for you to choose from. How does it work? Keep reading to find out. 👇
What are automation flows?
Automation flows are combinations of triggers and actions, which we provide for you, where you customize the parameters of each aspect of the flow to suit your exact needs. Let's walk through an easy example: when a status updates to something, notify assignee. In the platform, this would look like this 👇: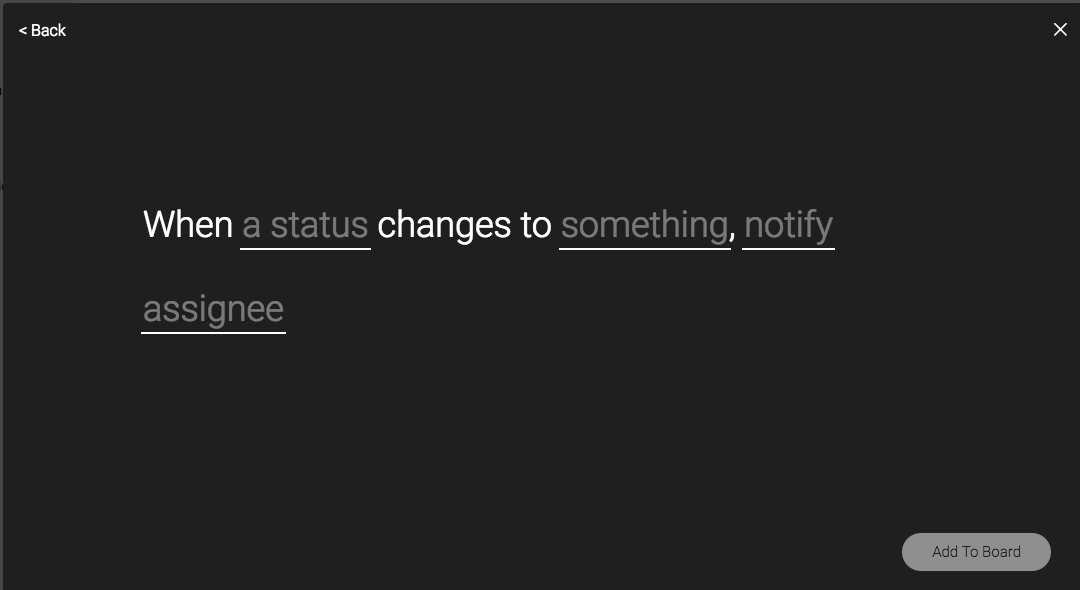 In this instance, the trigger will be a specific status column changing to a specific label, where both parameters are chosen by you (i.e. which column and which label). This trigger will cause the action (a notification, the wording which you will determine, being sent to the associated assignee). 
We have created many flows for you to choose from, allowing you to create lots of cool Automations inside your monday.com account. 
 Tip:
 When you see 
underlined
 text in a flow, this is a parameter that you must define.
How to add an Automation?
Step 1: Add it to your board
To add an Automation, go to the board you want to create an Automation for and click on the Automate button, located on the upper right of your screen. 
Once on the page, click on + add automation at the top right as below: 
You will then see a list of available automation flows to use. Right now, we have the option to add notifications sent inside monday.com, or by SMS through Twilio, based on a range of triggers. Pick the automation flow of your choice and click on "Add to board".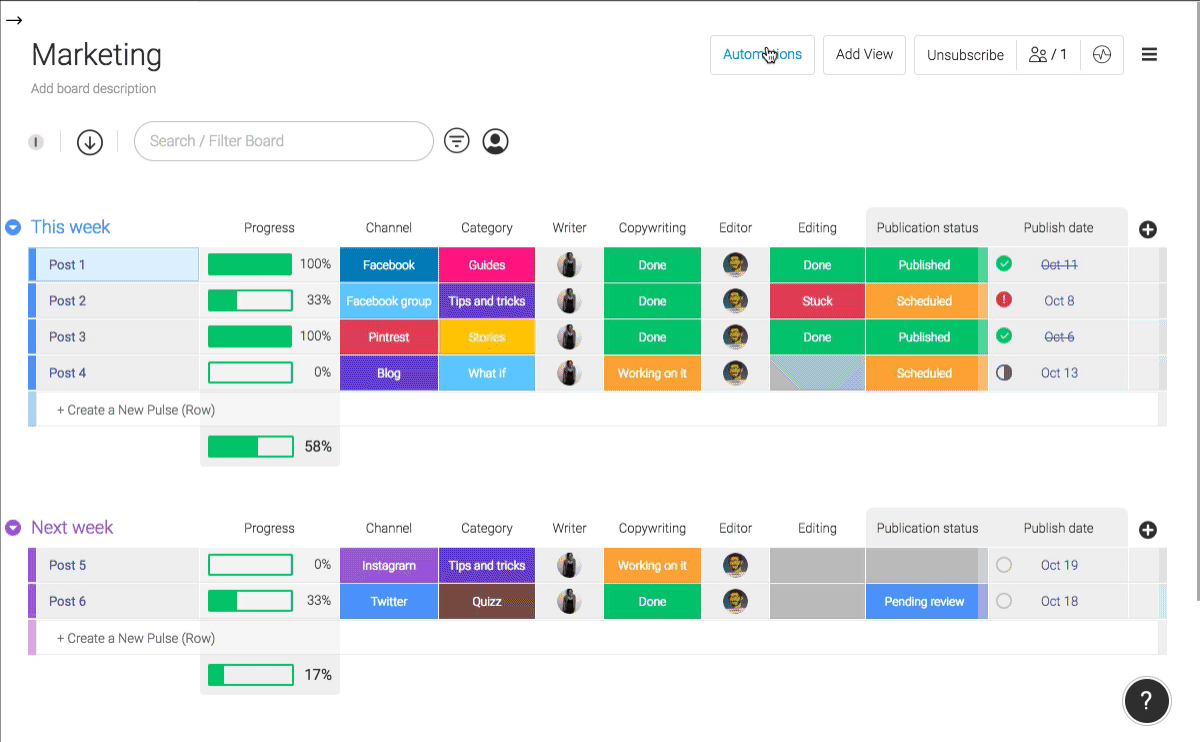 Step 2: Set your parameters
Once you've picked your automation flow, you will need to add your parameters. Anywhere in the flow which is

underlined 

is a parameter. In our example, let's say that whenever the "Copywriting" status column updates to "Done", the associated assignee in the "Editor" person column, will be notified.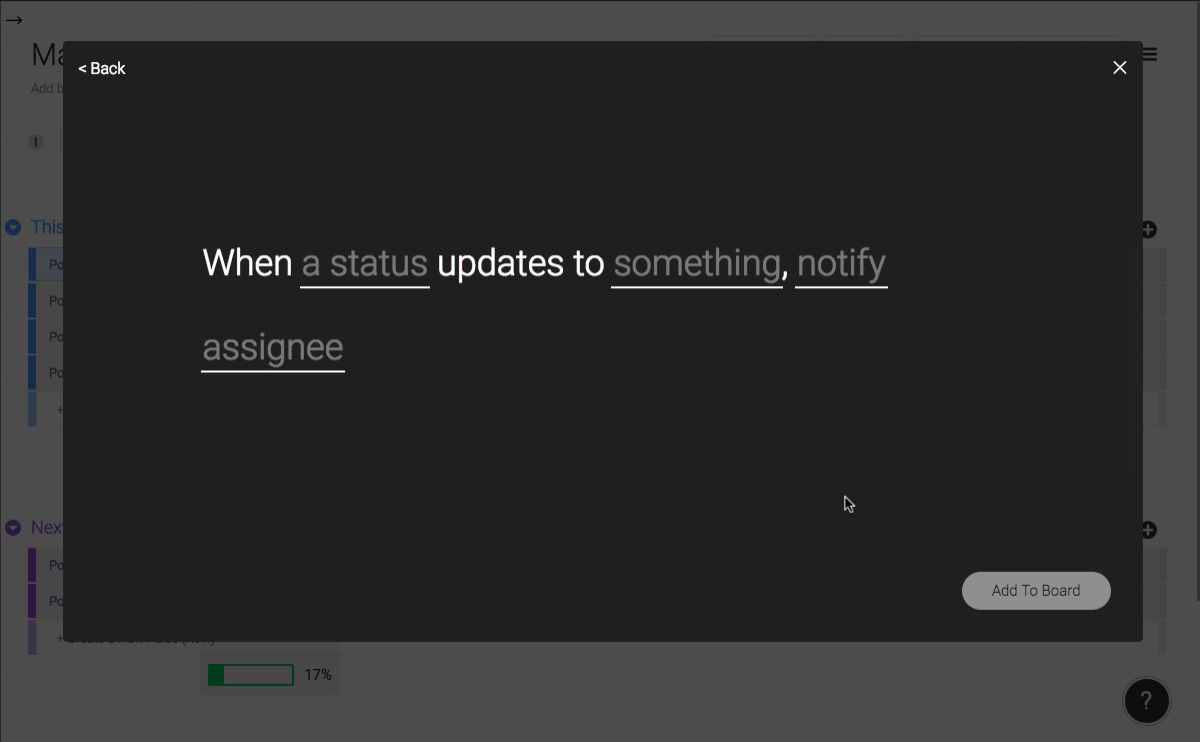 After clicking on the "notify" parameter you can type out what you want your notification to say. Variables for the pulse name, board name can be added to your notifications by clicking on on the blue buttons at the bottom of the notification editor.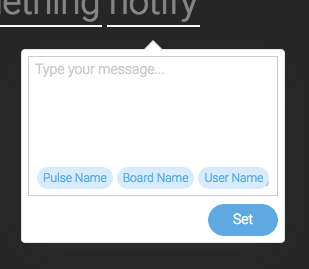 Then, for the purpose of this example, select the "Editor" column for the "someone" parameter.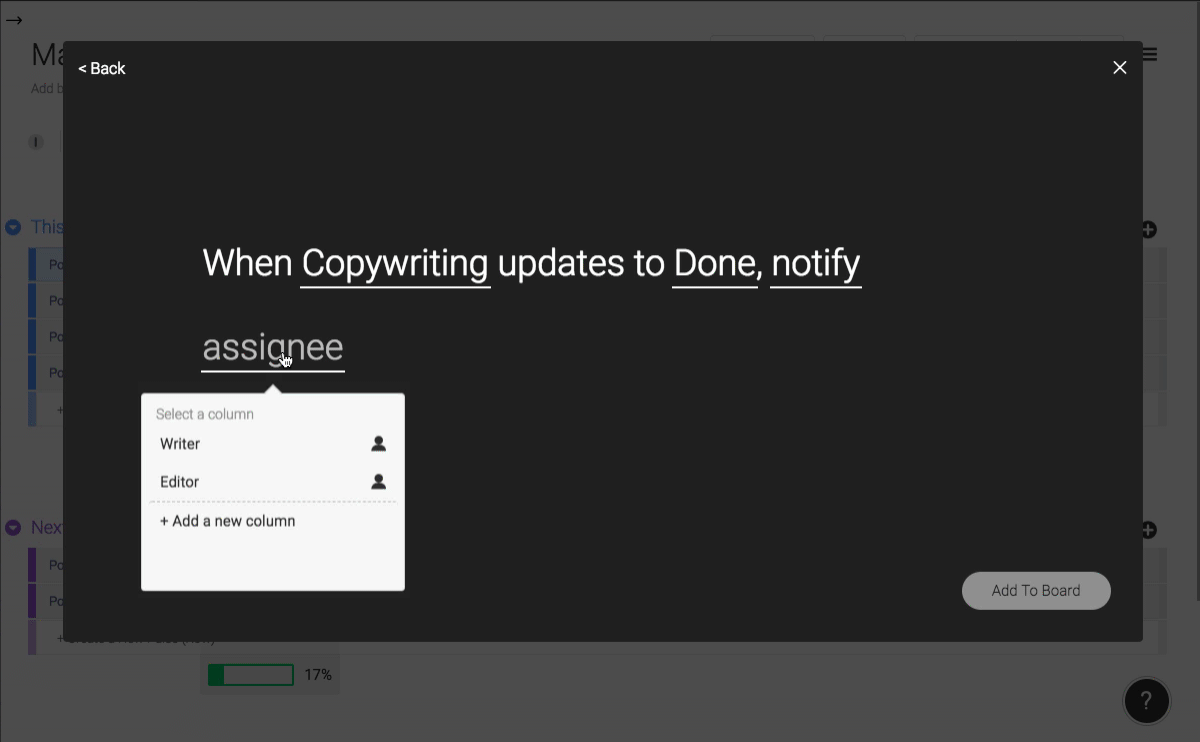 After clicking "Add to Board", the Automation will be turned on.
Step 3: Enjoy!
Now each time the Copywriting status is changed to Done, the person assigned in the Editor column will automatically get a notification in the bell icon and via email. 
We've done it! Our first Automation is live. 🎉🎉
How to edit or delete an Automation?
Once you have added Automations to your board, you can toggle Automations on and off using the switch icon. You can also use the pencil icon to edit the Automation or the trash can to delete it entirely.
Automations Inside monday.com
As explained, these Automations allow you to perform an action inside of your monday.com account based on an event inside monday.com. 
 Note:
If your action is to send a notification, these will be sent as a notification in the bell icon, as well as an email notification to the specific recipient. 
Notification Automations
When a new pulse is created, notify someone
When a column 

updates, 

notify someone
When a status updates to something, notify someone
 Other Automations
When a status updates to something, archive the pulse
When a status updates to something, delete the pulse
When a status updates to something, move pulse to group
Automations Outside monday.com 
 Note:
Automations that integrate with external tools will likely require that you also have paid accounts in those tools.
Go beyond your monday.com account by setting up external Automations as well. In these automation flows, the events and actions might take place inside or outside of your monday.com account. For example, you could connect with your Twilio account and use an Automation flow to send a text message to you anytime a pulse's status gets marked "Stuck".
We want users to be able to take advantage of the Automation feature even as we work to build new flows. Here's a sneak peak at some of the future enhancements we are working on now: 
Additional Integration options
Want full control? You can use our open API to develop your own custom integration.
Need a custom automation or integration but don't want to code it yourself? Check out our integration options with Zapier.com and Integromat.com 
We want to hear from you!
Check out our monday.com External integration form and share with us your suggestions!
If you have any questions about this or anything else in this article, feel free to reach out to us at customer success at support@monday.com