7 min read
Feature
Tip:
Discover how to list your app in monday's apps marketplace right
here
.
About the monday apps marketplace
With the monday apps marketplace, you can find ready-made apps to expand the capabilities of the monday.com platform and fit the unique needs of your business's workflows, processes, and projects. The apps marketplace contains apps developed by third-party developers as well as apps built by the monday team using the apps framework. By using monday apps, you can analyze and visualize your data in new ways and collaborate more effectively across your organization.
Note:
Installing apps can only be done by
admin
on the account.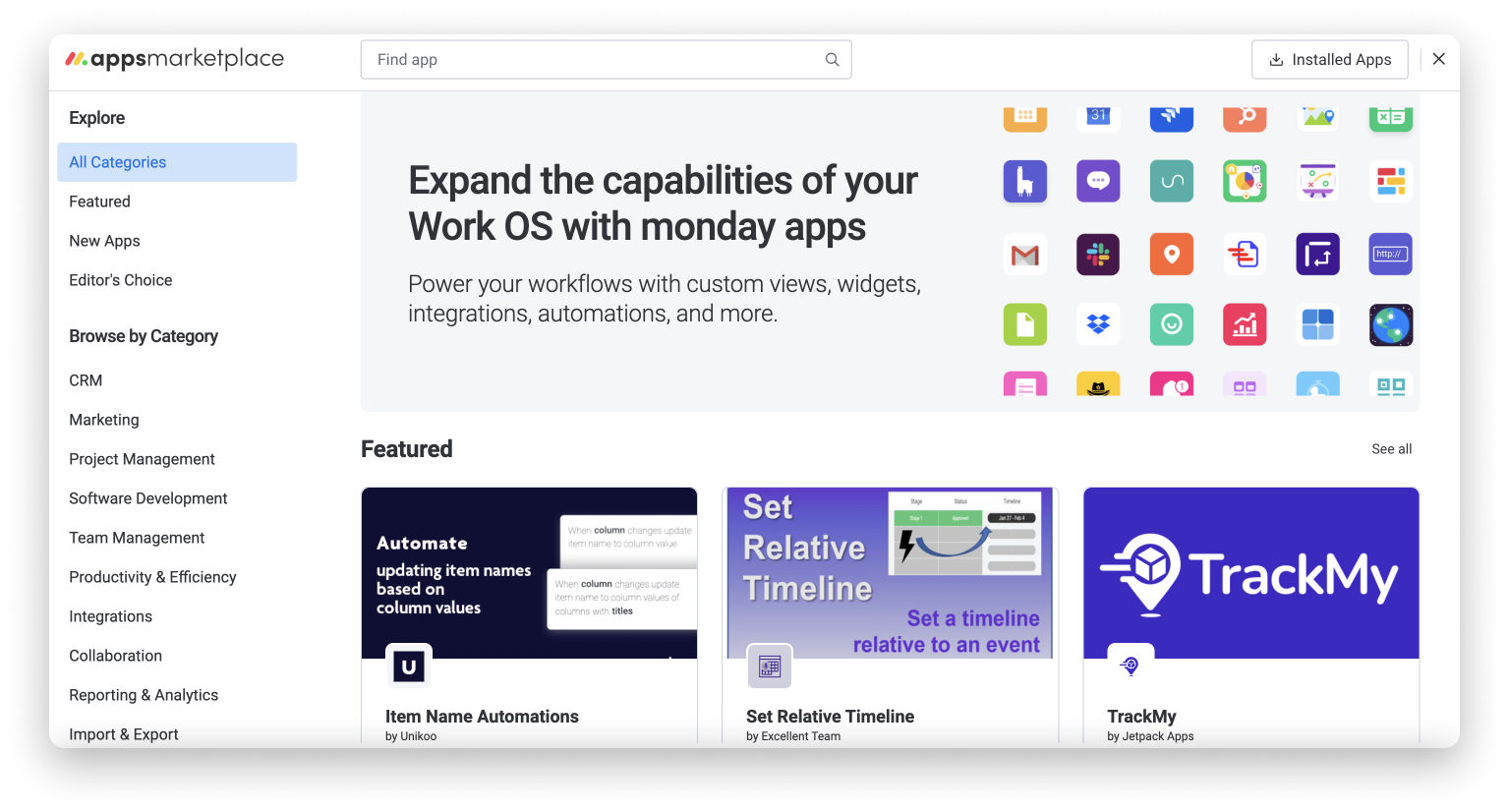 To install a monday app on your very own account, follow the steps below! ⬇️
Step 1: Access the monday apps marketplace
To find the monday apps marketplace, go to your profile picture on the bottom left corner of your account and click on "Apps marketplace". Alternatively, you can also access the apps marketplace by clicking on the small puzzle icon on the left pane of your account.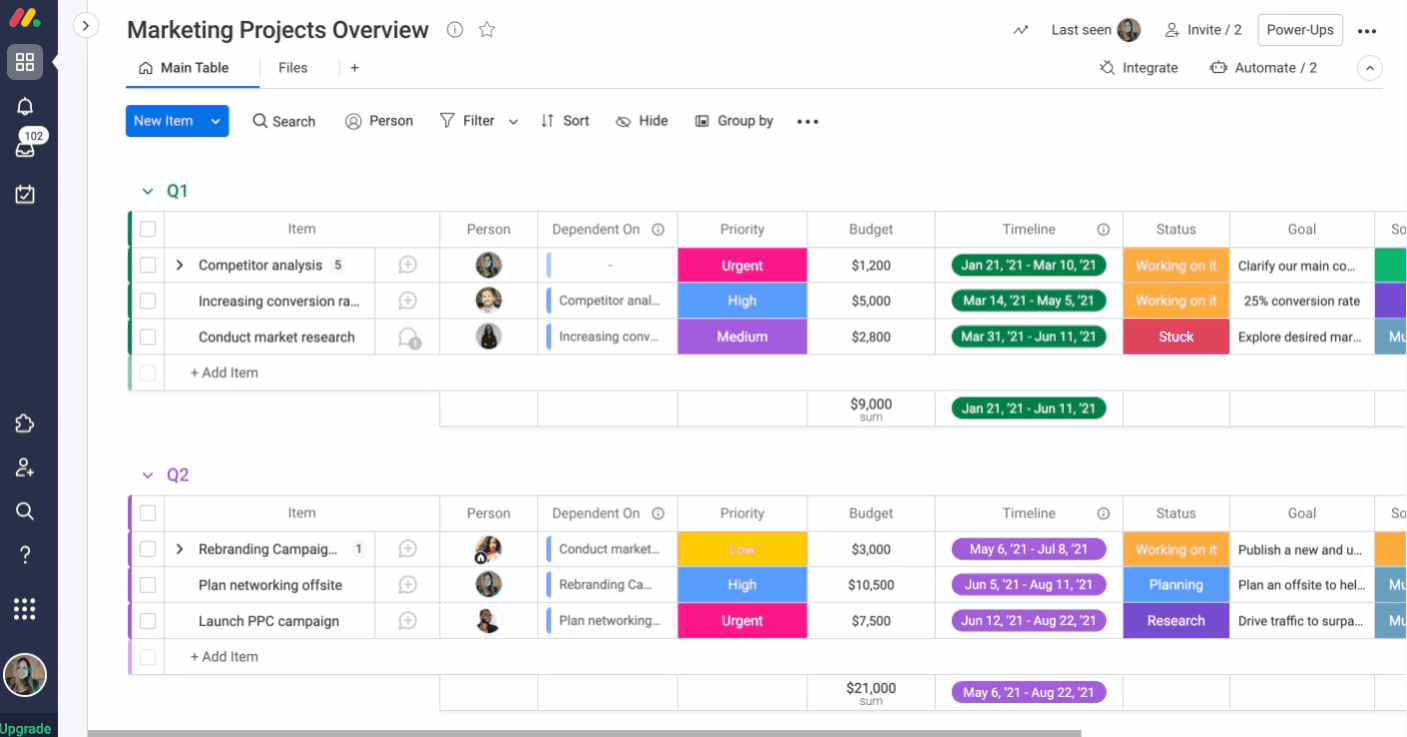 Step 2: Browse the apps with ease
The marketplace contains a number of amazing apps to power up your reporting or allow you to integrate other platforms to streamline up your workflows. All the apps are organized into categories on the left side which can help you filter out relevant apps for your industry.
Try browsing an app by category, filtering by the features it works with (whether it is for a specific view, widget, integration or template), or using the search bar to locate a specific app!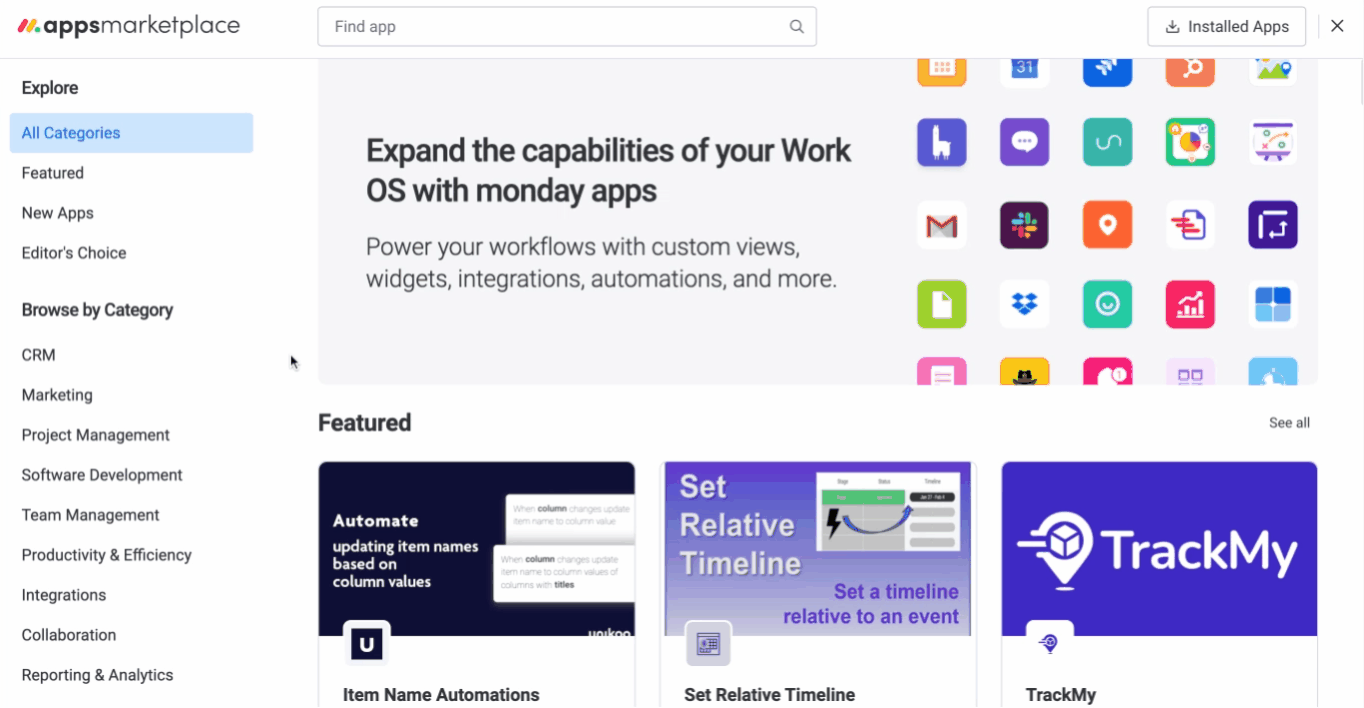 Step 3: Review an app's functionality
When you click on an app, you scroll down on the app's main page to learn more about the features and capabilities that it will add to your monday.com account. From here, you can see the team that built this app, and the contact information of the developers in case you need support installing or using the app.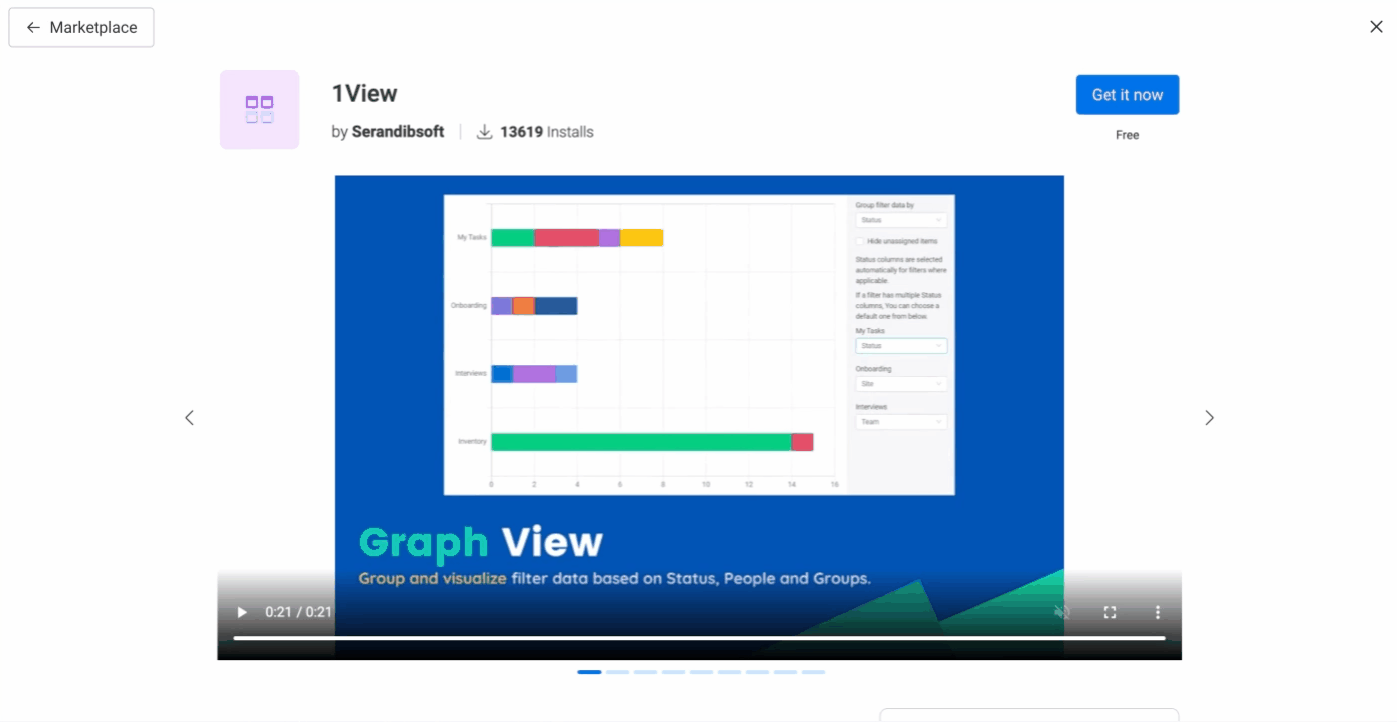 Note:
Although all apps in our marketplace are reviewed by our team for functionality and security, monday.com does not endorse or certify any apps. As such, you should only install apps you trust. Check out this guide for more information:
apps marketplace security
When you're ready to install an app, click on the blue "Get it now" button on the top right of the page. Remember, apps can only be installed by the admins of an account.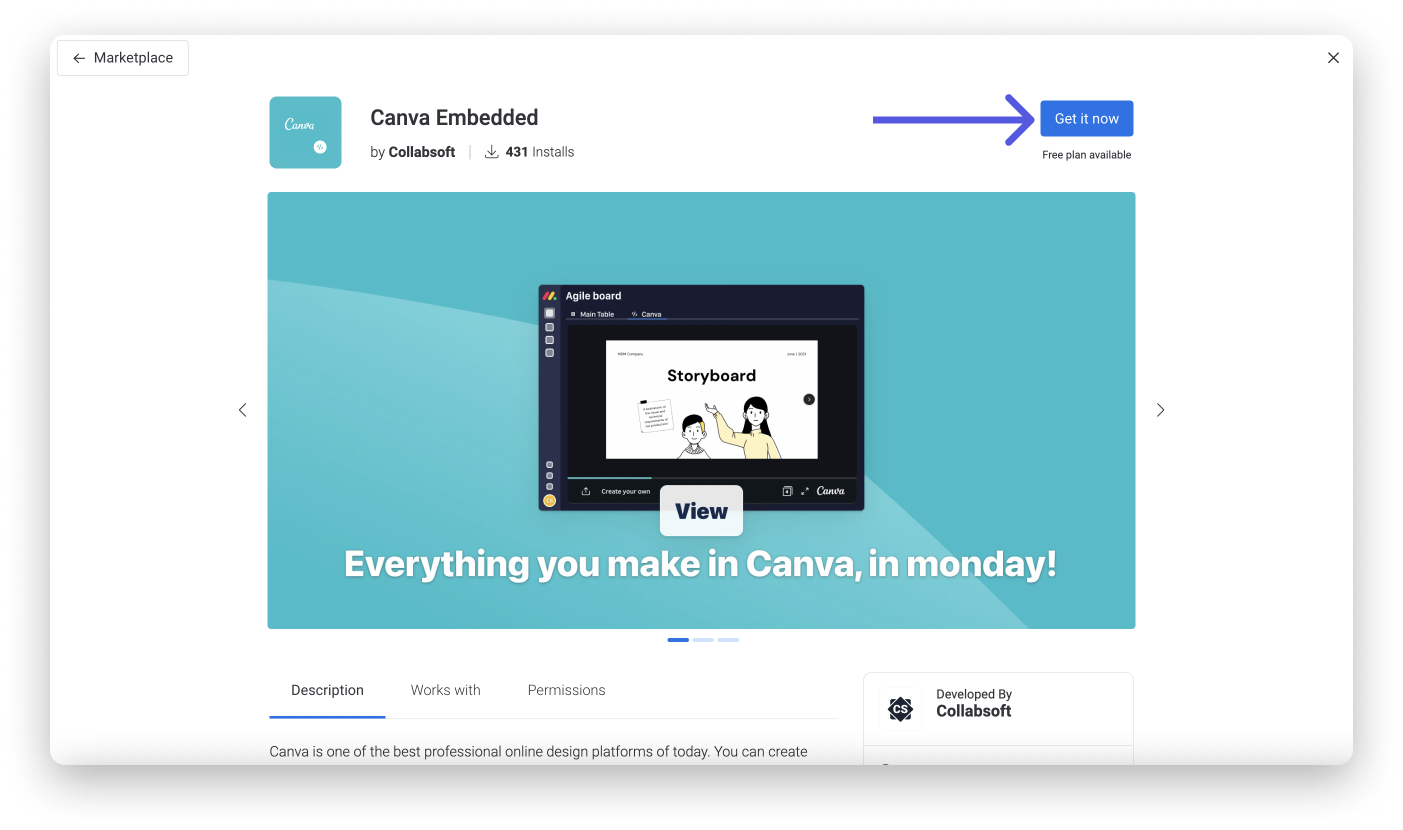 When you click to install an app, you will see a list of permissions that the app will have access to. From there click on "Install" at the bottom of the screen as shown below: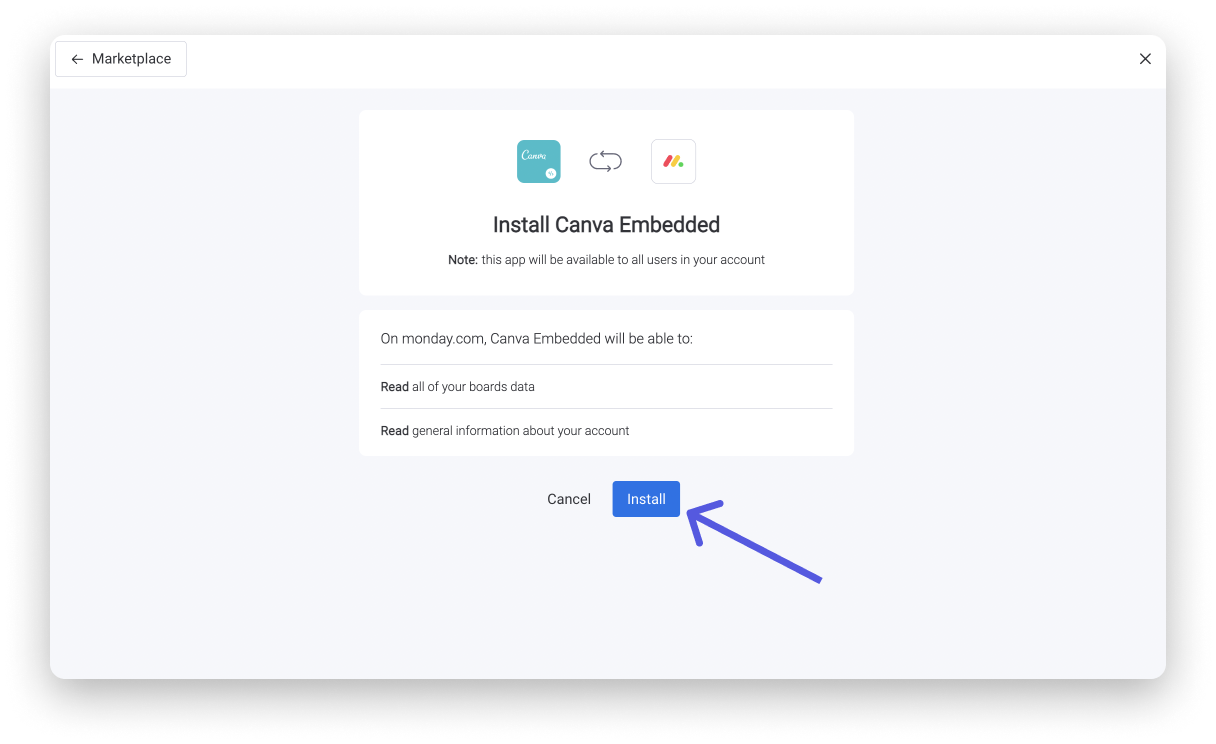 Now that you've installed the app, its ready to use on your account! Once you've completed the installation, you'll be redirected to a similar page as below, according to the app that you've added to your account, where you'll be able to learn more about how the app works and actually begin to use it on your account.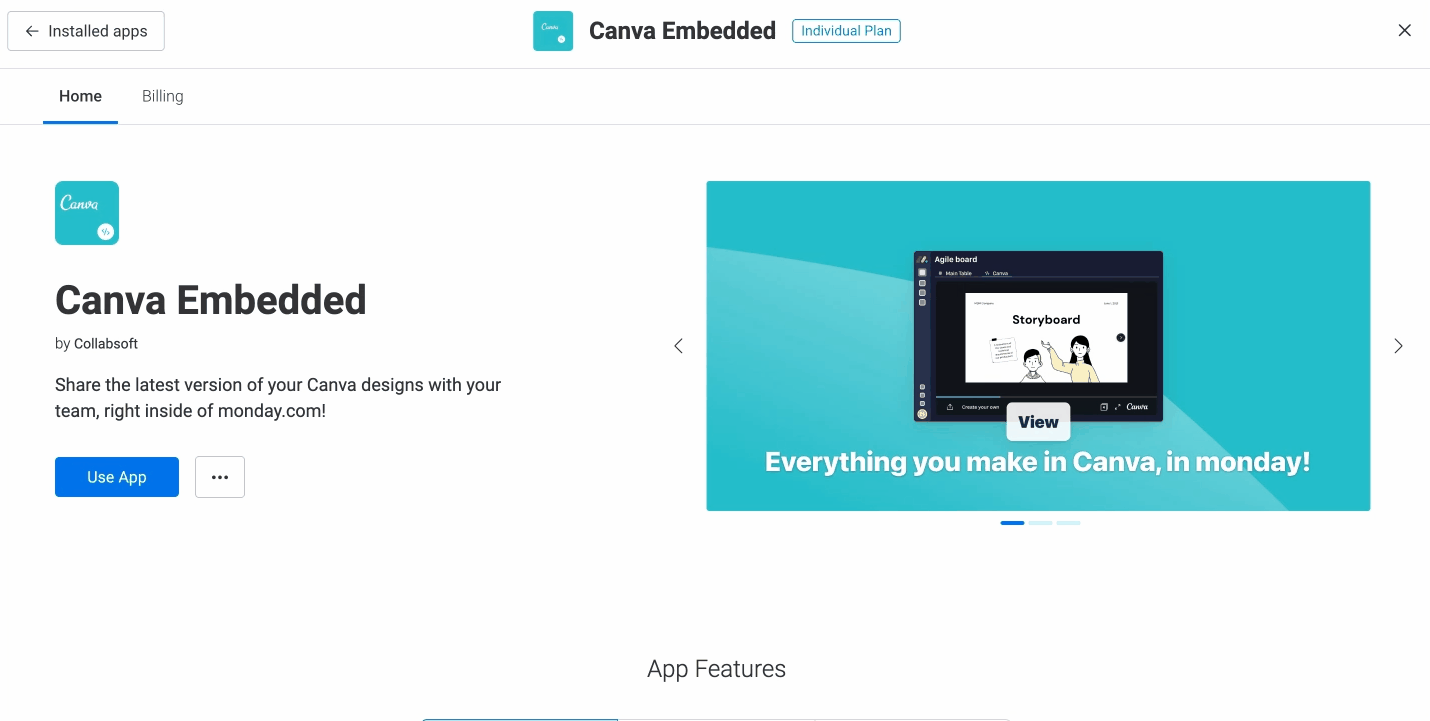 From here, depending on the app chosen, you will be lead to the relevant setup screen in order to complete setup. In our example, we will be prompted to select whether we'd like to add the dashboard, view or the item view widget, which exact board or dashboard we'd like to add it to and in which workspace.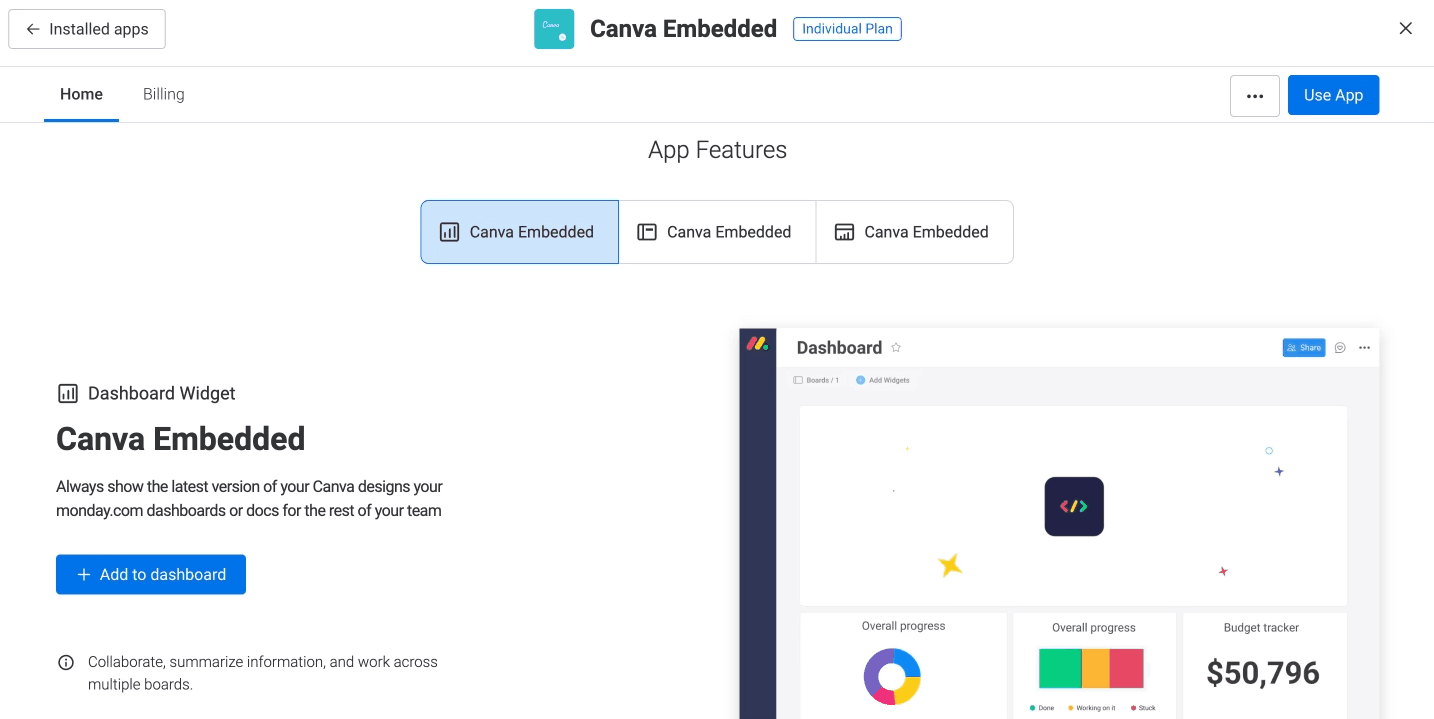 After following through each setup stage, the installed app will be opened up on the selected board or dashboard. For integrations added, you will be redirected to the Integrations Center on the selected board.
Uninstall the app
Installed the wrong app and would like to remove it? No problem! To do so, head over to your profile picture on the bottom left corner of your account. Click on "Admin", and then "Apps" from the list of options. You will see a list of all the apps you've installed on your account. Find the specific app and click "Uninstall".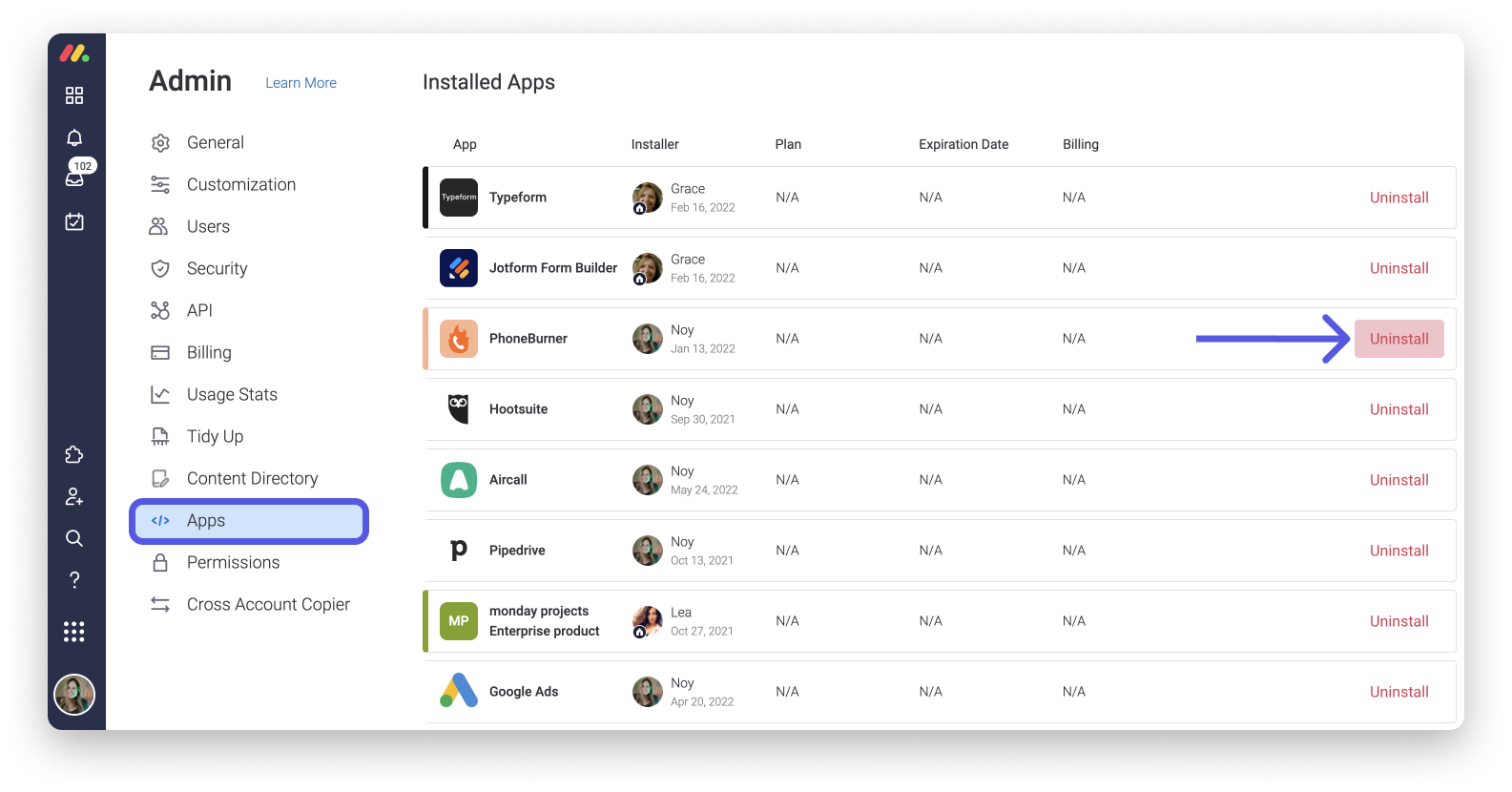 If any apps have been updated and need to be reinstalled, simply click "Reinstall".
Security and the monday apps marketplace
Apps in our marketplace built by external developers are reviewed by our team. However, we cannot certify the functionality or security of each app. When you install an app, you will see a list of permissions that the app will have access to. We strongly encourage you to review each app and the permissions thoroughly before adding it to your account. To understand more about the app marketplace security, check this out.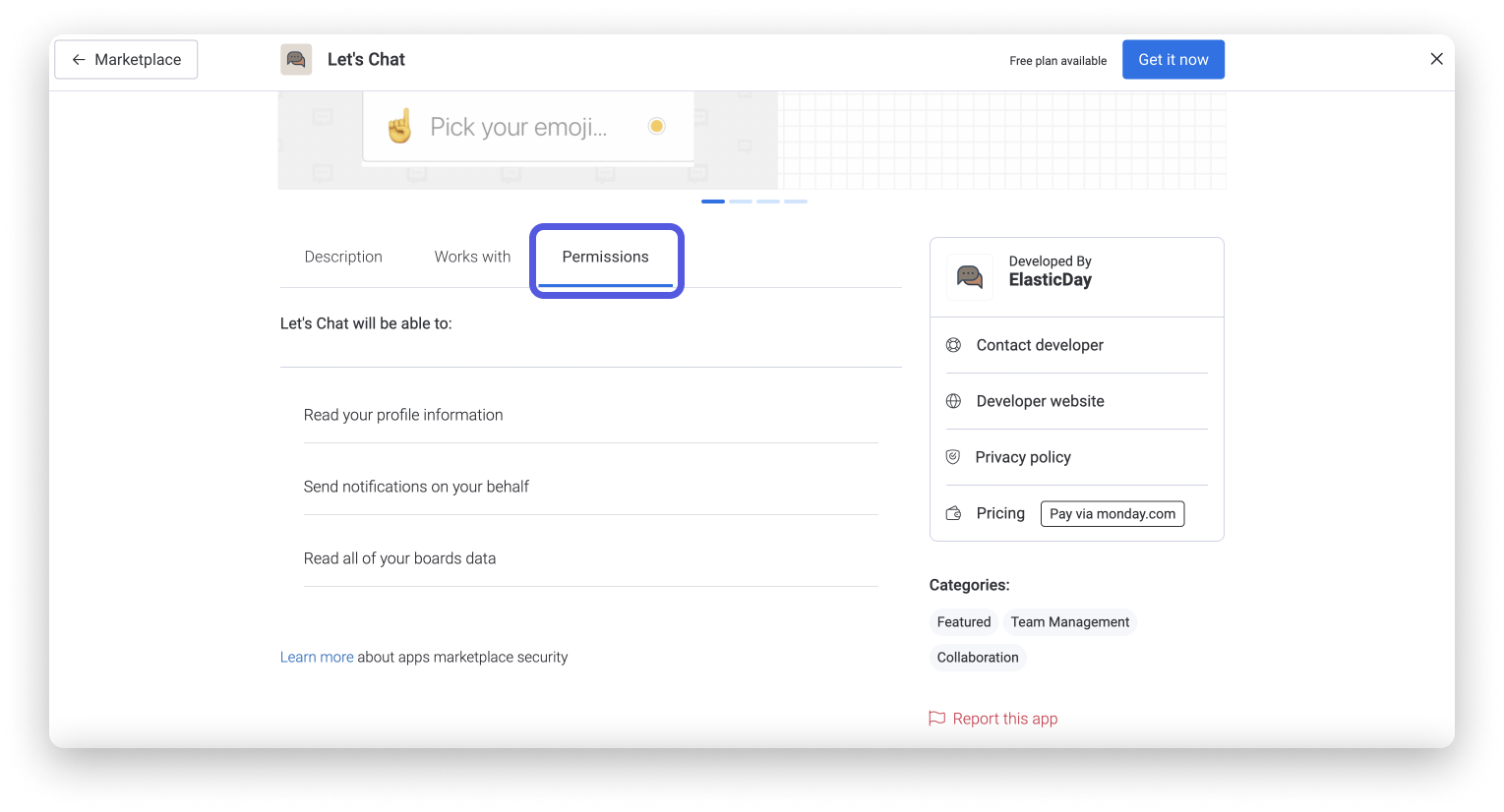 How to build your own app
The monday apps framework
The monday apps framework is how the magic happens. The framework allows developers to build views, widgets and integrations in a low-code environment. We give you the tools to build views and recipes, and you can build whatever your team needs.
To get started and build your first monday app, check out our Builders Homepage which is a one-stop shop that contains links to our apps and API documentation. You can see examples of apps that were built by our team here: monday apps Framework
Once you're ready to build your first app, read one of our quickstart guides:
- Building your first board view and widget
- Building your first integration
Not a Developer? Thats OK, you can still use the apps!
If you're someone who wants to use apps and not build them, simply download existing apps from the apps marketplace or head over to our community.
Getting Help
Help with apps from the apps marketplace
Each marketplace app has a link to the app developer's email address (shown above). Since many of our apps are built by external developers, we encourage you to reach out to the developer if you have any questions about the app's functionality.
Help with building your own app
If you've checked out the documentation above and need further support with our API or apps framework, take a look at our Developers' Community. This is the best place to get technical help from experts and ideas from other developers who are also building monday apps. The community is managed by members of the monday.com team and experts from our community.
If you have any questions, please reach out to our team by using our contact form. We're available 24/7 and happy to help!