Kanban is a project management technique that aims to manage work by prioritizing tasks and balancing demands according to available capacity. It helps us see our pain points at a glance, and make sure we're best utilizing our resources. One of the oldest and most popular techniques, Kanban can be used for a wide range of industries due to its simple structure and flexibility!
This guide will walk you through how to transform your boards on monday.com to a Kanban board to stay on top of all your tasks. 🙌
Why is it great?
Here, at "Ellie's Interiors", our interior designers work hard to finish all of our running home makeovers. To keep track of all of our projects, we've created a board!
This board collects all of our projects as "items", and divides them into groups according to the type of project, from a complete renovation to a room re-vamp, or just a quick styling project! We assign each project a designer, and describe the project using drop-down labels for the rooms undergoing a makeover, images for inspiration, the project's reveal date, and the overall status of the project. In addition, we have a column to help us track the day of the week we have to visit the site each week. To help us track our resources and make sure all of our projects are running smoothly and getting the attention they deserve, we use the Kanban View!
How to add it
The Kanban View can be added to any board! All you have to do is click on the "Add View" button located on the top left of your board to open the views drop-down menu. Select 'Kanban' as we've done below: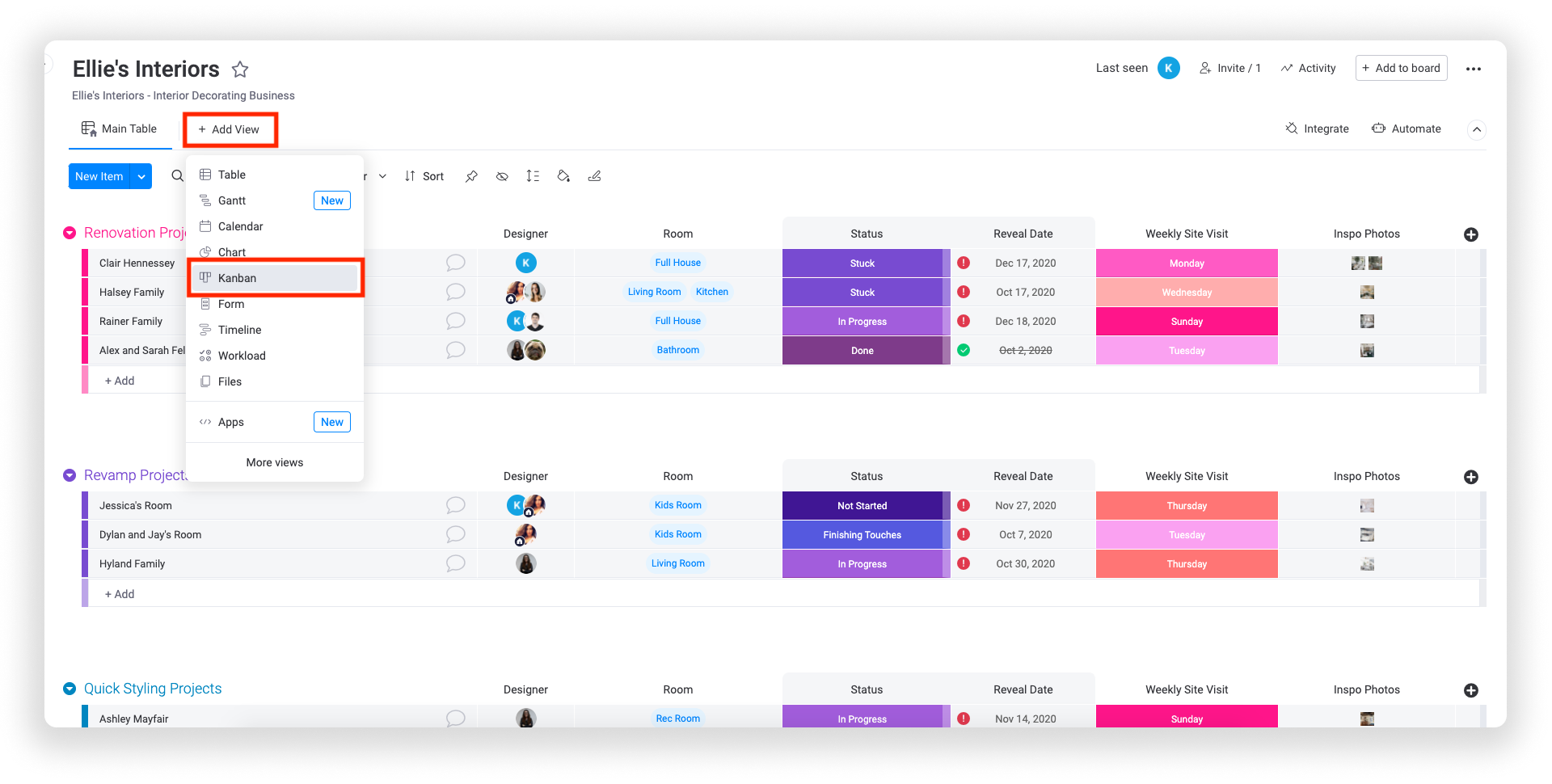 Set up your Kanban View
Once you've added the Kanban View, you can begin to set it up to reflect whatever you need! To do so, simply click on the cog wheel and customize the following settings as you wish:
The first option in your 'Settings' menu (located at the top right corner of your view) is to select the column that determines what the columns on your Kanban board represent. Your columns can represent the labels in any of the Status Columns on your board. Click the arrow to open the drop-down menu with to choose from the list of Status Columns on your board!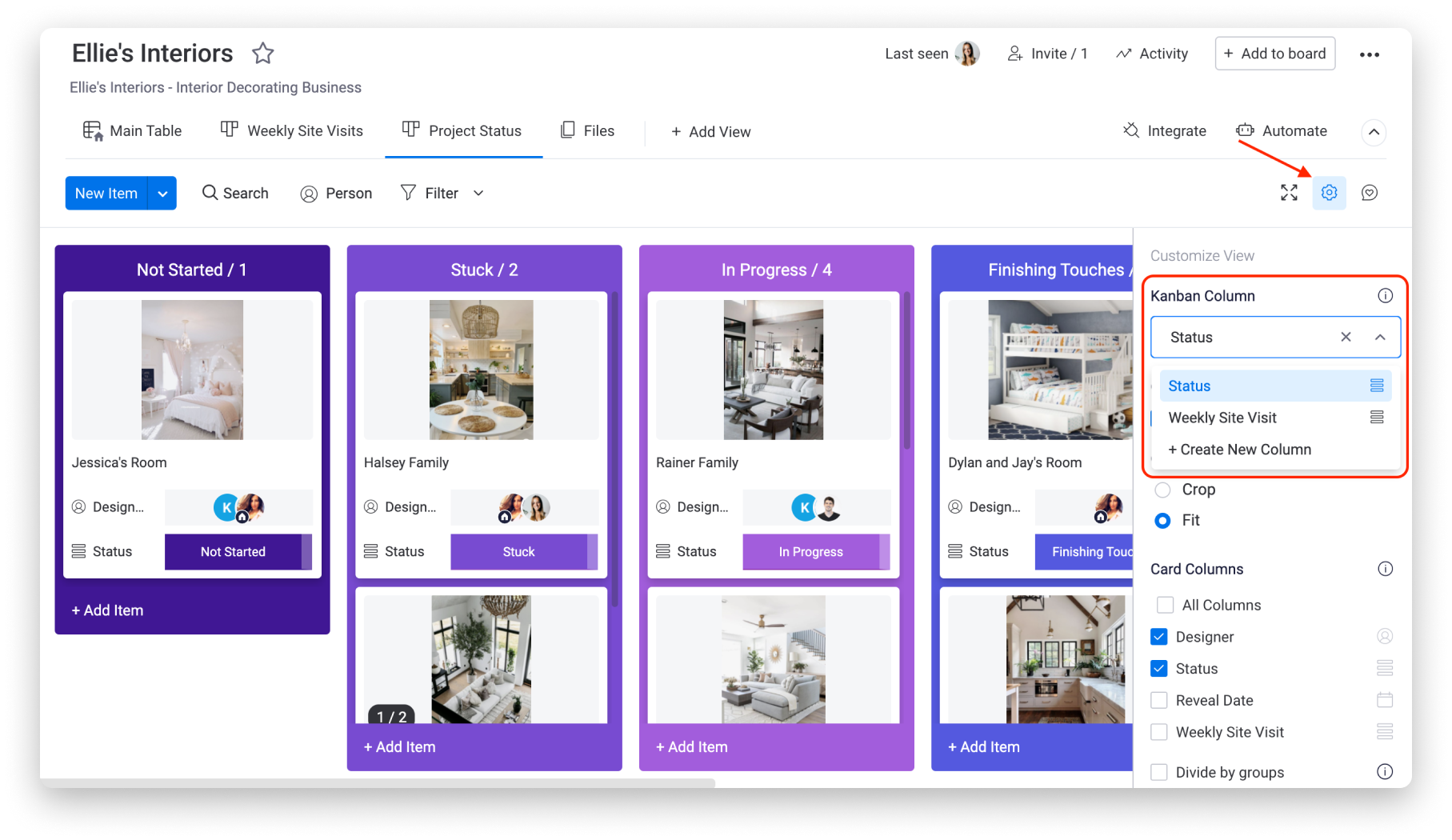 Note: Kanban columns can currently only represent labels in a Status Column. Stay tuned - we're always improving our features and hope to include other types of columns in the future!
We've chosen to represent the labels in the Status Column on our board called "Status". This means that each of our cards represent a different project status, from "In Progress" to "Stuck", "Finishing Touches", "Done", or "Not Started". Each item, or project, is a different card stacked according to its label in the "Status" Column. This way, we can glance at all of our projects "In Progress" in one place, for example.
Alternatively, we could also choose our "Weekly Site Visit" Status Column to represent our Kanban Columns as the days of the week, as shown below: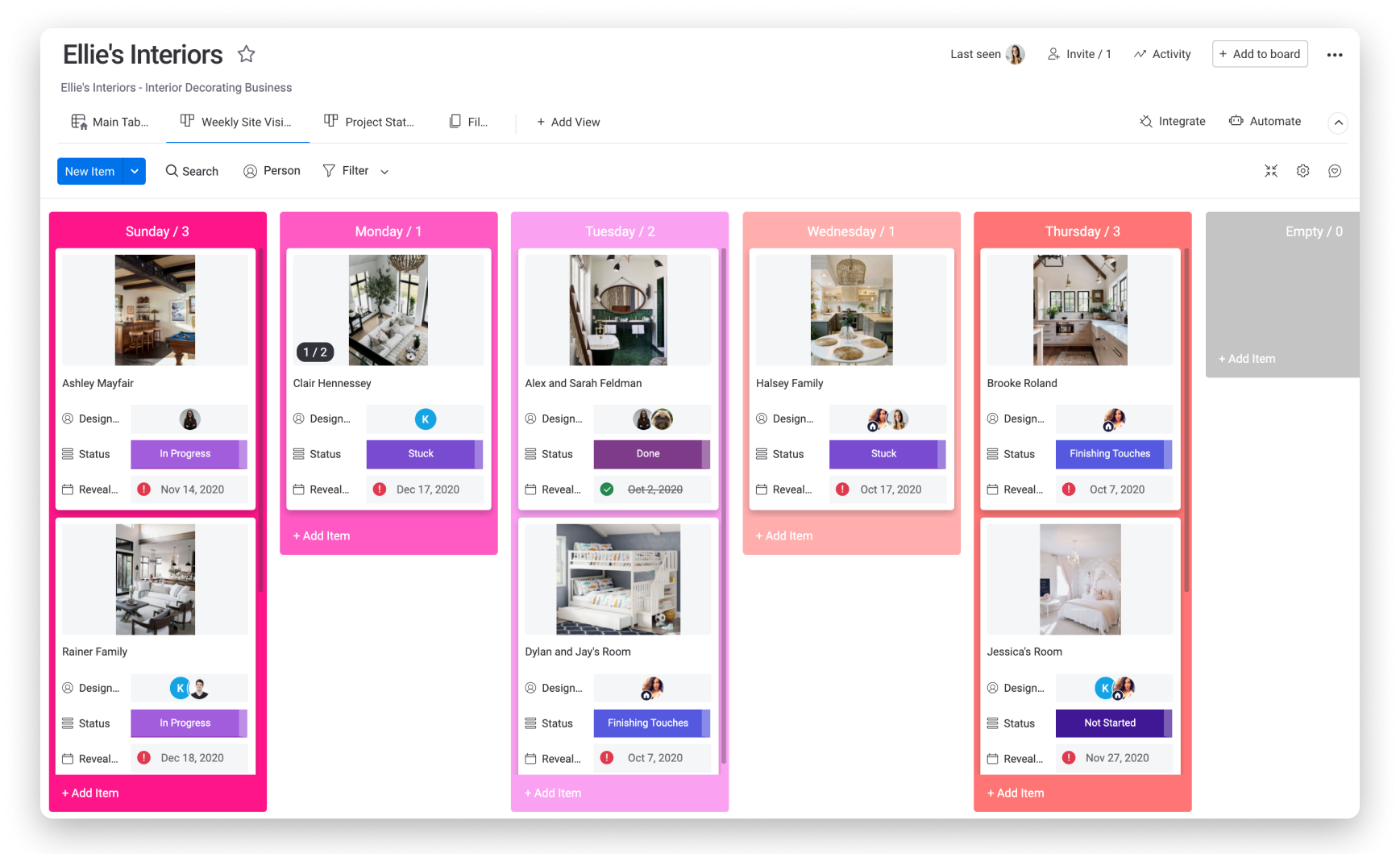 In this case, each column represents the day of the week, and all of the site visits are stacked under the day they are scheduled for.
If you have at least one File column on your board, you can select one or more file columns to be displayed as a cover on your Kanban card! In our case, since we only have one file column which we've named 'Inspo photos', we can go ahead and select that to be shown as a cover photo. You can also customize the display of the file, to either 'crop' or 'fit' the screen.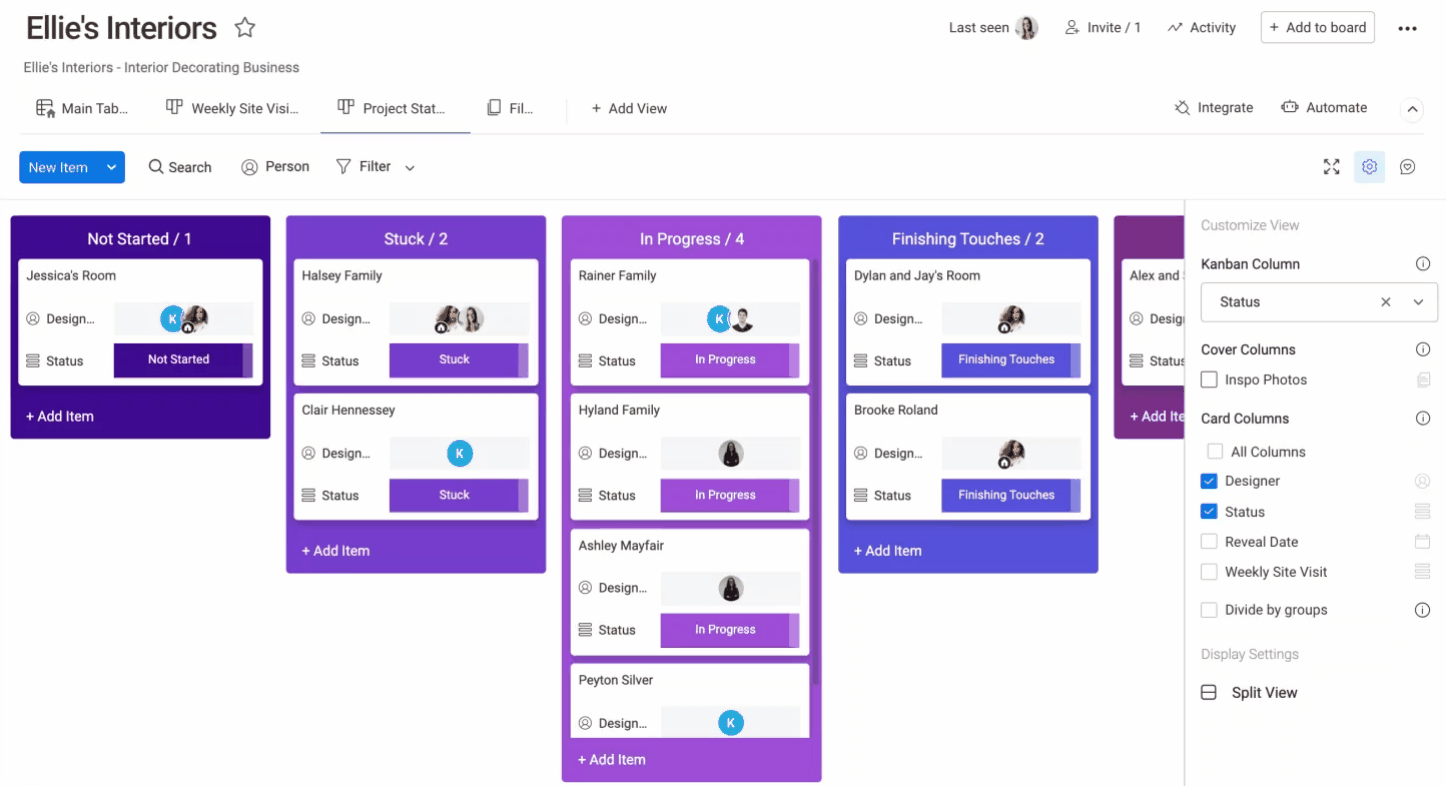 Next, select the columns from your board that you'd like to have displayed directly on your Kanban cards. We chose to have the "Designer", "Status" and "Reveal Date" columns shown externally on our cards so we can see this information at a glance!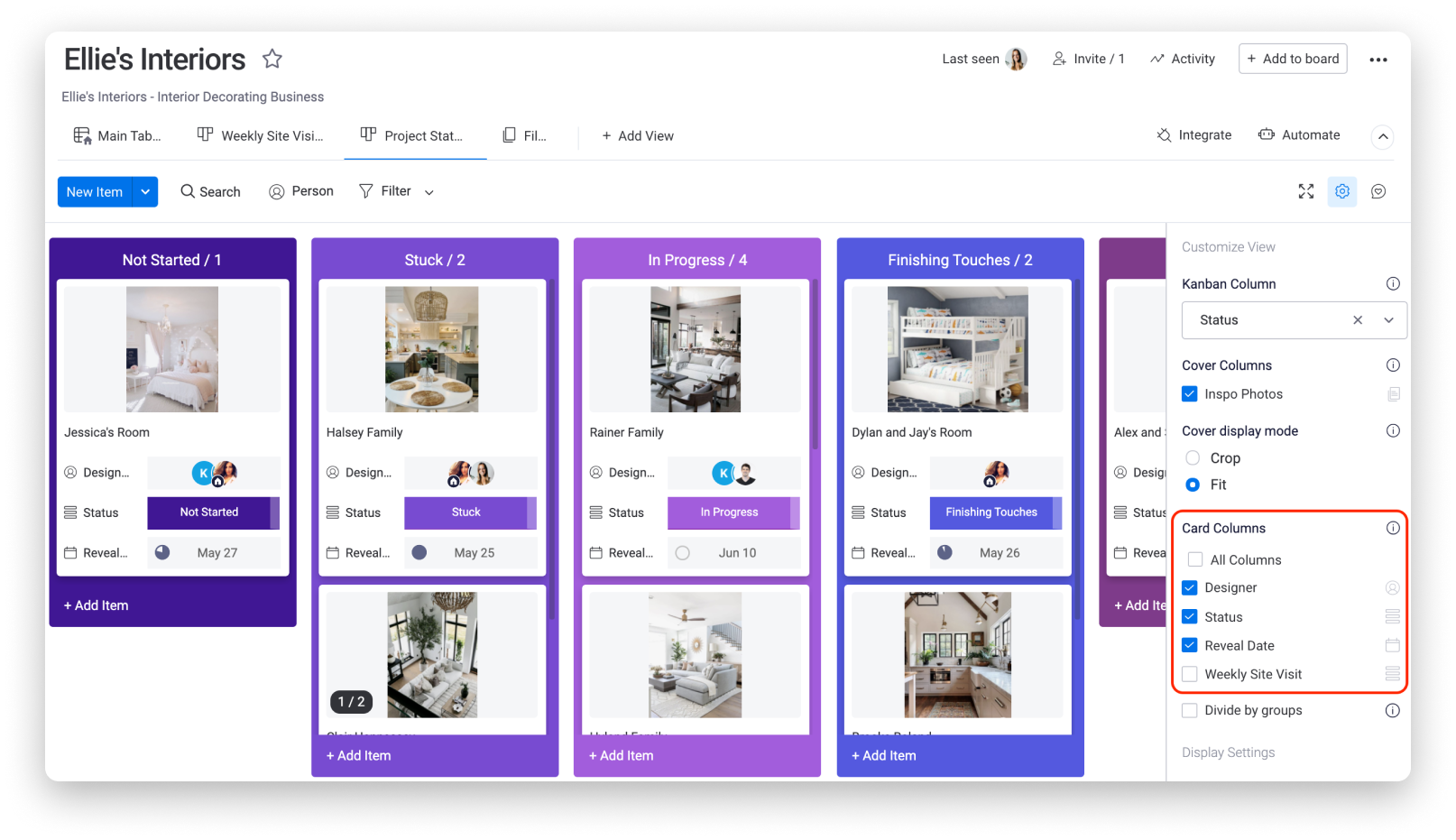 If you don't want to view your Kanban cards according to any of the Status Columns on your board, you can opt to view them according to the groups they belong to on your main board! Just tick the "Divide by groups" box, like we did in the example below: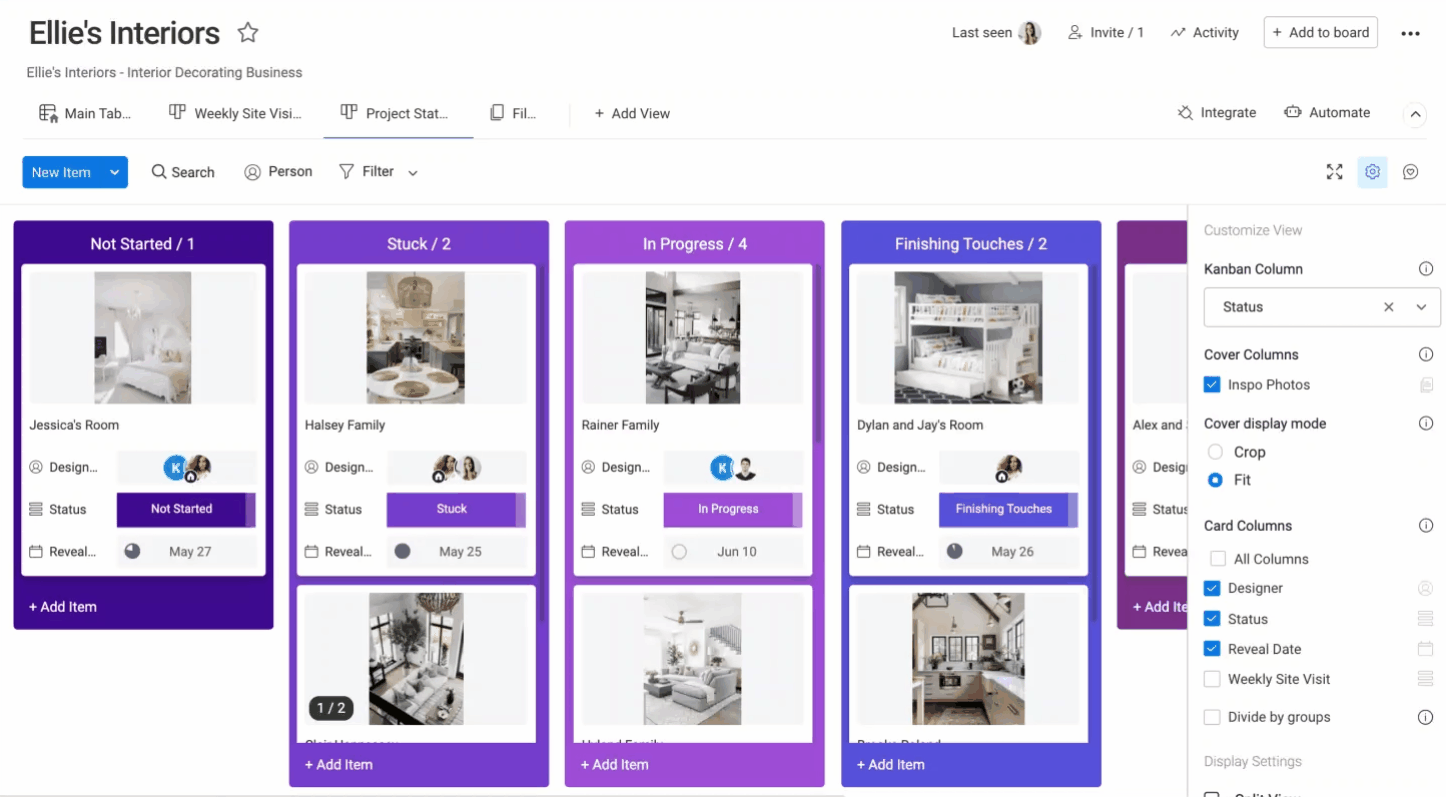 Edit your view
At any point, you can rename your view by opening the views drop-down menu, clicking the 3 dot menu beside your view's current name, and selecting "Rename". Then, you can simply type in the view's new name! This is really helpful for when you have more than one Kanban View per board, like we do! We named each of our Kanban Views after the Status Column representing the Kanban cards.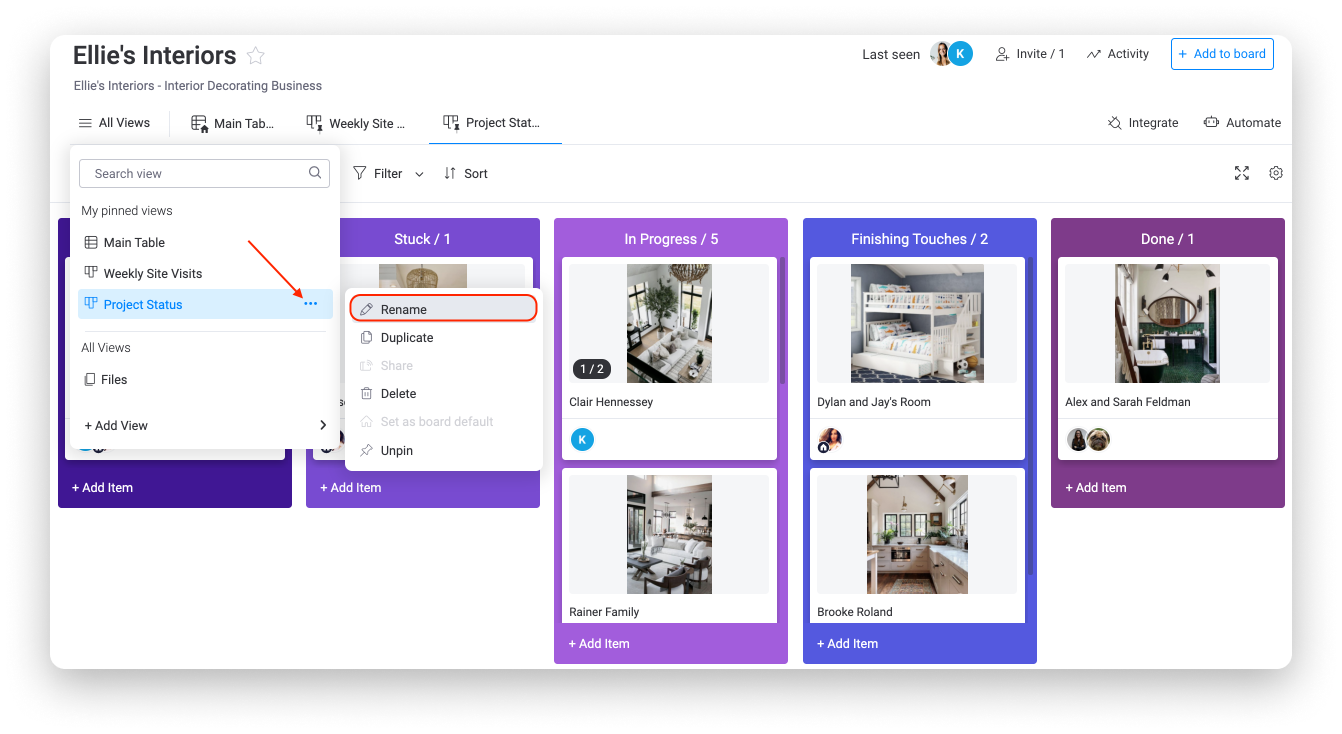 Tip: You can also use this menu to delete, duplicate, or set the view as your default view!
Add new cards
You can create a new item directly from your Kanban View! Simply click on "Add" at the bottom of the column you wish to add a new task to. Type in the name of your new item, and then click "Add" once more. Your item will automatically show in both your kanban view and your board!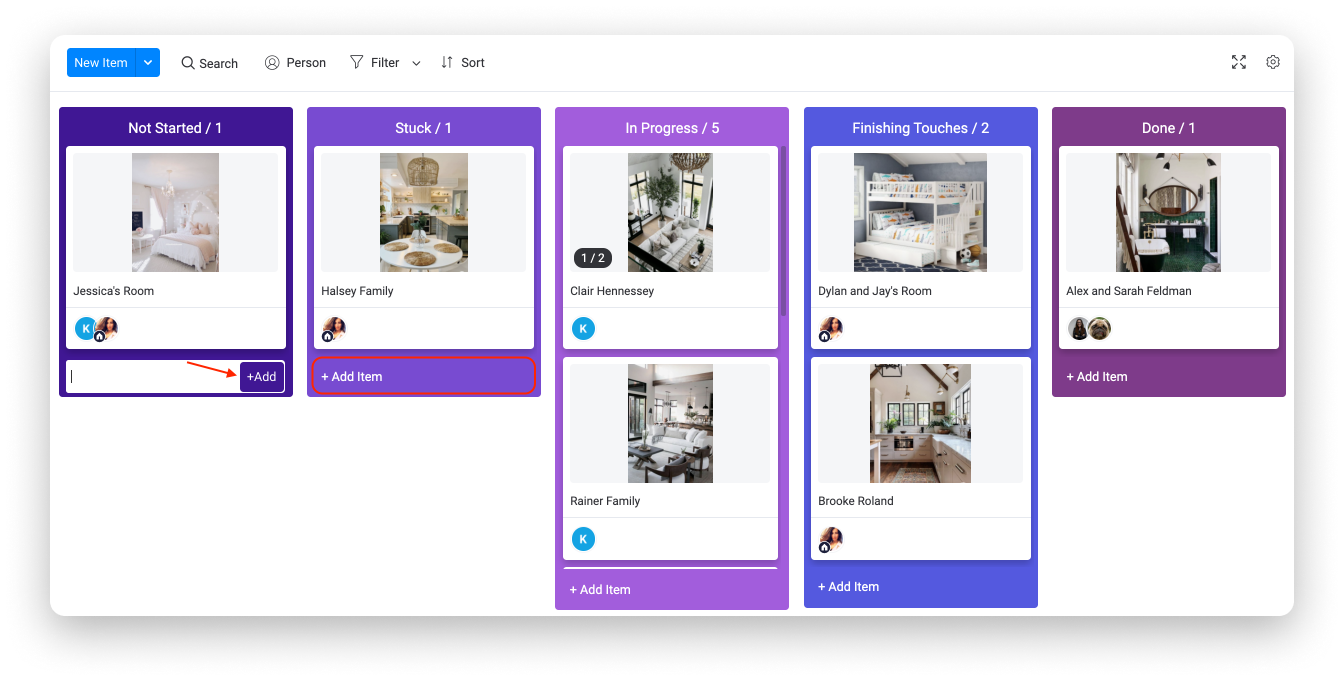 Zoom in on your cards
If you click on any of the task showing in your Kanban, it will automatically open the card view. You can easily update your item from this card and the changes will reflect automatically on your board.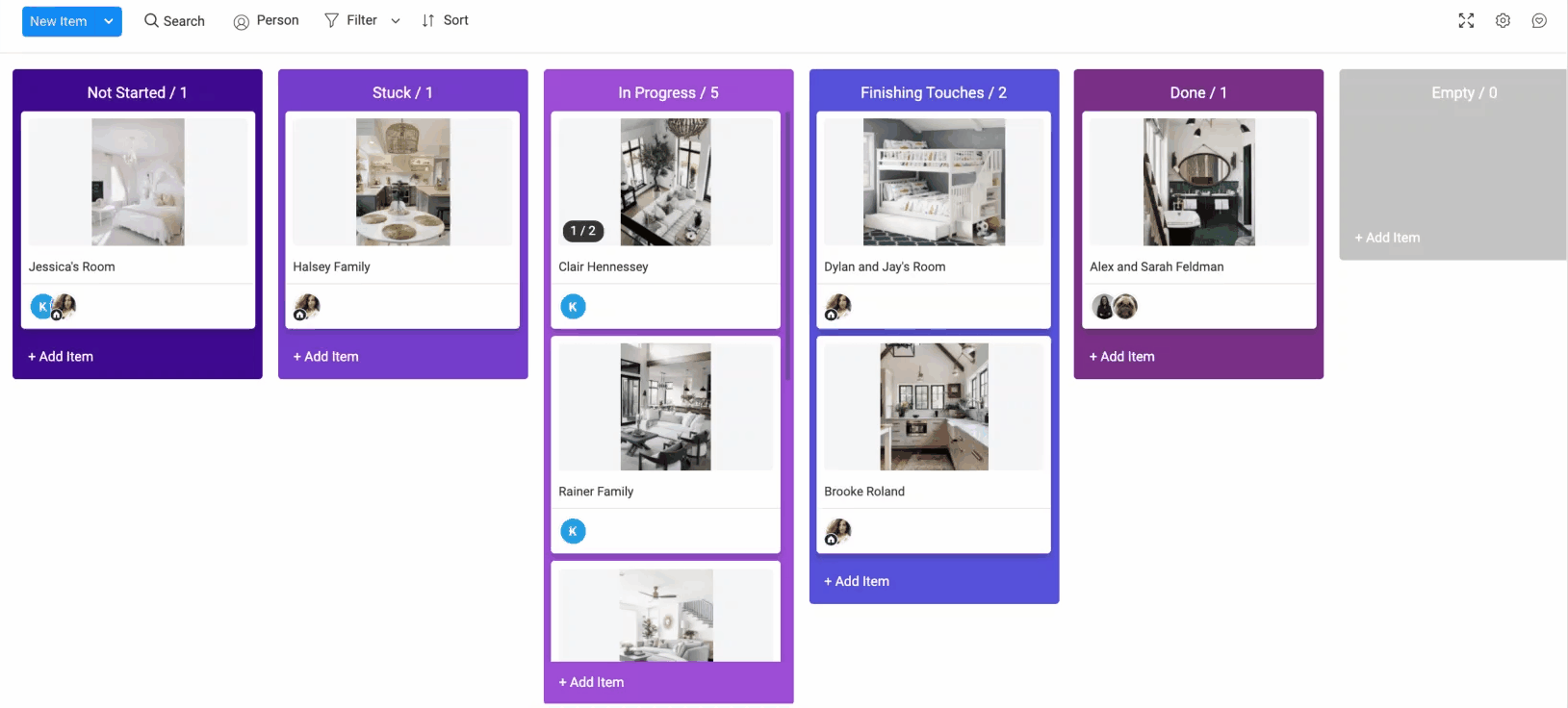 Edit card information
You can edit the columns displayed on your cards without having to fully open up item cards! Just click on any of the displayed columns to edit the information shown.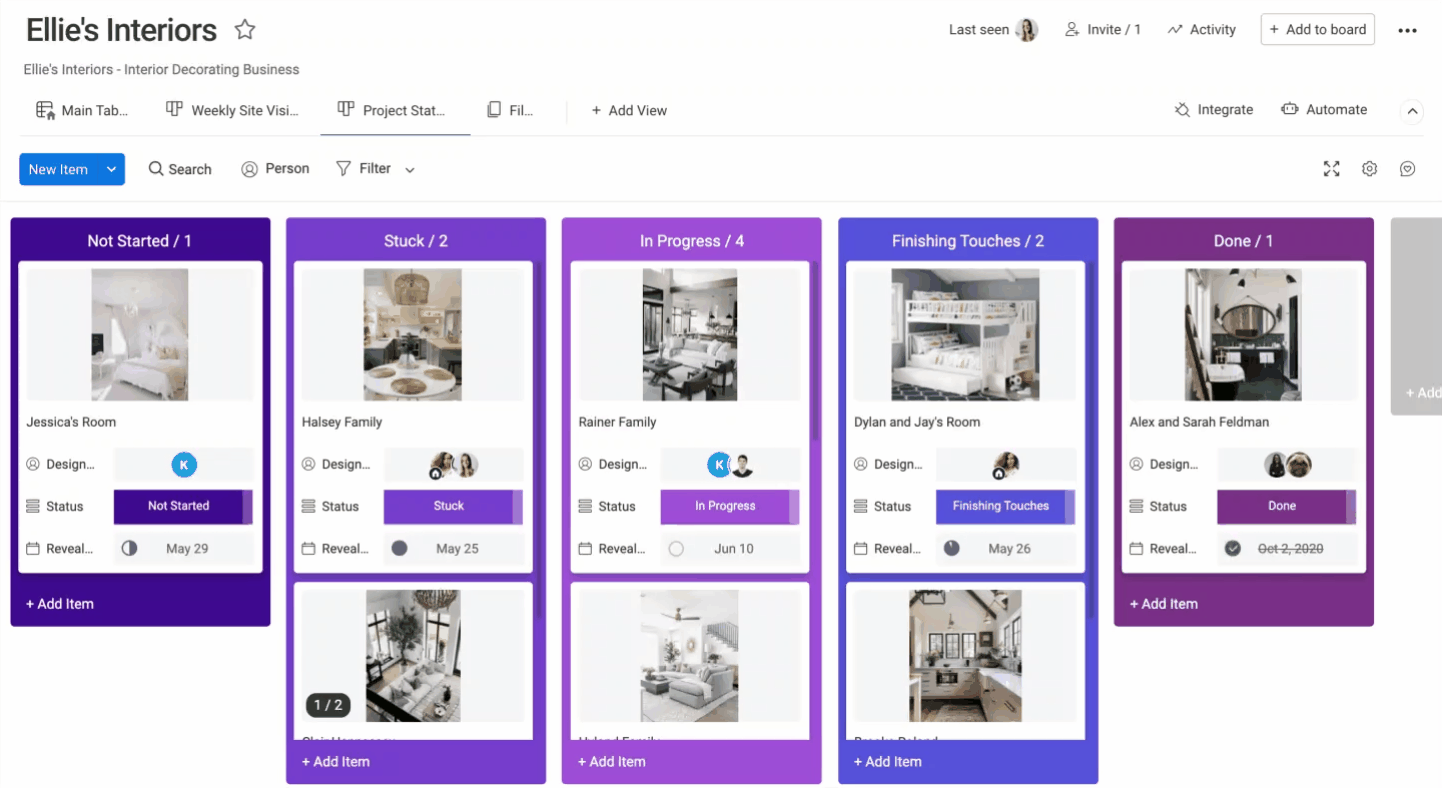 Alternatively, you can also click anywhere else on your Kanban card to open up the full pop-up card view of that given item. From there, you can edit all of the item details in a snap!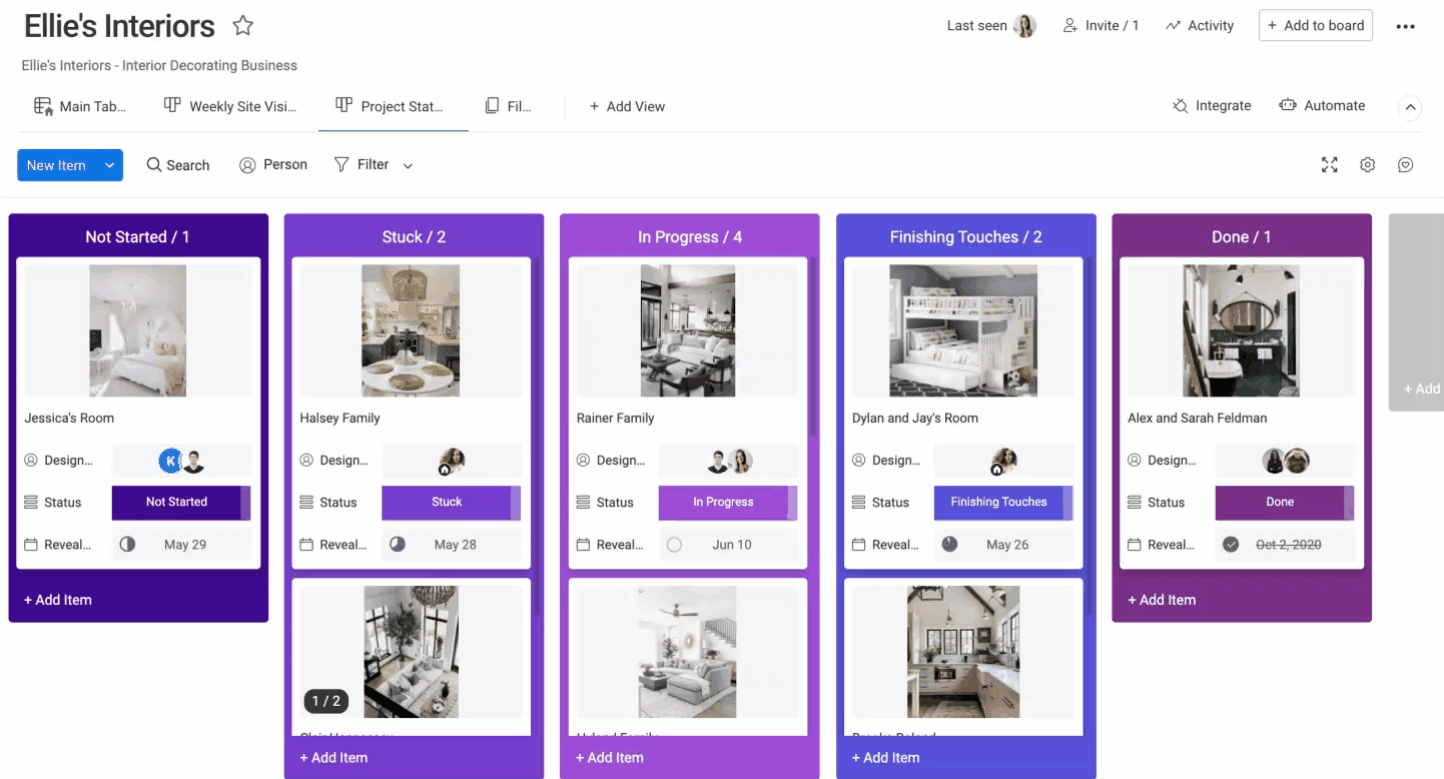 Move cards and columns
You can move your items and columns really easily by dragging and dropping them in the right place!
You can change the placement of your Kanban columns by dragging and dropping them! Since we've organized our cards by the day of the week our site visits are scheduled on, we want to organize our columns to represent the days of the week in chronological order. We've dragged and dropped them into the right order in the example below: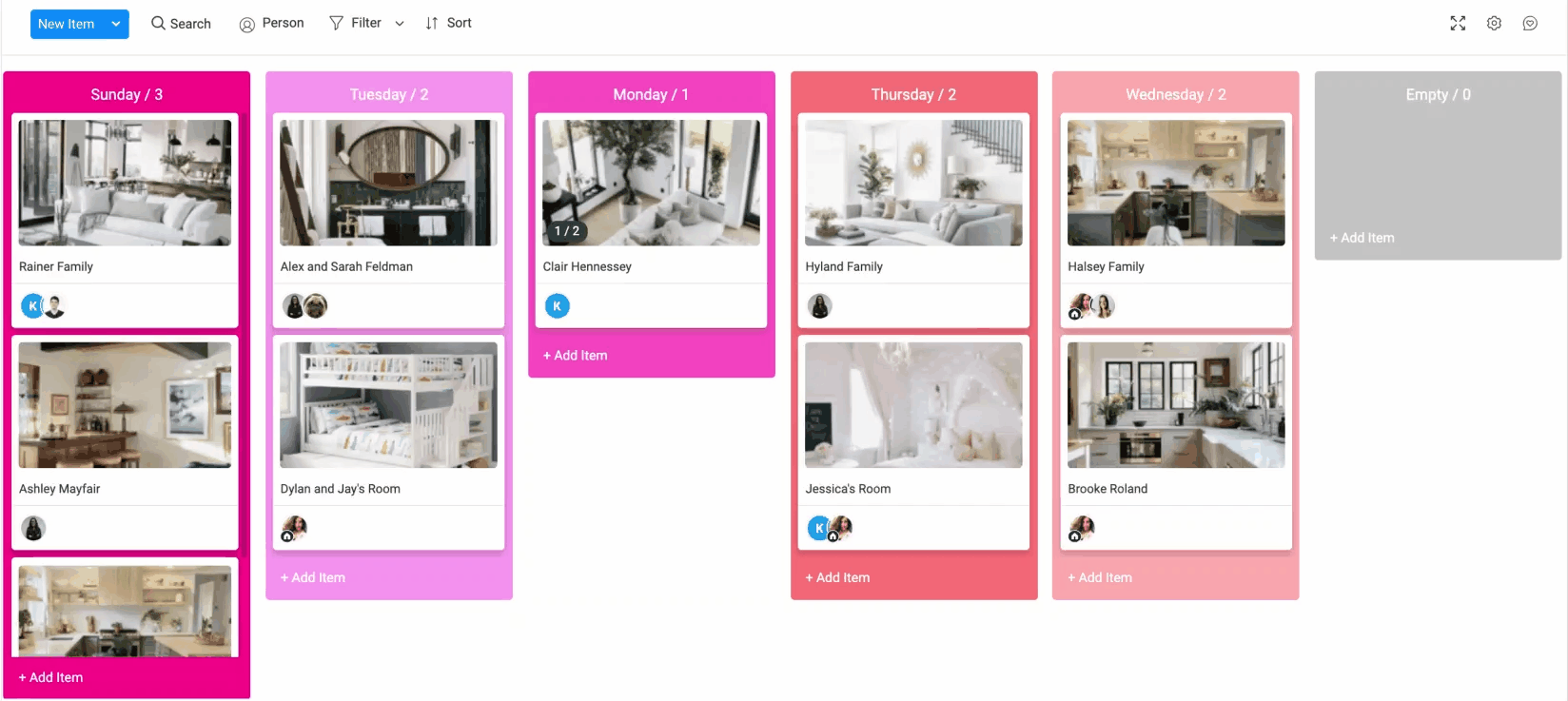 You can change the order of your items by dragging and dropping them within or across your columns! This is a great way to visually assess and manage your resources. For example, we've taken a look at our "Weekly Site Visits" Kanban board, and noticed that Jess is double-booked on Sunday! It will be difficult for her to visit two sites on Sunday, so we've decided to click and drag one of her visits to Thursday, instead.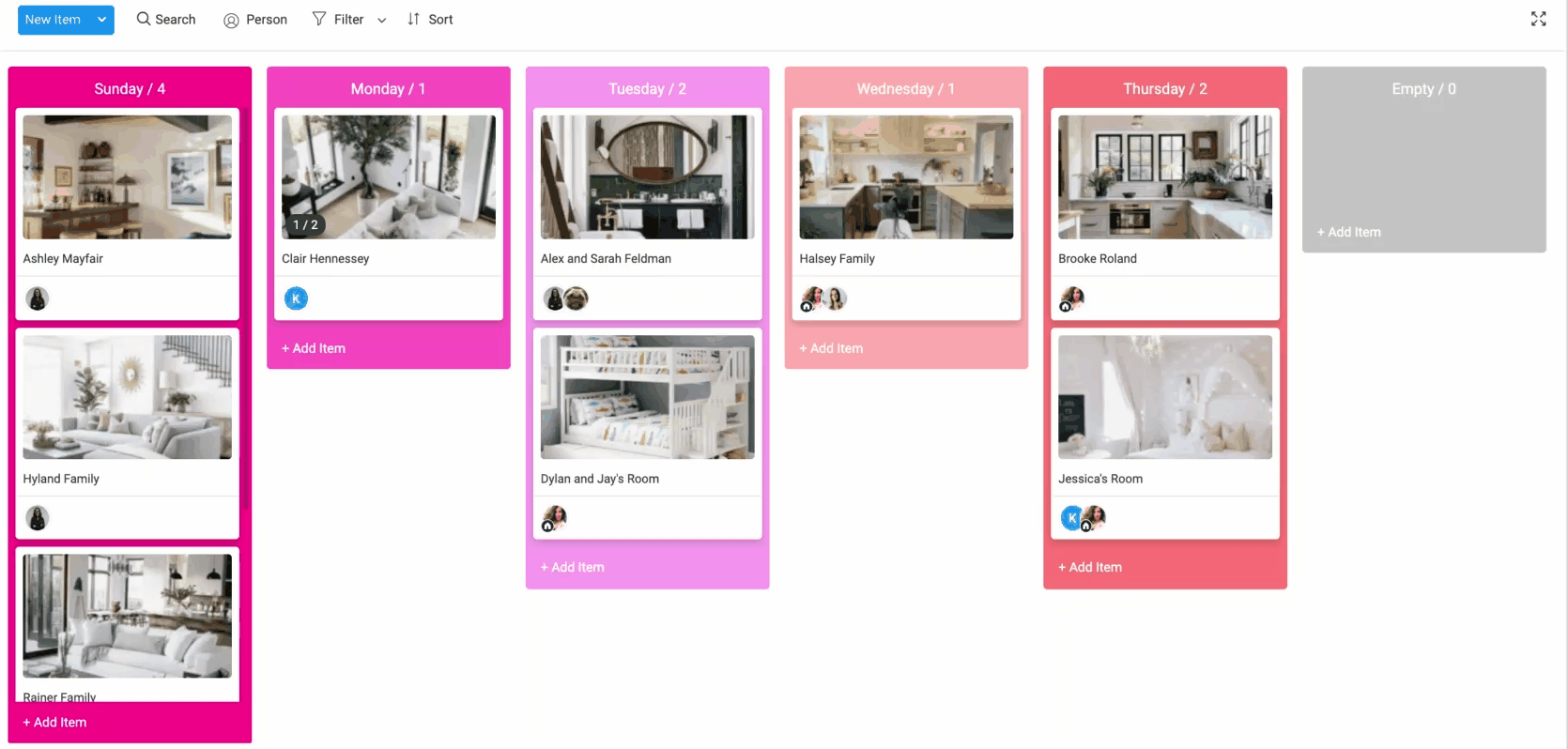 Split View
Want to be able to see your Kanban View and your Main Table View at the same time? You can view them together in Split View! In your settings panel, you can click "Split Screen View" to view your Kanban View above your Main Table View, and click "Fullscreen View" to see only your Kanban View.
If you have any questions, please reach out to our team by using our contact form. We're available 24/7 and happy to help!