5 min read
Feature
If you're looking to learn more about how our pricing works, you've come to the right place. We will cover all the basics about our different plans and products and then show you step-by-step how to upgrade to a paid plan
Get started
When signing up for the first time to a monday.com account, you will automatically be on our Free Plan. This plan offers you all the very basic features of the platform. It's great if you're using monday.com to organize your projects in a simple way.
This plan has limitations in terms of features and the number of items you can create in the account. To learn more about the Free Plan check out this article.
While you can use monday.com with a limited number of features for free, if you need more, we offer four paid plans.
What are the different paid plans?
If you love our advanced features or simply want to use monday.com without usage limitations, you can purchase one of our paid plans for monday work management with or without any of the products built on top of monday work management. Our paid plans are currently based on four options:
Basic Plan. Keep it simple with just the basics.
Standard Plan. Perfect to collaborate with external stakeholders.
Pro Plan. Offers you most of the platform's advanced features.
Enterprise Plan. A must-have for all teams looking for extra security features and personal assistance.
For more details about the difference between plans, click here.
What are monday products?
To further boost your work, you can purchase one or more monday products on top of monday work management. These products offer complete end-to-end solutions that meet the needs of many major workflows. Currently, we offer the following products:
monday marketer: A complete marketing product that connects all aspects of marketing work, from social strategy and content planning to cross-functional product launches and more, to build scalable and impact-driven growth.
monday sales CRM: The all-in-one CRM product that allows business owners and sales teams to manage all aspects of their sales cycle and customer data in one centralized place while increasing productivity significantly.
monday projects: A powerful project management product that provides one platform to strategize, execute, and collaborate on anything, from basic projects to complex portfolio management.
monday dev: A product built for software development teams to collaborate together on product roadmaps, sprints, release plans, customer feedback, backlogs, and much more, while staying connected to other departments at all times.
To learn more about the product pricing, take a look at our monday products pricing and features article.
How to pick your monday work management paid plan
To pick the right plan for you, you need to take into account three factors: the number of seats that you will be using on your monday.com account, the type of plan, and the duration of the plan.
1. Pick your subscription
We offer two types of subscriptions: monthly and yearly. The monthly plan allows you to pay month-by-month. You can find more information about it here. The yearly plan is one payment that covers the following 12 months.
Tip:
To pick the duration of your plan, toggle between "Yearly" and "Monthly"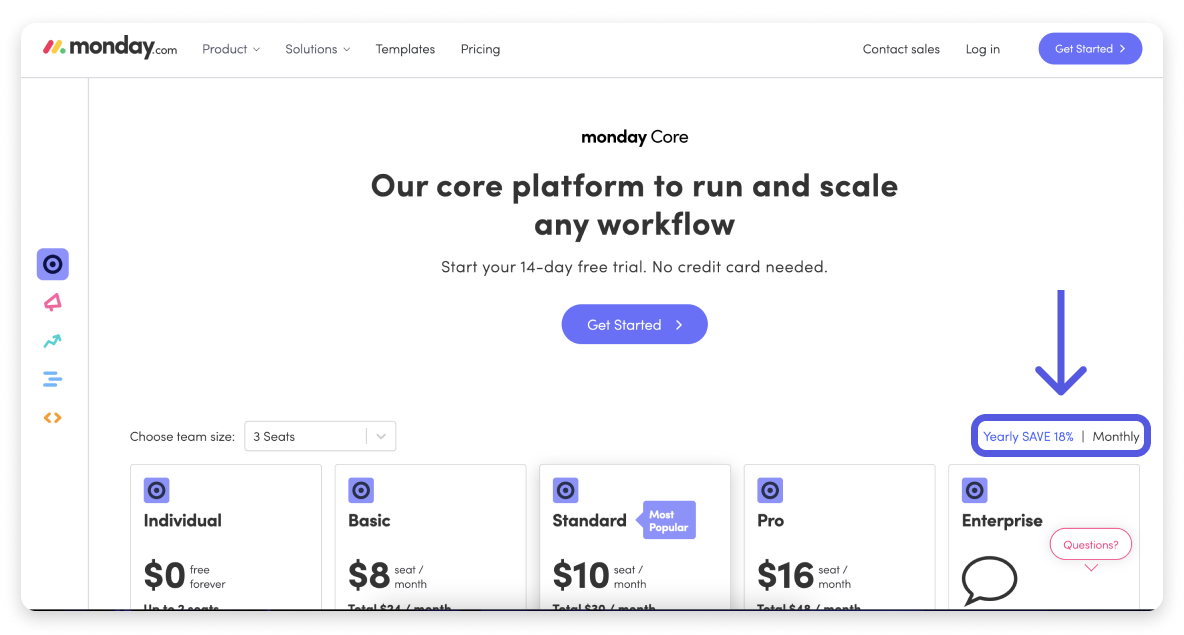 2. Select the number of seats
The pricing works per group of seats and not per seat. If you have a team of 4 for instance, you should choose the 5 seat option. The price will display per month for the entire 5 seats.
Important Note:
The system will take into account how many seats are currently in use in your account. If you would like to choose a plan that has fewer seats than the current number of seats that you have in use in your account, please

deactivate

a few users to be able to select a plan with the desired number of seats.
3. Pick your plan
Whatever you need, we have a plan for you. This article will help you better understand and compare plans. Click on the tile that represents your chosen plan to select it.
4. Choose your products
If you so choose, you can purchase one or more monday products on top of monday Core. Select your product from the side bar on the left to see how this changes the price.
For instructions on how to select one or more products while checking out within your account, visit the "How to purchase a monday product" article.
5. Check out
These selections will all determine the final price. Feel free to play around with your selections on the pricing page to see what you can expect.
To sum it up
To sum up this article, monday.com offers:
A Free Plan if you'd like to use the very basic features of the platform
Four paid plans if you'd like to unlock some of our amazing advanced features
and monday products to increase your efficiency!
Note:
You can upgrade or downgrade your account at any point in your subscription.
To learn more about our pricing and billing, check out these articles:
If you have any questions, please reach out to our team using our contact form. We're available 24/7 and happy to help!