We are committed to making monday.com a hub for your business. Automations and Integrations are the cornerstones for your workflow, and we want to ensure you understand how we calculate their usage!
What is an action?
Before we dive into the pricing model, let's clarify what an "action" is since it is the main component of our model:
An "action" is every time the Automation or Integration runs and performs the action it was set up to do.
As an example, an automation that says "When status changes to done, notify Julia" will make an "action" every time Julia is notified of the status changing (one notification = one action). Whereas, the automation "When a due date arrives, duplicate the item to this group and push the date by some time", would be 2 Actions (duplicate the item to the group and push the date by some time).
Automation/ Integration actions available per plan
1. The Basic plan won't have access to Automations/Integrations.
2. The Standard plan will have 250 actions for Automations and 250 actions for Integrations each month.
3. The Pro plan will have 25,000 actions for Automations and 25,000 actions for Integrations each month.
4. The Enterprise plan will have 250,000 actions for Automations and 250,000 actions for Integrations each month.
What happens if I exceed my actions?
Automation/ Integration limits apply on a monthly basis.
1. Standard plan: If in a month, an account surpasses their allocation of Automations or Integrations, which is determined by the plan tier, the number of additional actions over the 250 limit will be deducted from the next month's allocation. As an example, if 280 Automation actions were used in April then there will be 220 Automation actions available in May.
2. Pro/ Enterprise plans: The Automation/ Integration actions allotted on these tiers are significantly higher. For 99.9% of accounts, this action limit is more than enough. In the case you find your account exceeding the allotted actions, an email will be sent to set up a call with a monday.com team member to discuss options moving forward.


Important: If your account reaches the point that all of your current month's allocations have been used up, the account will be blocked from editing or adding new Automations/ Integrations. We recommend in this situation to upgrade to Pro if you're on Standard plan. If you're on the Pro plan, please talk to us about upgrading your account to Enterprise.
How can I track and control my actions?
To support monitoring the number of actions within the automations / integrations store, please go to a board > click "automations" > click "account usage", here you can see the number of actions available and used by your account in the current month.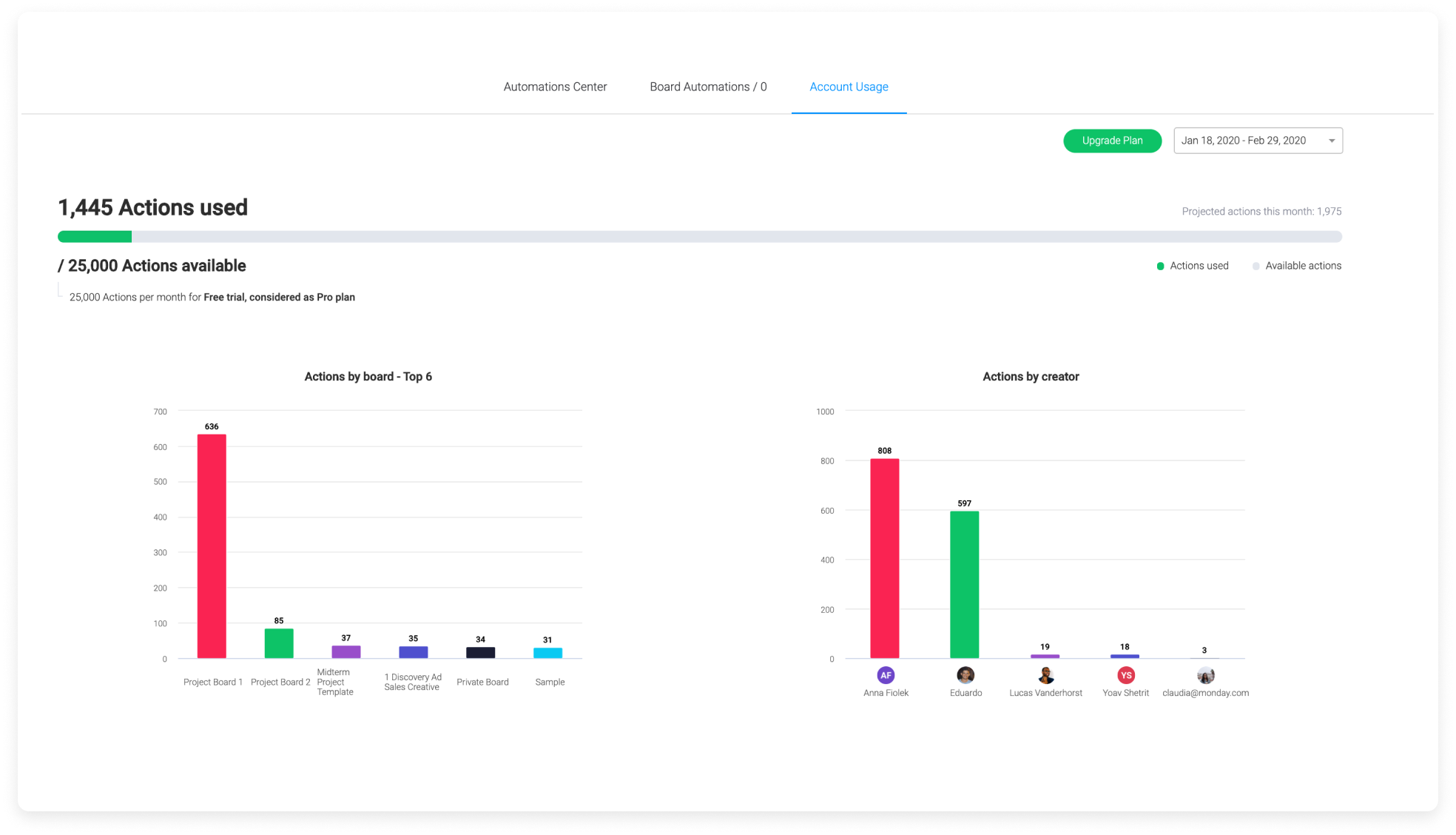 Unsure if you're close to capping out on the allotted automation/ integration actions for the current month? No need to worry, email notifications will be sent when the account usage for the month is at 50%, 75%, and 100% capacity.
A solid infrastructure for everyone
We're building for the long-term - We want Automations / Integrations to be a solid infrastructure for everyone to build on and see it as a critical component for the workflow.
If you have any further questions, feel free to reach out to our Customer Success team at [email protected]. We are here and happy to help 24/7.