Manage your leads and their latest updates efficiently and openly with the rest of your team! The platform was created for companies and people to work together, collaborate, create transparency and visibility; most importantly it is endlessly customizable. With that, you can easily customize monday.com to support your team's lead management.
What is lead management?
First let's understand better what is a lead. Leads are customers that have shown an interest in your solution but haven't made a purchase yet. They can come from many different sources: an event you've organized, emails, website, ads...
Lead management is basically the process of managing all these leads and ensuring that they get the attention they need.
Why lead management is important?
As your company scales, you are getting more and more leads. Sometimes more than what your sales team can handle. Consequently, they can no longer ensuring attention to each lead properly and things begin to fall through the cracks.
Implementing a good lead management process allows you to never miss out on opportunities. You can see the lead information, maintain communication, discern the hot leads from the cold ones and therefore improve conversion 🎉
In this guide, you will learn how to use monday.com for managing all your leads!
Few Resources to get started
In addition to this guide, we have also gathered a few more resources that you might find useful:
You can use our lead management template. You will find it in the templates section of your monday.com account.
You can also check out this monday.com story

that a monday.com user created to manage their sales process and add it directly to your board.
Set up your leads board
1. Categorize your information
Groups are a great way to split your information into specific categories. Our board is split in three groups: one for the new incoming leads, another one for the qualified leads and the third one for the unqualified leads. This is just an example but there are many ways you could go about this.
2. Customize your board with columns

With over 20 different column types, there's really no limit to how you can customize your board to fit your team's needs. Below are a few basics you can use. We will go over some more advanced ones later on in this guide.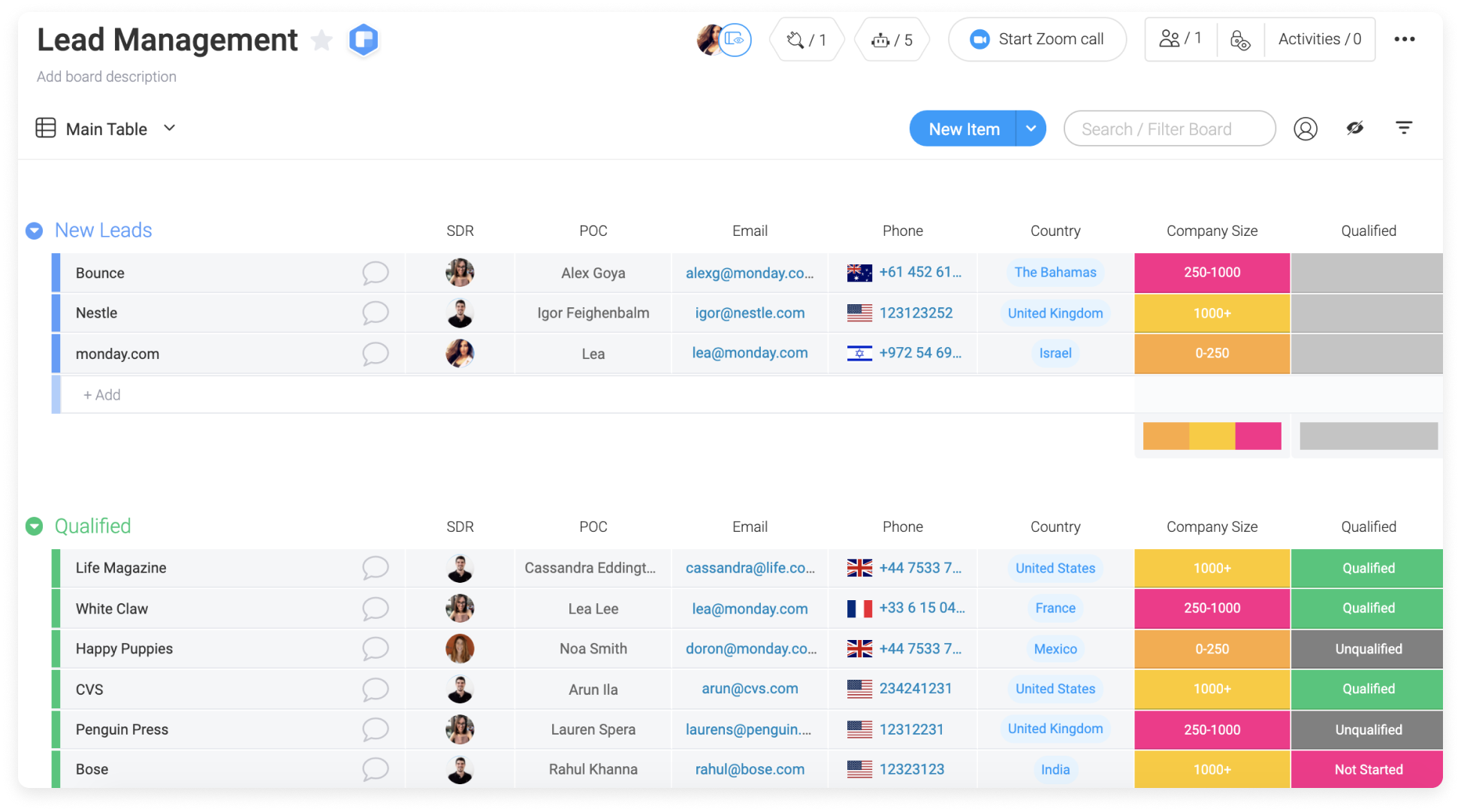 Email column

-

Gather your leads' email addresses by adding this column to your board.

Country column - Find out where your leads are from by adding a country column
Phone column - An important column to get the phone number of your leads. You can even reach out to them on the spot without leaving monday.com!
People Column - Each lead can be assigned to a sales development representative (SDR). This column helps to provide transparency on who is taking care of what.
Status column - By adding multiple status columns and customizing the labels, you're able to track each stage the lead goes through! Remember, add and edit labels to fit your needs!
Pull your leads directly into monday.com!
Instead of receiving information from your clients and then spending even more time inputting it into the platform, we've created a time-saving, client-pleasing solution: the forms
Simply create a board, tailor-made to your specifications. With a few clicks of a button, you'll be able to create a form based on that board, share it with your clients by link or by embedding it on a website. Each response will create a new item with all the answers you need.
If you are not familiar with the forms, we highly recommend you check out this awesome article. This is what our monday.com form looks like:
Enrich your data with Clearbit
Clearbit provides powerful products and data APIs to help your business grow. Contact enrichment, lead generation, financial compliance, and more...
When a new lead comes in, it is important for your sales representatives to understand better who the lead is and which company he/she belongs to. Clearbit can provide all this information. By integrating Clearbit to monday.com, the information about each of your leads will be automatically populated into your leads board. No need for your sales team to conduct their own research anymore!
To add the Clearbit integration, open your integration center and then select the recipe below:
If you'd like a step by step explanation on how to create a Clearbit integration, check out this article.
In our example, we want Clearbit to find information about our leads' company. Using the e-mail column in our board, we will then select the recipe "when an email is added to the email column, add its company data to the item."
Once you've selected your recipe, you can map what exact information you'd like to see from Clearbit. To do so, click on "company data" in the current recipe:
The fields shown above represent the columns of your leads' board. Next, click on any of these fields to map them out with the Clearbit information. For example we want the company name column on monday.com to be populated with the company name field from Clearbit.
Once all your columns are mapped, click on "add to board" and you are done! 🎉
Now let's say I am filling the form as a new lead. The company name I am from is monday.com. Once I complete the form the following information will populate in the leads' board:
By just adding my company name as monday.com, business information about monday.com were automatically populated in the board. ✨
Automate your workflow
Assign your team automatically
Let's boost our workflow even more by adding automations to our board. Automations are a great way to eliminate human actions and save you time. To learn more about it, check out this article. We have added the below automations:
When a lead comes in, the company's information will be auto populated in our board through our Clearbit integration. Thanks to automations, our sales development representatives (SDR) will be automatically assigned to leads based on the company size.
Automatically move a lead whether it is qualified or not
Whenever a lead's status is changed to approved/refused, you can automatically move the active lead to either the won or lost group using the below automation:
Automatically populate your CRM and Sales Pipeline board
Once a lead is qualified, it can be automatically added to your CRM and Sales Pipeline boards. From there, your sales representative will be able to take care of the qualified lead and hopefully convert it into a paying customer. 🤩
Get notified on the spot with Twilio
Let's boost our workflow even more by adding automations to our board. Automations are a great way to eliminate human actions and save you time. To learn more about it, check out this article. We have added the below automations: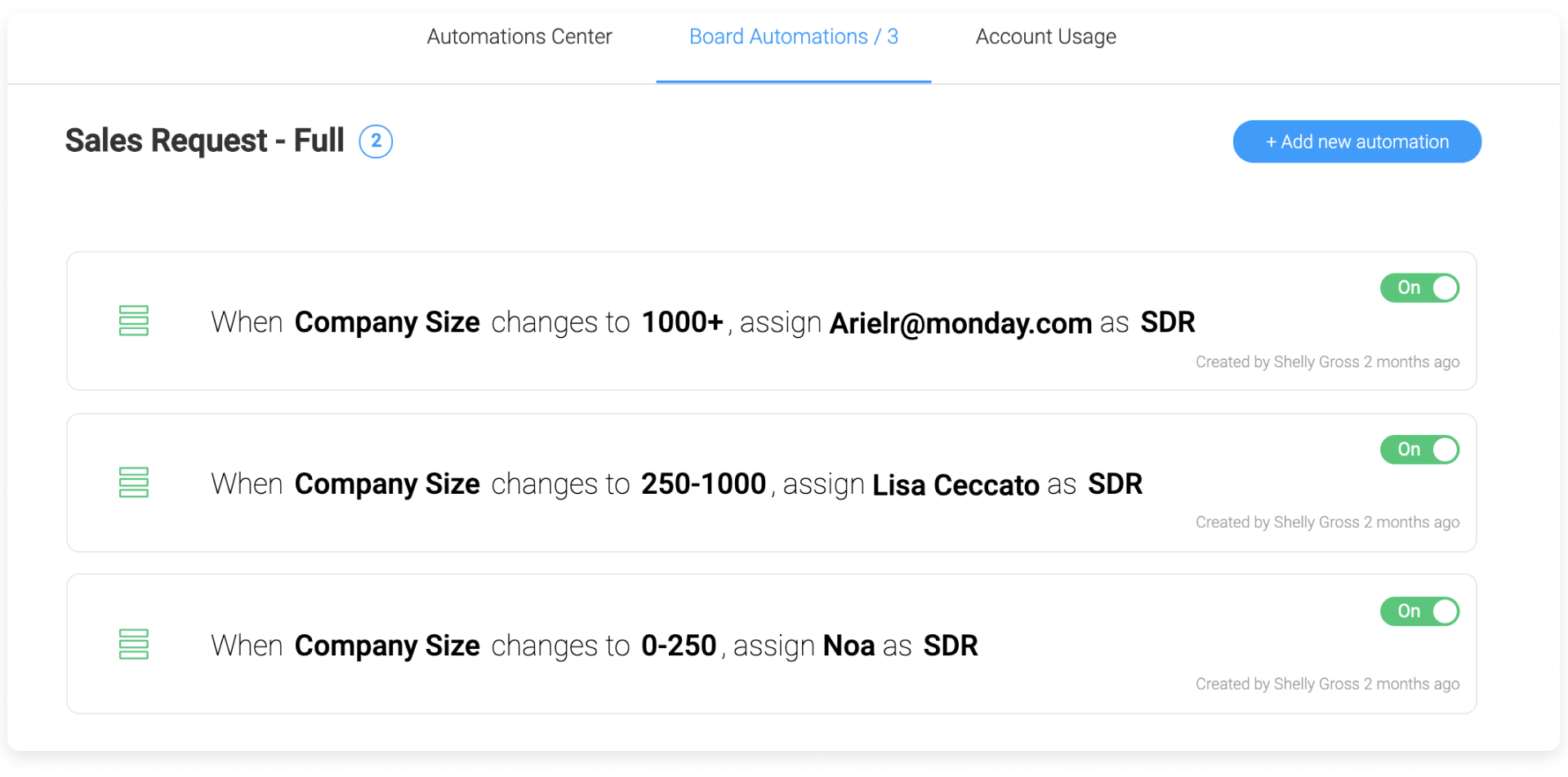 When a lead comes in, the company's information will be auto populated in our board through our Clearbit integration. Thanks to automations, our sales development representatives (SDR) will be automatically assigned to leads based on the company size.
With Twilio integration, you can make sure your SDR team never miss a lead! By setting up this integration to your board, your SDR team will receive a text message to their phone as soon as a new lead will be assigned to them.
In the integration center, click on Twilio and then select the below recipe:
Next, we will customise our recipe. You can customise the SMS you'd like your team to receive to your needs.
Et voilà! Now each time a new lead will be assigned, your sales team will be notified by SMS. ☎️
Reach out to your leads automatically with the email integration
Tired of manually sending emails to all your leads!? The e-mail integration is just what you are looking for. monday.com can integrate with both Gmail and Outlook.
Let's go back to our workflow. Once a new lead comes in the board, the SDR representatives get assigned automatically thanks to the automations we have set up earlier.
This is where the Gmail integration comes in place. We will use the following recipe:
We will then customise so that when a new lead is assigned to a SDR agent, a welcome email will automatically be sent to that lead signed by the SDR.
Let's complete our email integration with this recipe:
Now once the lead will answer you, his/her answer will directly be added to the update section of the board:
Et voilà 🙌 Now you can manage the communication with your leads directly from monday.com.
Synchronize all your meetings in your calendar
With our calendar integration, you can add all your scheduled meetings from monday.com to your personal calendar. To do so, you will need a date column. In our example, we have a date column for each stage of the process:
Next, click on your date column's settings and synchronize it to your calendar. For a step by step explanation, check out this article. In addition to the calendar integration, you can also set up an automation in your board and get an automatic reminder when your meeting is about the happen.
With that combination you can be sure to never miss any meeting again! 🙌
Use the chart view to get insights on your leads
Chart Views allow you an informative overview, providing breakdowns and analytics to enable your team to make necessary and informed decisions.
In this example, we are interested to understand where the best leads come from. We will be using the stacked chart. Our X-Axis represents the lead source (where does the lead comes from). The Y-Axis represents the amount of leads per source. Finally we stacked each bar to see a breakdown of how many leads for each source were qualified:
This will help you understand which source brings you the best quality leads and invest in each specific source in a smarter way.
Just like that, you're all set and ready to get started using monday.com as a lead management platform!
If you have any questions, please reach out to our team by using our contact form. We're available 24/7 and happy to help!