Ads Manager is a Facebook tool used to create, manage, and track your active Facebook ad campaigns. You can now use monday.com to integrate with Facebook Ads to manage your campaigns and your work all in one place.
Important: Before setting up the integration
Note: You must have a Facebook Ads business account in order to use this integration.
Our Facebook Ads integration is an import integration meaning, you first import your active campaigns and then create the integration.
We currently have one integration recipe that's automatically added to your board once you import the data from your Facebook Ads account:
How to add it to your workflow?
Step 1
To add an Integration, please click on your Avatar and choose 'Import data' from the generated menu.
This will redirect you to our Import page. Once on the page, you will see all of the apps you're able to directly import from, then go ahead and select "Facebook Ads":
Step 2
Once you click on the Facebook Ads import you will be asked to connect your monday.com account with your Facebook account :
Step 3
After you've connected both accounts you'll be redirected to the import page and be asked to choose the wanted campaigns to import.
Step 4
Choose the wanted ad accounts and with just one click a board will be created with all the active campaigns created in the last 24 months that you're running for this account!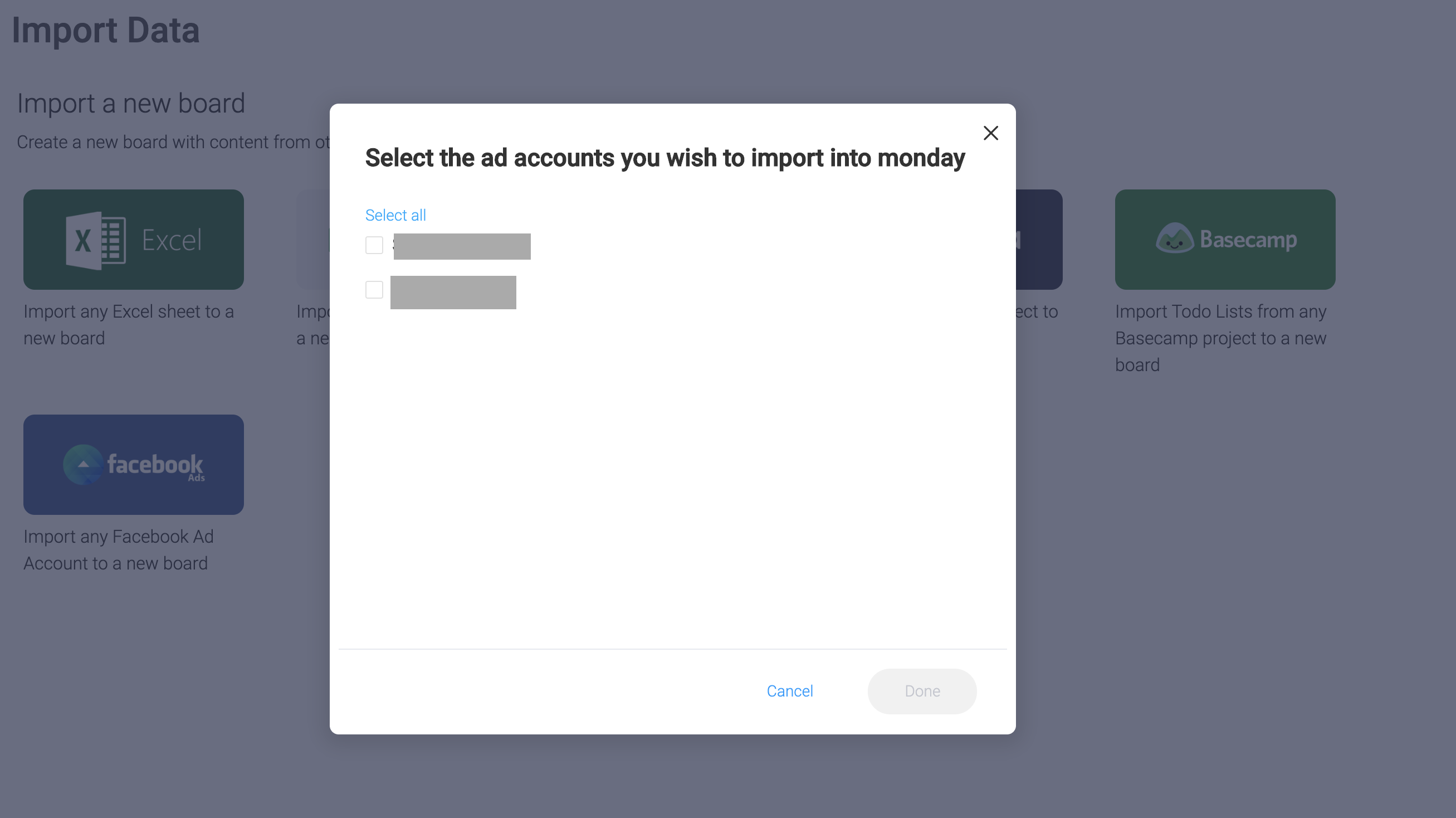 Note: Once a connection is made between your facebook account and monday.com it will remain valid as long as the integration is being used. If an integration is not used within 90 days of the connection being made it will expire and become inactive. You will then need to revoke monday.com's access from your facebook account and create a new connection.
Okay, This next step is SUPER EXCITING so buckle up! Once the import is done the integration will be automatically created 🤩🥳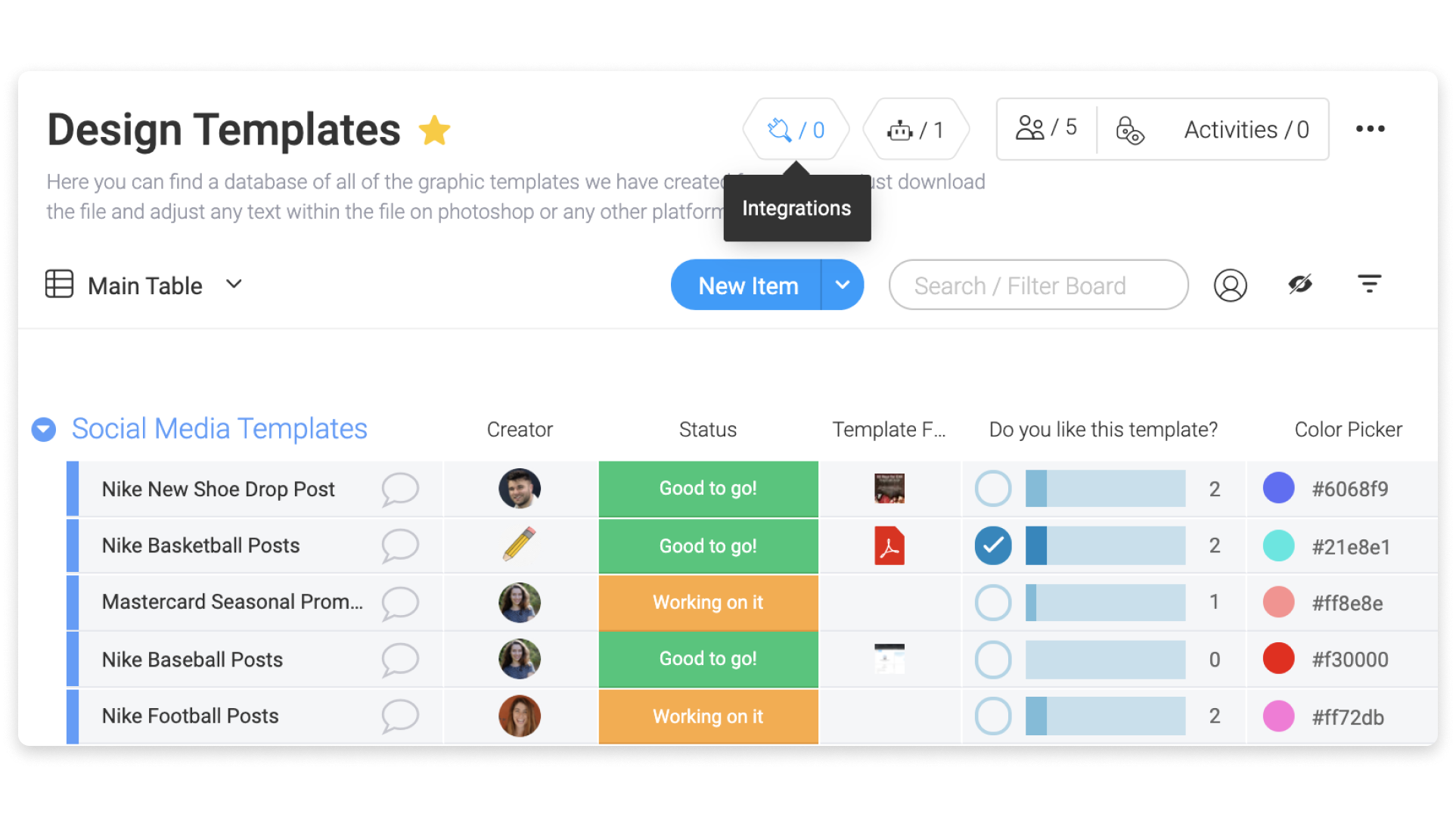 This is indicated by the #1 you can see in the integration button. Please note that the default time period for the sync is 'every day', so if you wish to edit it and choose a different time period, please click on the integration button, once on the page, you will see all of the amazing apps we offer to integrate with, then go ahead and select 'Board integrations':
This will redirect you to the list of active integrations you have on the board, once there, you can simply click on 'edit integration':
Once you've clicked on the integration recipe you'll be able to edit it!
Then, you can edit the first field (every time period), there you will fill out how often you'd like to sync Facebook Ads to your monday.com board. You have the option here to choose daily, weekly, or monthly and choose an hour.
Congrats 🎉 you are connected to your Facebook account!
Supported Mapping Fields
Currently, the following fields are supported when mapping this recipe:
3 second video views, adds payment info, adds to cart, adds to wishlist, app engagement, app installs, app uses, app story, bid strategy, blocked messaging conversations, budget remaining, buying type, CPC, CPM, CPP, CTR, check-ins, clicks, completed registration, credit spends, custom pixel events defined by advertiser, event responses, frequency, game plays, ID, impressions, initiates checkout, landing page views, leads, leads (form), link clicks, clicks CTR, messaging conversation starter, mobile app achievements, mobile app adds to cart, mobile app checkout, mobile app content views, mobile app credit spends, mobile app feature unlocks, mobile app installs, mobile app payment details, mobile app purchases, mobile app ratings, mobile app registration, mobile app search, mobile app starts, mobile app tutorial completions, Name, mew messaging conversations, off site conversion, off site engagement, on-facebook purchases, on-facebook workflow completions, onsite conversion, other mobile actions, outbound clicks, outbound click CTR, page engagement, page likes, page photo views, page story, post comments, post engagement, post reactions, post saves, post shares, post story, purchases, reach, searches, spend, status, unique CTR, unique clicks, unique link clicks, unique outbound clicks, and views content.
Facebook Ads Manager integration column
When selecting which data will be mapped into each column, the integration column will be added automatically to maintain the connection between the parameters in both apps:
More Assistance
If you need help building custom integrations, we also have an option for paid assistance through our network of certified monday.com partners. If you're interested, please fill out this form and someone will be in touch shortly!
And if you have any questions about this or anything else in this article, feel free to reach out to us at customer success at support@monday.com