Not sure about which plan to use for your team and yourself? Look no further :) This article will help you out understanding the main differences between all plans.  
The Basic Plan
The basic plan offers you all the very basic features of the platform. It is great if you need monday.com for organizing your projects in a simple way, communicate and collaborate internally. It includes the following features:
You can use the board filter located on each of your board to filter the tasks you are assigned to or just any specific information within your board. You can learn more about it just here. If you would like to filter anything across your monday.com account, you may need the search everything available from our standard plan below. 👇
The main boards are accessible and visible by all your team members. You can create unlimited amount of main boards for your team and yourself. You also get access to our board templates if you need any inspiration. 
You can communicate with your team members in context using the @mention. You can also create teams and manage all your files through the updates section of each pulse. 
Most of the columns of the column center are available on the basic plan except: the formula, the time tracking and the http columns. To learn more about our column choices, check out this article.
The Files View allows you to see all the files uploaded within your board in one place. You can view them as a list or as thumbnails. From there, you can download the files, preview them or open them in the update section they are connected to. To learn more about it, check out this article.
The Standard Plan
The Standard plan is the most popular plan. It offers all the features included in the basic plan plus the following:
Shareable Boards are boards that you are able to work with outside users (guests). It offers you the ability to share projects with your outside users without giving them access to your full account. To learn more about the shareable boards, click here. 
The standard plan offers you access to the timeline feature which is our own version of the Gantt chart. Check out this article to see how it works in action.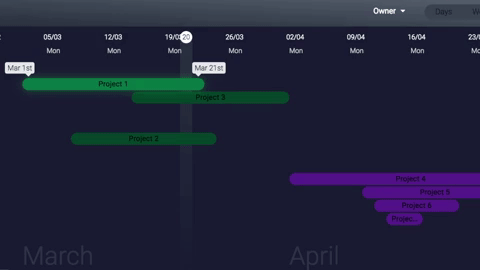 With the Search Everything, you can search for anything across all of your boards (files, updates, pulses). 

You can also use the board filter to filter any information within a board.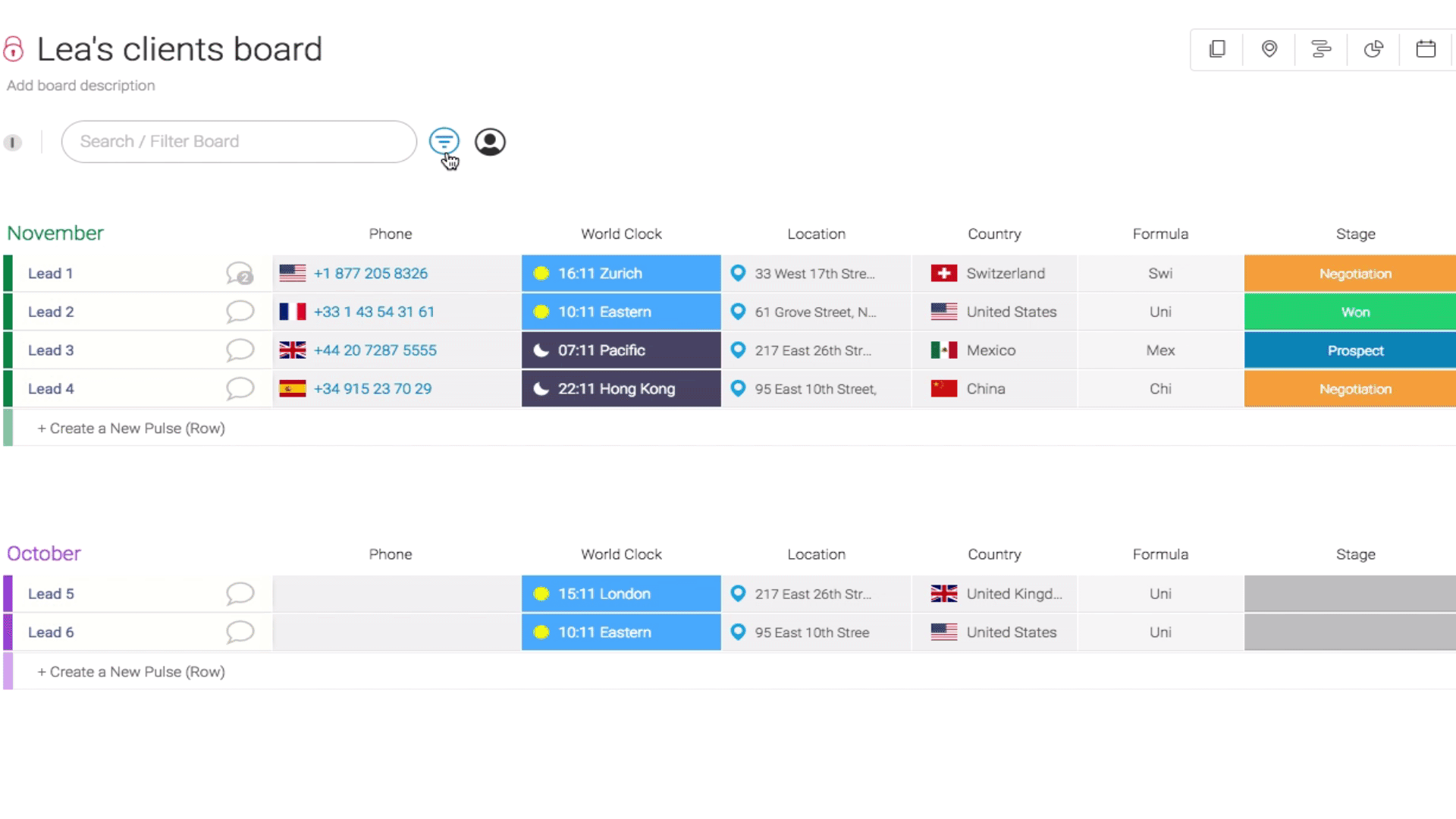 The calendar board view allows you to visualize all your tasks that have a date/timeline column in a calendar. You can customize your calendar view per day, week or month. You can also decide which column you want to appear on your calendar. Check out this article to learn more about it.

The map view allows you to see your location and/or country columns in one single map. Check out this article to learn how it works.
You can integrate monday.com with your preferred software using our integrations. Click here to learn more!
We also offer internal integrations with Excel, Slack, Google Drive, Dropbox and with your own calendar. The calendar integration is awesome if you want to receive alert reminders when a task is about to reach its due date.
Having an API is a great way to connect any softwares together. Click here to see how it works! 
The Pro Plan
The pro plan is the plan your trial is based on. It is the most sophisticated plan that we offer that includes everything in Basic and Standard plus the following features:
The private boards are meant to only be seen by the user and anyone that s/he invites into the board. This is great for when you would like to create a project, to do list or plan before executing it to your team. To learn more about them, click right here. 
The pro plan is great if you need to collaborate with a lot of external users. It allows you to invite unlimited amount of guests in your account. 
Full access to the column center
This plan offers you a full access to the column center. This includes the time tracking column, formula, HTTP and more! 
You can enjoy the full access of our views center. This includes all the views available on the basic and standard plans as well as the amazing chart view. To learn more about the chart view, check out this article. 

Using the Tags column will help you to group pulses from different groups or different boards throughout your account by a consistent keyword! Learn more about the tags just here. 
This column allows you to make calculations with other columns. It goes from simple mathematical equation to more complex functions and formulas. Learn more about it right here. 
Wondering how much time you spend on each task? You now have the ability to track it with the time tracking column! ⏰ Check out how it works in this article. 
Google Authentication allows you to login to your monday.com account through your Google account. No need to store any new password in your brain :)

No need to worry anymore about how much storage you have left! It is unlimited on the Pro Plan. For more information about your storage, click here. On the Standard plan, the storage is limited to 50GB. 
The Enterprise Plan
The Enterprise plan is our highest plan. It includes all the features of the pro plan plus the following:
Our API is currently limited according to the plan you have purchased. For the Standard and Pro plans, the limit is 60000/day and 300/minute. For our Enterprise plan, the limit is 120000/day and 600/minute. You can read all about it right here. 
Advanced security features
With this plan, you have access to the panic button which allows you to momentarily block your account in case your team's login credentials been compromised. You will also get the session timeout which allows you to control your users sessions and no  activity time-out. 
No need to store anymore passwords in your head! You can now login with your SAML account (Okta, One login or custom SAML). Check out this article to learn more about it. 
The audit log allows Admin to see when the users have last logged into the account, what device they used, and what their IP address for the session was. It allows spot any suspicious activities and activate the Panic Button if needed.
VIP support with account manager
Get personalized support from your own dedicated customer success manager.  
For more information about Pricing, click here and check out our pricing article 
If you have any questions please don't hesitate to reach out to us at support@monday.com