We bet that you have some great boards that include everything you're working on. They're thorough, organized, and detailed, but you may still find yourself getting a little overwhelmed scanning and reviewing everything each day. Great news - now you don't have to! We've created a board view that will break down your board and display your items by date in a visually appealing calendar - the Calendar View!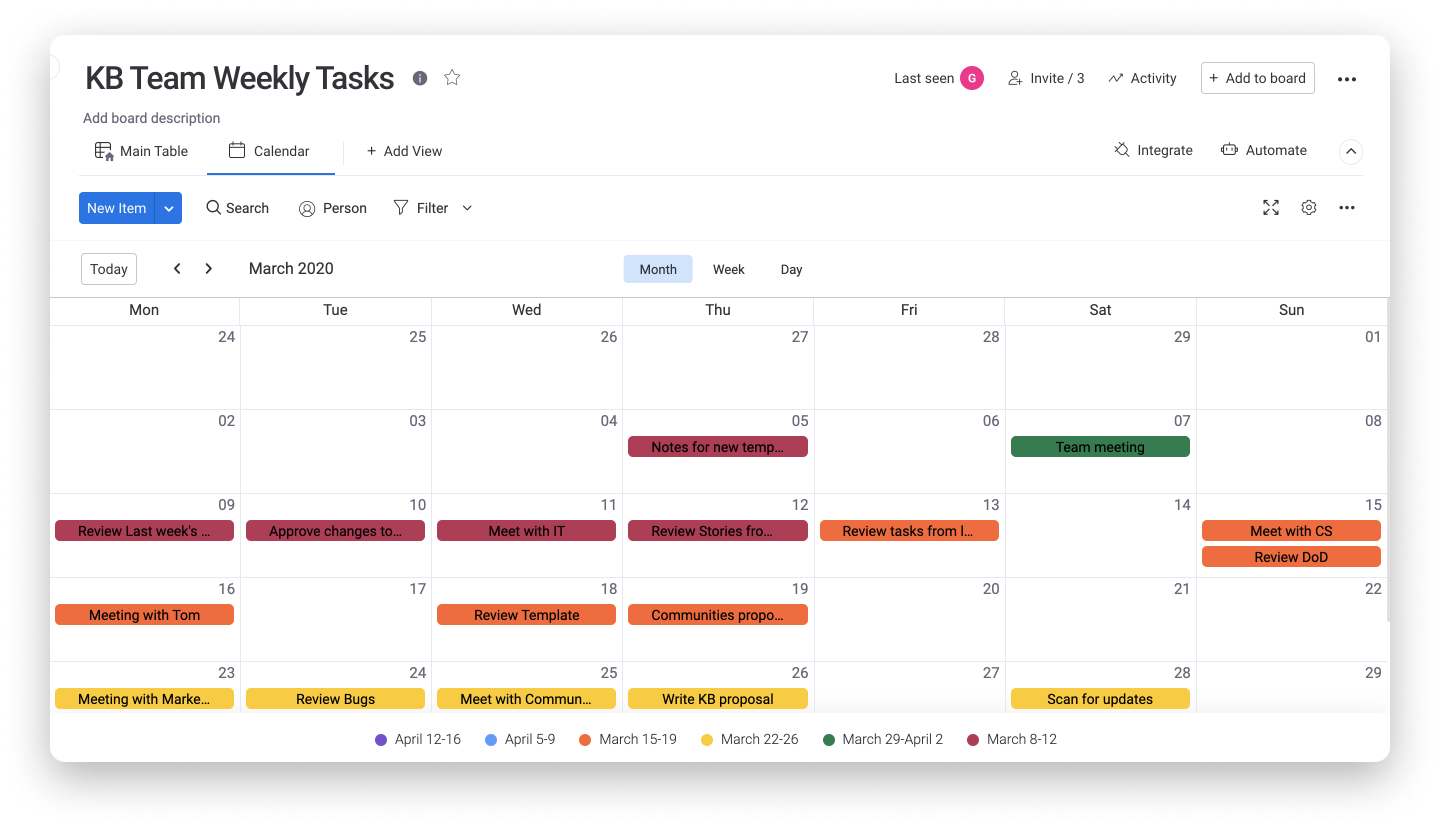 How it works
The Calendar View can show you your items in calendar mode based on month, week, and day! In one view, you can see all of the items you have coming up without getting bogged down by the things that can wait a little longer. You now have the possibility to view your calendars within one board or multiple boards (via your Dashboard)! Dashboard views are views that allow you to create a report using widgets connected to one board. Board views are views that allow you to visualize your data. 🎉
Note: This view is available on our Standard, Pro, and Enterprise plans only.
How to add the view on your board
Start by adding Date, Timeline, and Week columns on your board. Once you have all of the data filled into one or more of these columns, you are ready to launch the view!
Click on the "Add View" button and select "Calendar" seen in the menu under "Dashboard Views":
Once you add views to your board, they become tabs that you can easily click to toggle between!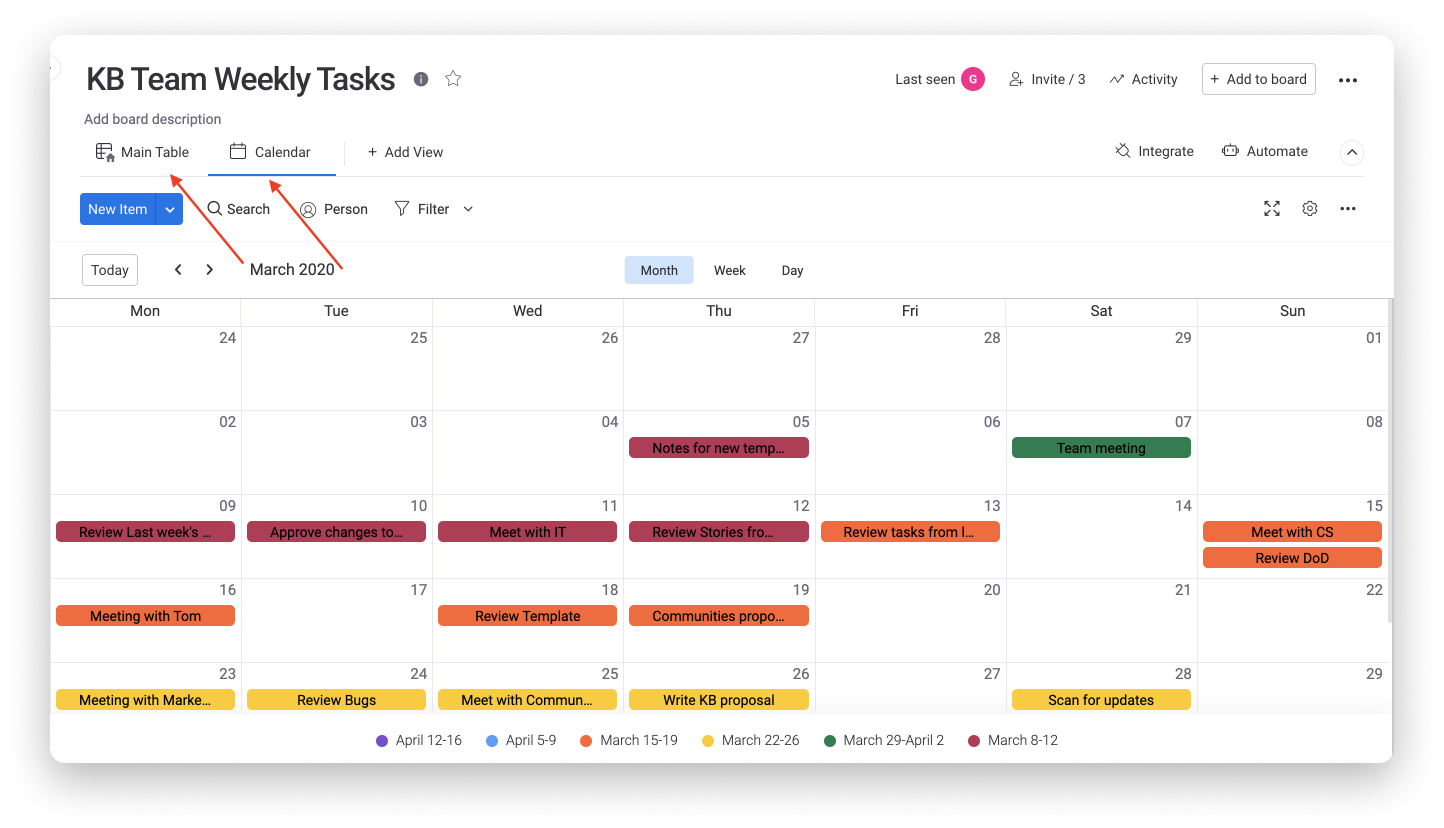 How to add the view on your Dashboard
Once you choose the boards that you want to showcase, click on "Add widget" at the top of the Dashboard page to see the list of options and select "Widgets Center" as seen below. Once inside the Widgets Center, simply search for "Calendar" and select the view to add it to your Dashboard: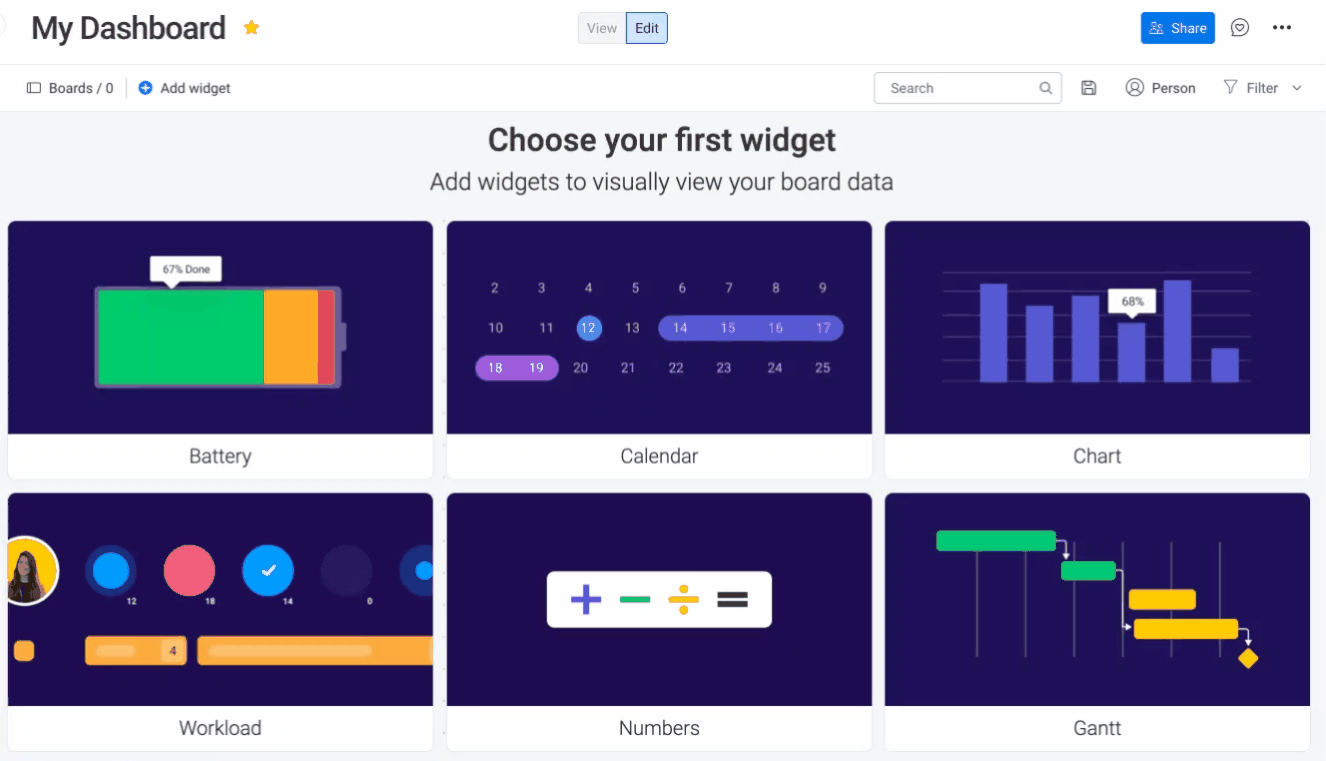 Note: When you open your Calendar View, today's date will always be highlighted in blue so that you can always find where you stand right now!
Settings and Customization
Open up your Calendar View settings by clicking the cogwheel icon at the top right corner of your calendar:
If you have more than one time column on your board (Timeline, Date, or Week Column), then you can choose which ones will be displayed in your Calendar View! From here, you can change what you want to display in your calendar by selecting which of the compatible columns you want to showcase in your calendar!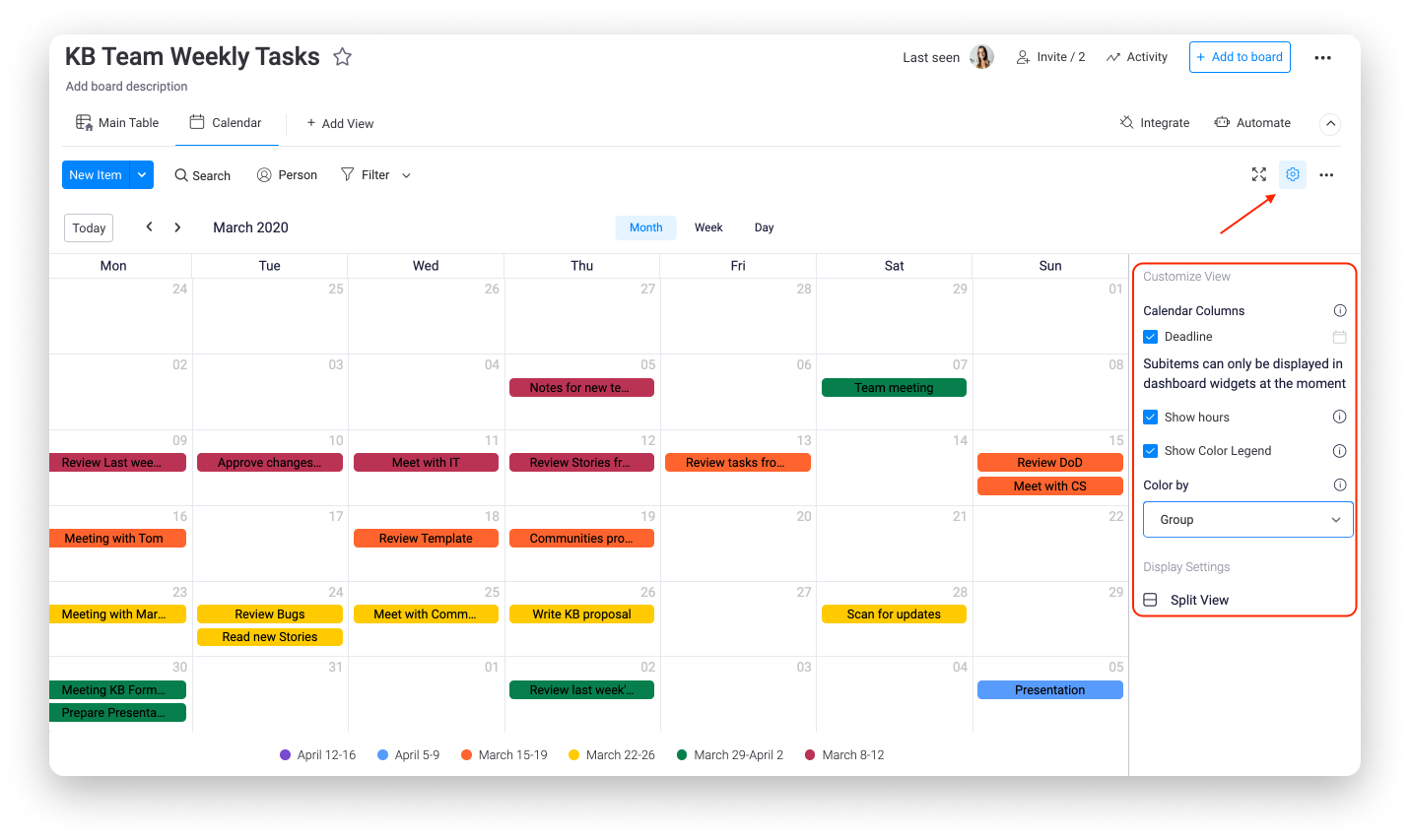 Note: Subitems can only be displayed in the Dashboard widgets at the moment.
Color your items however you want
Your calendar automatically color codes the events according to which group they come from. For example, when you see green events, you know they are from your green-colored group, and when you see purple events, you know that they are from your purple-colored group. But you can use the drop-down menu to choose how you want them to be colored! You can choose to color by groups (using the colors of your groups), Status Column (using the colors of your labels), or People!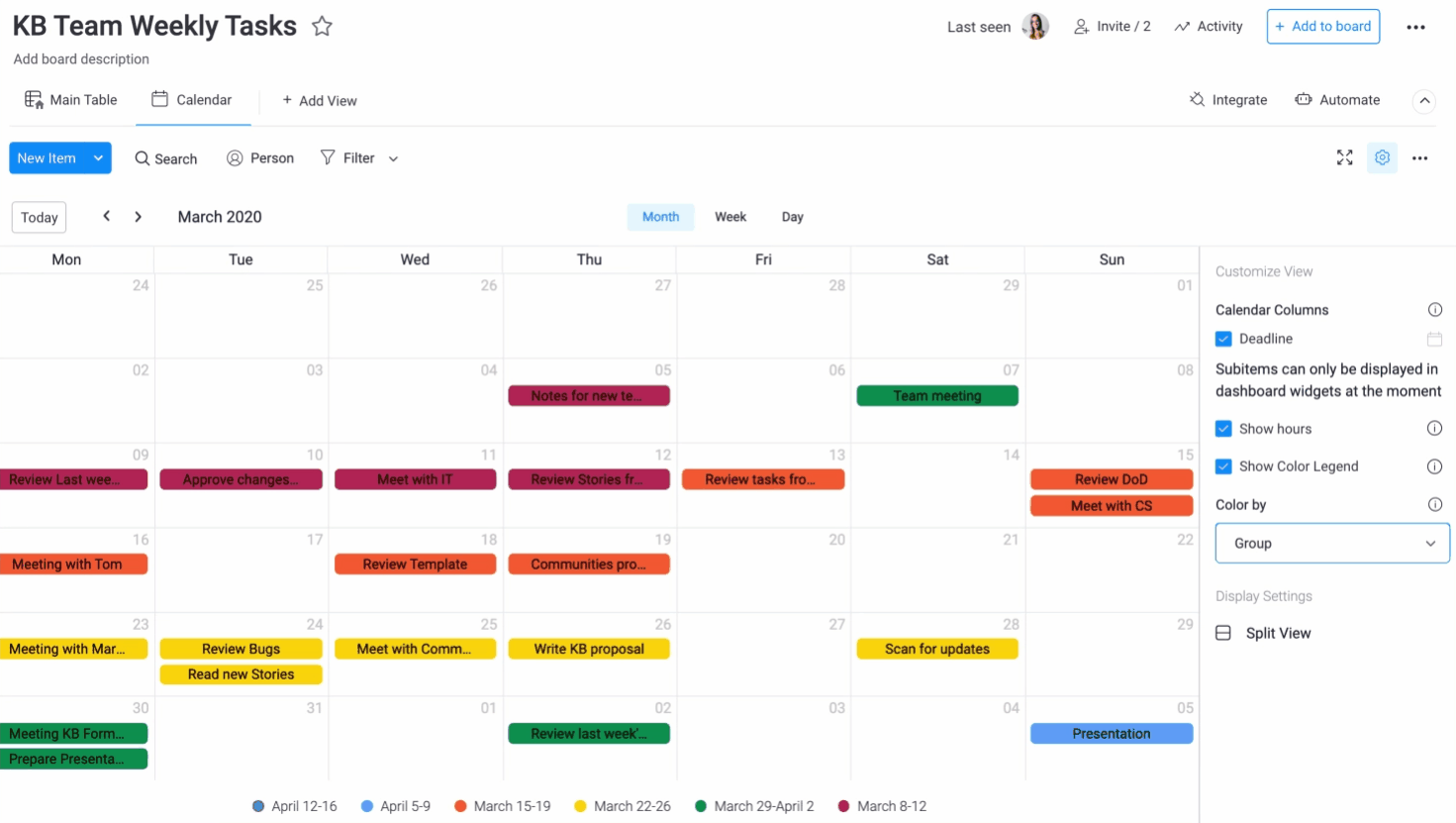 You can view both your Calendar and your board together on the same screen with the Split View mode! All you have to do is select 'Split View' at the bottom of the Settings menu. Return to see your Calendar in its regular mode by clicking 'Fullscreen View'.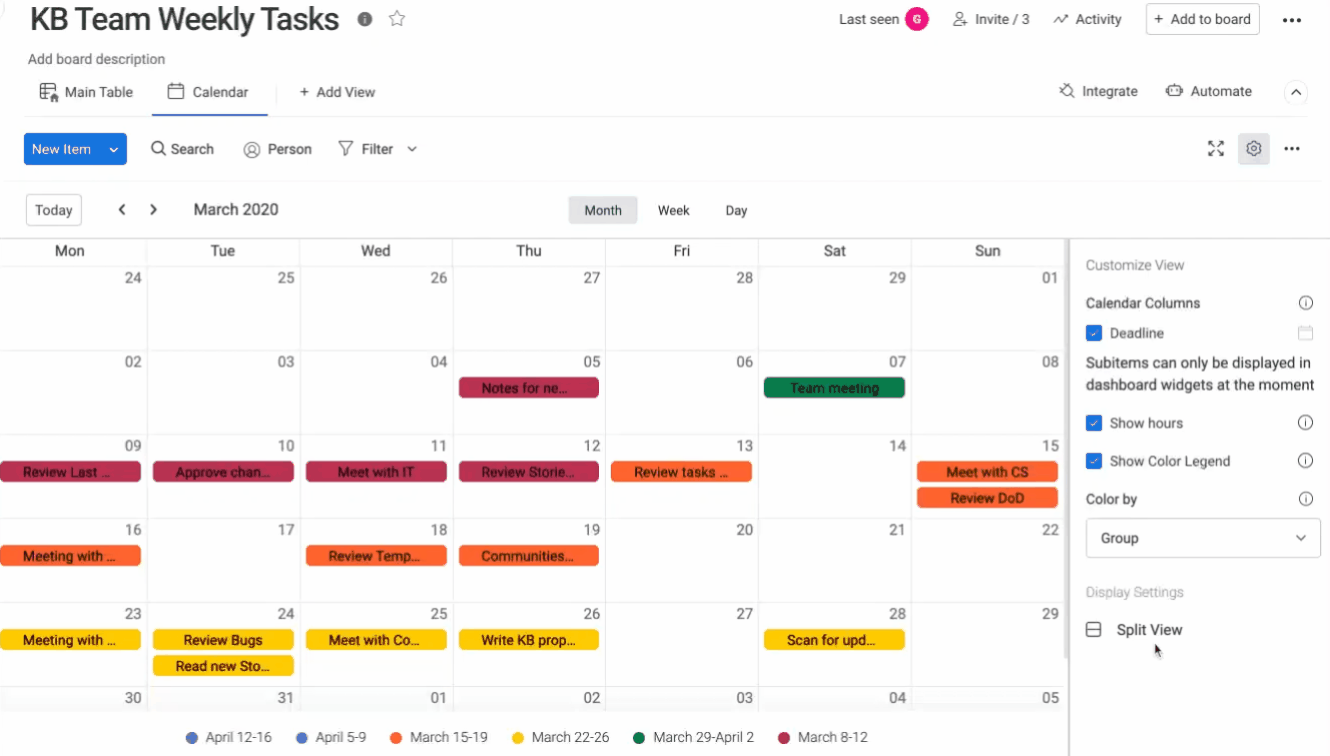 Now, instead of toggling back to your Main Board View to see the full details of your item, you can just scroll down! You can always click 'Fullscreen View' to switch it back to the regular view.
Time and Date Customization
You can view the items in your Calendar View by month, week, or day. In the screenshot below, I'm viewing the 'Month' tab in my calendar so that I can see what items I have to complete throughout the month ahead!
Use the arrows to jump to the next or previous month, week, or day (depending on which tab you're viewing!). If you get lost, you can always click the 'Today' button to bring you back to today's date on the calendar!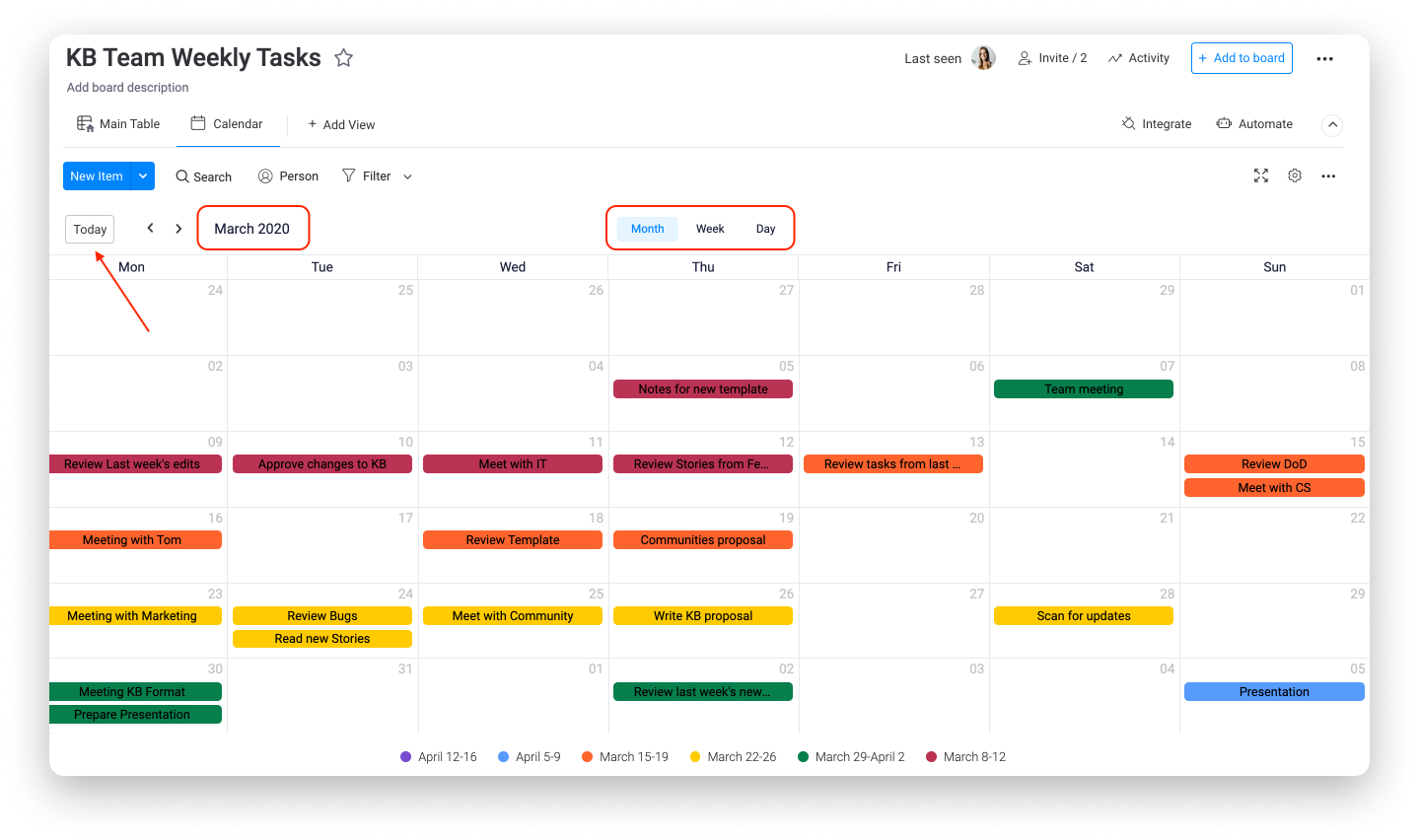 Instead of switching back and forth to Main Board View every time you want to see more details about one of the items in your calendar, you can view the item card! All you have to do is click the item in your calendar that you want to expand! Additionally, you can edit it right from here! Change the information in any of the groups you have in your board, from Status and Date to the Group that the item belongs to, and more!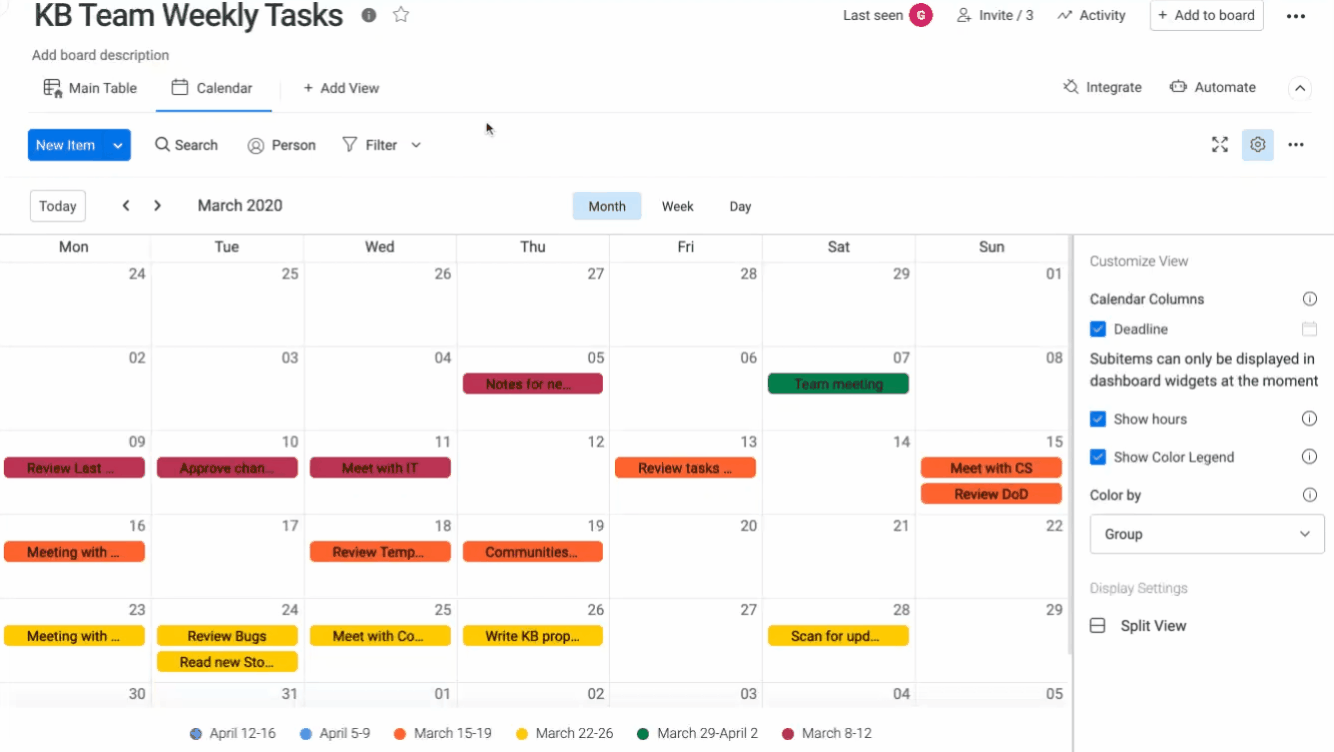 Additional settings
Use key words to search for anything specific within your chart! Let's say you just want to see the upcoming meetings for the month. Enter "meeting" in the search bar as seen below and only items matching the description will appear!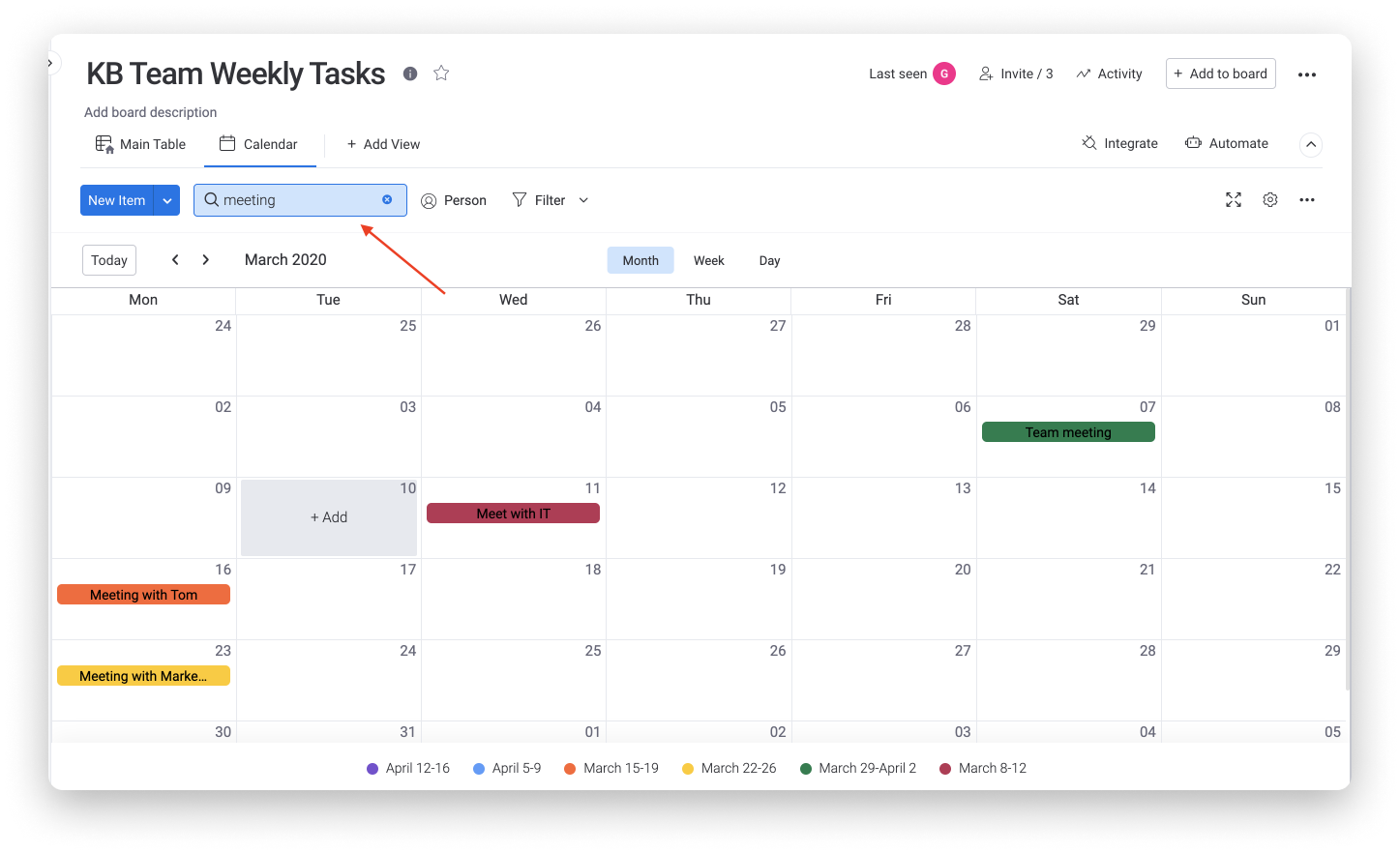 Use the "Filter" button to filter your board by any column including Group, Person, Status, Date, and more! Just select any of the filters you want, and then you can even click "Save to this view" to see these results every time you open your Calendar View!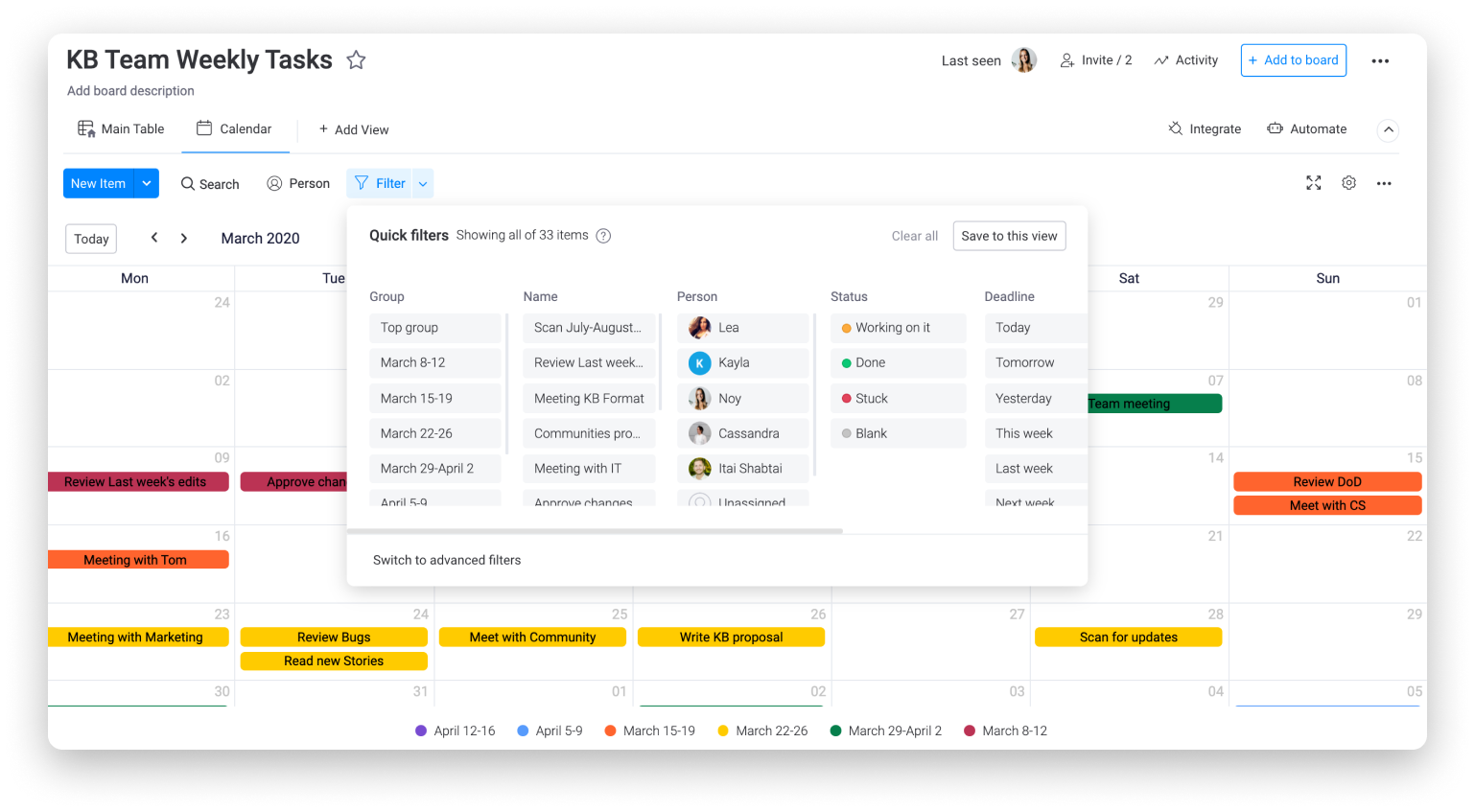 Learn more about sharing your board views here.
If you have any questions, please reach out to our team by using our contact form. We're available 24/7 and happy to help!