Yes! There are a number of templates that you can choose from whenever you create a new board in your account. Just follow the steps below to access them 😊
 Note:
At the moment, the board templates are only available from the main board section. 
Create a board from a template
Step 1
Click "+New" under your main boards section in the left-hand pane.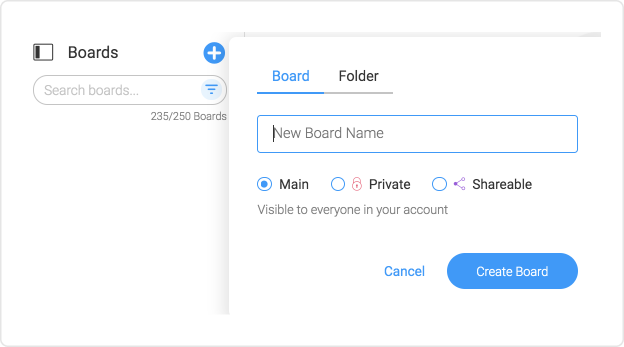 Step 2
Type the name of your new board and click "Create Board." A list of templates will appear!
Step 3
Hover over the different options in the list to see a preview.
Step 4
Click "Use" to apply it to your new board. 
 Tip:
If you want your template to be in the Shareable or Private section, you can create it from the main section and then drag and drop it in the Shareable or Private section.
Create your own board template
You can now utilize your own boards as templates for your account in just few steps: 
Step 1: create your template
On the main board you'd like to use as a template, click the hamburger menu and select "template/duplicate board" and then "use board as template". This feature is currently only enabled for the main section. 
Once done, you will see the following description dialog:
On the top of your board template, there will be the following header letting you know that this board has been used as a template:
 If you are editing the board, deleting it or archiving it, keep in mind that this will affect the template as well. Only admins and board owners will be able to change the template. The other users can utilize it but won't be able to change its structure or content.  
Step 3: access your customized templates
Click "+New" under your main boards section in the left-hand pane, then give your board a name and click "Create Board." At the top, you will find your account templates!
Select the template of your choice by clicking on use and you are done!
 Note:
This feature is only available on the paid Standard plan and up. It is NOT included on the trial.
Removing my board from the templates
To remove a board from your template list, click on the hamburger menu (the three little bars) located on the right of your board. From there, select template/duplicate board, and then click on "remove from templates."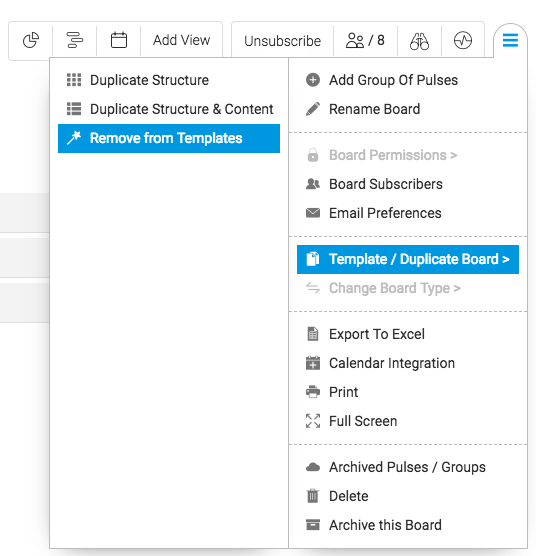 Want to see and use our users best templates? Think you can share your own workflow?
Visit https://monday.com/stories to find real stories from our users through a variety of categories, explaining how monday.com helps them to set their goals and improve their teamwork
If you have any further questions please feel free to reach out to us at support@monday.com. We are available 24/7.