A board is the place where your groups of items are held. It's a virtual white board where projects are stored as a way to keep track of everything from everyday tasks to month/year long projects.. but so much better! This article covers everything you need to know about boards.
How do I add a board?
Just click + new button located on your left panel to create a new board as below👇

If you are new to monday.com or just looking for inspiration, you can use one of our board templates. You can also create your own board and make it a template for all your team to use. Check out this article to understand better how it works.
How do I delete a board?
You can delete a board by following the below steps:
Click in to the board you would like to delete from the left hand pane
Click the three dots menu in the top right-hand corner
Then select Delete
If you have accidentally deleted a board not to worry! You can restore the item within 30 days from the Recycle Bin. You can also archive a board instead of deleting it, in case you would like to restore it at any point.
Difference between board types
We offer three type of boards: main, shareable and private. The structure of all these boards is the exact same. What makes them different is their access level. Check out this article to learn more about the difference between these boards.
How to change a board type?
If you are the owner of a main board that you would like to move to shareable and/or private (and vice versa), please do the following:
Click the Hamburger Menu Icon in the top right-hand corner
Click change board type
Choose to change to Private or Shareable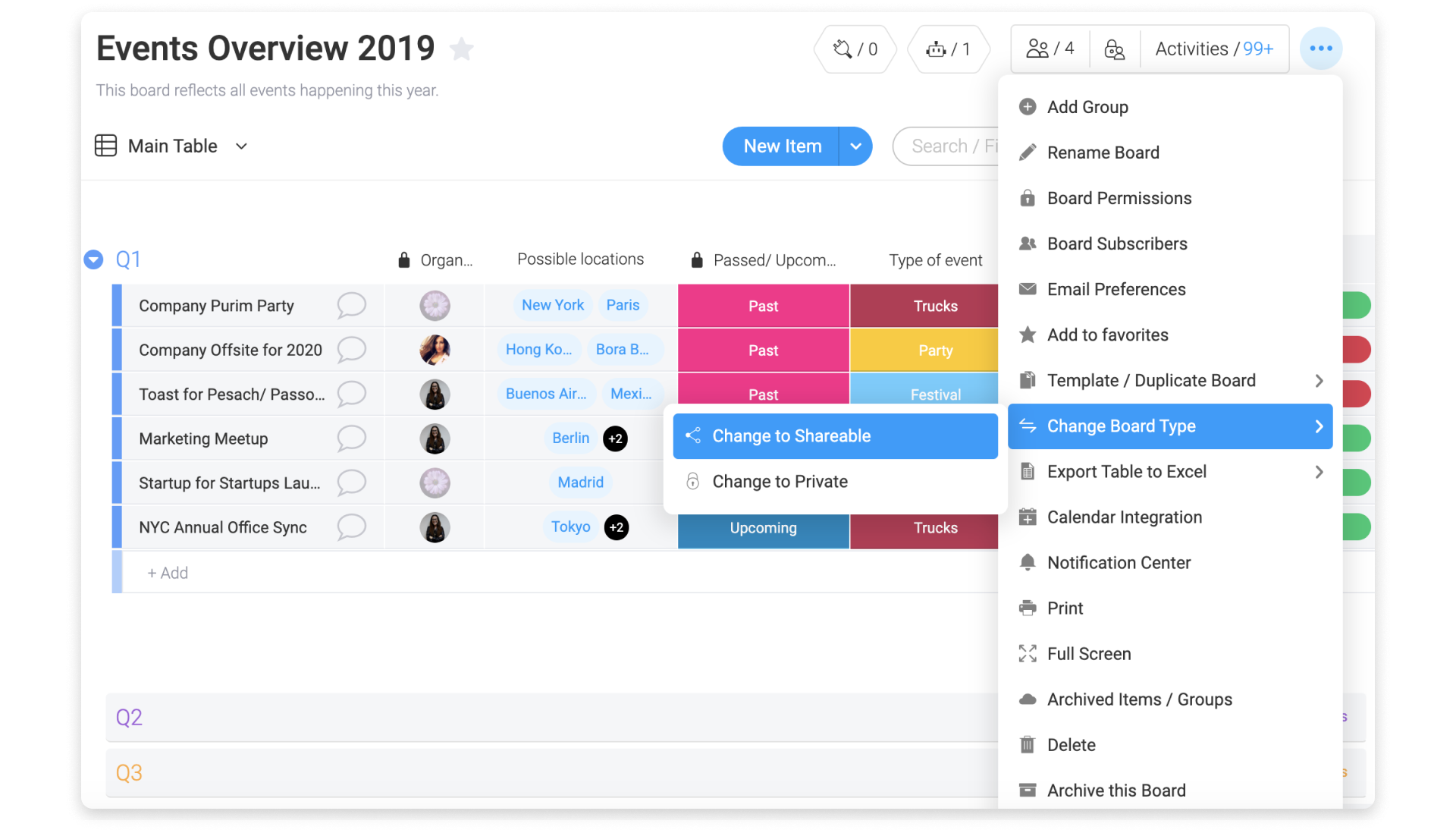 Note: You cannot move a board if you are not the owner of it. You will need to ask the owner of that board to make this change.
Print a board
To print a board, click on the three dots menu located at the top right of the screen and choose Print as below:
Who viewed your board last
At the top right of your board, you will see who has seen your board last.
By clicking on one of the icon, this will open the full log of who has seen you board and when.
You can read more about the activity log right here.
If you have any questions further questions, please feel free to reach out to our customer success team right here. We are available 24/7 and happy to assist :)