Subitems provides the items on your board with a deeper structure by letting you add an extra layer of information within the items on your board! You can use them to better support your workflow or enable more complex workflows on a single board.
Utilizing subitems will give you the low-level item detail that you are looking for when breaking down your work for a more granular view. 🙌
How to create subitems
You can create subitems from any of the following locations:
1. Add it from the columns center: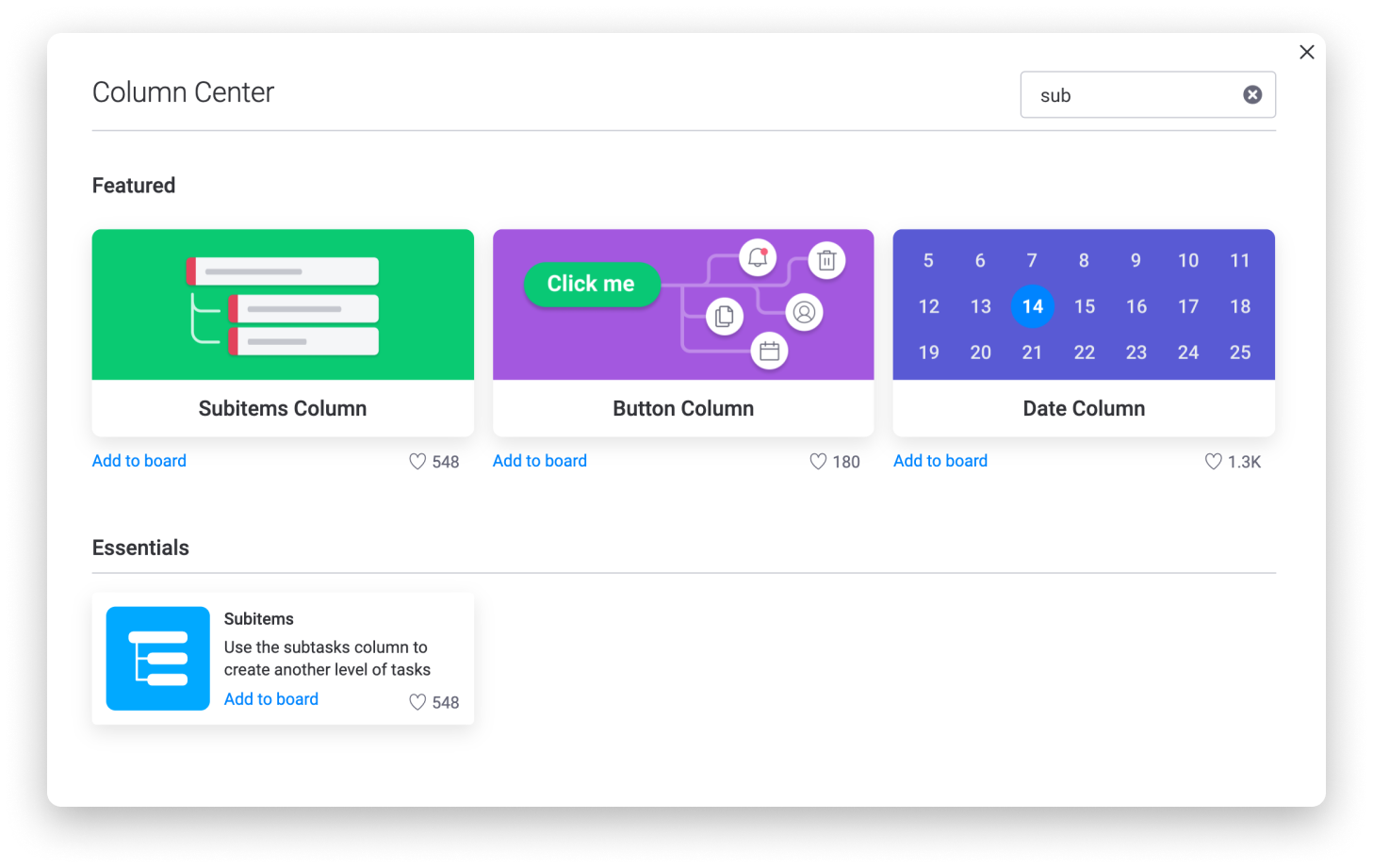 2. Right-clicking on the item name and pressing "Add Subitem":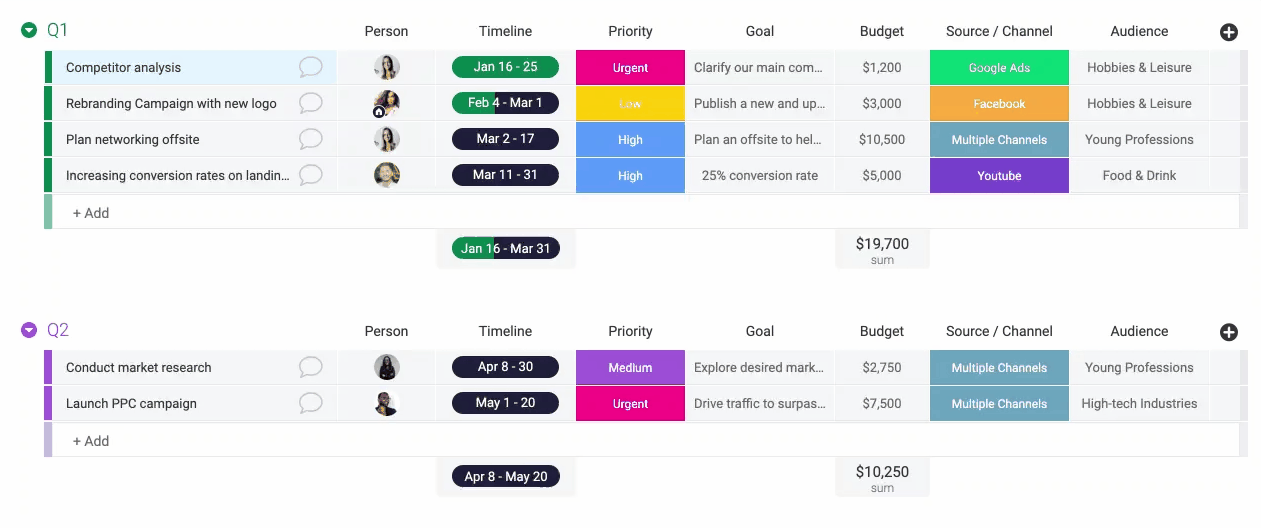 3. From the item's dropdown menu and selecting "Add Subitem":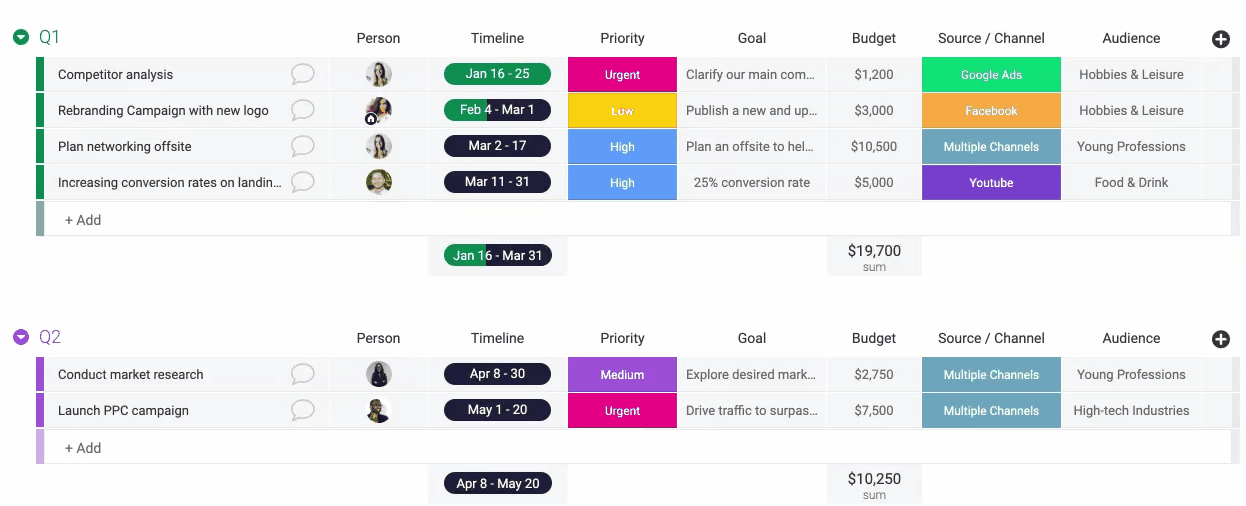 Note: Once you've added a subitem, a subitem column will be created indicating the number of subitems you have within each parent item on your board.
Which columns are able to be added to subitems
You have the ability to add most of the columns from the column center to your subitems. We currently do not support the Dependency Column for subitems but we are working on it. Stay tuned for updates very soon!

Note: Subitems can have their own column structure that is separate from the parent items on the board. All the subitems on the board will have the same column structure as each other, though.
How to expand and collapse subitems
You can expand and collapse your subitems in two different ways:
You can either click on the subitem icon in the subitem column

Or you can

use the right-click menu of the specific item.

Duplicating subitems
To duplicate a subitem, simply select it on the left side and press "Duplicate" from the resulting menu on bottom of the screen.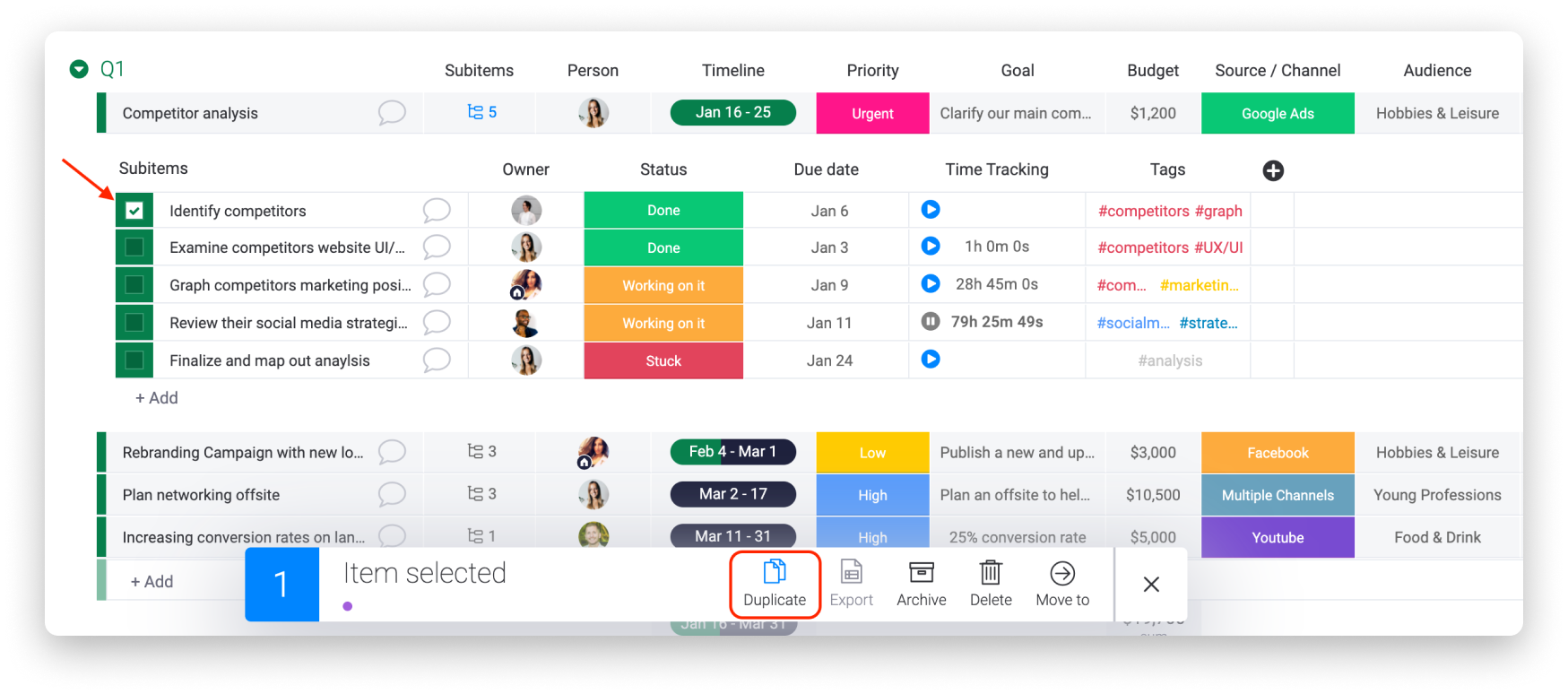 Additionally, when duplicating an item or a group or board of items that contains subitems, the subitems will also duplicate. 🙌
Moving subitems between items
To move subitems between other parent items on your board, simply hover over the left of the subitem and select it. Once the subitem(s) are selected, press on 'Move to' in the menu that appears at the bottom of the screen and select the item that you'd like to move it to: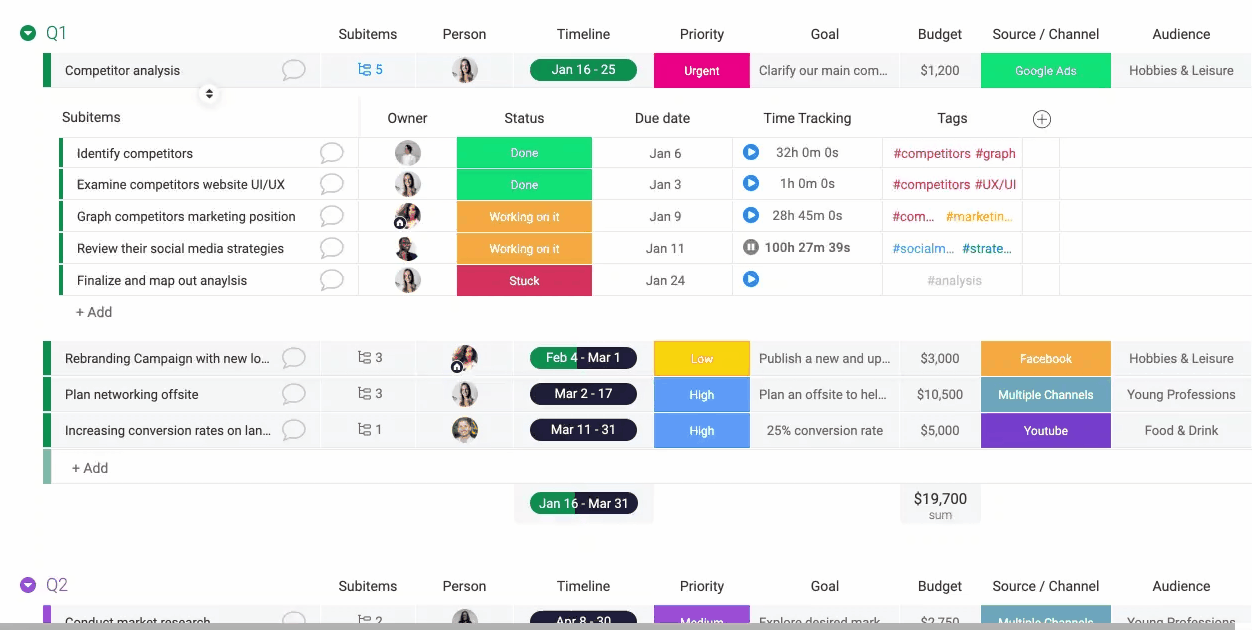 Note: It is currently not possible to drag and drop subitems or to move them onto another board. We are working to release these features in the future, so keep your eye out for this!
Getting a visual overview of subitems columns
If you'd like to see the aggregated data of your subitems on the parent item, you can mirror it using the rollup feature! In the subitems, open the desired column settings you want to reflect on parent item, and select "Show Summary on Parent Item":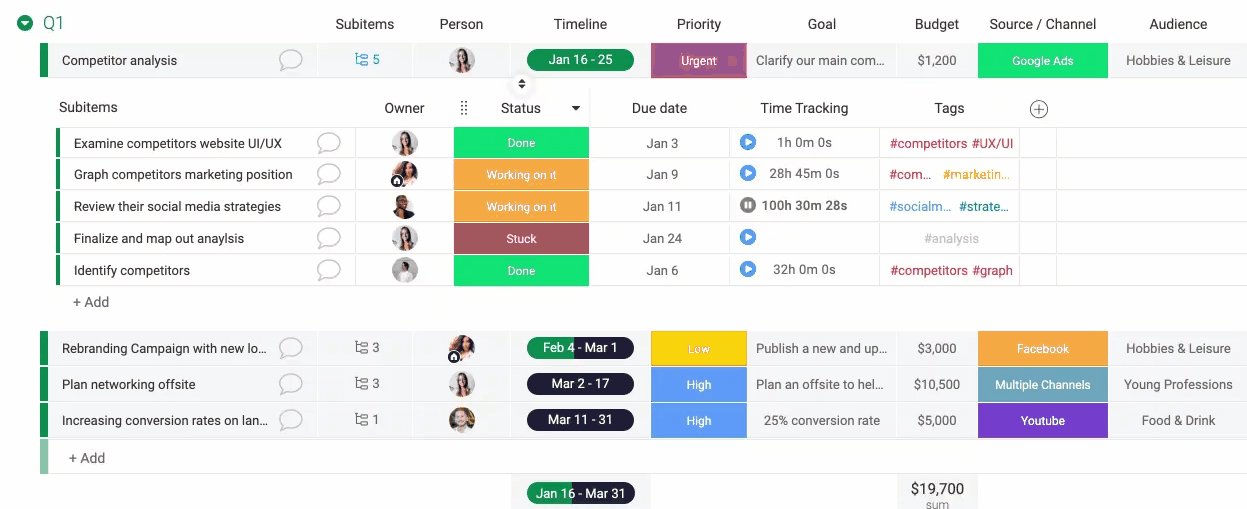 You can summarize many different subitem columns on the parent item, such as the Tags Column, Time Tracking, Date, Numbers, and more to get a clear overview of your subitems in one place:

Subitems in the Dashboards
In terms of viewing subitem information on the Dashboards, at this time, the Gantt, Timeline, Workload & Calendar widgets allow you to show subitem data with in them. Keep your eye out for more subitem widget support in the future!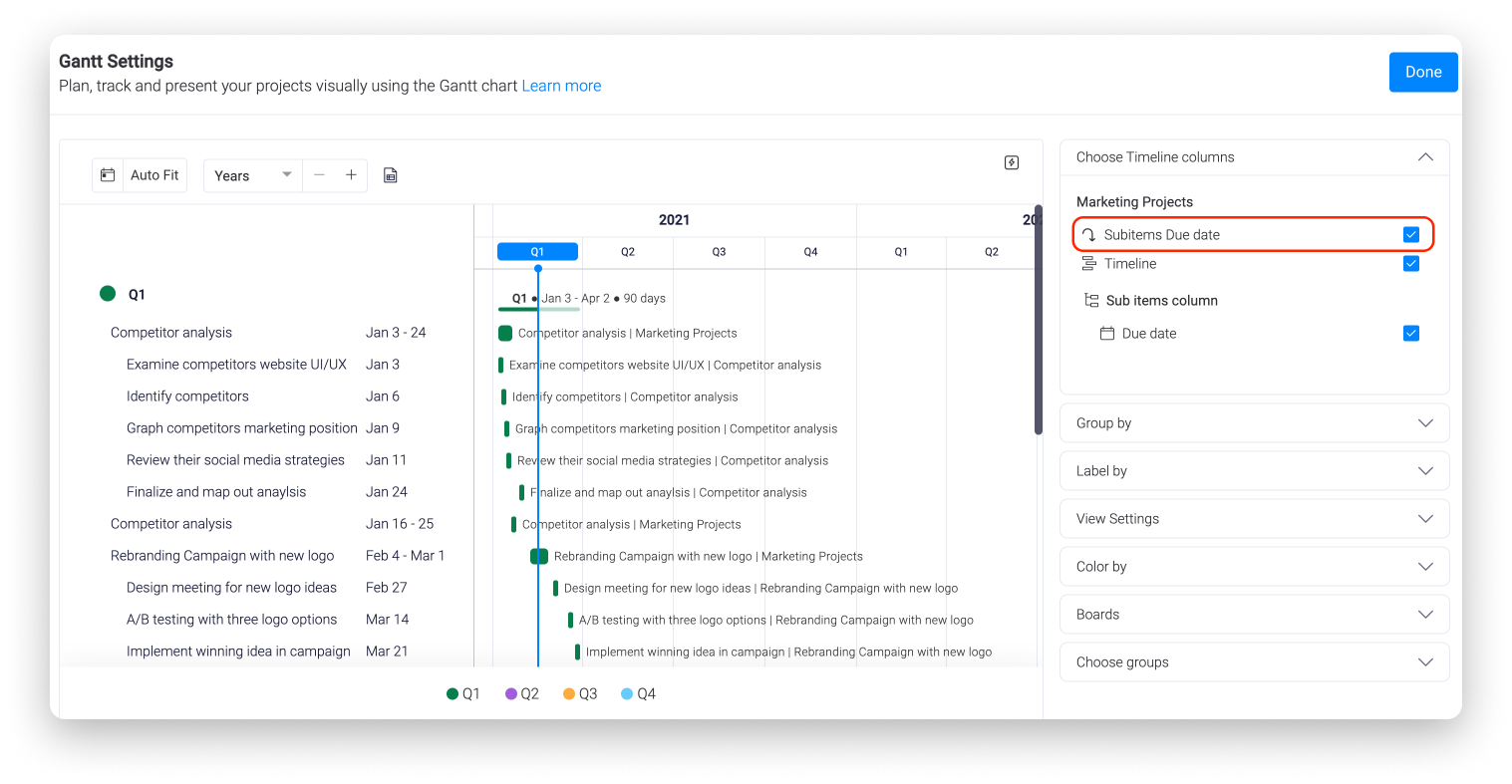 Subitem limitations
At the moment, as subitems are still in Beta, they are not supported on all monday.com features. Keep in mind the following limitations when looking to use subitems:
Subitems are not supported on the board views at the moment.
Subitems are not supported on the quick or advanced Board Filter. They are, however, supported on the board search bar and person filter.

Not all widgets support subitems. As mentioned previously, currently only the Gantt, Timeline, Workload & Calendar widgets allow you to view subitem data within them.

Moving subitems from one board to another is not possible at the moment.

Converting an item to a subitem or vice versa is not possible at the moment.
What's next to come?
As subitems are in Beta, and we are continuously adding more features and ironing them out! These are some of the things we are working on:
Moving subitems between boards
Full support on views and dashboards
Full support on our mobile apps
Check out the full roadmap release plan here. 🌟
Note:
Stay tuned for more progress, influence what comes next and discuss with other monday.com lovers by joining
our monday.com community.
If you have any questions, feel free to contact us at support@monday.com, and our awesome support team will be more than happy to help you with this!