Board permissions or restrictions are meant to give the owner of the board the option to have a read only board, whereby all pulses, statuses, etc. on the board is locked to the board subscribers. The default is set to Everyone can change, but the owner of the board can change it to "Only Owners can change" or "Everyone can edit content, owners can change structure" 
You can create a READ-ONLY board by doing the following:
Click in the Hamburger Menu Icon (3 lines)
Choose Board Permissions
Choose Only Owners can change
  **NOTE: Users can, however; add comments inside the pulses.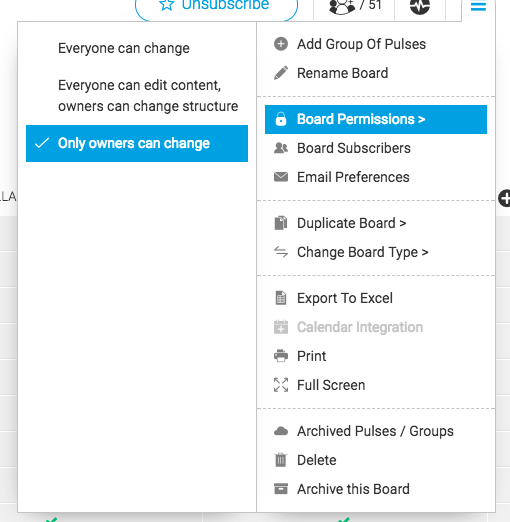 If you still want your users to be able to edit the content of your board but not change the structure of it, you can do the following: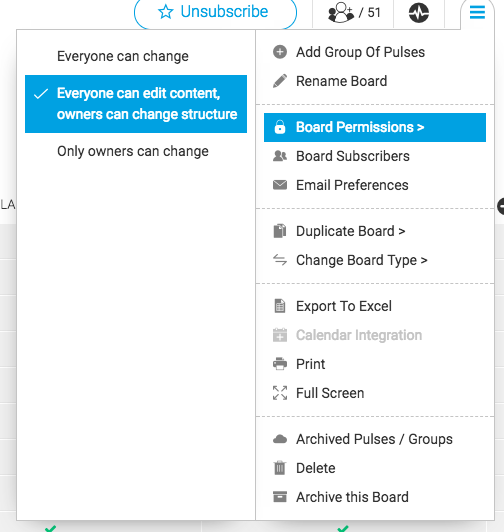 Users will be able to change statuses for example, export the board, print it.
They won't be able to make any changes regarding the structure meaning they cannot delete a column or a board, cannot add groups, cannot edit the columns names. For more details about what your users can do and can't do, please feel free to check out
this article
. 
For any further questions you may have about board permissions please don't hesitate to reach out to us right
here
. We are available for you 24/7.