We have 3 types of boards; Main, Shareable, and Private.  
Main boards are visible to anyone who is a team member within your account.  On all plans, you are able to have an unlimited amount of Main boards.  
Shareable boards are used when you want to share a board with people outside your team or company, such as clients, interns, or freelancers.   You can invite these people a guests within your account.
When you invite a guest to a shareable board, they only have access to the board in which you invite them to, this can also include team members.  Your guests will not have access to any other information within your account.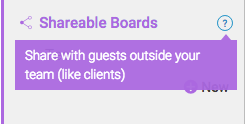 To invite a guest, please see How do I add a guest to my shareable boards?
To see what an external guest is able to do on a shareable board, please see What do my guests see and do on my shareable board?
Private boards are found on the Pro and Enterprise plans and can only be seen by the user who created the board and any other user within the account.  If you have a project you aren't quite ready to release or confidential information private boards is the solution for you!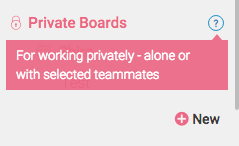 If you have any further questions, please feel free to contact Customer Success here