We have three different types of boards that we offer: main, shareable, and private. Each of these boards' structure is the same. What makes them different is their access level.
Keep reading to learn about the difference between them!
What are main boards?
Main boards are visible to anyone who is a team member within your account. A team member can be an admin, a member or a viewer. To learn more about the difference between each user type, check out this article. Anything you will create in a main board will be accessible and transparent to all of your team members on your account. These boards are available on all of our plans and there is no limitation to the number of boards you can create.
What are shareable boards?
Shareable boards are used when you want to share a board with people outside your team or company, such as clients, interns, or freelancers. You can invite these people as guests within your account. To see how to invite a guest in your shareable board, click right here.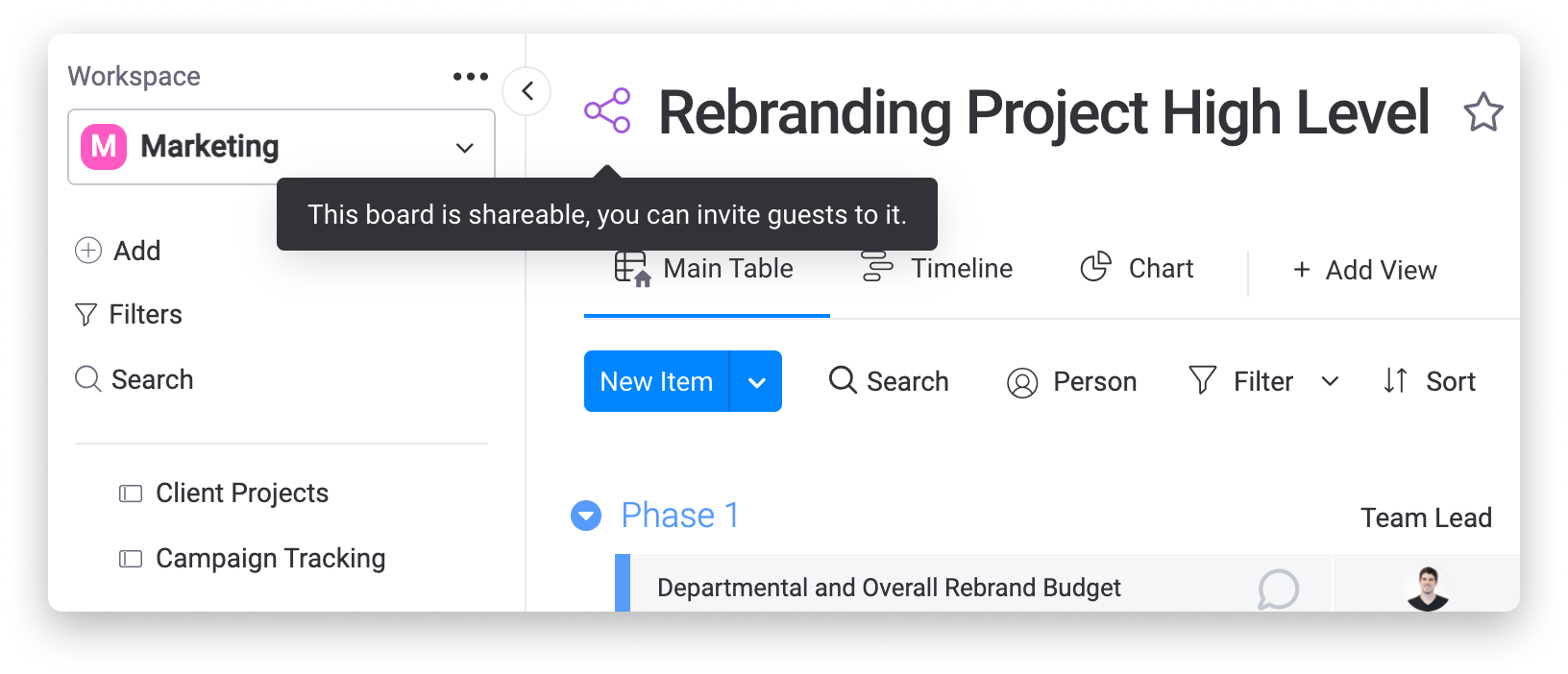 When you invite a guest to a shareable board, they will only have access to that specific board they have been invited to. Your guests will not have access to any other information within your account.
To see what an external guest is able to do on a shareable board, please see this article.
You can also invite your team members to your shareable board whether they are viewers or members. Your team members will only be able to see the shareable boards they have been invited to. Shareable boards are available on the Standard, Pro, and Enterprise plans.
What are private boards?
Private boards, available on the Pro and Enterprise plans, can only be seen by the person who created the board and by the specific users that they invite to join this board. The private boards are only for internal use and therefore we do not offer the ability to invite guests on to a private board. Only team members (viewers, members) can be invited to a private board.
If you have a project you aren't quite ready to release or a board that has confidential information, private boards can be a great solution for you!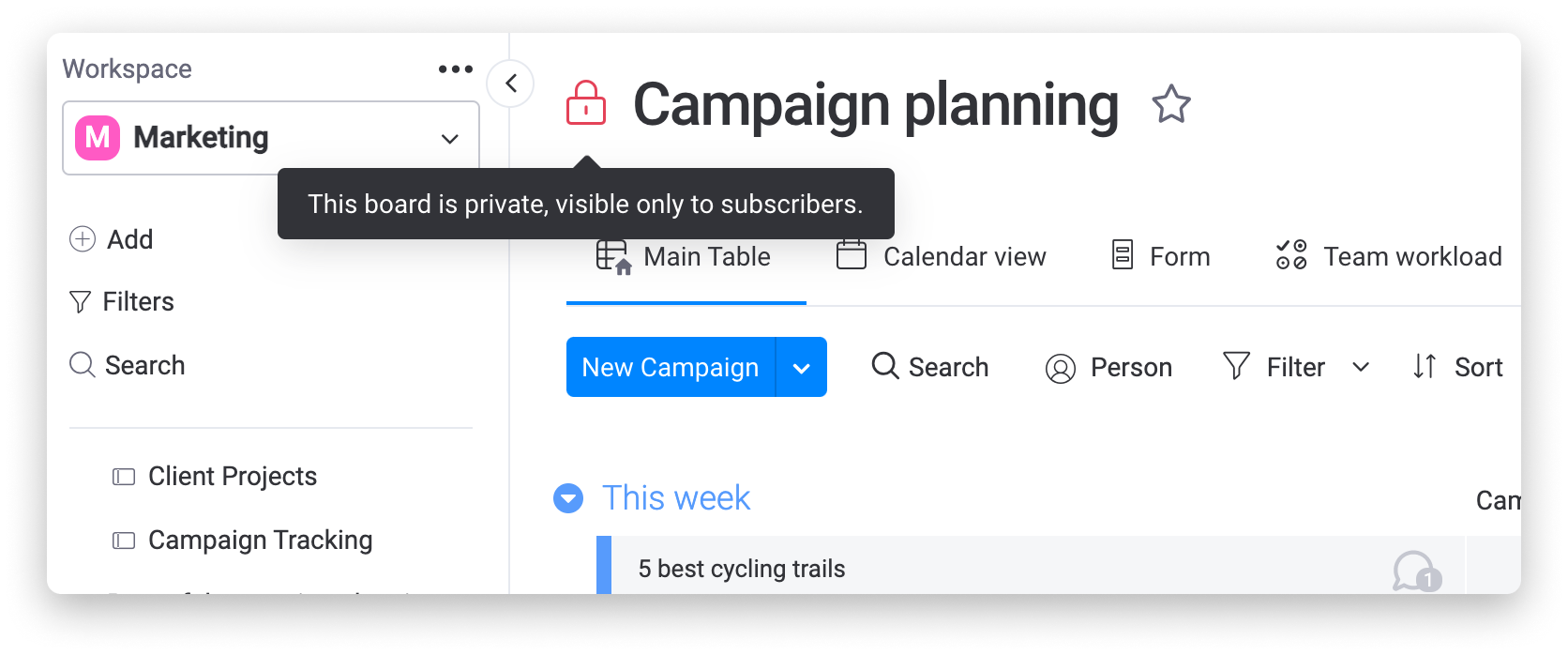 Note:
Admins of an Enterprise plan will be able to view high-level details of a Private and Shareable board such as its name, subscribers, and creation date via the content directory.
How to change the board type
As the board owner, you can change the board type by clicking on the three-dot menu at the top right of your screen and then selecting "Board settings". From there, click on "Change board type" and then choose the type of board that you'd like to change it to!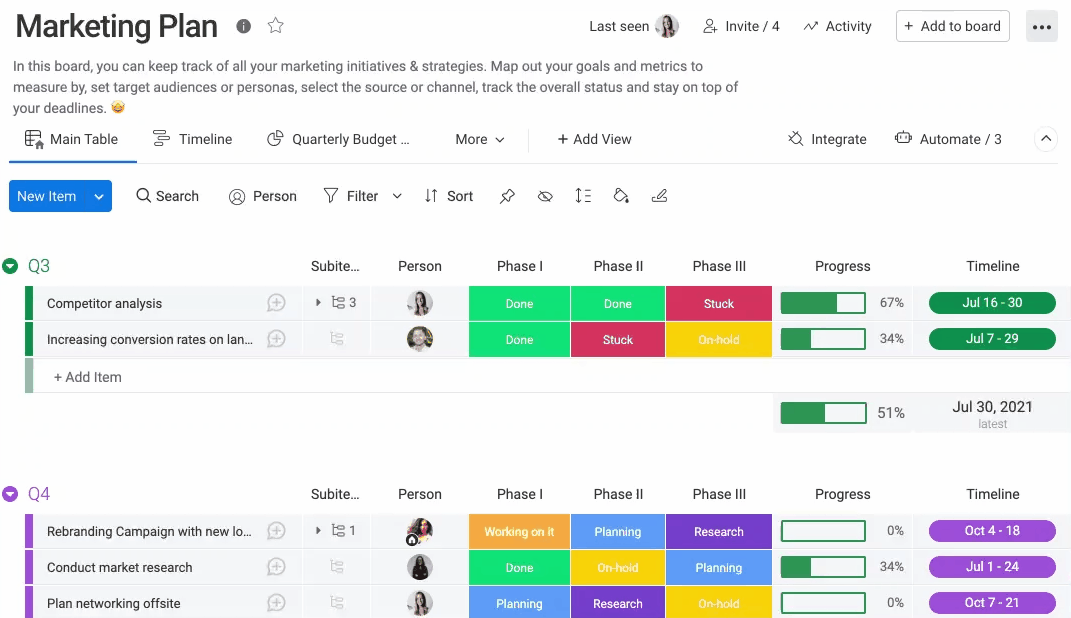 Note: You cannot change the board type if you are not the owner of it. You will need to ask the owner of that board to make this change.
If you have any questions, please reach out to our team by using our contact form. We're available 24/7 and happy to help! 🙂