7 min read
Guide
Managing projects is nothing short of challenging! We know how hard you work to set priorities, align all of your goals, and manage your resources and team members. With monday.com, you can streamline the way you manage your projects!
This guide will walk you through two boards that you can use to get started: a "Project Board" which gives you an overview of your project and its progression, and a "Task Board" which breaks down your project into manageable tasks or to-do lists! Get to know these two boards with us and watch your productivity skyrocket. 📈
Note:
If you are already a pro at project management, feel free to check out our
advanced guide
for more tips! If watching videos are more your thing, check out our basic project management webinar
here
.
Create a "Project Board"
The first board we'll check out is a "Project Board"! This can be considered a high-level board, a type of board that allows you to see a quick, high-level overview of one or more projects. This board is great for those who need to see how a project is progressing but don't necessarily need to see every detail.
You can use this board as inspiration or you can use it as a template for your current projects! Fill in your information in the columns we set up for you, and add new items as they come up! Read this article to learn more about board templates.
A group is a color-coded section on your board that contains your items (rows). Our groups are a really central part of our board because they help us categorize our board's content. There are unlimited ways to group our items!
High-level boards, like our "Project Board", can be organized by quarters, months, phases, clients, projects or any other way that works for the team! We've organized our groups by phase, and have added our activities (items) to the phase they belong to! Our activities are big tasks or milestones in our project.
Columns are the building blocks of our board, and they are super diverse! Each column can be used in a variety of different ways! Browse through the Column Center to preview all of the options, and start to get inspired to see which ones can work for you best!
For our "Project Board", we're using four of our most essential columns! Let's check them out:
The People Column allows you to assign one or more of your team members to an item! Assign who's responsible to complete a task, review a document, or schedule next week's meeting! You can even assign an entire team to a project.
Use the Status Column to track the progress of an item, assign its priority, or create any set of custom labels to categorize the items on your board! Get creative with this versatile column and the sky is the limit! Here, we're using two different Status Columns; one to display the item's update status, and one to reflect the priority of the item.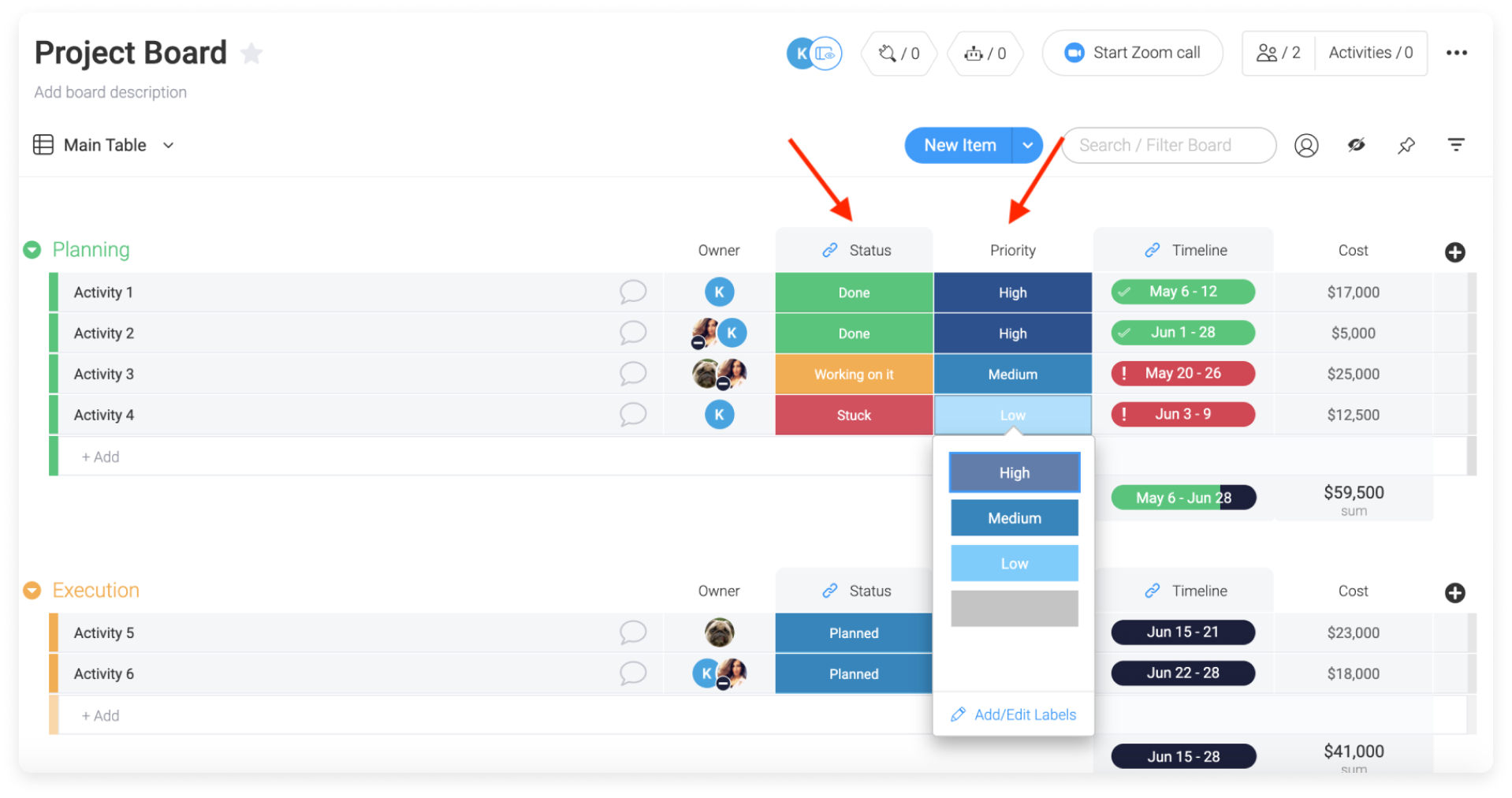 The Timeline Column gives you a visual representation of how long you or your team has to complete an item or project! Use the column to display a timeline for any item, or the total for a group of items! In our "Project Board", the Timeline Column is synced with the Status Column in Deadline Mode to track whether the project has been marked as "Done" by the time the project's allotted time is up!
If you are trying to track simple expenses or even calculate the total number of hours spent on a project, you can use the Numbers Column! The Numbers Column will calculate the sum, average, median, minimum, maximum, or a count of all the numbers in your group.
Make sure to check out some more of our awesome columns, like the Formula Column, the File Column, or the Location Column!
Get insights with board views
Now that we have all of the components of our board set up, we can choose how we'd like to display this information! The "Main Board View", which is what we've already set up here, is just one way to see all of our items and data! We can focus in on dates and deadlines or see numbers and progress in more comprehensive, visual format with board views!
Let's take a look at some of the views already added to our "Project Board"! To see all of the views connected to our board, we can click the arrow beside "Main Table" to open the views drop-down menu.
Display your dates in a calendar
The Timeline View works together with the Timeline Column by collecting its data and displaying it all together in a calendar. All of your items are shown in their place on the calendar and are color-coordinated with the group it belongs to, which is displayed in the left panel. This view is a great way to visualize the length of your projects and how several projects can overlap in your calendar.
Manage your resources
The Workload View helps you visualize and understand work allocation across your whole team! You can see in one glance who is over capacity and assign upcoming tasks accordingly. If needed, you can always reassign or change due dates to make sure everyone stays on target with the amount of tasks they can complete within that timeframe.
Visualize your data with charts
The Chart View allows you to create a chart with any of the data from your board! Here, we have two different chart views to show different examples. The first chart, called "Activities' Status", displays the progress of our project. The x-axis represents the different status label from our status column while the y-axis counts the number of items associated to each status.
Our second Chart View, called "Workload by owner", is a bar graph displaying the owner of each task (the person assigned in the People Column) on the x-axis, and the number of items assigned to each person on the y-axis! This is a great way to see how our work is divided among our team members!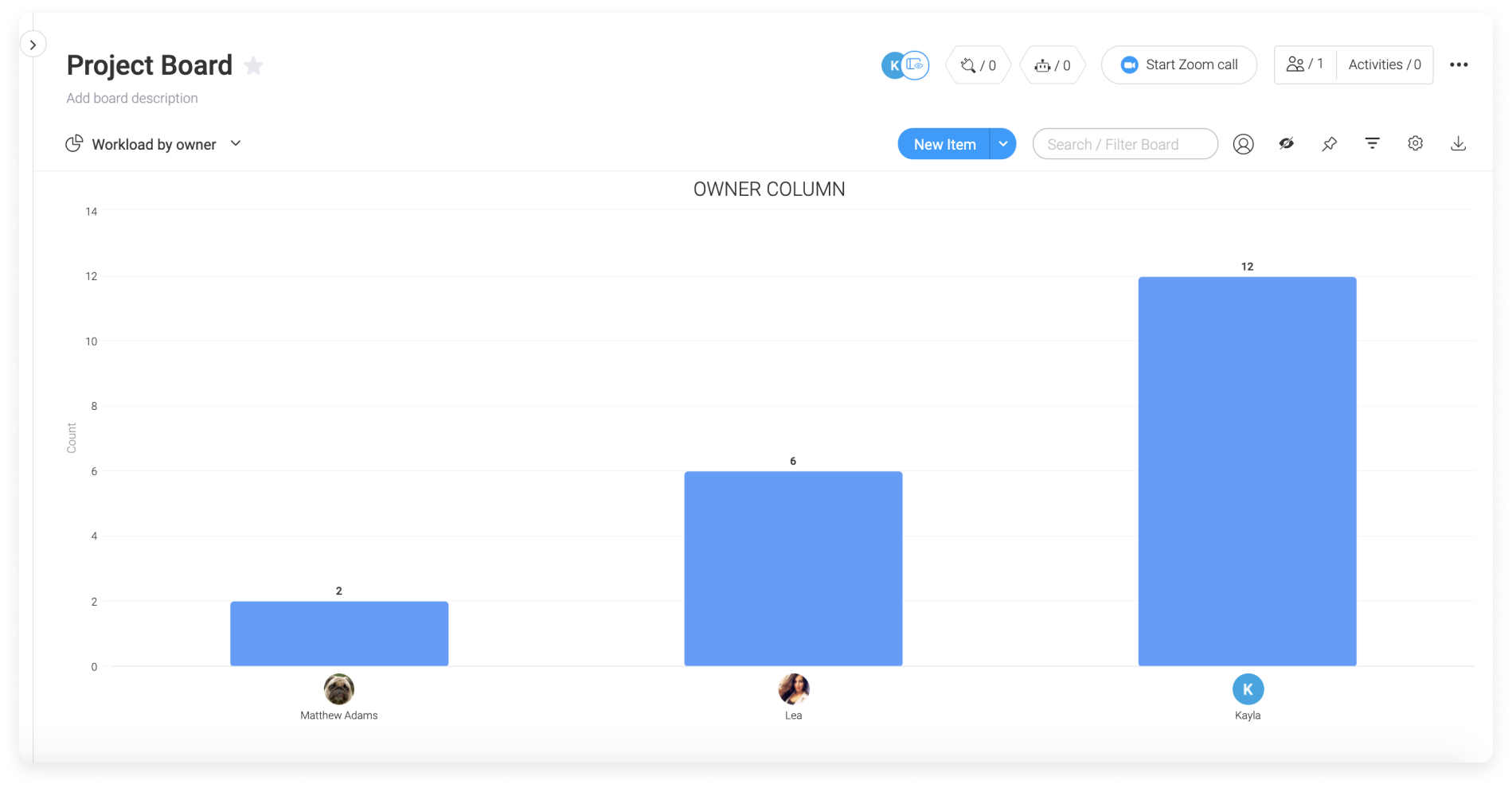 Each of our views can be displayed in Split Screen, meaning we'll see our added view at the top of our screen and our board at the bottom of our screen! This way, we can see the overview of our information comfortably in a chart, and can refer to the raw data down below without switching back and forth between views!
Take a look at some of the other views available in the Views Center! We recommend the Calendar View, the Files View, and the Forms View to start!
Automate your workflow
Automations are a great way to set actions to be triggered by certain events in your workflow! They save time, effort, and remember to carry out certain actions when you might have forgotten! There are lots of customizable recipes in our Automations Center and you can even make your own!
You can access the Automations Center by clicking the robot icon at the top right-hand corner of your board right here. You can see a list of all of the automations on our "Project Board" in the pop-up window:
When you select an automation to add to your board, you can edit every underlined word to tailor the automation to your exact needs!
For example, the automation we have on our board is dependent on conditions in our Status and Timeline Columns. Since we have two Status Columns on our board, we can choose which one we want to trigger this automation by selecting the right column from a drop-down menu that appears when we click "status". We can choose all of our columns and labels this way, and even choose exactly "when" we want this automation to be triggered!
Make sure to check out all of the awesome recipes in the Automations Center to get inspired on how you can make your workflow even smoother!
Create a "Task Board"
While our high-level "Project Board" gives a really great overview of the entire project, our team needs another board to manage all of the details between the larger milestones of the project.
A low-level board is a great tool to manage all of the important aspects and details of your tasks! Unlike a high-level board, which is intended to give more of a project overview, low-level boards track a project closely. They can be used to manage time, shifts, resources, and can even be used as a to-do list for daily or weekly tasks. In this case, we've supplemented our high-level "Project Board" with a lower-level weekly "Task Board". This allows managers to see the overall status updates needed, while the team handles the day-to-day tasks at a more granular level.
Tip:
You can tick off all the tasks you've tackled on the go from your mobile app! Check out
this article
to learn how to add it and get started!
Groups
Our "Tasks Board" uses groups to organize the timeline of our tasks! Everything that needs to be done today will be stored in the "Today" group, tomorrow's tasks in "Tomorrow", and future tasks in "Next Week". We could even add "In Two Weeks" or "Next Month" if we wanted to plan ahead even further! When we finish a task, we move it to our "Done" group, so that we can easily track all completed tasks so that there's no doubt and nothing gets done twice.
Each item on our board is a task that is connected to one of the activities (items) on our "Project Board". Since each activity is made up of several tasks, we want to break them down and keep track of each task in our "Tasks Board".
Columns
Assigning an "owner" to each task, using the People Column helps us create a sense of accountability and responsibility within our team. Everyone knows what they have to do, and what their team members are doing!
Our board also uses a Status Column to track each task's status, and another Status Column to categorize each task by "Type"!
Connect your boards together
Our "Project Board" is made up of different activities, which are broken down into smaller tasks in our "Tasks Board". Since these two boards are dependent on each other, it is important to have a connection between our high-level and low-level boards. To achieve this, we've used the Connect boards Column on our "Tasks Board"! We use the Connect boards Column to link each of the small tasks on our "Tasks Board" to the larger activity from the "Project Board" that it belongs to! This really helps us stay focused and understand the bigger picture, and how everything is interconnected.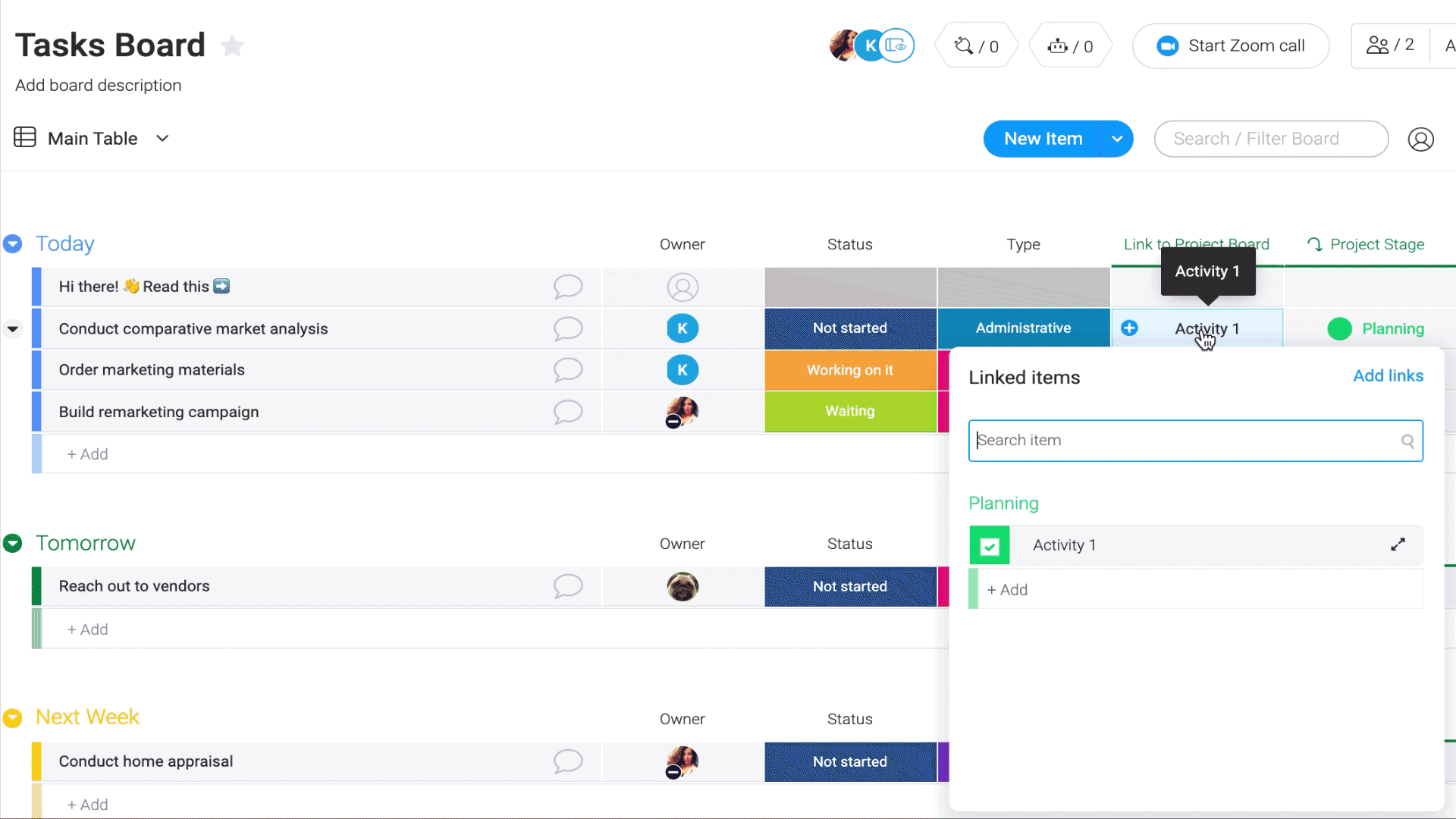 To take our linked boards even further, we've added two Mirror Columns to our "Tasks Board". With the Mirror Column, we can display specific information from our "Project Board" right inside our "Task Board"! This way, we can work directly in our "Tasks Board", while still being able to reference important details from our other board! We can see everything we need in one frame, rather than flipping back and forth between two boards. If we need to, we can even make changes to our mirrored columns right in our Tasks Board!
In our "Tasks Board", we've chosen to mirror the "Project Stage" of each activity to get a better understanding of where everything stands. Our second Mirror Column, "Activity Status", displays the status of each of the activities in our "Project Board". Whenever we complete a task, we can update the status directly on our low-level board, and it will automatically update the high-level board!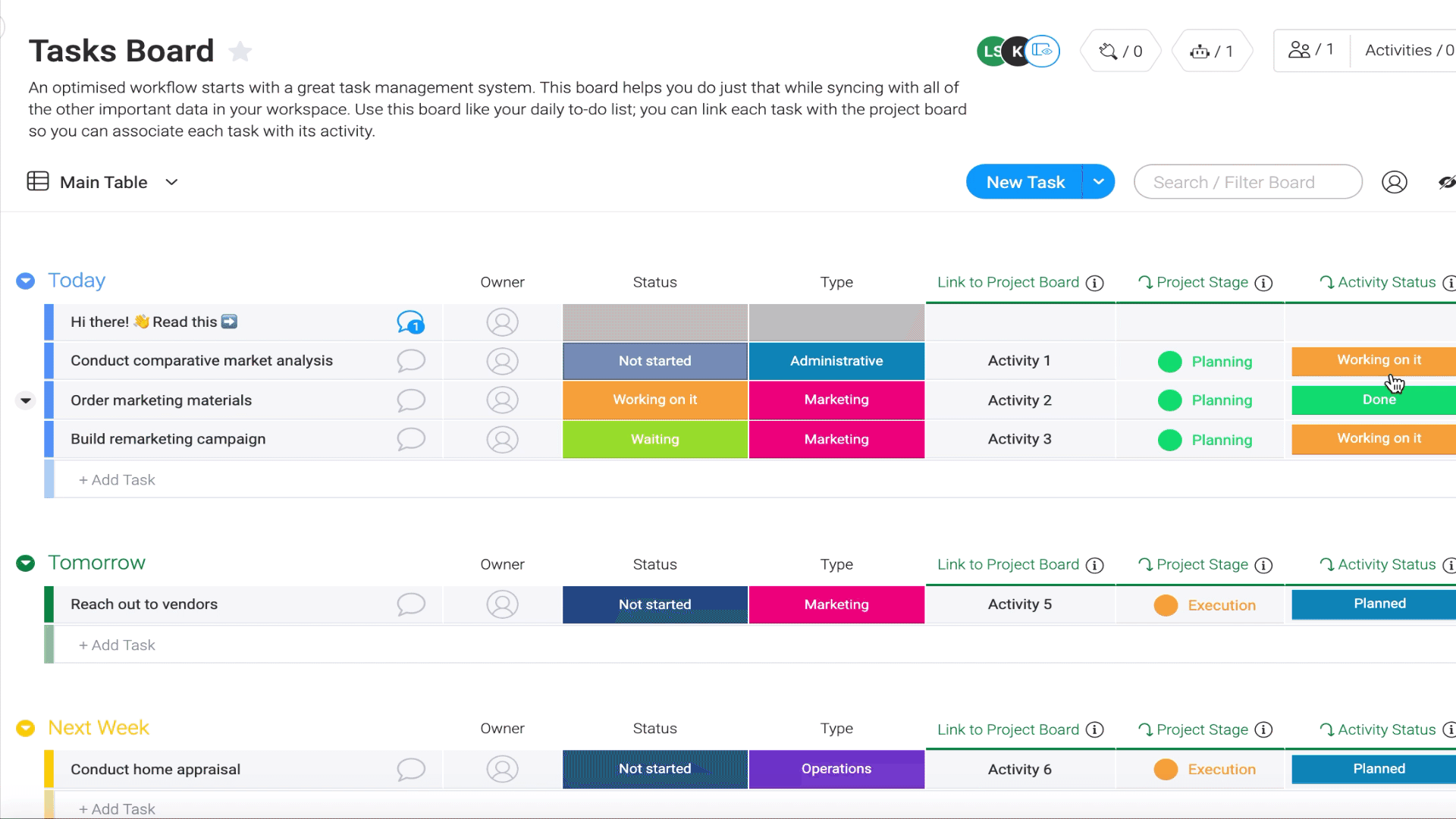 This board is really dynamic, holding all of the little things we need to tackle each day, so it is constantly changing and evolving. Team members will regularly update, move, and add new items to keep this board up to date! This is pretty different from the use of our "Projects Board", as the board contains the structure of the entire life of the project, and changes in that board are more significant and less frequent.
Get a visual overview with a dashboard
You can create a dashboard connected to your two project management boards (and any other relevant boards) to get a great visual overview of our projects loaded with apps and widgets! Let's check out a few widgets that might help us with our "Project Board" and "Tasks Board":
Make sure to visit the Dashboards Center to browse through all of the great apps and widgets available! Feel free to add as many as you want!
If you have any questions, please reach out to our team right here. We're available 24/7 and happy to help.