How important is this one for any business or even individual, right? We have you covered, no need to worry. monday.com offers a couple of ways to manage your budget!💰
Use the formula column 
Available on the Pro plan, our new Formula Column allows you to balance a budget like the best of them by making calculations across different number columns. Spanning from basic calculations to complex formulas, here are a few use cases to show you what we're talking about:  
We have a manufacturing process comprised of 4 phases. We'd like to understand, after inputting the data, if we're over or under the expected budget. By creating an IF formula we'll get an instant visualization of our budget status. 


We have a few projects running simultaneously in August, they all have the same steps. We want to see our profit margins on a per-step and overall basis, let's see how we can get it done.

Accounts Budget Roll-Over
During June we managed 3 projects for 3 accounts, we'd like to be able to see how much roll-over we've had this month with each of them. Here's how :)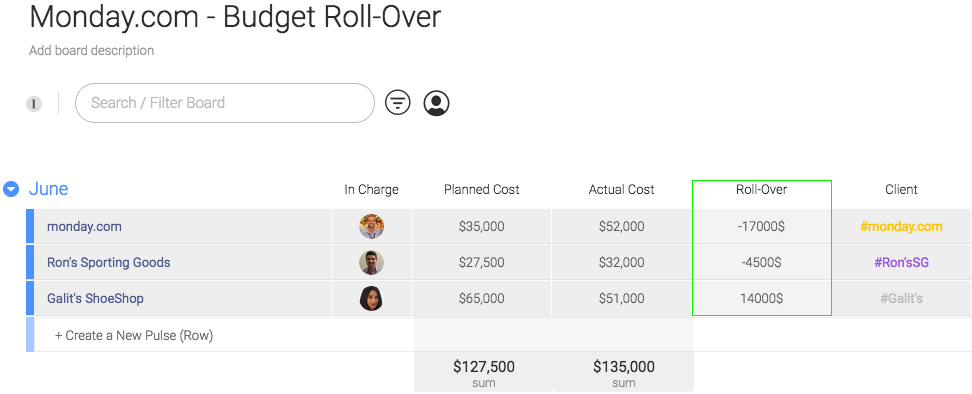 For more use cases about our formula column, check out this article. 
Use the numbers column
That's not all, users from all plans can easily manage their budget by adding the numbers column to a board! 
Let's say we want to manage expenditures made over the life span of a project, having a quick tally of the actual expenses as opposed to the expected ones.
Here's what we'll need to do:
Build a board and list off your expenditures 

Add categories as pulses
We suggest that you add two different numbers columns and rename them to Estimated Cost and Actual Cost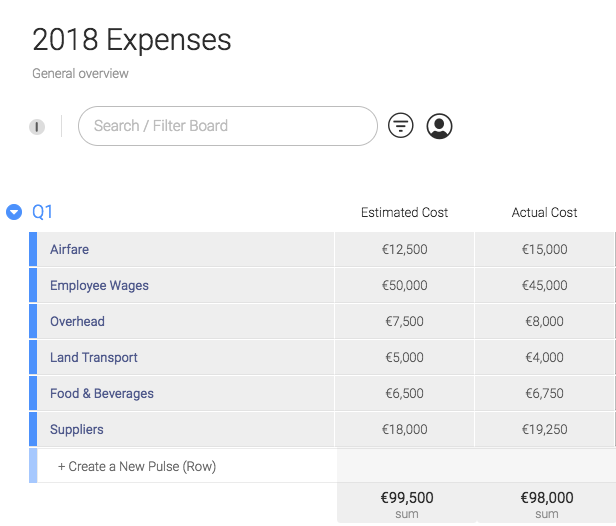 As you can see from the use case there's an option to change the UNIT and FUNCTION! Just click on the very bottom of the status column and from there you can choose which unit and function you need or even create your own!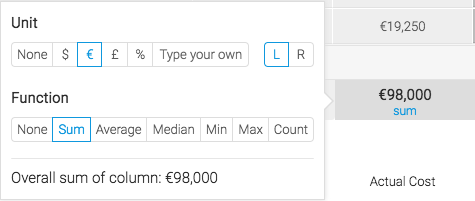 If you have any questions about the different columns or use cases or if you want to figure out what will work best for you reach out to us here :)