Are you looking to embed your company roadmap board in your website? Need to send customers specific boards or board views without having them log into your account? Want all the team to be in sync by displaying a board on a TV in your office? You are now able to do just that with the "share views" feature. 🌟
Send out read-only versions of your boards or board views to anyone that you wish, embed them in your website, or make them accessible to everyone on the web with our "share views" option!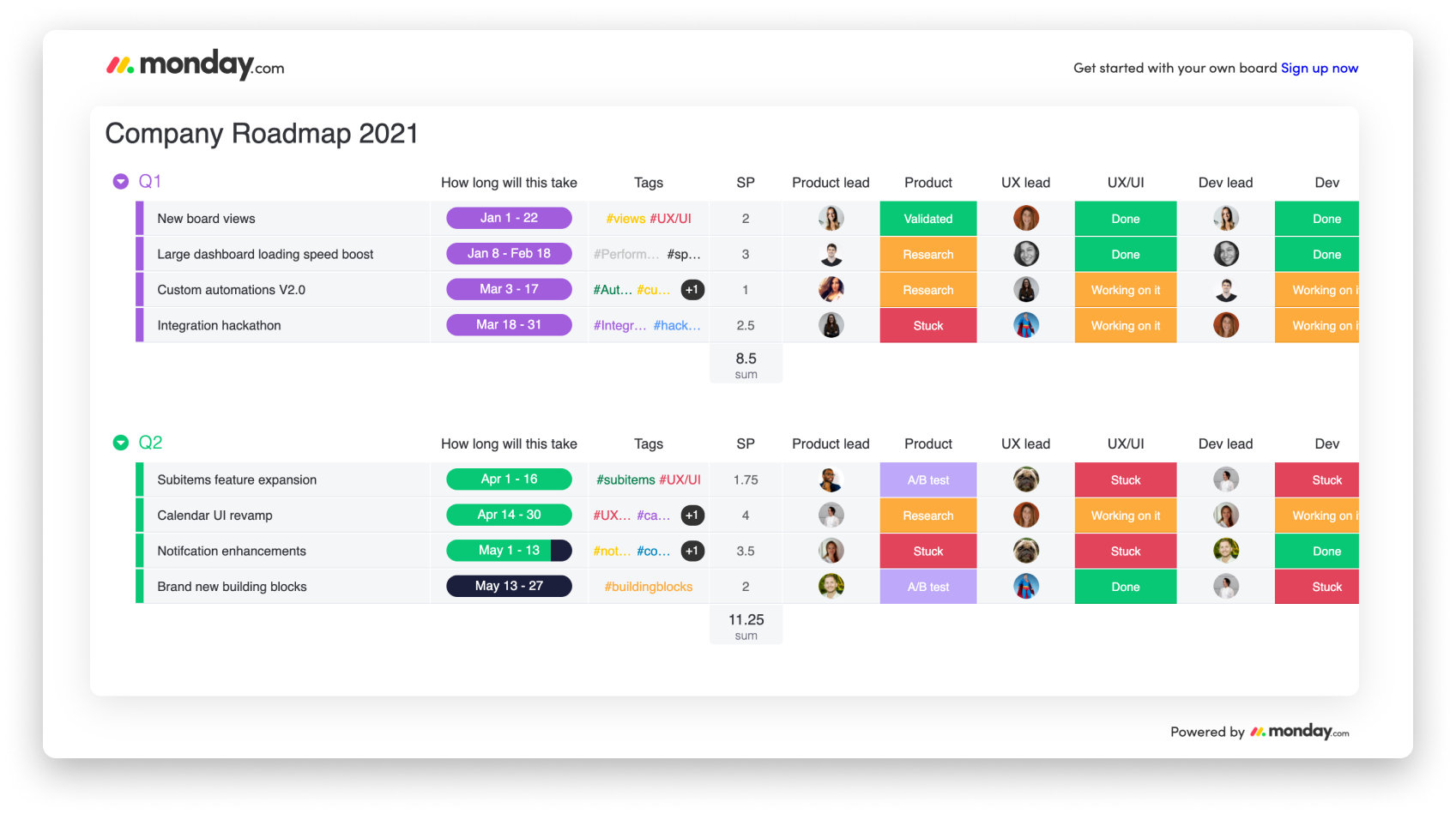 Note: You can currently apply the share view to your main board table, a filtered board, and all board views aside from the Files View, Cards View, and Kanban View.
How to share your board or view
Once you've created your board or board view, click on the three-dot menu to the right of your board or view name. From the resulting menu, select "Share" as below: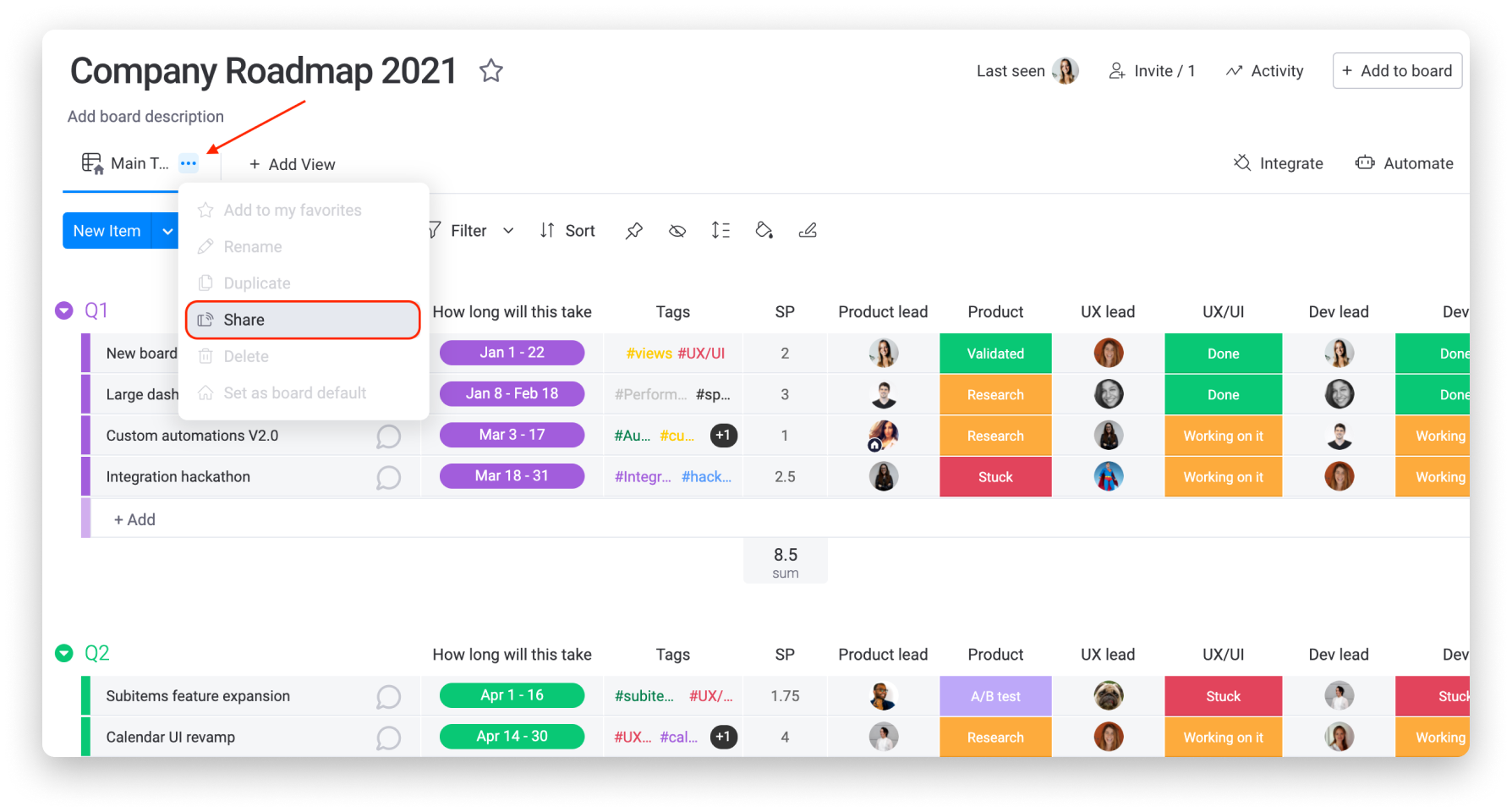 From here, you are able to easily share your view with others by sending out a shareable link or embedding it in a website using an embed code: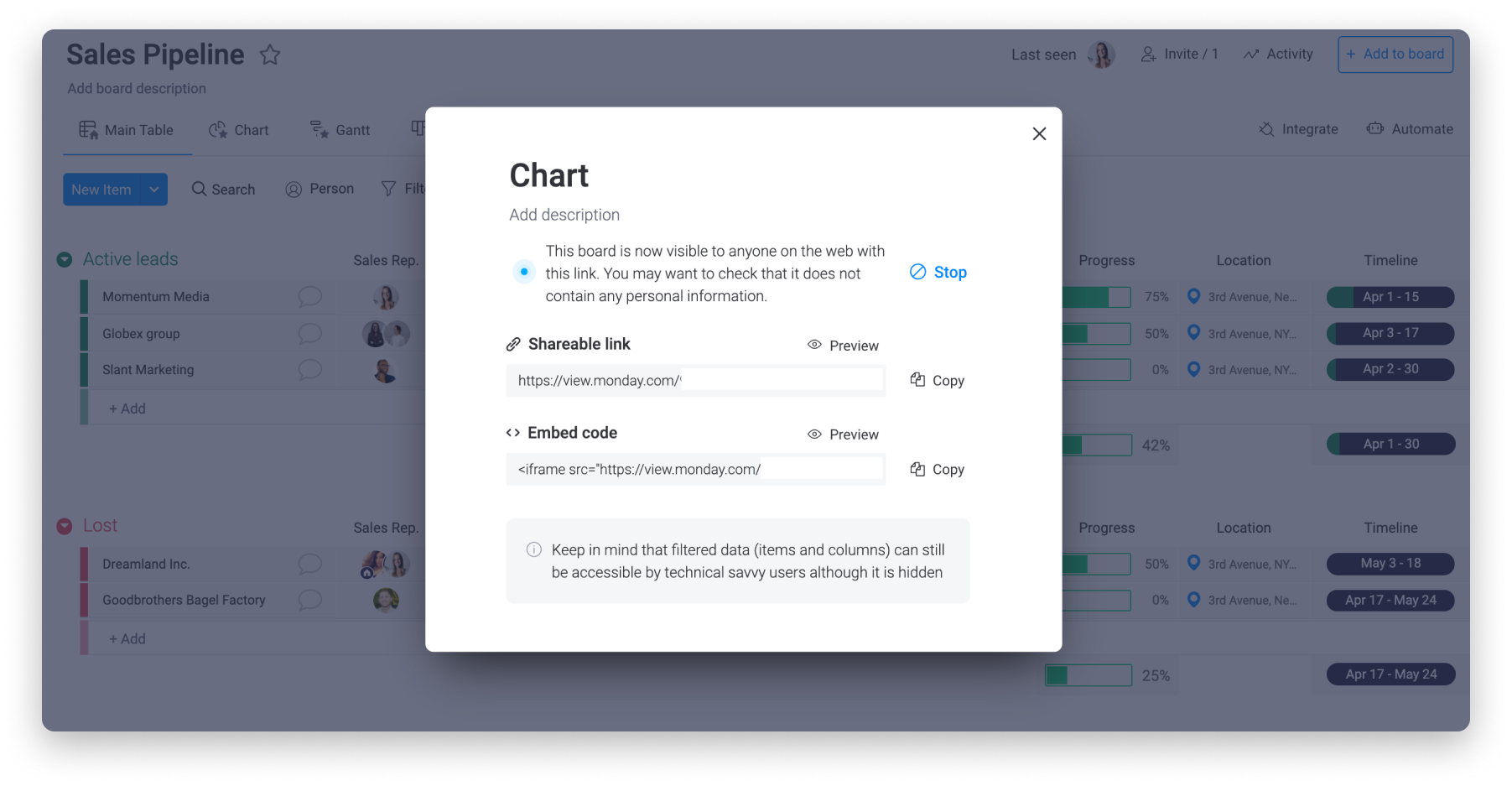 Note: When enabling the HIPPA feature on the Enterprise plan, the ability to share boards/views is disabled to prevent accidental disclosure of Protected Health Information (PHI).
Let's take a look at both of these options, below!
You can seamlessly send out and share your board or view with others through the "Shareable link" option. Just click on "Preview", and you'll see how the published view/board will look like:
You can then press to copy that URL and you'll be able to share the link and access the published view anywhere with that link :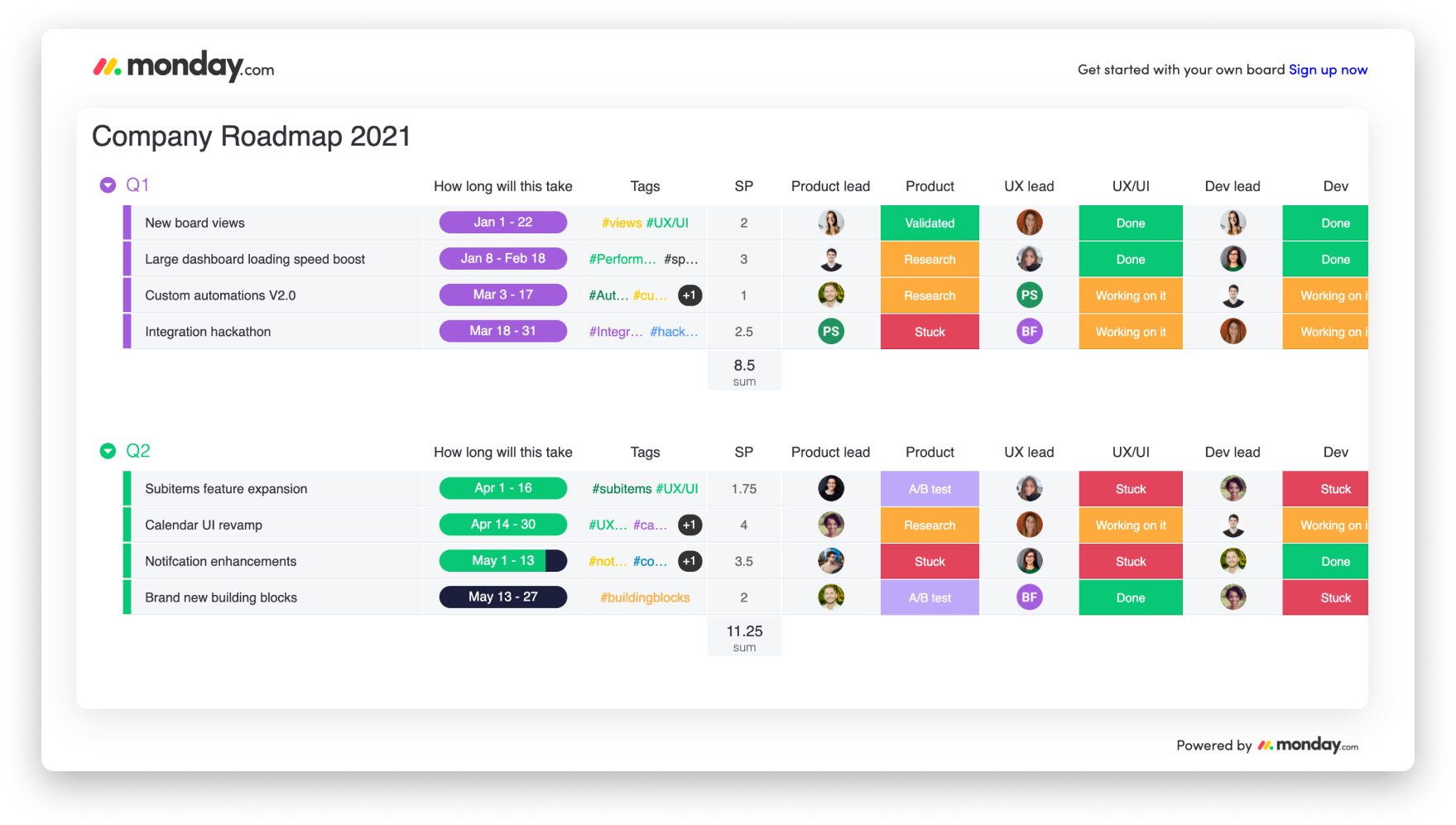 Note: The shareable link can be viewed from any browser or the mobile app!
The standard way to embed in the web is via iframe html code. To get the code for your board take it from the "Embed Code" section with a click on the "Copy" button: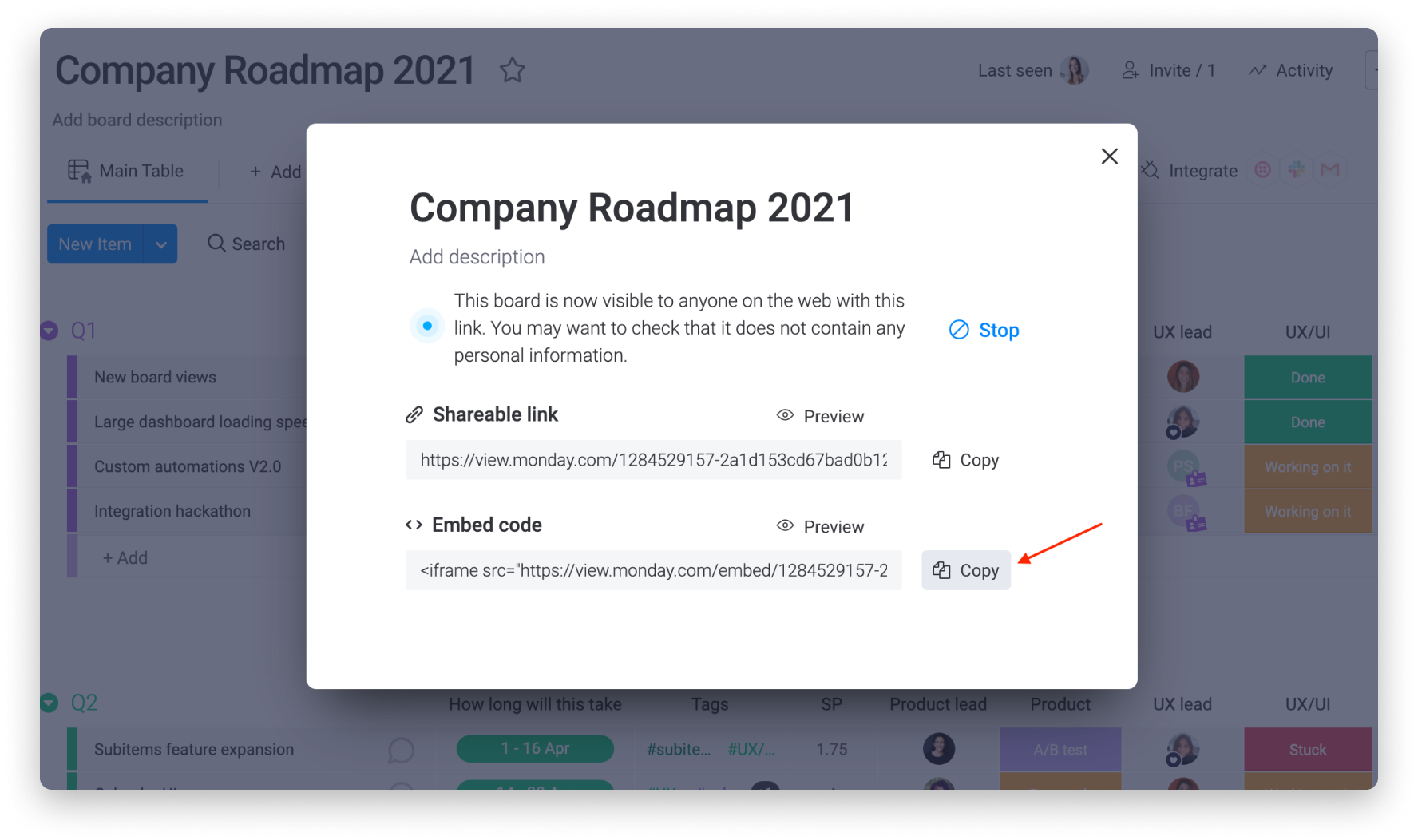 To see how embedding your board will look click on the "Preview" button: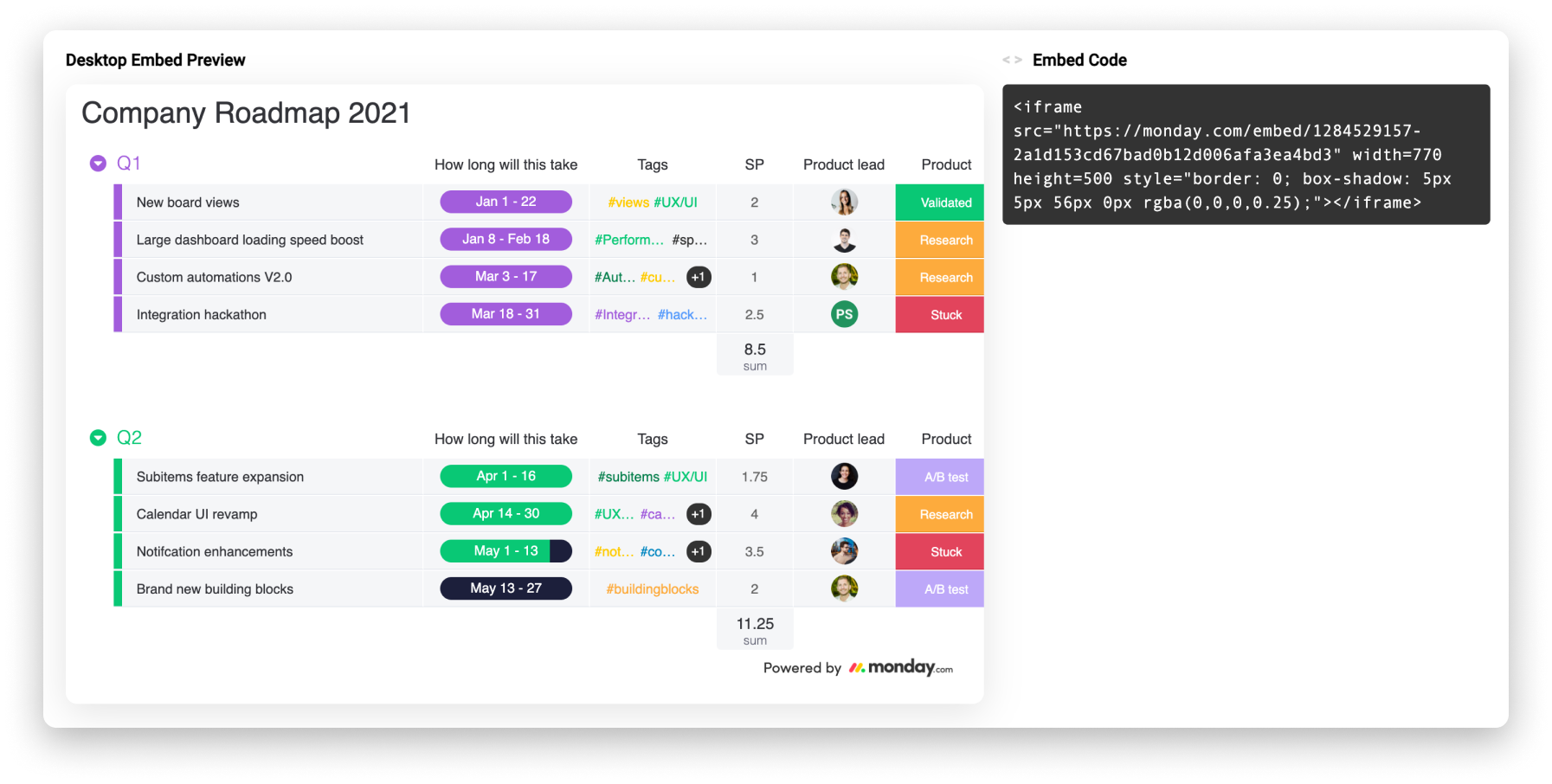 You can tell if your view is live and published by seeing the blue banner at the top of the board: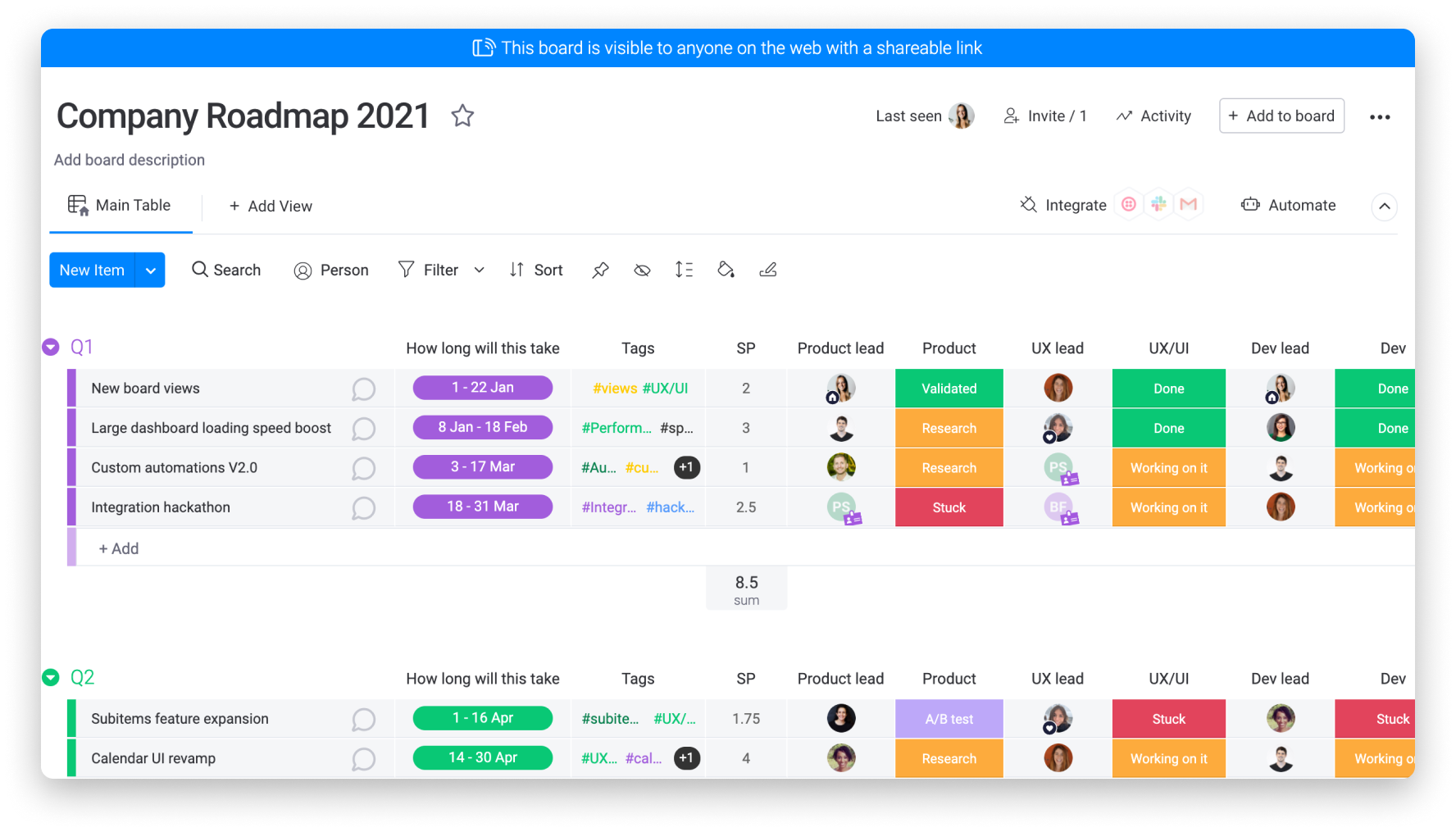 Note: Any files located on a Files Column will not be visible or downloadable within a shared view.
Choose the information you want to display
⚠️ Please keep in mind that filtered data (items and columns) can still be accessed through the shared views by technical savvy users although it is hidden. For more information about it, feel free to reach out our customer success team at support@monday.com.
You can choose which information you'd like to display publicly on your board by using the Board Filters or by hiding columns from your board.
Let's say we are an event company. We would like to display all the events that are currently being worked on that are also considered a high priority.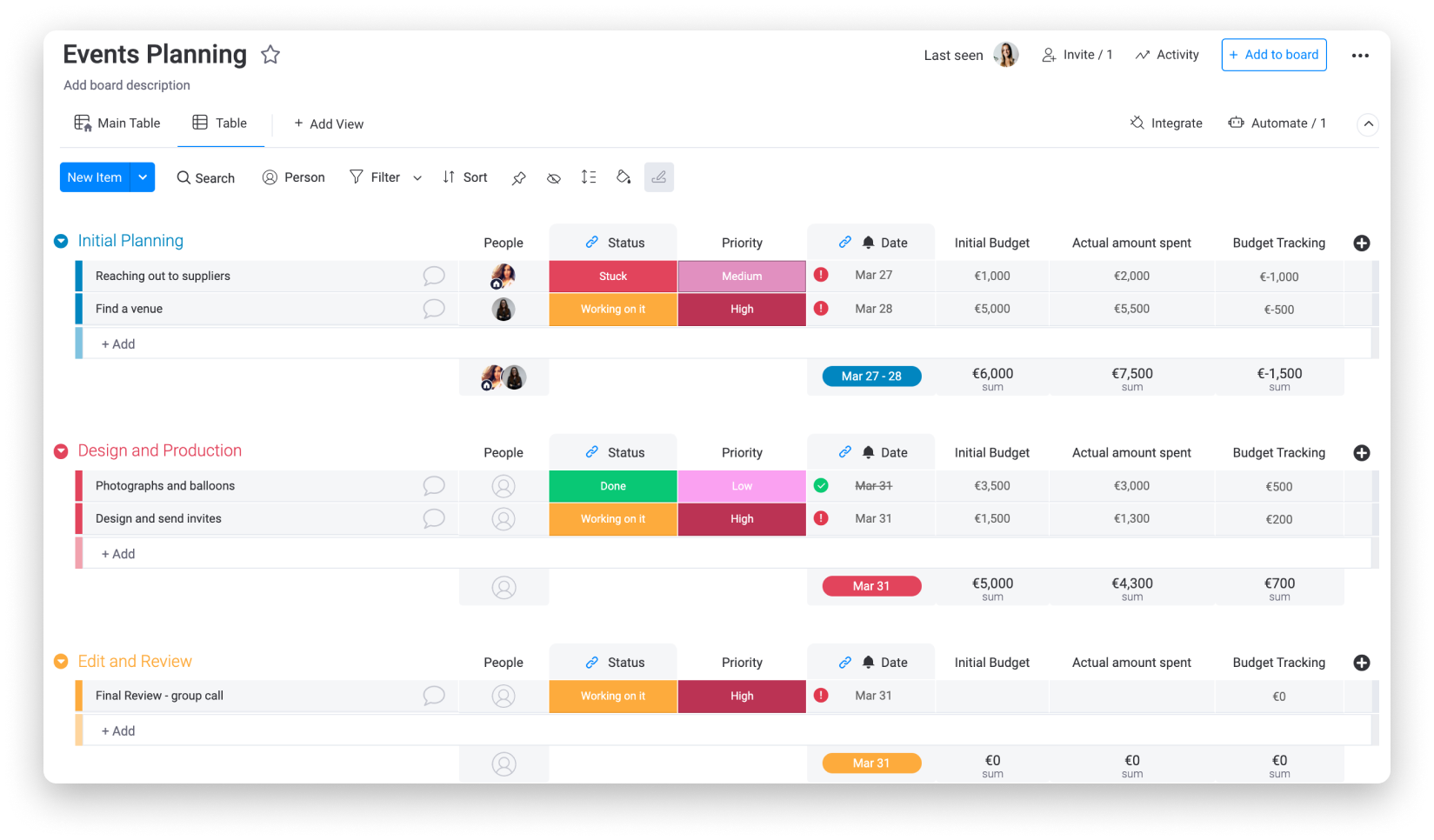 By using the board filter, you can create a view according to the exact parameters that you want to see. Simply apply your filters and make sure to hit "save as new view".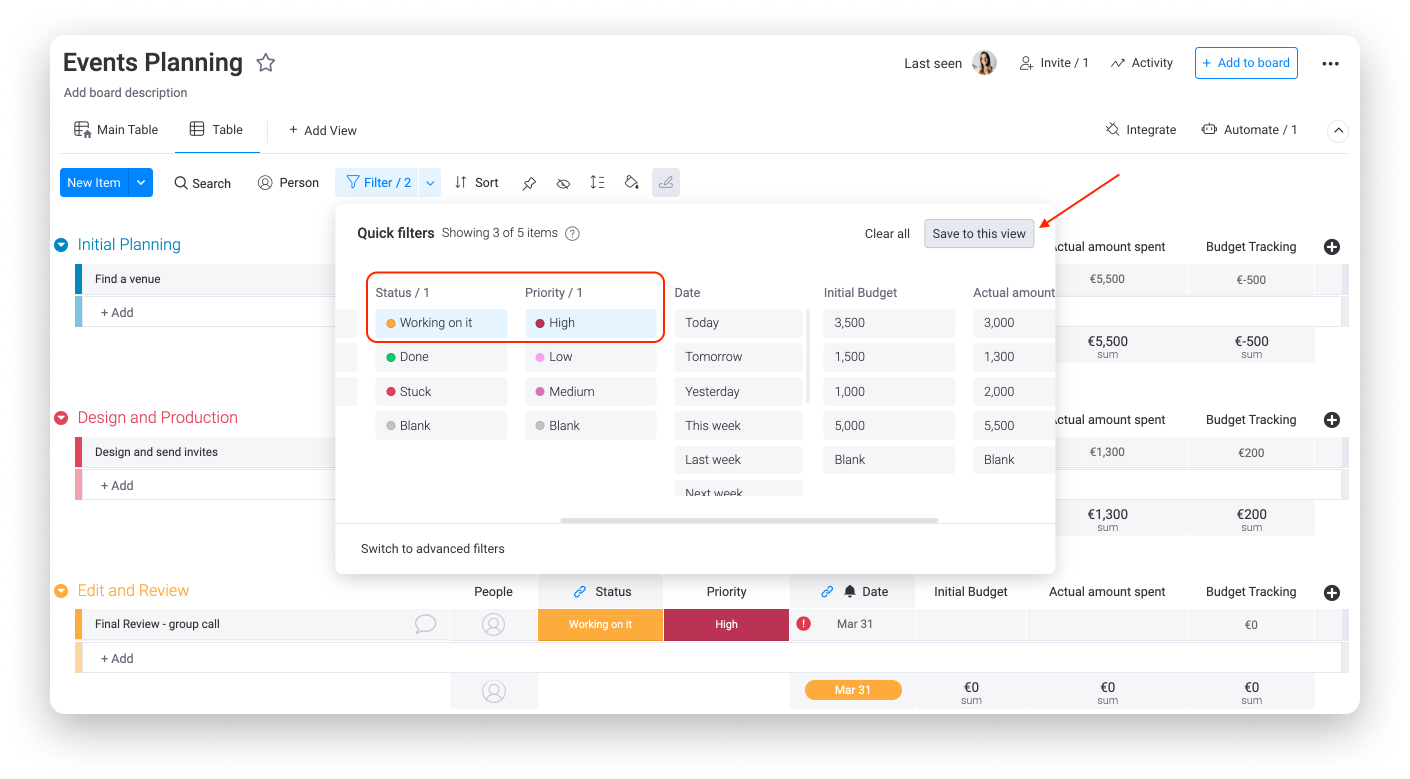 Once done, rename your filtered view and click on "share" to publicly share it.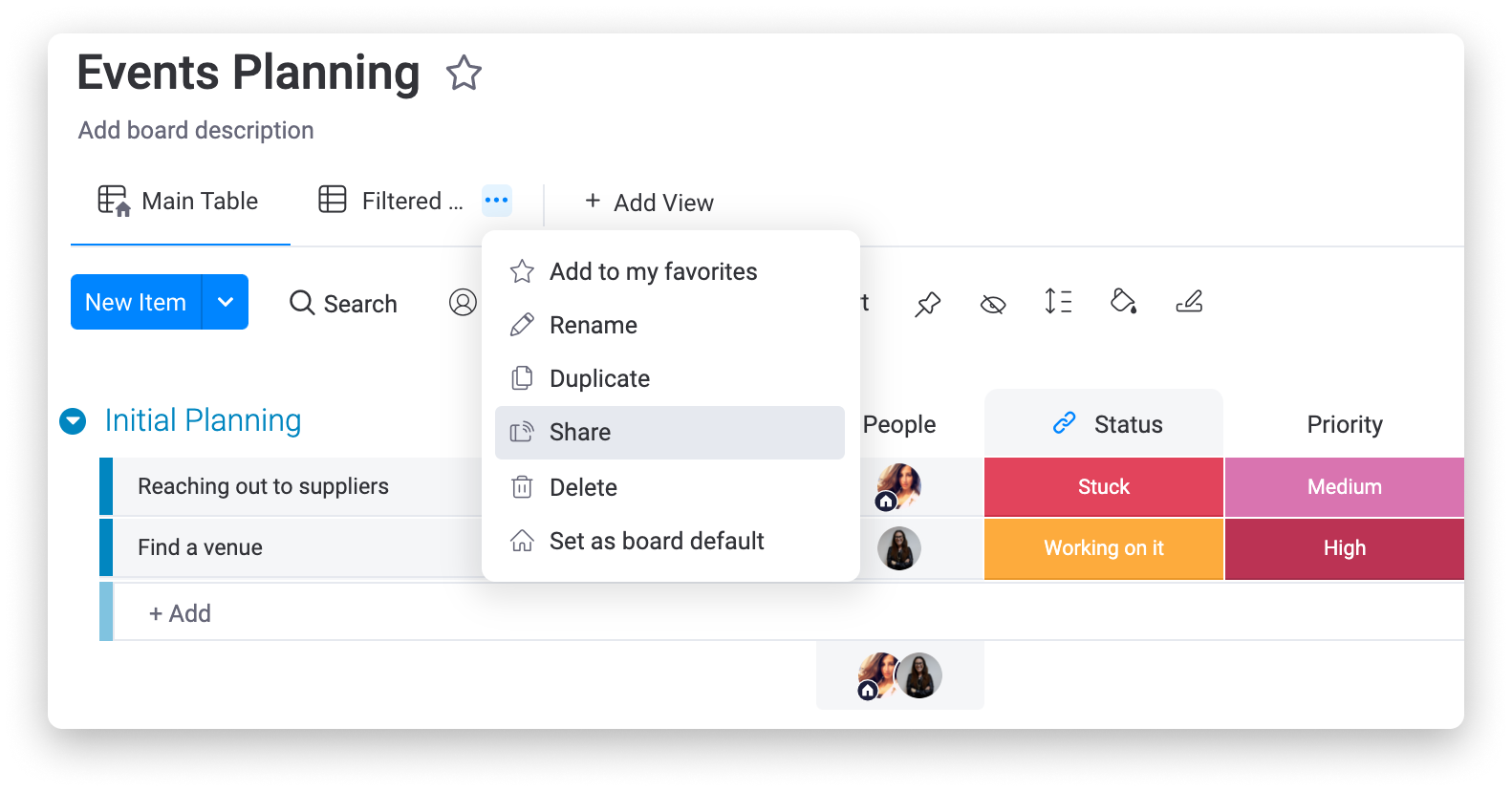 By doing this, your shared board view will display only the information you've chosen to show. 🙌
You can also hide specific columns from your board so that they will not show publicly. To do this, click on the eye icon located at the top of your board as below: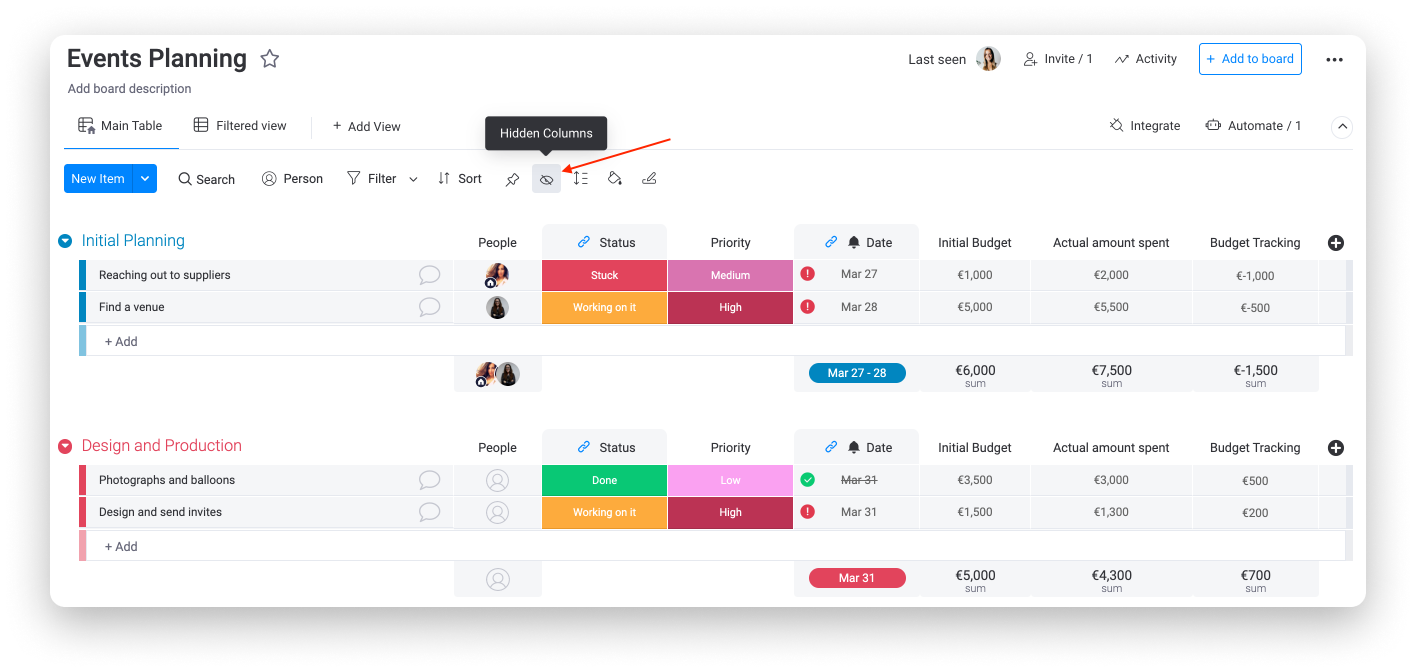 Choose the columns you'd like to display. Once complete, don't forget to save your view and name it as you wish!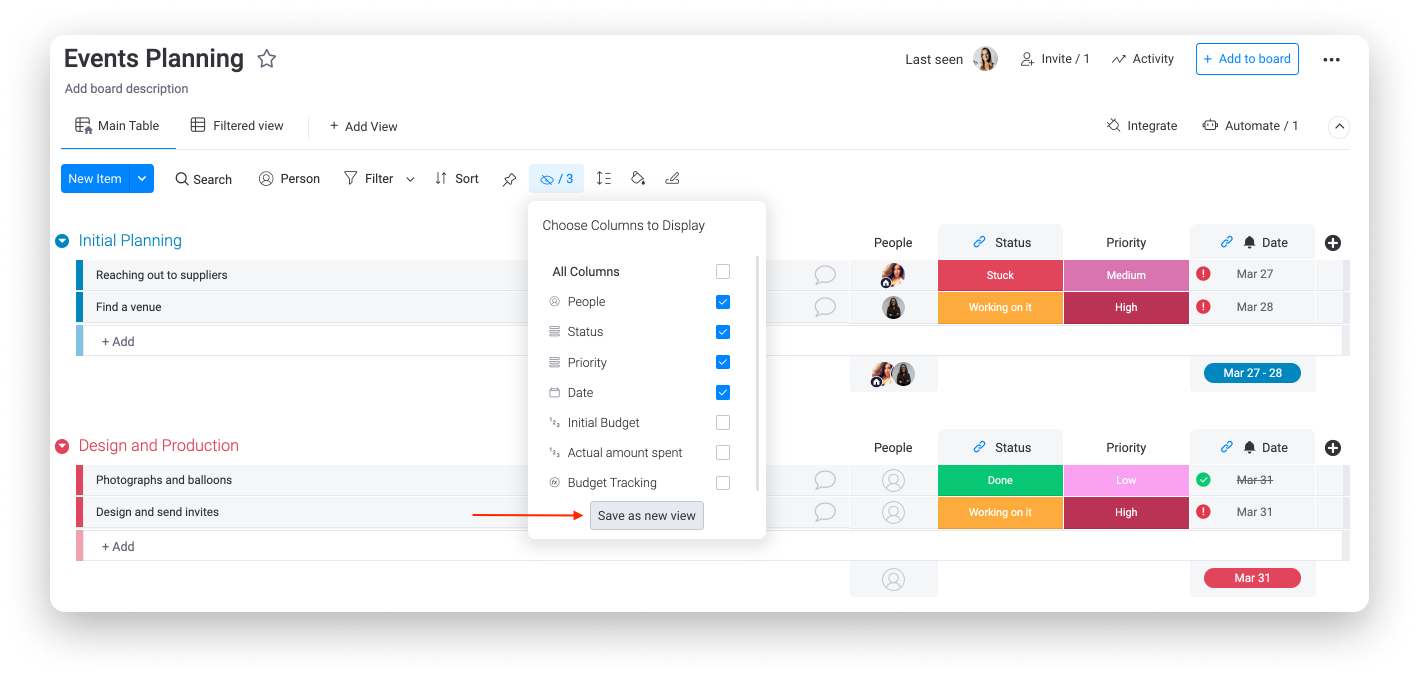 Once done, if you share this new view, the hidden columns will not be displayed: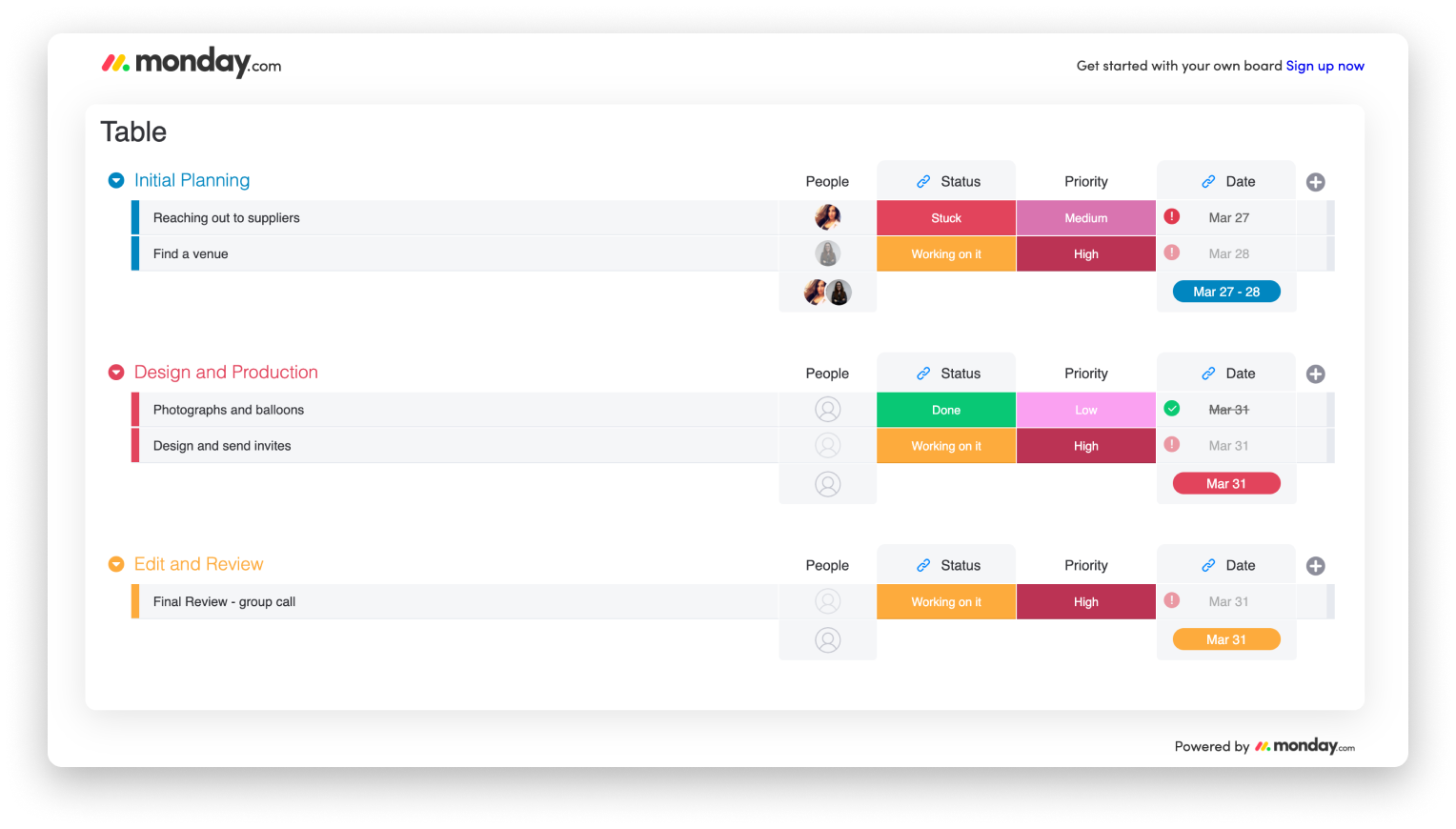 How to set up the shared view in full screen
Easy! To set up the shared view in full screen, just make sure to add the term "/embed/" right after "view.monday.com/" in the shareable link as below:
Then, you will see the board in full screen: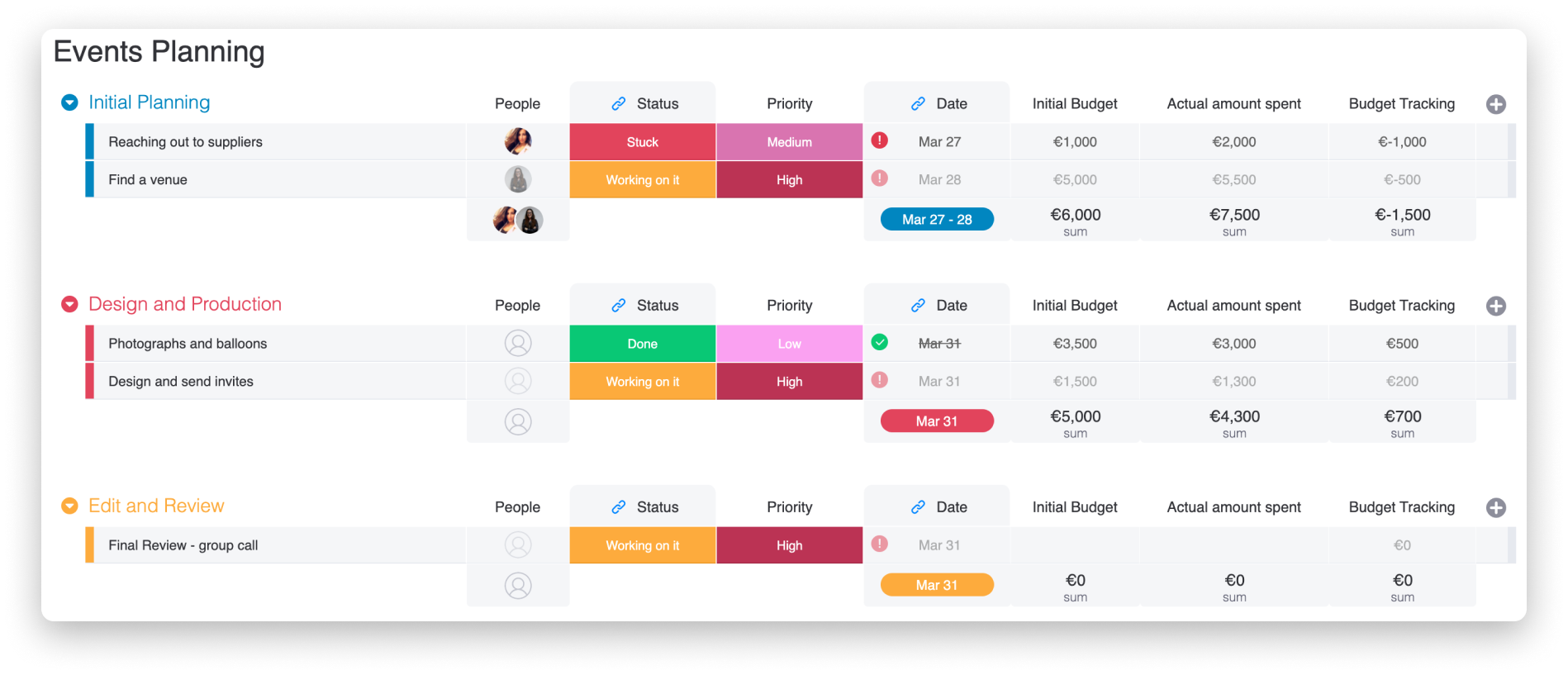 How to disable the shared view
If you are the board owner or account admin, you can disable the shared view at anytime. To do so, click on the view located at the top of your board and select "Share settings" as below: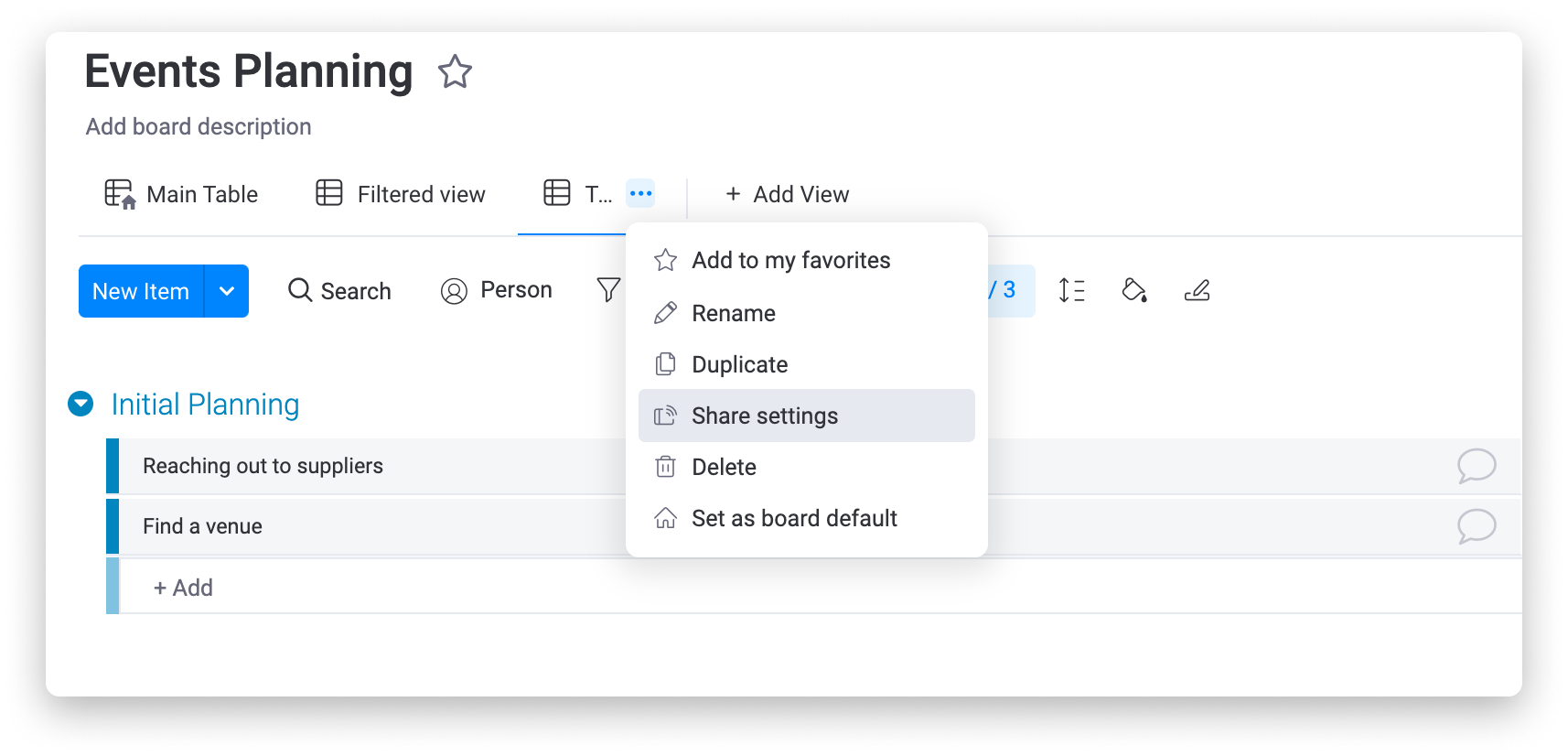 Once done, click on the "Stop" button. ⛔️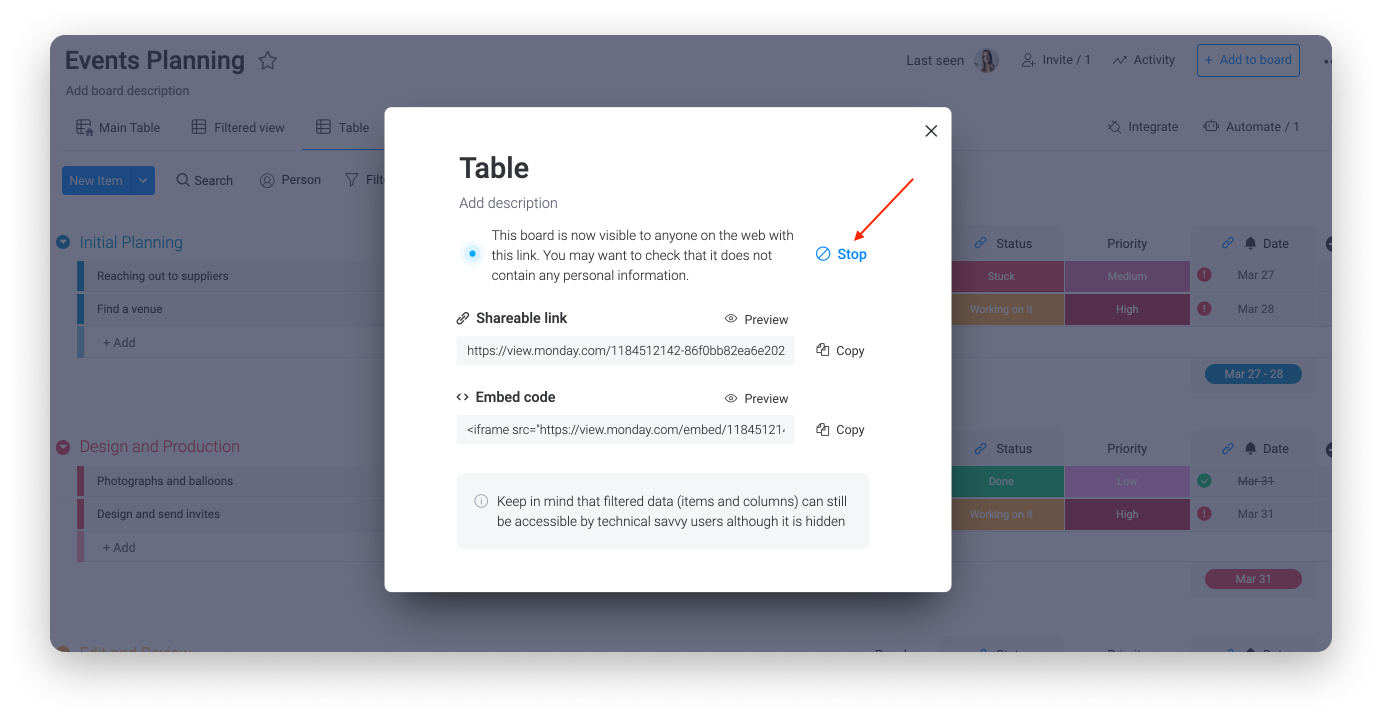 Tip: You can also access the share view settings by clicking on the blue banner on the top of your board which indicates that it is being shared.
If you have any questions, please reach out to our team by using our contact form. We're available 24/7 and happy to help!