The Timeline Column gives you a visual representation of how long you or your team has to complete an item or project! Use the column to display a timeline for any item, or the total for a group of items! You can also use the Timeline View to get a visual overview of all of your tasks together!
The Timeline Column
Click the '+' sign to the right of your last column and select 'Timeline' to add the Timeline Column to your board. Now you can click into a Timeline cell to open up a calendar where you can select the item's Start and End date.
Now you can see not only the task's deadline, but a battery style display of its start and end date! The color of the battery corresponds with the group's color, and represents how much time has passed from the start date until today. The black area in the battery visually represents how much time remains to work on the task!
Add a Timeline Summary
Add a Timeline Summary to your Timeline Column to show you a battery representing the timeline of an entire group. For example, in my board, a group represents a project and each item is a task within that project. In this case, I can use the Timeline Column to show me how long I have for each task, and then use the column summary to show me how much time I have for the entire project!
To add the summary, click on the arrow located on the right side of your Timeline Column and select 'Show Column Summary' from the drop-down menu as shown here:
The summary of your timeline's items will then display at the bottom of your column as shown below:
You can remove the column summary the same way you added it, but this time select 'Hide Column Summary'.
The Timeline View
The Timeline View allows you to see all of your tasks together in one view! The Timeline View is really great to use when you have projects or tasks that span over multiple days. It allows you to get a visual representation of your projects, so you can see who is working on what, and when it's expected to be completed. This view also indicates from which boards these tasks are being worked on and is a super helpful tool to control the workload of your team. It's just like the Gantt chart, but more beautiful!
How to add the view
Start by adding the Timeline Column as shown at the beginning of this article.
After you have entered all of your data into this new column, select any cell in the column. Click on 'View in timeline' at the top right corner of the cell's pop-up window to launch the Timeline View.
You can also open the Timeline View by clicking on the arrow next to "Main Table" located on the top left corner of your board. Click '+ Add View' and then select 'Timeline' as demonstrated here:
Include Milestones
Milestones are important dates, rather than a range of dates associated with a task or event. To set a milestone that will appear on your timeline, simply select one date, and click "Set as milestone" at the bottom of your calendar pop-up window.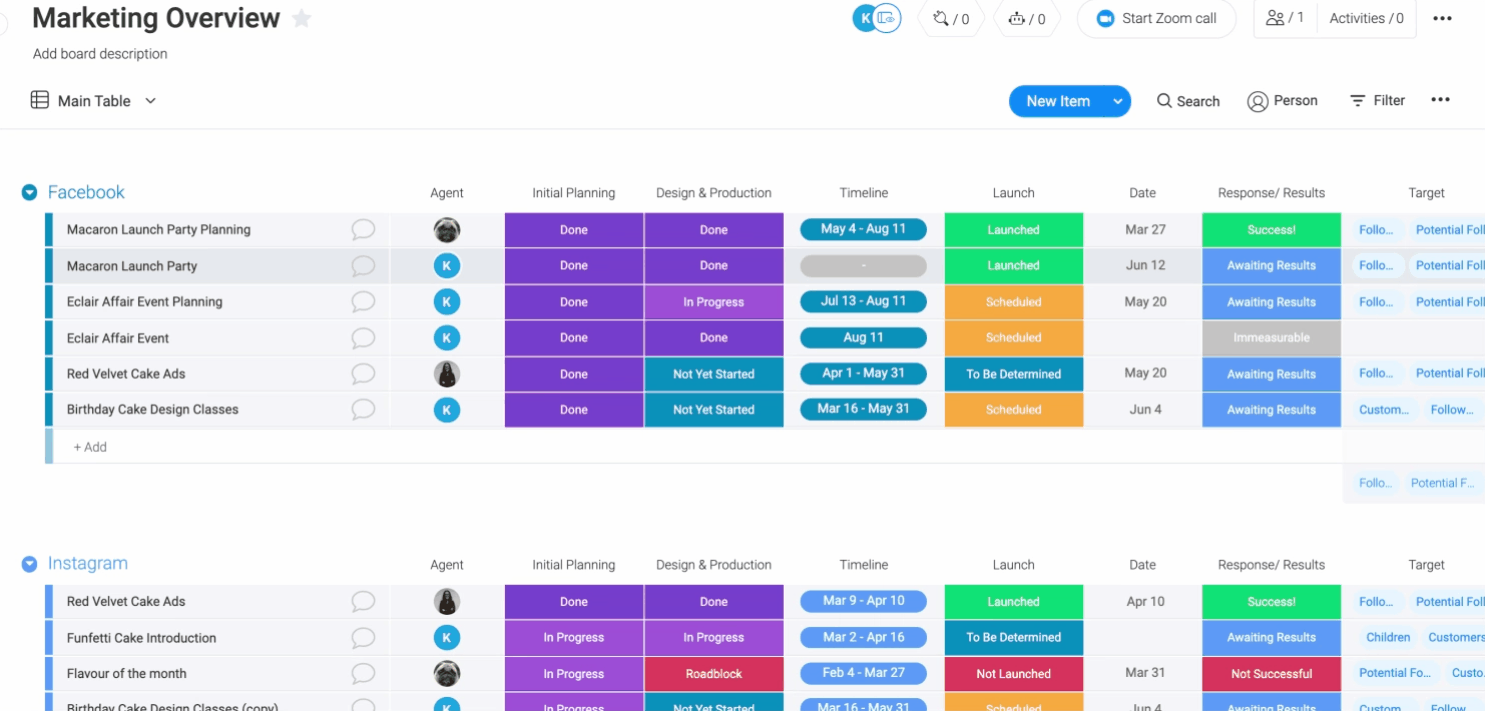 Milestones will appear in the shape of a diamond in your timeline and will be colored according to the item's status label!
In your Main Table View, a milestone will appear with a diamond to the left colored according to the group it belongs to.
If your Timeline Column is set in Deadline Mode, the diamond will be colored according to the item's status. This means that if the item was done on time, the milestone will be green, and if it is overdue, it will appear red, like in the example below:
Note: Milestones are only available from the Pro plan and up.
Customization
Once your timeline has opened, you are given the option of naming this view. You can always skip this step and do it later!
Next, click on the cogwheel at the top right corner of your board to open the View's settings in a panel on the right.
Here, you have the option to organize the timeline by the person, group, status, and more! This filter can help you manage your tasks, your resources or just have a global overview of where everything stands.
Also, the Timeline is color-coded! As you can see, the color displayed in the Timeline View corresponds with the color of the group of items the event appears in.
Color by
Your timeline automatically color codes your items according to which group they come from. For example, when you see green events, you know they are from your green-colored group, and when you see purple events, you know that they are from your purple-colored group. But you can use the drop-down menu to choose how you want them to be colored! You can choose to color by groups (using the colors of your groups), Status Column (using the colors of your labels), or People!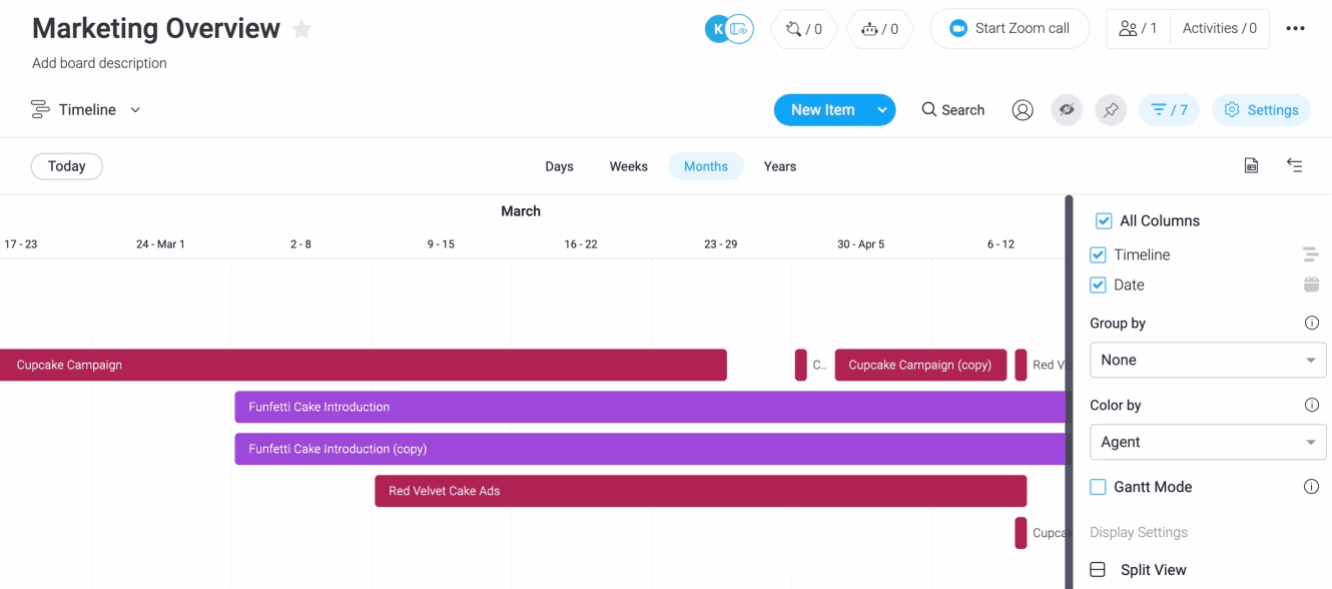 Filter your timeline
In the Timeline View, you can filter your timeline to display only the information you want to see. The filters can be applied temporarily, or saved for future reference. For example, let's say we are a Marketing company and we need to see all the tasks in the 'Instagram' campaign.
Click on the filter icon located on the top right of your view as below:
Select the group 'Instagram'
Save your filter to have these settings open up every time you look at your timeline! Simply click on 'Save to this view' like this:
Now whenever you open your Timeline View, the filter will automatically be applied!
You can see how many filters you have applied right here:
Add multiple timelines in one view
When your board has more than one Timeline Column, you can either see them all together in one view or choose which ones you want to appear! Let's check it out!
In the board below, we have a timeline for each status column:
Open the timeline's settings by clicking 'Settings' at the top right corner of my timeline. When the panel opens, you can see all of the customization options to the right! From here, you can select the Timeline Columns you'd like to display as shown below:
You can also decide how you would like the timelines grouped! For example, in the previous image, the timelines were grouped by the People column, so the tasks were displayed according to who was responsible for them. Change this setting by selecting the 'Group by' drop-down menu like this:
Here, you can see that the tasks are now grouped by Kickoff Status!
Update your items directly from the Timeline View
All you have to do is click any of the bars in the Timeline View to open up the item's card. From here, you can make any changes and updates without having to go back and forth to your Main Board View!
Shift your timeline by "x" days
Imagine that you have a workflow board with a timeline column. Each item is a task, and its timeline begins when the previous task's timeline ends. You finish all your tasks on time, but now your manager adds an unexpected offsite day. Don't worry, you don't need to move each item's timeline begin and end date by one day. Instead, you can select the items you want and shift all their timelines by however many days you want.
Select the items whose timelines you wish to shift and click the Timeline cell.
At the bottom of the calendar window, select 'Shift selected items by days'.
In the pop-up window, input the number of days you wish to shift the item/s by typing a number or using the arrows and click 'Shift'.
Get Alert Reminders
There are three options for reminders in the Timeline Column:
Calendar Integration -

This article will show you how it works.
The Deadline Mode -

This article

covers all you need to know about it.
Date Reminders with Automations - Keep reading to learn how to use them!
When your column is set to 'Deadline Mode', you can use Due Date Reminders. Open the Column Settings by clicking the arrow on the top right corner of the column. Select 'Set Due Date Reminders' as shown below:
The Automation recipe that reads "When

Date

arrives and

Status

is/is not Something, notify

someone

" will pop up. Click on each underlined portion to set your automation parameters that will automatically create your notifications.
Click "Add To Board" below.
Note: If your Timeline Column is not set to 'Deadline Mode', this is the recipe you will get:
Now you and your team will never miss another deadline!
Print and Export
You can export your timeline to Excel in one easy click! In your Timeline View, just click 'Export to Excel' at the top right corner as shown here:
You can even export it as a Gantt chart by selecting 'Gantt Mode' in your Timeline View's settings before clicking 'Export to Excel'. Check it out:
Cool upgrade: when you export in Gantt Mode, a summary of item names, start date, and end date of each item will appear to the left side! Try it out!
Show multiple boards in your timeline
You can easily display multiple boards in one timeline by using the Timeline Widget in your Dashboard! Click here to learn more about the Timeline Widget.
Use the Split View
You can view both your timeline and your board together on the same screen with the Split View! All you have to do is select 'Split View' from the Settings menu as shown here:
The end result looks like this:
There's also the really cool option of changing the contrast! Click 'Dark Mode' in the Settings menu for something a little easier on the eyes!
Check it out below:
Learn more here!
Share your Timeline View!
You can now share your Timeline View with others!
Click the drop-down Views menu at the top left corner of your board
Click the 3 dot menu to the right of 'Timeline' in your list of Views
Click Share
This window will pop up on your screen:
Learn more about sharing your board views here.
Format Date, Time, and Weekends
You can customize the format of the date and time by following these steps:
Click on your profile picture located at the bottom left corner of your screen
Click on 'My profile'
Select preferences
You can choose whether or not to display weekends in your timeline by heading to your profile picture and clicking "Admin".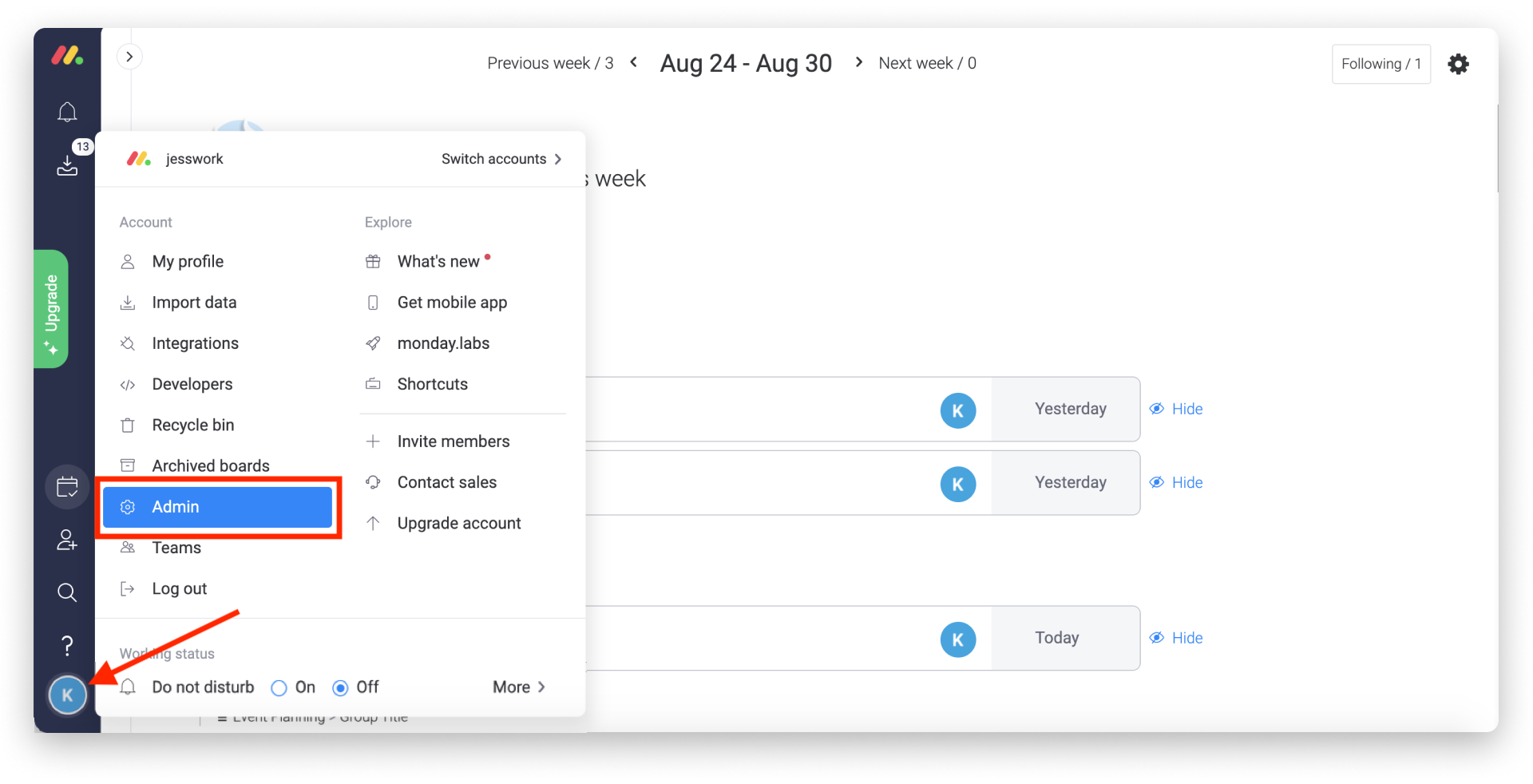 Note: You must be an admin of your account to access these settings.
Next, head to the "Account" tab in the "General" section.
Now, you can choose whether you want to hide or display weekends in your timeline! If you make any changes, be sure to hit "Save changes" before you navigate away from the page. :)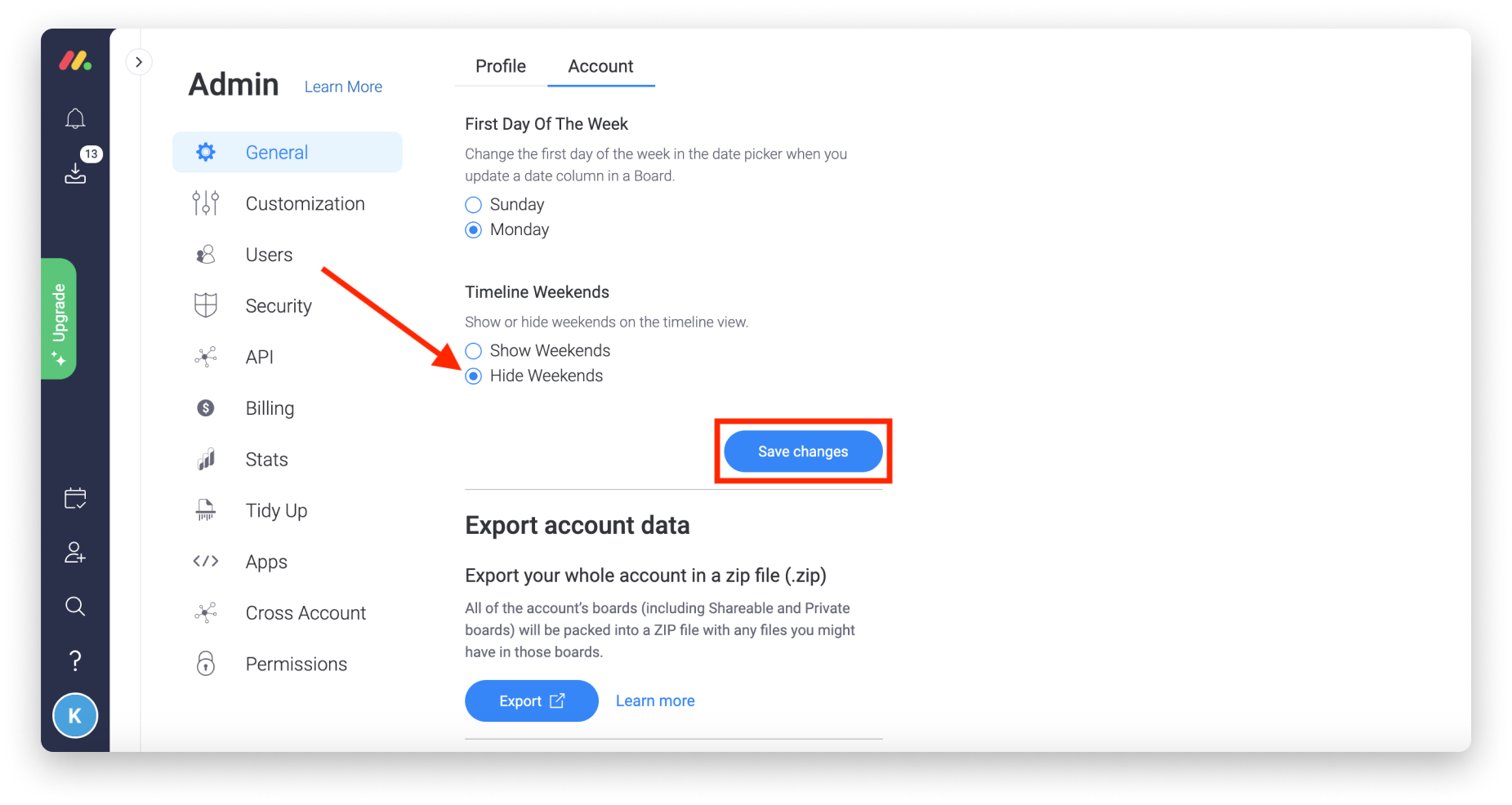 You can choose whether you want your weeks to begin on Sunday or Monday! The change will apply for your all monday.com account, including your calendar on the Due Date Column, Timeline or Calendar View.
Just head over to "Admin" from your profile picture, and select the "Account" tab in the "Settings" section. All you have to do is choose Sunday or Monday, and hit "Save changes" before you navigate away from the page!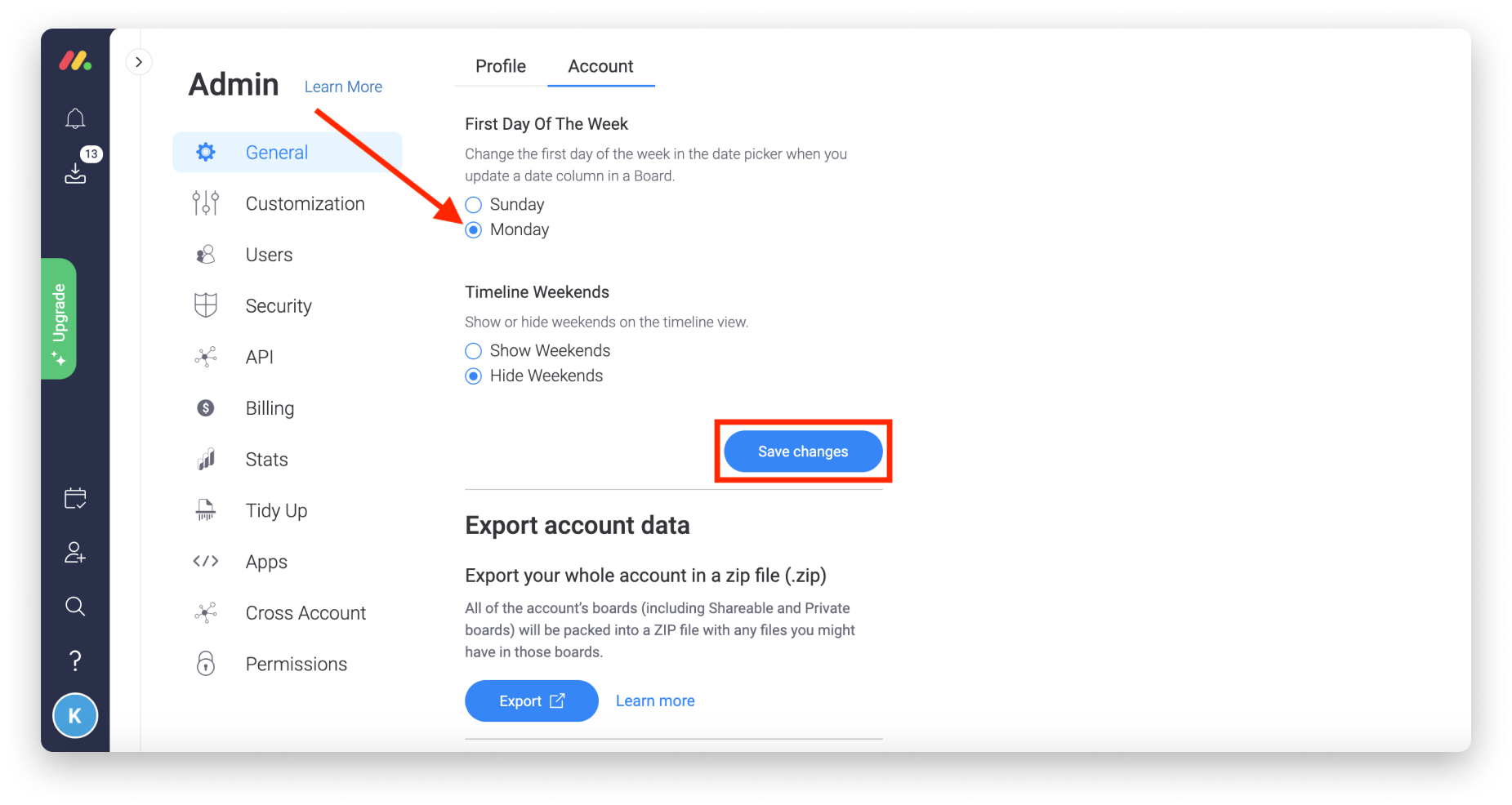 If you have any other questions about the Timeline Column or the Timeline View, feel free to reach out to us at [email protected]!