The Timeline Column gives you a visual representation of how long you and your team have to complete an item or project! It allows you to lay out all important project start and end dates and keep everyone aligned. Use the column to display a timeline for any item, or the total for a group of items! You can also use the Timeline View to get a visual overview of all of your tasks' timelines together!
Note:
This article will cover the Timeline Column only. To learn more about the Timeline View,
click here
!
Click the '+' sign to the right of your last column and select 'Timeline' to add the Timeline Column to your board. Then, you can click into a Timeline cell to open up a calendar where you can select the item's Start and End date.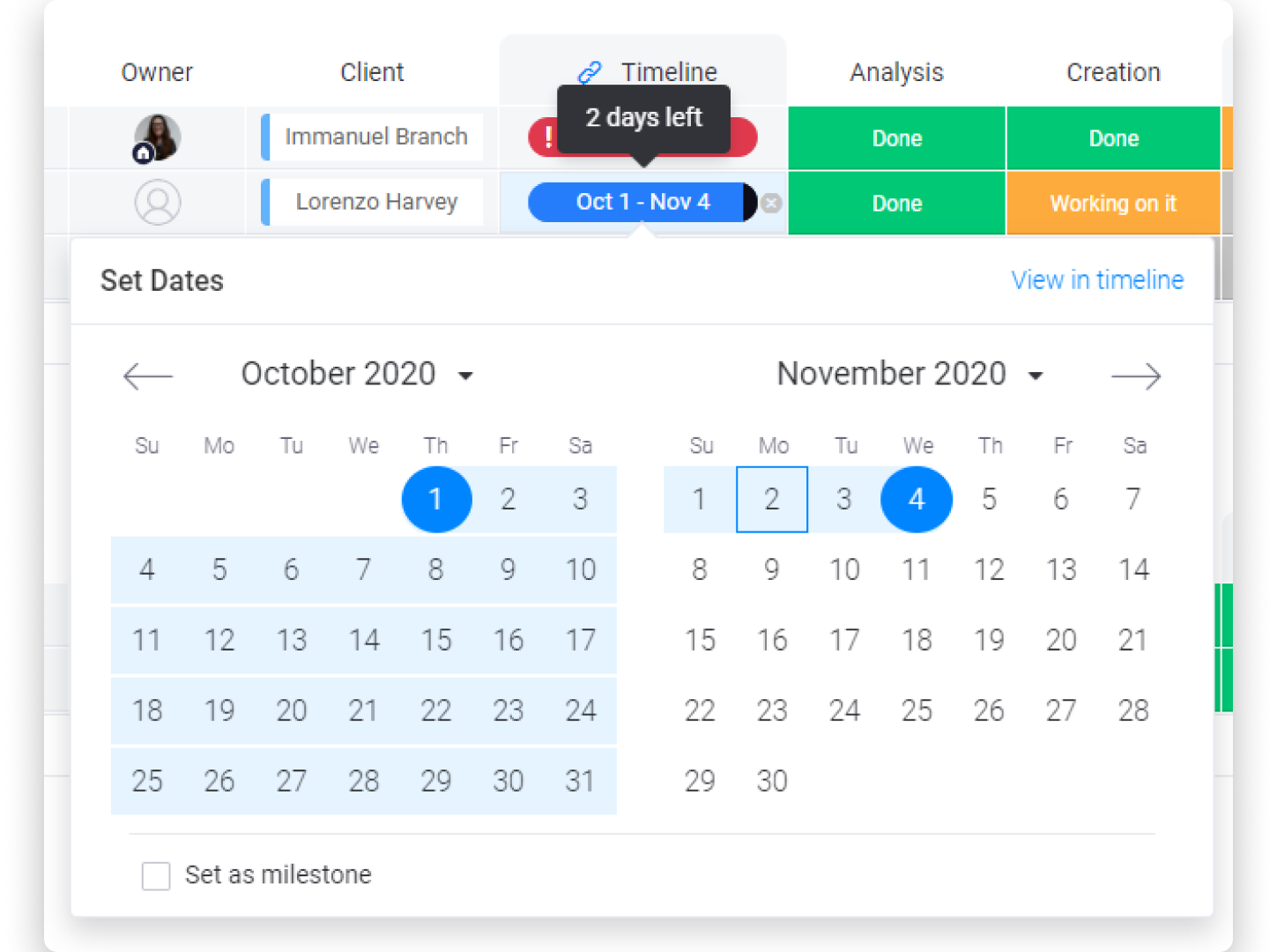 Now you can see not only the task's deadline, but a battery style display of its start and end date! The color of the battery corresponds with the group's color, and represents how much time has passed from the start date until today. The black area in the battery visually represents how much time remains to work on the task!
Add a Timeline Summary to your Timeline Column to show you a battery representing the timeline of an entire group. For example, in my board, a group represents a project and each item is a task within that project. In this case, I can use the Timeline Column to show me how long I have for each task, and then use the column summary to show me how much time I have for the entire project!
To add the summary, click on the arrow located on the right side of your Timeline Column and select 'Show Column Summary' from the drop-down menu as shown here:
The summary of your timeline's items will then display at the bottom of your column as shown below:
You can remove the column summary the same way you added it, but this time select 'Hide Column Summary'.
Note:
The
Timeline View
can help you visualize all your tasks on a timeline to plan and track projects that span over multiple days. You can also add
Milestones
to the timeline and make sure no one misses important dates!
Imagine that you have a workflow board with a Timeline Column. Each item is a task, and its timeline begins when the previous task's timeline ends. You finish all your tasks on time, but now your manager adds an unexpected offsite day. Don't worry, you don't need to move each item's timeline begin and end date by one day. Instead, you can select the items you want and shift all their timelines by however many days you want.
Select the items that you wish to shift and click on the Timeline cell.
At the bottom of the calendar window, select 'Shift selected items by days'.
In the pop-up window, input the number of days you wish to shift the item/s by typing a number or using the arrows and click 'Shift'.
Note:
When shifting
days on the timeline, this will also reflect on the Timeline View.
You can customize the format of the date and time by following these steps:
Click on your profile picture located at the bottom left corner of your screen
Click on 'My profile'
Select preferences
You can choose whether or not to display weekends in your timeline by heading to your profile picture and clicking "Admin".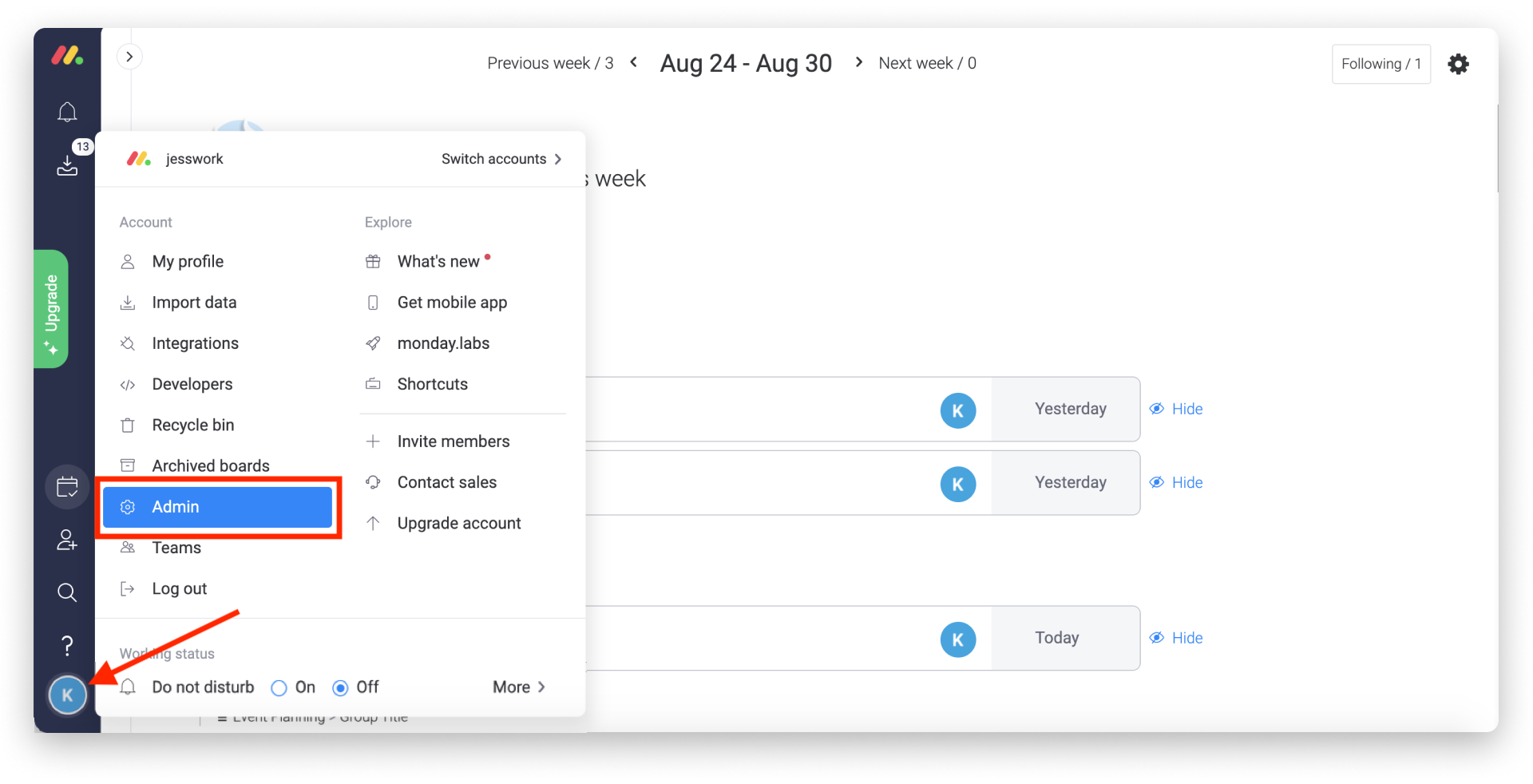 Note: You must be an admin of your account to access these settings.
Next, head to the "Account" tab in the "General" section.
Now, you can choose whether you want to hide or display weekends in your timeline! If you make any changes, be sure to hit "Save changes" before you navigate away from the page. :)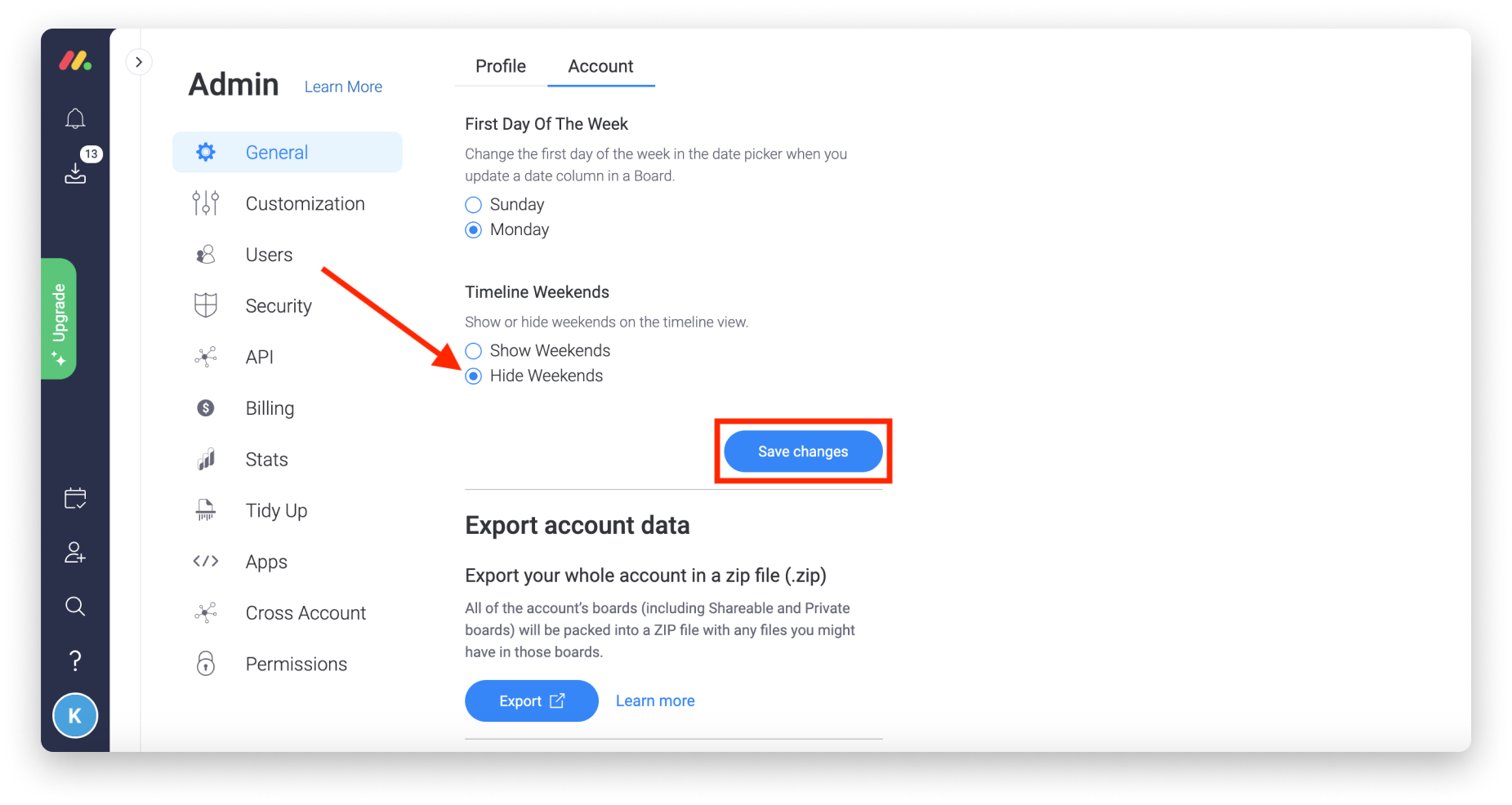 You can choose whether you want your weeks to begin on Sunday or Monday! The change will apply for your all monday.com account, including your calendar on the Due Date Column, Timeline or Calendar View.
Just head over to "Admin" from your profile picture, and select the "Account" tab in the "Settings" section. All you have to do is choose Sunday or Monday, and hit "Save changes" before you navigate away from the page!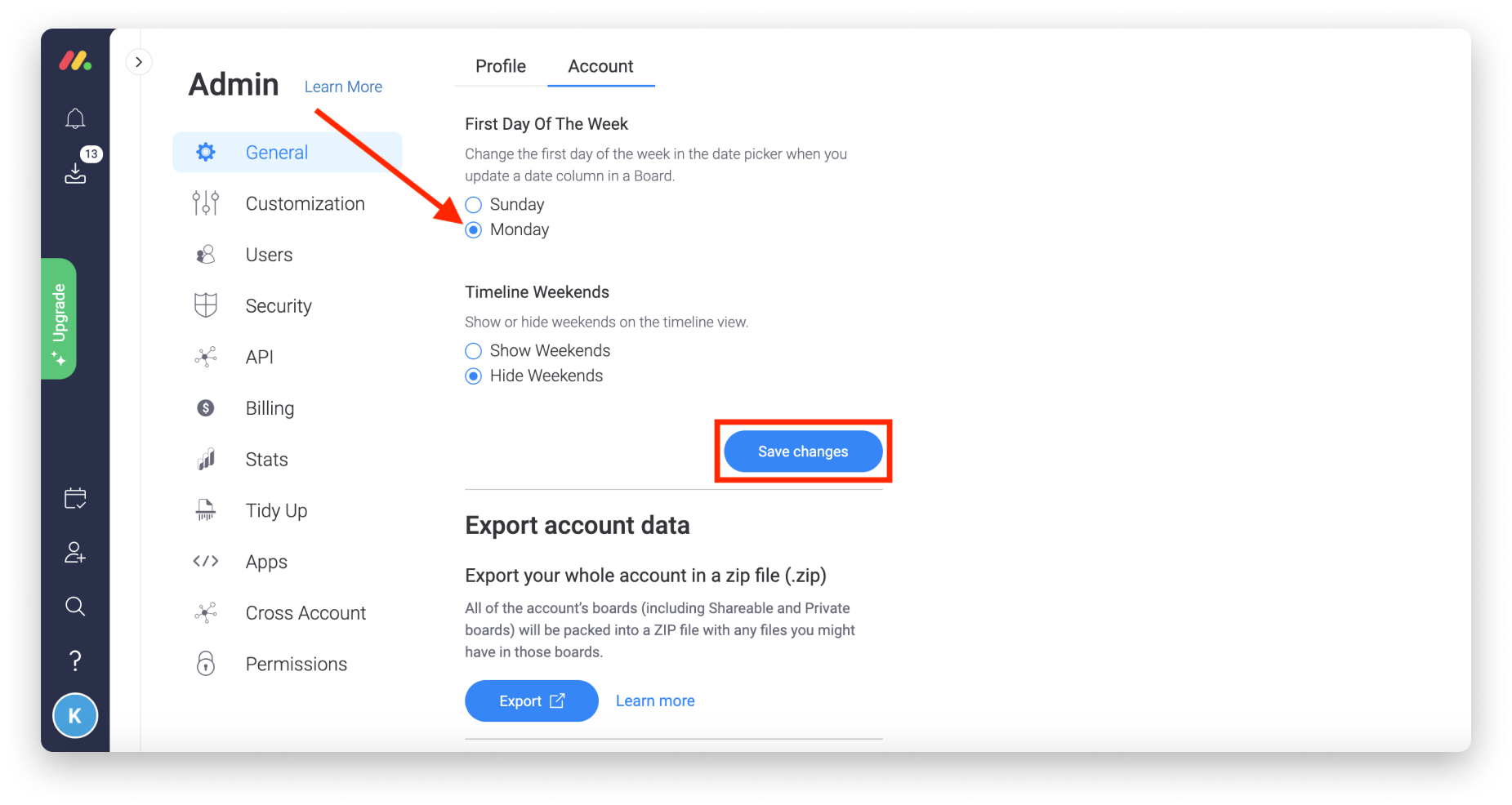 There are three options for reminders in the Timeline Column:
Calendar Integration -

This article will show you how it works.
The Deadline Mode -

This article

covers all you need to know about it.
Date Reminders with Automations - Keep reading to learn how to use them!
When your column is set to 'Deadline Mode', you can use Due Date Reminders. Open the Column Settings by clicking the arrow on the top right corner of the column. Select 'Set Due Date Reminders' as shown below:
The Automation recipe that reads "When

Date

arrives and

Status

is/is not Something, notify

someone

" will pop up. Click on each underlined portion to set your automation parameters that will automatically create your notifications.
Click "Add To Board" below.
Note: If your Timeline Column is not set to 'Deadline Mode', this is the recipe you will get:
Now you and your team will never miss another deadline!
The Timeline View
Now that you have your Timeline Column all set up and filled out, you can get a big picture view of all of your items' timelines at once with the Timeline View!
You can add it right from your Timeline Column by clicking on any cell, and then clicking "View in timeline":
And you're ready to go! Take a look at all of your items displayed visually across a comprehensive calendar, color-coded to suit your needs!
Check out this article to learn all about the Timeline View!
If you have any other questions, feel free to reach out to us at Support@monday.com!