When we think of Gantt charts, what usually comes to mind is a rigid tool existing as a separate entity to your workflow and your team members. But here at monday.com, the Gantt chart is where your project comes to life! Since it's added to your project board as a board view, the Gantt chart works with you and is flexible and responsive to the twists and turns of your project's development. Let's check out how to use it together!
Let's review the anatomy of our Gantt View! It's divided into two sections: To the left, we have a list of all of the items in our board with their names and dates. To the right, we have a visual representation of each of our items in the form of item bars, with connecting dependency lines! The entire view works like a grid, where the items are listed vertically, and the dates are presented in a calendar horizontally. If we hover over one of our items, the entire row is highlighted across our Gantt View so that we can isolate that one important detail in our project as you can see below:
Don't worry if any of this sounds confusing! We'll go through it all together in this article!
The Gantt View works together with the data in your board to bring you a clear, colourful, and organized visualization of your project's plan!
To get started, we need to make sure that our board has:
These columns are not mandatory, but really take our Gantt Chart up to the next level: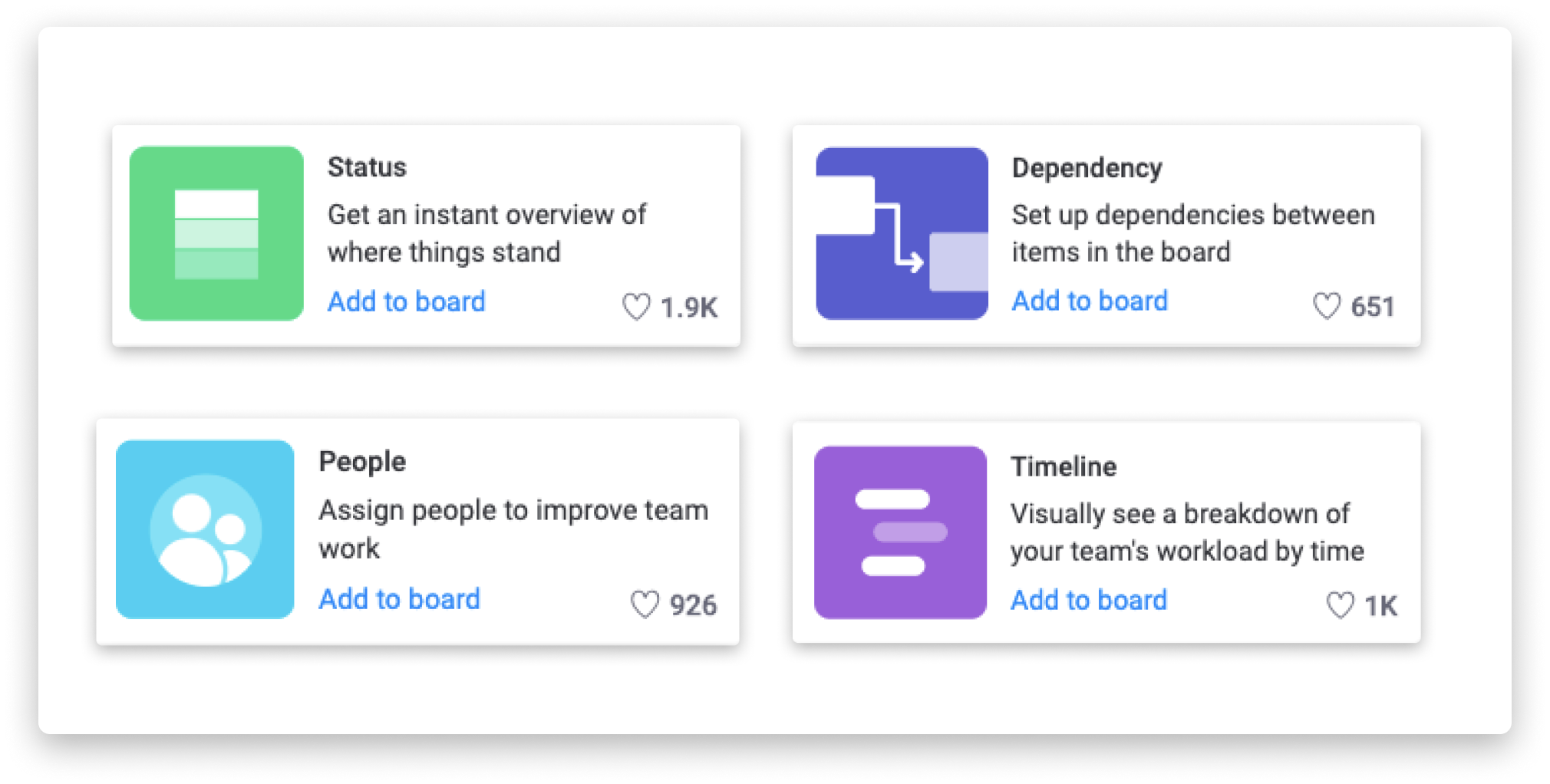 Once all of our data is plugged into these columns, and our project is set up in our board, we are ready to add our view!
To add the Gantt View to our board, we'll click on "Add View" located on the top left corner of our board. Next, we'll select 'Gantt' as shown here: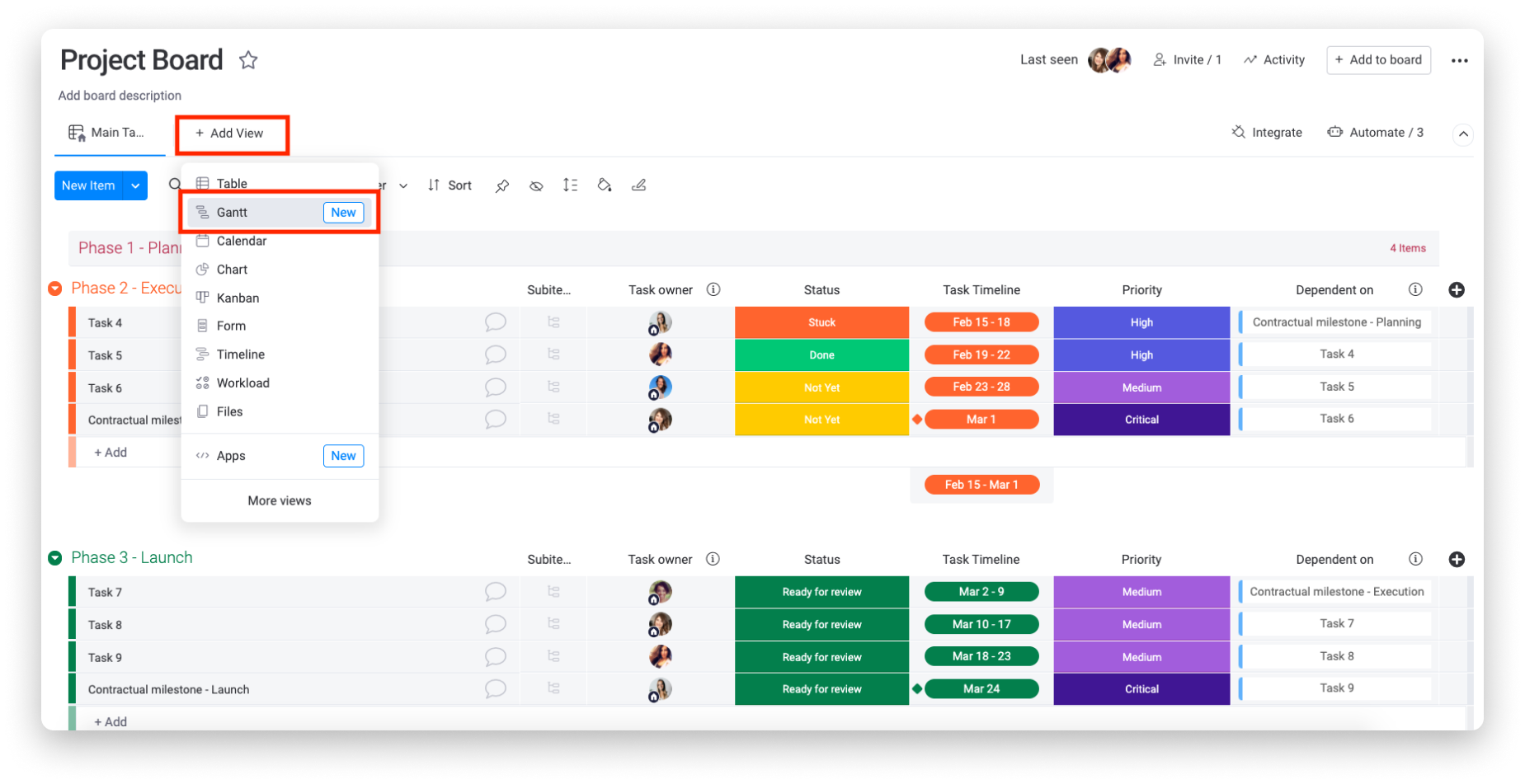 Set as the default view
We can set the Gantt View as our default view, which means that every time we open up our board, it will open up straight to our Gantt View! Simply click on the 3 dot menu to the right of our Gantt View's name and then "Set as board default" as shown below:
To learn more about board defaults, check out the "Board Default" section in this article.
The Gantt View can be fully customized so that you can visualize your project in a way that works best for you! Let's click on the cogwheel settings icon at the top right corner of our board to open the View's settings on the right side of our screen.
If we have more than one time column on our board (Timeline Column, Date Column, or Week Column), we can choose which ones will be displayed in our Gantt View! All we have to do is check or uncheck the box to the left of our columns to indicate whether or not we'd like to see its data in our Gantt. We can also check "All Columns" to include all of the time columns from our board!
Note: We're working really hard to bring your subitems to the Gantt View, but they are not yet supported. For now, if you want to see your subitems in your Gantt, you can create a Gantt Widget in a dashboard! Our Gantt Widget supports subitems and you can even connect more than one board to get an even bigger overview of your projects in one Gantt Chart!
Here, we have the option to organize the items in our Gantt View however we'd like! We can group them based on some of the columns on our board or by the groups on your board! This can help us manage our tasks, resources, or just give us a visual overview of where everything stands. For example, in the screenshot below, we grouped our Gantt by the groups on our board. Since our groups organize the structure of our project by phase, this setting gives us a really nice waterfall of our tasks in chronological order!
In the example below, we've grouped our items by the People Column on our board, meaning that we can clearly see who's responsible for how many tasks, and which ones specifically! Since our Gantt is built with dependencies, grouping by People helps us see who's working on the tasks that come before ours so that we know who to turn to for updates and questions.
Once we've chosen how we'd like to see our timeline bars grouped, we can customize it even further by collapsing and expanding certain groups! We just have to click the group to collapse it, and then click again when we want to expand!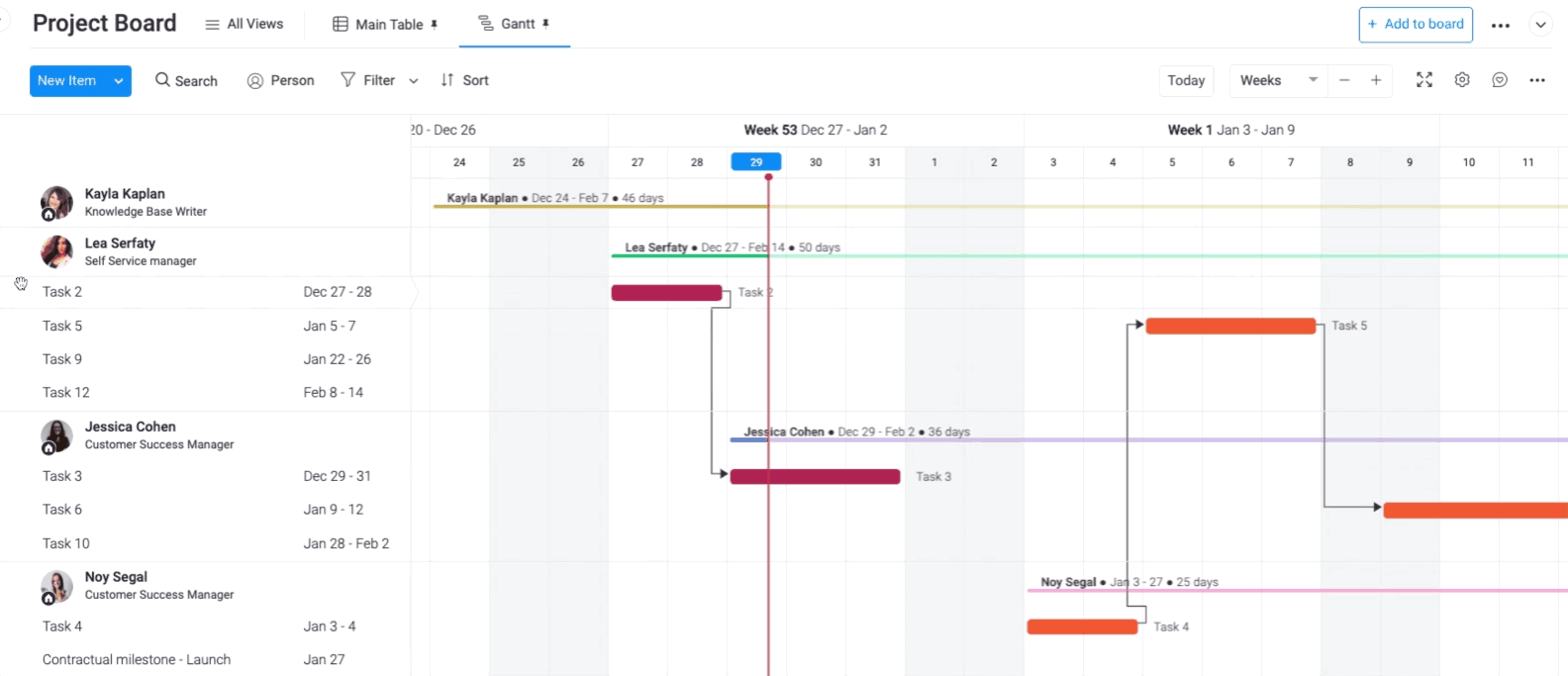 Label your items however you want
We can decide how the items in our Gantt View are labeled by opening the "Label by" dropdown menu and selecting one of the options! You can label them by the name of the item, the group they belong to, or by the values in the columns on your board!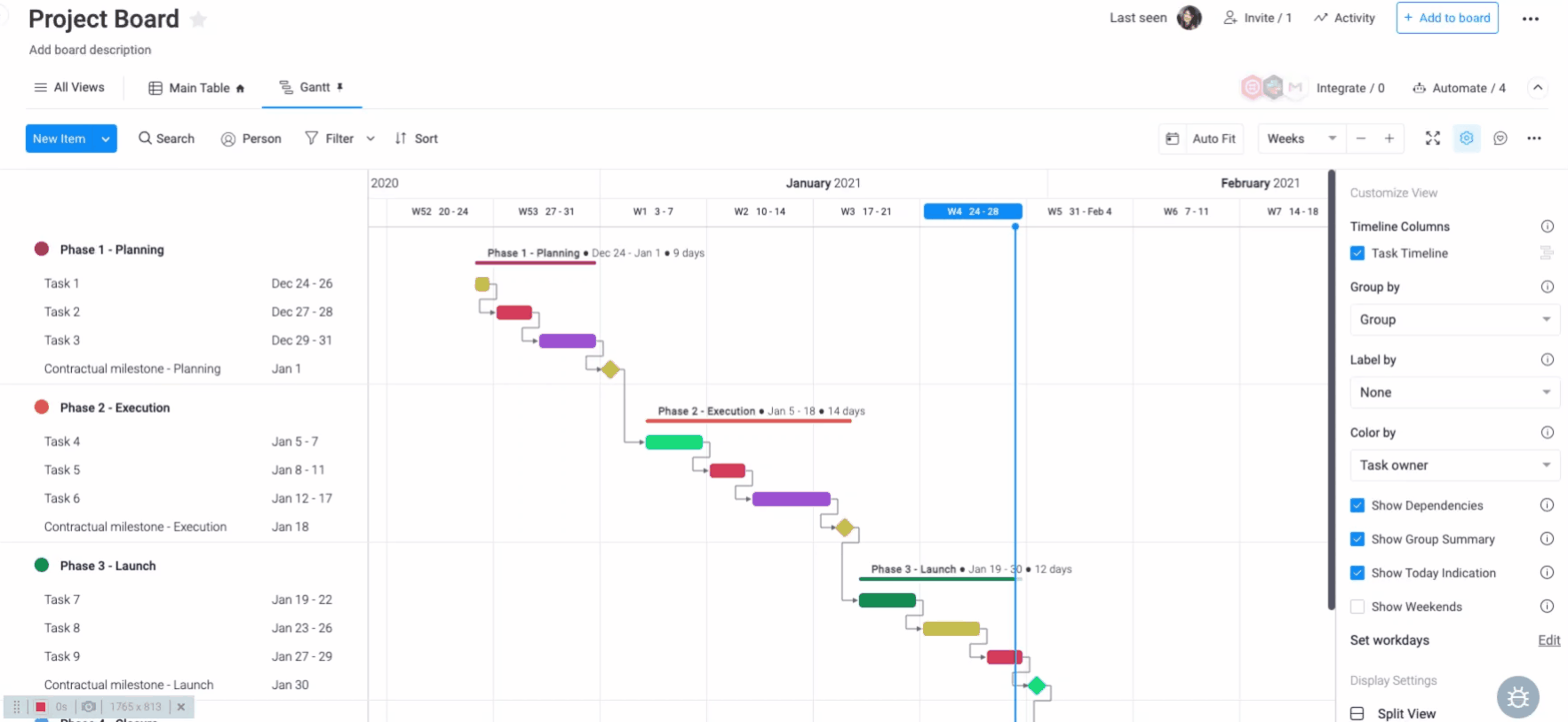 Color your items however you want
We can use the drop-down menu to choose how we'd like our timeline bars to be color coded! We can choose for them to be colored based on the color of the group they come from, by the labels in our Status Column, or by the people they are assigned to in the People Column, and more! For example, if we choose to color by group, then when we see green events, we'll know they are from our green-colored group, and when we see purple events, we'll know that they are from our purple-colored group.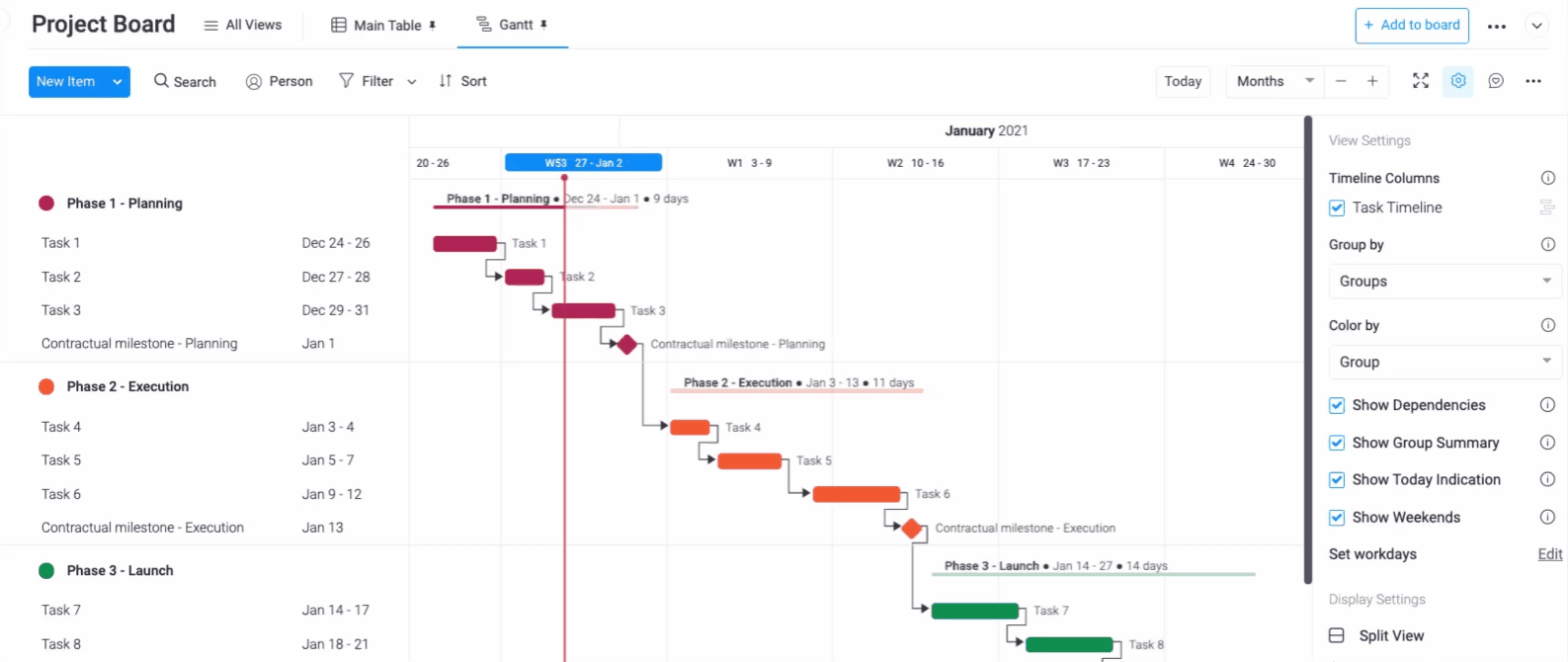 After you've chosen how you want to color your items, you can tick the "Show Color Legend" box in your Settings to generate a legend at the bottom of your board! The legend shows you what all of the colors on your Gantt mean so that you can understand everything clearly!
A group summary shows the total amount of time, using specific dates, that each of our Gantt's groups spans across! The "group" in this case refers to how we chose to group the items or tasks on our Gantt View and does not necessarily mean the groups on our board. For example, if we chose to group our tasks by the Status Column, then we will see a summary of each of the labels in our Status Column! In the example below, we actually chose to group our items by our board groups, so we can see that Group 2, called "Phase 2: Execution" spans from January 3 - 13, which is 11 days.
We can remove these summary bars by unticking the "Show Group Summary" box, shown in the image above.
Show dependencies
If we have dependencies set between our items, we will automatically be able to visualize them with arrows on our Gantt view. The dependency line connects the first task that must be done with the task that is immediately dependent on its completion, with the arrow pointing to the dependent task. The arrows help us clearly see the connections between our tasks, but we can easily remove them with the click of the "Show Dependencies" button, as shown below!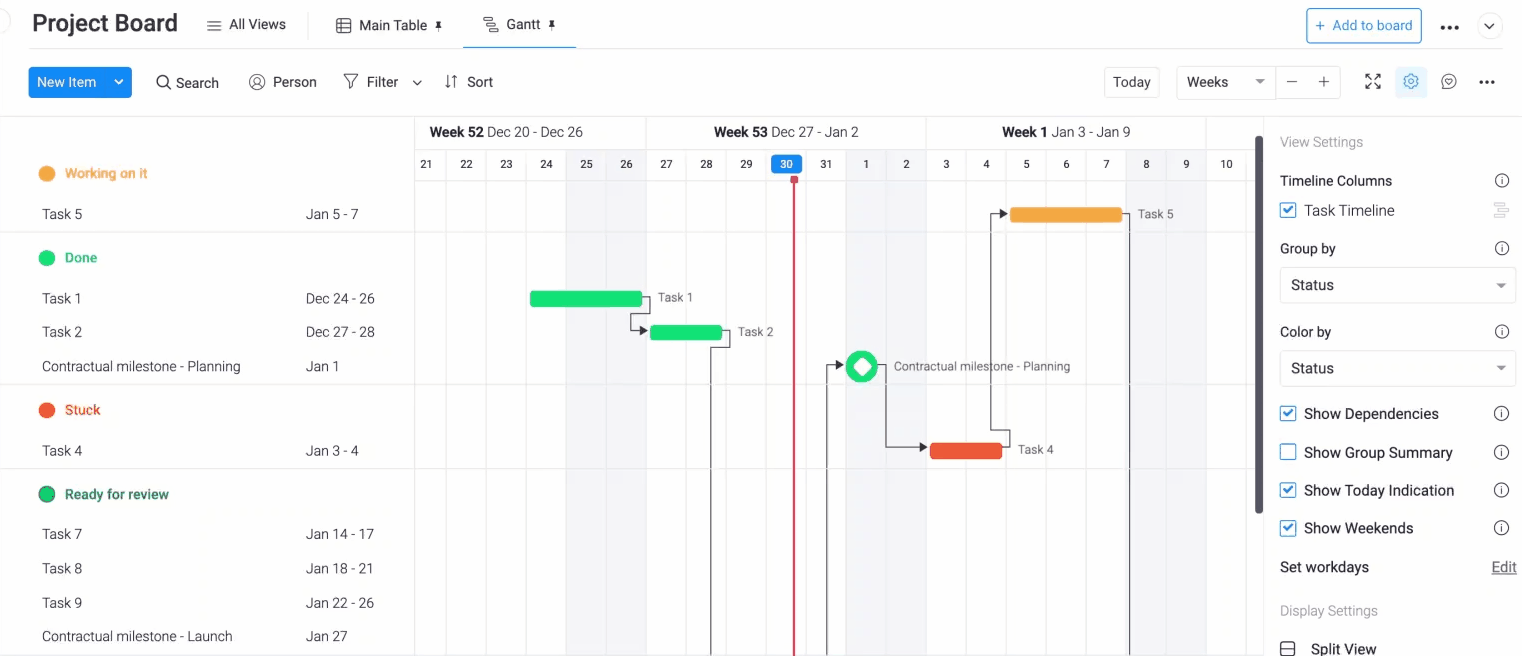 Something unexpected came up and we need to shift or extend the dates of dependent items on our Gantt's timeline. It's so easy when we have dependency automations set up! Instead of changing all the dates of dependent task, we can select the task that has been delayed and shift all their dependent tasks by however many days we need! Just click a timeline bar and drag it the exact number of days it has been delayed, and watch the magic happen! We can also hover to the right or left side of the timeline bar until an arrow appears where we can extend the timeline in any direction!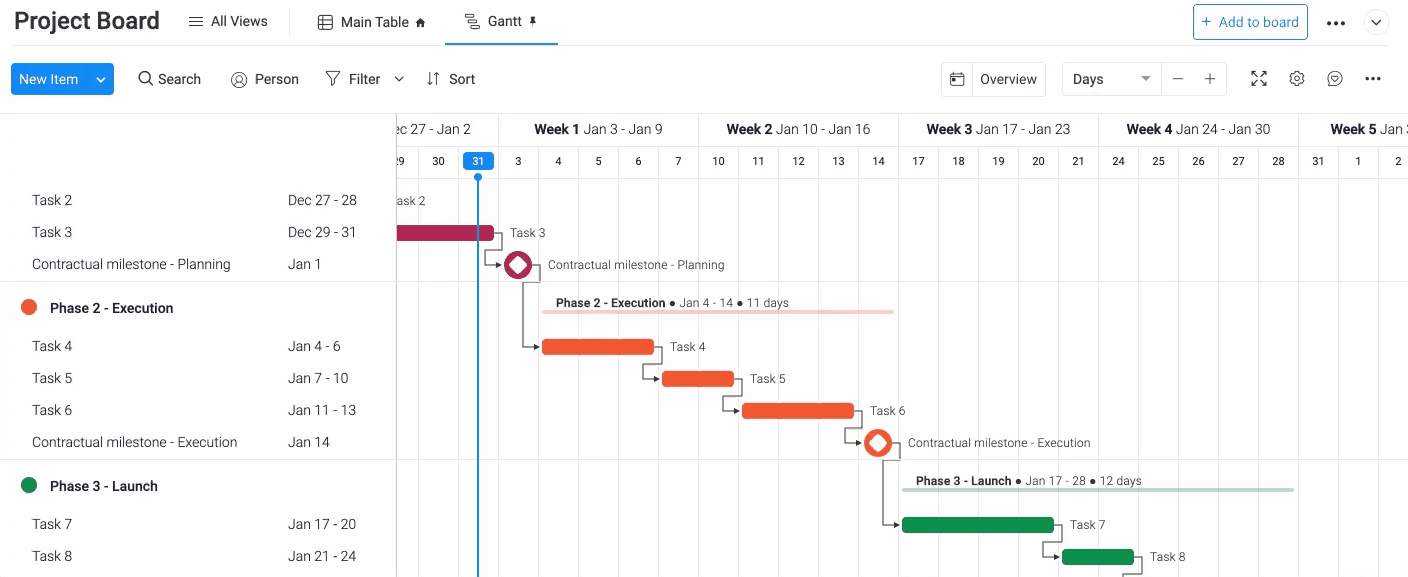 Note: Make sure your Dependency Column is set up so that your Gantt View knows which items (or tasks) must be finished before other tasks can get started. This will ensure that if there is a critical delay or change in schedule, all of the dependent tasks will adjust on the timeline accordingly. Read this article to learn more about dependencies!
Add a Baseline
One of the most important aspects of your projects is staying on track with your timeline and reaching all of your milestone deadlines on the way. Once a baseline is established, it can be used as a frame of reference to compare the current project progression after any delays or changes in the original plan occurred. We can take a baseline snapshot in our Gantt View by clicking the 'Baseline' button at the top of our screen and then clicking "Create a new snapshot" in the settings menu, like this:
When a baseline is created, our items are turned into a grey snapshot that remains locked in position no matter what happens to the timeline of our items along the way.
When all of our items are on track, they are shown in green. When we delay or extend the length of one of our items, it turns red along with any dependent items. No matter if our items are on time or late, our baseline will always remain locked in place as a grey shadow above our items so that we will always be able to refer back to our baseline to see when everything was planned to be executed.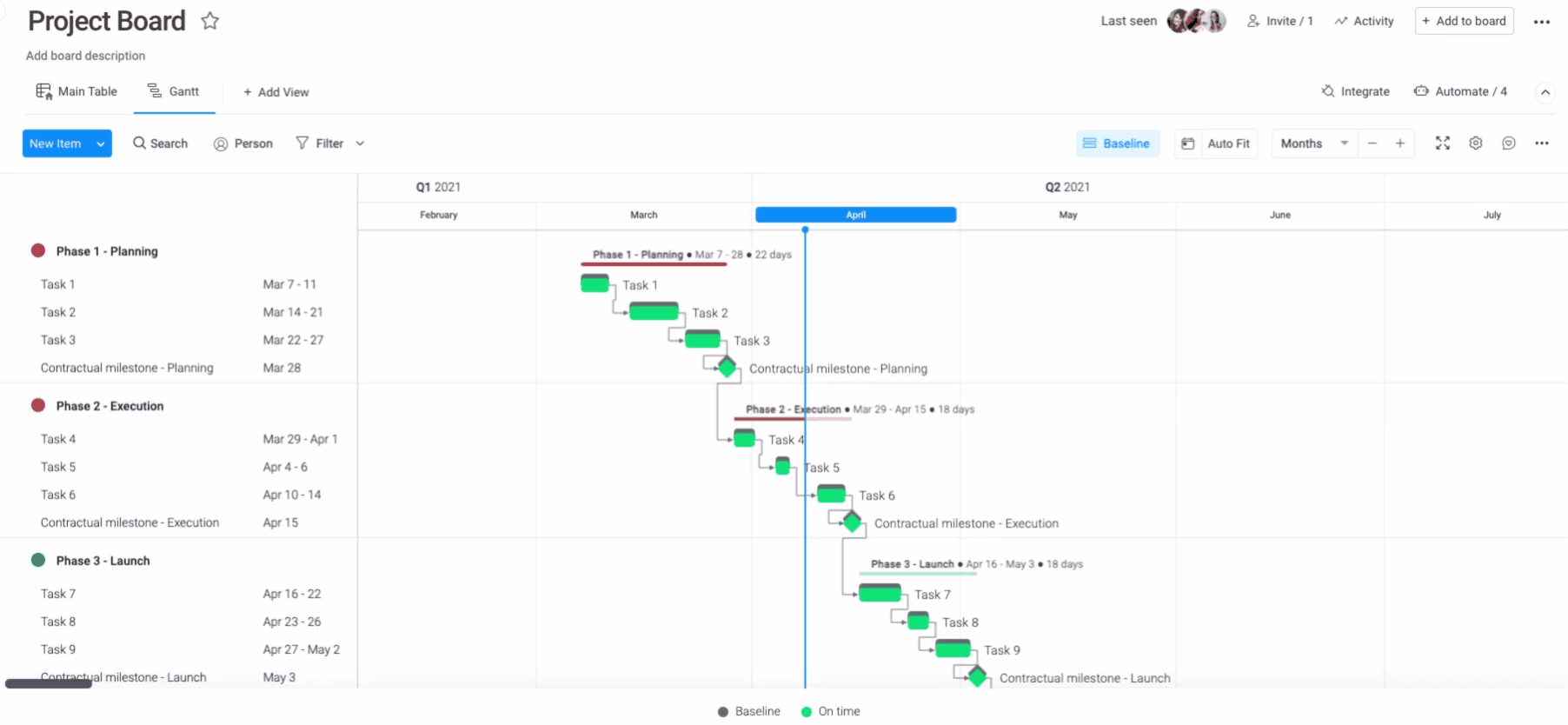 Read this article to learn more about the Gantt chart's baseline feature!
We can choose to view the items in our Gantt View by days, weeks, months, quarters, or years! We'll just click the drop-down menu at the top-right corner of our screen to select a time frame.
We can also choose how zoomed in we want to be to our items! We can zoom out for a long-term overview, or drill down to specific days. We just have to click the '+' and '-' buttons at the top right-hand corner of our view to change the zoom!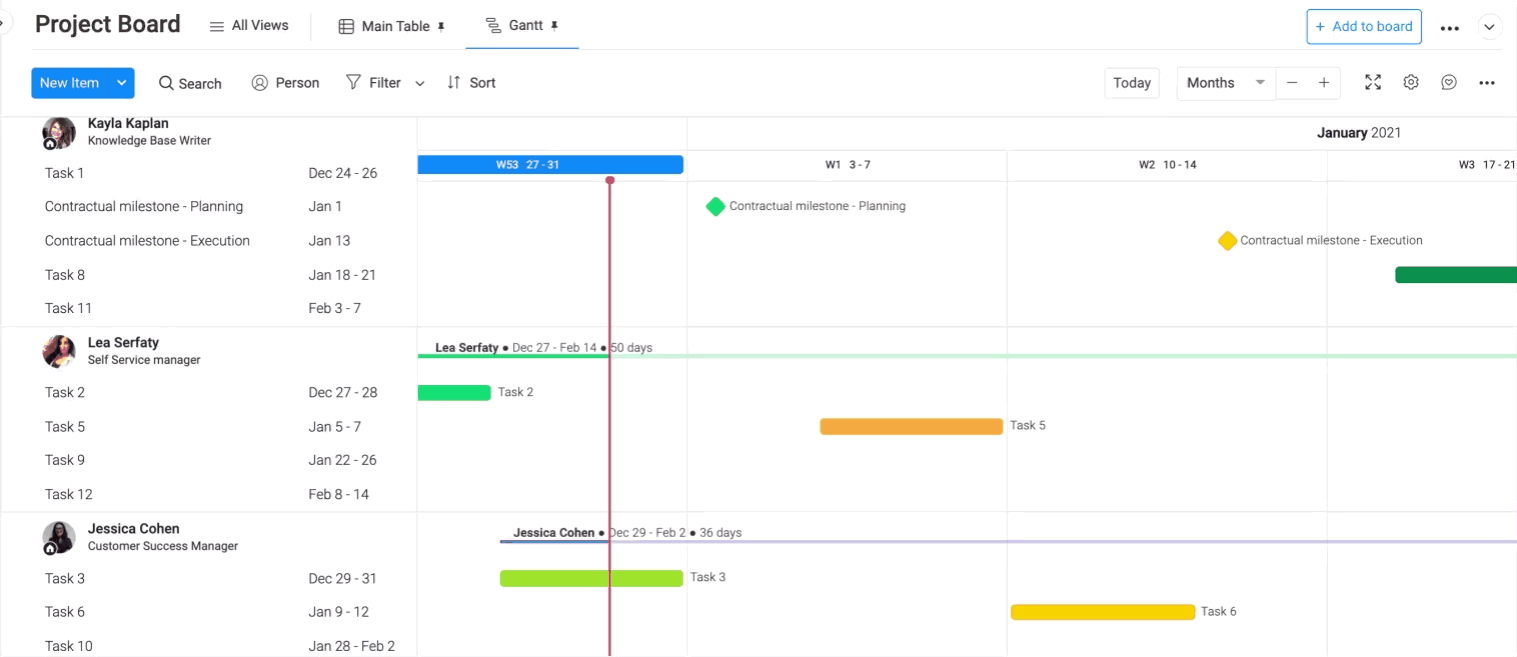 We can click the "Auto Fit" button at the top of our screen to automatically adjust our Gantt's zoom to show us our entire project at once!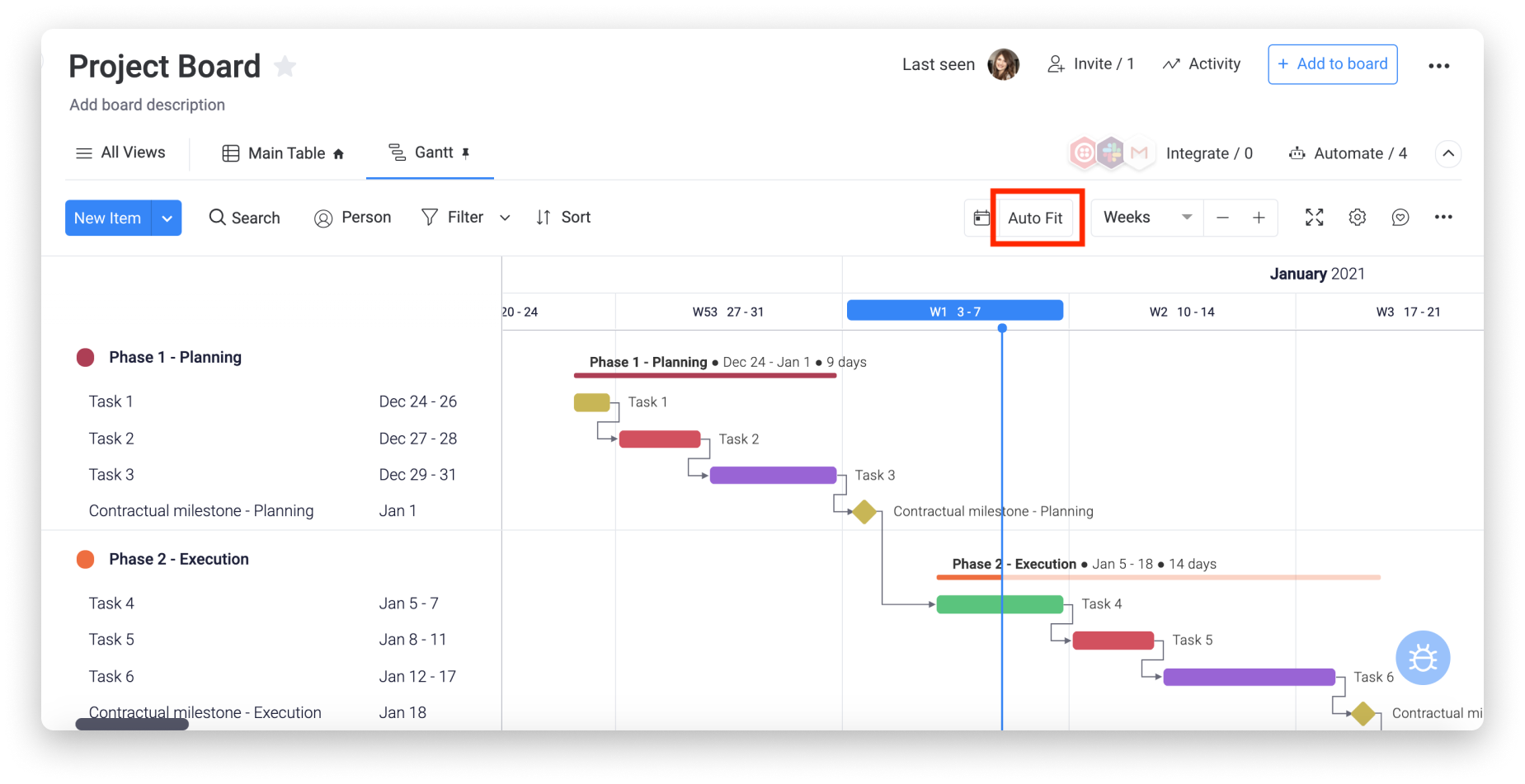 The blue bar running vertically through our view indicates today's date! This is a great point of reference so that we always know where we stand compared to the start and end dates of our tasks. It'll also always help us recenter and find today's date when we're scrolling back and forth through the calendar. We can also jump to today by clicking the little calendar icon at the top of our view.
We can remove the blue bar by deselecting "Show Today indication" as shown in the image above.
Set the first day of the week
We can choose whether we want our timeline to display Sunday or Monday as the first day of the week! We just have to click "Edit" beside 'Set workdays' in the settings panel to be redirected to our account's weekday settings!
Once we are redirected to the admin section, we can choose either Sunday or Monday as the first day of the week! We can also choose to hide or show weekends in the Gantt View across the whole account!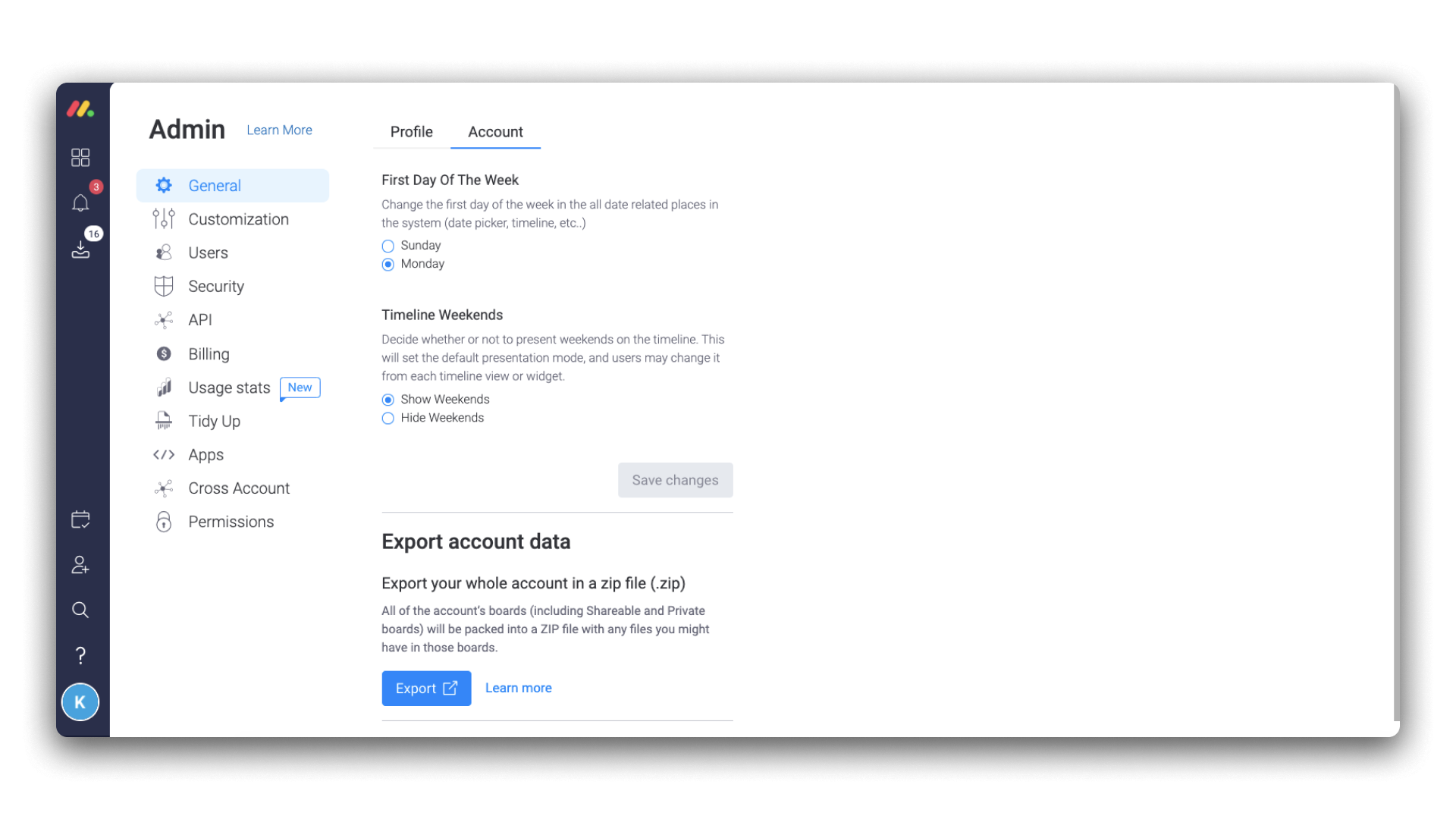 Note: Only the account admin can choose which day is the first day of the week with the help of this guide, and this selection will apply across the entire account. If you are not an account admin, you can reach out to your admin to request a change!
Our weeks are visually broken down by colour blocks of white representing weekdays and grey representing weekends! We can keep the weekends as part of our calendar or collapse them to visualize the timeline bars of our tasks in terms of workdays only. We can tick or untick the box beside "Show Weekends" in the settings panel as shown below!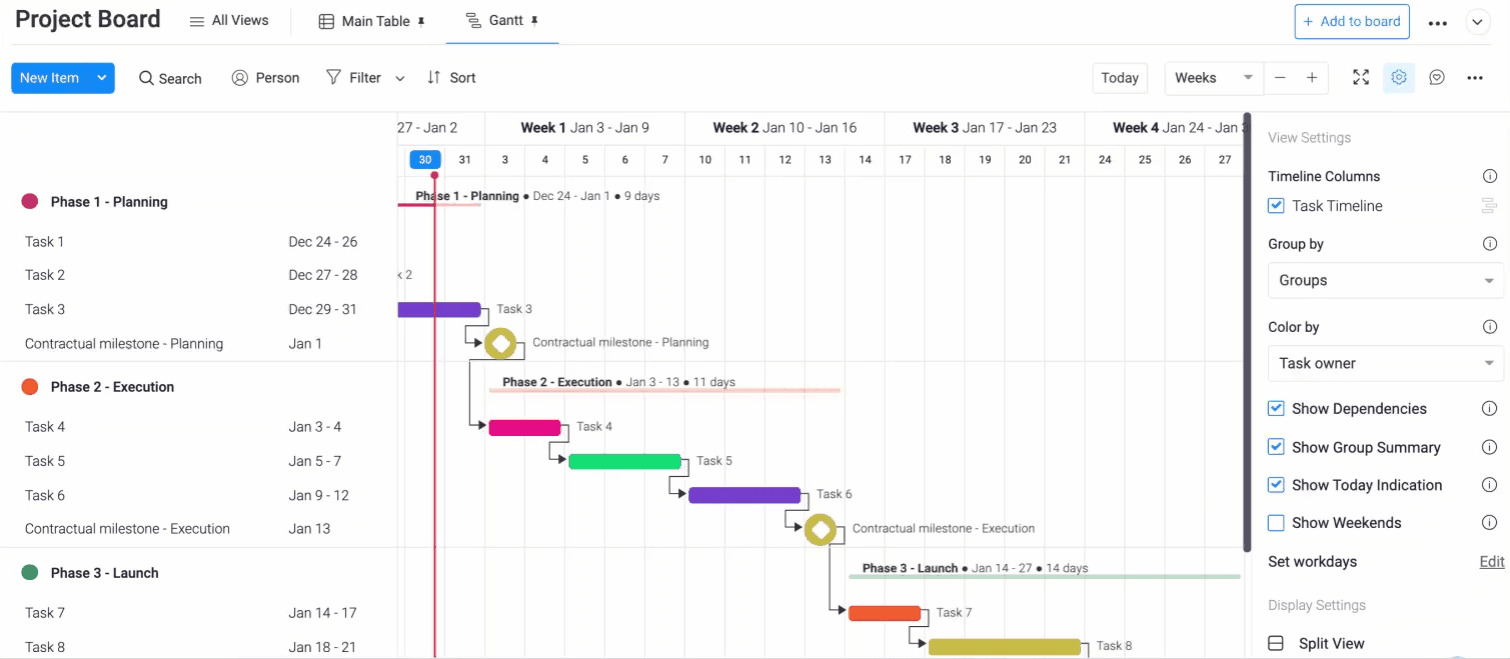 Set up Milestones
Milestones are important dates that represent a turning point in a project or the end of a specific phase. The Gantt View allows us to keep an eye on these dates. To set a milestone that will appear in our Gantt, we'll simply select one date and click "Set as milestone" at the bottom of our calendar pop-up window (shown below).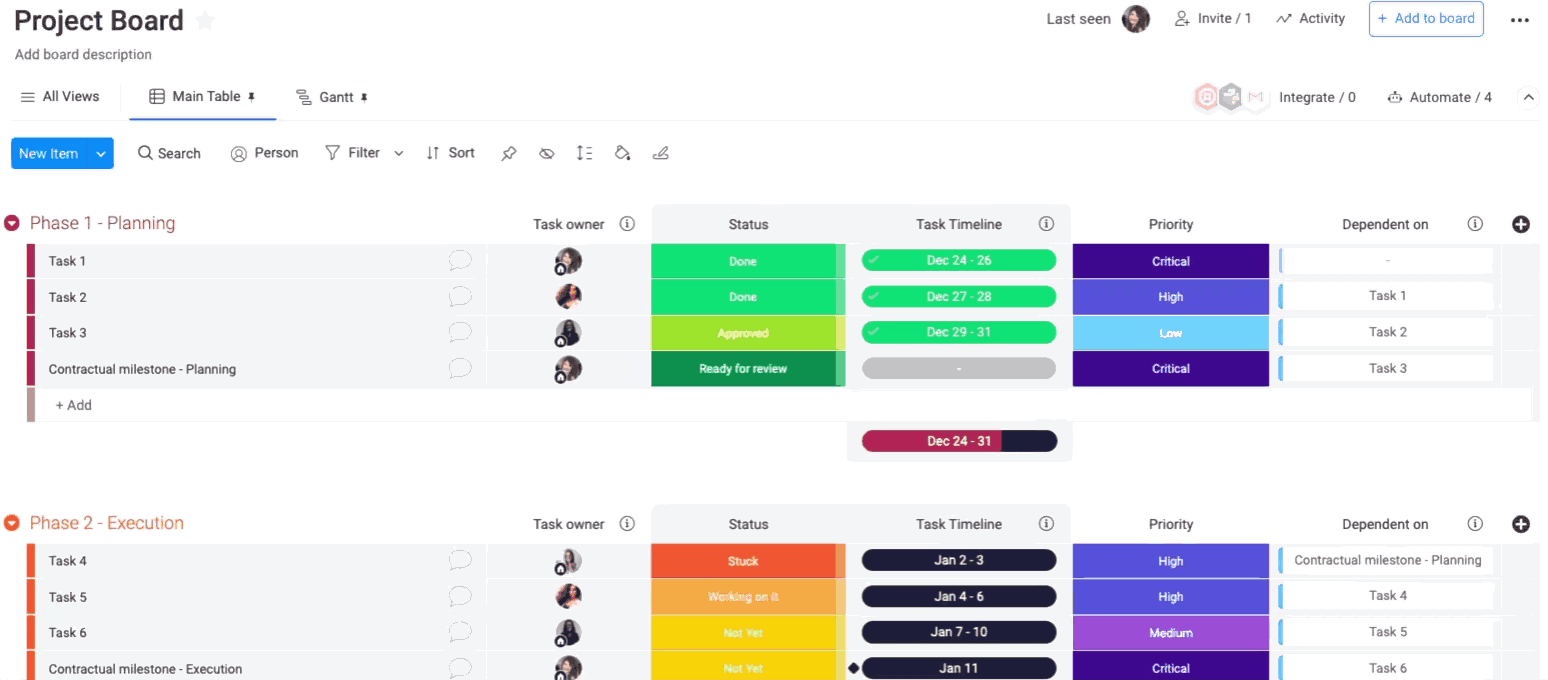 In your Main Table View, a milestone will appear with a diamond colored according to the group it belongs to. If your Timeline Column is set in Deadline Mode, the diamond will be colored according to the item's status.
Green Diamond = Done
Red Diamond = Overdue
Group-colored Diamond = Due today and not yet done
Black Diamond = Not yet done, but there's still time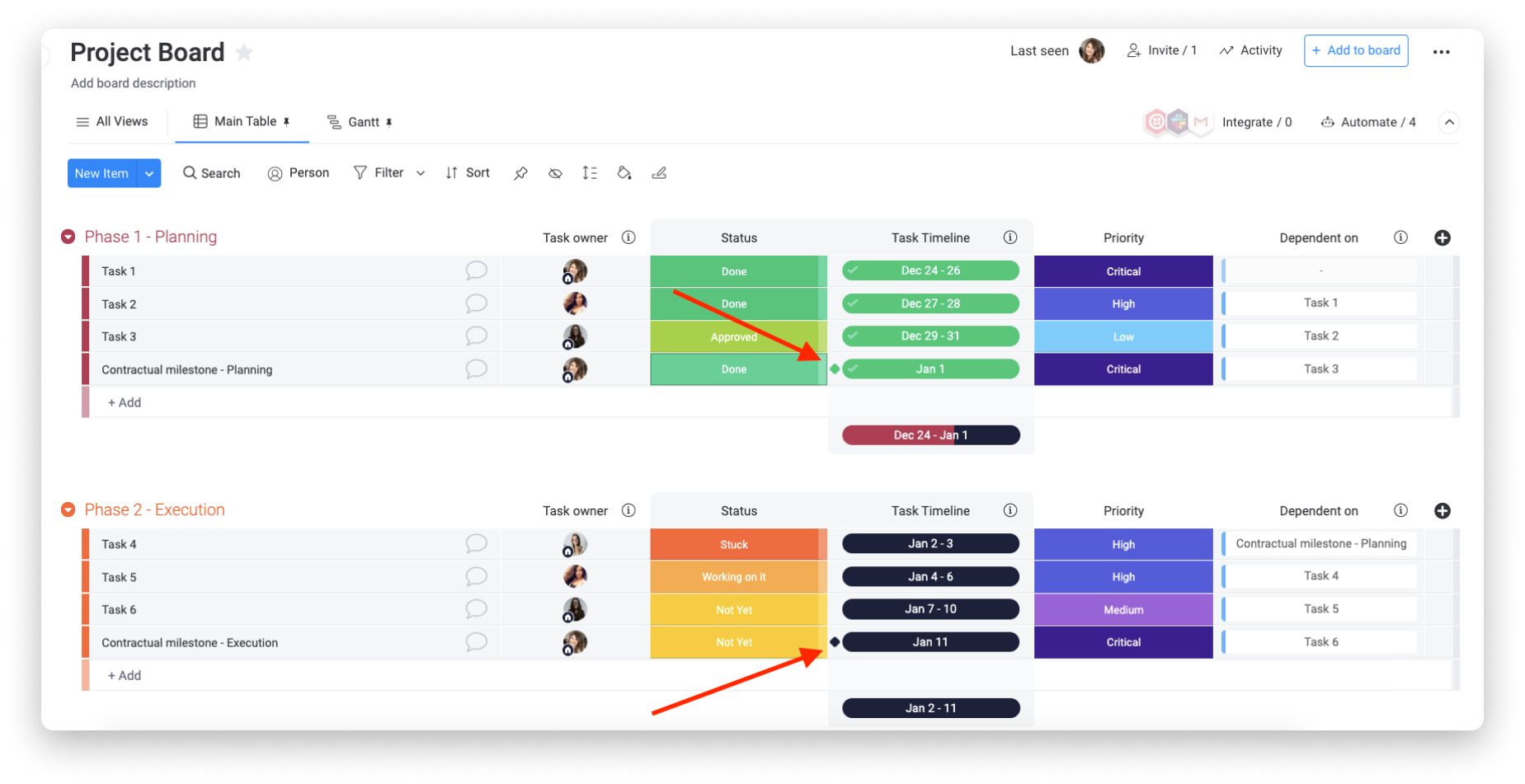 Once in the Gantt View, you can right-click on any timeline bar to turn it into a milestone! Click "Set/remove milestone" turn a timeline bar into a milestone on the final date in the timeline.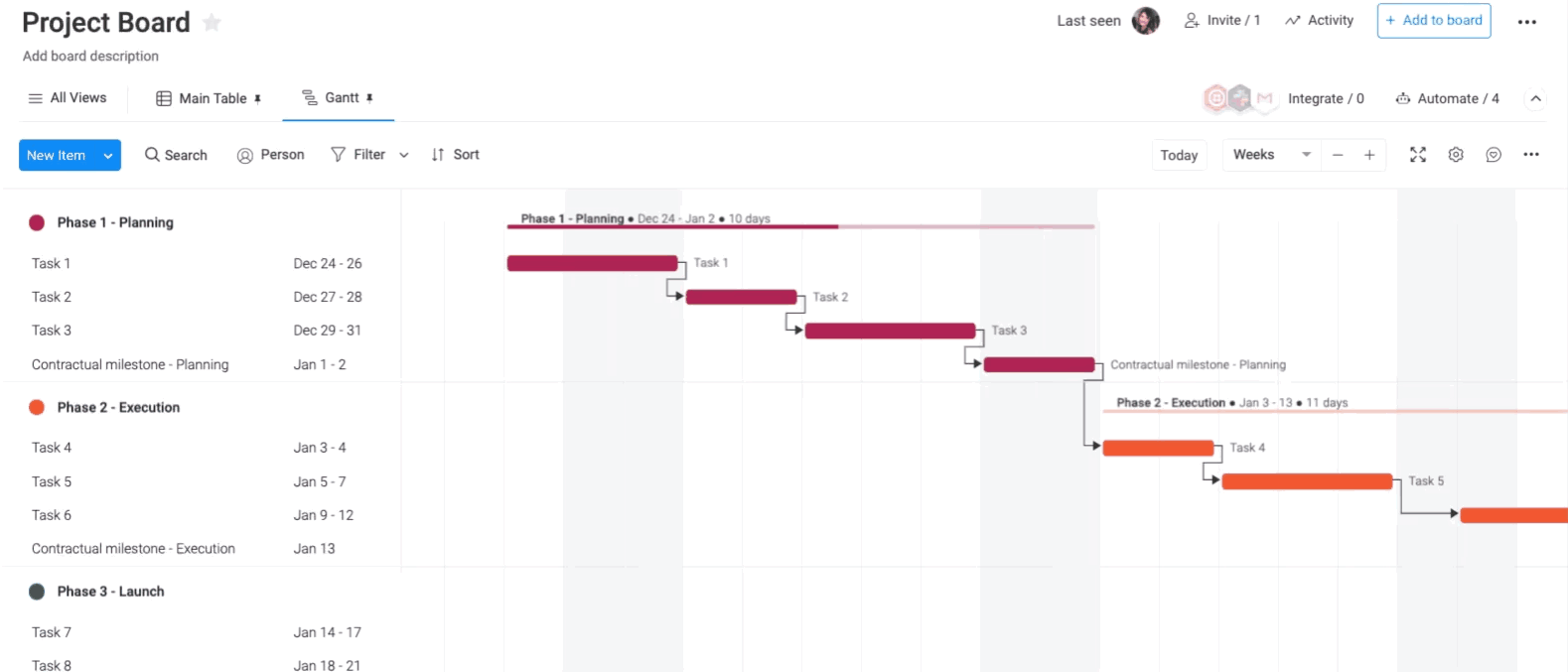 There's no need to toggle between board views to make changes! All we have to do is click any of the bars in the Gantt View to open up the item's card. From here, we can make any changes and updates without having to go back and forth to our Main Board View!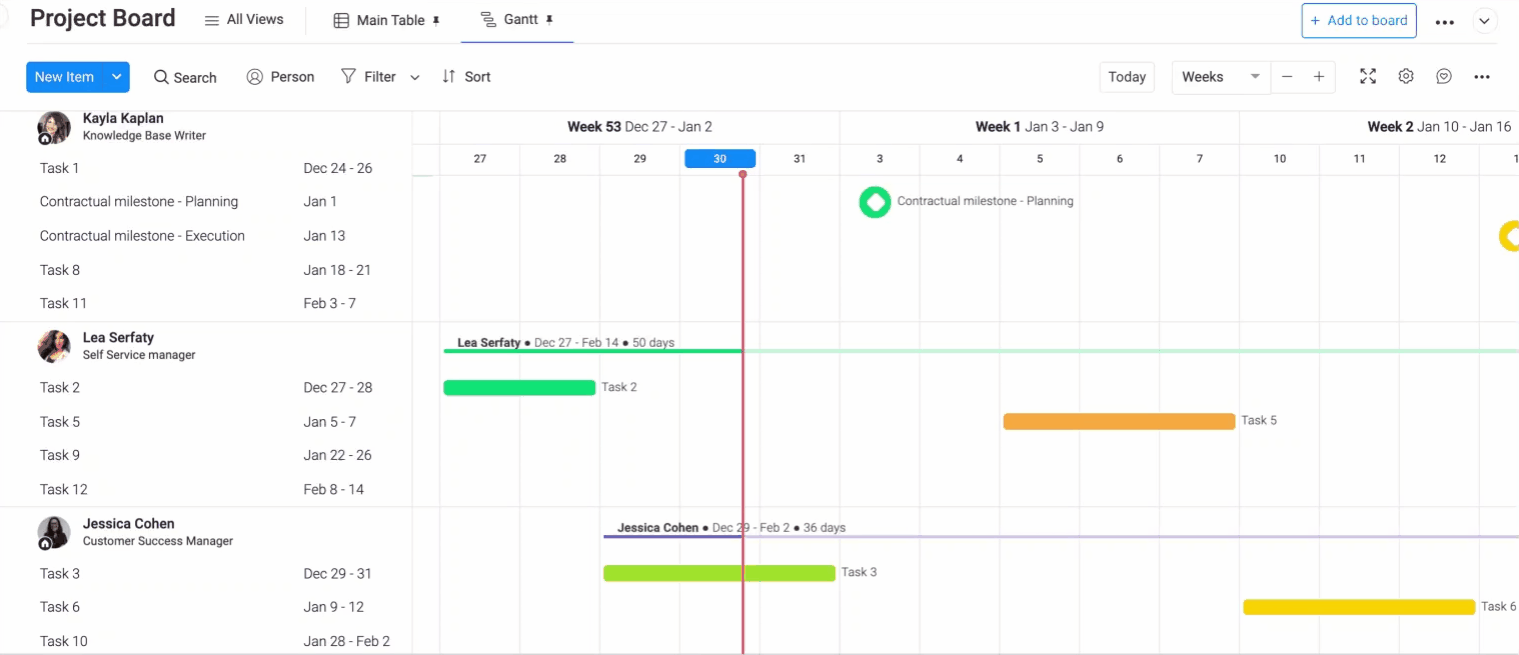 Right-click on any timeline bar or click the arrow to the left of the item to access a quick-actions menu! From here, you can set or remove milestones (as we discussed in a previous section), or you can edit, duplicate, delete, or archive the item!
We can filter our Gantt View to display only the information we want to see! The filters can be applied temporarily, or saved for future reference. If we want to return to this view in the future, we can click "Save to this view" and we can clear the filters by clicking "Clear". Let's check out a few different ways to filter our board:
Quick filters lay out all of the filtering options for us, and all we have to do is choose the ones we want to apply! We can filter by groups of items or by any of the columns on our board.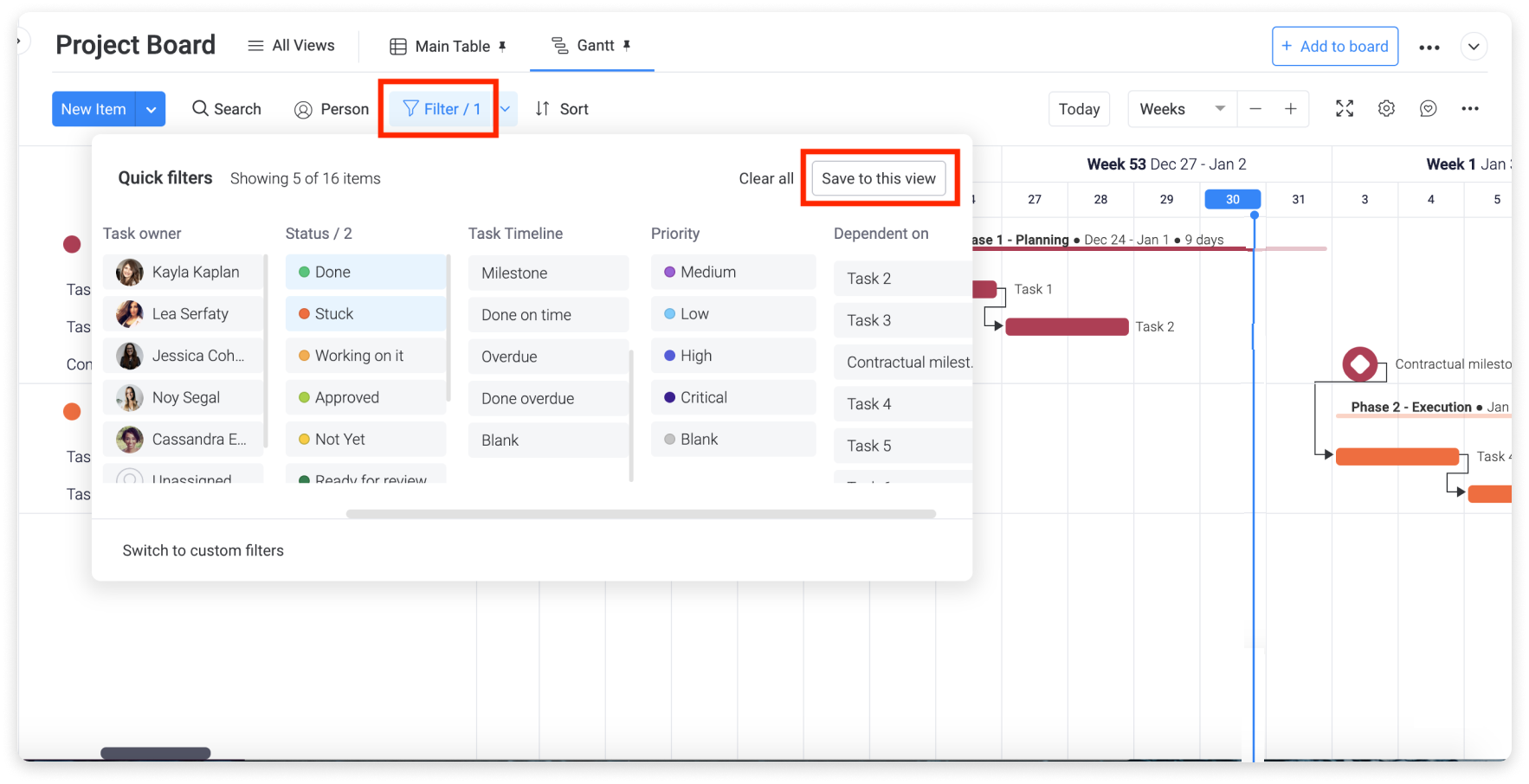 We can apply advanced filters to our view using specific conditions and combinations! Check out this article to learn more about how to add filters and how they work!
Tip: The number beside the filter icon represents the number of filters currently applied to your view. If you seem to be missing items, chances are you've applied a filter, so be sure to glance at the icon to know for sure!
We can also filter our Gantt View by typing keywords into the search bar, filtering by person assigned in the People Column, or by clicking the "Sort" button to sort our items by priority, creation date, or any other column we have on our board.
We can share our Gantt View with others! We'll click the "All Views" tab at the top of our screen, and then hover over the Gantt View in our list of board views. When the 3-dots appear, we'll click them and then click 'Share' from the drop-down menu, like this:
Next, we'll see a pop-up window allowing us to copy a sharing link or embed code. We can send this to anyone we want so that they can see our Gantt Chart!
Learn more about sharing your board views here.
If you have any questions, please reach out to our team by using our contact form. We're available 24/7 and happy to help!