4 min read
Feature
Note: The content directory feature mentioned in this article is available to the admin(s) of an account on an Enterprise plan only.
As an account admin, having the ability to view and manage the contents of an account at a high-level is crucial to ensure that things remain organized and secure at all times. For this very reason, the new content directory feature was born!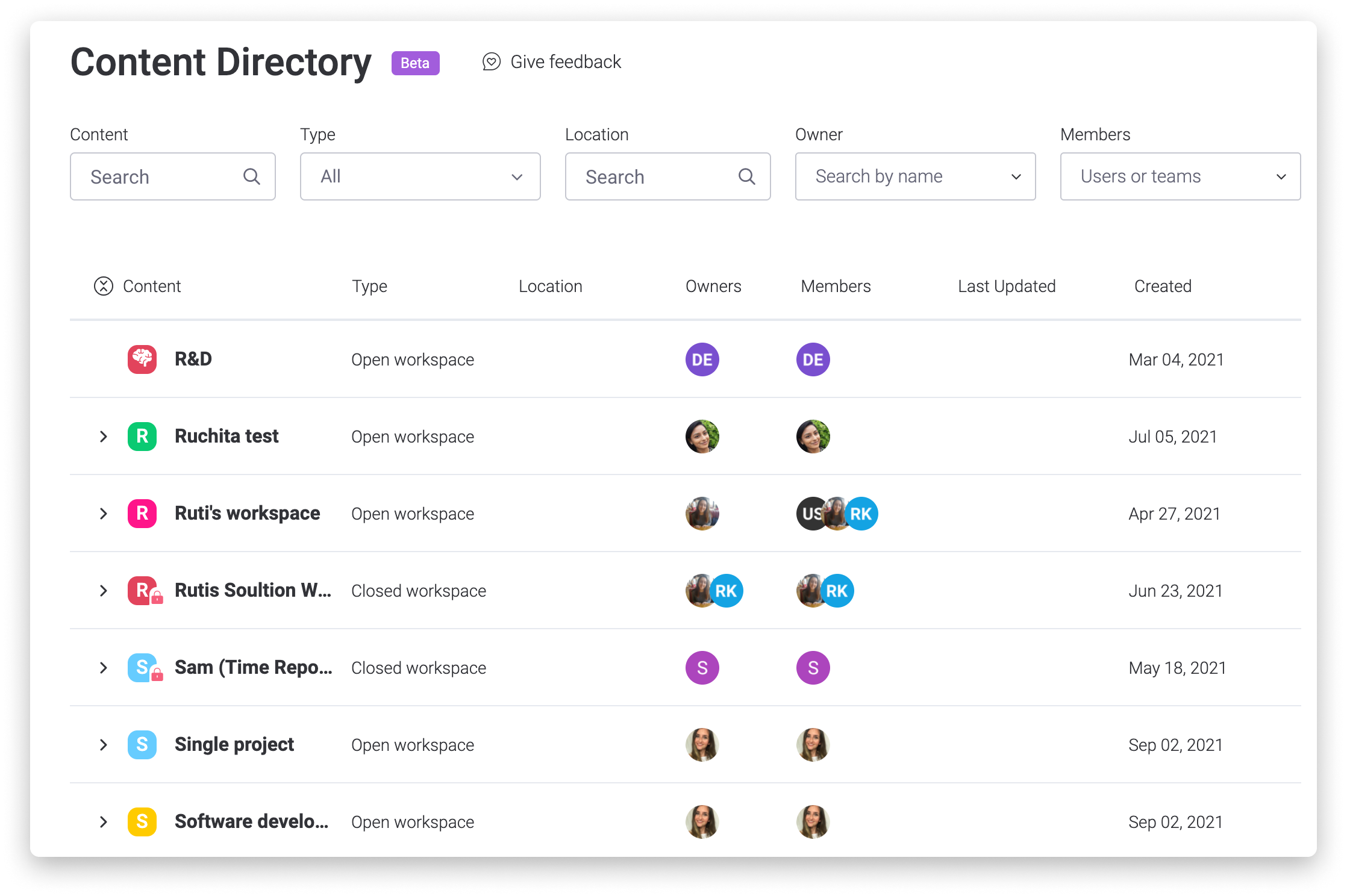 Let's learn all about how the content directory feature works, below! ⬇️
How to locate it
To locate the content directory, click on your profile picture on the bottom left corner of your screen, select "Admin" and then "Content Directory".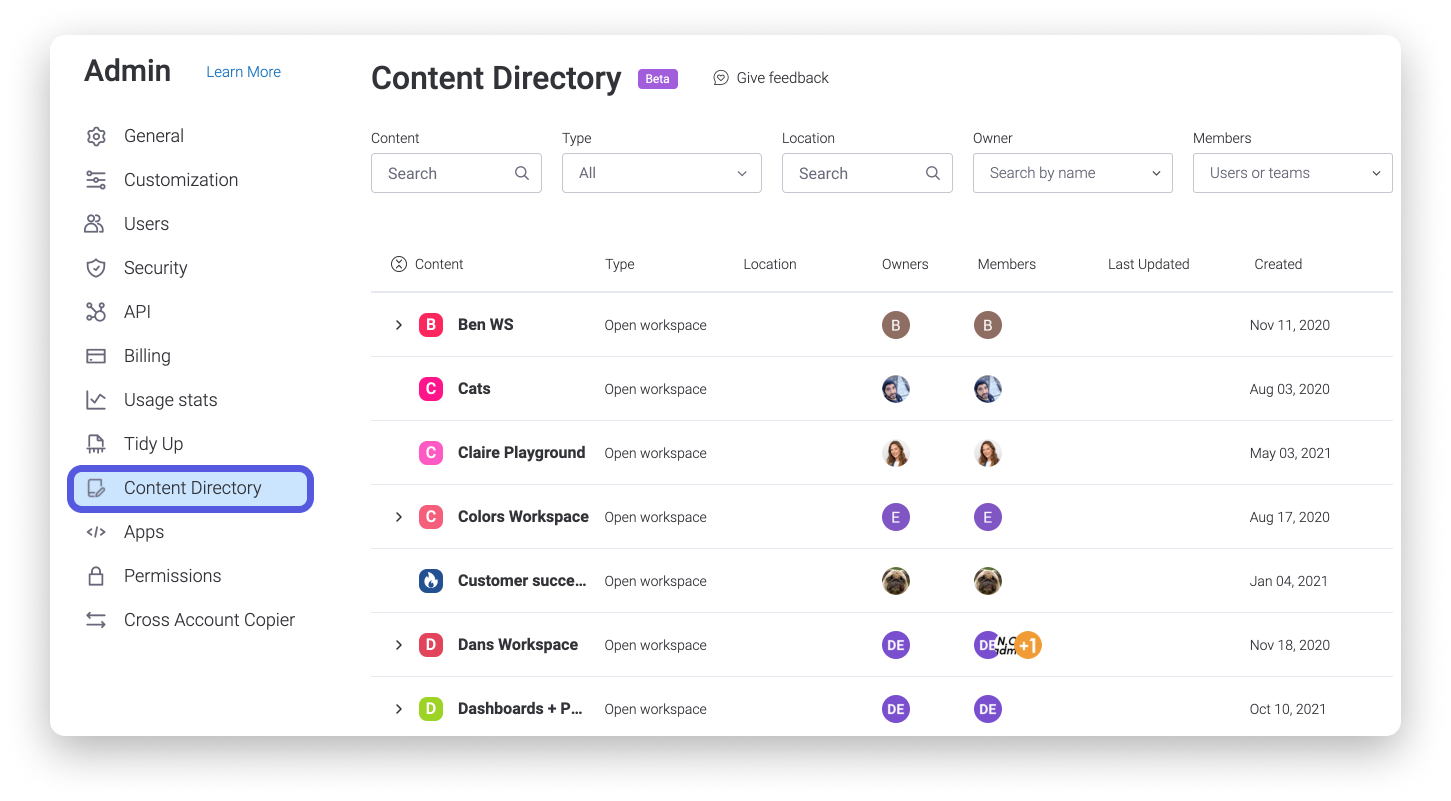 The content displayed
In the content directory you'll find an overview of all the Workspaces, Boards, Dashboards, and Workdocs located in the account. Additionally, for each of these features, you'll be able to see its owners, subscribers, creation date, last updated date and whether it's publicly available to the rest of the account members or not.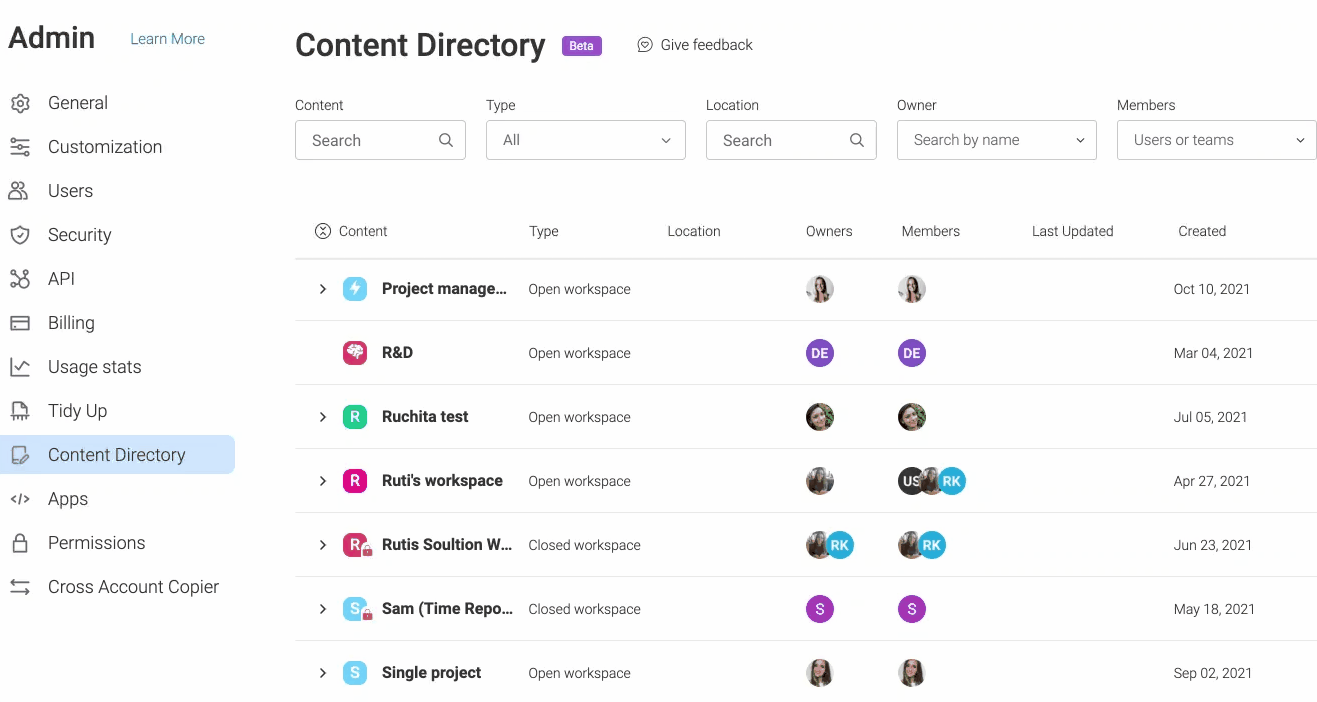 Note: Using this feature, admins will only be able to view the name and high-level information about private Boards/Dashboards/Workdocs in the list. If you'd like to have the option to access the boards shown here, please contact your monday.com representative.
The "Last Updated" column
It is important to keep in mind the following information regarding the content displayed in the "Last Updated" column of the content directory:
Boards: All board-level changes will update the "Last Updated" column except for when replies to updates are created, or when a board is exported to Excel.
Dashboards: On the Dashboard-level, adding or removing widgets will update the column. However, the "Last Updated" column will not update when when boards or filters are added or removed, or when widget settings are changed.
Workspaces: On the Workspace-level, the "Last Updated" column will only update when the Workspace name or type changes, not when boards or members are added.
Filter the content
As your account continues to grow, you may find the need to filter the information on your content directory so you can zoom into the specific details that you need to see. In the content directory, you can filter the information shown by any keyword, content type, location, owner and member!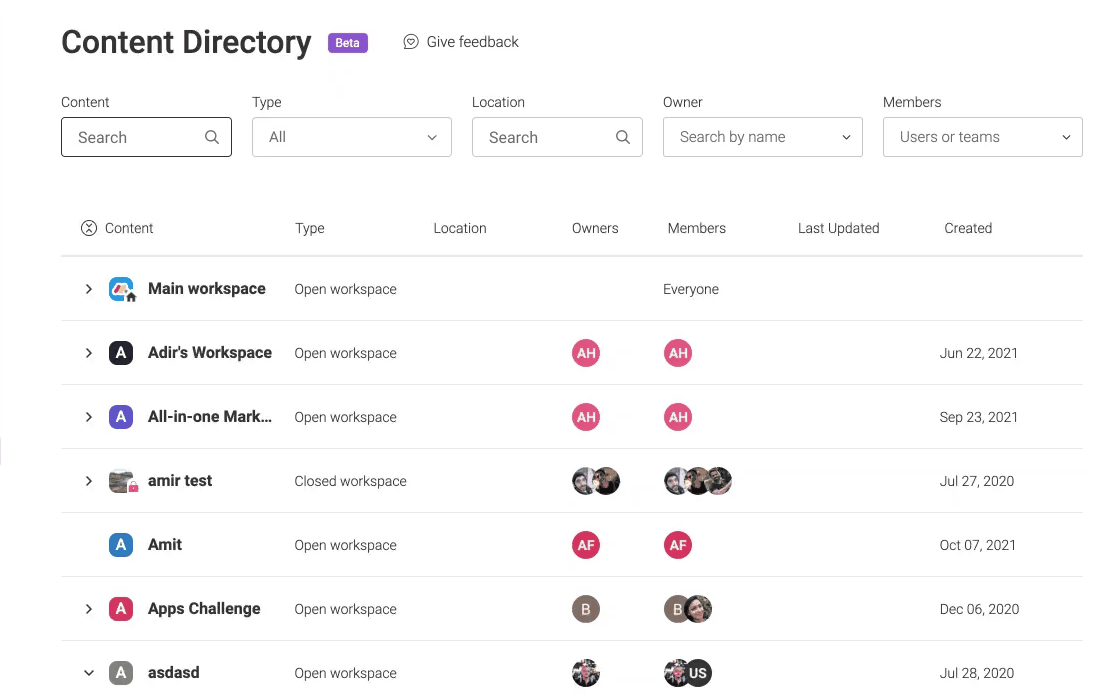 Export the content
If you're looking to export the information from your content directory into Excel, you can do so by clicking on "Export all to CSV" as shown below: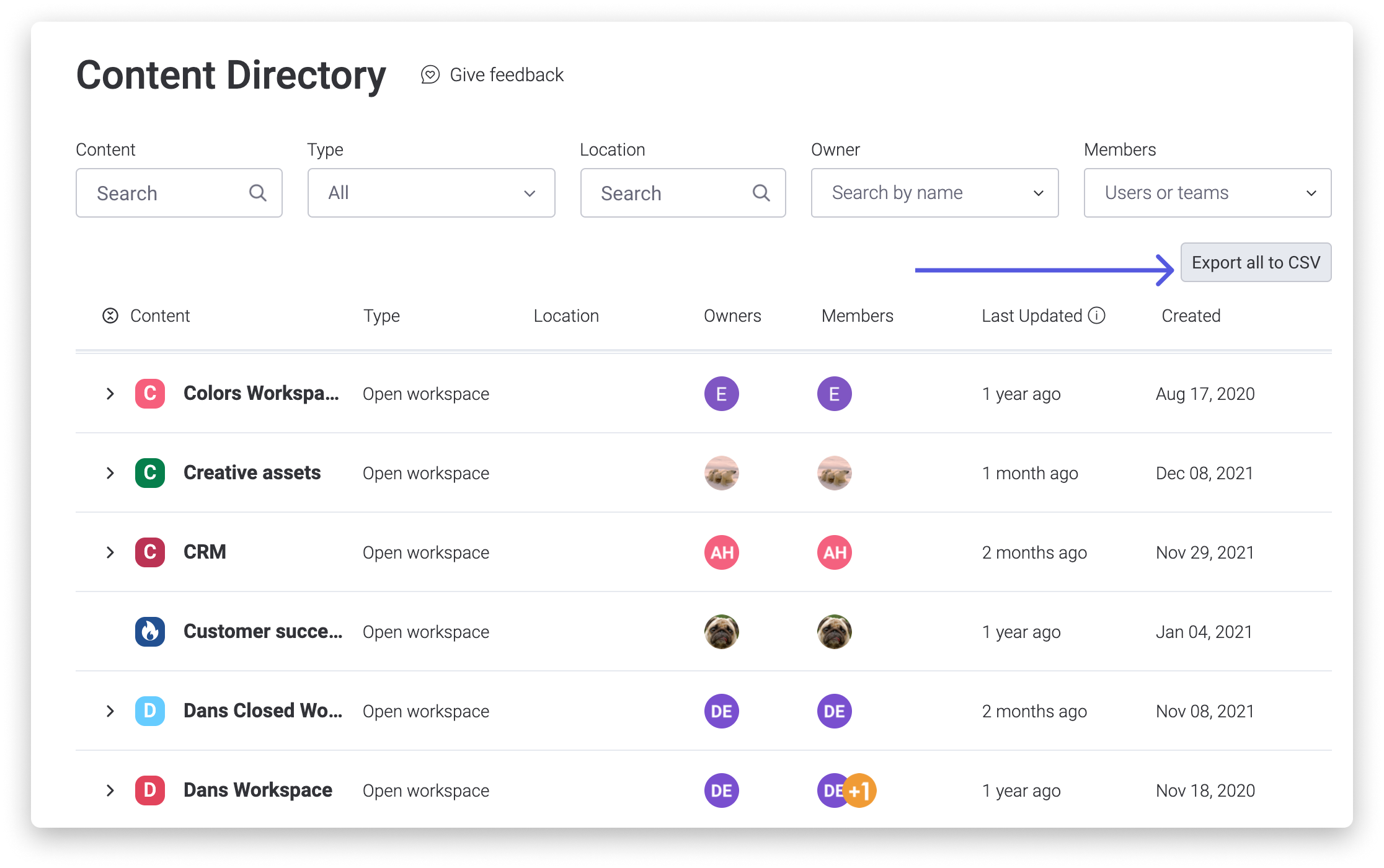 Your feedback counts!
As always, we would love to hear what you think about the new features that we release! If you're interested in providing us with feedback on your experience with the new content directory feature, you can do so by selecting "Give Feedback" as below: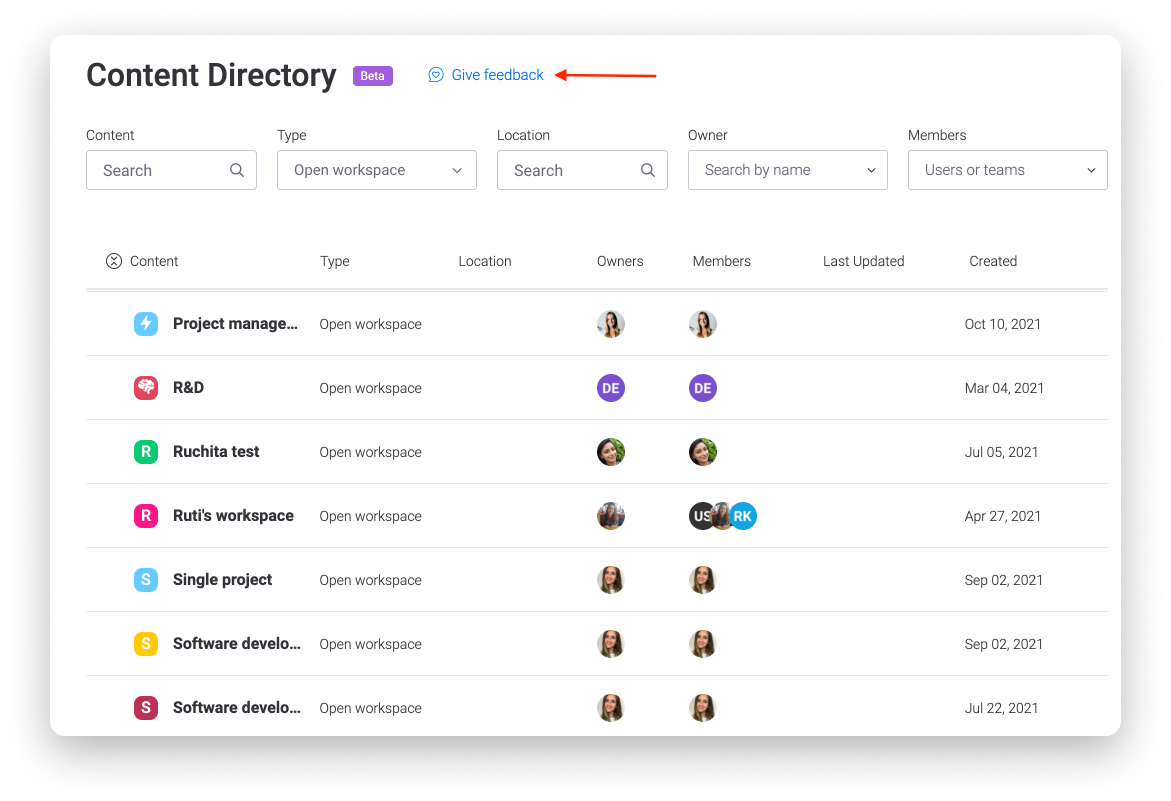 If you have any questions, please reach out to our team right here. We're available 24/7 and happy to help.