Shareable Boards are meant to work with outside users (guests) such as contractors, clients, freelancers, lawyers, graphic designers, etc. It offers you the ability to share projects with your outside users without giving them access to your full account, making it helpful in keeping track of their progress and yours.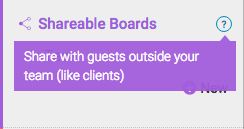 Similar to Private Boards, they can only be seen and used by their subscribers, whether those are company members or outside guests. The idea behind shareable boards is that you have the ability to share projects with guests without allowing access to the full account.  
Below you can see who a Guest User views your board.