8 min read
Feature
At monday.com, we work best when things are organized clearly and visually. This is why we have created monday workdocs! monday workdocs is a central place for you and your team to collaborate, brainstorm, plan, and execute. Forget the notebook, close Google Docs, and toss away all your sticky notes—let's learn how to master monday workdocs together! 📝
What is a workdoc?
Think of it as a flexible, multi-media whiteboard where you and your team can record all notes and ideas related to one central topic. By adding individual elements to your workdoc, all your loose thoughts and ideas can come together in one place, right inside monday.com, where all the rest of your work is stored!
Add a workdoc
You can add a new workdoc just as you would add a new board or dashboard!
Show me how to add a workdoc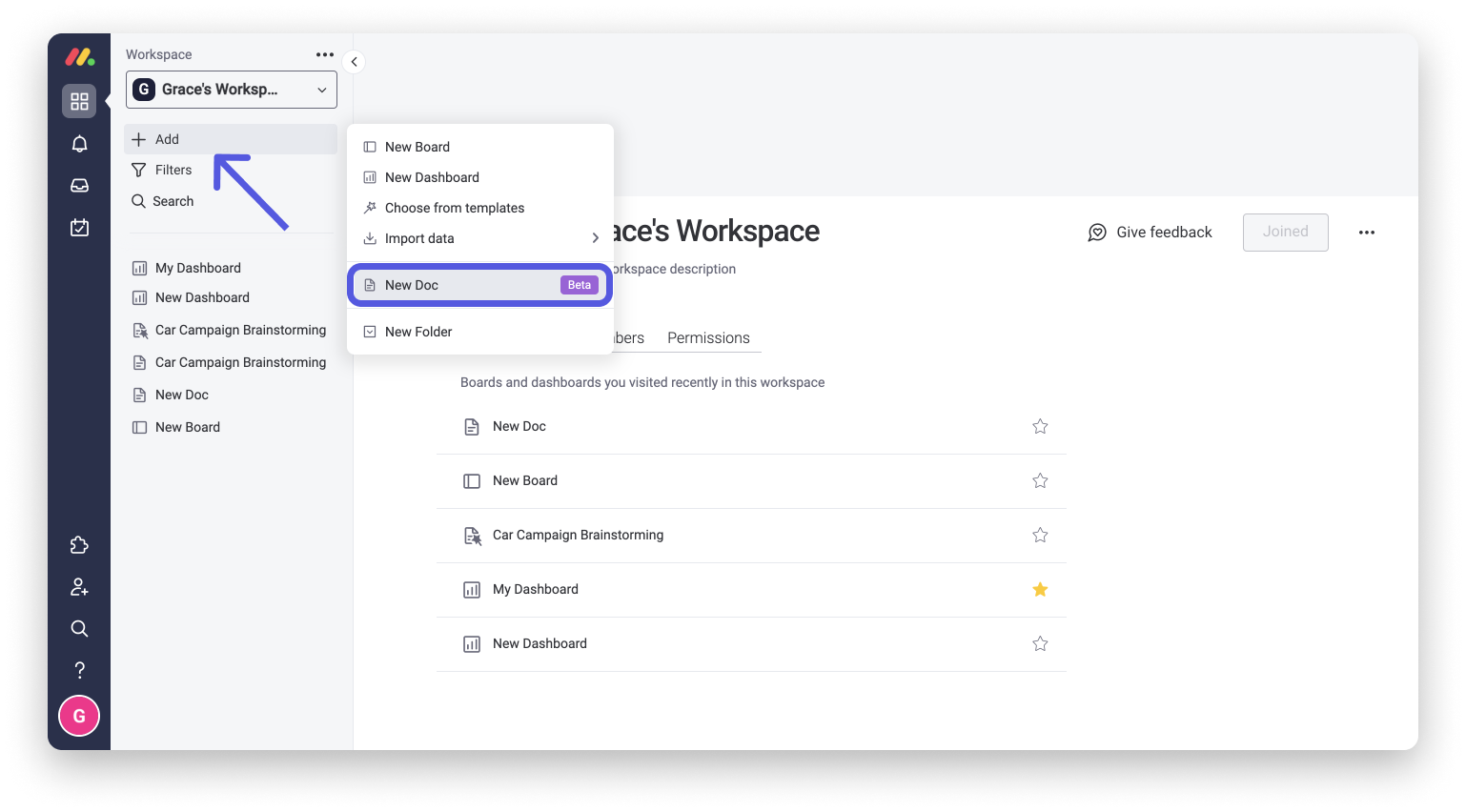 Types of workdocs
Just like boards and dashboards, there are three types of workdocs:
Show me the three types of workdocs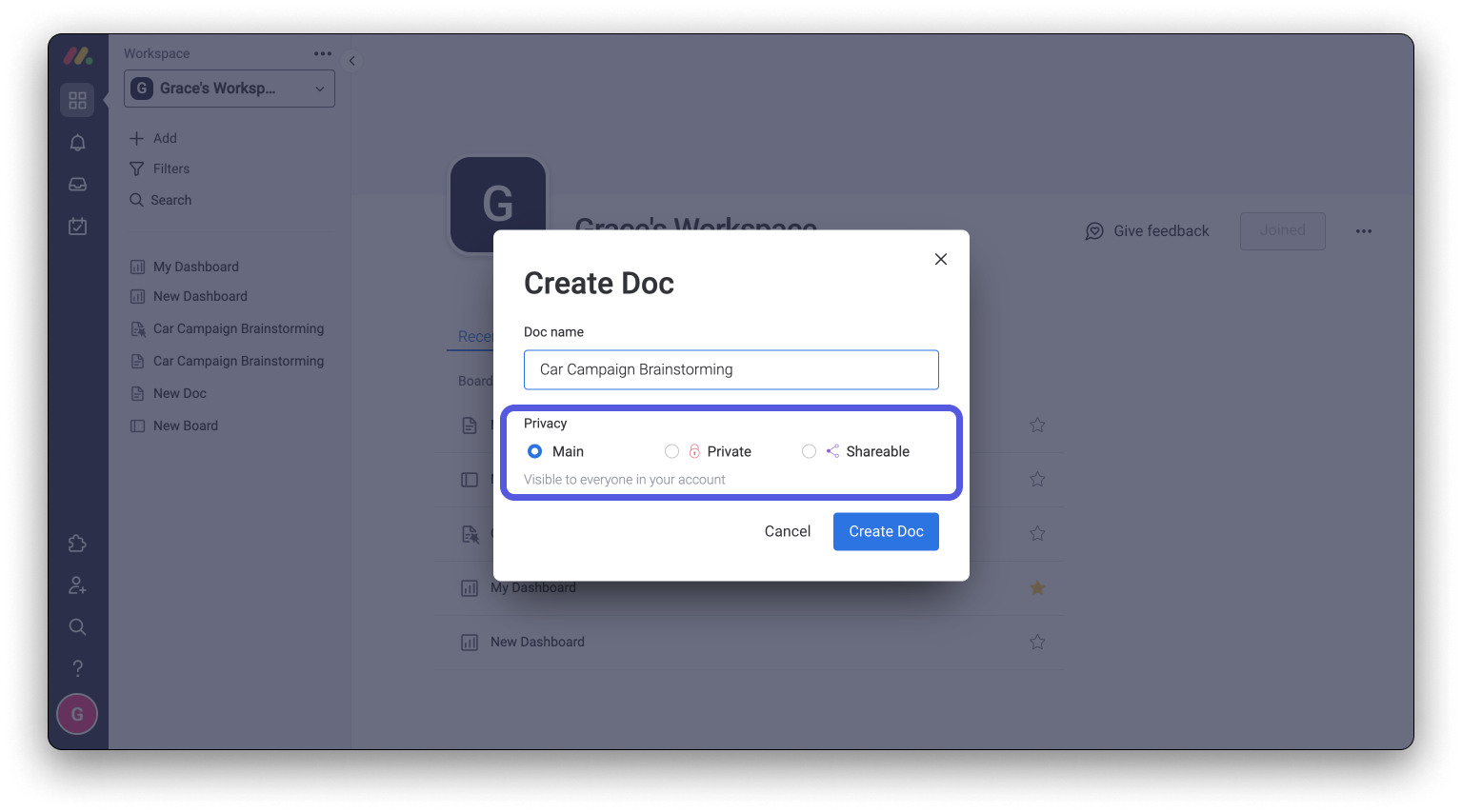 Invite team members
To invite team members or guests, click the "Share" button at the top right corner of your screen: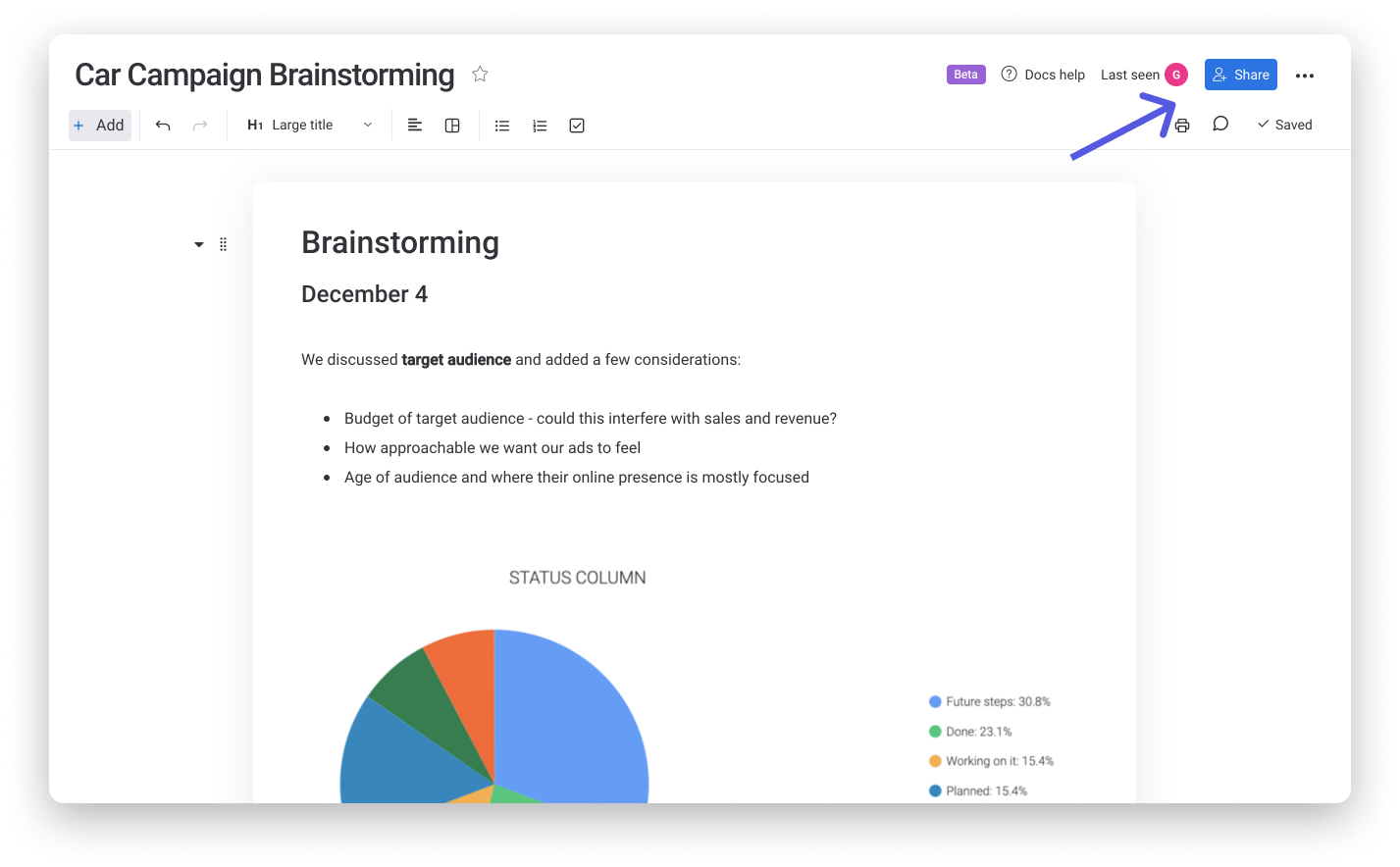 Next, type in the name of the team member you'd like to add or the email address of a guest you'd like to invite if you've chosen a shareable workdoc.
You can turn any workdoc member into an owner by clicking the gray crown icon beside their name to turn it blue! An owner is, by default, the person who created the workdoc and someone who the creator has crowned an additional owner. Like a board, only the workdoc owner can crown other owners and delete or duplicate the workdoc.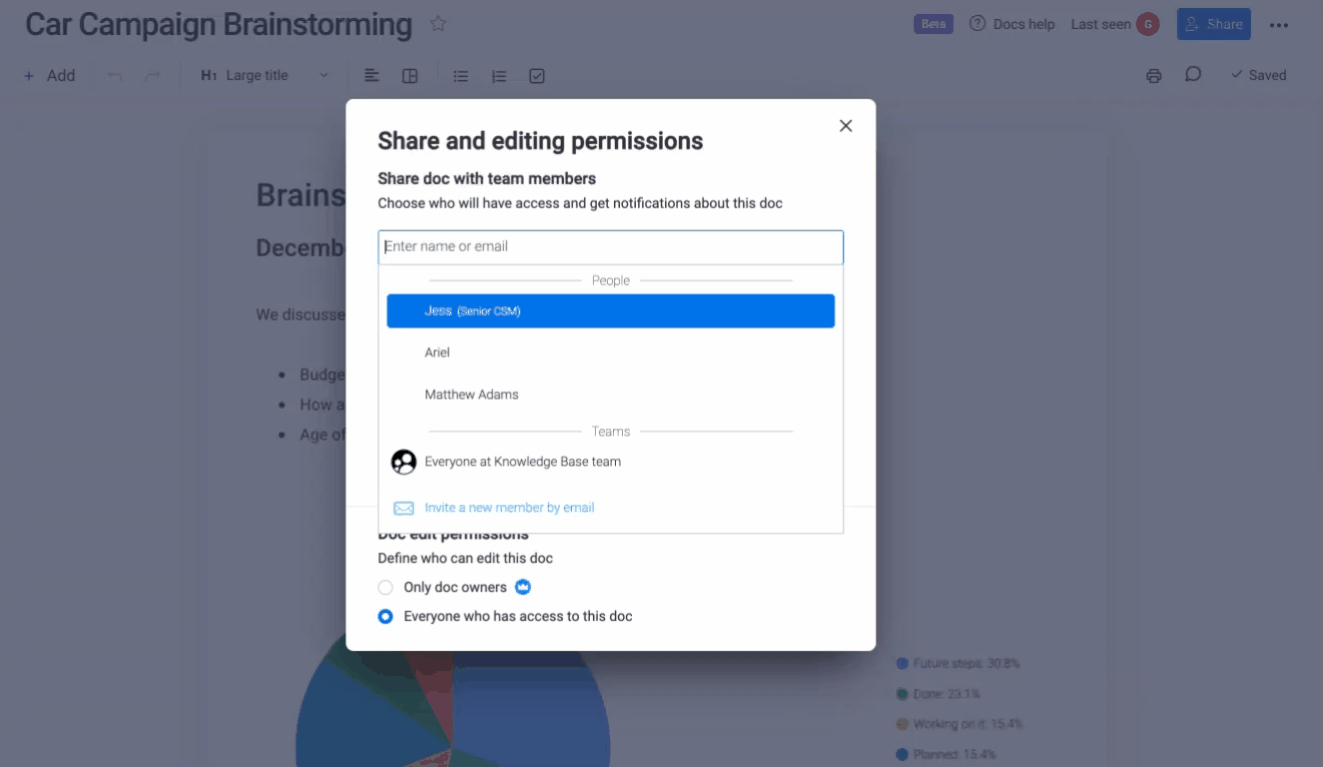 Edit permissions
There are two different types of edit permissions that you can implement in your workdoc:
Only workdoc owners - Only workdoc owners (members with a blue crown beside their name) can make edits to the docs.
Everyone who has access to this workdoc - Every account member with access to this workdoc can make edits. This means that if it is a main workdoc, anyone with access to the workspace it was created in can make edits. If it is a private or shareable workdoc, any member of the workdoc will be able to make edits.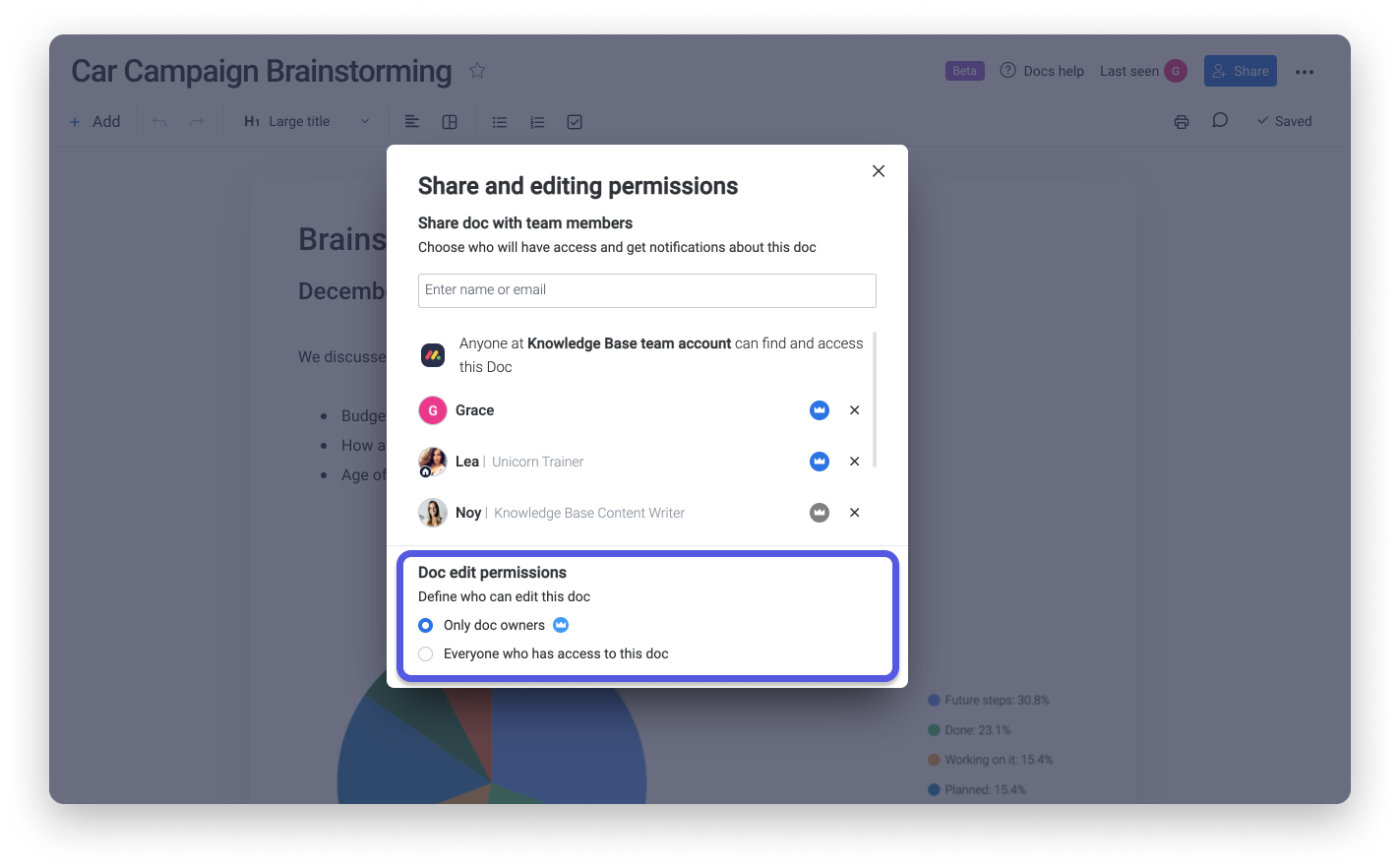 You can change these permissions easily by clicking the "Share" button and then selecting one of the two options at the bottom of the pop-up window, as shown in the image above.
Add elements
To add an element on your workdoc, you can either:
Click on the "+ Add" menu in the upper left corner of the doc

Use the "/" keyboard shortcut

Click on the heading options in the toolbar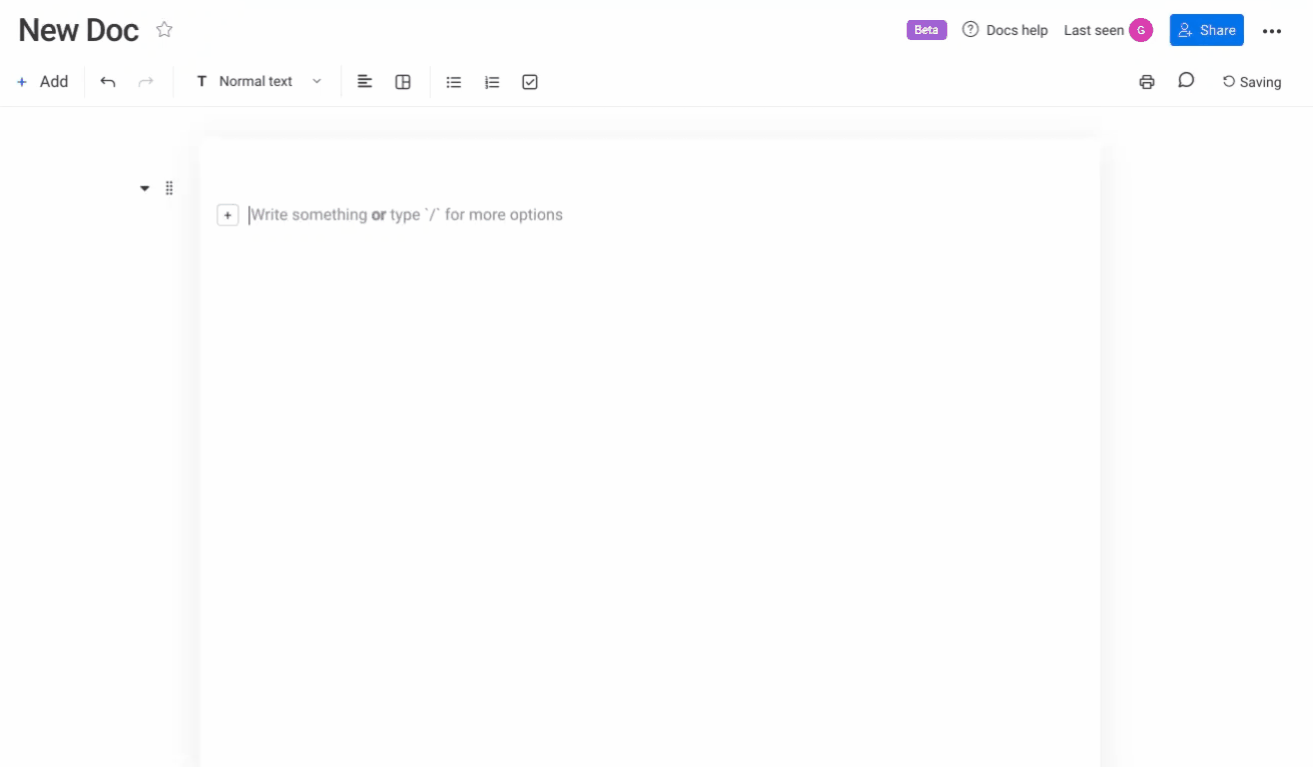 Note: All of your work is automatically saved as you go, so there is no need to hit a "Save" button!
Move elements
Each element is flexible and can be transformed into another form, moved up or down, duplicated, deleted, and more with the use of the drop down menu.
To access the menu, hover to the left of an element and click the arrow that appears. Next, you can select an action from the menu. Elements can be moved by selecting the option in the drop down menu or by dragging the six dot menu to the left of the element as seen below: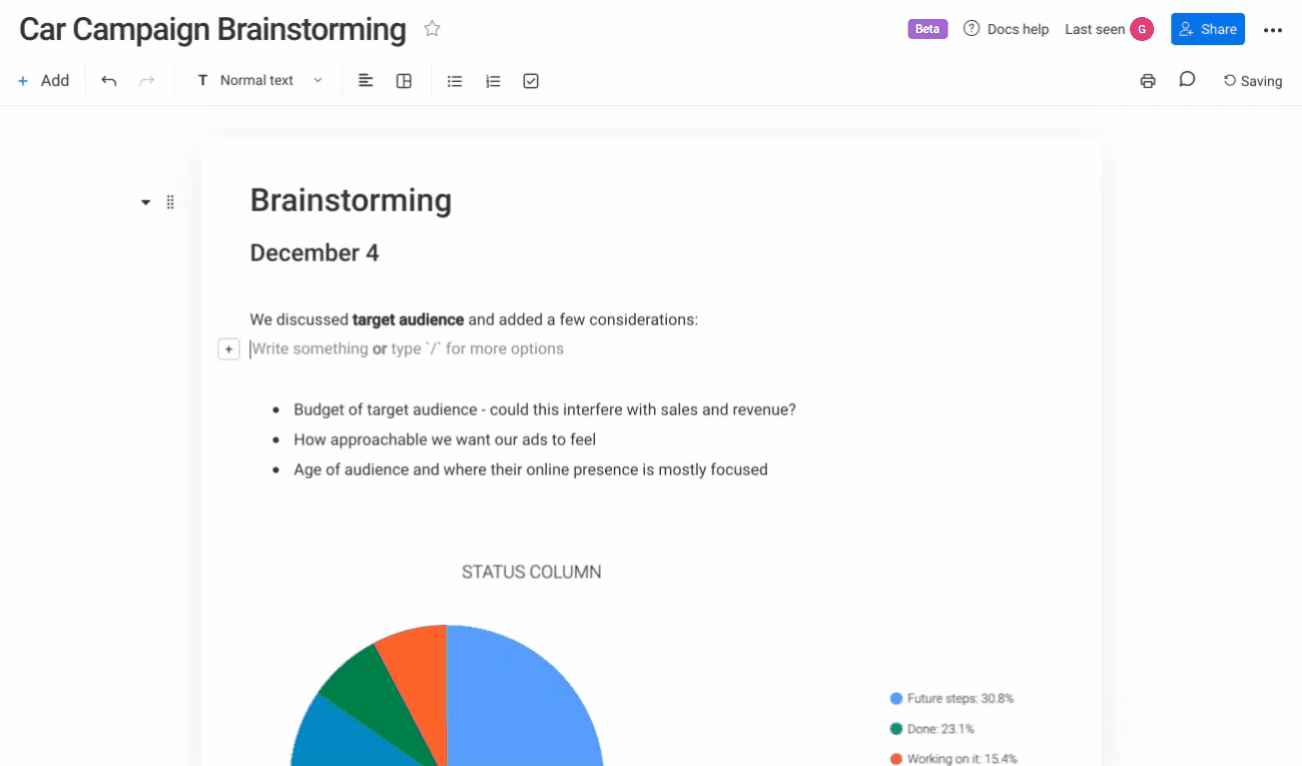 Add and customize your text
There are a few ways to add and customize text! Besides using the "/" on your keyboard, as discussed in the previous section, you can add text right from the workdoc's header! Click the arrow beside the text button to select a type of text from the drop-down menu. Add bullets or a numbered list using their respective icons in the header.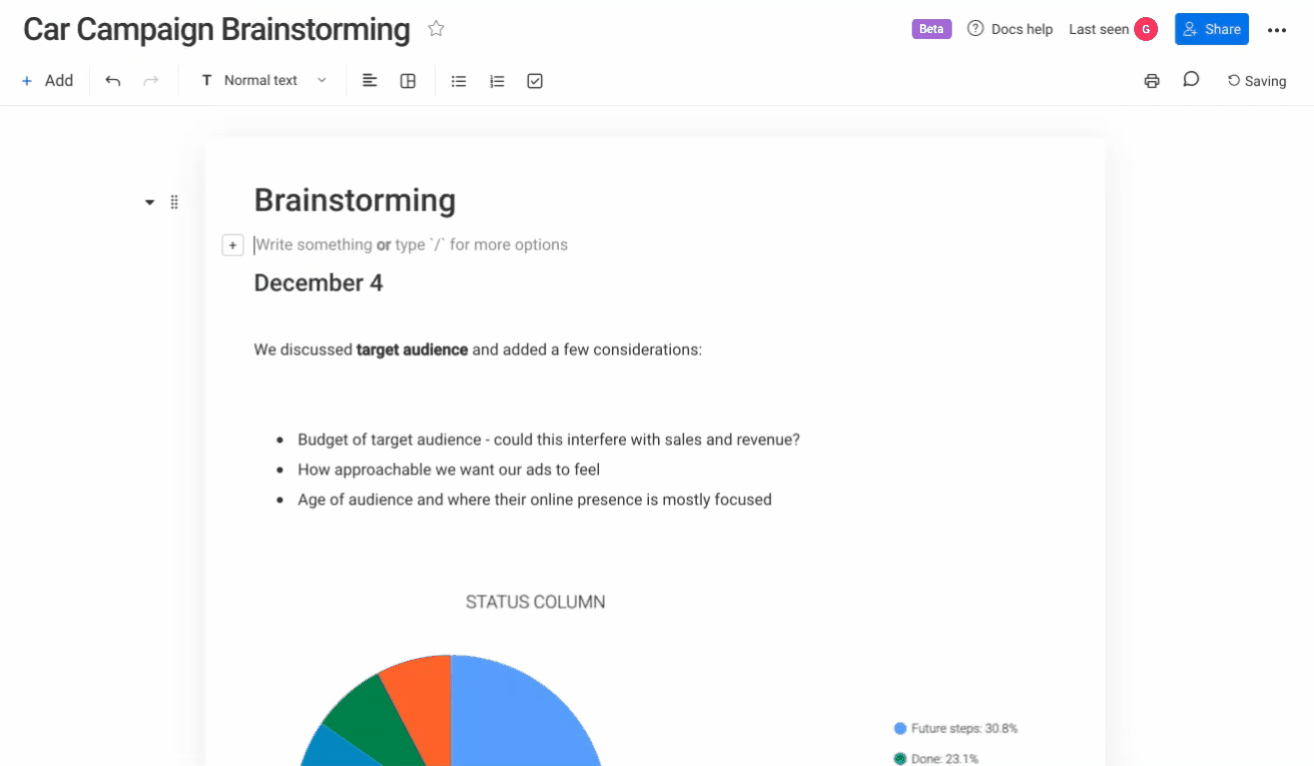 Once you have text added, you can customize it however you want! Just highlight any line or piece of text, and a floating toolbar will appear. From this toolbar, you can change the text type, format, color, alignment, and even add a layout and hyperlink.
"@ mention" team members
Collaborate seamlessly with your team members by "@ mentioning" them anywhere within your workdoc! Just type an "@" symbol on your keyboard to open up a list of all team members who have access to your workdoc. Once you select a teammate, they will be notified immediately with a bell notification.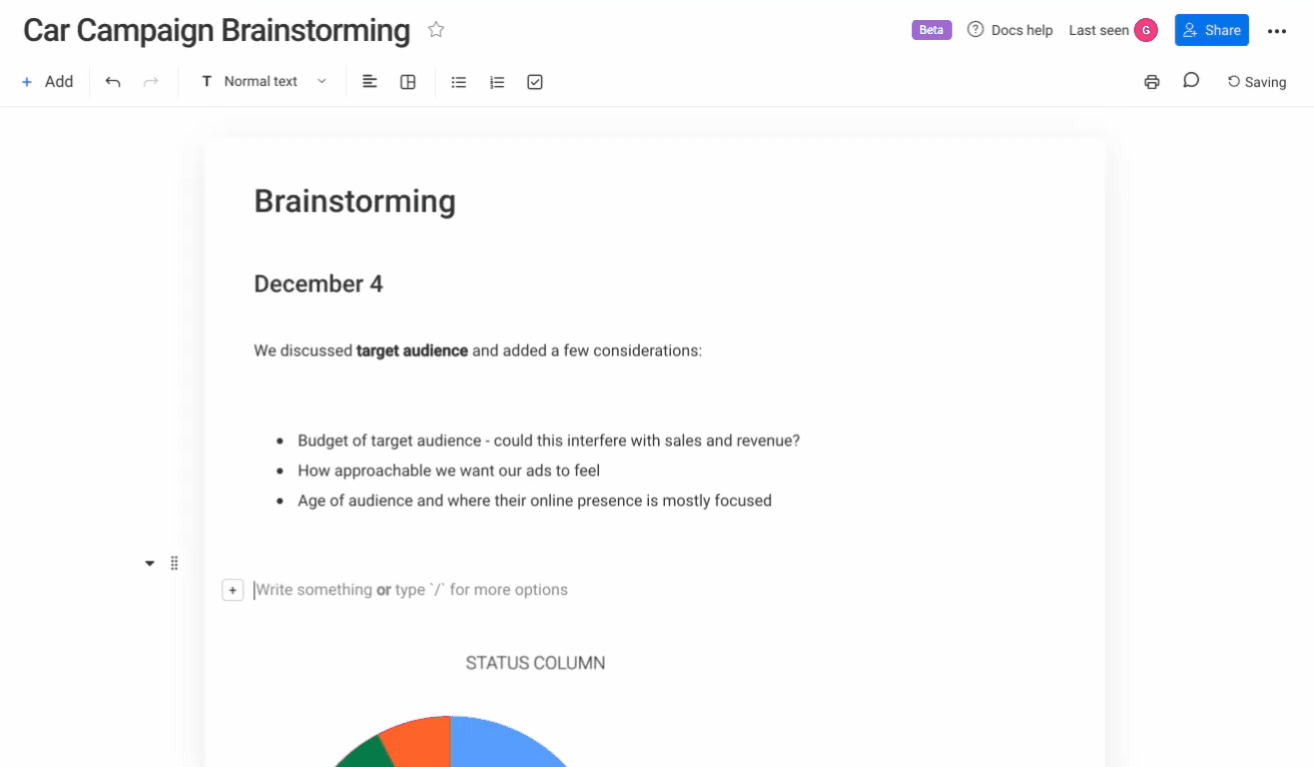 Embed boards
Need to reference a board while working on your document? Embed the board directly into your workdoc as a widget so that your content and data stay up-to-date and aligned at all times!
Show me how to embed a board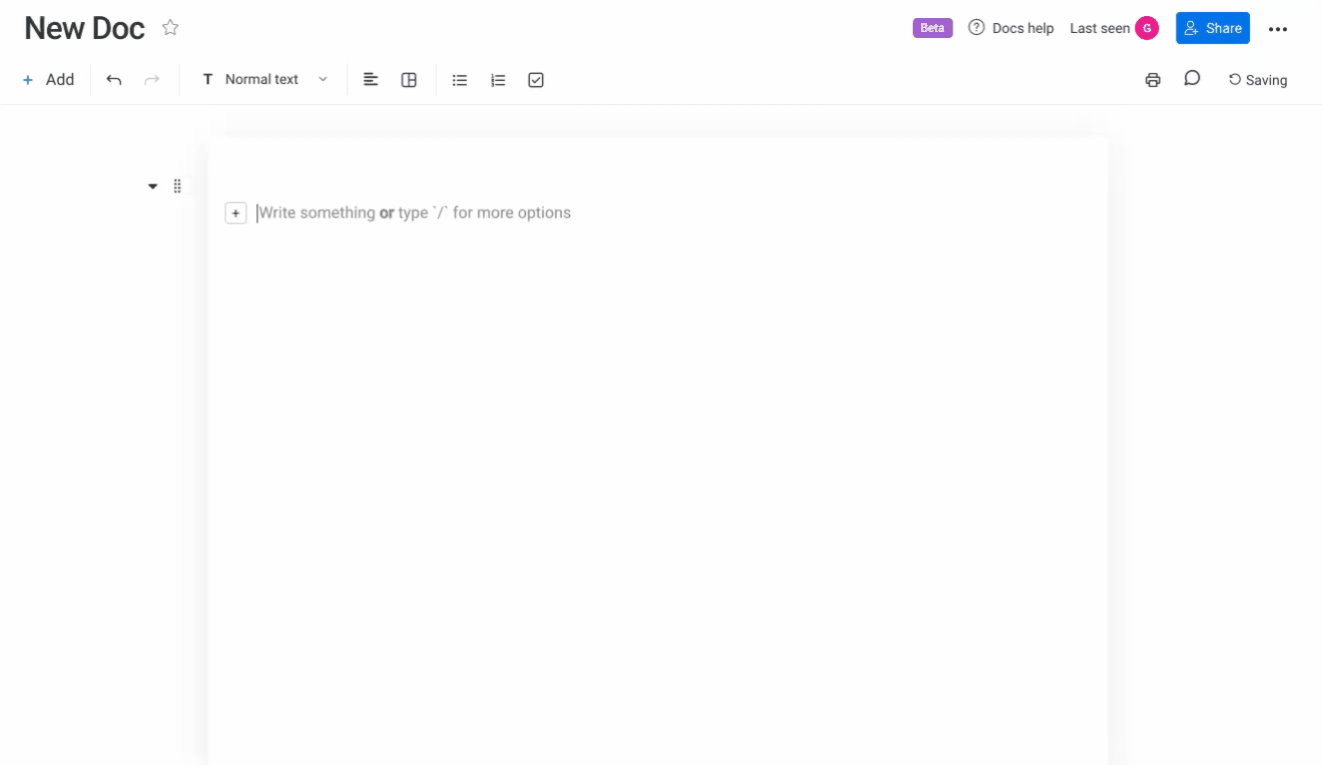 The board is fully functioning, allowing you to view and update everything right from within your workdoc! You can even view the board in full screen, rename, or filter the widget.
Embed widgets
Add dimension and visual context to your workdoc by embedding widgets.
Show me how to embed widgets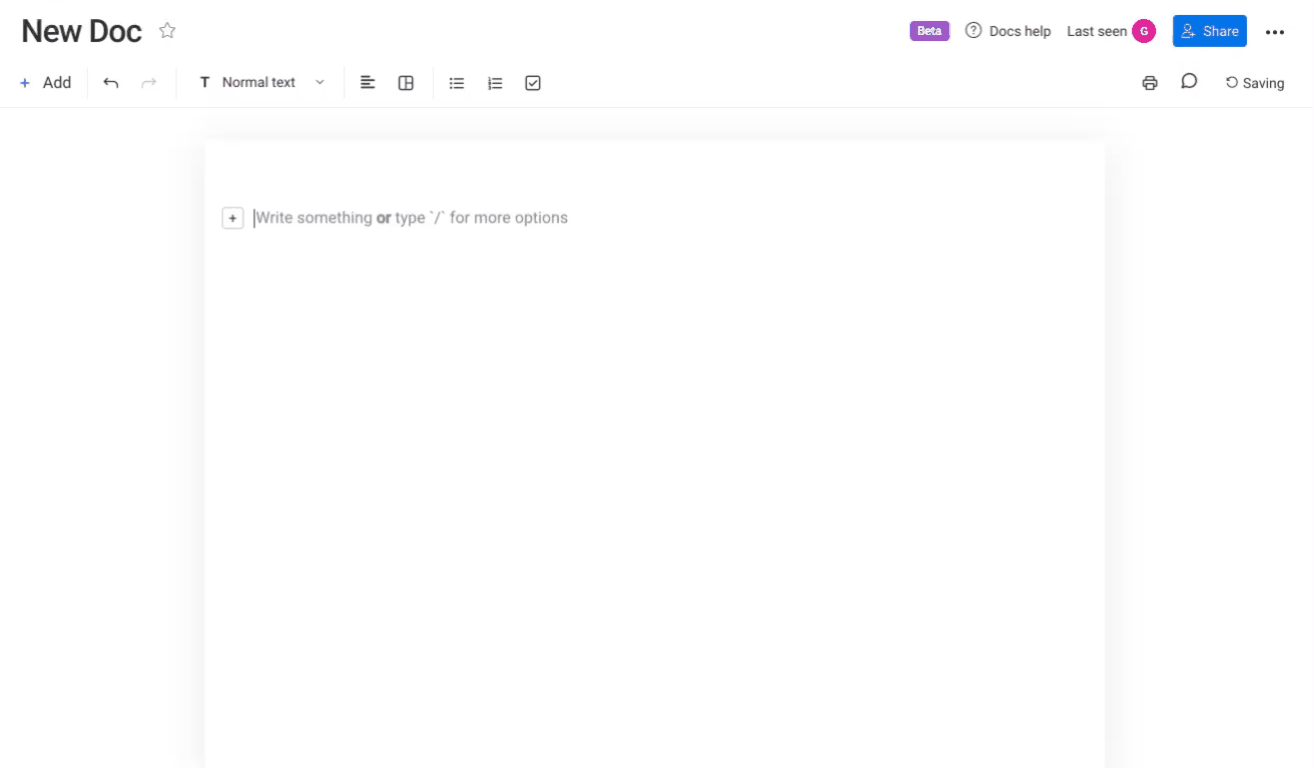 You're ready to go! You can interact with your widget just as you would on a dashboard and can rename it, filter it, and open up the settings menu to customize it exactly as you want!
Tip:
To learn how to master widgets, you can check out
this article
, or read any of the respective widget articles.
Add images and videos
Adding an image or video is similar to adding text. You can do so using the "/" keyboard shortcut or by clicking the options in the "+ Add" menu in the upper left corner of the doc. You can also drag and drop images from your desktop right into your doc, or copy and paste them from anywhere.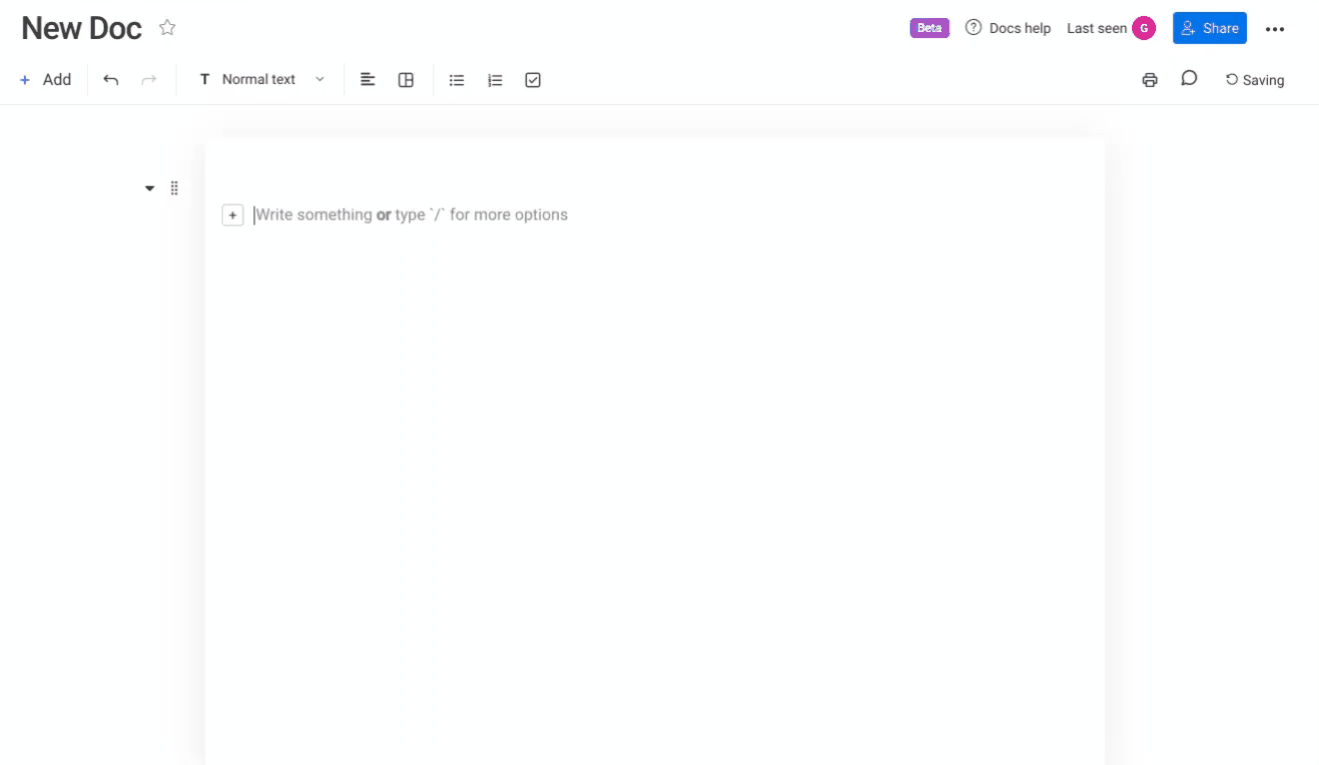 To edit or annotate the element, double-click the image or video to open it up in full-screen editing mode. From the toolbar, you can add updates, download, print, delete the image or video, and more. You can even get more information on your file with the vertical menu on the right side of your screen: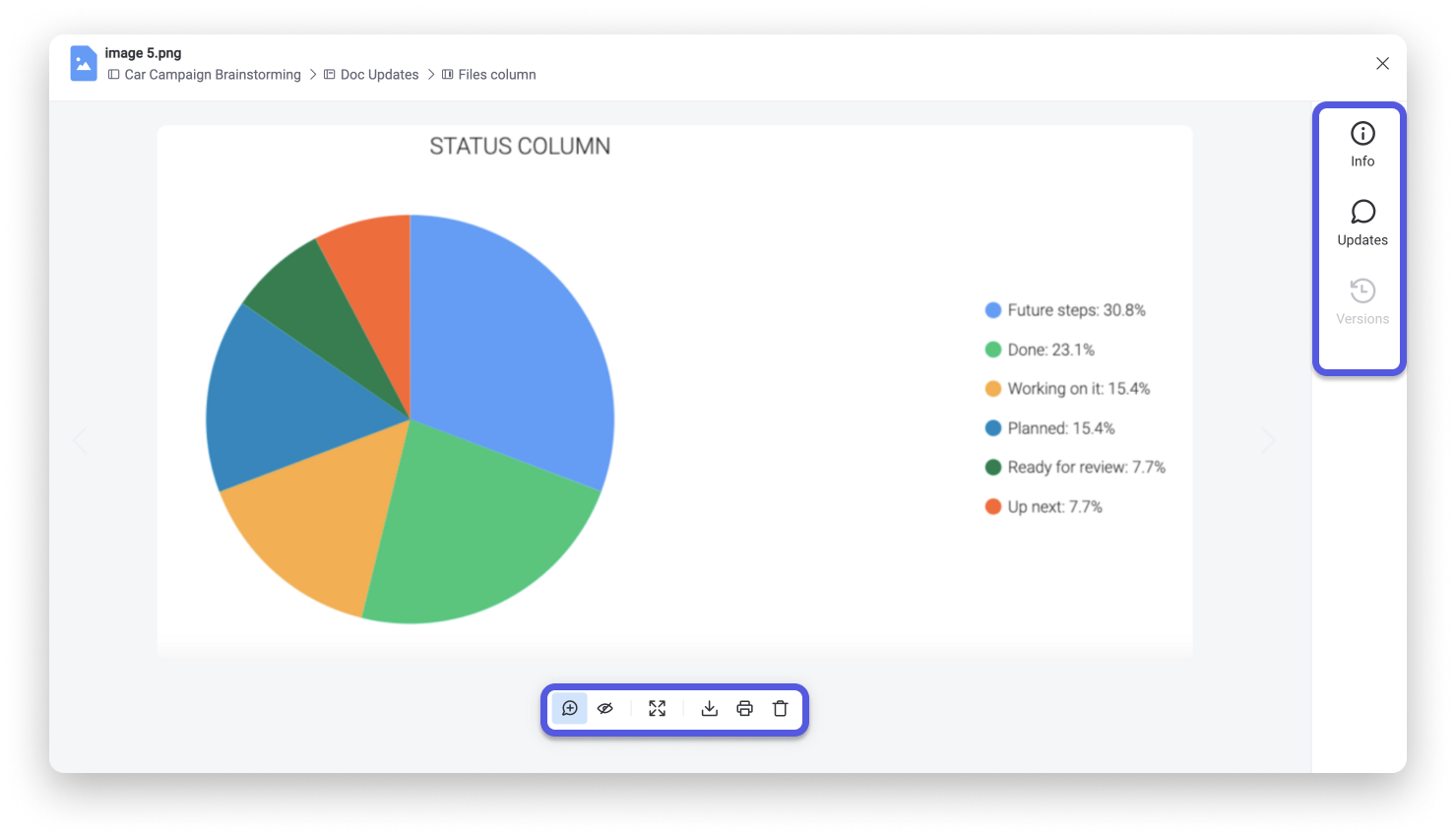 Add Updates
One of our favorite monday.com features appears in monday workdocs! You can add updates as annotations on images or within the text of your workdoc! You can even view them in a concentrated Updates Section on your workdoc, just like you would within an item on your board!
Double-click the image to open it in editing mode and click the speech bubble on the left side of your toolbar. Next, click anywhere on your image and you'll activate a pop-up window where you can type and format your update exactly how you would on your board, including "@ mentioning" your team members!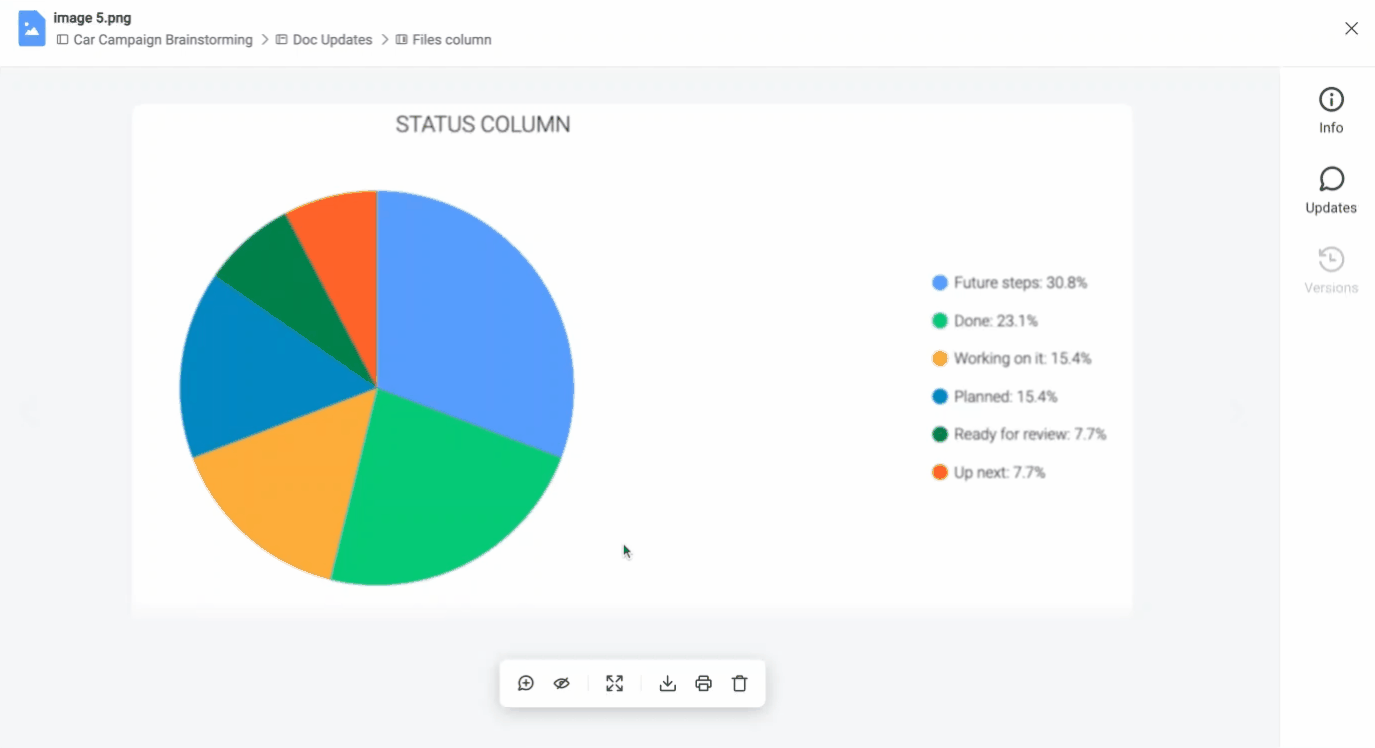 To view all the updates on your file at once, click the "Updates" icon in the vertical menu on the right side of your screen. Each update will be marked with a number, coordinating to the same number on the original image or video! That way, you can easily understand which updates relate to each aspect of your image. This is great for collaborating on designs or graphics, for example!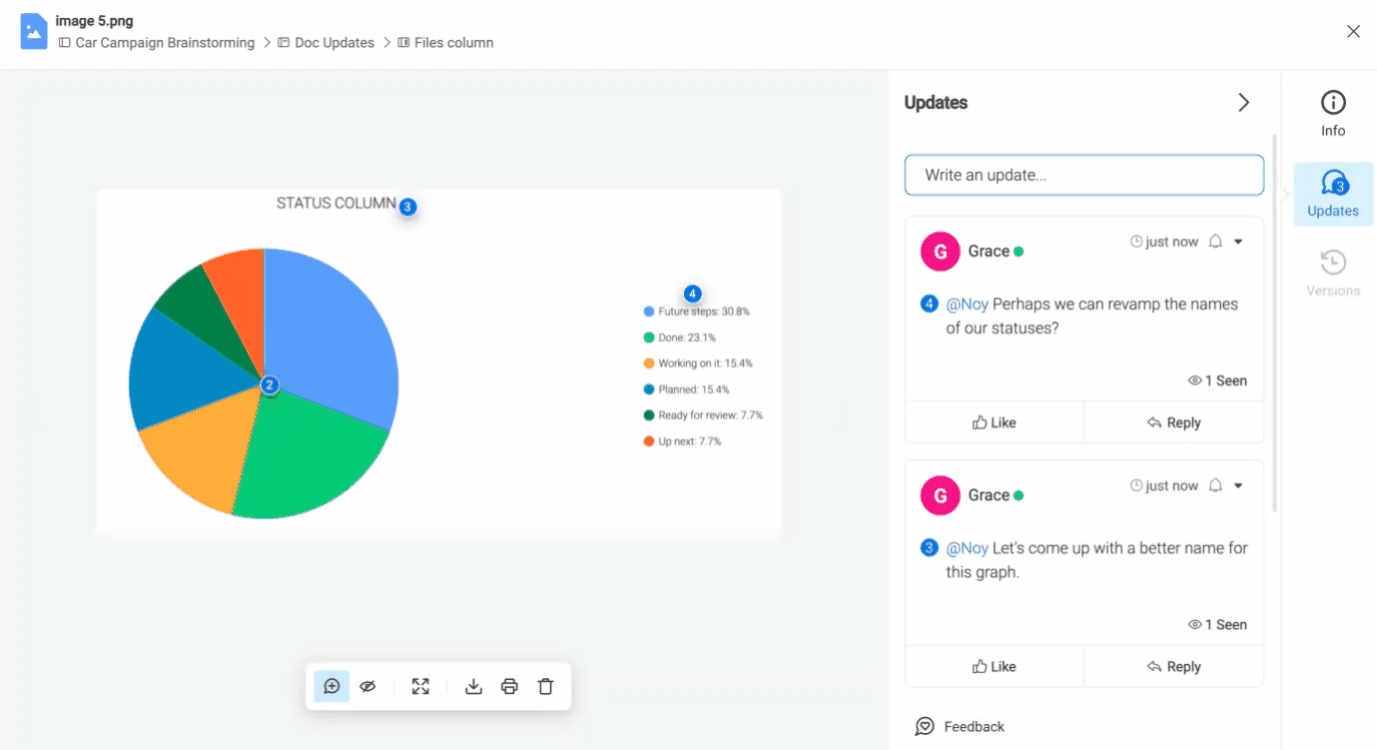 Add updates to the body of your workdoc
To add updates to the body of your workdoc, click the speech bubble in the upper right corner of the doc to open up the Updates section. Begin typing an update just as you would within an item on your board!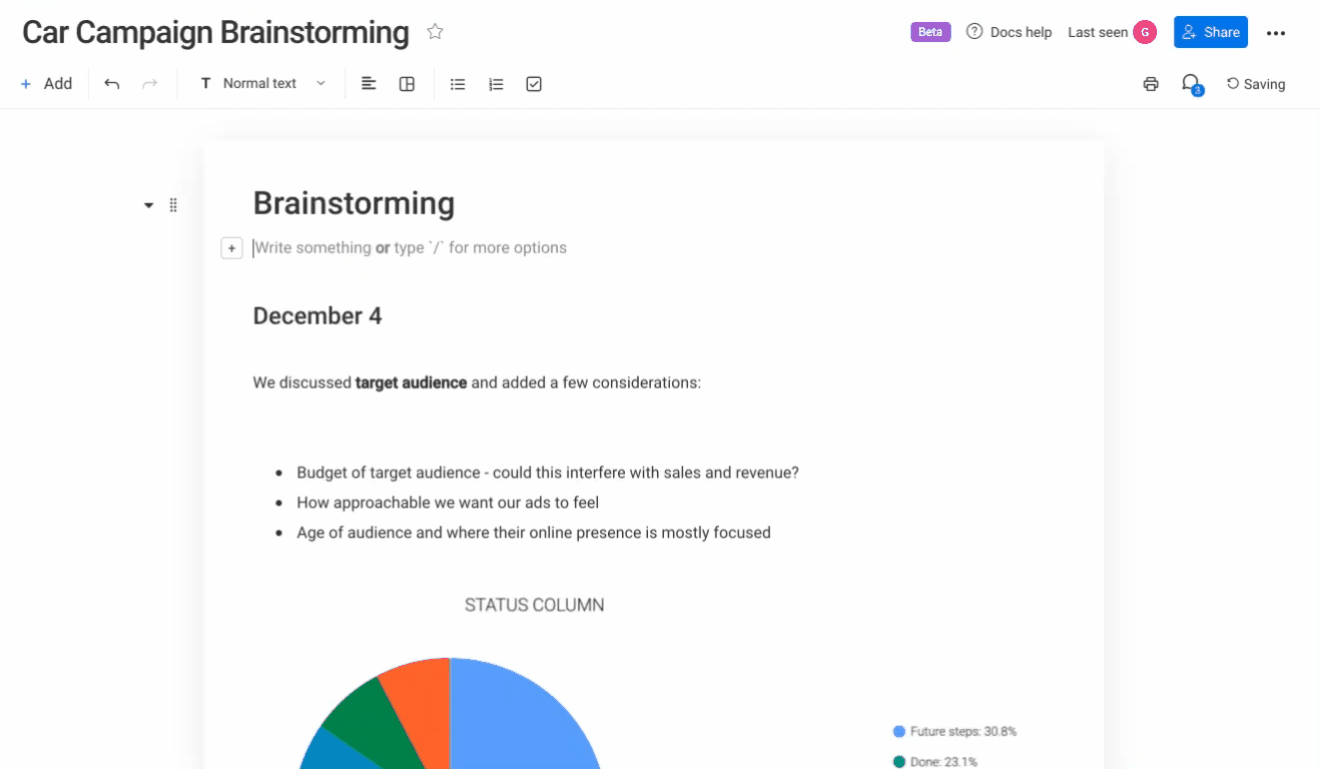 If an update says "Update on file", you know it was added to a specific spot on a file within your workdoc (most likely on an image). There will be an image of the file within the update as well. If you click this image, you will open up the file and the update in full screen.
Create new items
workdocs are all about real-time collaboration and turning words into work. What better way is there to connect your work documents to your workflow than to turn your text into items on any board as you type? 😊
To turn text into an item on one of your boards, highlight your text and click the "Create items" icon in the toolbar. Choose the board you'd like your item to be created in by selecting one of your recently visited boards or searching for another board in the search bar. Next, choose the group you'd like the item to be added to within the board. You'll see a message at the top of your screen letting you know that your item has been successfully added to the board you've selected.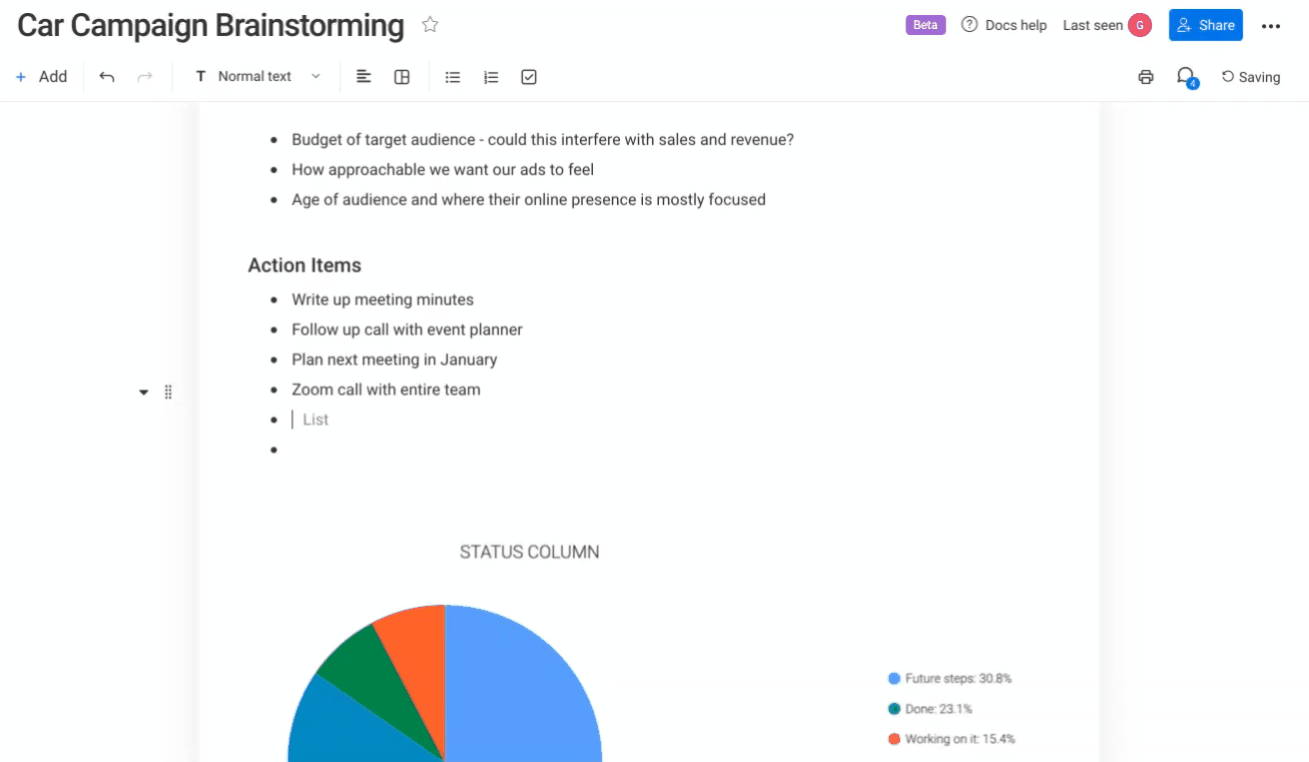 Tip: If you have a list of items, you can highlight all of them, and we'll create each numbered or bullet point group of text as separate items in the selected board!
Add tables and layouts
Take your workdocs a step further by adding tables and layouts. Type "/" or click on "+ Add" within your doc and select "Table" and "Layout". Tables allows you to create simple tables that can contain any type of content. Layouts allows you to organize your content side by side and add as many columns as you'd like. It is that easy! 🤩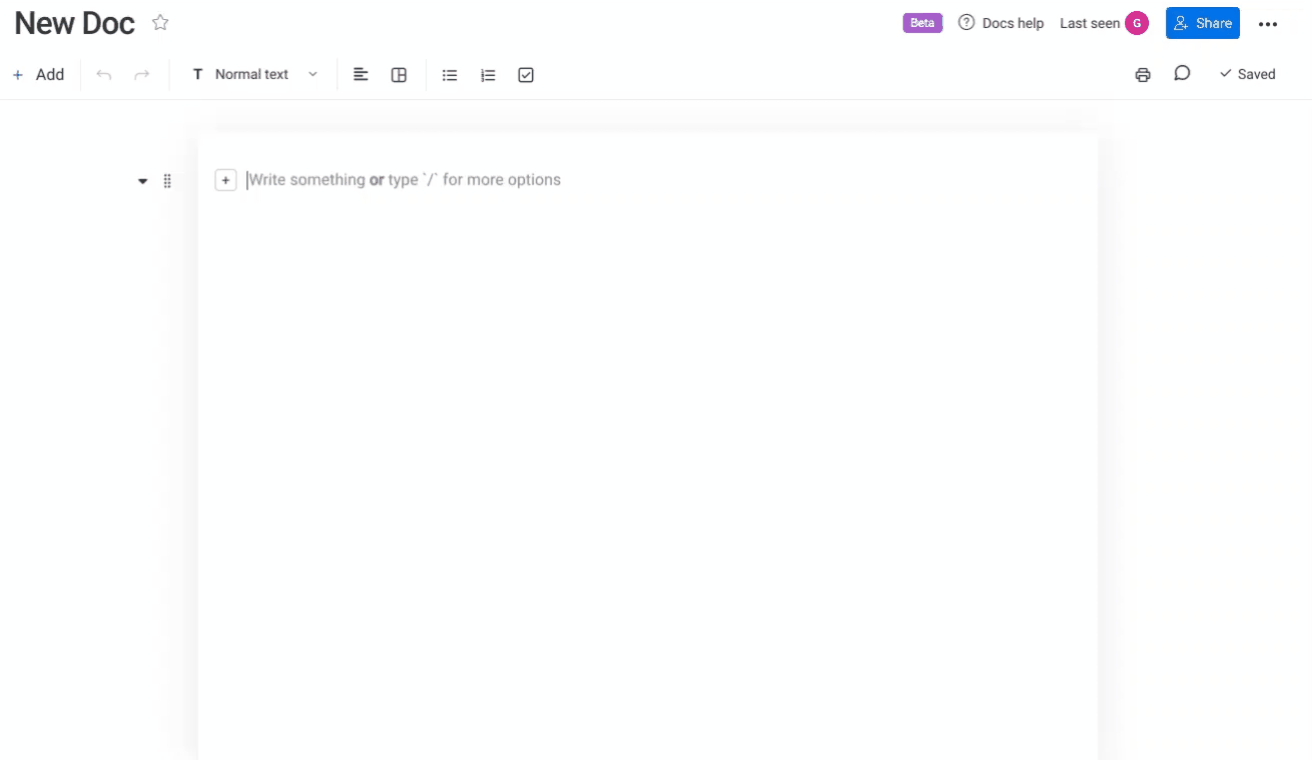 Tip:
We now have the option to add a GIF to your workdoc! Type "
/" or click on "+ Add" and s
elect "GIF". Choose a GIF from our collection and let the fun begin! 🎉
Insert code blocks
Hey, developers! 👋 You can easily write code in workdocs with our code block feature! Add a block of code and your programming language will be instantly recognized. Type "/" or click on "+ Add" and select "< > Code". Insert your code and see the language appear within the gray code box. 💻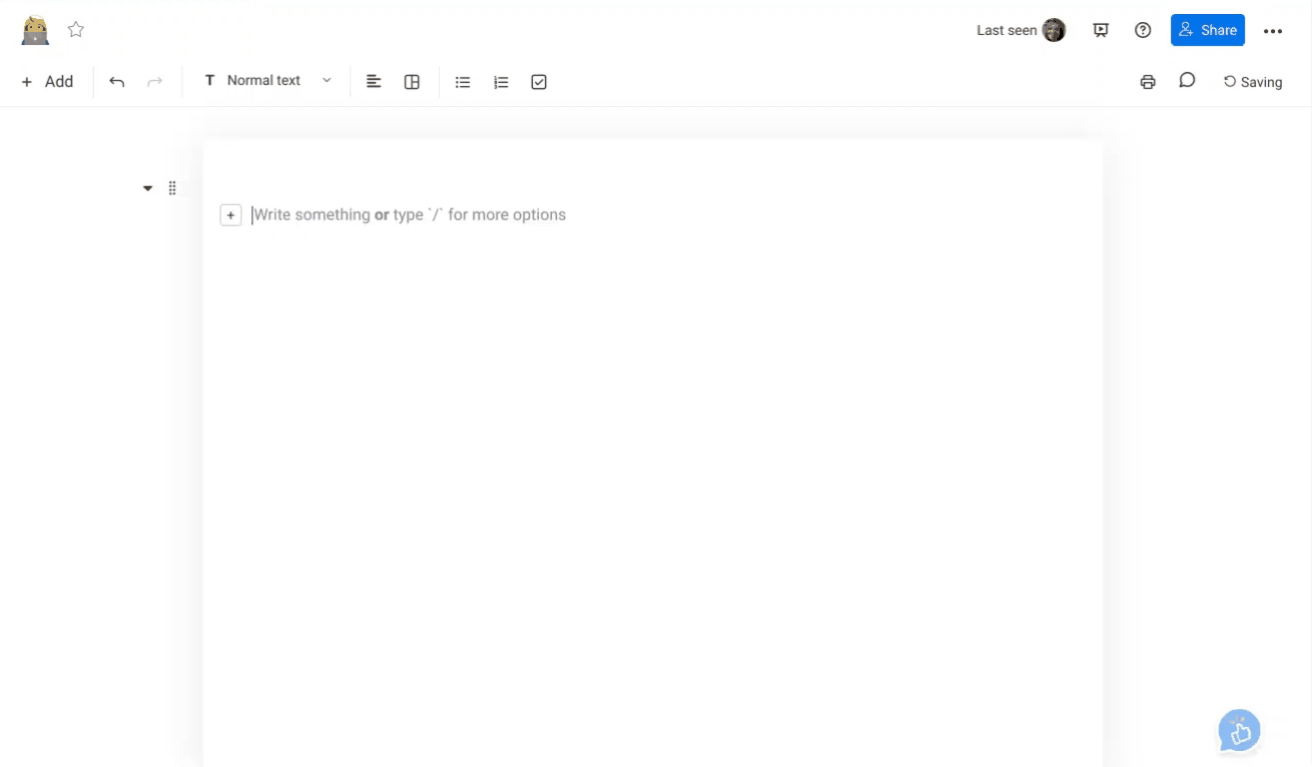 Programming languages recognized
Presentation and full screen mode
Take your presentations to the next level by using our presentation mode! This mode brings with it a new, sleek look by utilizing a view only mode with a wider layout. Access it by clicking on the dedicated icon in the top right of your doc that reads "Present mode" when you hover over it. You can switch background themes during your presentation and view your presentation in light, dark, or night mode!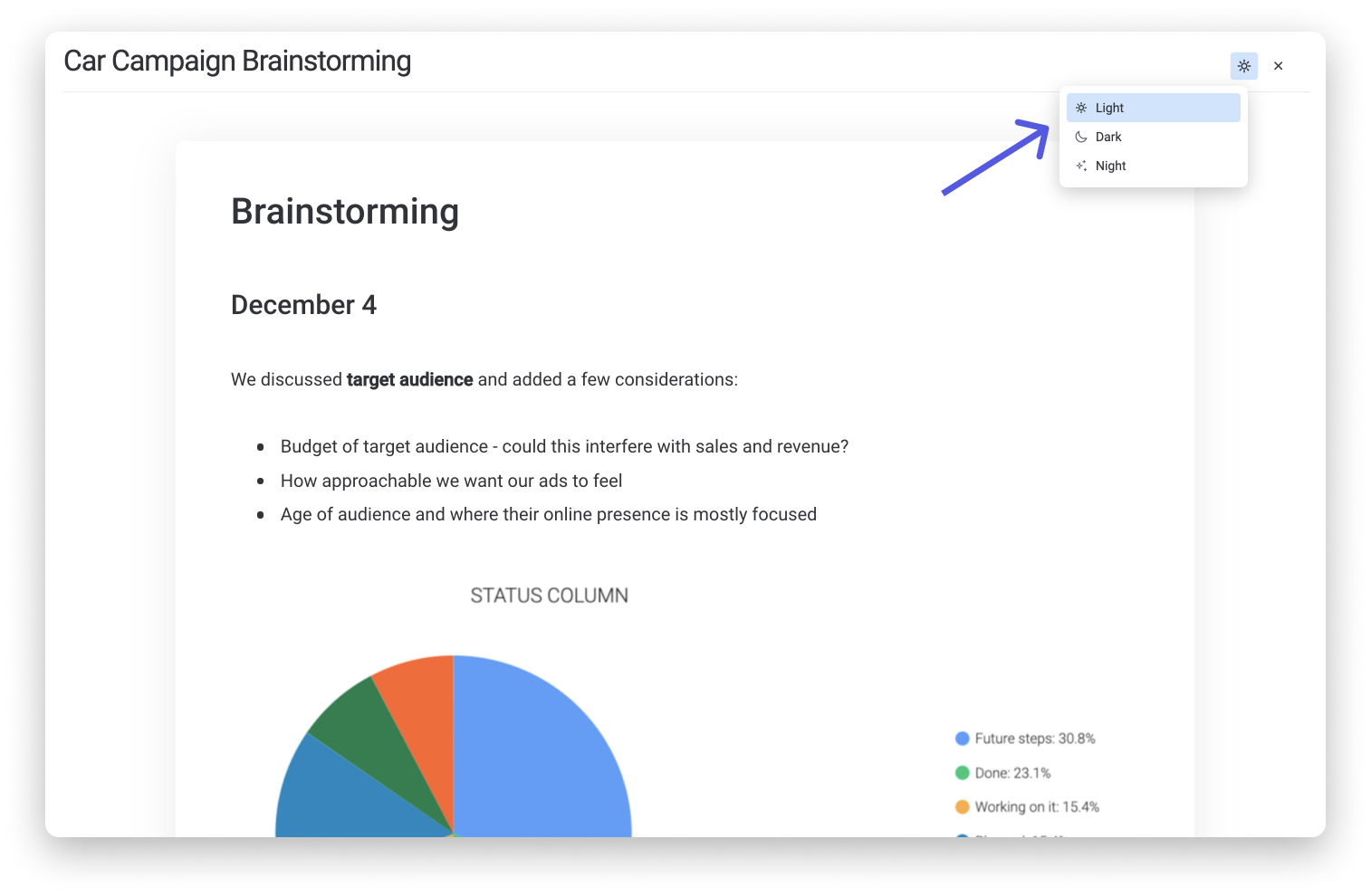 While full screen mode has the same wide layout look, you are able to edit, customize, and work on your doc as you would in the normal view mode! Full screen mode is a great option if you want to hide other distractions and focus on creating. Access it by clicking on the three dot menu in the upper right corner of your doc and click on "Full screen".
Save as a template
Save your monday workdoc as a template just as you would a board! When saved as a template, the doc will be easily accessible in the Template center. Everyone in your account will be able to access the saved template at anytime and use it to create a new doc!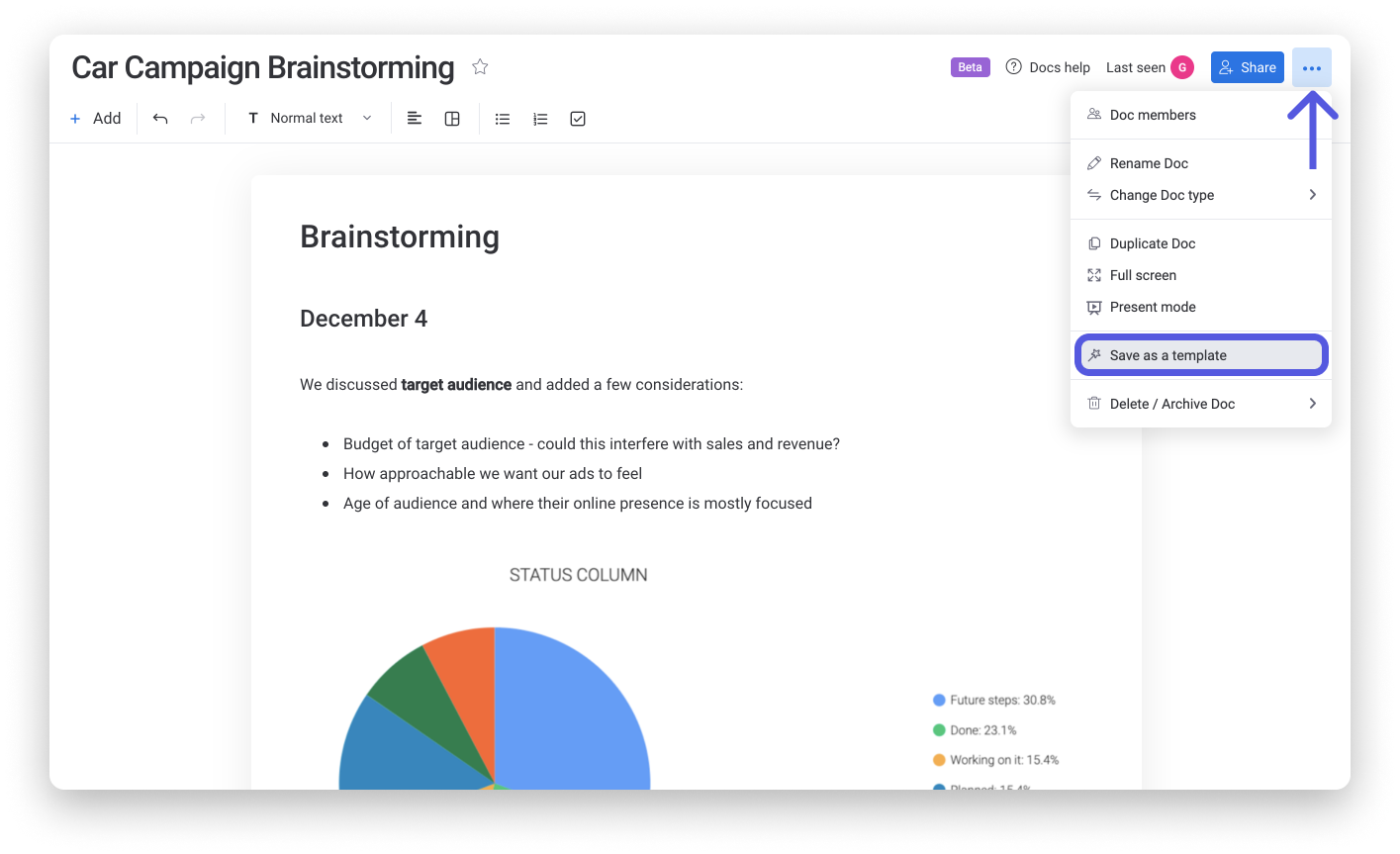 Note: When making a workdoc a template, permissions settings will change to "Only Doc owners can edit" to prevent non-owners from making changes to the doc template. You can go to "Doc permissions" to edit these settings within the original doc.
Create a workdoc within the File Column
In addition to creating a free-standing workdoc, you also have the option to create a workdoc that exists within an item on your board!
Let's say one of the items on your to-do list is to record meeting notes. By adding a workdoc to the File Column for this item, you can keep your work in context right within the item on your board! No need to flip between platforms or attach external files - everything is already here in the right place!
First, make sure you have a Files Column on your board. Then, click the item's cell within the Files Column and select "New monday Doc", like this: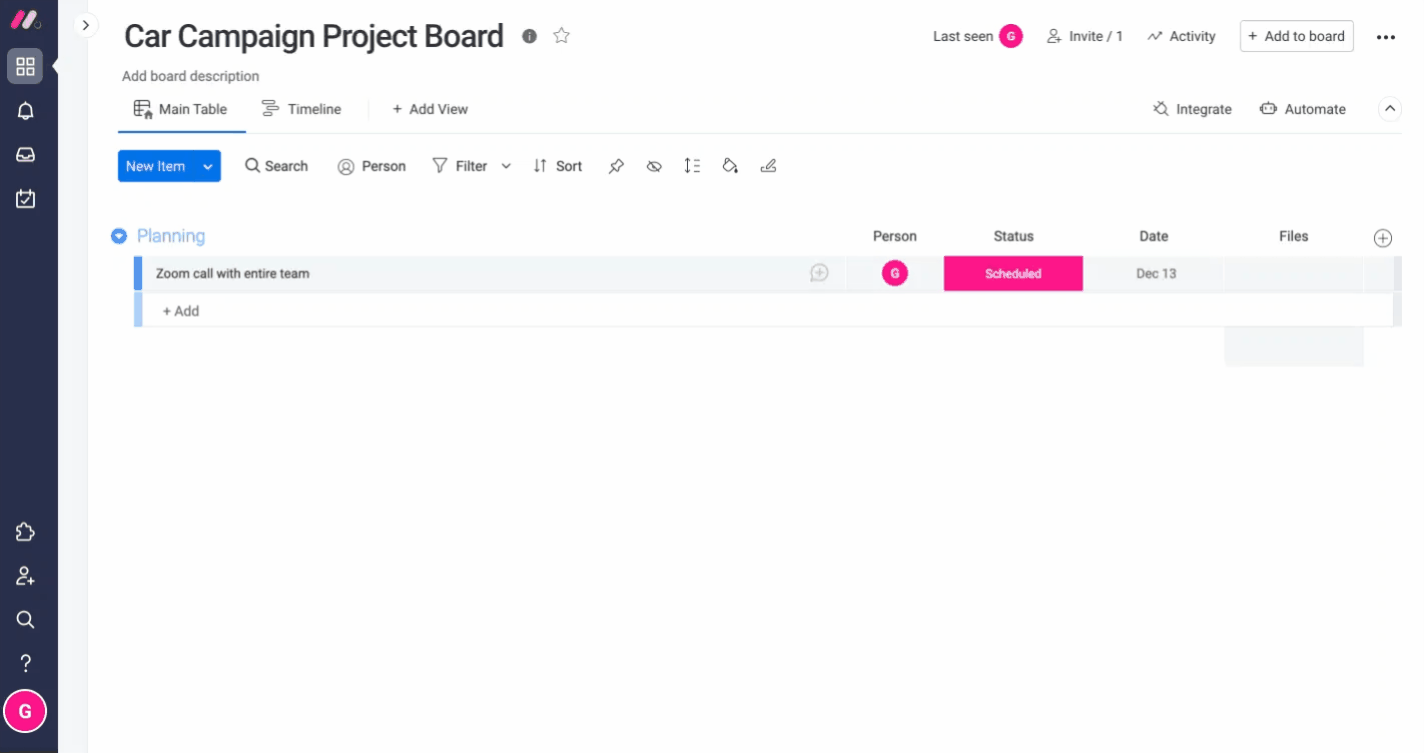 You can click the cell to open up the workdoc whenever you have something to add or edit!
Note:
You won't find this workdoc within your workstation where your other workdocs, boards, and dashboards are stored. This workdoc will be exclusively located within the item on your individual board.
If you have any feedback or questions, please reach out to our team by using our contact form. We're available 24/7 and happy to help!