At monday.com, we're all about transparency and communication. We believe that one of the most important things in your workplace is the communication between your teammates! That's why we've made it so easy for team members to notify, update, assign tasks, and chat with their teammates throughout your account!
What is a team?
A team is any group of individuals who are working together to achieve a shared goal. In the workplace, this can be a department, a project team, a functional department team, a cross-functional (or cross-departmental) team, management teams, or whatever other type of team works in your company!
The individuals in the teams you create on your monday.com account, can be notified, updated, and communicated with all together as a team!
How to create a team
To create a team, click your profile picture and select "Teams" from the menu:
Here, you can see a list of all of the existing teams on your account!
Click "+New" in the top left corner to add a new team. You can name your team by typing in the title bar, where it will say "New team" for now. You can even add a picture to represent your team, by clicking the camera icon to the left of the team's name, like this:
Tip:
Adding a picture to represent your team is especially helpful when you assign your team to tasks using the
People Column
.
Now you're ready to add all of your team members! Click "Add new team members" at the bottom of the screen, or begin typing a team member's name into the search bar on the right! You can click the team members from the drop-down menu to add them to your team!
Note: Guests cannot be added to teams.
How to manage your team
You can remove team members by clicking the 'X' to the right of their contact information like this:
You can delete any of your teams by clicking the 3 dot menu at the top right corner of the team's page, and selecting "Delete team".
Tag your team in one click
Our team, "Caramel Task Force", is working hard to develop the greatest new caramel flavor for our ice cream shop! We want everyone on the team to stay up to date on all of the rapid changes in our company. Check out a few ways we tag everyone at once!
There's no need to subscribe each team member individually to relevant boards. You can subscribe an entire team to the team's boards all at once!
Click the people icon in the top right corner:
Rather than typing in each team member's name, just type in the name of the team! Click, and voila! Now everyone from the team will stay on the same page!
Assign tasks to your whole team
We love to use the People Column to make sure that each individual knows their responsibilities. But sometimes, we work on something as a team! In these cases, we'll assign a task or project to the whole team!
Just click a cell in the People Column, and select your team rather than an individual, just like this:
Communicate with your team
Creating a team makes communication with everyone at once really smooth and so easy! If you have to update your whole team about one of your shared projects, you can reach out to everyone at once!
We love using the Updates Section to keep all board subscribers in the loop on all of an item's updates. When we want to draw extra attention to an update, we can "@ mention" the individuals who need to see this message, and they will receive a bell notification so they won't miss anything important! When we want to make sure our whole team sees an important message, we can @ mention the whole team by typing "@" followed by the team's name, just like this:
This way, everyone in the team will get a bell notification drawing their attention to this update!
Automatically update your team
We want all of our team members to come to each taste test for our new flavors so that we can choose the winners together! To make sure everyone on our team knows when a taste test has been scheduled, we added the following automation recipe: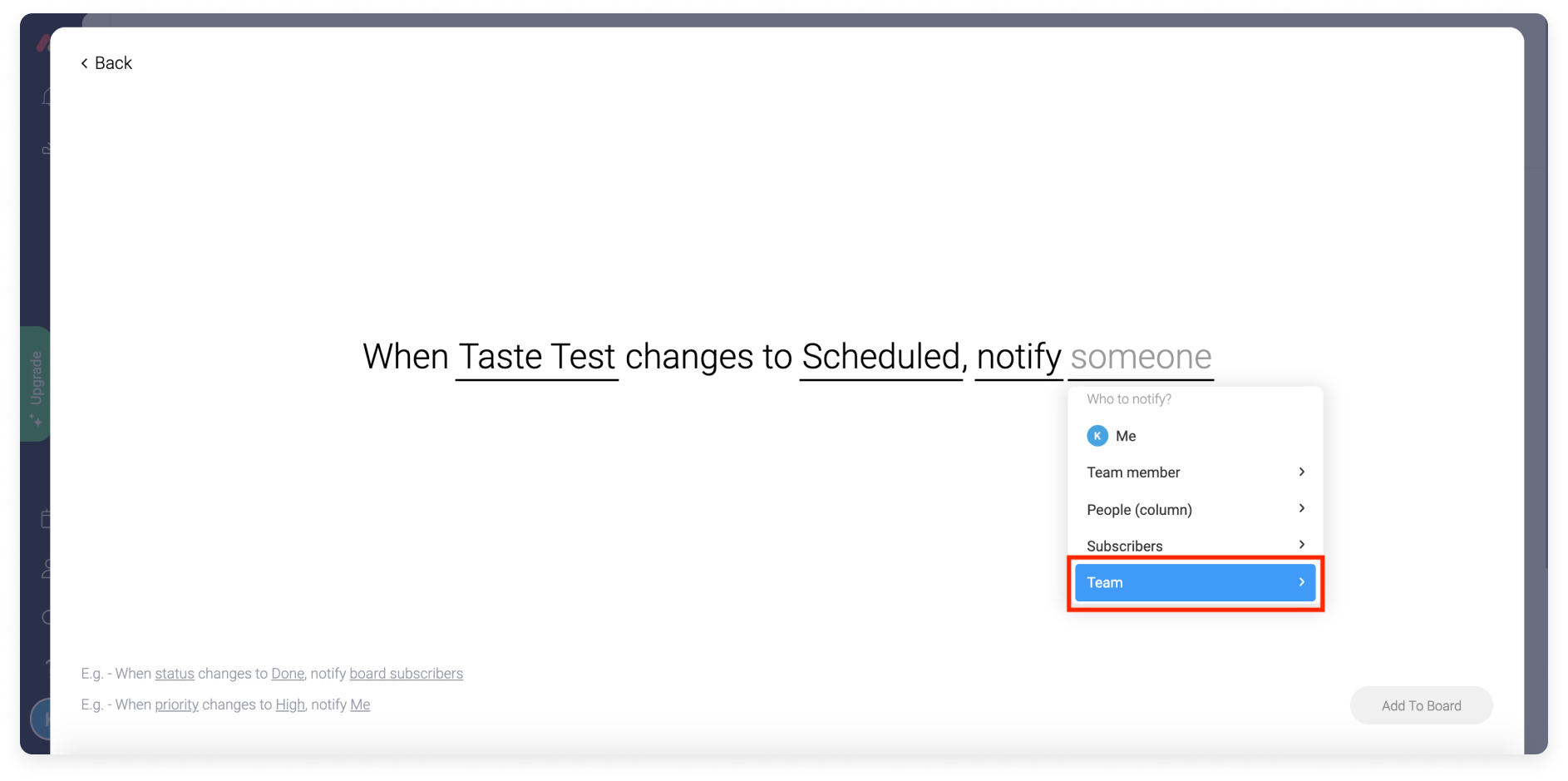 We've customized the recipe to notify the whole "Caramel Task Force" team every time a label in the Status Column "Taste Test" changes to "Scheduled". We've even customized the exact notification, as shown below:
This automation is just one example of how we can notify our team using automations. Head over to the Automations Center to check out all of the cool ways you can notify, update, and assign your team members with different recipes!
Creating teams within your account is a great way to make sure everyone stays up to date and in the loop! Try it out with your team!
If you have any questions, please reach out to our team by using our contact form. We're available 24/7 and happy to help!