Take your workflow a step further with the custom automation builder! This amazing feature allows you to create your own automation flow. Create new combinations tailored to your team's needs and make them fit perfectly into your specific workflow! 🙌
Learn the lingo
Every custom automation recipe has a trigger, a condition, and an action (or multiple actions). Let's look at an example of a recipe: "When a status changes to something, delete the item"
In this case, the trigger is "When a status changes". The condition is "to something" because the trigger is conditional upon what you select for "something". The action is "delete the item". Every time that an item is deleted, one action is used. If you were to trigger this recipe three times, three items would be deleted and that would count as three actions used.
To learn more about actions and pricing, check out the Automation and Integration Actions article.
How to access custom automations
Click on your automation center located on the upper right of your screen:
Next, click on "Create Custom Automation":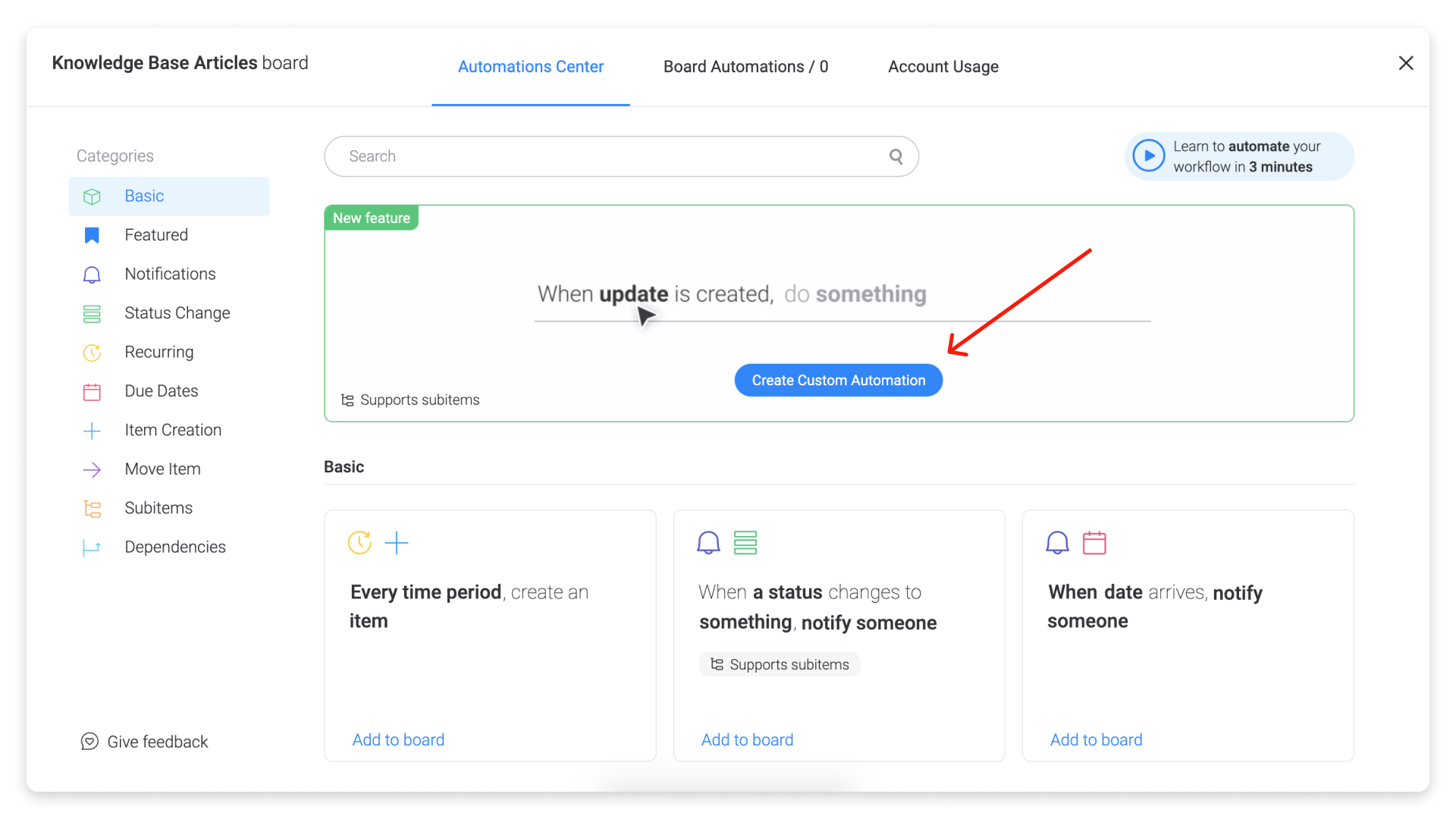 Once done, you should see the recipe below:
Now time to customize! 🎉
Choose a trigger
The first step in building your custom automation is to pick a block. Your options are "When" or "Every time period" to begin. For this example, we've chosen "When":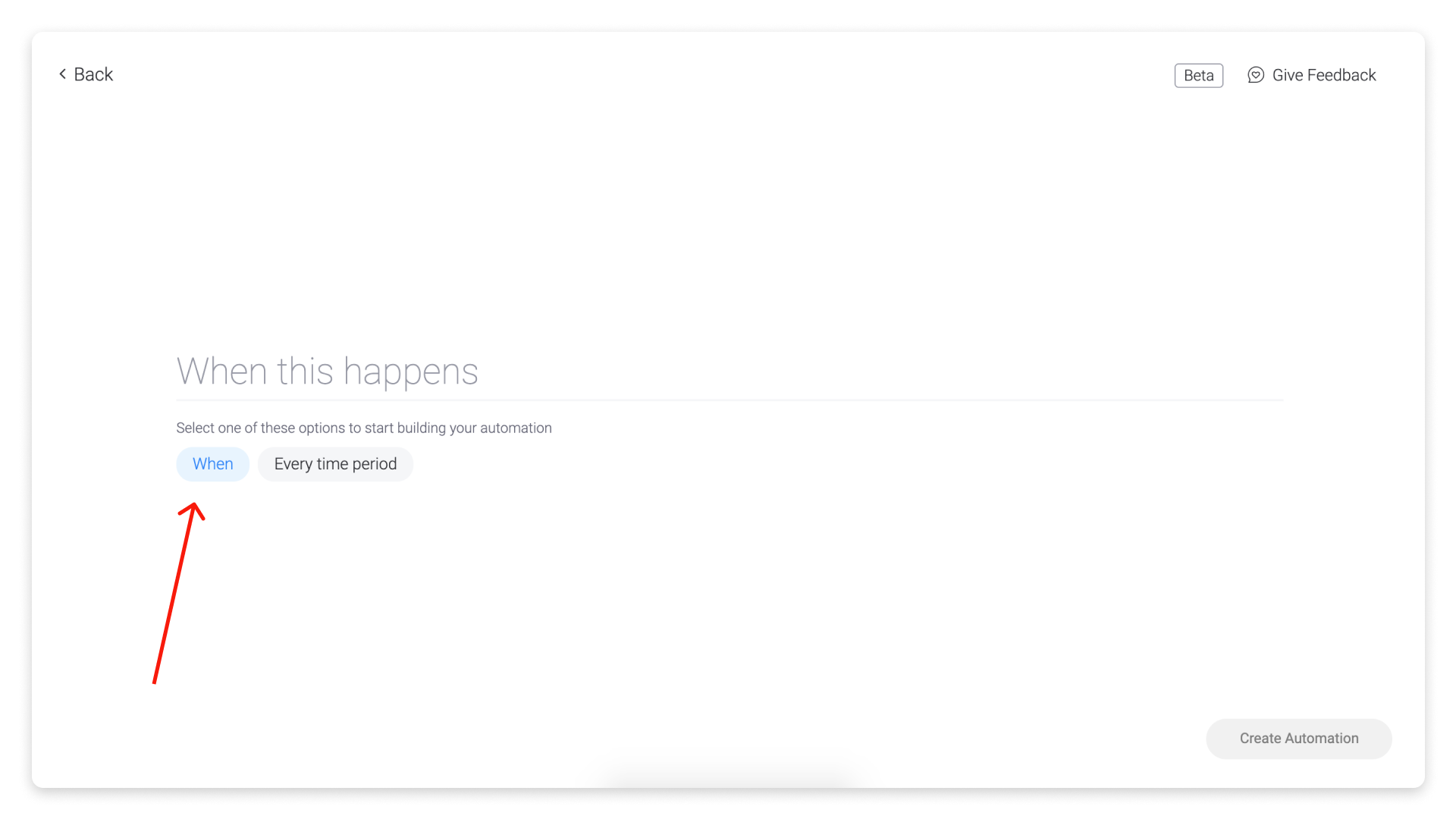 Once you choose your first building block, it's time to pick your trigger. A trigger can involve a column from your board (i.e. Status, Person, Date, etc.) or an action that happens on your board (i.e. item created, item moved to group, etc.):
In this example, we've chosen "status changes" as the trigger: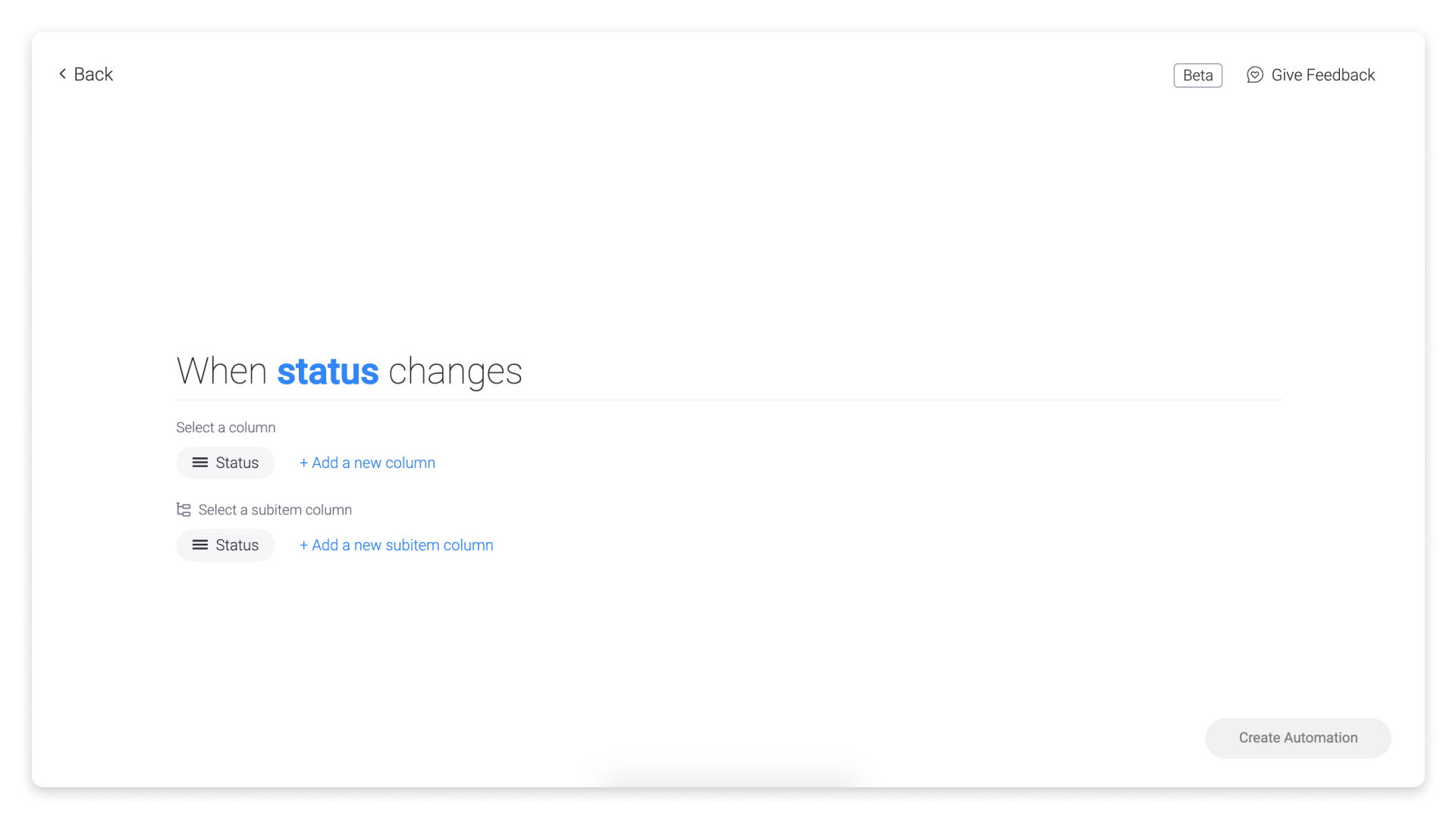 And we chose our board's Status column: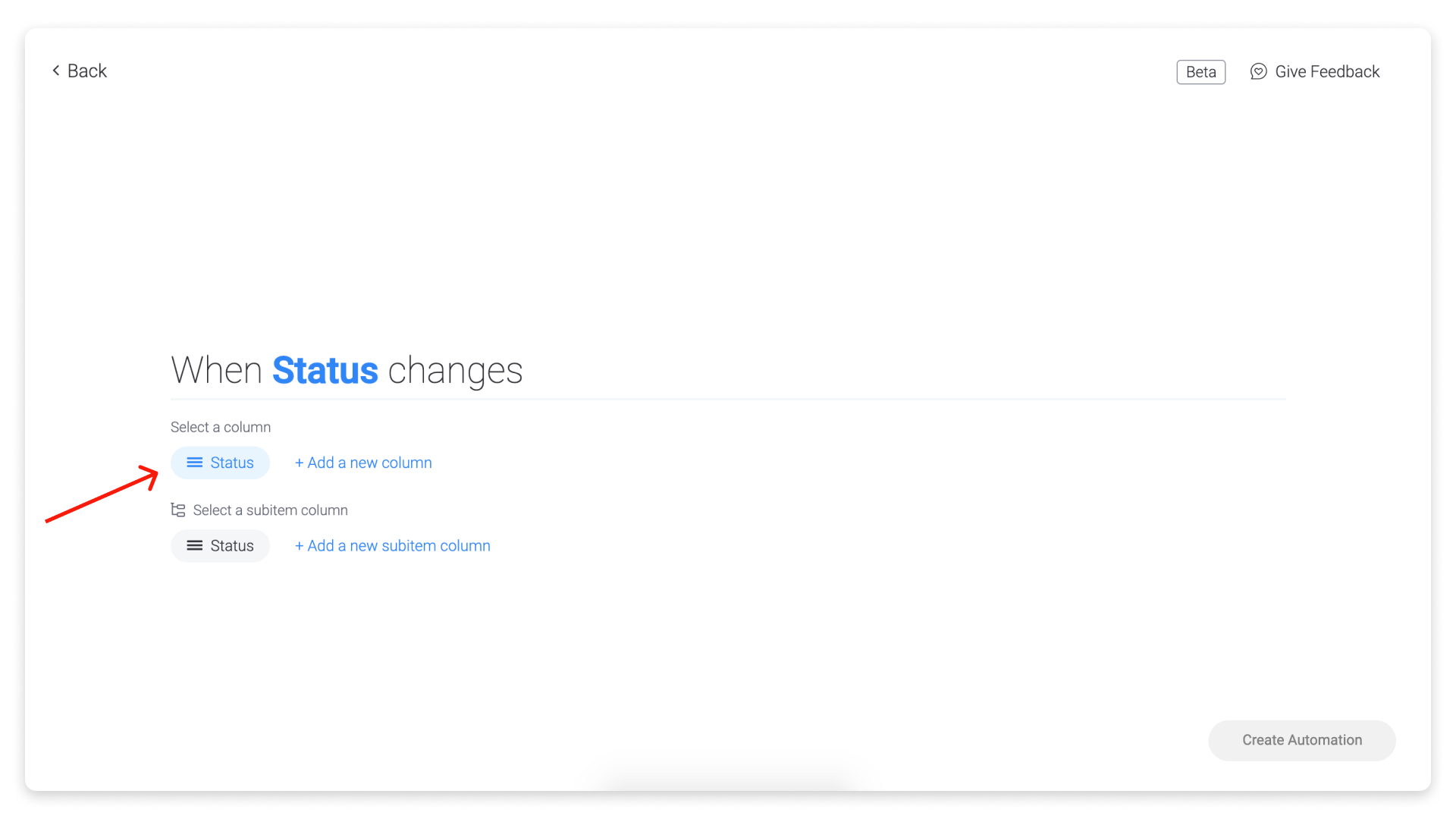 Select a condition
Depending on the trigger you've picked in step 1, you will then need to select a condition. In this example, we want to trigger an action when the status column changes to "Done". To accomplish this, we will select the condition "to something"...
And then select the status label "Done" 🙌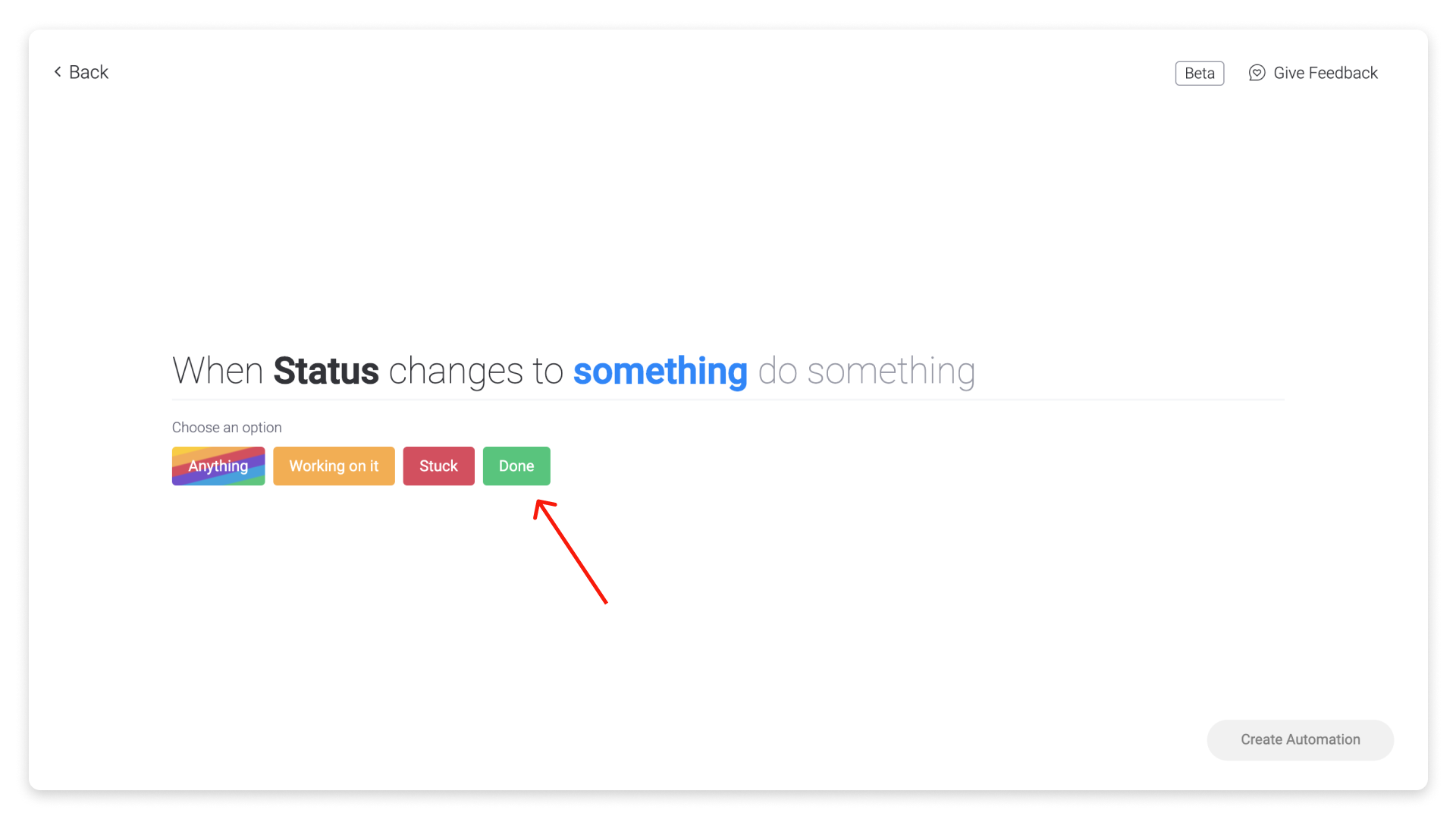 Note: The labels displayed correspond to the labels of the status column selected from your board.
Pick an action
Now that the first part of our automation is created, we need to pick an action. A list of all the possible actions you can choose will display as below: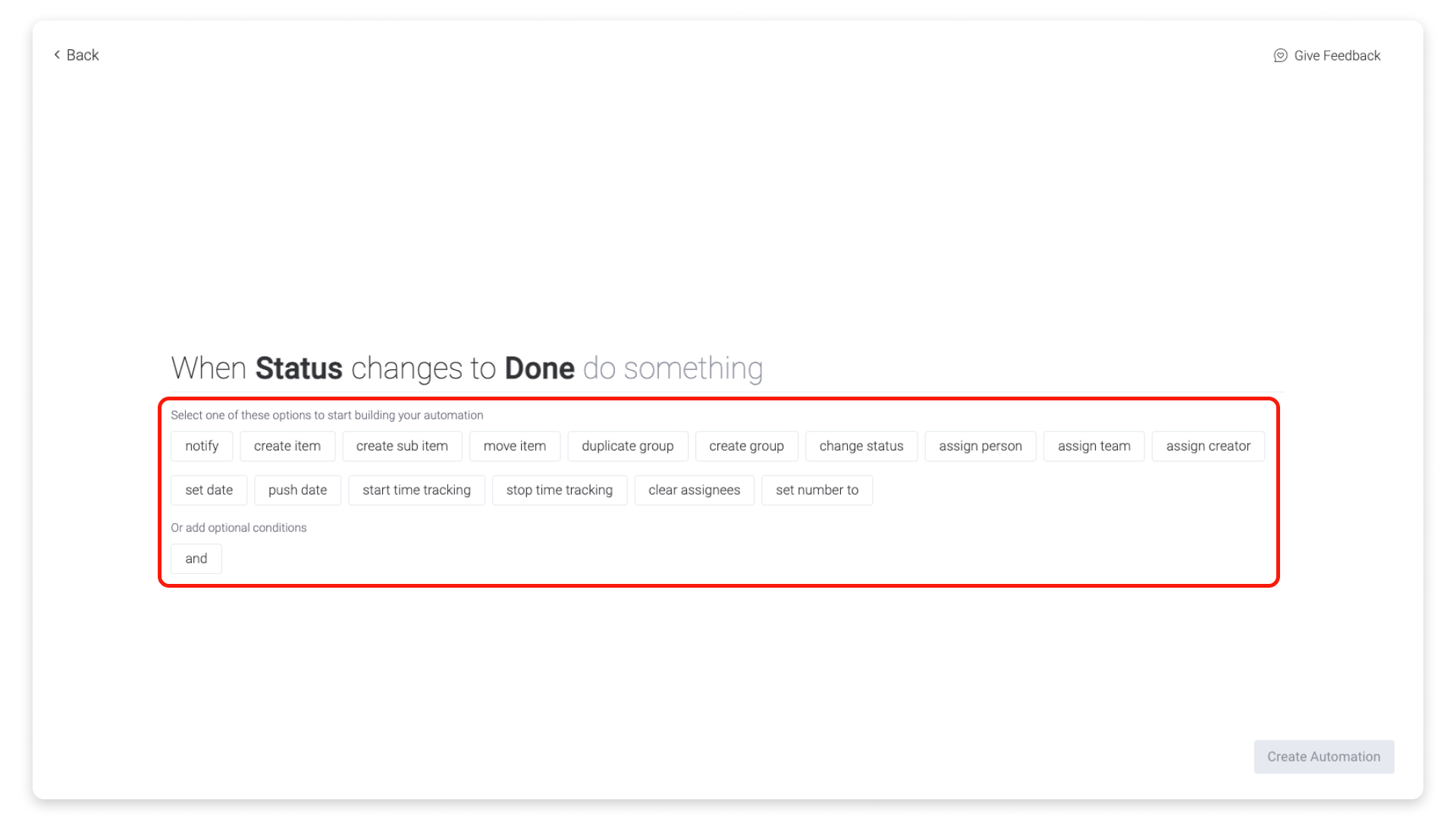 Tip: You can add additional conditions by clicking on "and". For now, the additional conditions you can choose are "person is someone" and "status is something".
In this example, when the design status changes to "Done", we want to notify our Freelancer, Alexandra. By clicking on "notify", you can customize your notification message: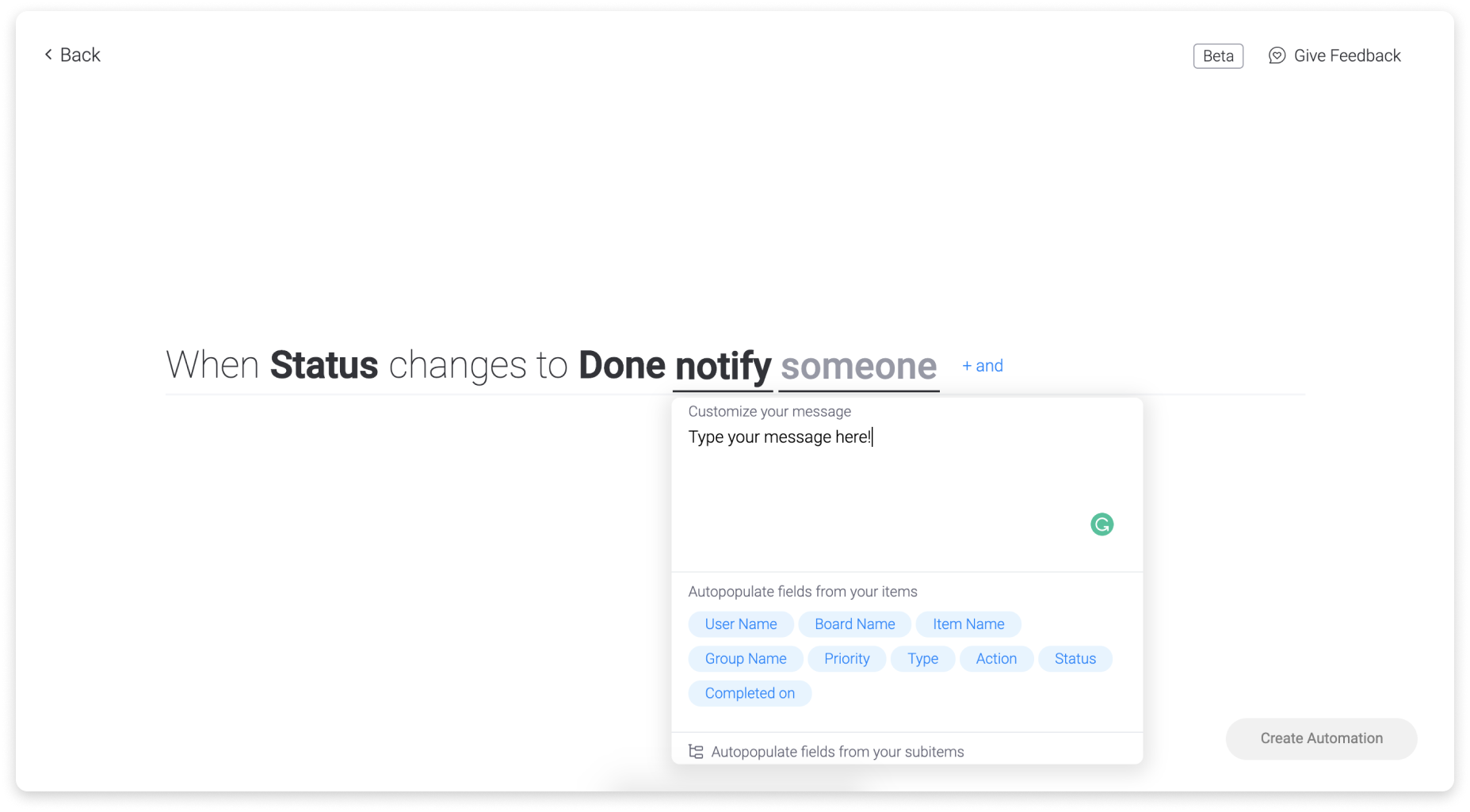 Finally, we will pick the person we would like to notify. It can be several people or teams. It is totally customizable and up to you to decide. 😃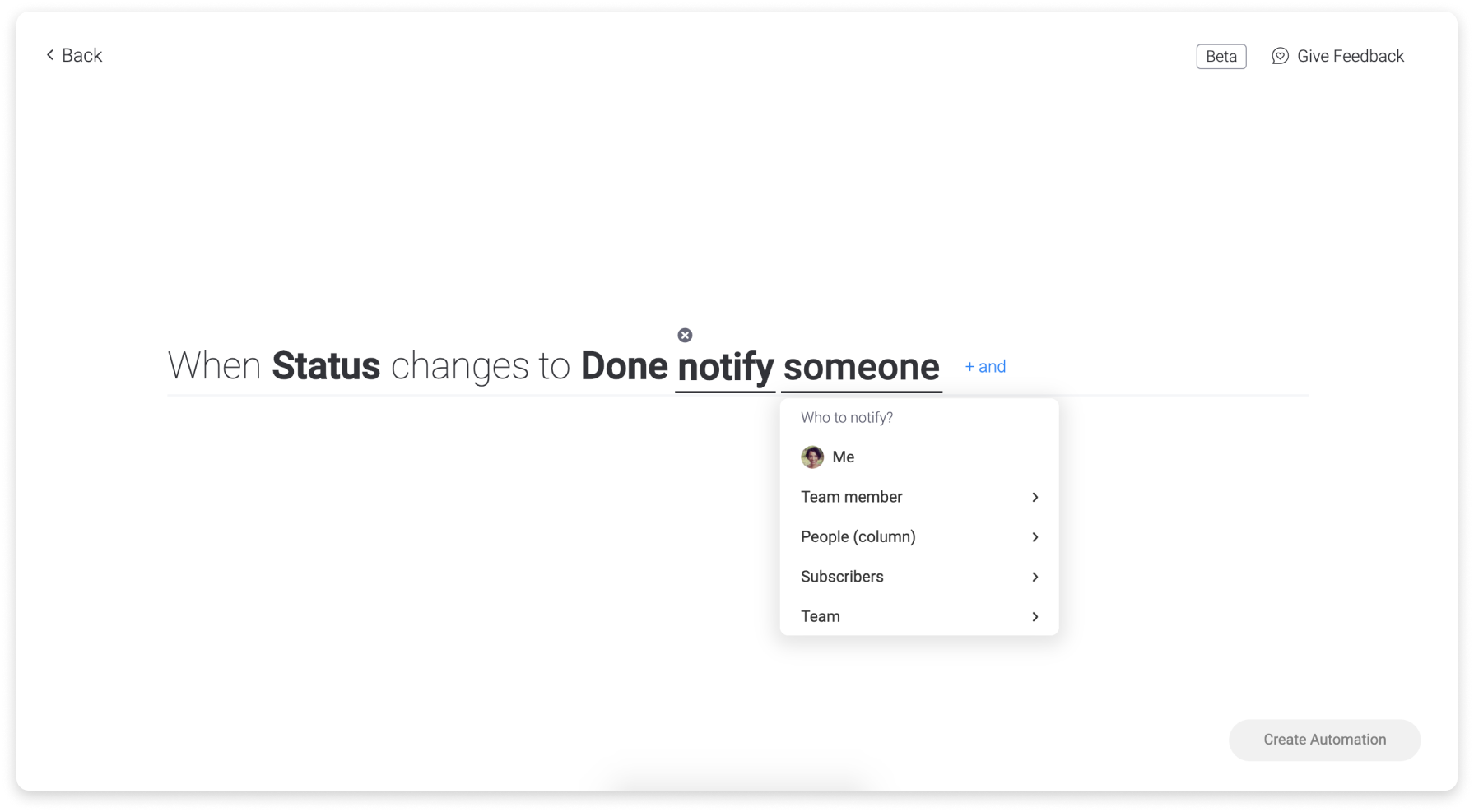 You can also add additional actions by clicking on the blue "+ and" icon: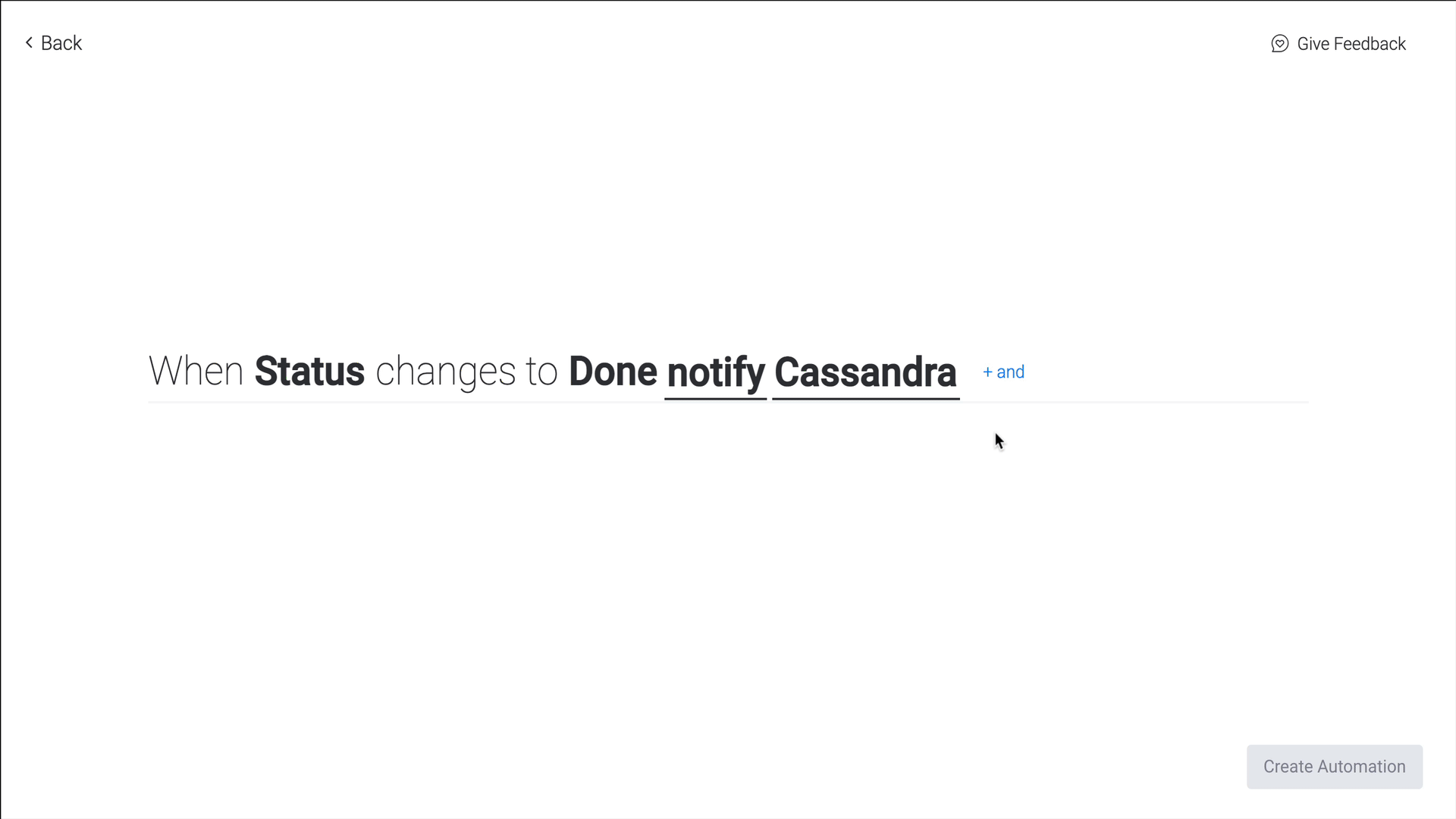 Tip: If you'd like to use "create a sub item" as one of your actions, you must set up the subitem column on the board first.
For now, you can only choose up to 6 actions. All actions will occur in the order that you add them. For example, if you say "When Status changes to Done, notify Me and stop Time Tracking", you will receive a notification and then the time tracking column will stop. If "notify Me" fails for any reason, the actions following "notify Me" will still run unless they are dependent on "notify Me".
Save it as a template
You can save your own custom recipe as a template and make it available for anyone to use in your monday.com account. To do so, go to your automation store on the board where you've created your custom automation. Next, click on "Save as a template" as below: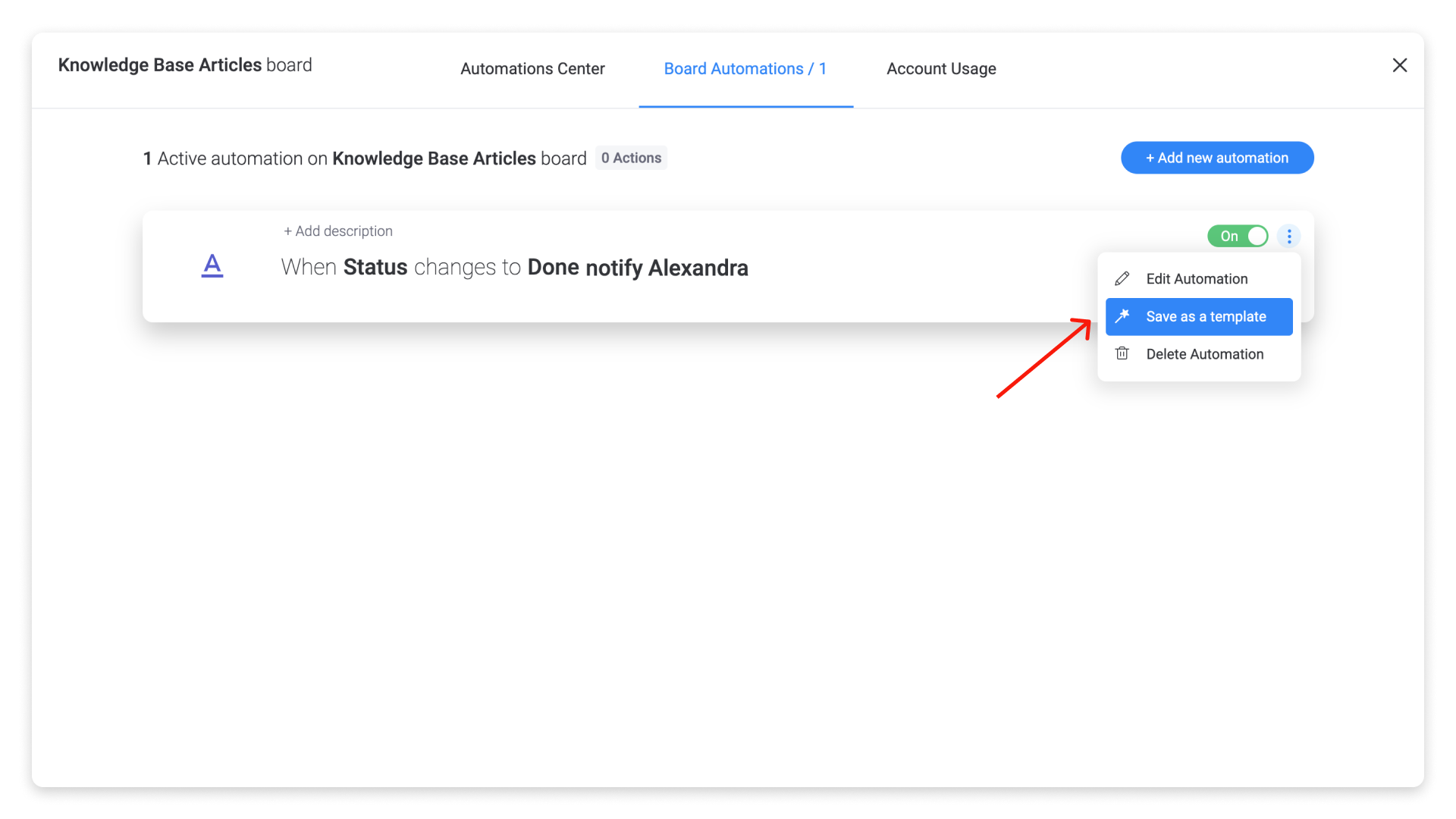 Give it a name 😃
And you are done!! You will find your custom automation in the automation center within the category "Custom recipes" as below: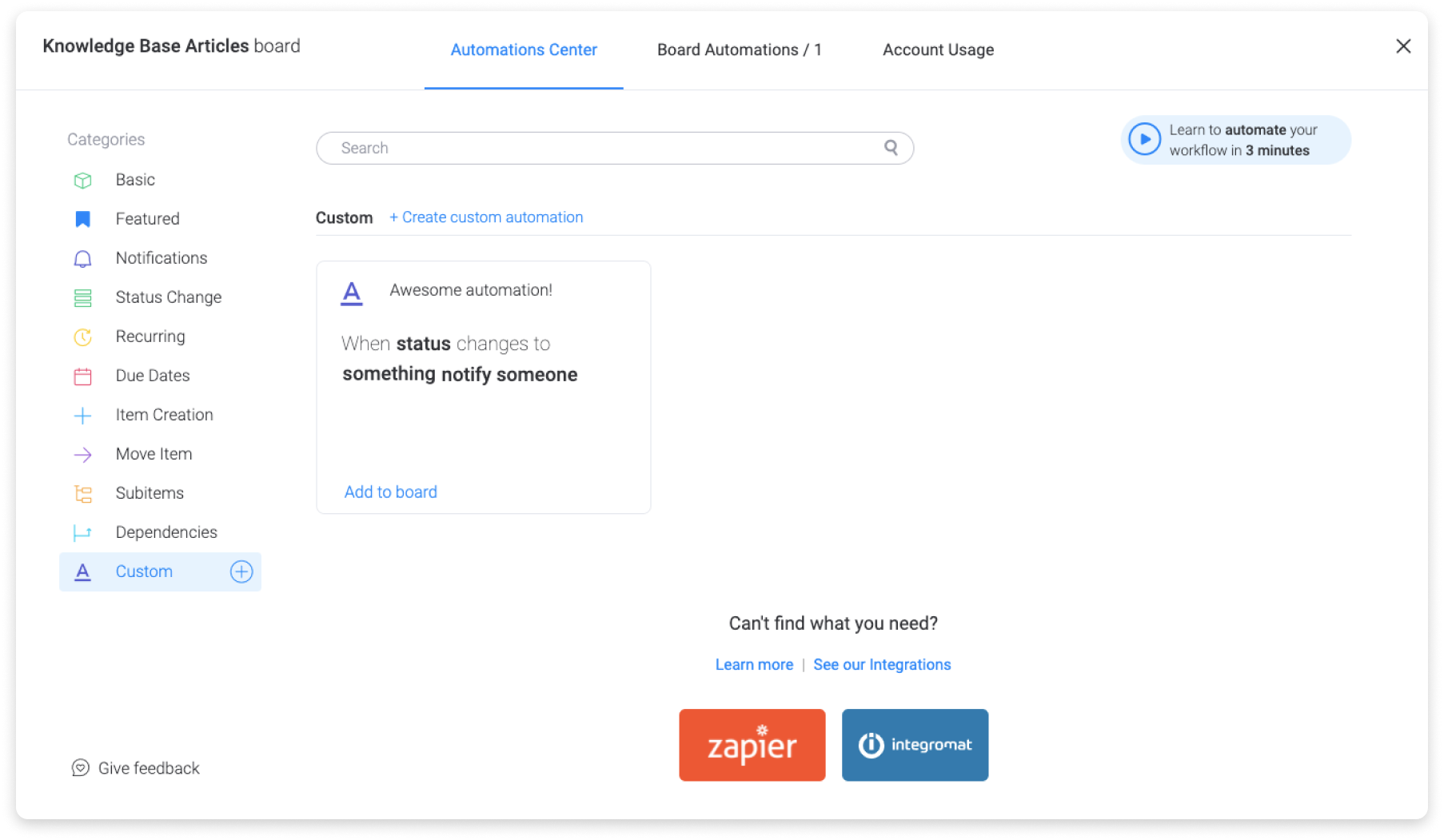 What's next?
We're working hard to make custom automations a dream come true!
Tip:
To see what we're up to, check out the
Custom Automations Roadmap
. 😄 You can also scroll to the bottom of the roadmap to see what columns are supported by specific triggers.
Your opinion matters
We would love to hear your feedback about this feature! We would also love to know which specific recipe you'd like to create in your board. Feel free to fill out this form. 😊 You can also click on "Give Feedback" icon at the top right of the automation builder: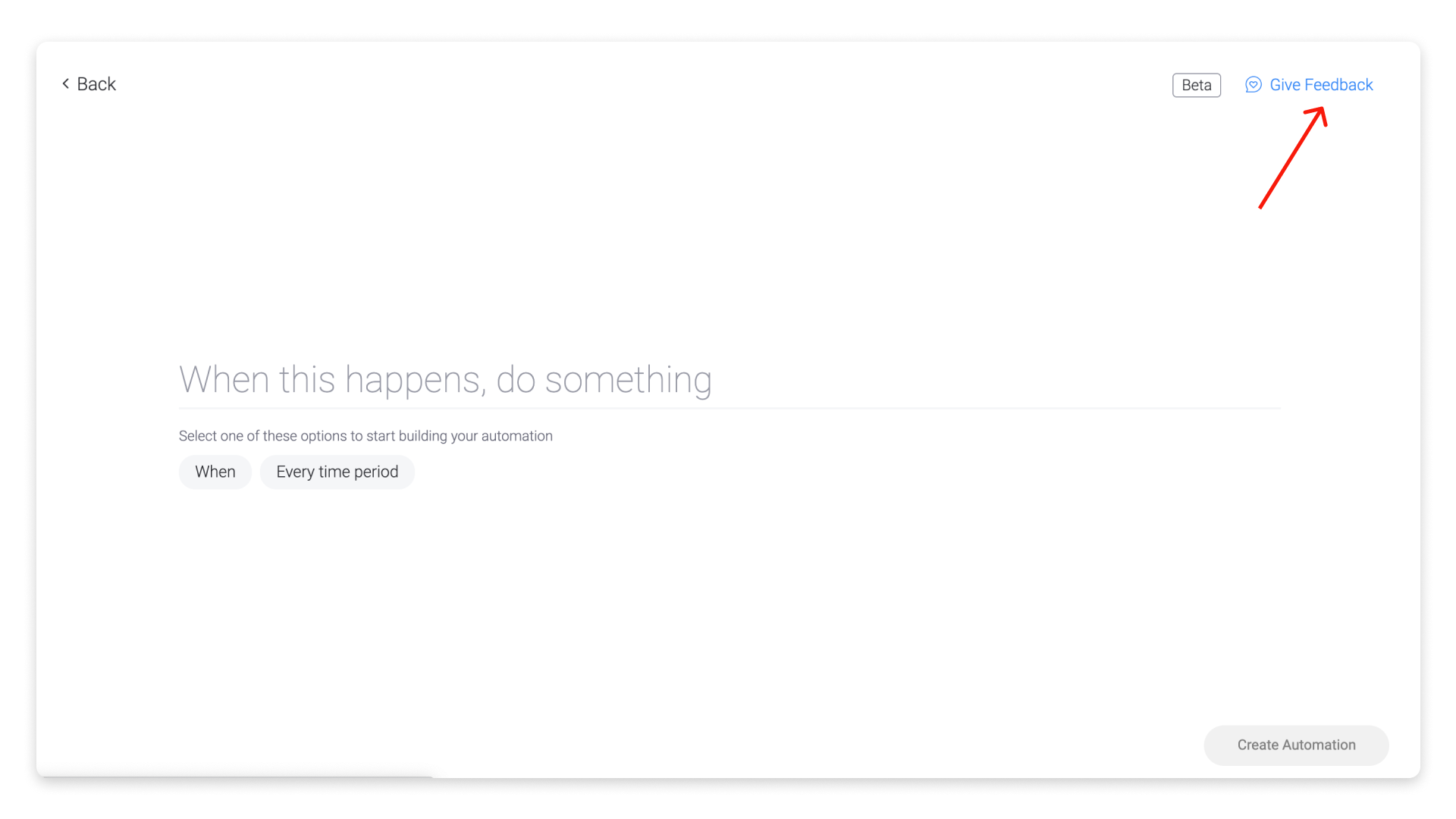 If you have any questions, please reach out to our team by using our contact form. We're available 24/7 and happy to help!