So you have this great board that includes everything you're working on. It's thorough, organized, and detailed, but you find yourself getting a little overwhelmed scanning and reviewing everything each day. Great news - now you don't have to! We've created a board view that will break down your board and display your items by date - the Calendar View!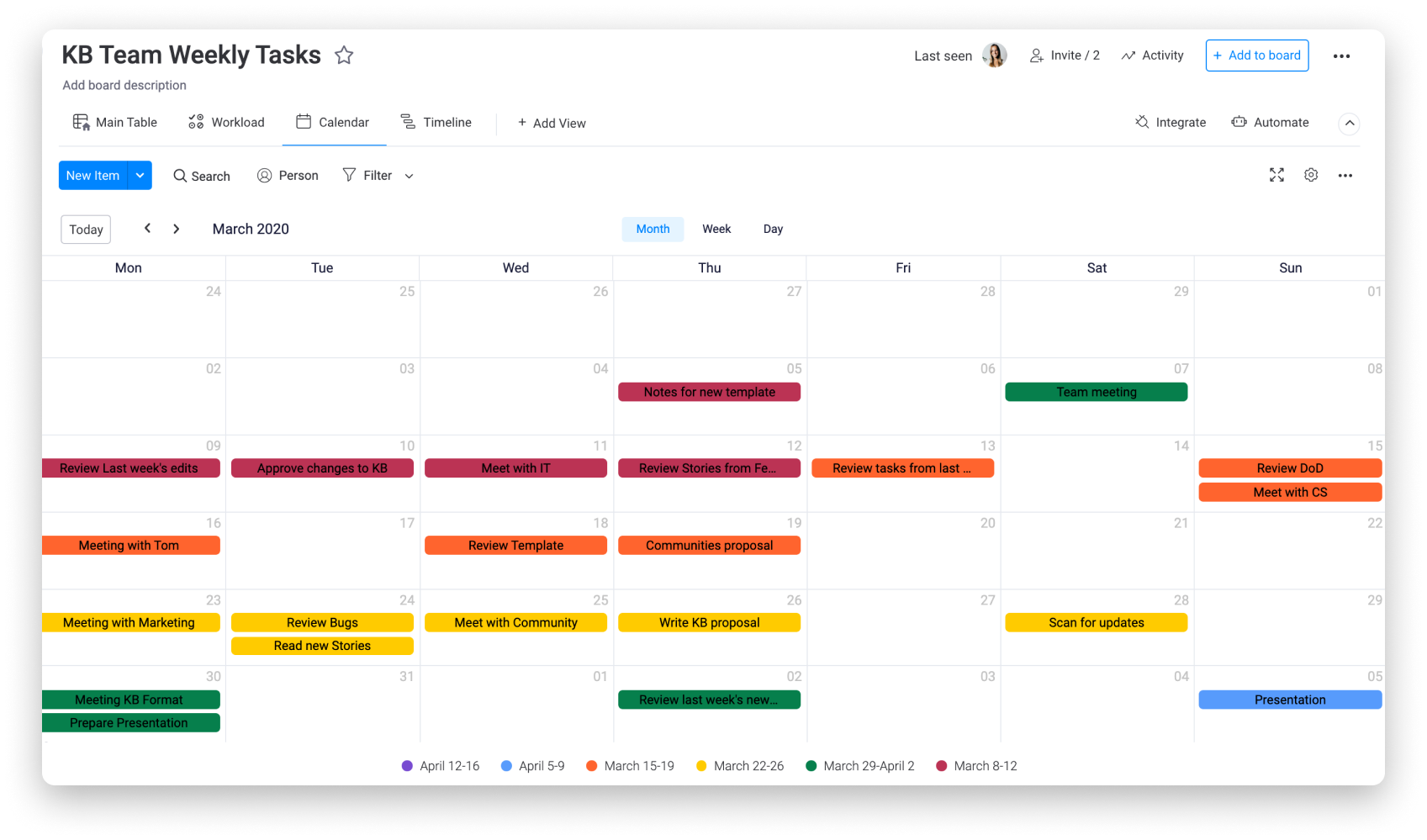 In one window, you can see all of the items you have coming up without getting bogged down by the things that can wait a little! The Calendar View can show you your month, week, and even your day!
Add compatible data
It's simple! First, just make sure you have one or more of these three columns in your board:
Date:

Timeline:

Week:
Once you have all of the data filled into one or more of these columns, you are ready to launch the view!
Tip: If you add a time to the date column, you'll be able to see the items organized by the hour in the 'Day' tab of your Calendar View!
Optional: Add a time
Just click on the cell, click 'Add time' and then input the time you want to complete or begin working on your item!
Add the view
At the top left corner of your board, select the "Add View" and select "Calendar" from the resulting menu, as we've done below: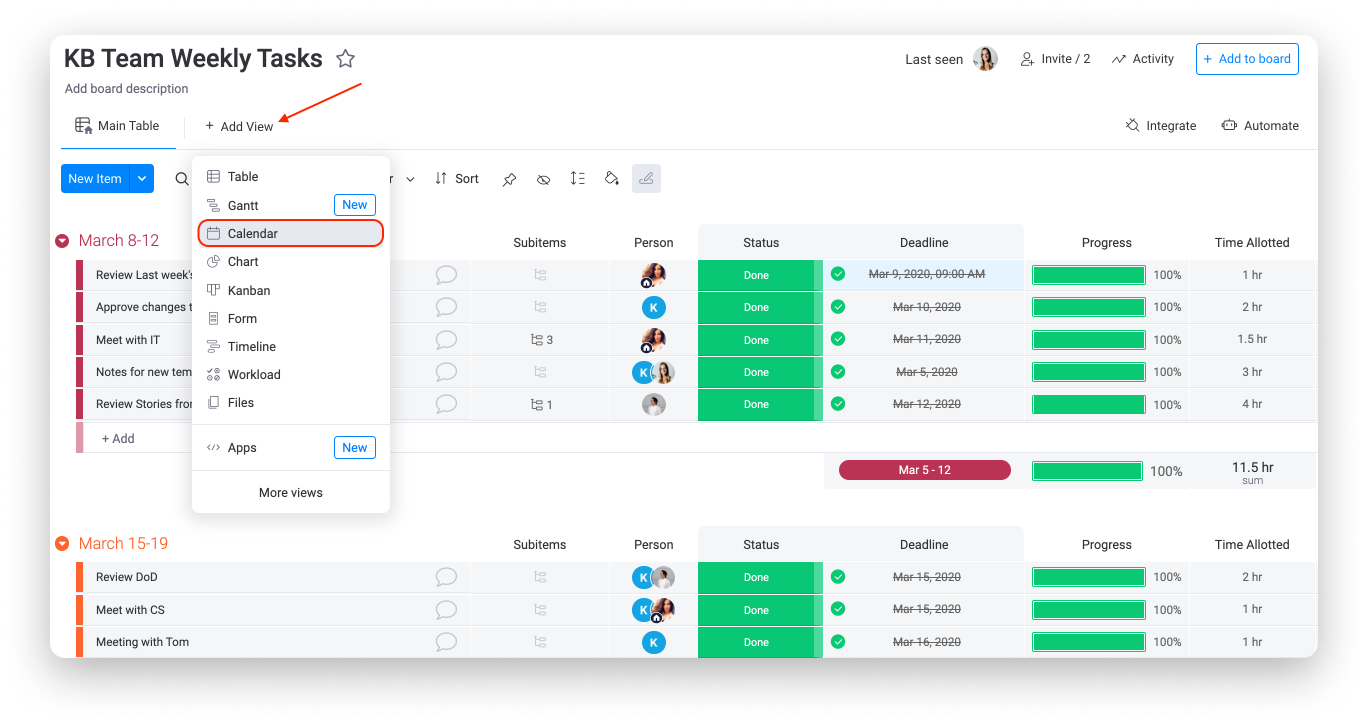 Note: When you open your Calendar View, today's date will always be highlighted in blue so that you can always find where you stand right now!
Once you add the Calendar View, you can rename it whatever you want! Don't worry, if you choose not to change the name right now, you can do it at any point in the future!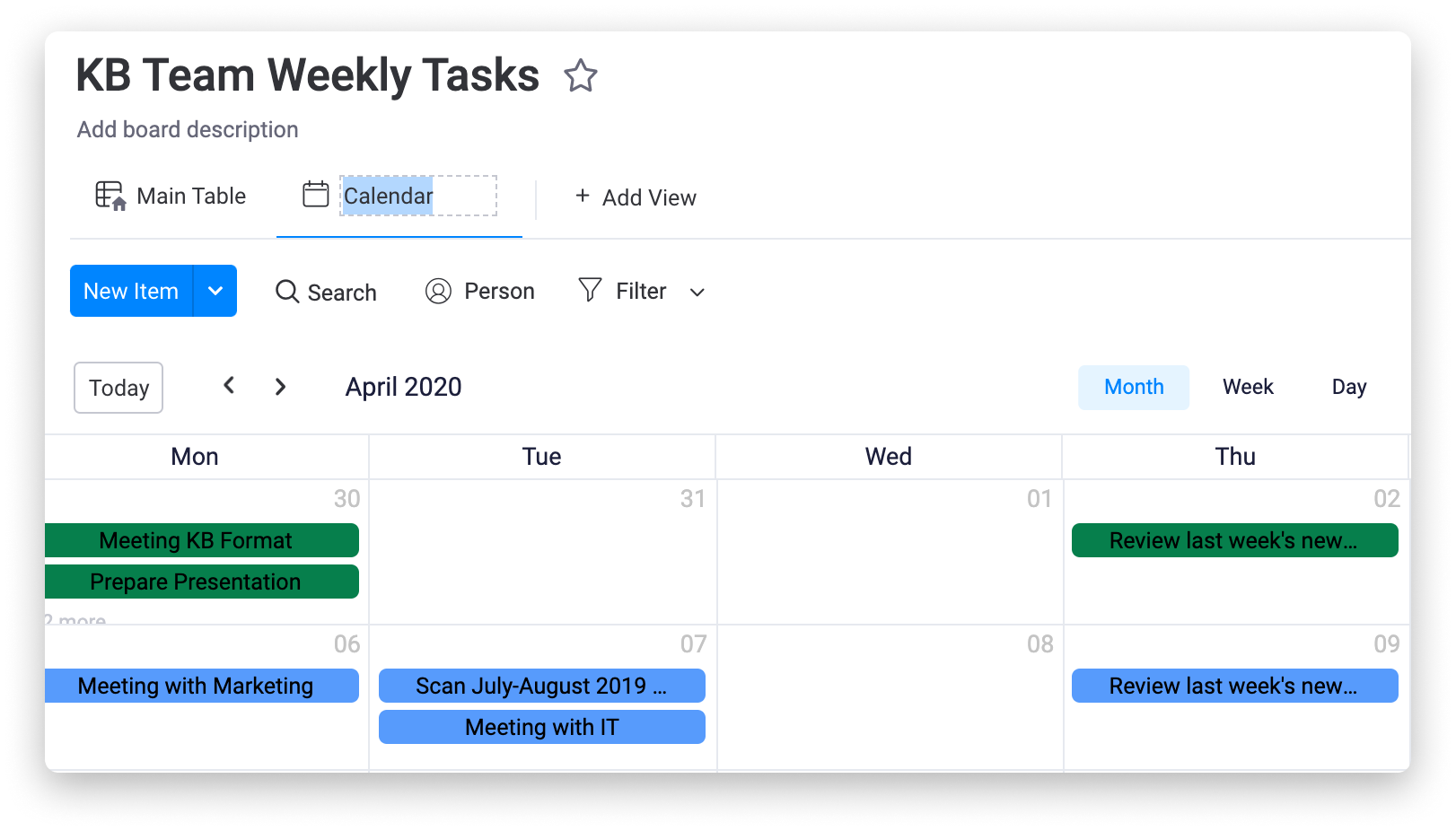 Open up your Calendar View settings by clicking the cogwheel icon at the top right corner of your calendar: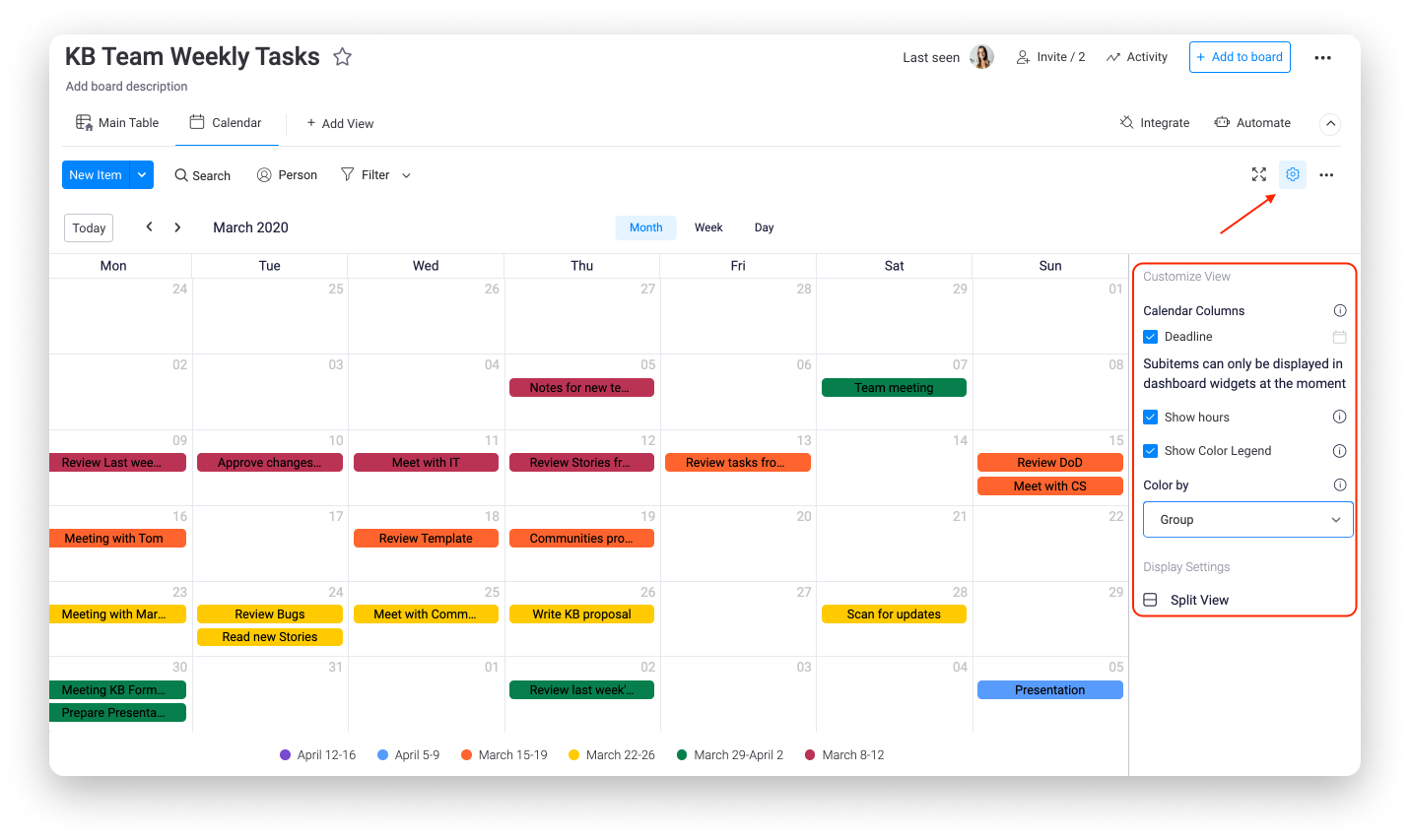 From here, you can change what you want to display in your calendar! You can select which of the compatible columns you wish to appear in your calendar! My board has all 3 of the columns selected, but I can filter what I see by selecting only one or two!
For example, let's say I have a column showing the timeline of a task, which is set to 14 days from beginning to end, and a separate column showing the deadline of each task. If I want to take a quick look at the calendar to see when all of my tasks are due, I will select only the Date Column showing the deadlines!
Color by
Your calendar automatically color codes the events according to which group they come from. For example, when you see green events, you know they are from your green-colored group, and when you see purple events, you know that they are from your purple-colored group. But you can use the drop-down menu to choose how you want them to be colored! You can choose to color by groups (using the colors of your groups), Status Column (using the colors of your labels), or People!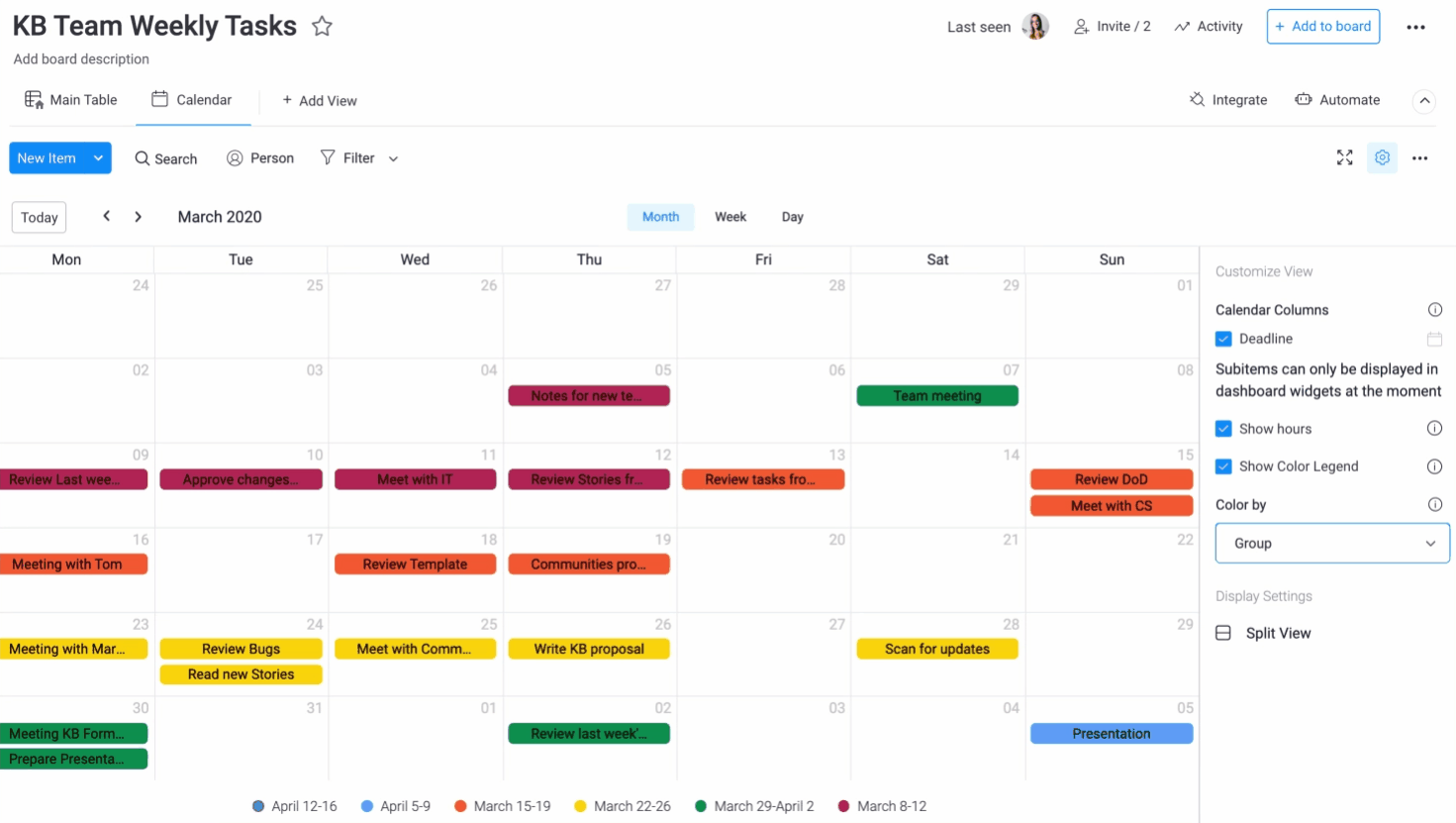 You can view the items in your Calendar View by month, week, or day. In the screenshot below, I'm viewing the 'Month' tab in my calendar so that I can see what items I have to complete throughout the month ahead!
Use the arrows to jump to the next or previous month, week, or day (depending on which tab you're viewing!). If you get lost, you can always click the 'Today' button to bring you back to today's date on the calendar!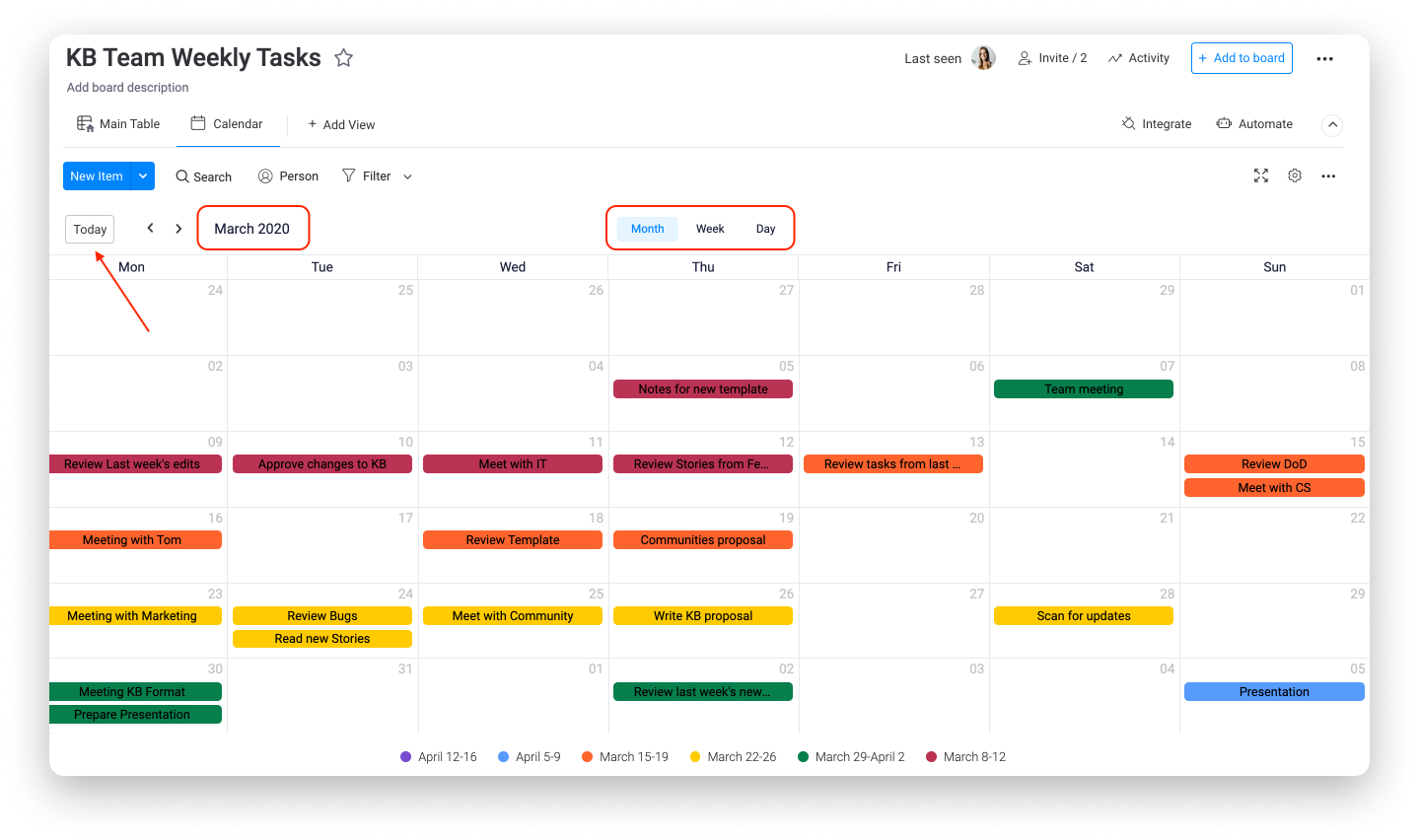 Getting tired of navigating back and forth between your Calendar View and your Main Board View? Well then, you'll be excited to try out the Split View! In your settings panel, select 'Split View':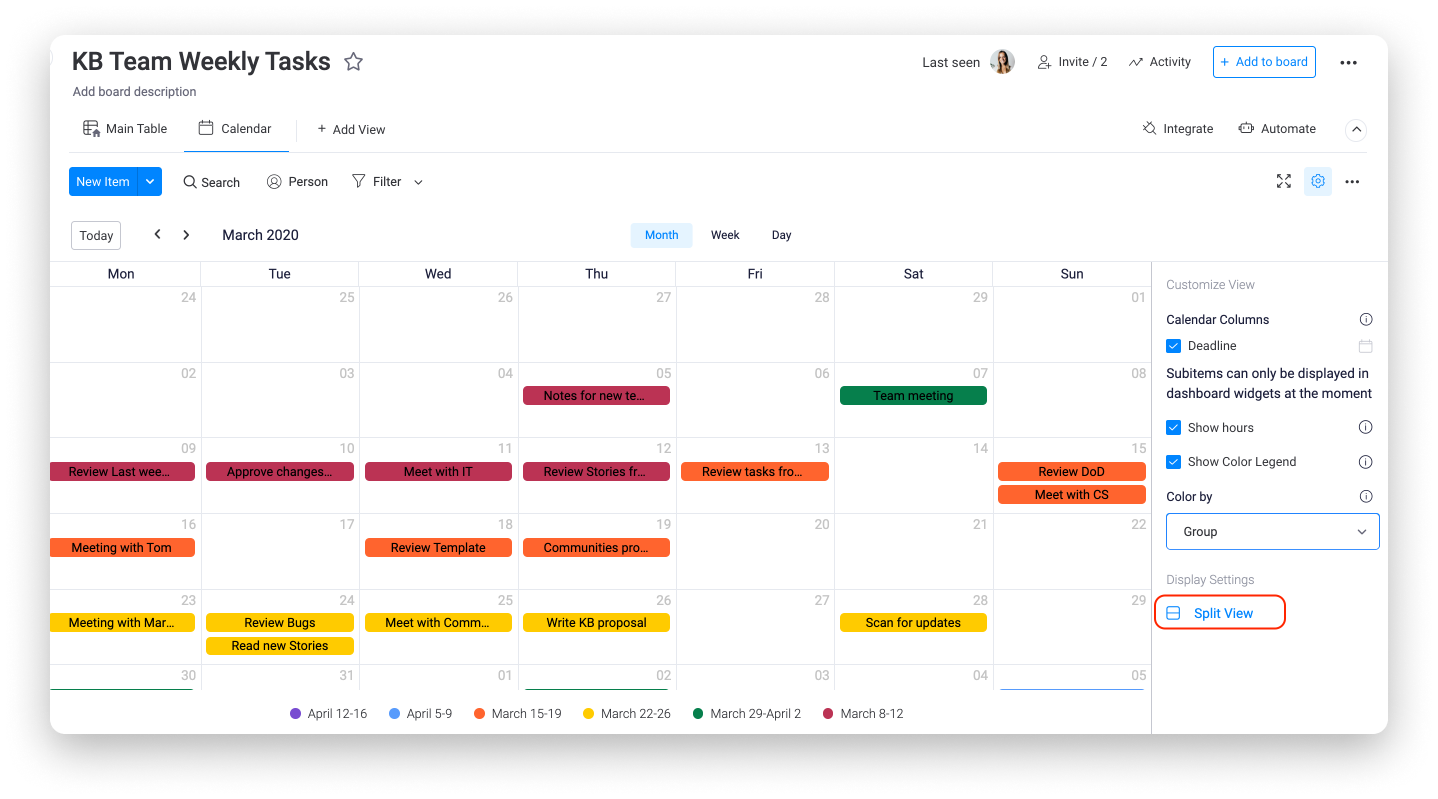 And Voila! Now, instead of flipping back to your Main Board View to see the full details of your item, you can just scroll down!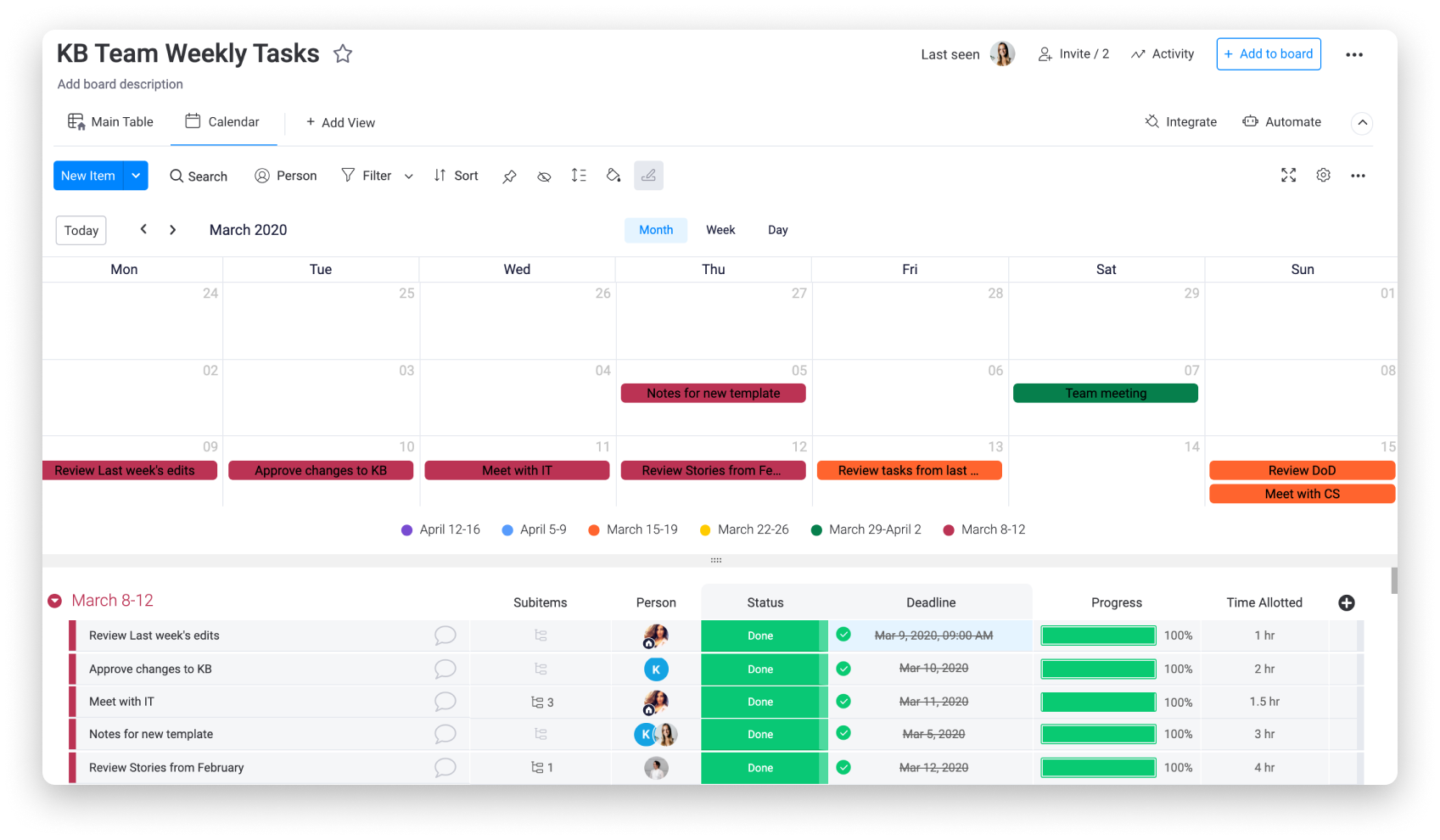 You can always click 'Fullscreen View' to switch it back to the Calendar- only view.
Instead of switching back and forth to Main Board View every time you want to see more details about one of the items in your calendar, you can view the item card! All you have to do is click the item in your calendar that you want to expand!
Something look not quite right? You can edit it right from here! Change the information in any of the groups you have in your board, from Status and Date to the Group that the item belongs to, and more!
Search/Filter Board
Looking for something specific in your Calendar, and you can't remember when it's due? You can search for it in the 'Search/ Filter Board' field as shown in the screenshot below! I typed "meeting" into the search bar, and now my calendar is only showing me all of my meetings this month!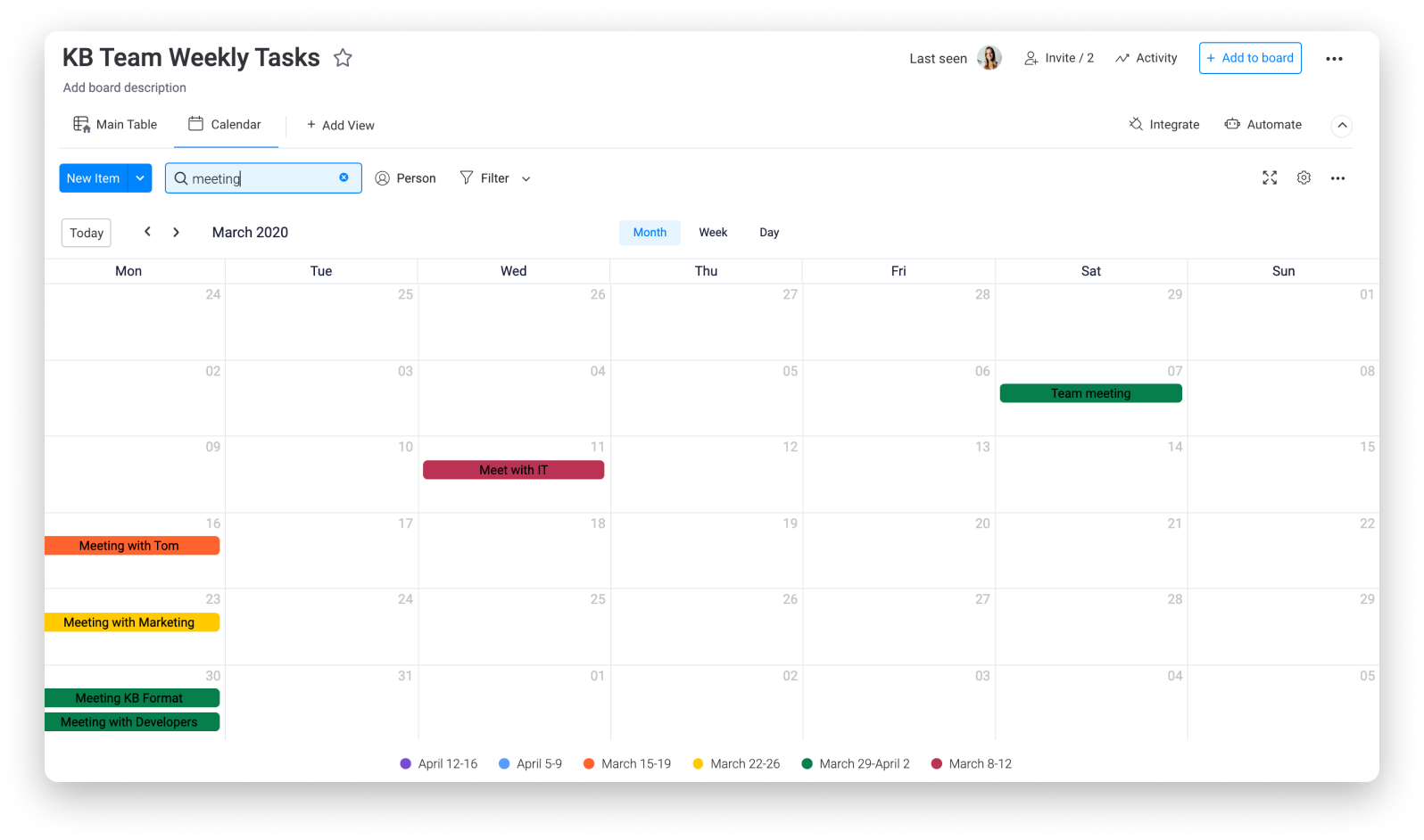 People Column
You can also filter by person by clicking the People Column icon next to the search bar! This filter will show you all of the tasks assigned to the person you choose to filter. Let's say you wanted to see all of your own tasks instead of your whole team's tasks. You would select yourself in the People Column filter and the results will be shown in your Calendar View! You can even click 'Save to this view' to set this filter as a default setting so that you can see these results every time you look at your Calendar View!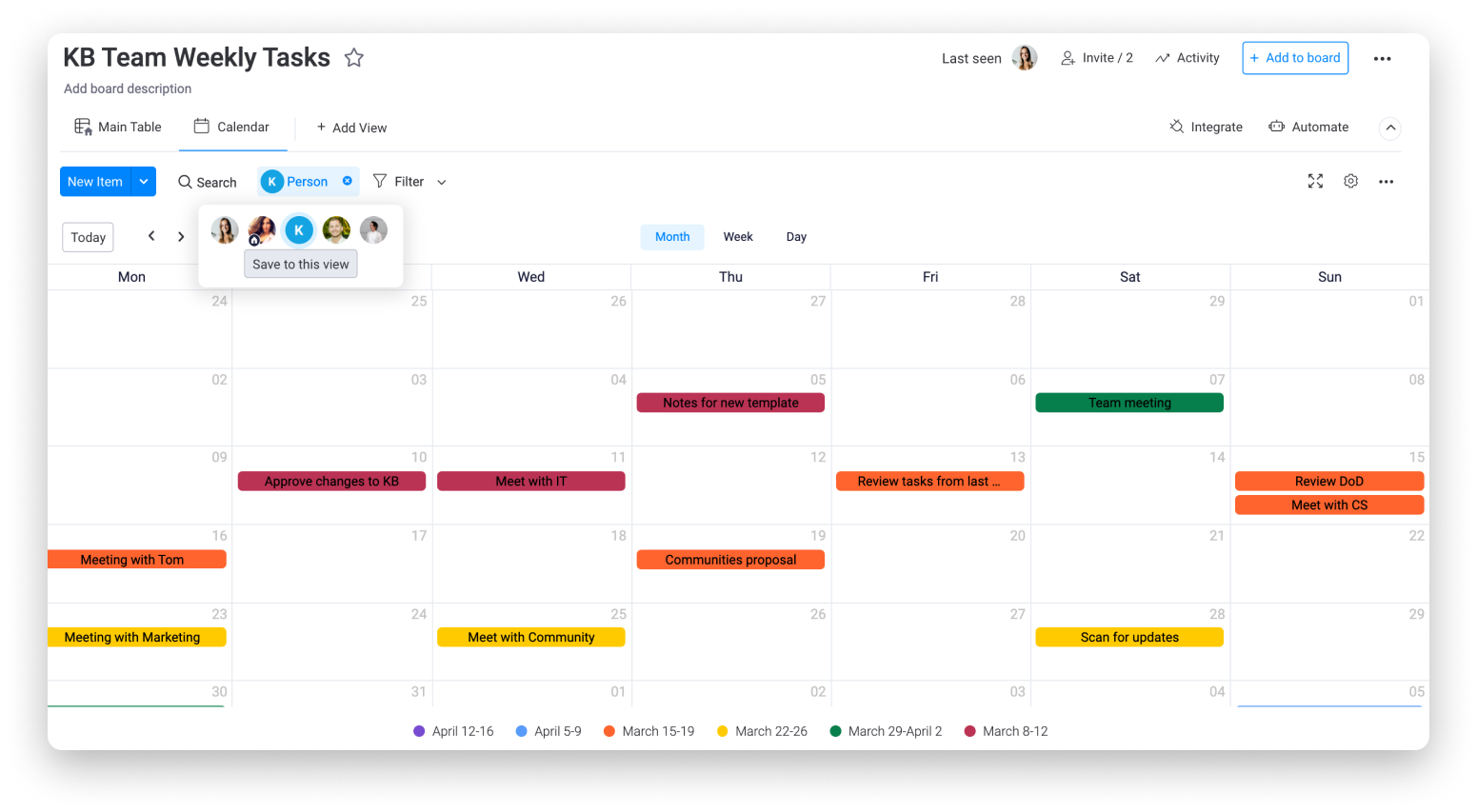 Filter
Use the 'Filter' button to filter your board by any column you have on your board, including Group, Person, Status, Date, and more! Just select all of the filters you want, and then you can even click 'Save to this view' to see these results every time you open your Calendar View!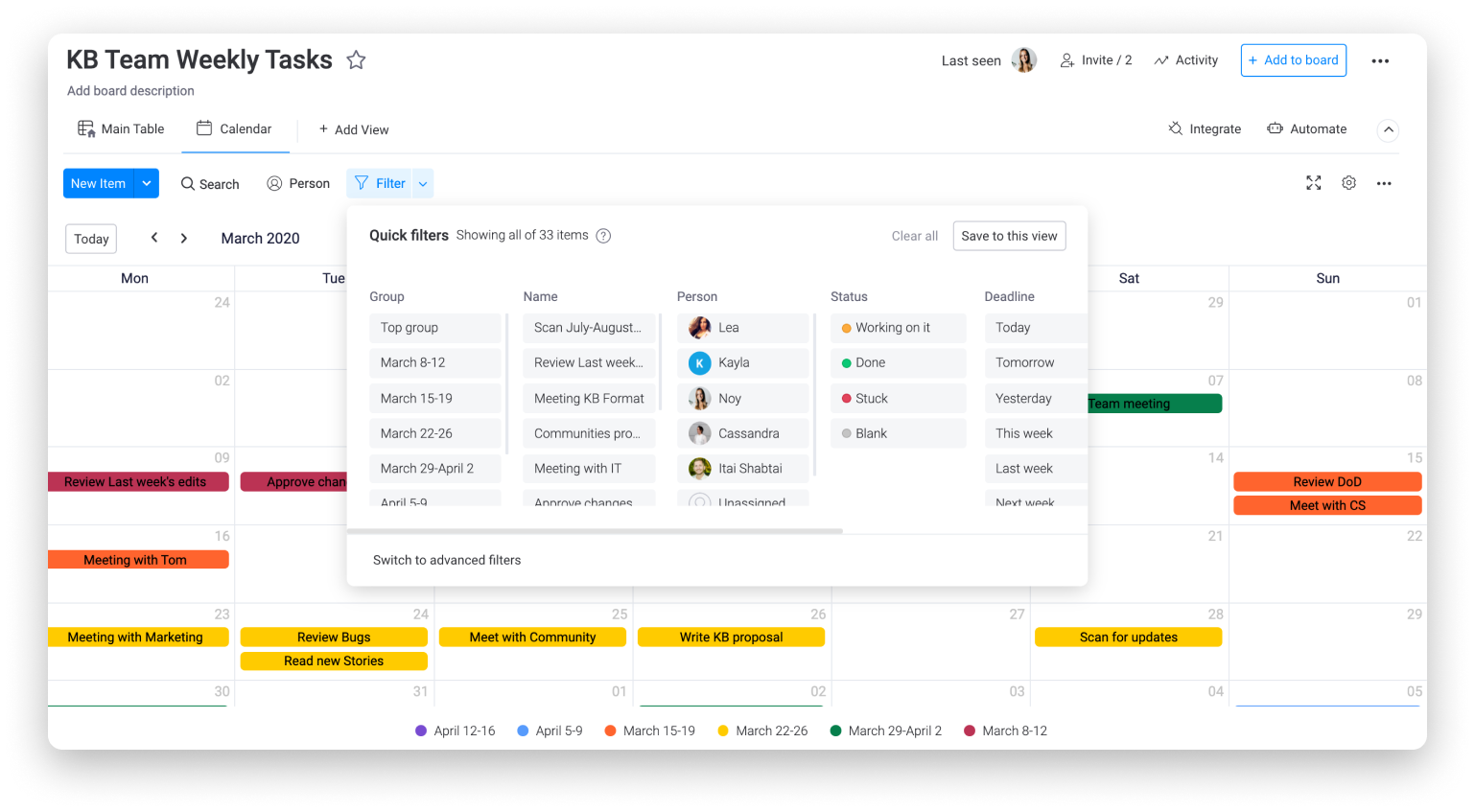 In order to share the calendar view, hover over where it says "Calendar" in the views center, and click the three dots. From there, you will be able to share your calendar, as shown below. ​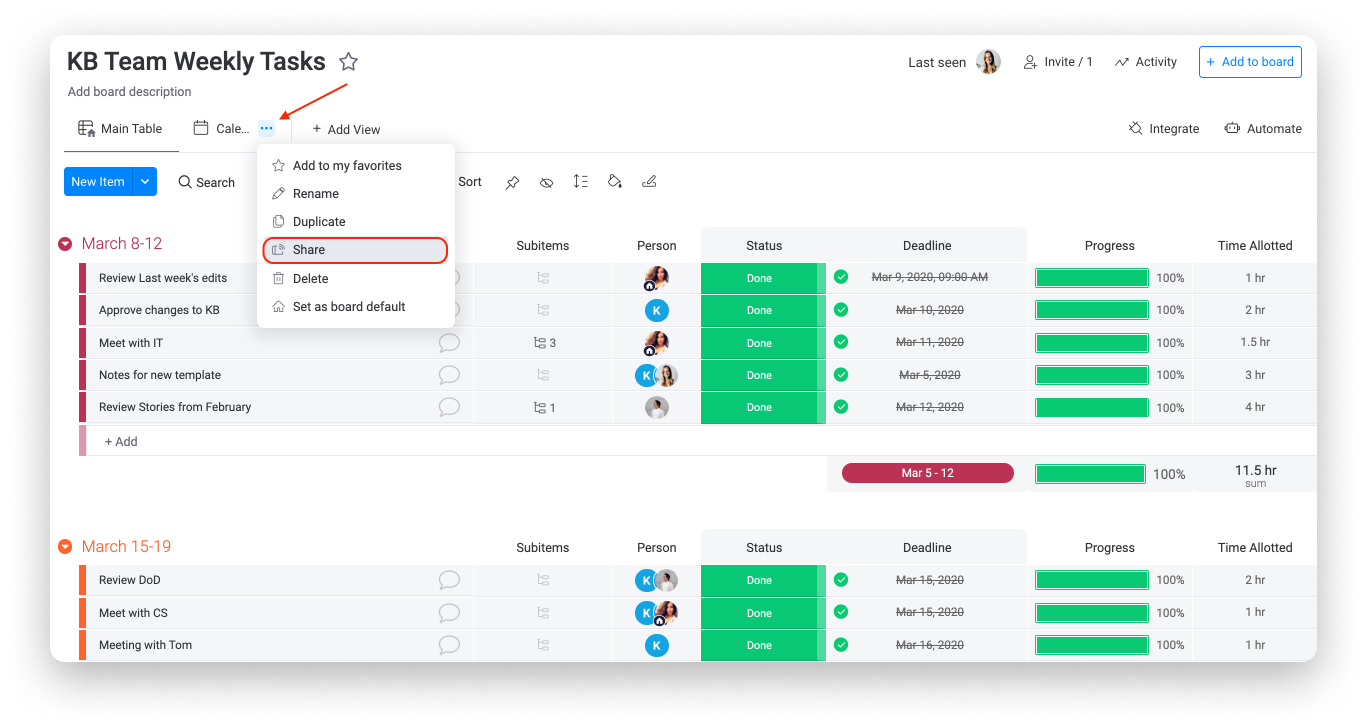 A window will pop up giving you a shareable link and embed code that you can send to anyone you want!
Learn more about sharing your board views here.
If you have any questions, please reach out to our team by using our contact form. We're available 24/7 and happy to help!