Clicking on any item in your board will open the updates and info boxes section. We already feel the next question coming: what is the difference between both? This article gives you the answer so keep reading 👇
The Updates Section
Updates allow you and your team to communicate, social media style, inside an item, keeping all the conversations about a specific task or project in the same place and in context. This section is for the dynamic communication between your team and yourself. Below is a list of all the main things you can do in the updates. If you want more details about it, you can also check out this article. 
Communicate with your team
By @mentioning a person or, if you have created teams in your account, @mentioning a team, you will ensure that the right people see your update. Team members receive a notification in their notification bell when they/a team they are a part of are @mentioned.
Team members can give your update a thumbs up, reply to your update, send you a gif, @mention someone else or upload documents in response to an update. You can see who has seen an update by hovering your mouse over the eye icon under your update.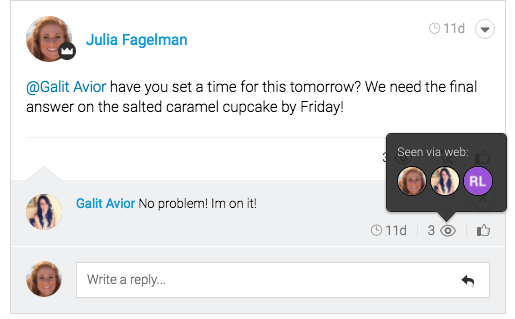 You can find out more about communicating with your team using monday.com here. 
You can upload documents from your computer, Google Drive, Dropbox, or Box.com into an update and a large downloadable preview of the document will be shown.
You can add a checklist into an update to add another layer of information into tasks or to simply create a list of information.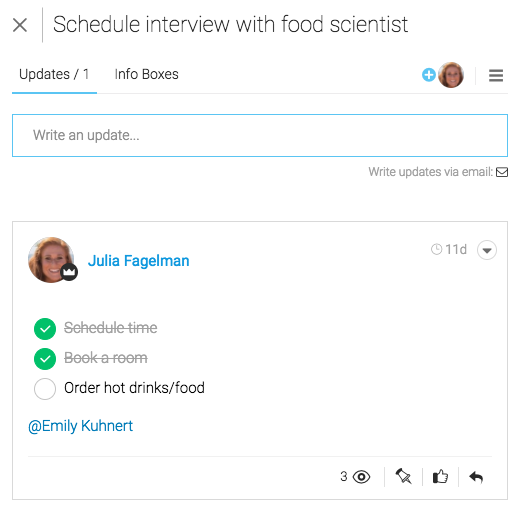 When looking at your board, where there are updates in an item you will see a number in a colored circle in that item. The color of the circle starts as blue and turns grey when a week has passed since the last update was posted inside that specific item.
If there's a checklist, you will see the checklist symbol on the item which indicates how many items in the checklist are checked off. 
Info Boxes
Info Boxes hold a different purpose than updates. These are steady, rearrangeable boxes that are often used for documentation organization and storing certain information related to an item in an easily accessible way. At the top of the window, you will see Info Boxes as a tab next to Updates.
You have the choice to add a note, files or Q&A's. You can of course add more than one of the same "type" of box, for example, you could add 2 boxes for different types files e.g. one for contracts and one for invoices. 
In the note section, you can add text which you want to be able to access easily, without it getting lost in an updates thread e.g. a sales pitch or script. You can also add files from your computer, Google Drive, Dropbox, or Box.com.

The Add files box allows you to add files from your computer. This is a great way to store and organize files related to a task/project. Edit the name of each box to explain what's inside by clicking on the pencil icon next to it.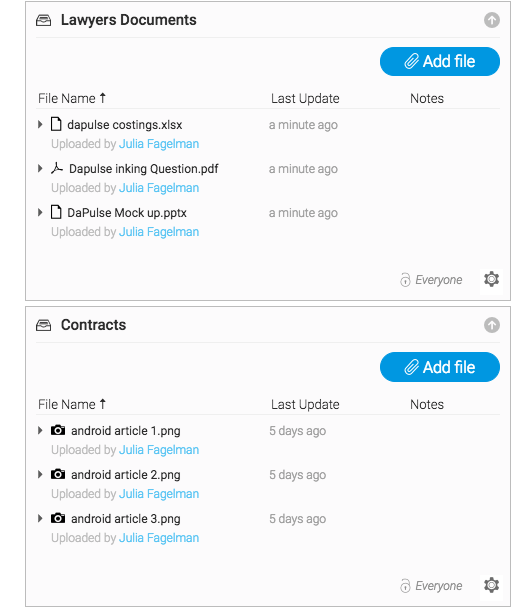 The Add Q&A allows you to add a list of questions and answers in a box.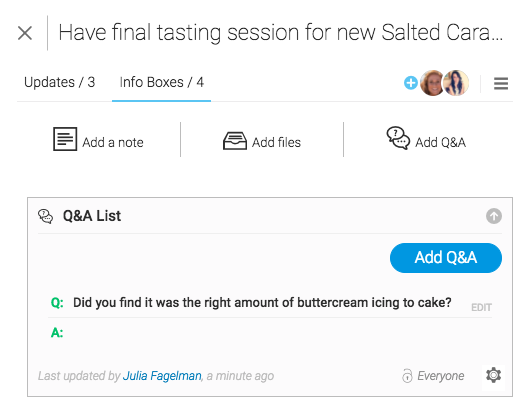 Tip:
If you duplicate a board, you can duplicate it with its content, meaning all files and updates :)
If you have any questions, please feel free to reach out to our customer success team right here. We are available 24/7 and happy to assist :)