One of the strongest tools in monday.com is communication. Communicating with your team members is super easy: you can use the "@" followed by the name of the team member you wish to communicate with to send this person an instant notification. But what if you need to communicate with more than one person? 🤔
We came up with the ability to @mention teams just for that! By creating a team you can communicate with a large audience in just one click.
How to create a team?
To create a team, select the Users List to the left of the Search Everything bar at the top of your screen


Step 1
On right side you will see an option that says "New Team".

Step 2
Name your team (in this example Customer Success)

Step 3
Add a picture by clicking on the camera icon. You can upload a picture from your desktop. This feature is super useful specially if you are using the team column. 

Step 4
Add the members to it: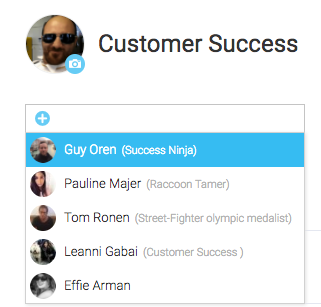 Step 5
Once your team is created, you can go to any item and @mention your team in one click. 

All the members of your team will receive a notification on the bell. You can also mention your team on a specific status by adding a note.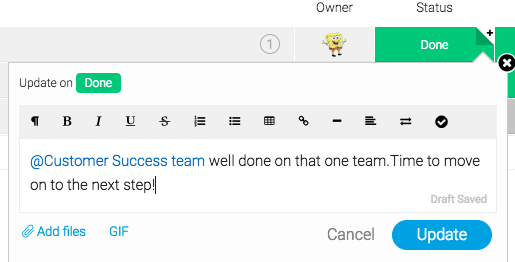 Why should you create a team?
The advantage of creating a team is that you can also subscribe your team to your board in one click by doing the following: 
Click into the item, and you will be led into the Item Update feed.
To the right hand side, you should see an option that says "Add Subscribers" 
This is where you should type in the teams name. 


At monday.com each department has its own team (i.e.: customer success, HR, R&D) which really helps in keeping everyone in the loop. The communication between teams is easy and smooth. By default you can also @mention everyone in your account, as well as everyone on a specific board. 
Assign items to an entire team!
You can now assign an entire team to a specific item, by using the new Team column! You can find the Team column in the Column Center. Just follow these steps below:
Step 1
Open the Column Center:

Step 2
Select the Team column:       

Step 3
Start assigning your teams to your different items!
All your team members will be notified that they have been assigned to a new item! 

If you have any further questions about creating teams please don't hesitate to reach out to us anytime right here.