The Inbox is where you can see all of the new updates from boards you are subscribed to! Instead of checking each of your many boards to see what's new, you can just head over to your Inbox and see everything on one page! It is a great way to make sure you stay up to date with all of the important changes and communication within your account! 📥
In the left panel of your screen, you have two notification centers where you receive different types of notifications:
The Inbox
Bell Notifications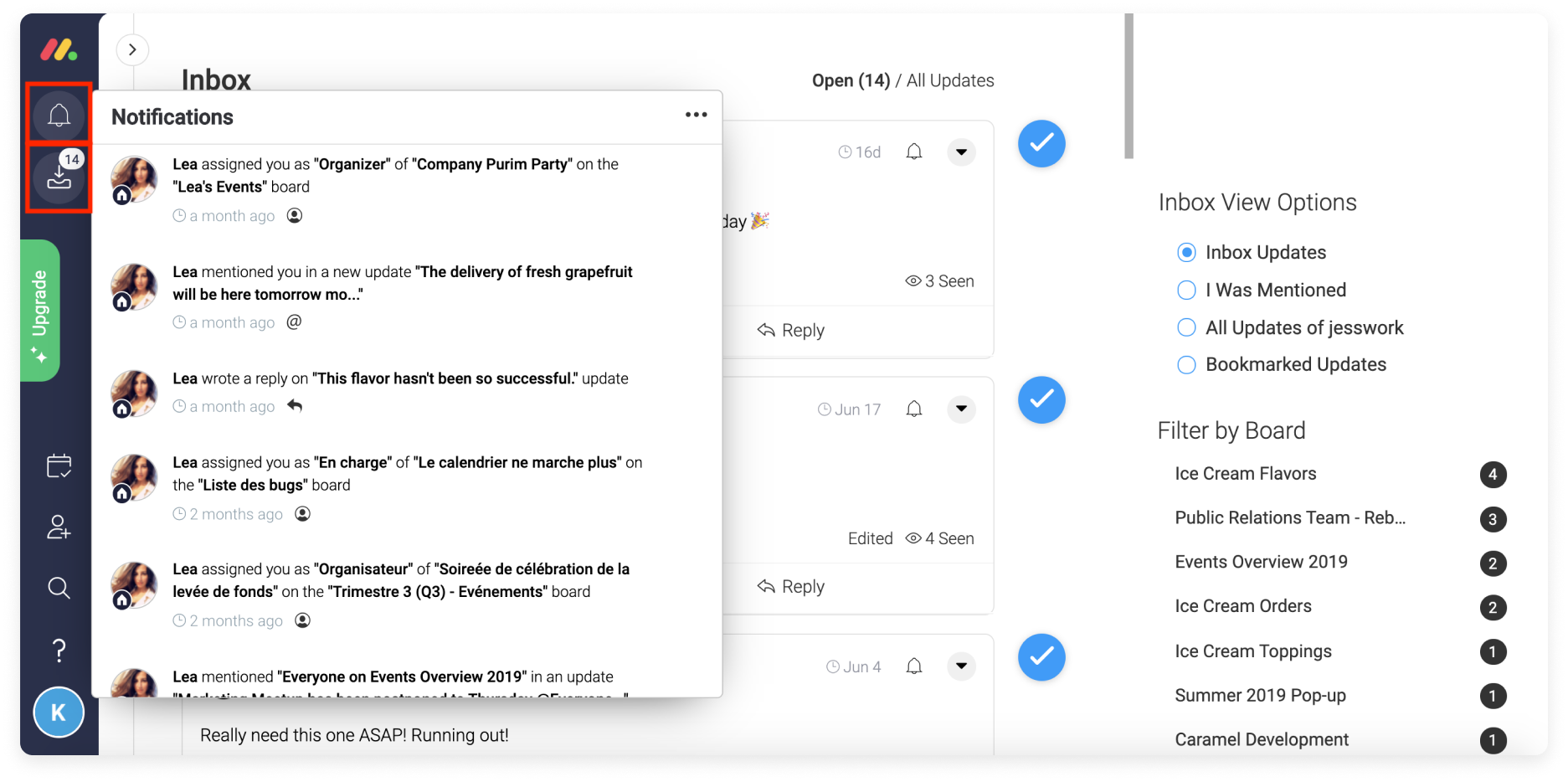 Each of these notification serves a specific purpose! Let's take a look at each one:
Every time a new update is posted in one of the boards you are subscribed to, you will see the update appear in your Inbox. An "update" refers to a new post in the Updates Section of an item. Even if you or your team were not '@ mentioned' in the update, you will still see it in your Inbox! This is to make sure that you stay in the loop with all of the updates in your subscribed boards, whether or not they are specifically relevant to you or your team.
You receive a notification in your Bell Notifications Center every time something happens in your account that is specifically relevant to you. This includes replies to updates you wrote, being '@ mentioned' by a team member, getting assigned in the People Column on a board, or being subscribed to a board, among other things! Take a look at this article to learn more about your Bell Notifications!
No matter what you are working on in your account, you can always see the Inbox icon in the left panel of your screen. At the top of the Inbox's icon, you will see a little number representing the number of new updates in your Inbox! If you have no new updates in your Inbox, you will see only the icon itself. Click on the Inbox's icon to launch your Inbox and start to tackle your notifications!
When you open up your Inbox, you'll see a list of all of the new updates from your boards in the "Open" tab. They are arranged in chronological order, with the newest update at the top and descending down to earlier updates.
When you click on the name of the item that your update was posted in, it will open up in full screen right in the board it belongs to! Just like this: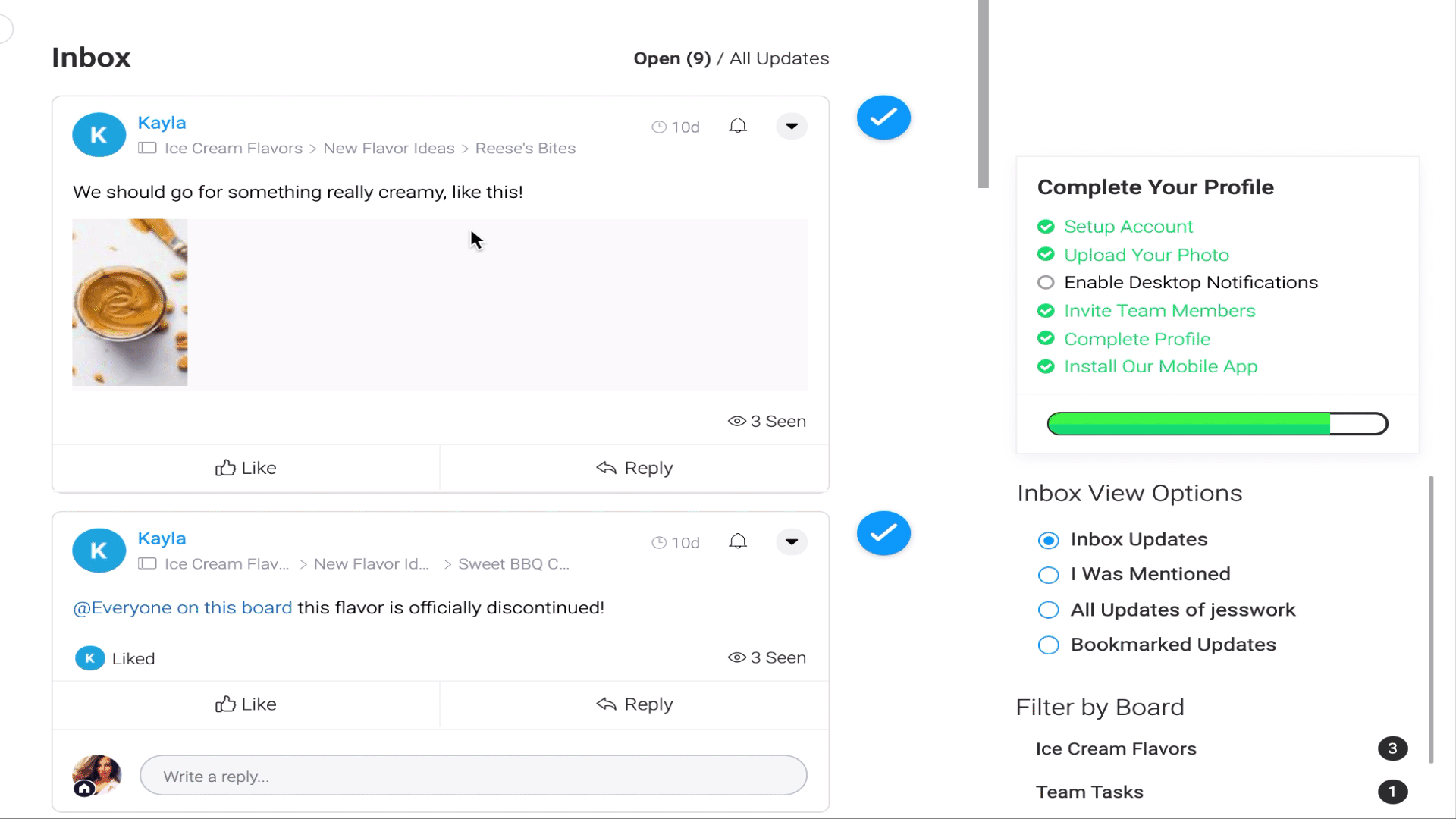 To mark your update as "read" and to remove it from your Inbox, simply click the blue checkmark to the right of the update!
Note: Even if you have already opened your Inbox and have seen an update, it will remain in your inbox until you click the checkmark! You will also still see a number on your Inbox's icon to reflect all of the updates that you have not marked as "read". Ex: If you have 10 updates, and only mark 5 as "read", you will see the number 5 on your Inbox icon until you mark the remaining 5 as "read".
When you click the checkmark beside an update, you "close" it, removing it from your Inbox. As soon as it is closed, a green arrow appears at the top of the screen. If you click the green arrow, you can undo the last update you closed, returning it to your Inbox! This will only work with the last update, and not with any update that was closed earlier.
If you want to save an update for reference later, click the arrow at the top right corner of your update to launch its menu and click "Bookmark". From this menu, you can also copy the link, delete it, share it, or edit it (if it's yours)!
Whenever you need to see these updates again, head over to "Bookmarked Updates" in the right panel under "Inbox View Options". You can read more details in the next section of this article.
If you opened up an update that requires action or a response, but you're not ready to get to it just yet, you can set a reminder! Click on the bell icon at the top right corner of the update and then select when you'd like to be reminded from the drop-down menu! You'll get a notification in your Bell Notifications center when the time comes!
Remember seeing an important update a little while ago, but can't remember exactly where it was? Toggle to the "All Updates" tab to view all of your closed updates! From here, you can see all of the updates you've already read, and you can even restore them by clicking on the 3 dot menu to return them to your "Open" (or unread) updates!
You can filter the updates you see in your Inbox using the menu to the right of your Inbox. You can choose to view:
Inbox Updates - updates from boards you are subscribed to

I Was Mentioned - only updates you were '@ mentioned' in

All Updates of Your Account - updates from every board in your account, even if you are not subscribed

Bookmarked Updates - all updates that you've bookmarked for later
On the bottom right you will find a list of all boards you are subscribed to under the heading "Filter by Board". Here, you can select one of your boards in order to view all updates for that particular board at one time! When a filter is activated, you'll see the name of the board you're viewing updates from in bold at the top of your screen.
To remove the filter and see your Inbox mixed again, click "Clear Filter".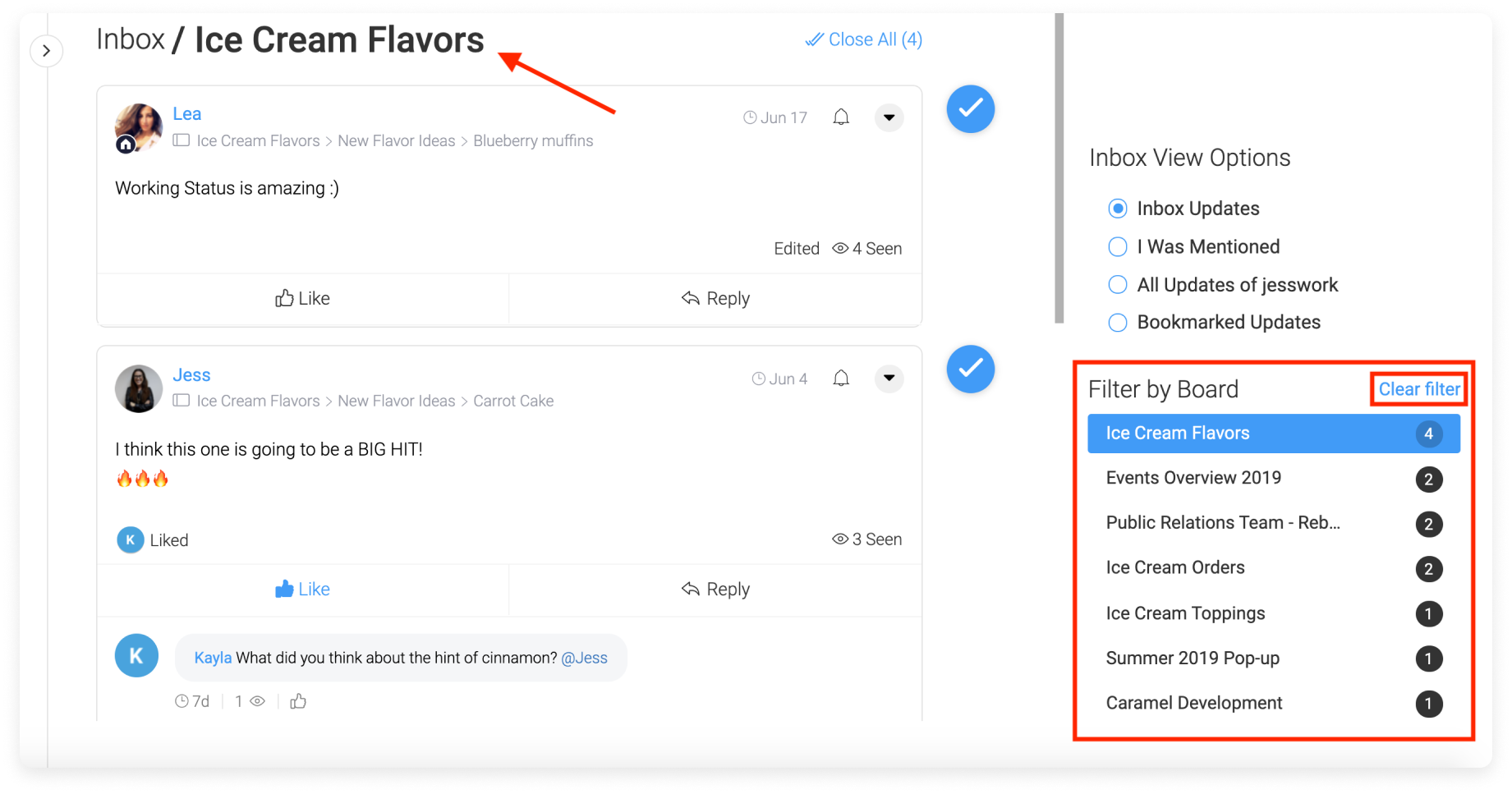 Subscribed to a board you want to keep an eye on, but don't need to review all of its updates? When filtering by that board, click "Close All" at the top right corner of your Inbox to close all updates from this board! This isn't permanent, so as long as you stay subscribed to this board, you will still continue to receive updates.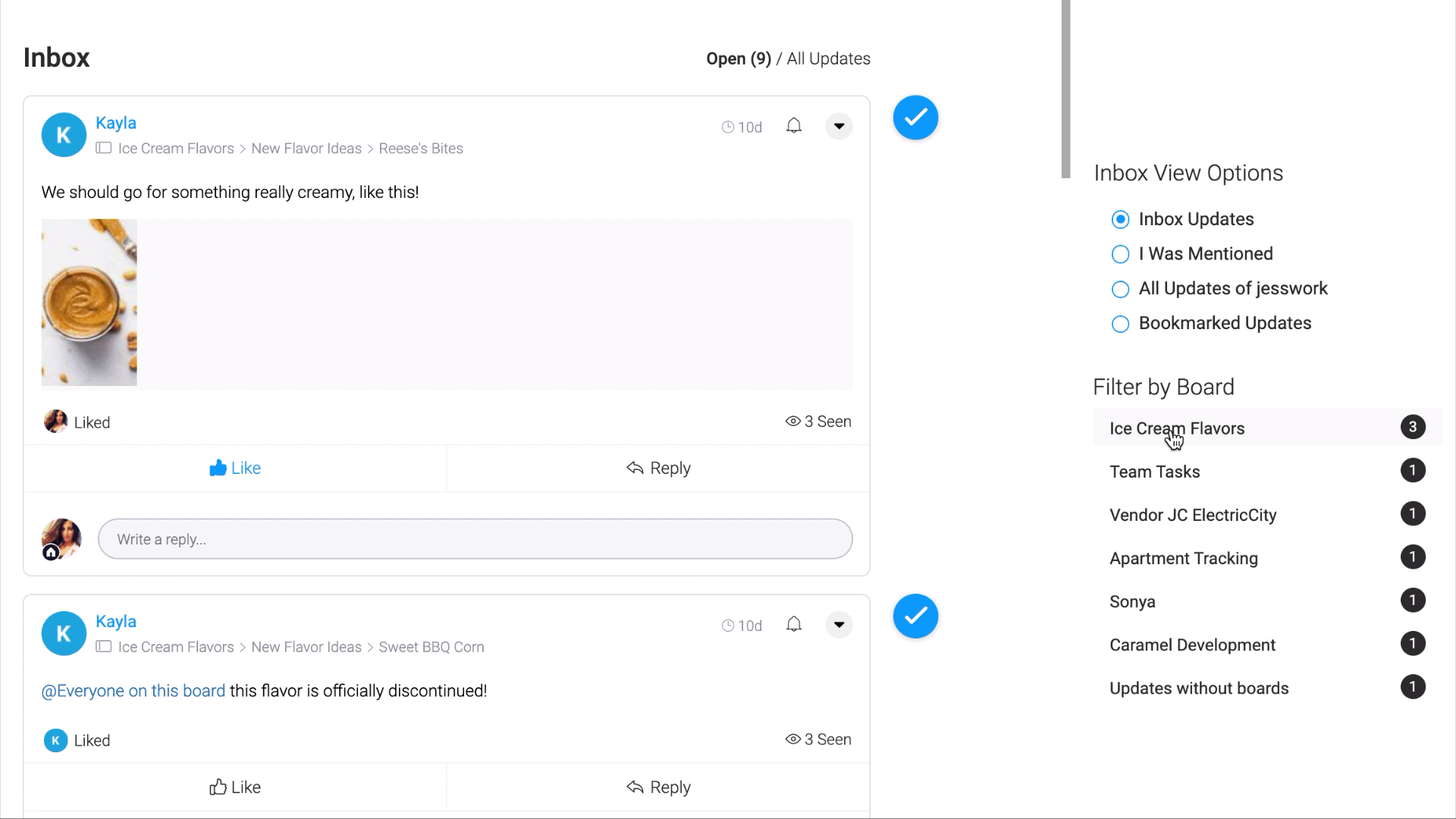 If you have any questions, please reach out to our team by using our contact form. We're available 24/7 and happy to help!