You have two different ways to add files (documents) to a pulse, through the Updates section and through the Info Boxes.
1. Updates section:
Open up any pulse and inside you will see the Updates section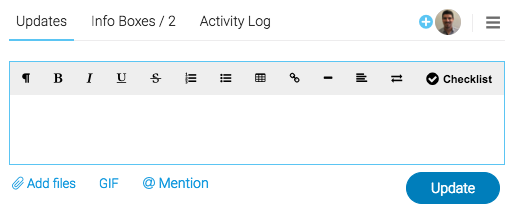 Select the file you would like to upload from either your computer, your Google Drive or your Dropbox.
In case you made a mistake and would like to delete and/or edit the post, please select the arrow on the right of the update and select Delete Post or Edit Post to change the image inside the post.

**NOTE: files and any other information in an updates feed will continue to move down your page as you add more text, attachments, etc. into your feed. If you wish to keep files at the TOP of the page, we recommend utilizing the info box.
2. Info Boxes
Another way to add files to your pulses is through an area called Info Boxes:
Add a file into the Info Box:

To delete this file, please select the small arrow on the left of the file name to expand the file, and you have the option to delete it just underneath:
 View all the files in your board with the Files View:
You can view and access all the files stored in your board in the Files View.
First, open the Views Center section, just next to the board's Activity Log:
When you open the Boards Views, select the Files View: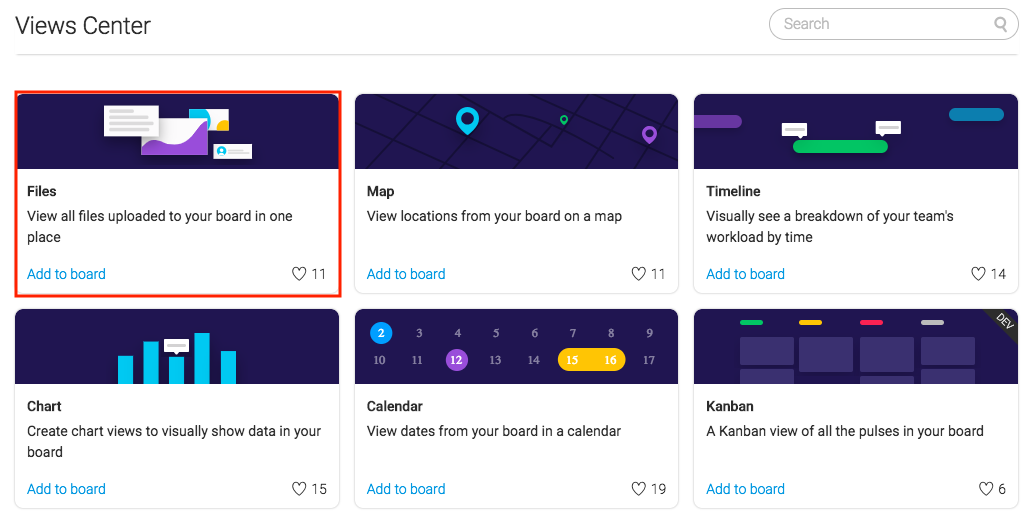 A Files view will open up, showing you all the files that have been uploaded to that board:

 You can choose to view your files as a List:

** Size limit per file is 500 MB!  
** If you and your team plan on making lots of edits on your file or if it exceeds the file size you are allowed to upload into monday.com, you might want to consider copy and pasting a link from either Dropbox or Google Drive, so this way you won't have to continuously re-upload the latest version of your document.   
If you have any questions further questions, please feel free to reach out to our customer success team right here. We are available 24/7 and happy to assist :)