We know you use lots of different ways to integrate your important files into your board, but we wanted to give them the spotlight they deserve. Introducing a column dedicated entirely to all kinds of files: the Files Column! 📁
Keep reading to learn how it works. 👇
How to add it
Add the Column by clicking the '+' to the right of your Columns and selecting "Files" from the drop-down menu like this: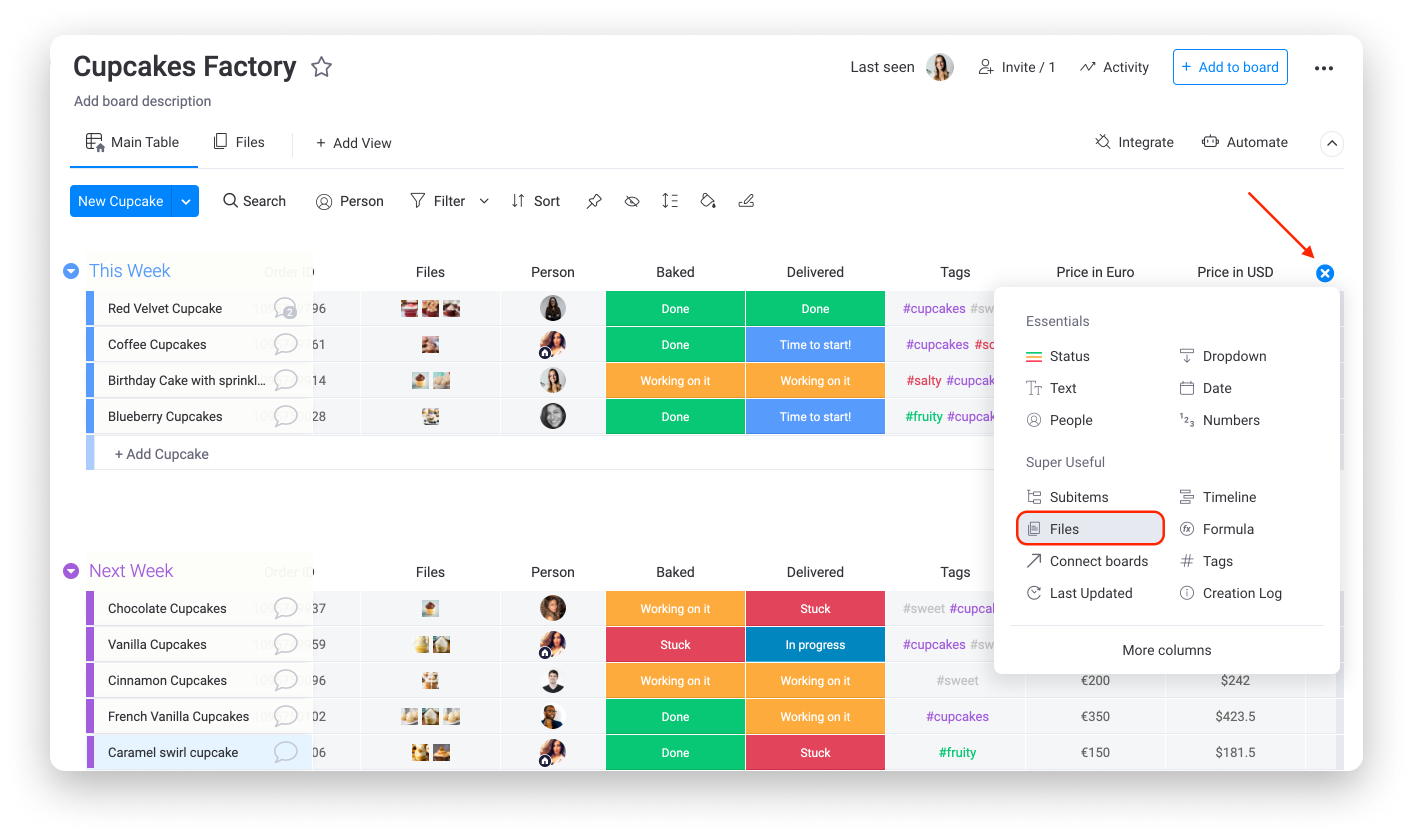 Note: If you do not see this column type in the dropdown menu, click on the 'More columns' button to access the full column center and search for this column type.
How it works
Once your column is added, click inside the cell to add your file. You can add files from the following places:
Your computer/desktop

From a link

Google Drive

External platforms such Dropbox, Box, OneDrive & SharePoint

Instantly creating a new monday workdoc
If you're having trouble connecting your Google Drive account, try clearing your cache and allowing third-party cookies. If you are using the Desktop App, you will only be able to upload files from your computer.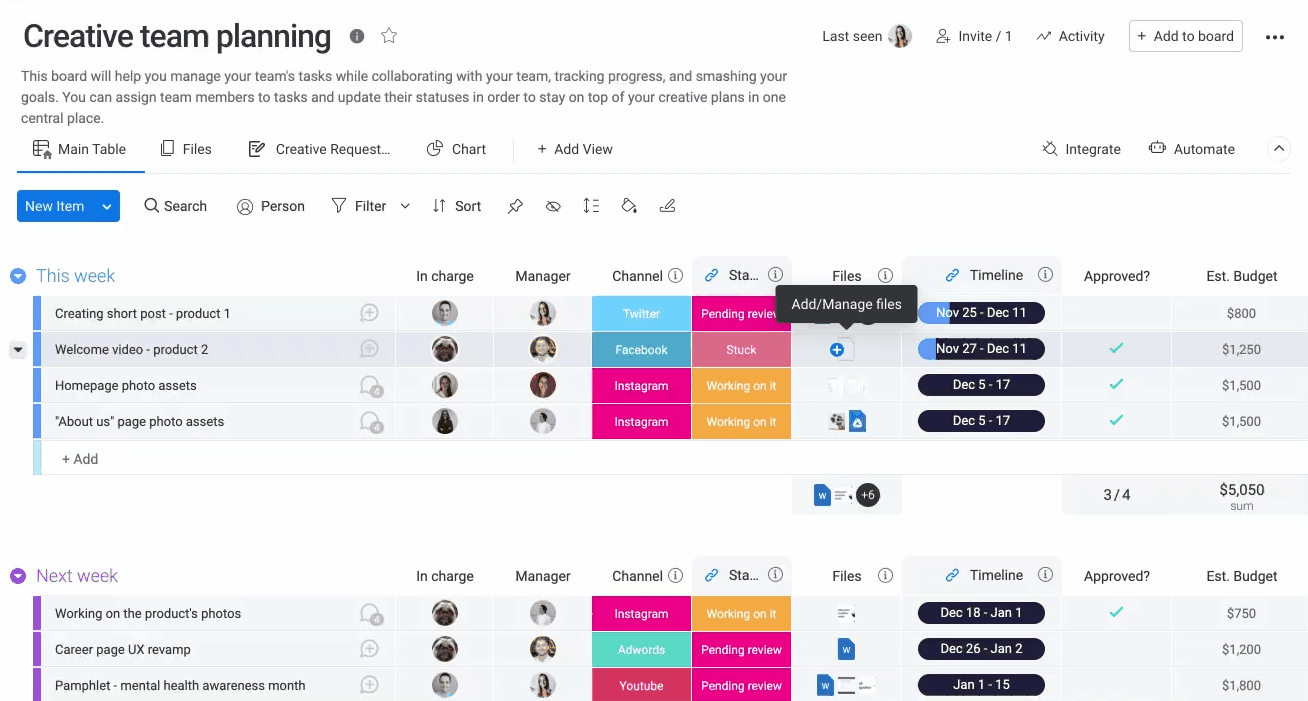 Note:
500 MB is the maximum file size for each file. If the files you'd like to upload are bigger than that, you can create a zip file and upload that instead or upload them from Google Drive or Dropbox.
Once your files are added, this is what they will look like within the column. Hovering over a file within the column will also show you a preview of it!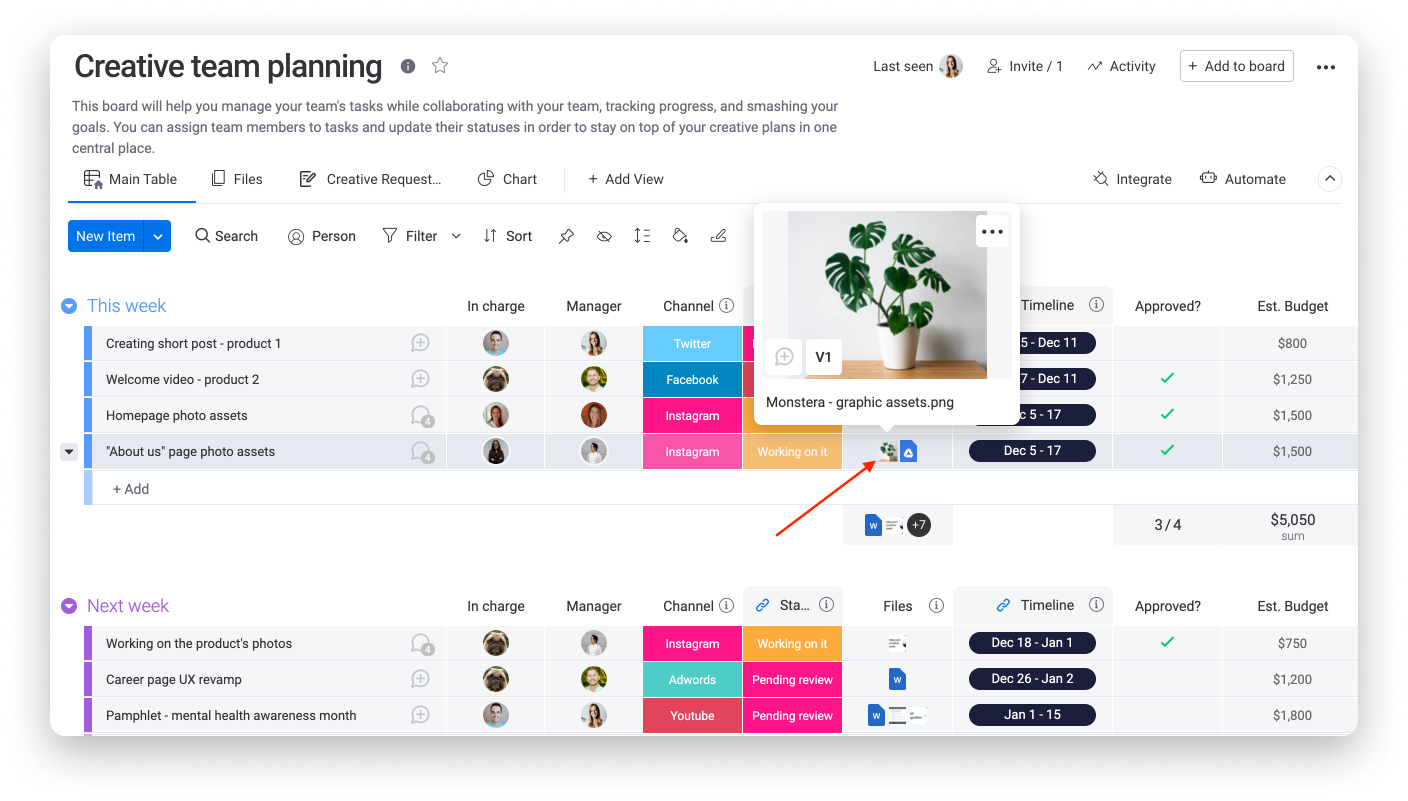 To view your file, simply click on it as so: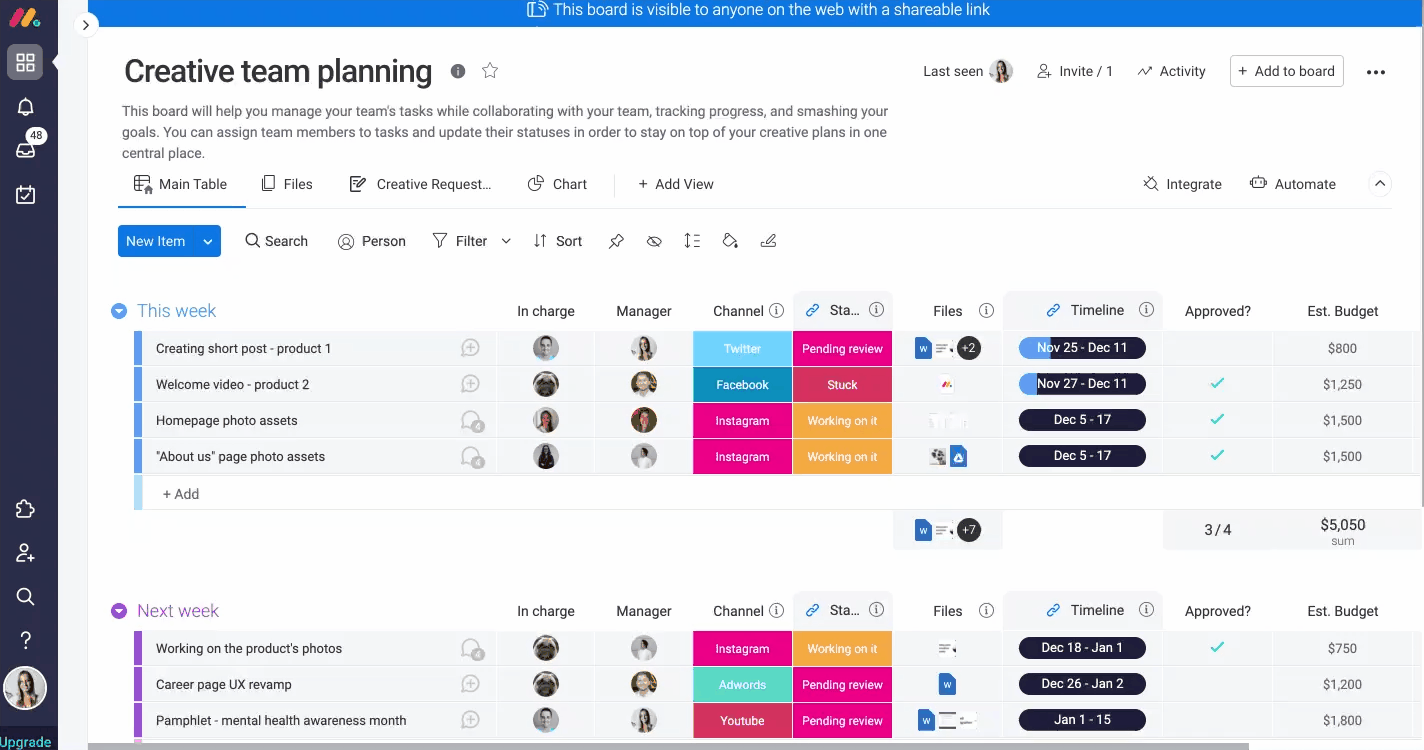 We now offer the option to upload instantly upload a file through a link! To do this, click into your File Column and select on the "Link" option that appears in the resulting menu. From here, insert your link, provide a name for the file, and hit the blue "Save" button!
Now, every time that you click on an uploaded file added through a link, you'll be redirected to that linked file in a new tab right away!
Which type of files can I upload?
You can add files from your Desktop, a link, Google Drive, Dropbox, Box, or OneDrive & Sharepoint or by creating a new monday workdoc. If you are using the Desktop App, you will only be able to upload files from your computer. We also accept all the following types of files:
PNG

JPEG

Word

PDF

Excel

GIF

MP4

SVG

TXT

AI
Add annotations to your files
Have you ever needed to make comments, or converse with your teammates, on an uploaded file? Instead of having to exit the file in order to discuss it, or worse yet; download it, make comments and then re-upload, use our annotation feature! With this feature, you can comment, tag, and converse directly on a file in your File Column!
Note: Currently, you can only make annotations on images. Coming soon...all types of files!
To access our annotation feature, click to view one of the files from the File Column or from the Files View. You can then add an annotation by clicking on the speech bubble icon at the bottom of the screen as so: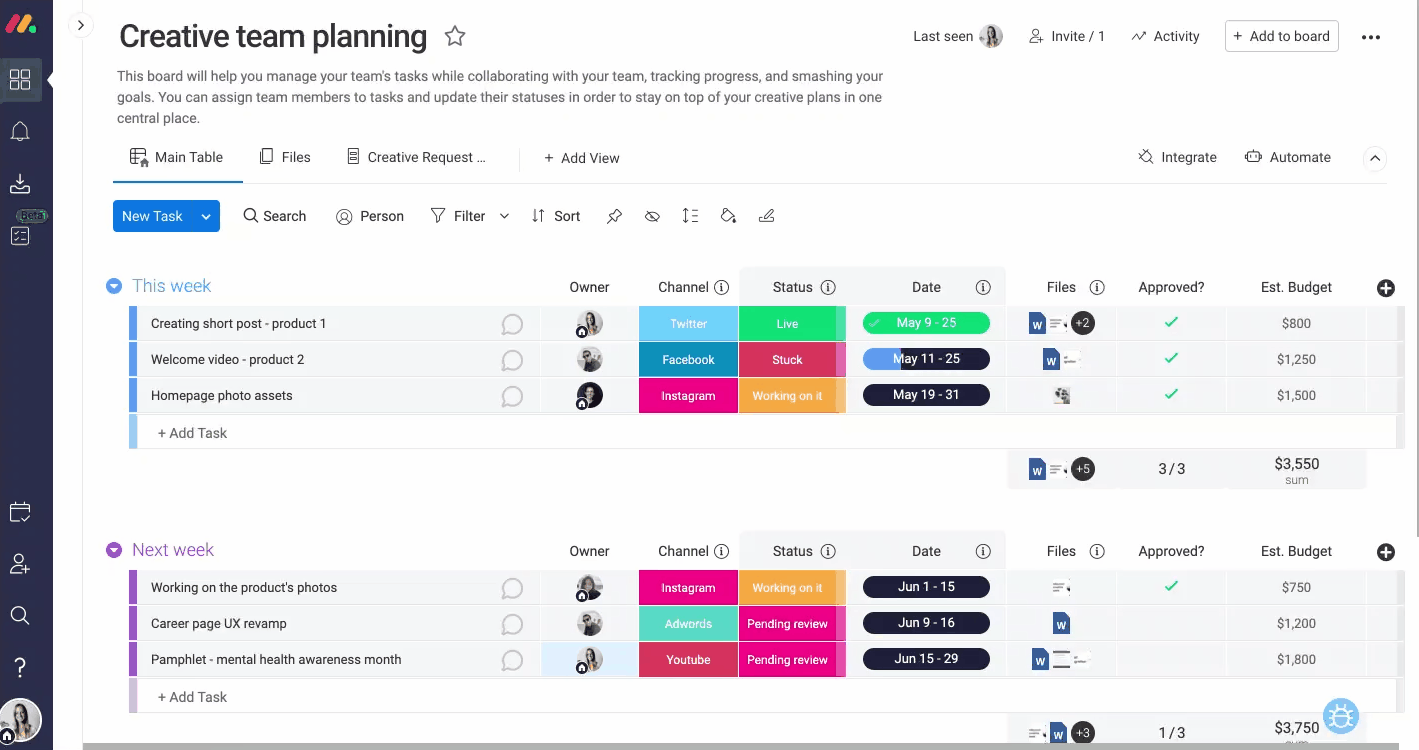 After clicking on this button, you will see a cursor appear on your screen allowing you to select any part of your image in which you can add an update onto directly. Simply drag the cursor to the desired position, click, and begin to type your update in the editor!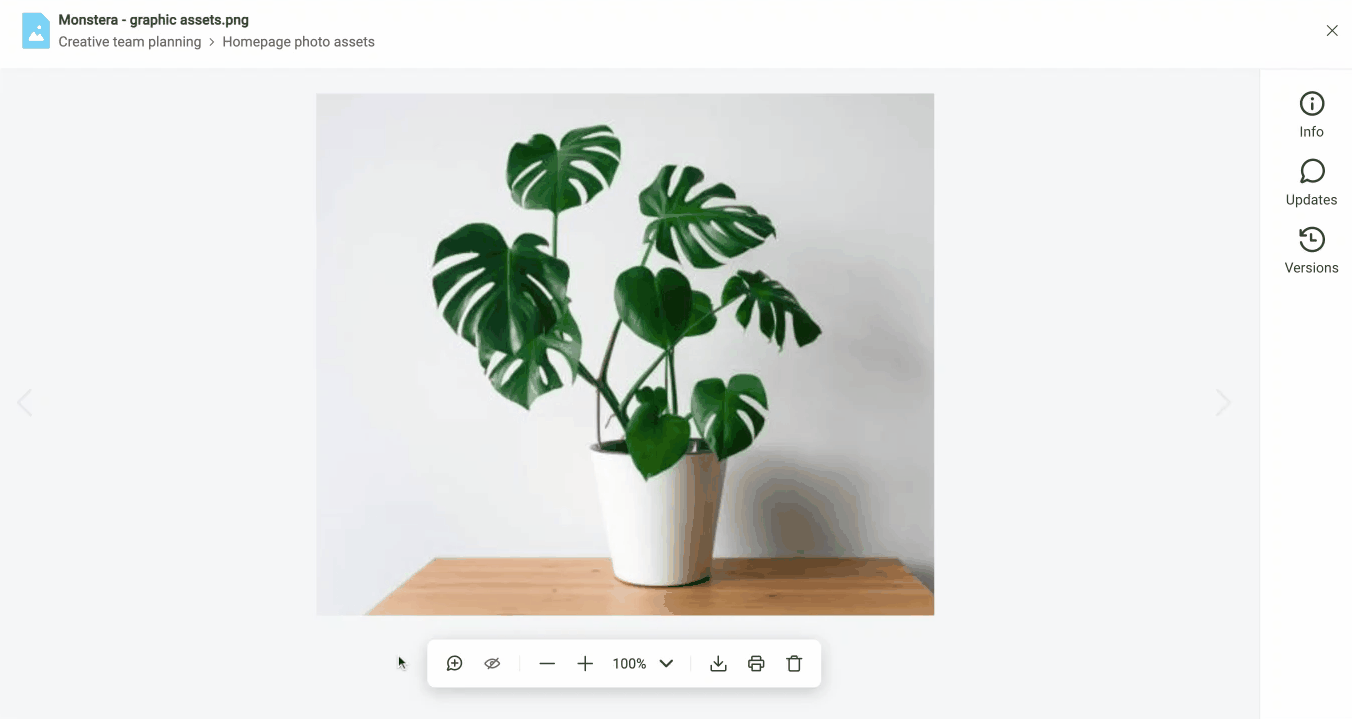 Once you've typed out your update, press on the blue "Update" button to add it to your image and you're all set!
Tip: You can tag team members and they'll be notified in their bell notifications!
Add multiple file versions
Are you looking to house multiple versions of a file in one place to help streamline your workflow? Use the file versioning feature to save multiple versions of your file in one centralized place so that the whole team is aligned at all times. 🙌
To access this feature, click to preview one of the files in your Files Column and select "Versions". From here, you can click "Add version" to upload a new version of your file and view all existing versions here as well!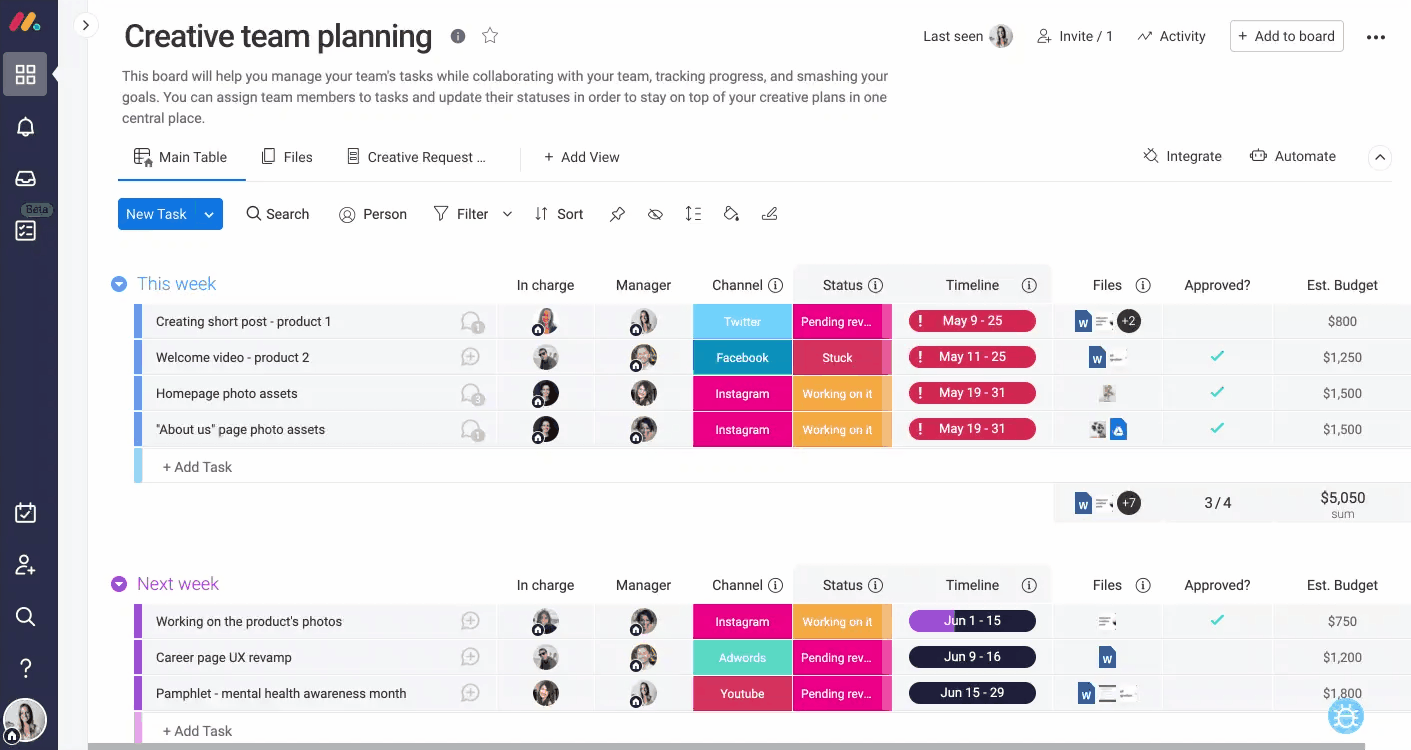 How can I delete a file?
To delete a file, simply hover over the cell where your file resides and click on the 'X' that appears on the right of the file as shown here:
How can I see a summary of my files?
To see a list and a Gallery View of all files in one group, you can add a Column Summary! Click the arrow beside the Column's title and select 'Show Column Summary' from the menu.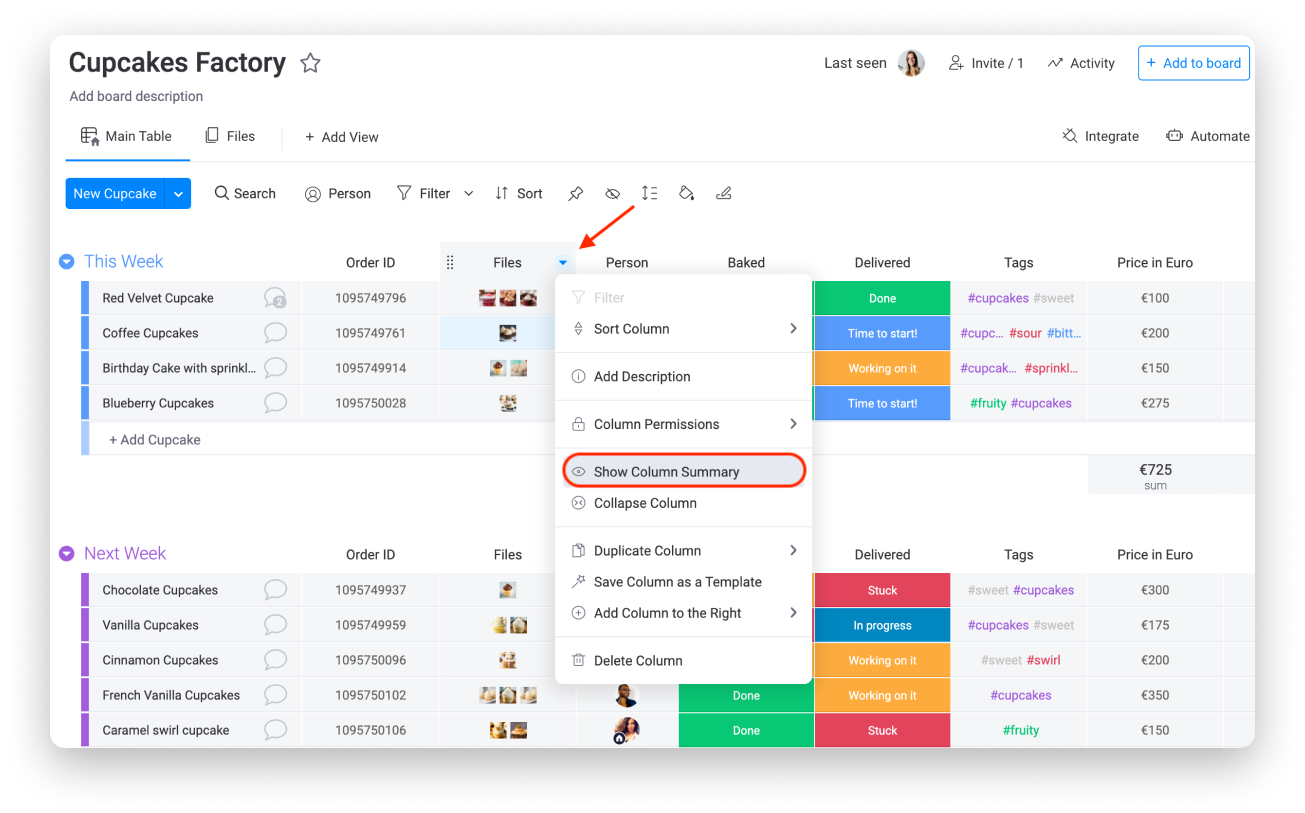 Now you can see how many files are in your groups, and if you hover over the Column Summary, you'll see the thumbnail and name of each file!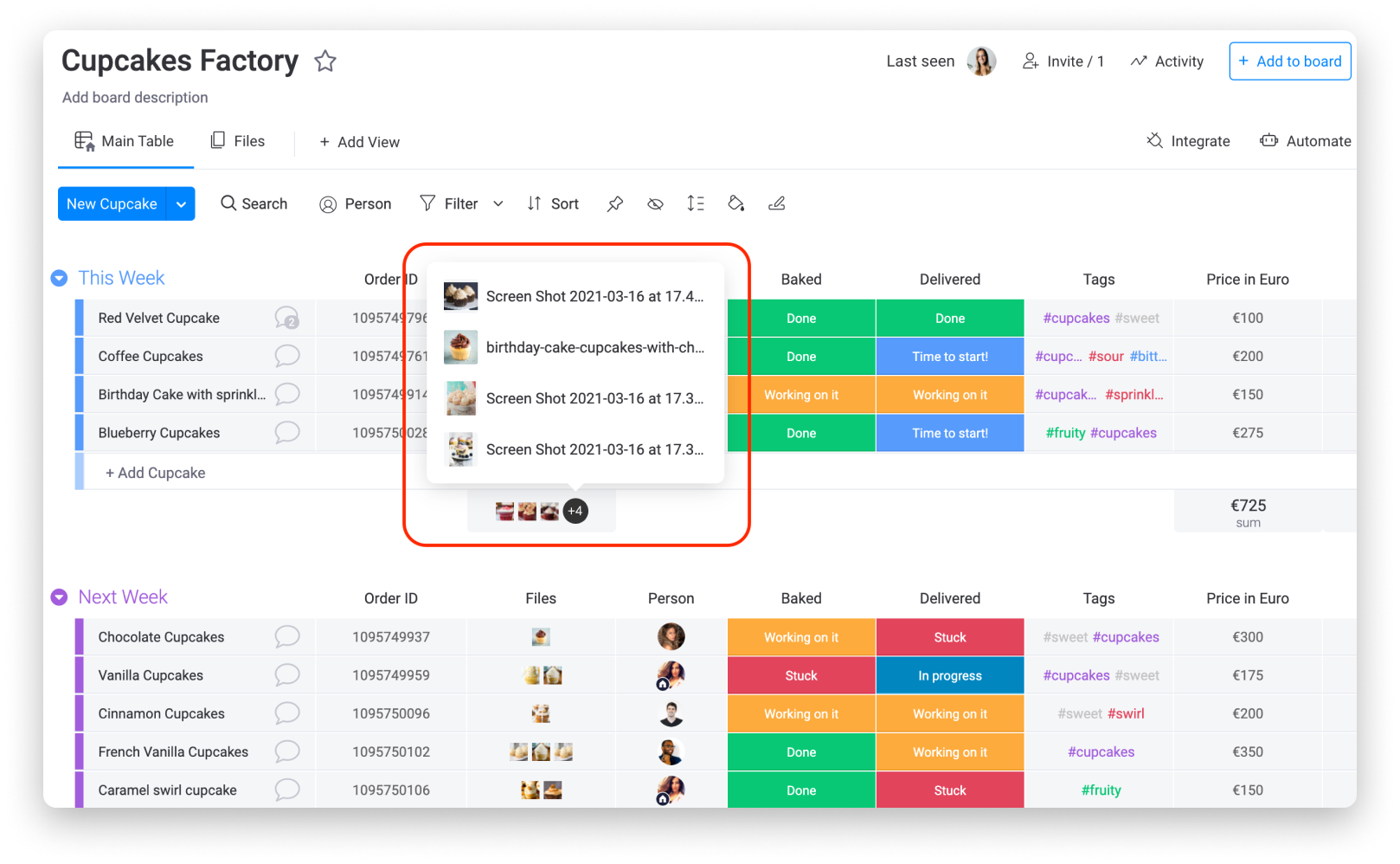 You can click on any of the files to open up the Gallery View so that you can flip between all of the files in your group! If you click on "Start Conversation" from the file's summary in the Gallery View, you'll be navigated straight to the item's Updates Section!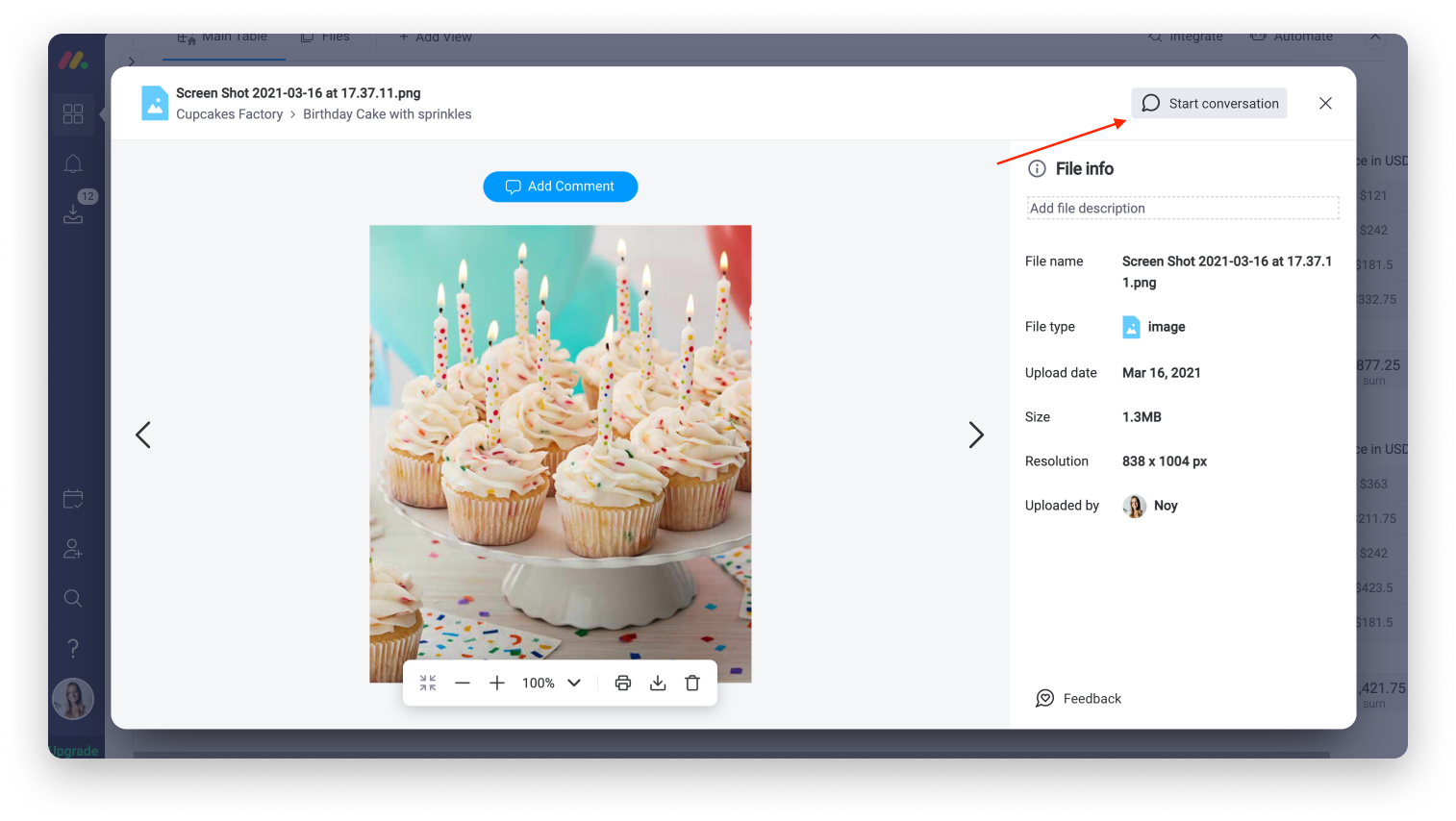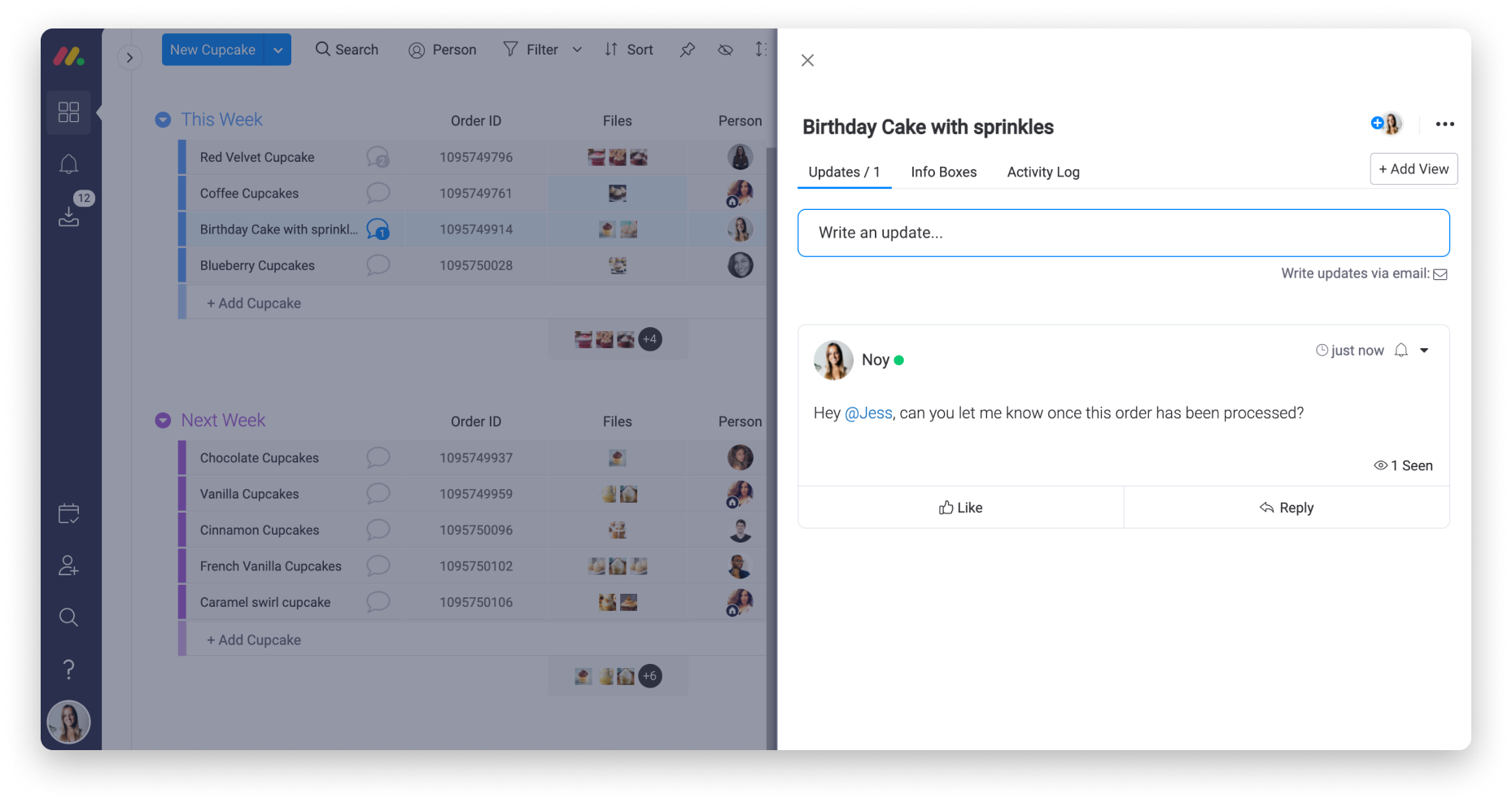 To learn about the other ways to attach files within your board, check out this article.
How can I download my files?
When you click on a file, you can select "Download" to download a single file, or "Download all as zip" to download all the files in the group into one zip file!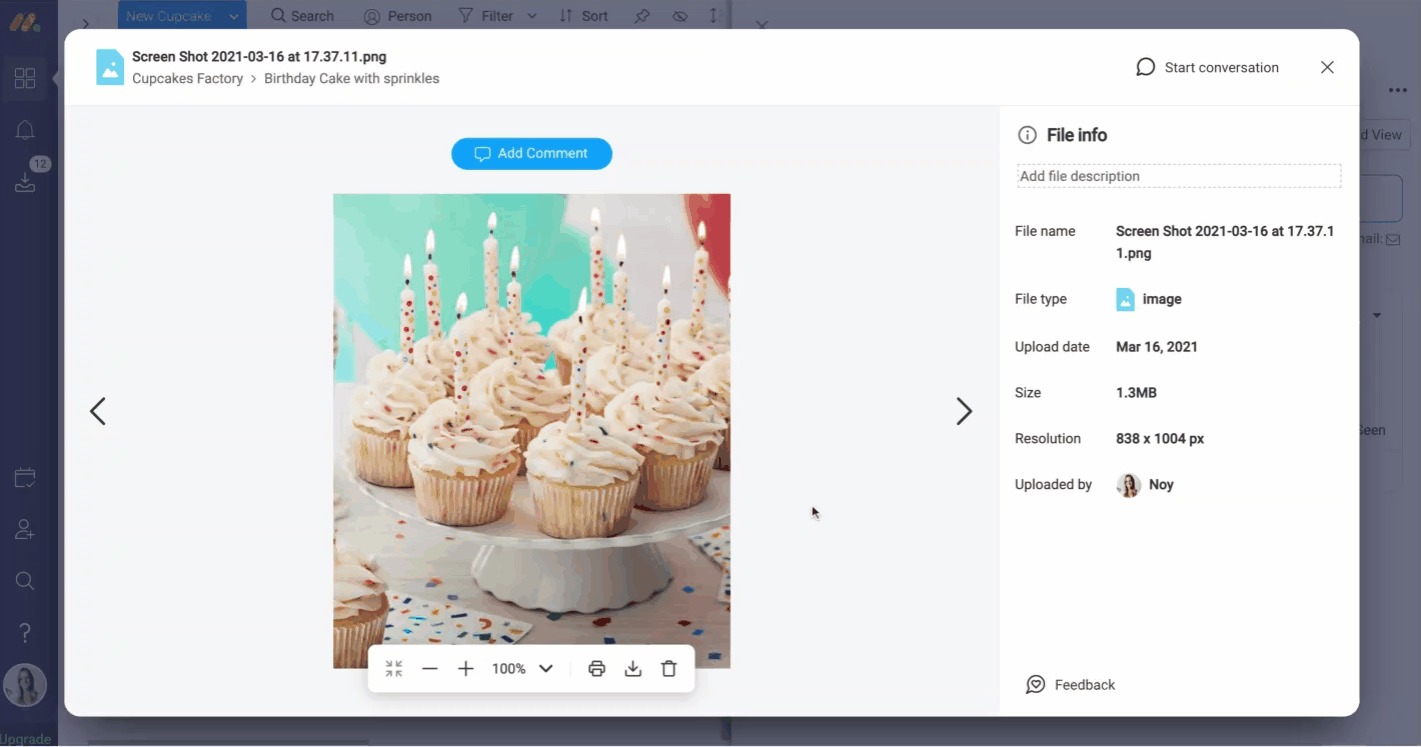 Note: Any type of user (including Guests and Viewers) is able to download files from the Files Column. To read more on the different user types that we offer, check out this article.
How can I see all my files?
To see all the files in your board at once, you can use the File View, like in this image below. Check out this article to learn more about it.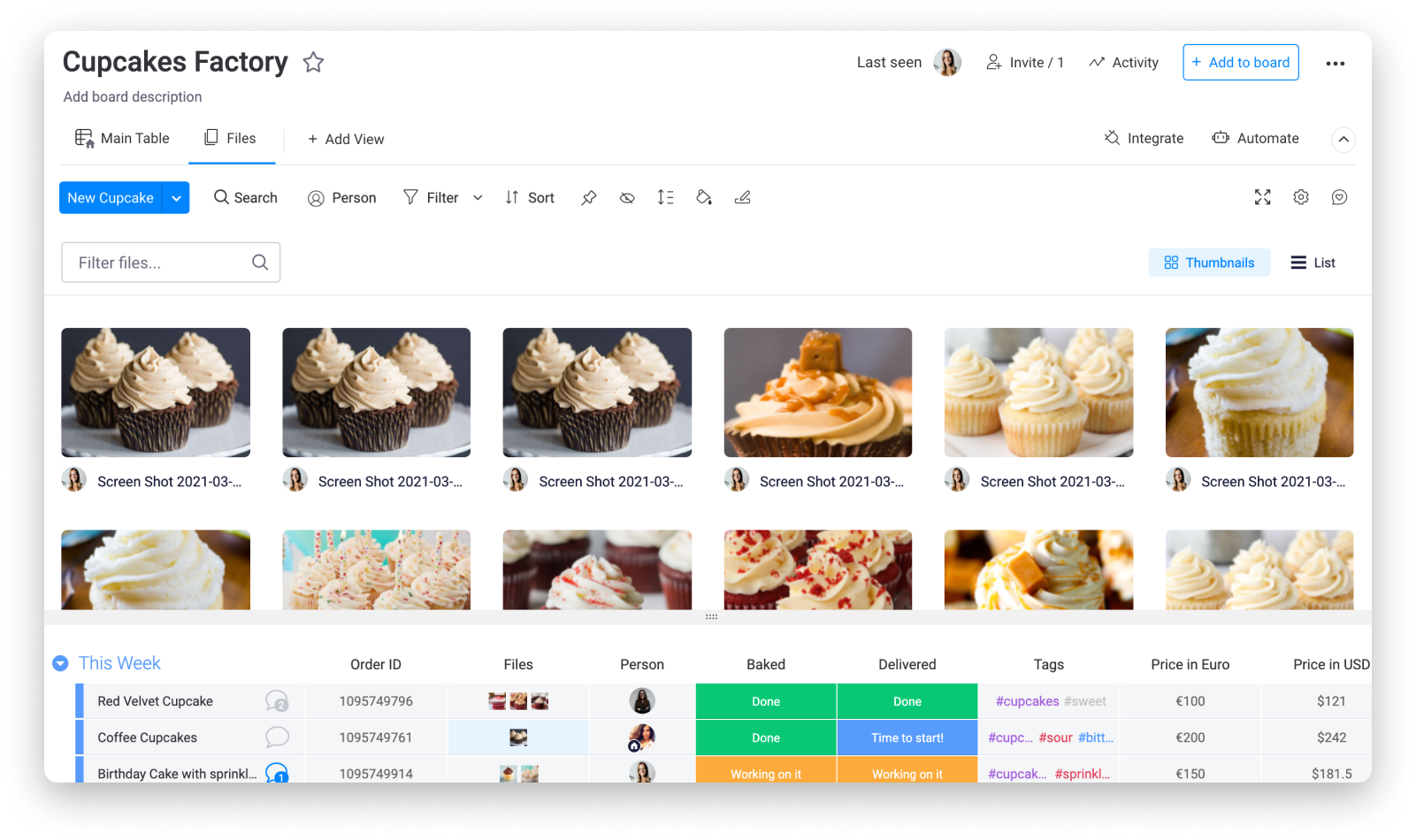 If you have any questions, please reach out to our team by using our contact form. We're available 24/7 and happy to help!