A high-level board is a type of board that allows you to see an overview of everything you and your team are working on inside of your monday.com account. It will help you monitor your workflow whether it's projects (by quarters or months), teams, project managers, clients, etc. The high-level view can represent what ever you choose! 
How to build it?
Let's look at what a quarterly project high-level overview board would look like: in this example, the high-level board is organized in groups by quarters. Alternatively, you can also use each group as a month, a specific phase of a project and so on...
Step 2: Add a link column
A great way to link the high-level board with the lower-level boards is by using the Link Column (available on our Column Center). Edit the column name and input the unique URL of the lower-level board and edit the text to display. Jumping between the boards will now be seamless.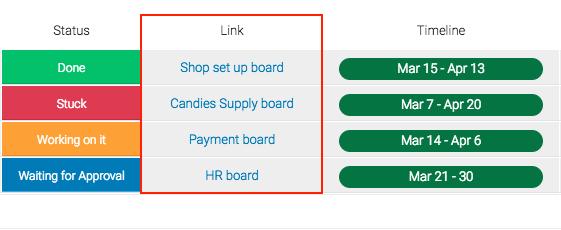 Note:
 Our platform just started to support dependencies between tasks and boards. You can
check out this article
to learn more about it.
Another thing you are able to add to your board is a tags column (available on the PRO plan and above)! By adding a tags column to your board, you will have the ability to label and get a cross-board view of all of the items related to that particular project.

Step 4: Add a timeline column
Having a timeline is a great way to visually see where everything is standing. To learn more about the timeline column, click right here. 

Step 5: Add a mirror column
The Mirror Column allows you to see and edit information on other boards. This means that you can easily view data from different boards in your high level board! Not only that, but you can edit the information in either board and the changes will be reflected in both boards. 

You can read more about how to set it up here: The Mirror Column (formerly the LookUp Column)
Automation flows are combinations of triggers and actions, where you customize the parameters of each aspect of the flow to suit your exact needs.
Here are some useful automations for a high level board:
You can read more about automations here: monday.com Automations
Why are high level boards useful?
Having a birds eye view of what you and your team are working on at any given moment and moving forward is very powerful. You'll be able to gain better insight when taking on more projects, allocating tasks and setting deadlines.
The high-level board can be supplemented by a lower-level weekly task board or a project board. This allows you to see the overall status updates you need while your team handles the day-to-day at a more granular level.
Adding Dashboards
In addition to creating a high level board - If you are looking to connect several boards together, into one view, check out our amazing Dashboards:


Dashboards are a great way to display what's important to you in just one place.
With the dashboards you can get a high level view of everything that is important to you.
Read more here: 
What are the Dashboards?
If you have any questions about the high-level boards, please feel free to reach out to our customer success team at [email protected]! We are available 24/7 and happy to answer any questions you may have :)