Creating folders allows your team to keep your boards organized. Folders are a great way to keep similar boards together. They are also useful for companies that have a number of different departments. For example, you could create sales, marketing, design, and HR folders, and then drag and drop all the related boards under the corresponding folders :)
How do I create a folder?
Simply click the Add button located on your left pane and then choose New Folder as below:
With folders, all boards related to one topic can be found inside of them which keeps your boards list very clean and sleek looking!
Move a board inside a folder
Moving a board inside a folder is easy! First, make sure the folder is opened. Then drag the board inside the folder as below: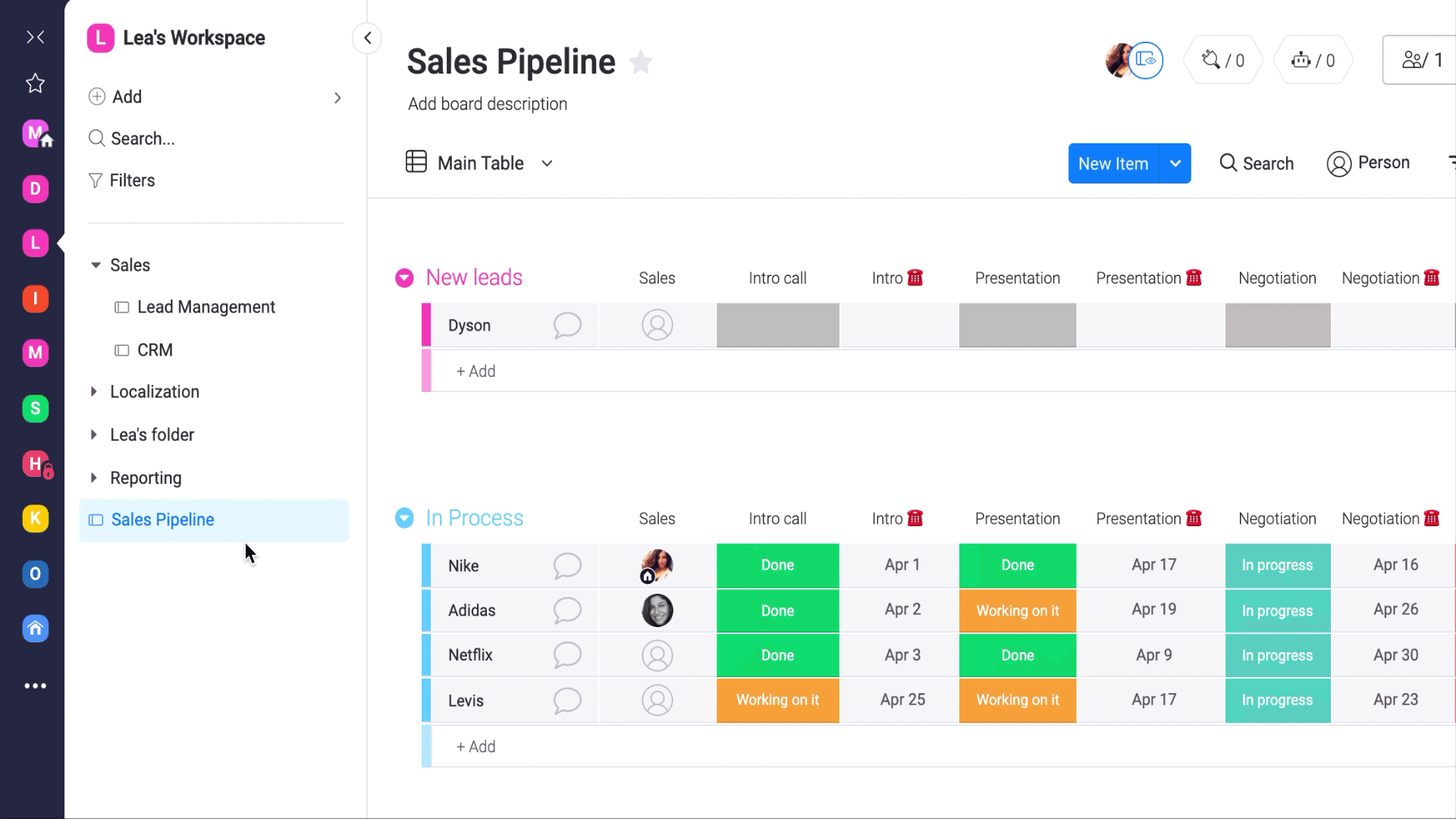 And you are all set! 🎉
Create a board within a folder
You can also create a board inside a folder. Simply right click on the relevant folder and select "create board in folder" as below:
Are you looking to add another layer of folders within a different folder to help further organize your work? Good news, you can now do exactly that!
To add a folder within a folder, simply hover over the folder which you'd like the new folder to be placed in and select on the three dot menu. From there press "Create folder in folder", give it a name, and you're all set. 🙌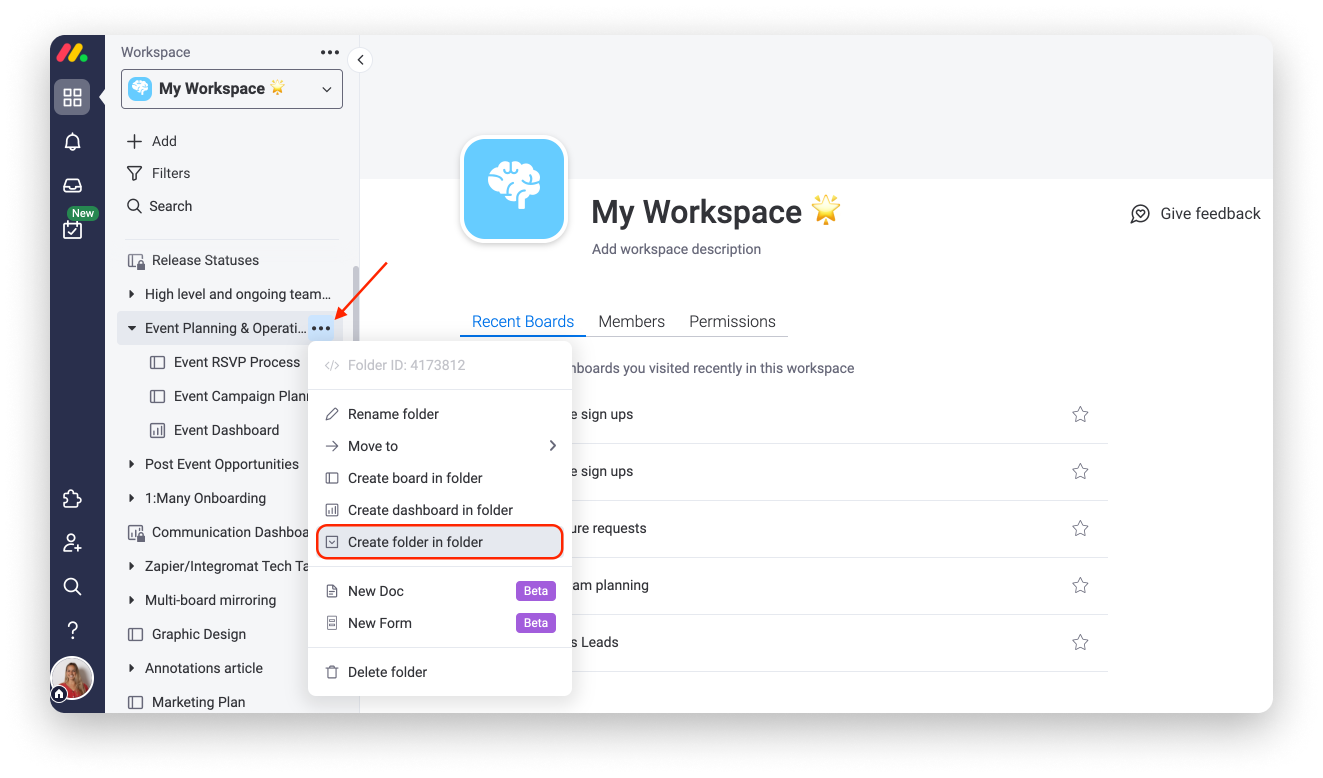 Note:
Currently, folders are only limited to one extra layer of hierarchy.
How do I edit or delete a folder?
To delete a folder, follow these steps:
Hover over the folder that you wish to delete

A pencil and X will appear

Click the X to delete the folder

Click the pencil to edit the folder name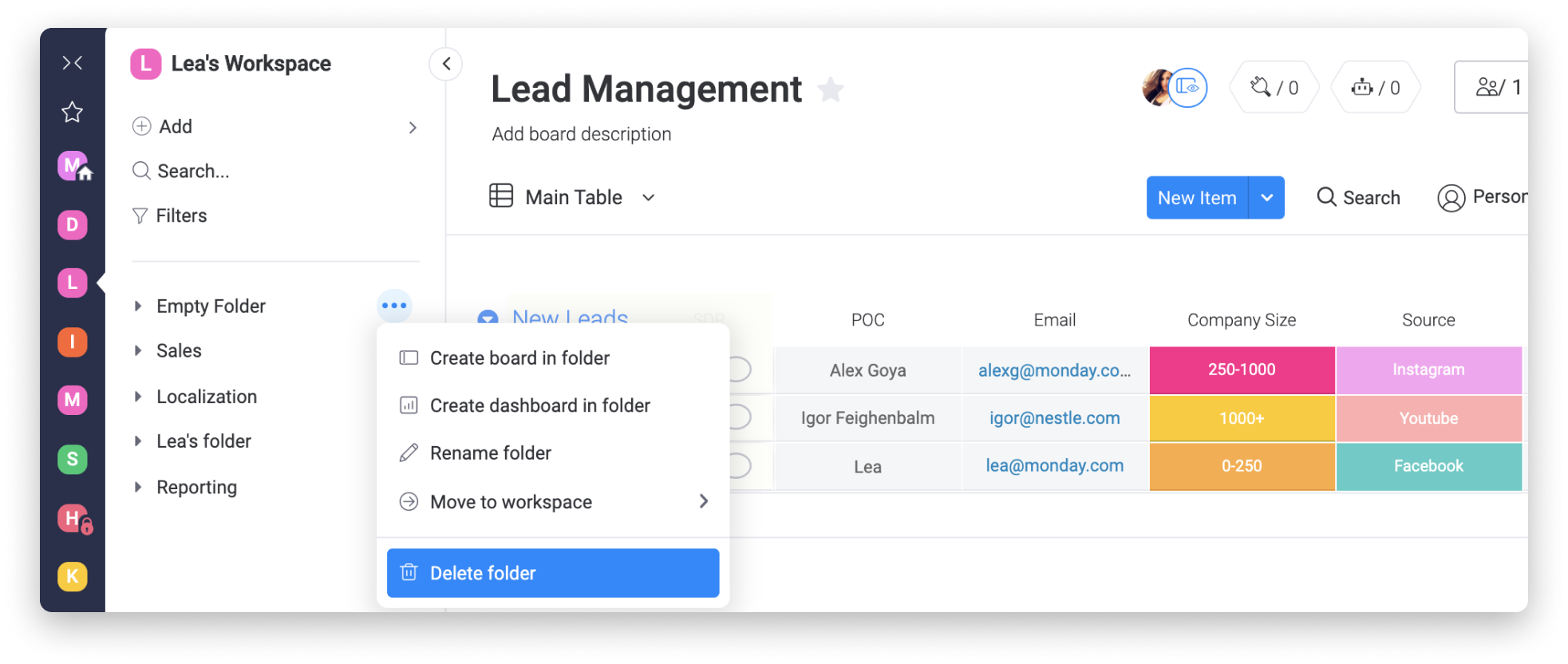 Note: Deleting a folder will archive all boards and delete all dashboards within it, including those that are private. You can restore individual boards from the Archives section and dashboards from the Recycle bin within 30 days.
Can I share folders?
Due to security reasons, it is currently not possible to share an entire folder (we wouldn't want you to share a board by mistake that was in that folder). That being said, we have a workaround: if your folder is within the Shareable boards section, you can always share all of the boards within it.
Note: Shareable boards are only available on the Standard plan and up.
What's the difference between boards, folders and workspaces?
A board is the place where your groups of items are held. It's a virtual whiteboard where projects are stored as a way to keep track of everything from everyday tasks to month/year long projects... but so much better! Check out this article to learn more about boards.
A folder is simply a storage space for boards. Folders make it easy to organize all of your boards so that your account can stay neat and clean.
Workspaces

are here to help your organization better manage multiple departments, teams and projects in one unified place. They provide your account with a hierarchy of organization, allowing you to keep everything orderly as you seamlessly scale your account.
If you have any questions, please reach out to our team by using our contact form. We're available 24/7 and happy to help!