Manage your clients and their lifecycle efficiently and openly with the rest of your team! monday.com was created for companies and people to work together, collaborate, create transparency and visibility; most importantly it is endlessly customizable. With that said, you can easily customize monday.com to be your company CRM.
So what is a CRM?
A CRM is a central place to organize all the details of your customers and make it easy for your whole team to track the status of every customer relationship. It helps you keep a record of information that you can reference at any time.
Why do you need a CRM?
Why? Because everyone wants happy customers! The ultimate goal is to improve business relationships with your customers focusing on customer retention and driving sales growth. A CRM also helps streamline the entire sales cycle, which results in closing deals in your sales pipeline and helping everyone on the team reach their targets faster.
In this guide, you will learn how to use monday.com as a customer relationship manager and more!
A few resources to help you get started
In addition to this guide, we have also gathered a few more resources that you might find useful:
Build your contact list
You can import your contact list directly from Excel into monday.com. This article will guide you step by step on the process.
Another way to get your leads directly into monday.com is to create a form and embed it in your site. Any new interested customer can fill that form with his/her contact details.
Once done, his/her details will automatically be added in your CRM board as a new item. Read more about the form right here.
Categorize your board information
Groups are a great way to split your information into specific categories. For example, you could use each group as a month to see how many users signed up each month. In this example, we've split our CRM board by three categories:
Incoming leads - these are leads that have just opened a trial account but haven't submitted a purchase yet
Active users - This group is for our active and paying customers
Lost leads - these leads have been already reached out by our sales team but are not interested to move forward with us.
Use subitems for multiple contact names
Subitems are a great way to display different contact information from the same customer. In the below example, Nike is a new customer. The parent item will display the main contact information of that client - POC, phone, location etc.
The subitems will display the other locations and phone numbers of that client.

Customize your board with columns
With over 30 different column types, there's really no limit to how you can customize your board to fit your team's needs. Below are a few basics you can use. We will go over some more advanced ones later on in this guide.
People Column: Each lead can be assigned to a sales representative. This column helps to provide transparency on who is taking care of what.
Status Column

: By adding a status column and customizing the labels, you're able to track each sales stage! Remember, add and edit labels to fit your needs!

World Clock column

: Our World Clock will help you avoid the uncomfortable mistake of calling someone too early (or too late).

Phone column:

The phone column will speed things up by opening the default communications app once you click on their phone number!

Numbers column

: Use the numbers columns to add the deal size. You can customize it to be in the currency of your choice.
Display information from any other board
With the mirror column, you can display information from other boards without leaving your CRM board! In this example, we are using both a CRM board and a sales pipeline board. The sales pipeline board is used by the sales team to keep track of the progress of each of their leads.
In our CRM board, we've mirrored a few columns from the sales pipeline board:
The sales representative
The negotiation phase
The plan the user purchased
The amount of the deal closed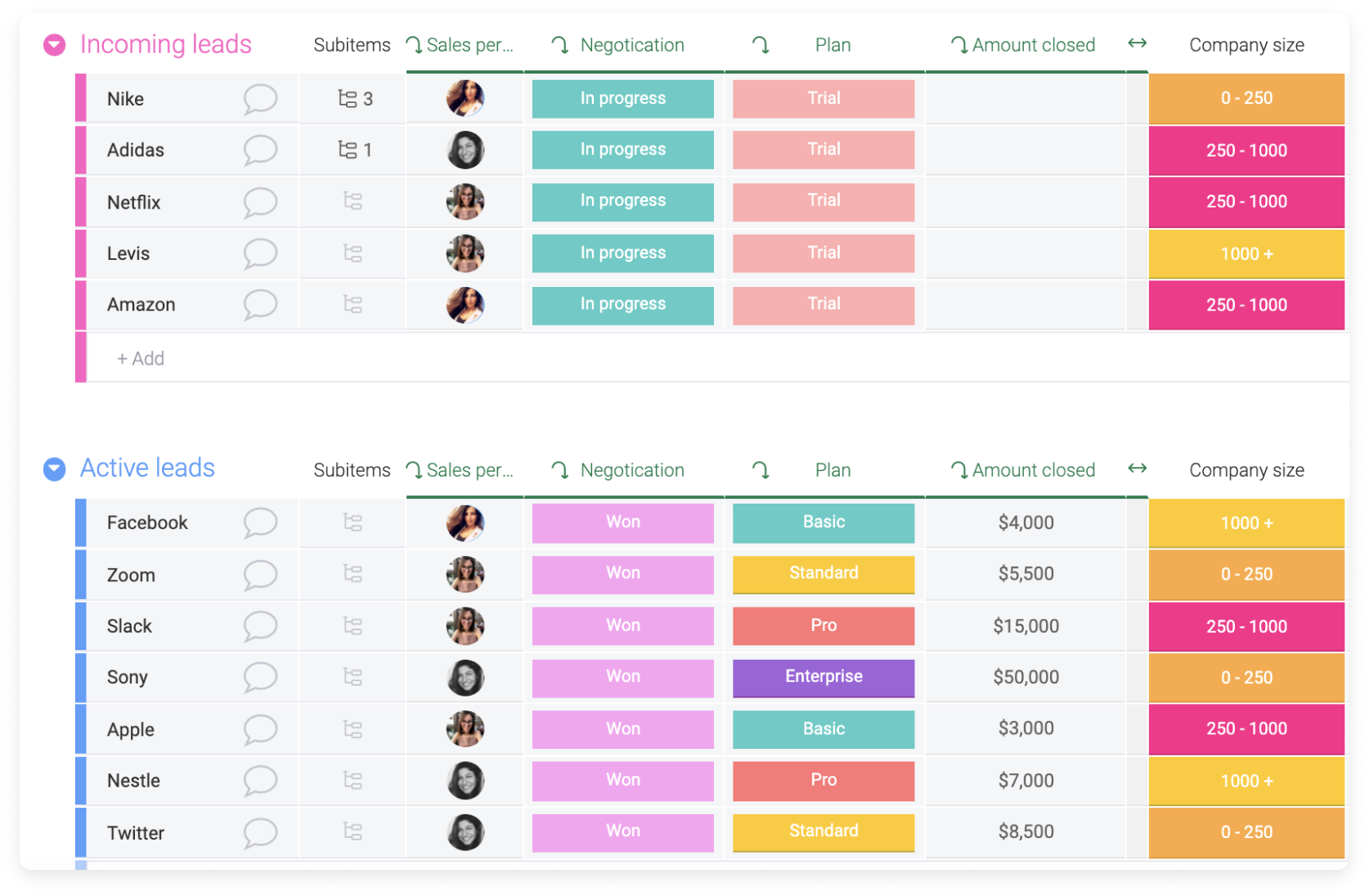 Each time an update is made in the sales pipeline board, the CRM board columns will be updated automatically! 🙌
Automate your workflow
Our amazing automations center allows you to automate and streamline your workflow. We have so many different automations available. You can read more about them all right here.
Let's say you have created a form on your site to get new potential users contact details. You can create an automation on your CRM board that will notify you every time a new user registers.
Once notified, you can go ahead and assign that new lead to a sales representative.
You could also use the automations to notify a sales representative each time a contract is about to renew. That's a great way for the sales person to get in touch with his/her client, get feedback on their current experience and see if they are interested to continue working with you.
Send emails automatically with our email integration
Tired of manually sending emails to all your leads!? The e-mail integration is just what you are looking for. With the Gmail and Outlook integrations, you can transform emails into action items, and automatically align everyone to stay seamlessly connected.
Let's say that whenever a new user registers to your site, a welcome e-mail will be sent. You can use the below integration (works for both Gmail and Outlook):

You can even customize the email you'd like to send:
Let's complete our email integration with this recipe:

Now once the lead will answer you, his/her answer will directly be added to the update section of the board: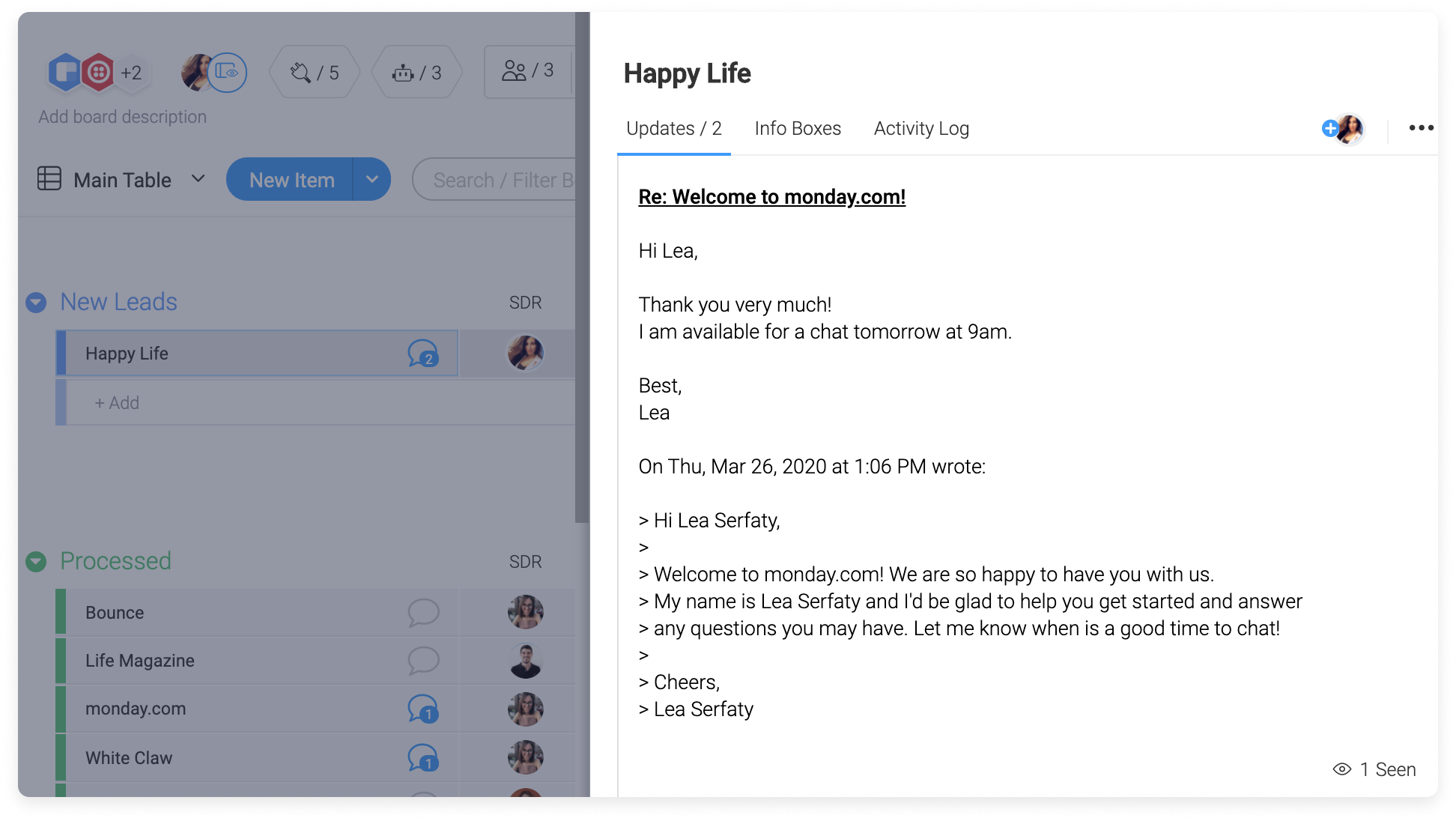 Et voilà 🙌 Now you can manage the communication with your leads directly from monday.com.
Enrich your data with Clearbit integration
Clearbit provides powerful products and data APIs to help your business grow. Contact enrichment, lead generation, financial compliance, and more...
When a new lead comes in, it is important for your sales representatives to understand better who the lead is and which company he/she belongs to. Clearbit can provide all this information. By integrating Clearbit to monday.com, the information about each of your leads will be automatically populated into your leads board. No need for your sales team to conduct their own research anymore!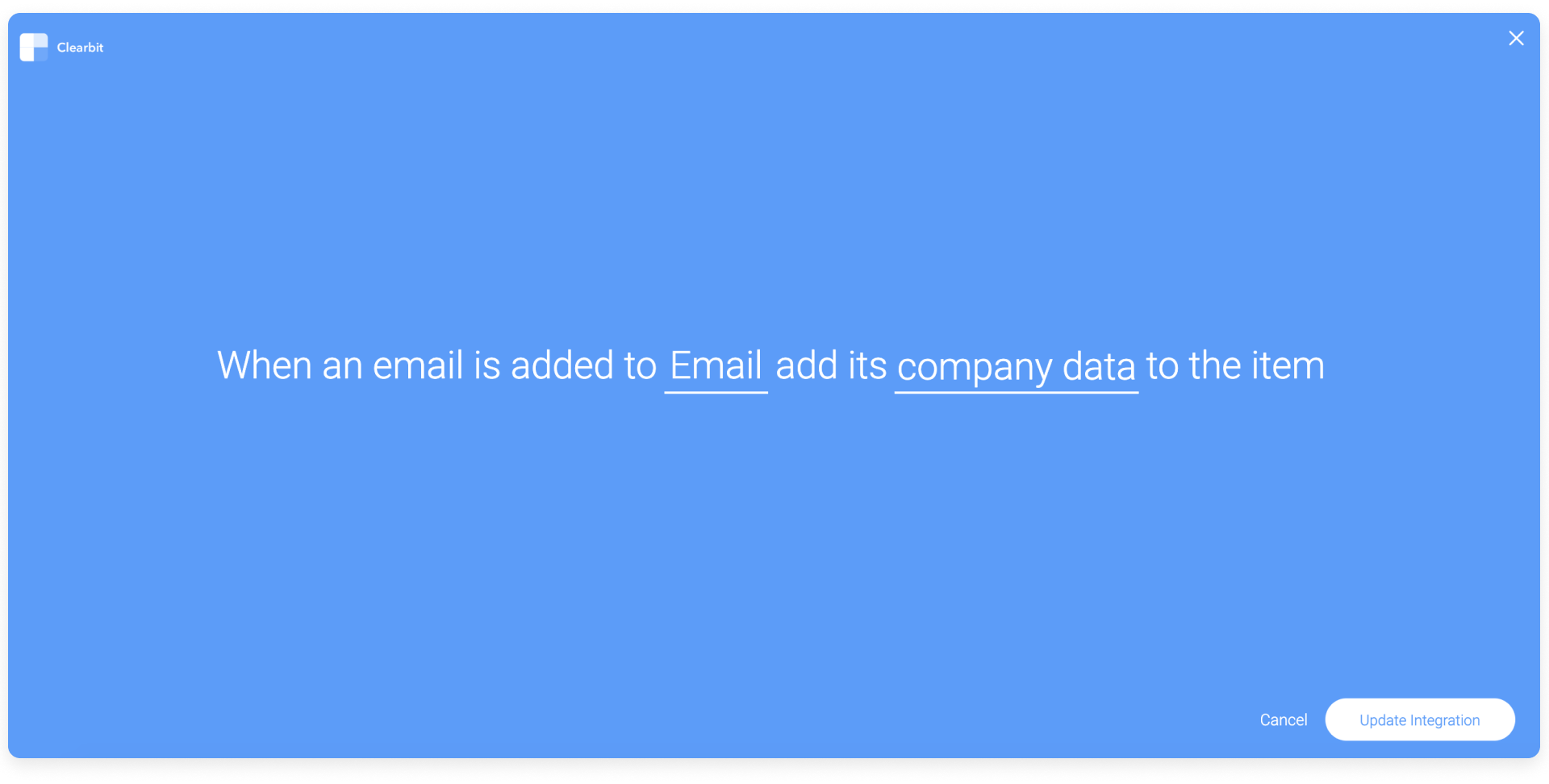 If you'd like a step by step explanation on how to create a Clearbit integration, check out this article.
Use the chart view for advanced reporting
Chart Views allow you an informative overview, providing breakdowns and analytics to enable your team to make necessary and informed decisions.
In this example, we are interested to see the amount of sales we make each month in USD. We use the chart for this purpose. Our X-Axis stand for when the deal was closed and the Y-Axis represents the total amount closed in USD.
For a better understanding of your team's performance, you could also use a stacked chart. This will display the amount of deals closed per person per month.
In this view, you also have the option to display your chart as cumulative data. This is particularly useful if you want to see the progress over months. Each month will include all previous months plus the addition of the current month. This is a great way to show progress of your sales team over the quarter.
You can also add a Benchmark line to display the monthly goal or the low/high threshold. 🙌
Keep track of your KPIs with a Dashboard
The dashboard is a great way to display different reports in one single place.
Here for example, we are using a different combination of chart widgets to display the sales performance and the leads source. We are also using a board updates widget to display the latest updates posted on our CRM board. In addition, we are using the board to globe to display our active users on a beautiful earth view.
You could also use the table widget to add your CRM board directly into your dashboard and saving you time to go back and forth between the board and the dashboard.
With more than 20 widgets available, there are so many ways you can customize your dashboard to fit flawlessly.
Just like that, you're all set and ready to get started using monday.com as a CRM!
If you have any further questions please don't hesitate to reach out to our customer success team at support@monday.com! We are here for you 24/7.