Manage your clients and their lifecycle efficiently and openly with the rest of your team! The platform was created for companies and people to work together, collaborate, create transparency and visibility; most importantly it is endlessly customizable. With that, you can easily customize monday.com as a CRM. 
In this guide, you will learn how to use monday.com for sales pipeline, managing your clients, accounts and more. We will also include a recorded webinar as well as some more useful material to help you out. 😊
Basic walk through to managing a CRM
Create a sales pipelines
With monday.com you can build sales pipelines and use our bright and colorful status columns to visually present the status of ongoing leads, create interval boards to ensure you and your team are up to date on the life cycle of every client, keep all of your client information in one centralized place and much more. Want to get more analytics out of your Sales Pipeline like you see in the above video? Try our amazing chart view!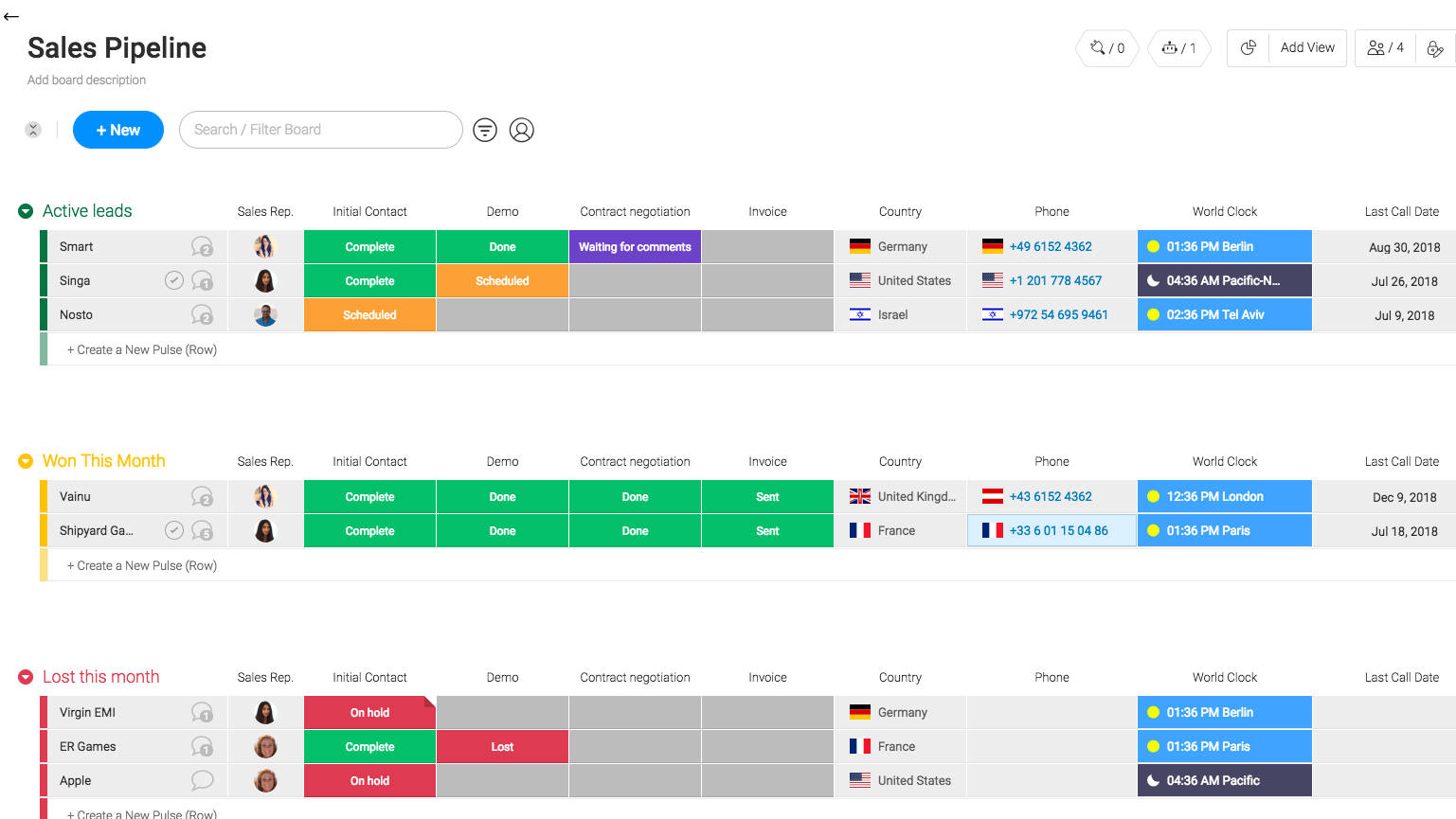 Manage your accounts
You can also manage particular accounts in one board. Here you can view the sales person associated to the account, their plan types, view the MRR, number of users and much more! Once a deal is won from your sales pipeline board, you can use the link to item column to connect your client directory board to your account management board/sales dashboard. Use our item pop-up view to instantly update it without leaving the board you're on!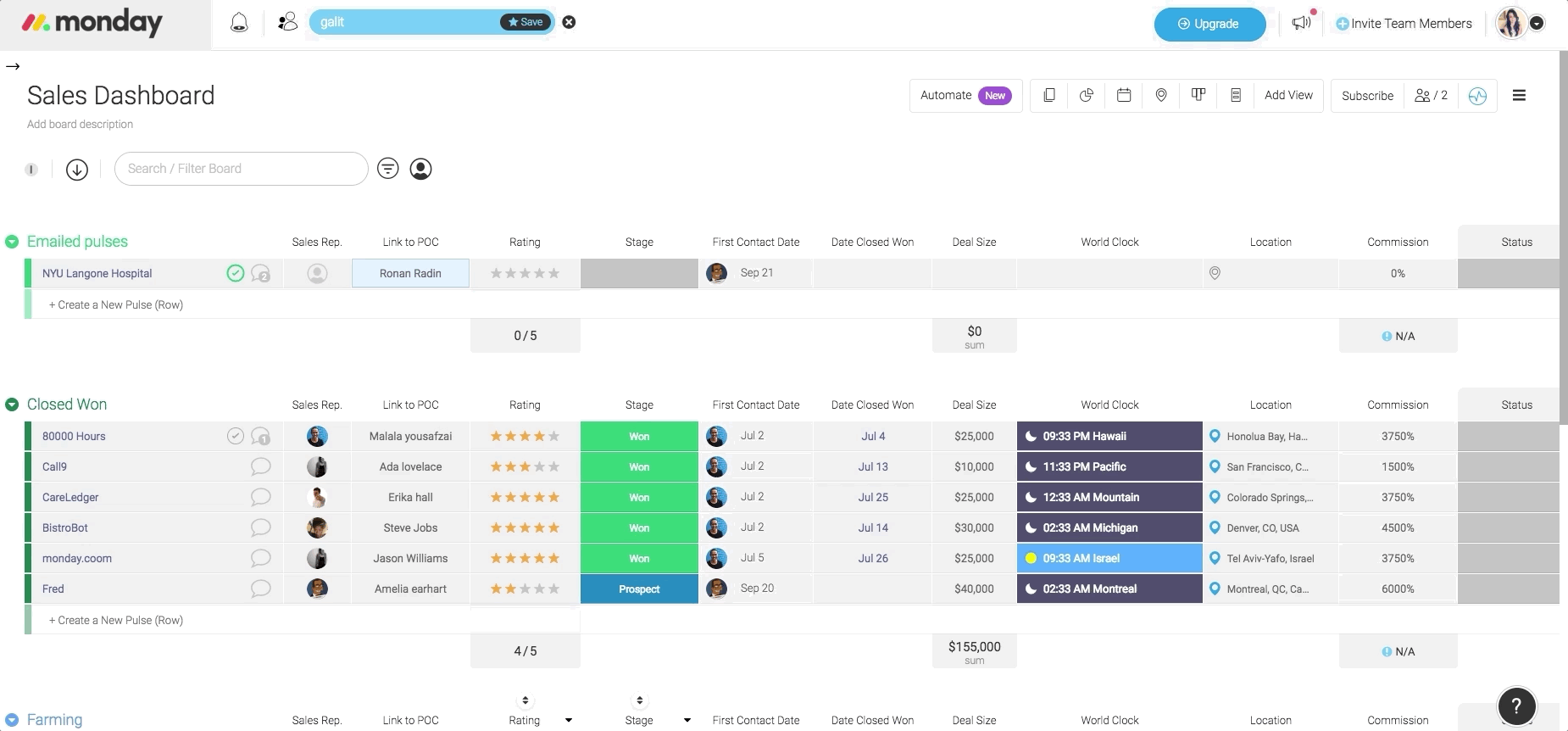 Manage your contacts
Create a Lead Management or Contacts board to manage all your clients' contact information!  You can then link this board to the Sales Pipeline when needing to quickly access contact information! Check out our link column to see how you can connect items from another board.
Our World Clock will help you avoid the uncomfortable mistake of calling someone too early (or too late), Location can mark where you field reps or customers are and Phone will speed things up by opening the default communications app once you click on their number. Go ahead and try them out! Want a nice overview of where your clients are located? Try our map view!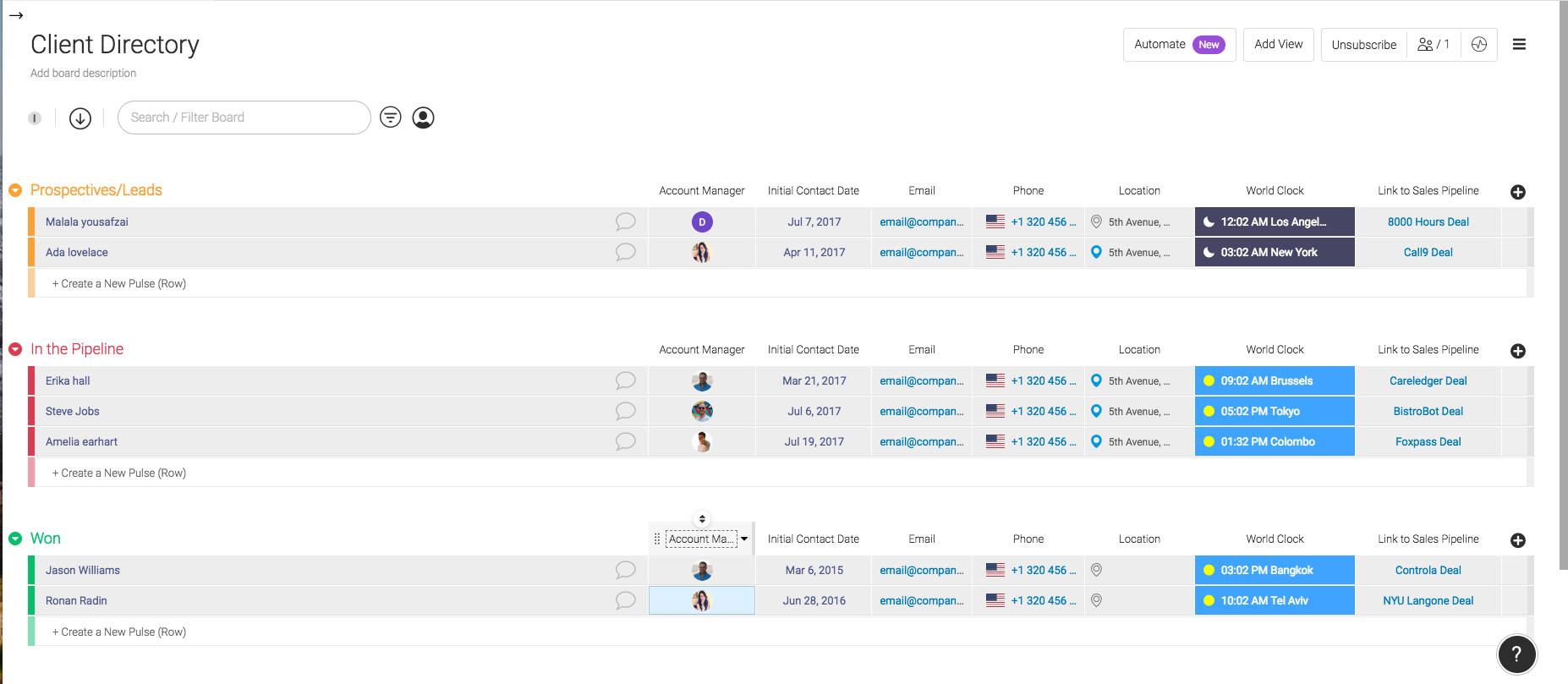 More features to use!
We're constantly adding new features & enhancing existing ones so please have a look over our Column Center and see which of the new columns would improve your board!
If you have any further questions please don't hesitate to reach out to our customer success team at support@monday.com! We are here for you 24/7.