All your billing details can be managed easily in the billing section of your monday.com account. This article will cover all you need to know about managing your billing information.
Billing Overview
To access your billing section, click on your profile picture (avatar) and then select "Admin". Next, click on the Billing tab as below:
Below are all the cool things you can see in this section:
Overview
This part is a summary of what you have paid for. It includes:
The plan you are on
The amount that was charged
The renewal date of your plan
The number of billed seats
Current users
This part displays a breakdown of your billed seats (members, viewers, guests). For more information about the different types of users, check out this article.
Need help?
You can check our support center at any point to find answers to your questions. In case you need assistance, you can also reach out to our team right from this tab.
Who can manage the billing?
Only admins of your account can access and manage the billing section. When creating a monday.com account, you are by default the admin of the account. You can then add as many admins as you want. This article explains how to add or remove an admin from your account.
You also have the option to add a Billing Contact to your account. While a Billing Contact will not have the ability to manage or view billing information on your account, they will receive emails related to all billing-related actions that occur after they are added. A Billing Contact can be someone external to your account (added via email address) or a Billing Contact can be a user on your account. This article explains how to add or remove a Billing Contact.
Billing History
Transparency is crucial for us, especially when it comes to billing. You can keep track of any changes happening in your account on the History tab:
You will be able to see:
The date of the change

What is the change (add/deactivate a user, change plan, etc...)

The number of billed seats

How many seats are left on your plan
Where can I find my invoices?
You will be able to find all your invoices by clicking on the Invoices tab as below: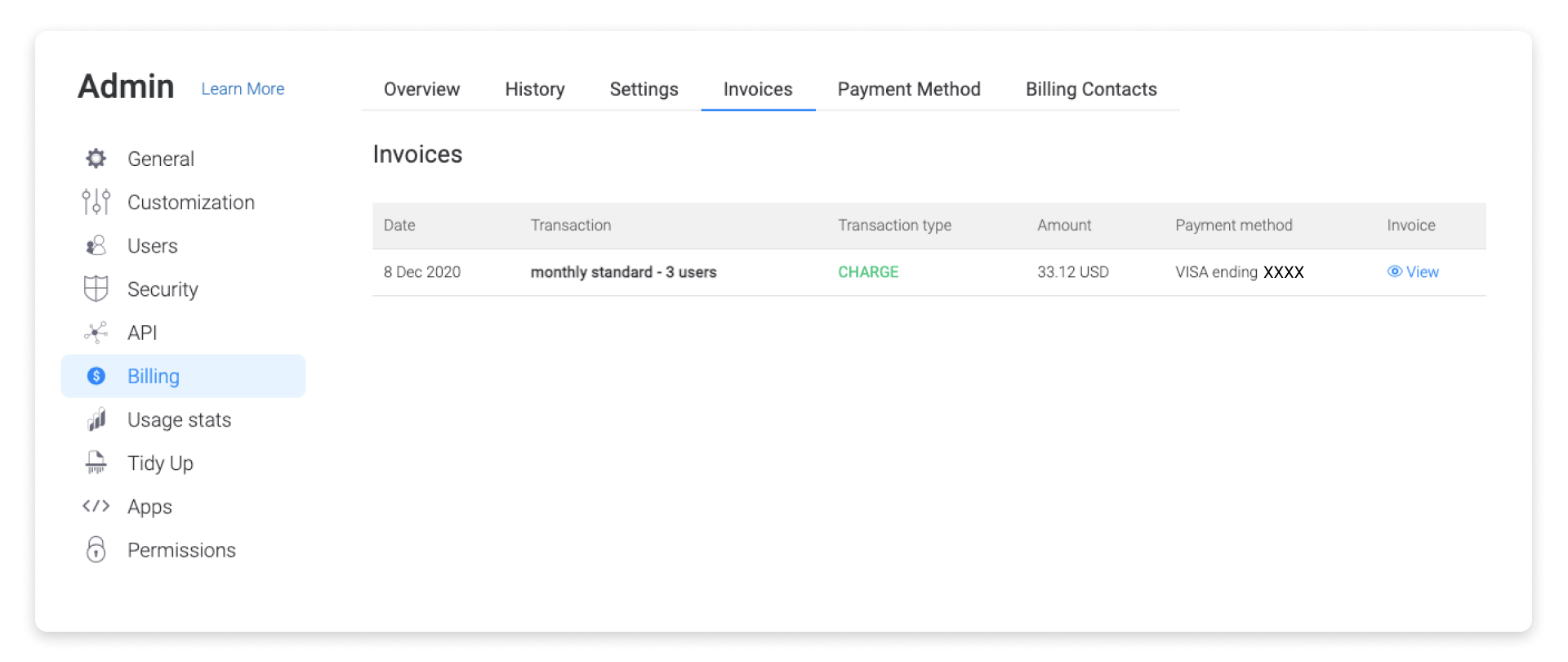 Update my invoice
To update your invoice details, click on Settings. In this tab, you will be able to edit your address, name, country, VAT ID, and more!
Once done, click on "Save settings" to save your changes. Any changes made to these settings will reflect on the next invoice.
For more information about how to change your VAT information, check out this article.
Note:
If you are looking to get a VAT refund, please kindly reach out to us at
support@monday.com
with the subject line: "Please Provide VAT Refund."
Change my payment information
You can change your payment details at any point by following these steps:
Click on your Profile Picture (avatar) and then select Admin.
Next, click on billing and select the Payment Method tab
From there, you will be able to change your current credit card to a new one.
Payment Methods
We accept all major credit cards: 💳
Visa
Master Card
American Express
Discover
Diners Club
JCB
Carte Bleue
We also accept Paypal payments.
If you have any questions, please reach out to our team by using our contact form. We're available 24/7 and happy to help!