Do you find yourself having to reschedule and restructure an entire project when only one phase gets delayed? We know that things don't always go exactly as planned, and what it means for the project when certain phases are dependent on other phases. This is why we've created a solution! Allow us to introduce you to a board that is built to restructure and update your project's timeline with every bump in the road! 📊
Build your project board
Our project board is named "Gantt Board", because of it's use of the Gantt-style bar chart that we can create using this board! Gantt charts are traditionally used to visually demonstrate the relationships between activities and current schedule status. We're going to show you how to build a board that will automatically generate and update a Gantt chart based on your project's progress!
Items, groups, and columns
Our board is made up of rows of items, which can be used to represent anything from lists of projects to weekly tasks or topics of discussion. In this case, we've created each item to represent a different task in our project.
We've categorized these items with the help of groups. Each group represents a different phase in our project and contains all tasks (items) associated with each phase. This board divides the project into Planning, Execution, Launch, Closure, and Milestones, but you could customize your board to accommodate the different phases that your projects go through before completion!
Finally, we use our columns to update the details of our tasks so our team members always know where the project stands.
Columns are part of the foundation of your board. They are used to display all of the details of our tasks and are fully customizable! Let's take a look at the columns we've used to build this project board.
Task Owner
Our "Task Owner" column is a People Column, which allows us to assign a team member to a certain task. When we click a cell in the People Column, we can choose one or more users in our account, or an entire team of people as the responsible party/parties for each task! This way, we can see how our resources are delegated within our project, and encourage accountability across our team members.
Status
Our second column is a Status Column called "Status". When we click a cell in this column, we can select the relevant label to update the status of our tasks. This is a great way to give your team members a general update of whether the task is "ready for review", "Stuck", or "done"!
Priority
The "Priority" column is another Status Column, this time set with labels that reflect the priority level of each task. The column summary at the bottom of the group shows a battery-style chart indicating how many of the tasks are labelled as high, medium, or low priority so you know where to give a push and what can wait a little.
Notes
The "Notes" column is a Long Text Column that allows you to write any notes or comments relating to the task.
Set up your Gantt Chart
The "Task Timeline" column is a Timeline Column, displaying the time frame of each task. A calendar pops up when you click on a cell in the column, allowing you to choose the dates within which the task is set to be completed. At the bottom of the group, you can see a column summary, displaying the total range of dates for the entire phase. This will really help to give you an idea of how long each project phase will take, and when the next one is set to begin.
When you've inputted all your important dates into the Timeline Column, head over to view them in the Timeline View! Below your board's name, you'll see "Main Table". When you click the arrow, you'll launch the menu containing all the views added to your board, and the option to add more views! Click "Gantt" or "Timeline View" to see your entire project's timeline.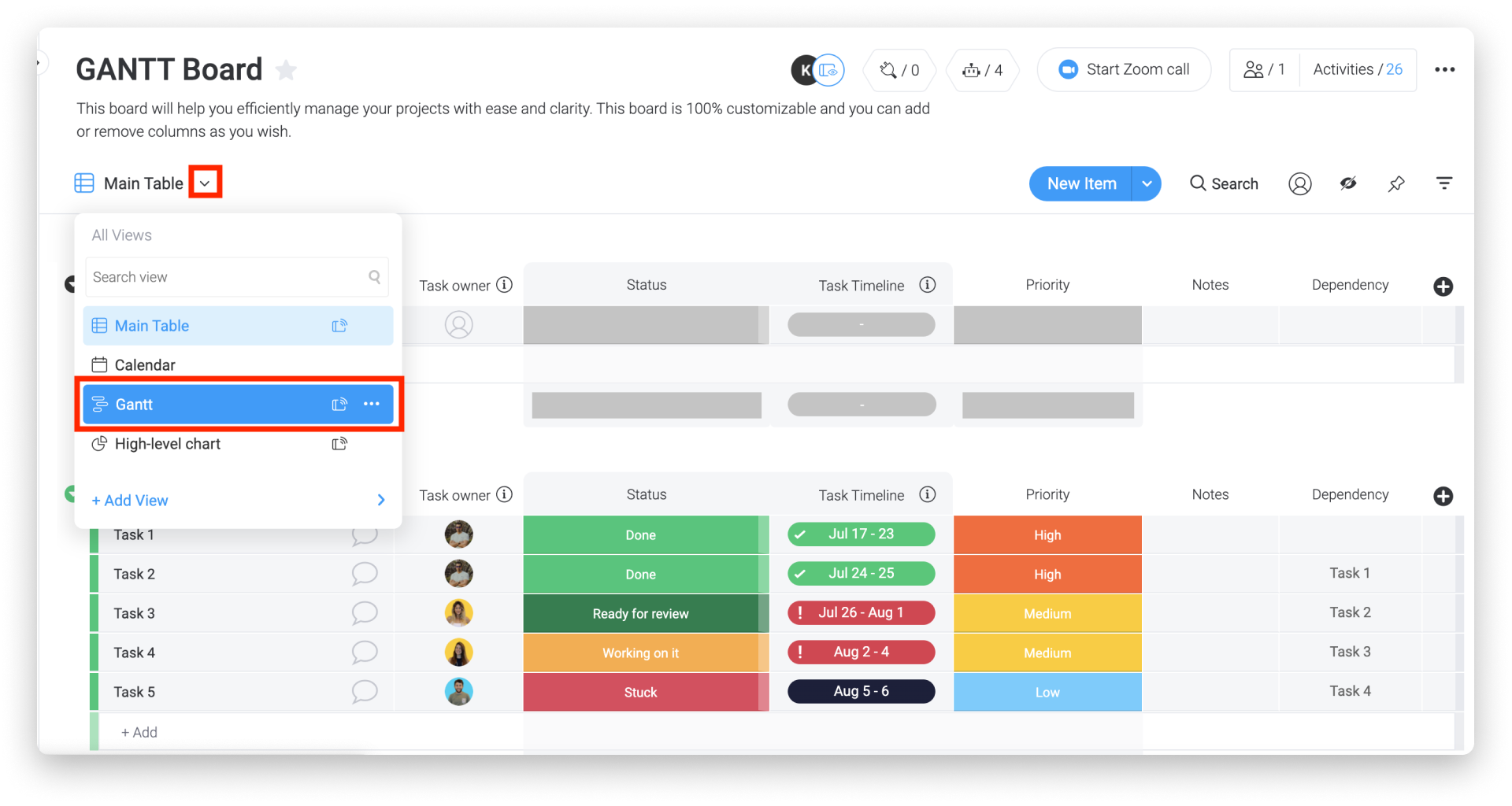 Create Dependency
The final column is a Dependency Column, which is the magic that ties everything in this project together. When we click a cell in the column, we can tie a task's timeline to the status of the previous task. For example, If we need to finish Task 1 before we begin Task 2, then we will set Task 2 to be dependent on Task 1. When Task 1's deadline arrives, and the status is not "Done", Task 2's Timeline will be delayed accordingly. We'll explain dependencies further in the following sections.
Tip:
These are only some examples of the available columns. Make sure to head over to the Columns Center to check out all of the fully customizable columns to suit all your needs and help you make the most of your boards!
Communicate with your team
One of the most efficient ways to keep your project's timeline on track is to ensure open communication and transparency with your team members. To achieve this, we use the Updates Section! Click on any item in your board to launch the item's Updates Section and Info Boxes. Updates allow you and your team to communicate, social media style, inside an item, keeping all the conversations about a specific task or project in the same place and in context.
Use this section to '@ mention' team members, attach files and photos, link important websites, or create checklists related to your tasks!
Adjust your timeline automatically
In a perfect world, we would plan all of our projects months in advance and they would run smoothly right up until their completion on the planned date. But in reality, unfortunately, things don't always go exactly as planned. While this board is structured to help you stay on track, it is also structured to help you bounce back quickly and automatically adjust your project's timeline according to unforeseen delays.
We achieve these automatic updates by utilizing board automations! Automations are actions that are carried out automatically in reaction to an event on your board.
The following automation connects the "Task Timeline" column to the "Dependency" column. With this connection, the timeline of every item must come after the end of the dependee's (previous task's) timeline. This automation is how we get our entire project's schedule to readjust according to one manual change that we make!
The Timeline View places all of your tasks in a Gantt-style calendar, where you can see each task mapped out by date along the x axis, and organized by project stage (or group) on the y axis.
When we're delayed with one of our tasks, we can change the timeline manually by clicking on the bar to open the item card, or we can simply drag the bar within the calendar using our mouse, as shown below. When we adjust one item's timeline, all dependent tasks are adjusted accordingly with the help of our automation! For example, in the video below, we've lengthened Task 1 by 2 days. Automatically, every following task is delayed by 2 days.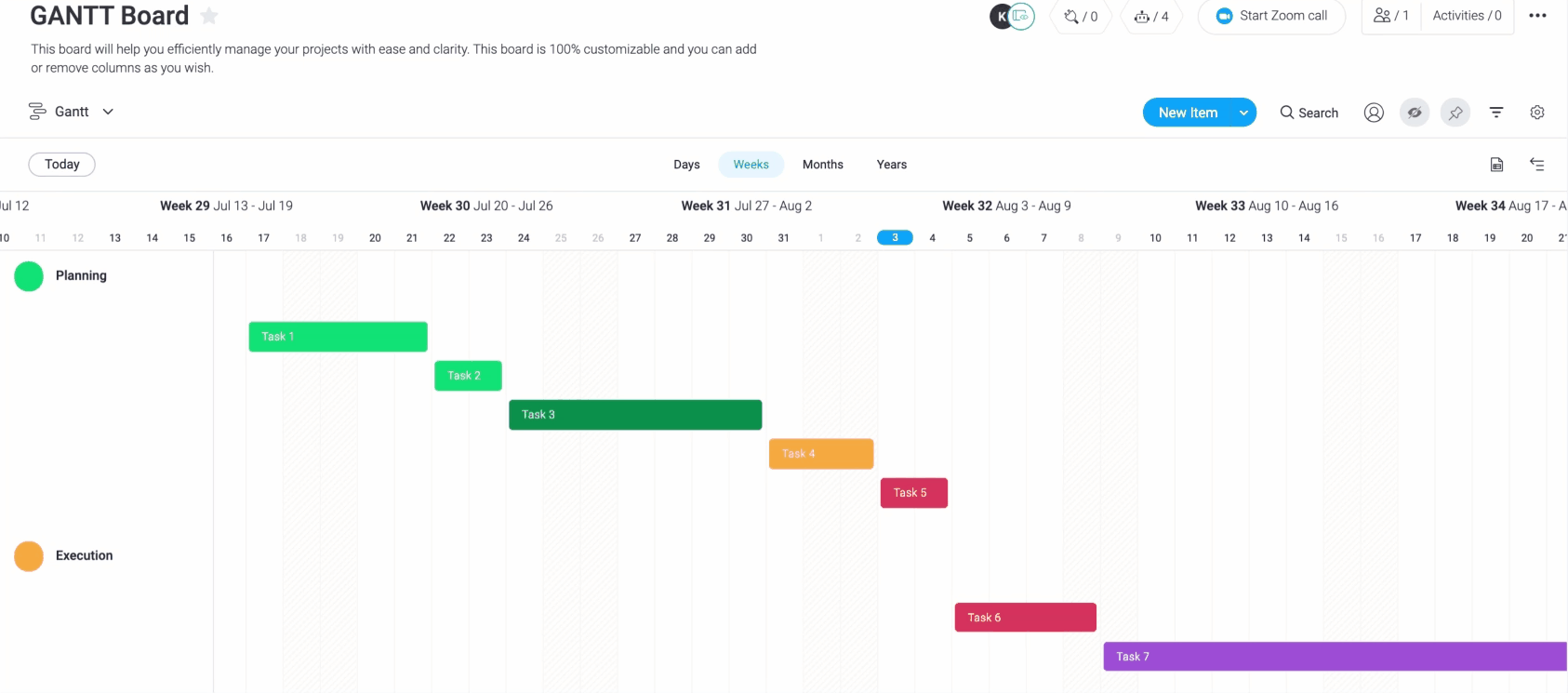 Tip:
There are lots of other useful automations we've added to this workflow, so make sure to scroll through them! We also encourage you to visit our Automations Center to see all of the different recipes we offer! They are fully customizable to suit your every need!
Visualize your progress
While our board shows us a detailed report on our project's development, we can use board views to give us a more general overview of our progress! The Chart View shows us how many of our tasks are assigned each label from the Status Column. We've customized our bar chart to set each bar as a different project phase (group of items on our board). The colors stacked in the bar each represent a different status label, while the number in the color block indicates the number of tasks (items) assigned the respective label!
We can use the board view's settings to change the x and y axes of our chart, the groups or items included in our chart, or to even change the type of chart!
Tips and tricks
There are so many amazing tweaks and adjustments you could do to your boards and views to make your workflow smoother, but we've compiled a few of our favorite feature highlights!
Switch to "Split Screen View" from your Timeline View's settings menu to see both your raw data and your calendar on the same screen! When in Split Screen View, your Timeline will appear at the top of your screen, with your Main Table View on the lower half of your screen, allowing you to see your tasks in a visual context without having to flip between board views. This can be done with any of the views you add to your board. Read this article to learn more about this feature!
Turn on Dark Mode for a color contrast that makes your data a little easier to read! When in Split Screen Mode, your view will appear with a dark background, while your Main Table View will have a light background. We find that this mode helps our eyes focus better on the different types of data on our board.
We've customized our charts and views to perfectly suit our needs, but feel free to experiment and find what best works with your workflow! Use the view's settings menu to adjust the view however you'd like!
Use the "Tornado" filter to narrow down the items you see on your board or board views. You can filter by group, item name, or any of your columns! When we finish reviewing our filtered results, we can clear them or save them as a separate board view so that we can use this filter again later!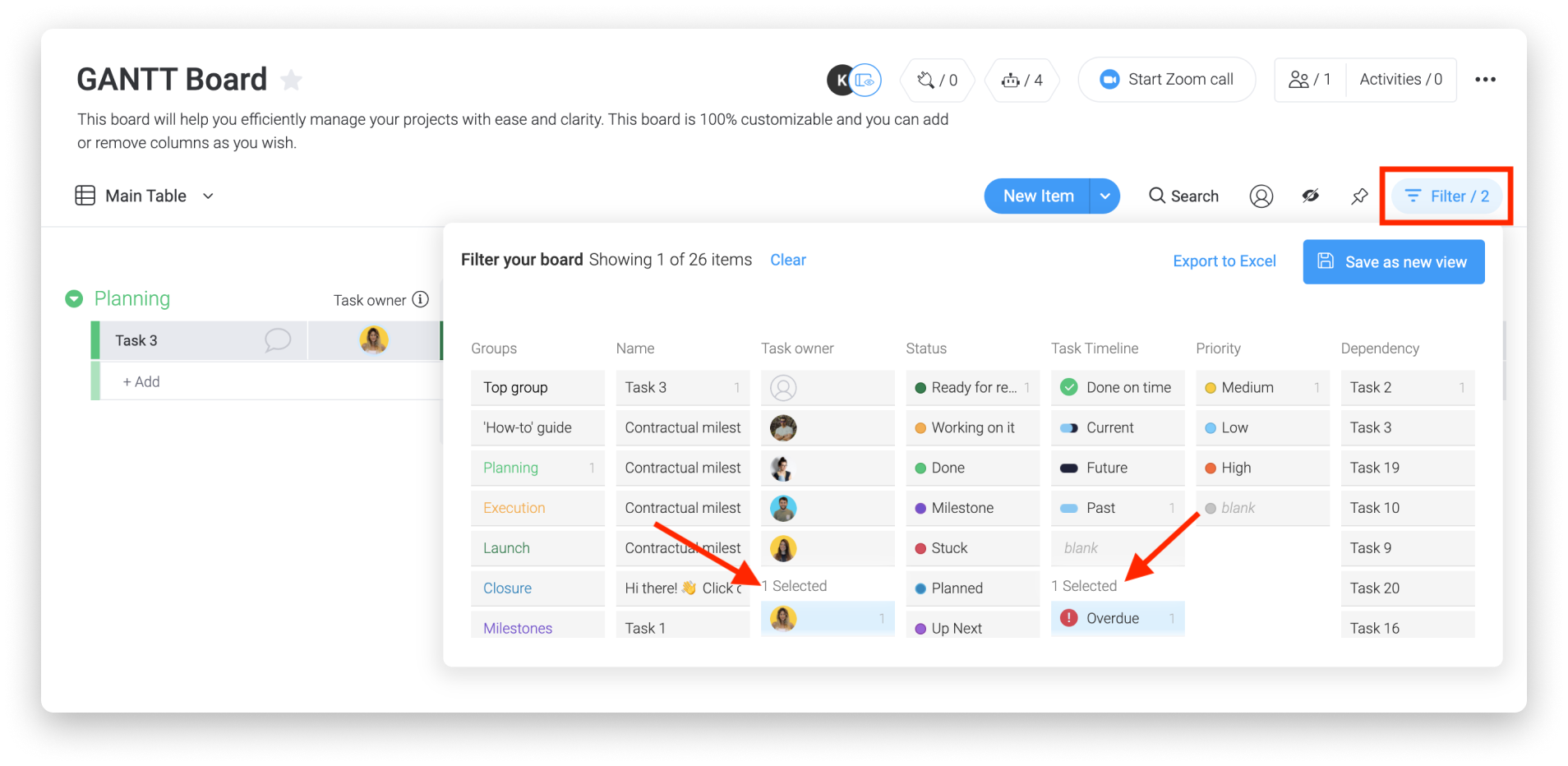 Get creative
These boards and board views are intended to be a starting point to help you translate your workflow into a monday.com workflow! You can use these exact boards in your workflow if they're right for you, but don't be afraid to experiment and test out all of the amazing features on monday.com! Make sure to check out other prepared templates and explore the Columns Center to see all of the ways you can use columns as building blocks to customize your own one-of-a-kind board! You can make your own automations and enable integrations to really connect the dots in your workflow!
Tip:
You can create a dashboard connected to your project boards to get a great visual overview of all your projects.
Make sure to check out our Dashboards Center to help you create a great visual overview of your workflow loaded with apps and widgets!
If you have any questions, feel free to reach out to our Customer Success Team at [email protected]! We're here for you 24/7 and happy to help! :)