With this awesome widget, keeping track of your projects has never been easier! The Overview Widget gathers and summarizes the progress from your selected boards into one place on your dashboard. This is a great way to get a high-level picture of what's happening for each project and overall! 🤸‍♀️
Note: This feature is available only on our Pro and Enterprise plans
How to add the widget
Unlike most widgets, you can connect any board to the Overview Widget even if it isn't already connected to your dashboard!
To add the Overview Widget to your dashboard, just click '+ Add Widget' at the top left corner of your dashboard and select 'More' to launch the Dashboards Center.
From the Dashboards Center, you can find the Overview Widget in the "Staying on Top" category in the left pane, or you can search for it in the search bar!
Note:
The Overview Widget is based on the
Timeline
or
Date
Columns, and
Status Columns
, so you first need to input your dates and/or timelines and statuses into one or more of these columns before we can see the data displayed in the widget.
How to set it up
In the right panel, you can set up your Overview Widget with completely customizable settings! Let's go through each of the categories of settings together!
At our event planning business, it's really important to stay on top of all of the different tasks involved with each unique event! That's why we have a different board for each event we're planning at any given time. Right now, we're working on four big events, and we want to keep an eye on the progress of each of them! Here's an example of one of our boards:
As you can see, we use a Date Column to make sure we set deadlines for each thing on our to-do list, and a Status Column to keep track of our progress. Let's see how we can get a better look by adding these boards to our Overview Widget.
First, under 'Boards', we can choose the boards we want to see in our widget. We've selected the four boards for our upcoming events below:
Next, we can pick which groups we want to display data from. We have our groups organized by the month in which we wish to complete certain tasks, so we've chosen the past, previous, and upcoming months for our events! For less complicated events that take a shorter time to plan, we can choose to view only this month, or this month and next like we did for our first event below:
If you have more than one Timeline and/or Date Column, choose which one you want to display in your widget under 'Choose which "Date" columns to include'. This widget only works with one Date or Timeline Column per board. We only have one Date Column in our boards, so it is added automatically here, unless we choose "No selection" from the drop-down menu if we don't want to display the dates for one of our boards.
If you have more than one Status Column, choose which one you want to display in your widget under 'Choose which "Status" columns to include'. This widget only works with one Status Column per board. We have two Status Column in our boards, so we chose the correct one from the drop-down menu for each board.
Choose how to display the widget
After we finish outlining our settings, we can choose how we'd like this widget to be displayed in our dashboard! We can display it as:
"Overview" showing all of the items from our boards in a battery-style progress bar
"Table" displaying the groups of items across all of our boards exactly how they would appear in each of their boards. This is a really great option if you want to track dates and timelines across several boards and need to glance at all of them together
"Split Mode" (as seen in the image below) combining both views together so you can see your items in an overview form along with the original data from your boards!
When you are ready, click "Done" to add the widget to your dashboard!
How it works
Now that your widget is all set up, you can take a look at it to understand where you stand on all of your projects!
Each row in your Overview Widget represents one of your connected boards.
The "Name" column displays the name of your board
The "Dates" column displays the earliest and latest date in the timeline of each project!
The project's "Progress" is displayed as a battery-style bar showing you a visual representation of the project's overall progress. The white represents how many tasks are left to complete, and the blue represents tasks marked as "Done"
The "Status" column will show a label, which is automatically generated based on your project's status and deadlines! When you've completed all of your tasks, a green label will read "Completed". When you're "On track" with your tasks, a blue label will signal that you've completed most tasks by the deadline, and your project is advancing at a great pace! When you have approaching or past deadlines and a few tasks left to do, you'll see a yellow "At risk" label. When you aren't keeping up with several tasks, and the deadline are past or quickly approaching, you'll see a red "Behind schedule" warning label.
Now you can see where you stand on all your projects in once glance!
Tip: Click on any row to open up the board it's linked to so that you can see more details and get to work on smashing your goals!
Filter your overview
If we don't want to see all of the dates and timelines on our boards, we can click the tornado icon to filter out our information! 🌪
We're interested in seeing which projects need an extra push, so we've filtered by "Working on it" and "Not Started" in our Status Column! We;ve also filtered by Groups, and selected "June" to see what still still needs to be done this month. If we want to return to this view the next time we open our Dashboard, we can click 'Save to this widget', and our Widget will remain will this filter until we click 'Clear' in our filter menu.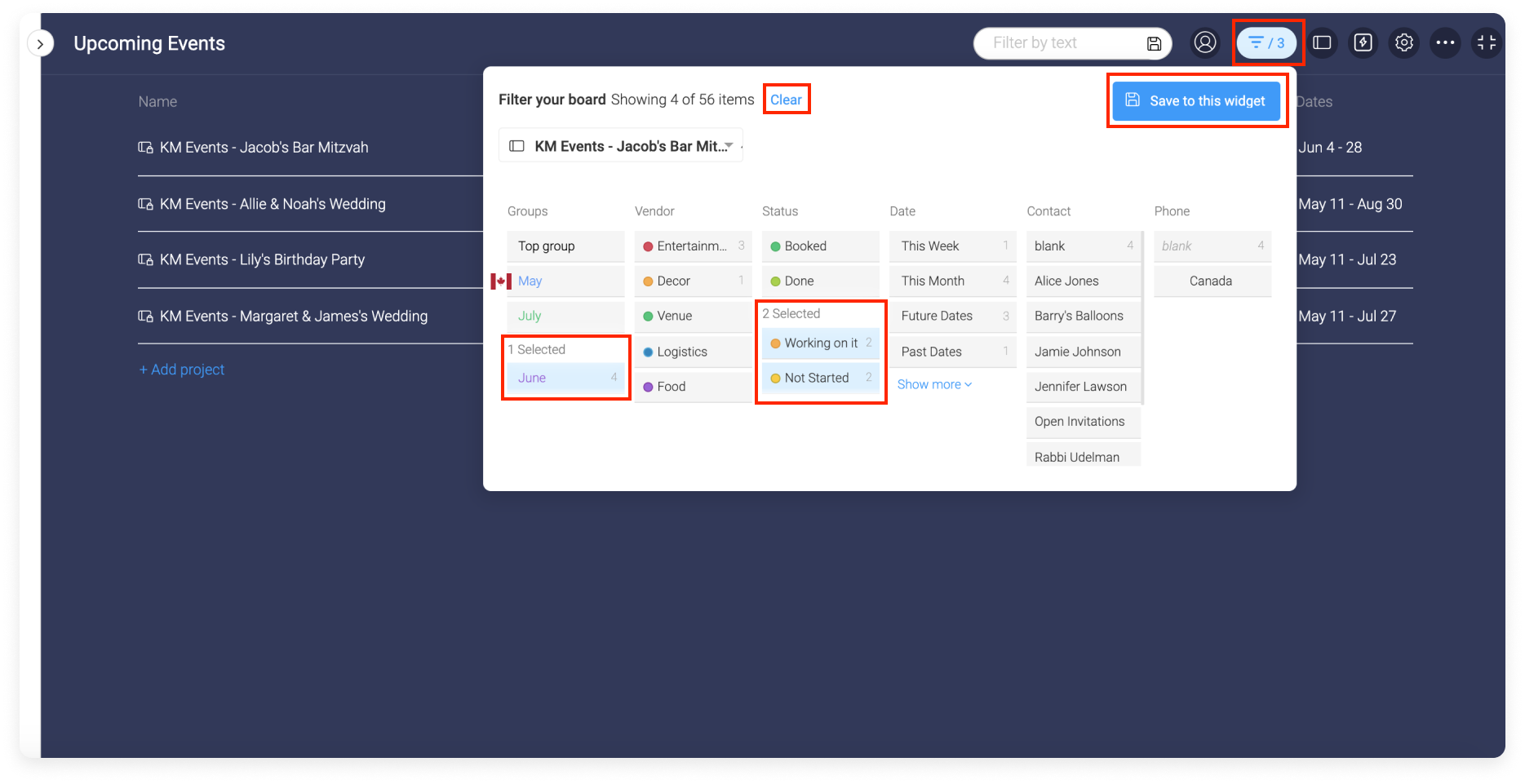 When your dashboard is toggled to "Edit" mode, you can rename your widget by clicking the 3 dot menu at the top right corner of your widget and clicking "Rename". You can also just click the current title and begin typing a new title to replace it!
If you have any questions, please reach out to our team by using our contact form. We're available 24/7 and happy to help!