Alert Reminders pop up to notify you of an approaching deadline and can help keep you on track! Keep reading to learn a few ways to create alerts. ⏰
Deadline Mode
Use Deadline Mode Notifications to alert you when the date that your project or task needs to be completed is approaching or has already arrived!
Just make sure you have a Status Column and a Date or Timeline Column! In the board below, we put the Status and Date Columns that we want to connect right beside each other so that we can easily see their relationship!
Click the arrow at the right side of the Date Column's header to launch the column's settings menu, and select 'Set as Deadline'.
This pop-up will appear, prompting you to choose which Status Column to connect to the Date Column. Select the Column, and click 'Connect columns' like this:
And that's it! Now you can see that the Status and Date Columns are connected! In the example below, we can see that the due date for 'Action Items' has already passed, and the Status is still "Working on it", so we can see a red alert symbol beside the date. The items that were 'Done' on time are marked with a strikethrough on the deadline and a green checkmark. Upcoming deadlines are marked with a pie chart showing how much time is remaining, while a filled-in bubble indicated that the item is due today!
Now, in the Column's settings menu, click 'Set Due Date Reminders' to turn on alert reminders for upcoming or overdue items!
The same action can be done to connect the Timeline and Status Columns! Just open the Timeline Column's settings and click 'Set as Deadline'. In the Timeline cells, you will see a set of bars with the start and end date, with the bar filling up like a thermometer as you approach the end date. In the screenshot below, we can see that after a deadline has passed and the item was marked 'Done' or 'Approved', it is marked in green with a checkmark! An overdue task (like 'Watch Convention') is marked in red with an exclamation point to let you know the deadline has passed, and the item is not 'Done' (or in this case, 'Approved').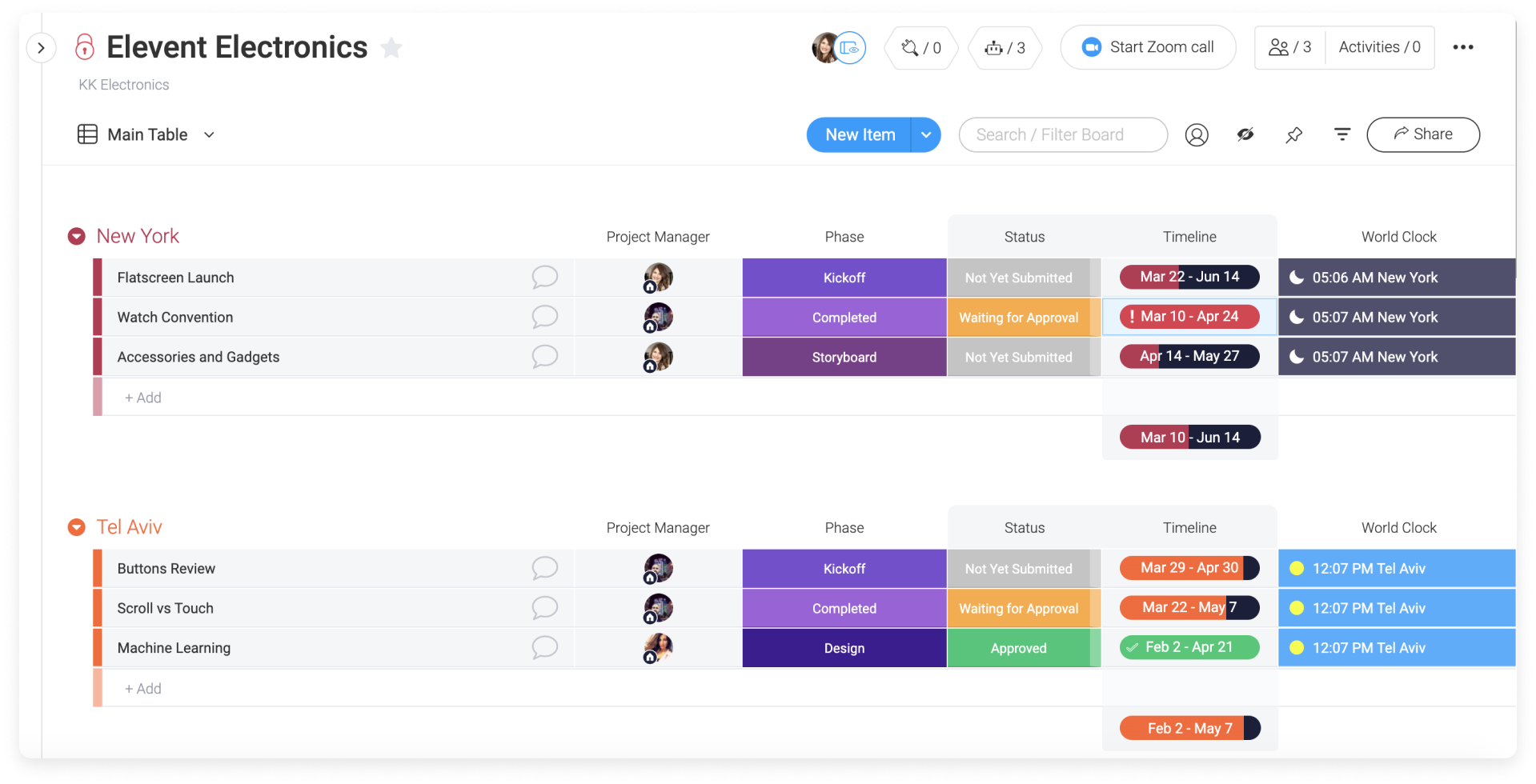 Now, you'll receive alerts about upcoming or overdue items in your 'Notifications' center on the left pane, as shown below:
To learn more about Deadline Mode, check out this article.
Automations
Head over to the Automation Center to check out all of the different 'recipes' to create alerts and notifications for your boards! Each recipe consists of a trigger and an action. For example, "when a task is completed, notify everyone on my team". The trigger is a task being completed and the action is to notify everyone on my team. When you are finished, just click 'Add'! Keep reading for more details!
Click the little robot icon at the top of your screen to launch the Automation Center like this:
Once you're in the Automation Center, you can click on 'Notifications' in the left side menu to jump to the notification recipes.
From here, you can pick any recipe that suits you, like this one, for example:
Each underlined field can be customized so that the Automation will work exactly how you set it! I filled the above Automation out like this:
Now, 2 days before each show's (item's) date arrives, if the status column 'Set' is not marked as 'Prepared', I will be notified! You can even customize what the notification message is! If you click 'notify', you can type in whatever message you want to receive when the time comes! You can even build the message using the supported fields, which will be automatically filled out according to which item triggers the Automation! These notifications will appear in your Notification center (bell icon on the left pane) and by email (if your email notifications are on).
Check out this article or watch this video to learn more about setting Alerts and Reminders with Automations!
Calendar Integration
This awesome feature allows you to receive alerts and notifications from outside of the monday.com platform! It's easy to integrate your monday.com Timeline or Date Columns with your external calendar (Gmail, Outlook, iCal and more) using the simple steps below.
Click the '+' sign on the right side of a Date or Timeline Column to access the Column's settings menu:
In the Column's settings, you can choose to sync with your Google Calendar (the default calendar) or other internet-based calendars!
Now, just choose whether you want to sync only the items assigned to you, or all items on the board and click 'Sync'!
When I head over to my external calendar, I'll see all of my monday.com items imbedded! Now, all I have to do is enable notifications from my external calendar!
Check out this article to find out more about Calendar Integrations!
Update Reminders
Need to set a reminder to review an update later? The "Update Snoozer" can help! This is available for updates in your board or in your monday.com inbox.
Update Reminders
Click on the item who's update you wish to view:
While viewing an update, set up the reminder by clicking the bell icon in the top right corner over here:
Now you can choose exactly when you want to be reminded by selecting one of the pre-set timing options as shown below:
When the time comes, your reminder will pop up in your Notification center (bell icon on the left pane) and by email (if your email notifications are on).
Inbox Reminders
Open up your inbox by clicking its icon in the left pane. Once your update is open, you can click the bell icon and select one of the pre-set timing options to snooze the update until you're ready!
There's no need to fill your head with reminders when monday.com has got your back! With all of these different reminder options, nothing can slip through the cracks!
If you have any questions, please reach out to our team by using our contact form. We're available 24/7 and happy to help!