8 min read
Feature
You may have heard the news that we've released a brand new product called WorkForms for making insights actionable. We're just as excited about it as you are! With monday WorkForms, you can create and use custom forms to collect, track, and analyze data while automatically syncing with your monday.com boards and workflows.
In this article, we'll learn how to build and customize a WorkForm, as well as how the results can be connected to your very own monday.com account. Let's dive in! 🙌
Getting started with monday WorkForms is as simple as can be! Simply access workforms.com and click on the "Sign up" button on the top right corner of the screen.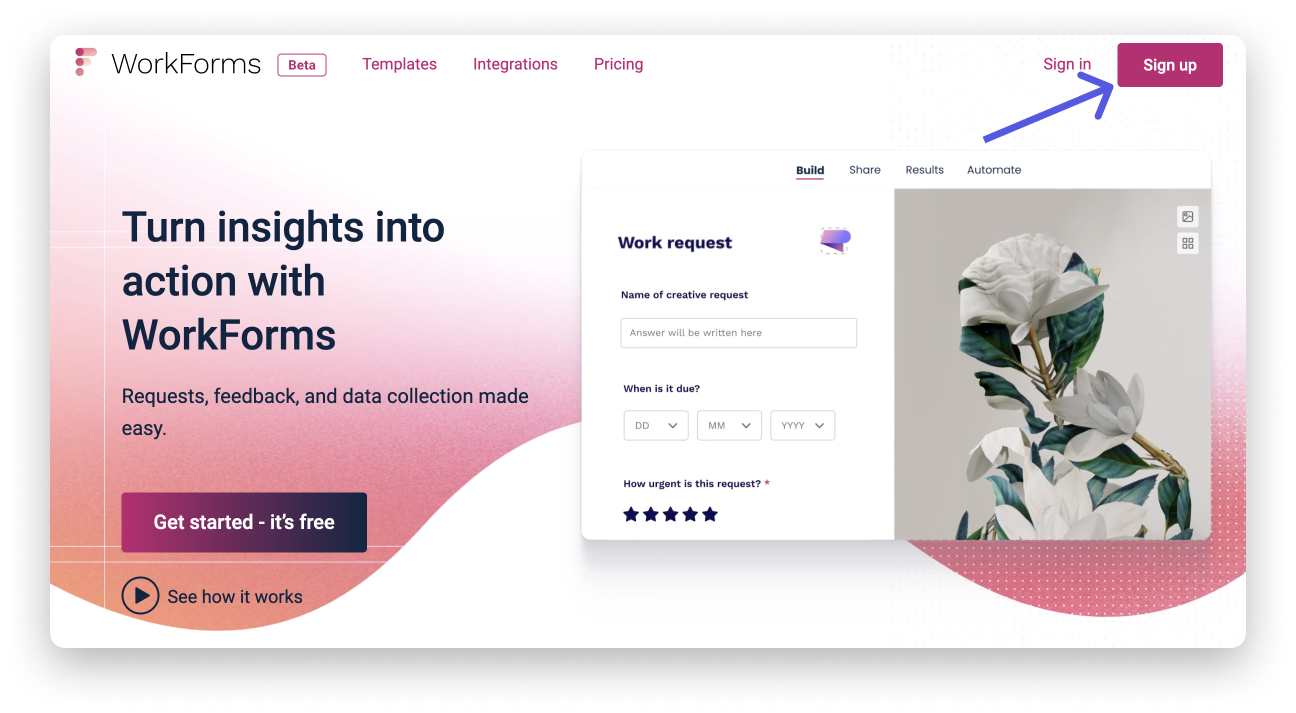 From there, if you have an existing monday.com account, you can select it to log in. If you do not have a monday.com account, or would like to create a new account altogether, click on "Use another account" and follow the steps on the screen to create a brand new account for monday WorkForms!
Build out your WorkForm
To begin building out a new WorkForm, you can choose to either start a new one from scratch, or get started quickly using a pre-prepared template.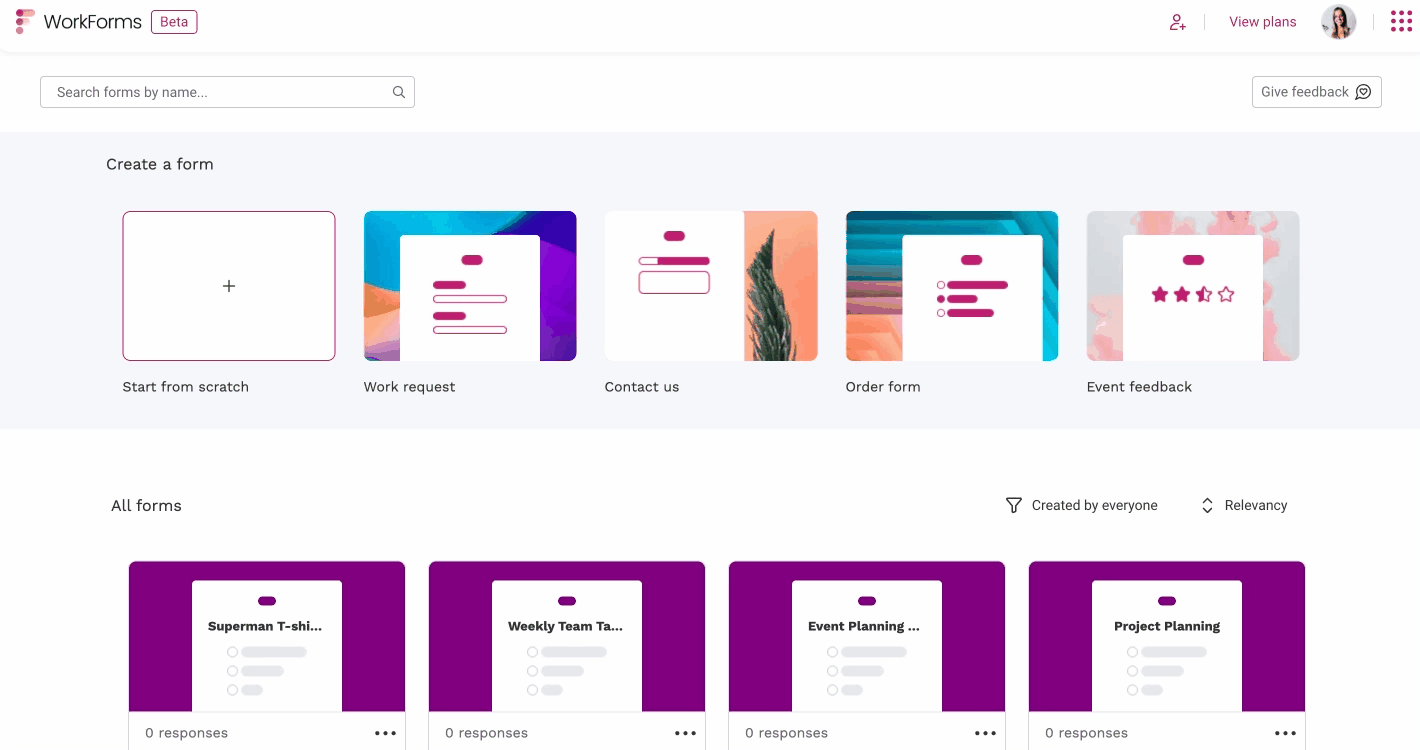 With either option you select, you'll be redirected to the WorkForm editor on the "build" tab so you can begin your WorkForm customization right away! Let's check out all the ways you can build out your WorkForm, below.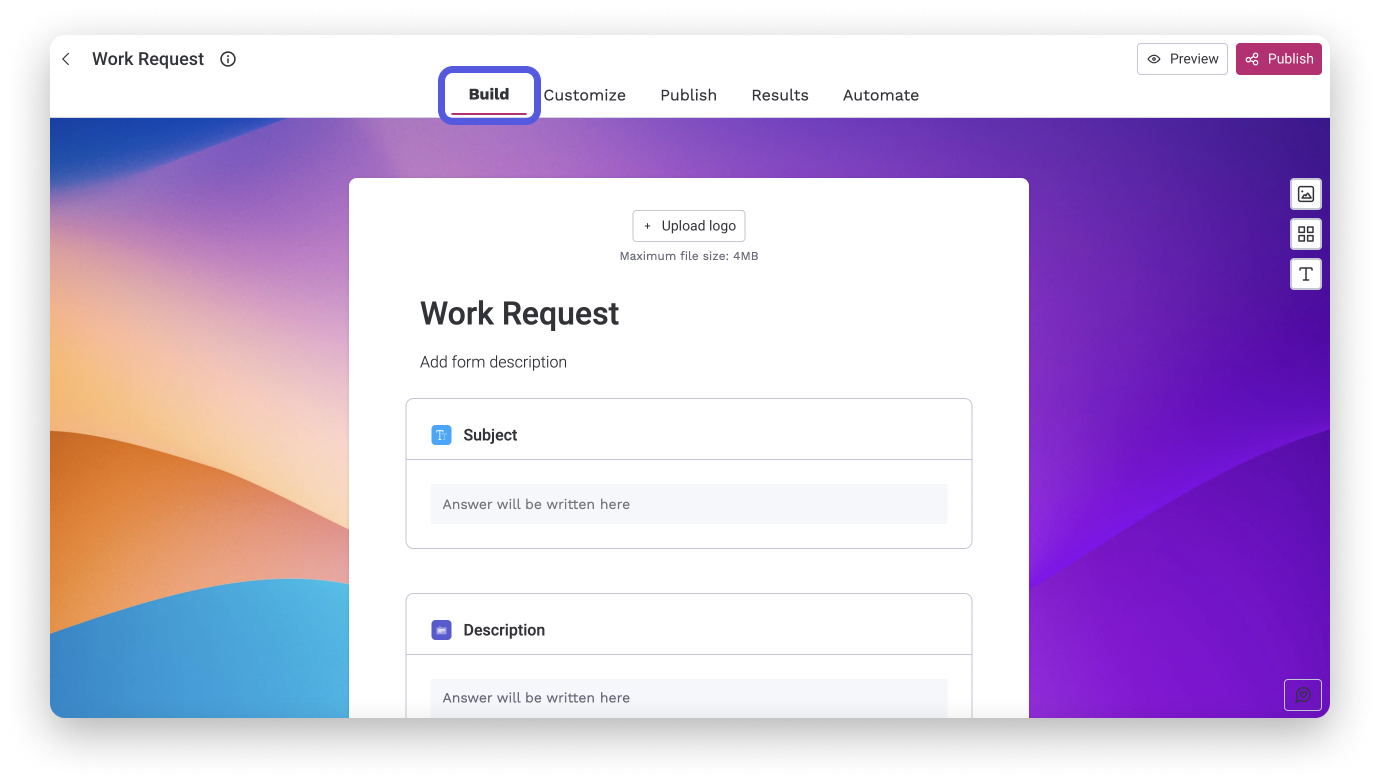 Note:
If you don't see the option to add questions directly from the form, it's because you are not yet on our newest version of forms, WorkForms. To get this feature, go to workforms.com and follow the steps outlined in the first section of this article.
Align the look of your form with that of your organization by adding your company logo! Simply click on the "Upload logo" button at the top of your WorkForm, select a file from your computer, and you're good to go.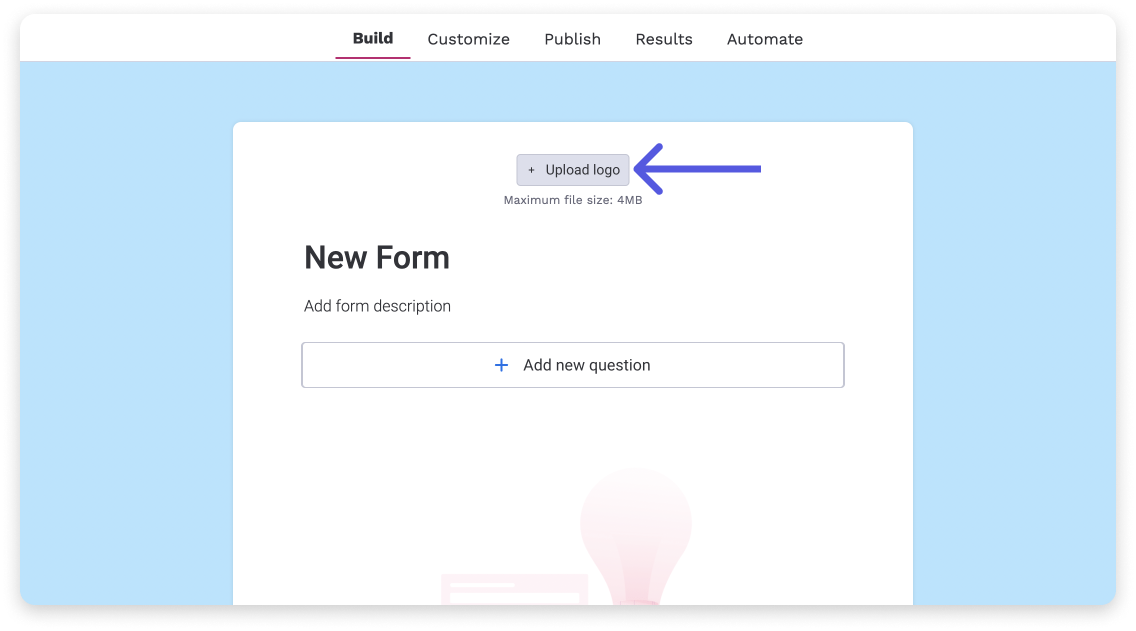 Note:
To optimize the quality of your form logo, we recommend using a
file with a max size of 4mb, 100 pixels, and to keep the resolution of the image.
To add or edit the name or title of your form, simply click on it and type out your title as you wish!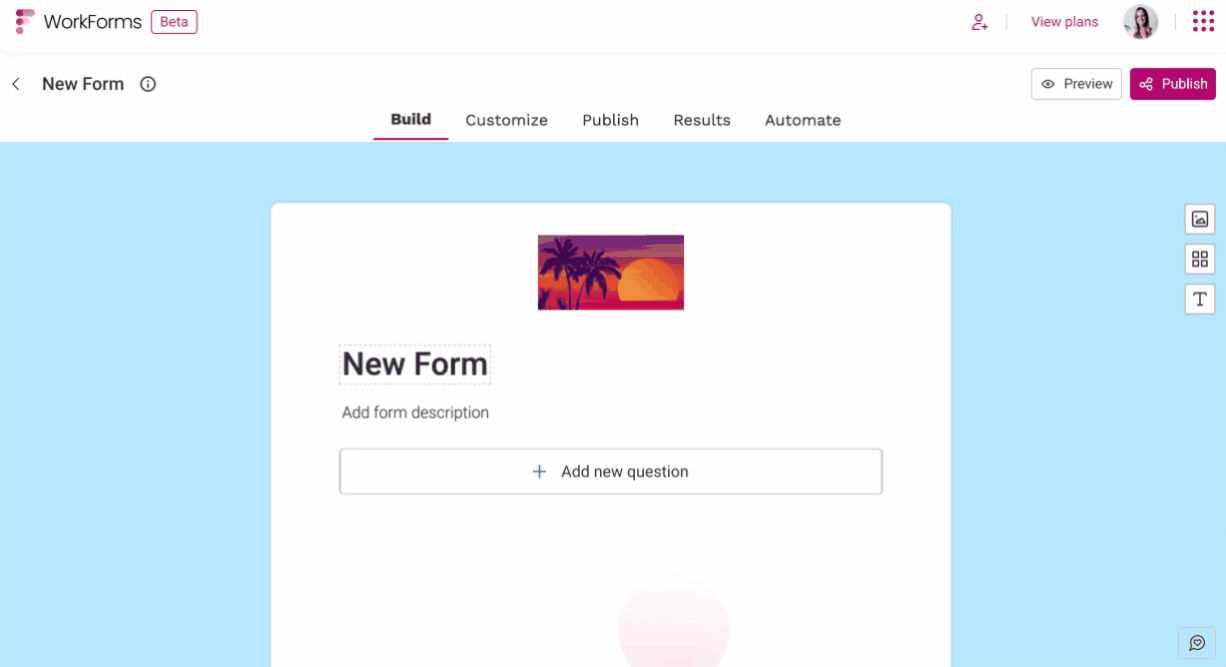 Add a description to your WorkForm to better explain what the form is used for, or to include any additional details that you may need the responder to know! Simply click on the description box to add a new description or to edit an existing one.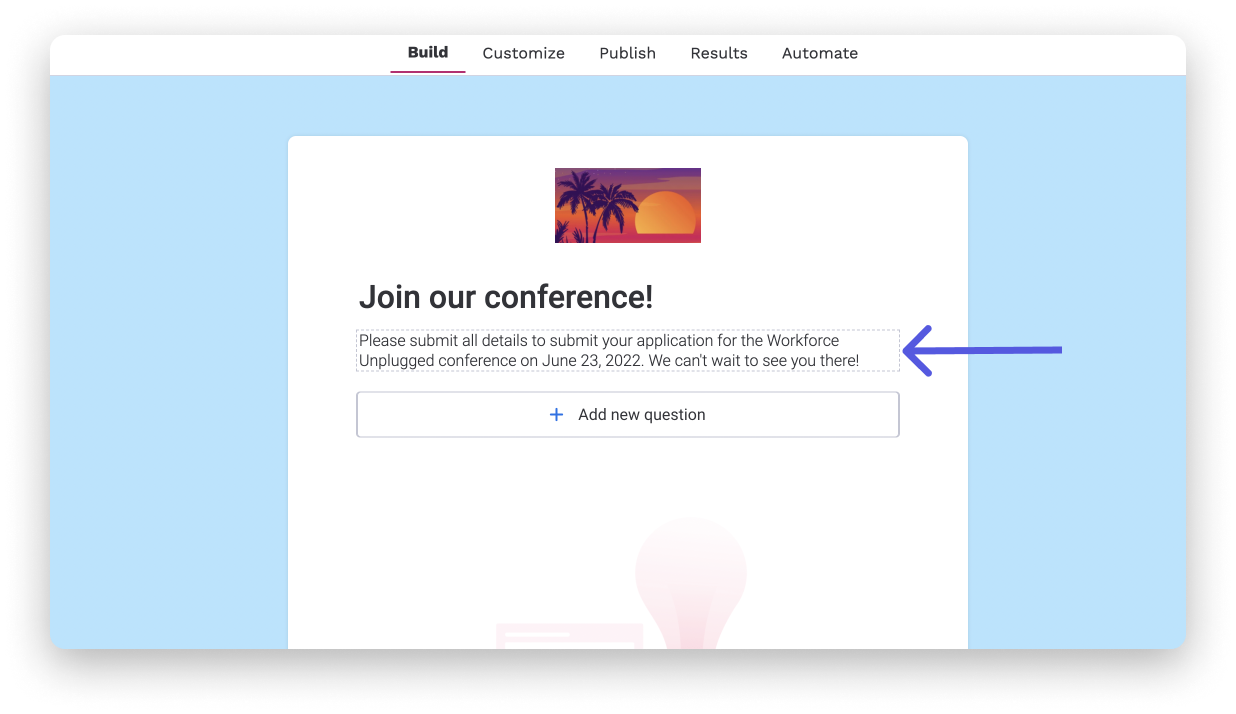 Add question and answer choices
Now that you've added a title and description (if you so choose), it's time to add and customize your WorkForm's questions! To begin, select "Add new question" and choose the type of question that you want it to be.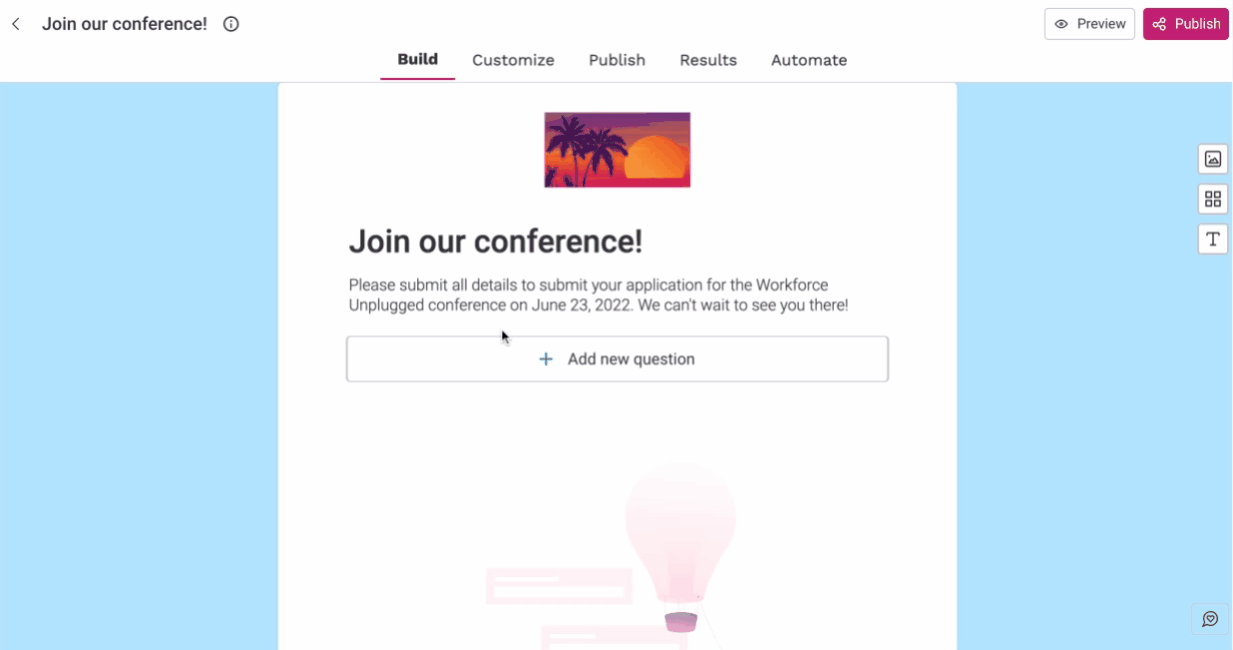 Note:
The question type that you choose here will dictate the
type of column
that will be added onto your board if you choose to connect your WorkForm to a monday.com account. You can learn more about what this means in
this section
of the article.
Hovering over each of the blocks within the question box will allow you to edit the question title and the question's optional description.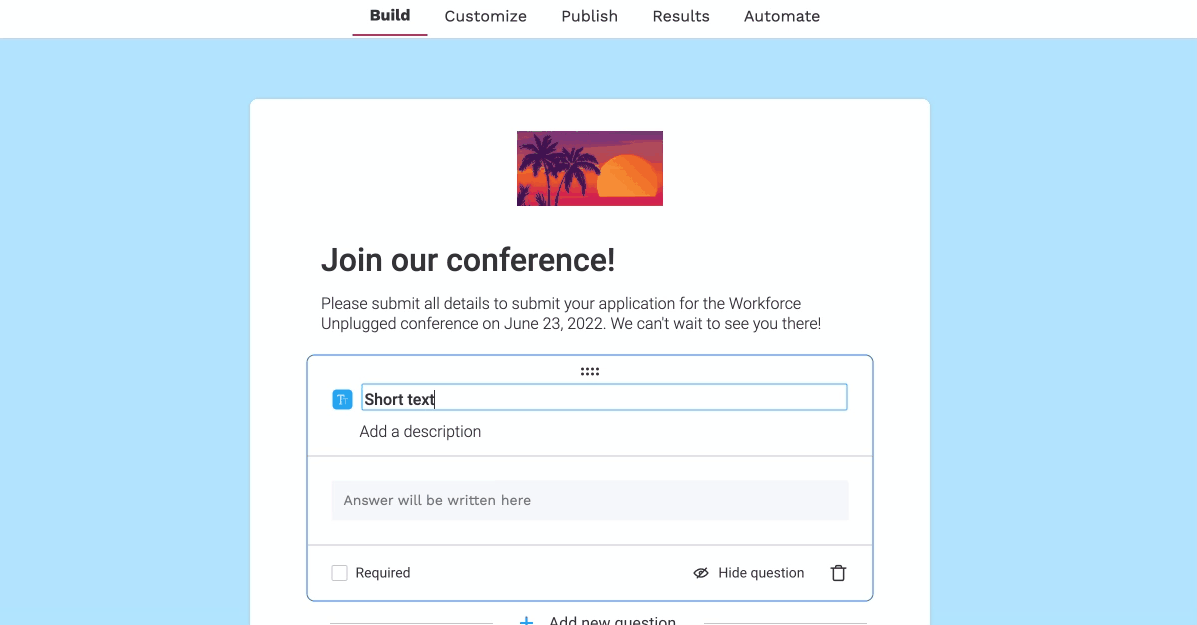 If you've chosen a question type that requires pre-set response options (such as a single-select, multi-select, or True/False question) you can click into the options to edit them as you wish!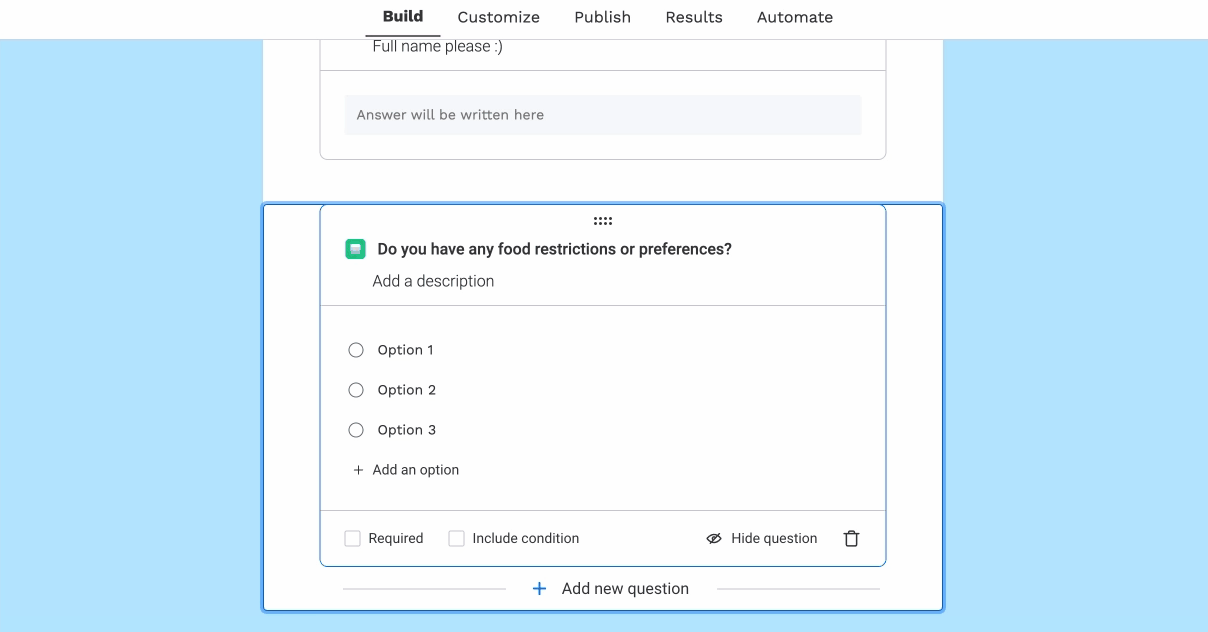 Conditional questions allow you to display certain follow-up questions in response to a specific answer that the WorkForm submitter provided. This is a must for creating more in-depth and robust surveys, questionnaires, or any other kind of form! 🙌
To create conditional questions on your WorkForm, begin by clicking on a single or multi-select question that you'd like to create a condition for and select "Include condition" as so: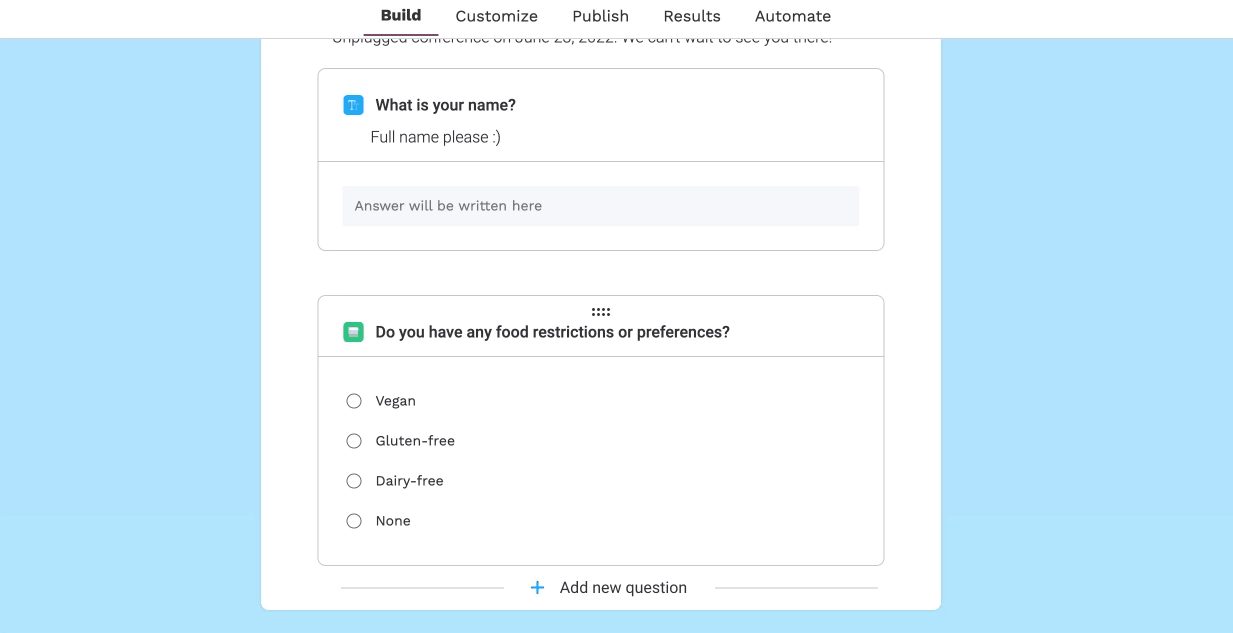 From there, choose one or more responses and then select "Add new question" to add the follow-up question.
As an example, we wanted to add a question in response to the selection of the answer choice "Vegan". Therefore we selected "Vegan" as the response, and then added a single select question that states "What main dish would you like?". This allows us to create a specific follow-up question with choices that fit the vegan dietary requirement!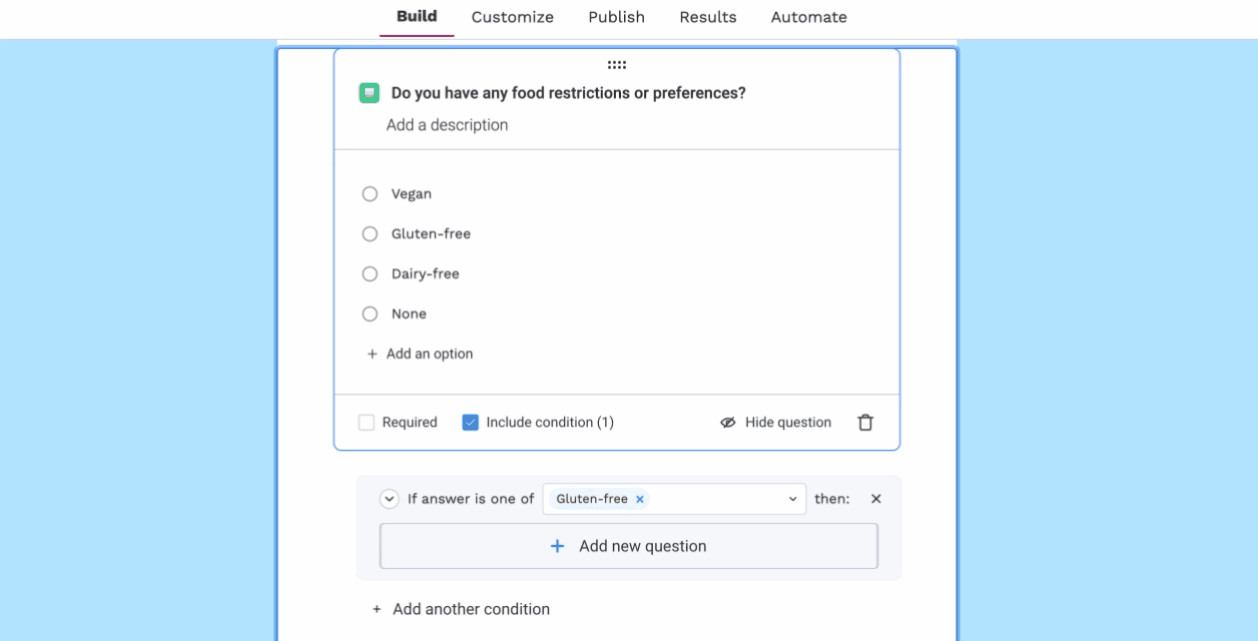 After your question has been added, it's time to customize the conditional question answer choices! Click on an existing response option to edit it and choose "Add an option" if you'd like to add additional responses.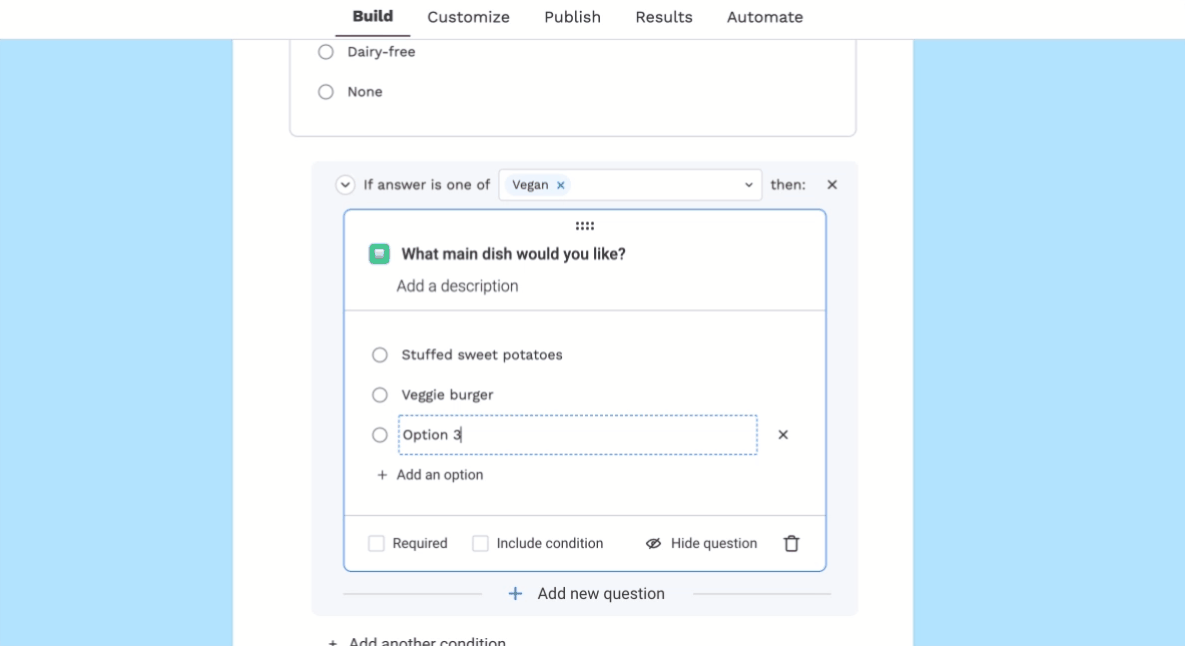 Tip: You can continue adding multiple conditions for the same question to really build out your form in the way that you wish!
Additionally, you can add multiple different conditions under each separate question by clicking "Add another condition" so that every separate response will lead to its own follow-up question!
In our case, we've added a different "What main dish would you like?" question and answer choice according to each food preference that is selected. Just watch how the question and response choices change accordingly thanks to the multiple conditional questions that we set up.💥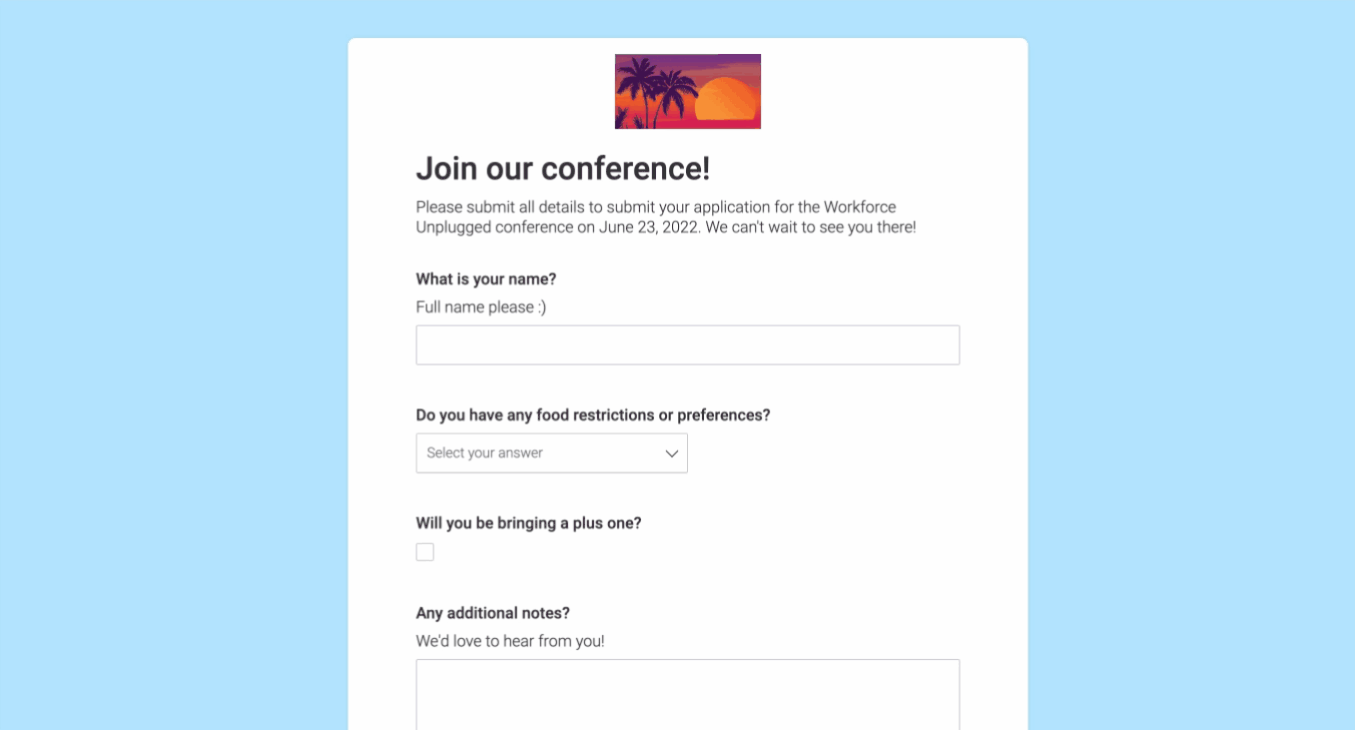 You control which questions appear on the WorkForm and which will remain hidden, as well as whether they will be required or not.
To customize the display of a question, click on a question block and you'll see an eye icon appear on the bottom right corner allowing you to hide or display that question. You can also tick the "Required" button to make a certain question field mandatory.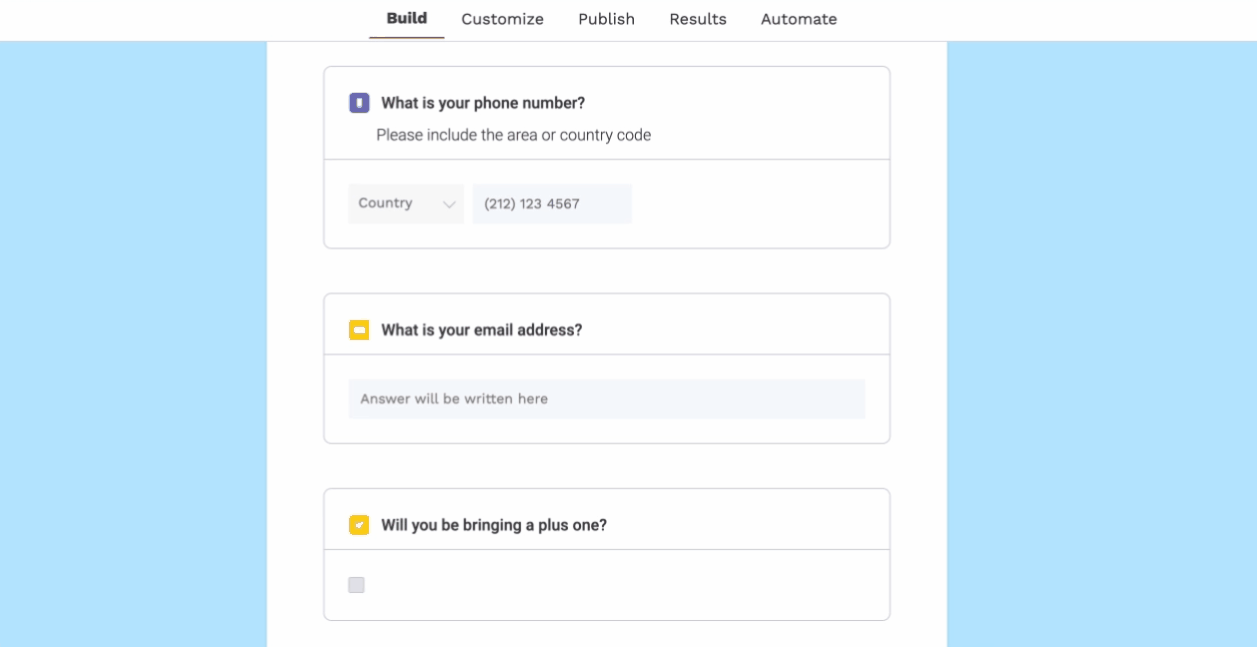 Customize the look and feel of your WorkForm
Using WorkForms, customizing and designing the form of your dreams is as easy as can be! Check out the options below to give your form the look and feel that you need.
Add a background color or image
To modify the background color or image of your WorkForm, click on the image icon on the right of your screen. In the "color" tab, you can choose one a background color of choice and in the "Image" tab, you'll find some of our favorite background images to choose from, or you can upload your own!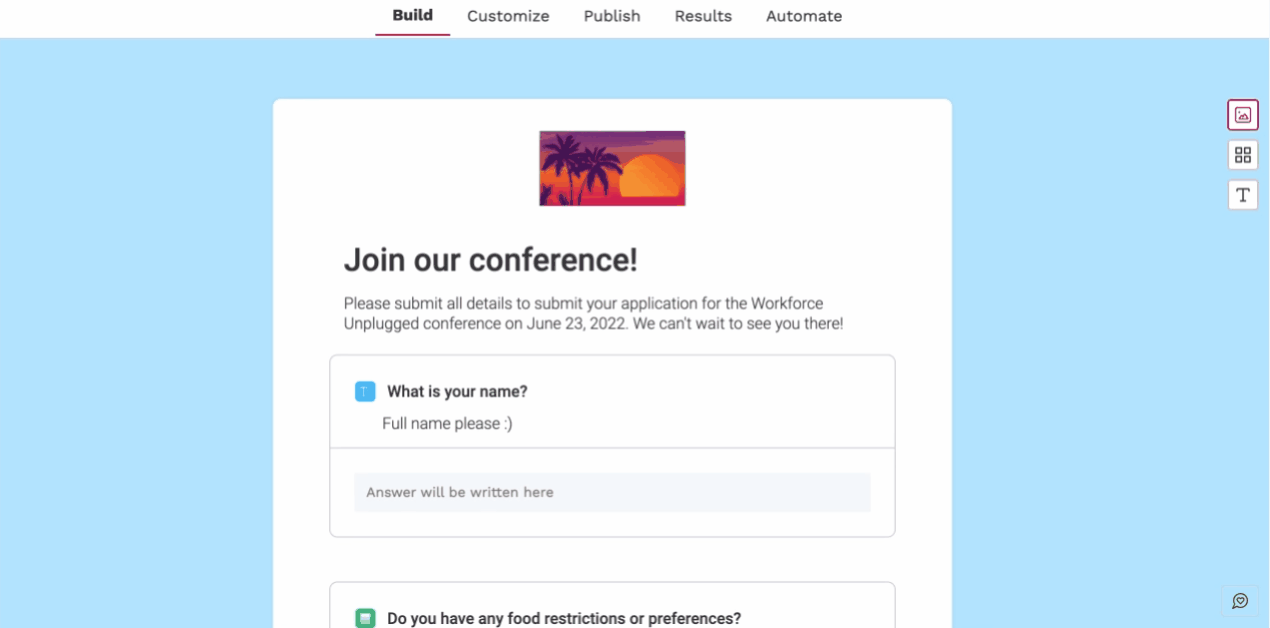 Adjust the alignment of your WorkForm
Clicking on the four-square icon on the right of your screen will allow you to adjust the placement of your WorkForm amongst its background. You can choose to align the form to the left, right, or center, and whether you'd like to have a frame surrounding it or not!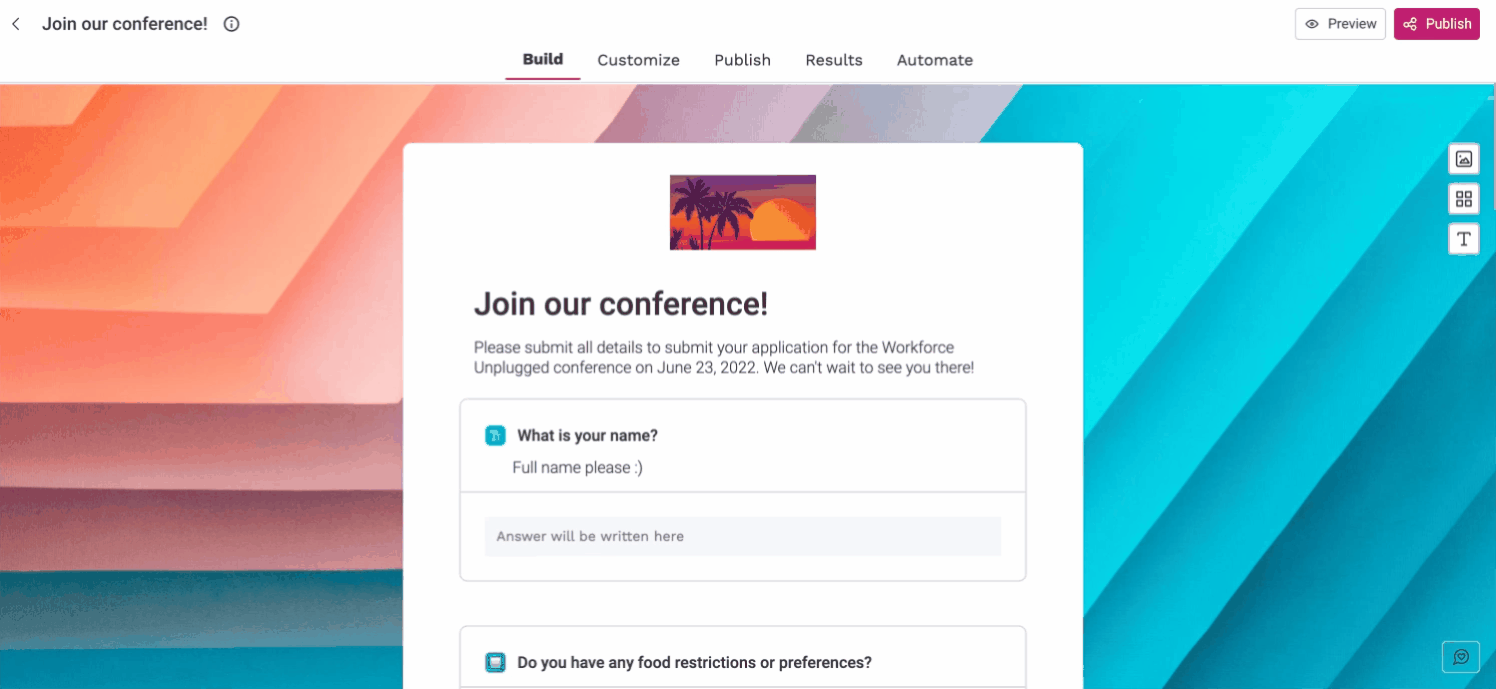 Edit the text color and font
Finally, you can change up the text color and font that is displayed on your WorkForm by clicking on the "T" icon on the far right of your screen.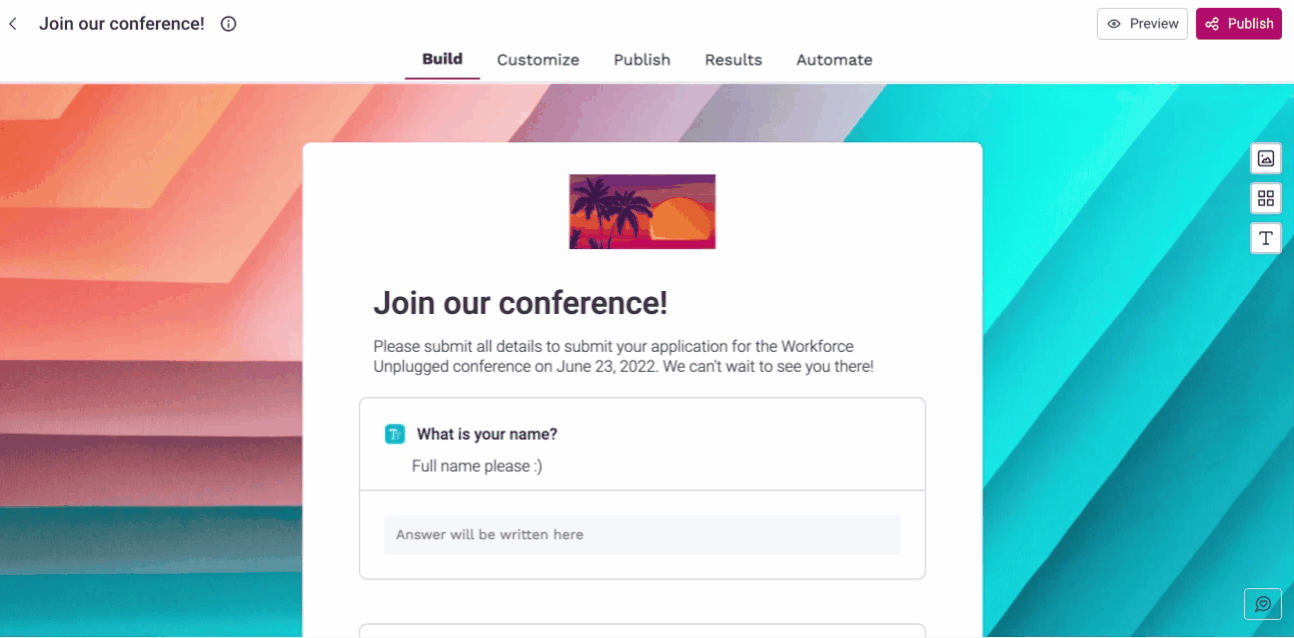 Tip:
Any change that you make to your WorkForm will be saved automatically! Simply make the edits of your choice and you can pick up right where you left off next time you access your WorkForm.
Adjust your WorkForm settings
Once you have your ideal form layout with superb questions and descriptions (if you so chose), it is time to move on to the finalizing stage! From the "Customize" tab, you can make the following setting adjustments:
In the "View customization" section, you'll be able to choose if you want to set anonymous submissions, if you'd like to present the form questions as a survey, and if you want to hide WorkForm branding from your finalized form.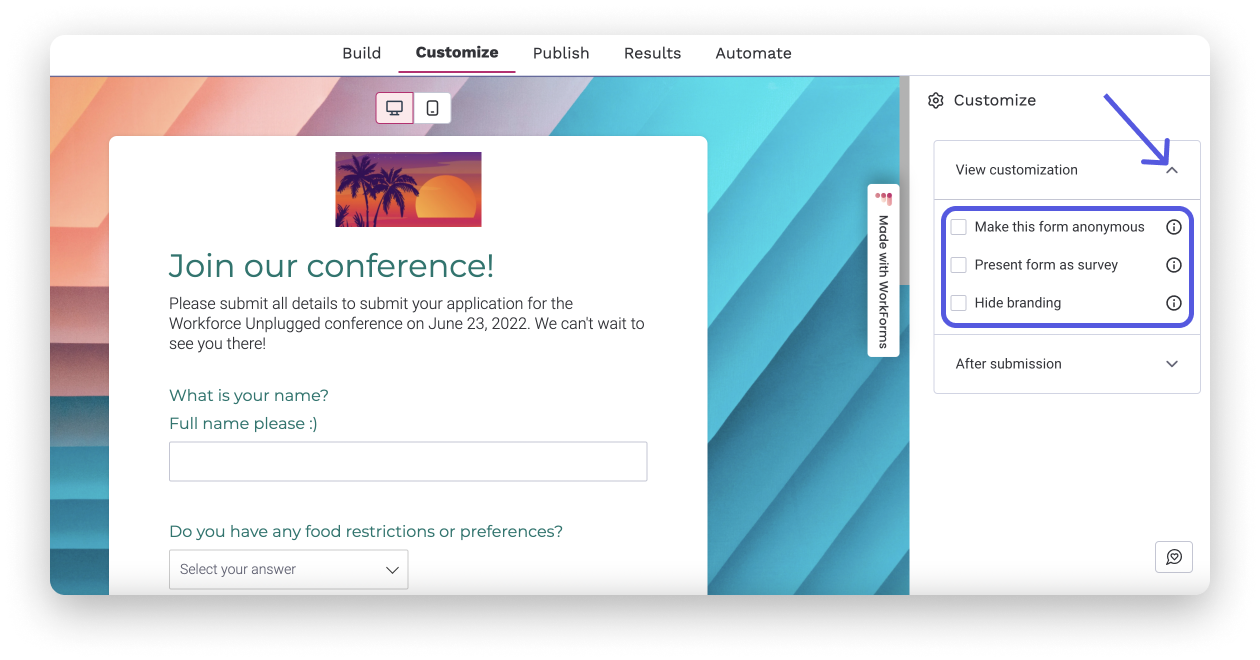 In the "After submission" section, you can decide if submitting additional responses will be possible. Here, you can also add a redirect link to send responders to a URL of your choice post-submission, and customize the message that will appear to the submitter as soon as your WorkForm has been filled out.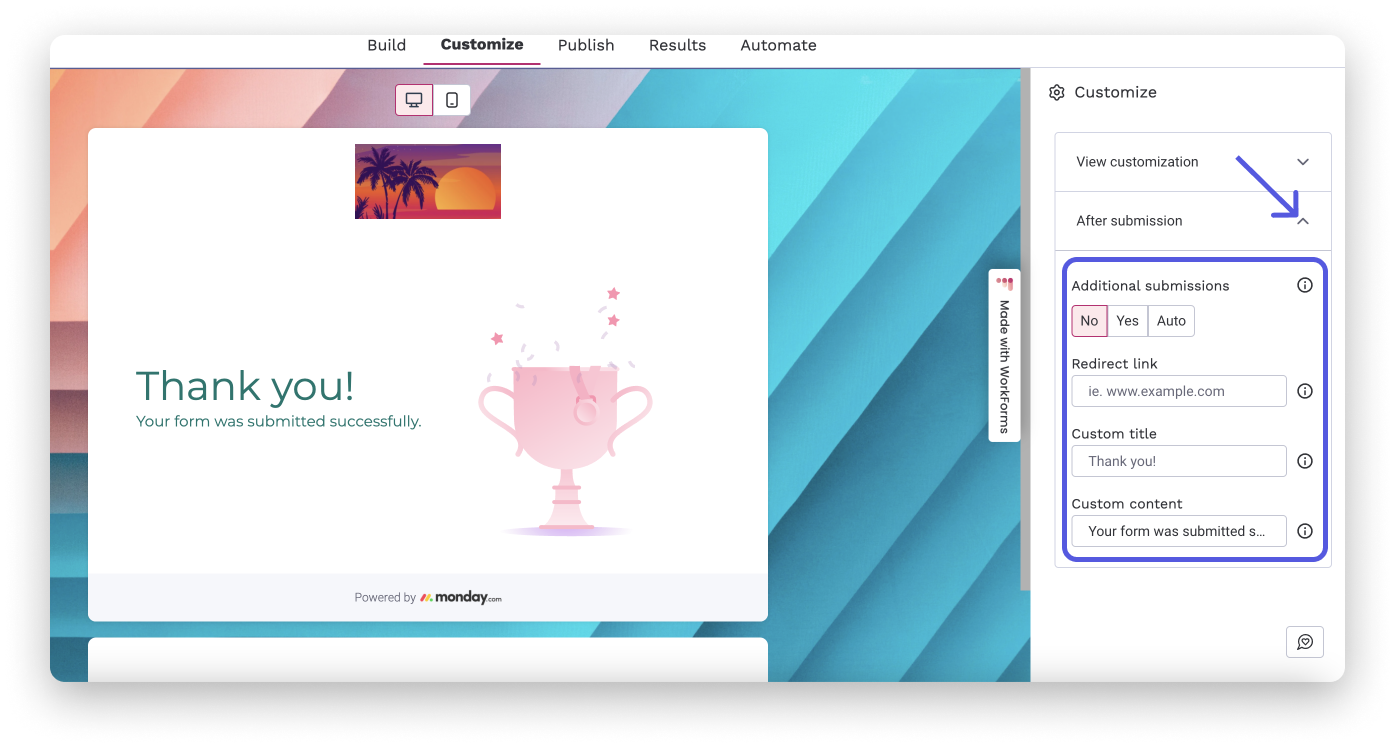 To ensure that your form is up to your team's security standards, you can set up form restrictions! We offer the option to add reCAPTCHA onto your form (to prevent fraudulent form responses), to restrict the form answer to team members only, and to redirect account members if they are not currently signed into your account.
To customize your form security settings, click on the "Publish" tab at the top of the screen and scroll down until you see the "Form restrictions" section, as shown below.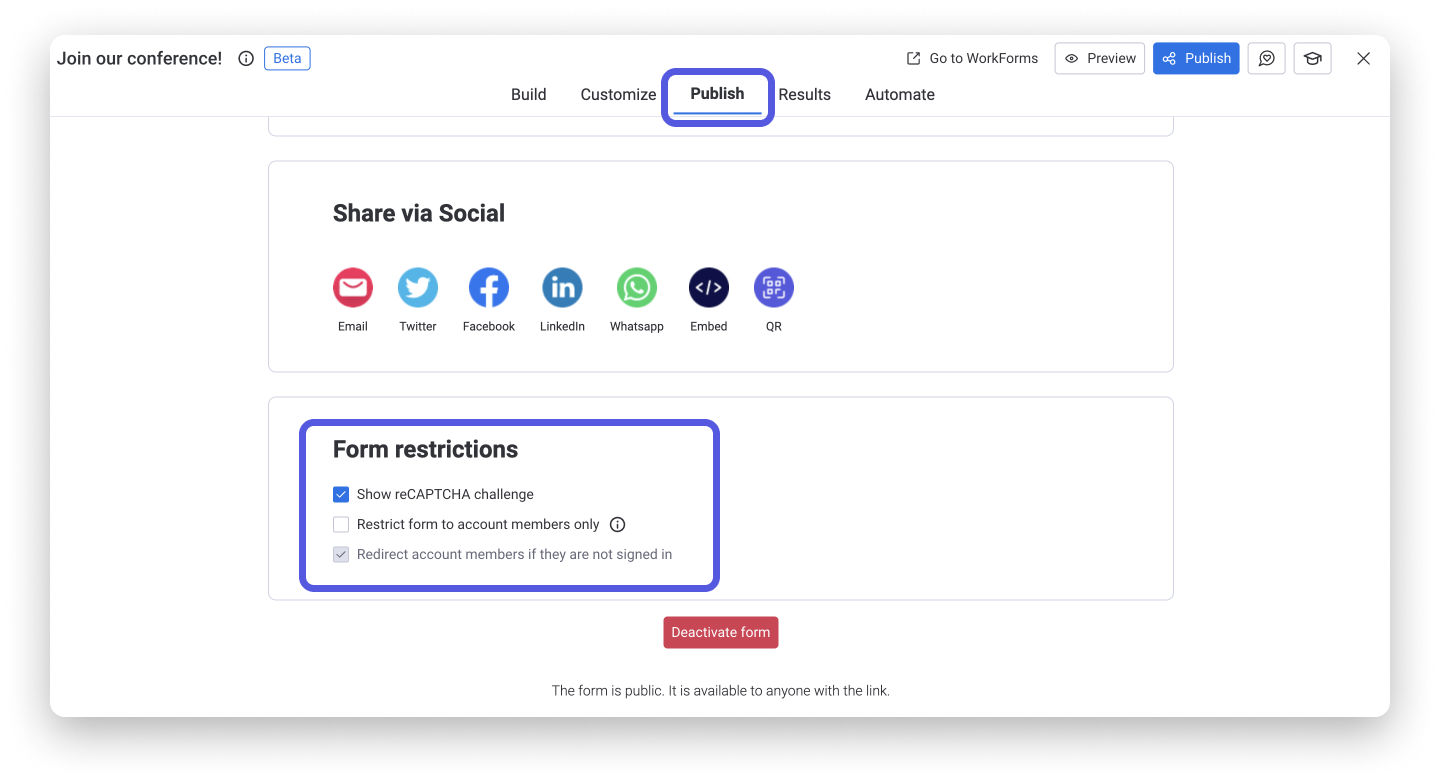 Preview your finalized WorkForm
Clicking on the "Preview" button on the top right of your screen will open up another tab, allowing you to preview your finalized WorkForm. Here, you'll be able to view and enter submissions to the form, just like your responders will after you send out your form.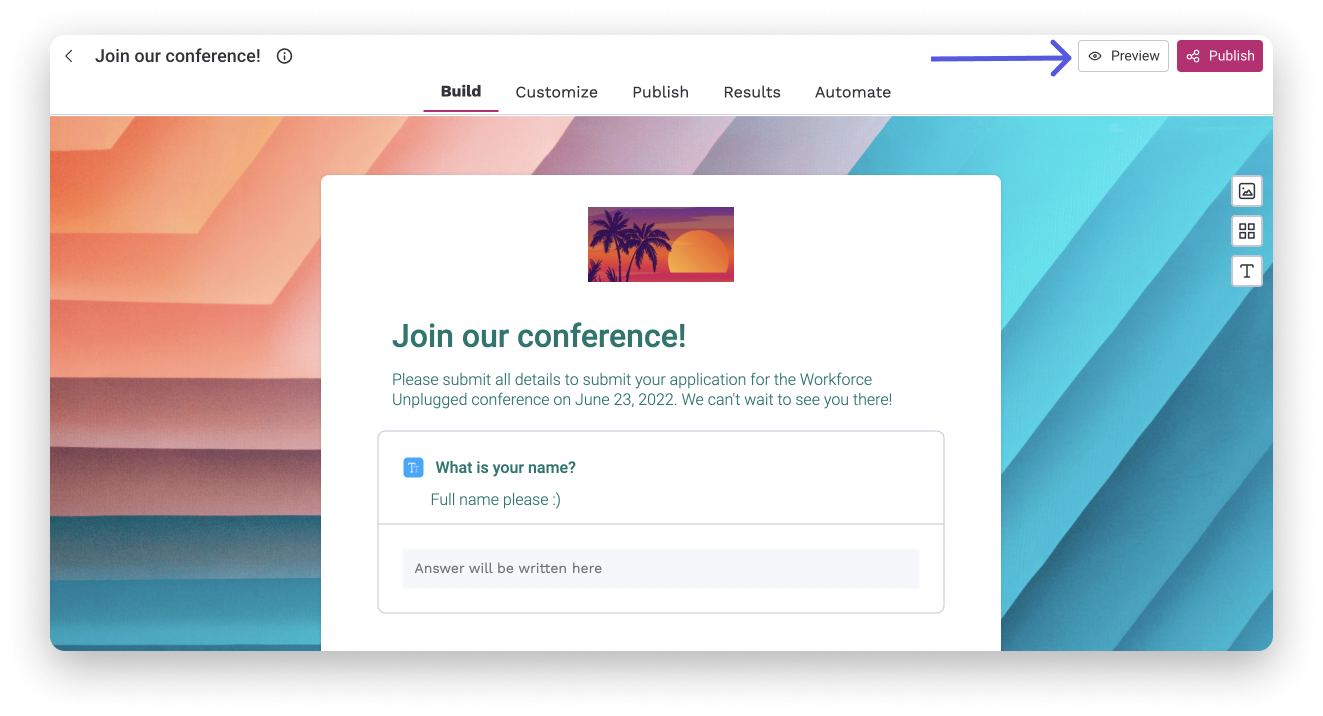 The magic moment has arrived, it's now time to share your completed WorkForm! To do so, click on the "Publish" tab or button. From this page, you can share your WorkForm with others via a shareable link, by embedding your form in a webpage, or sharing it via a variety of social channels!
Before sharing a link with your desired audience, you can choose to shorten your form link if you so choose. All you have to do is click on the checkbox next to "Shorten URL" and you'll see the link to your WorrkForm shrink significantly. 🙌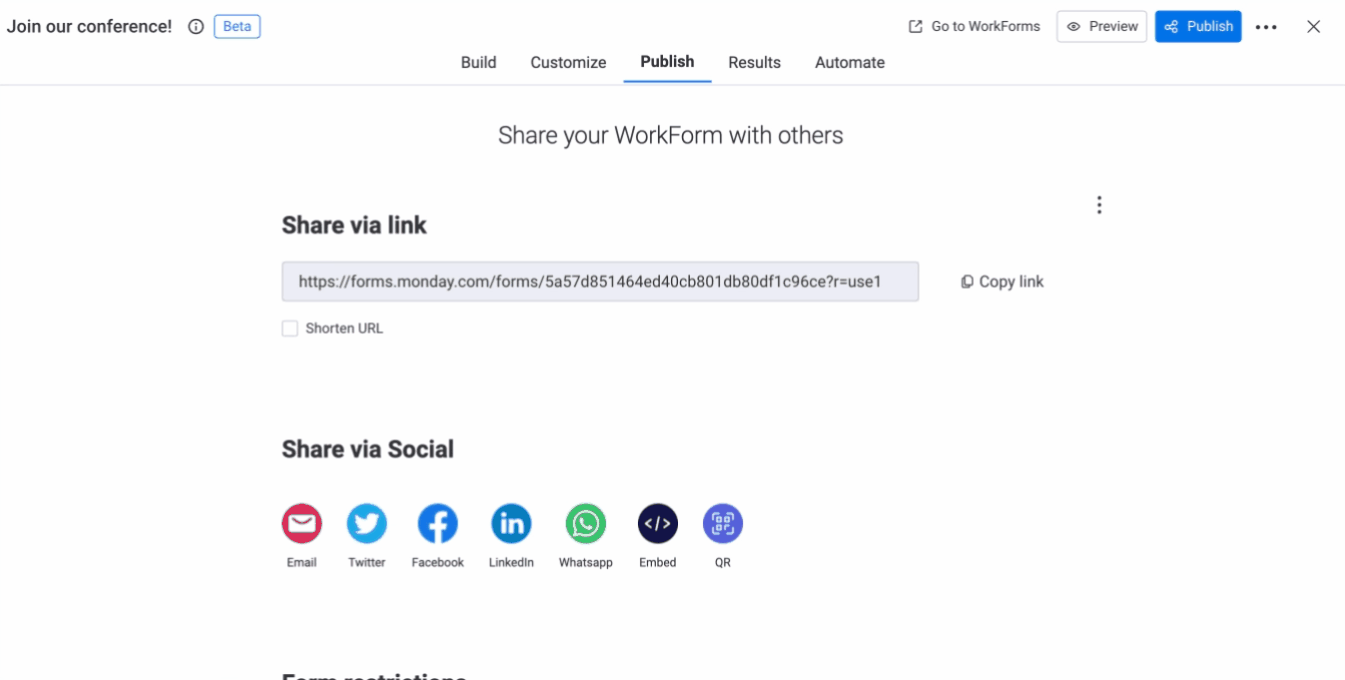 Now that you're ready to publish your form, you can click to copy your link or seamlessly share your form by creating an embed code or sharing it on various social channels!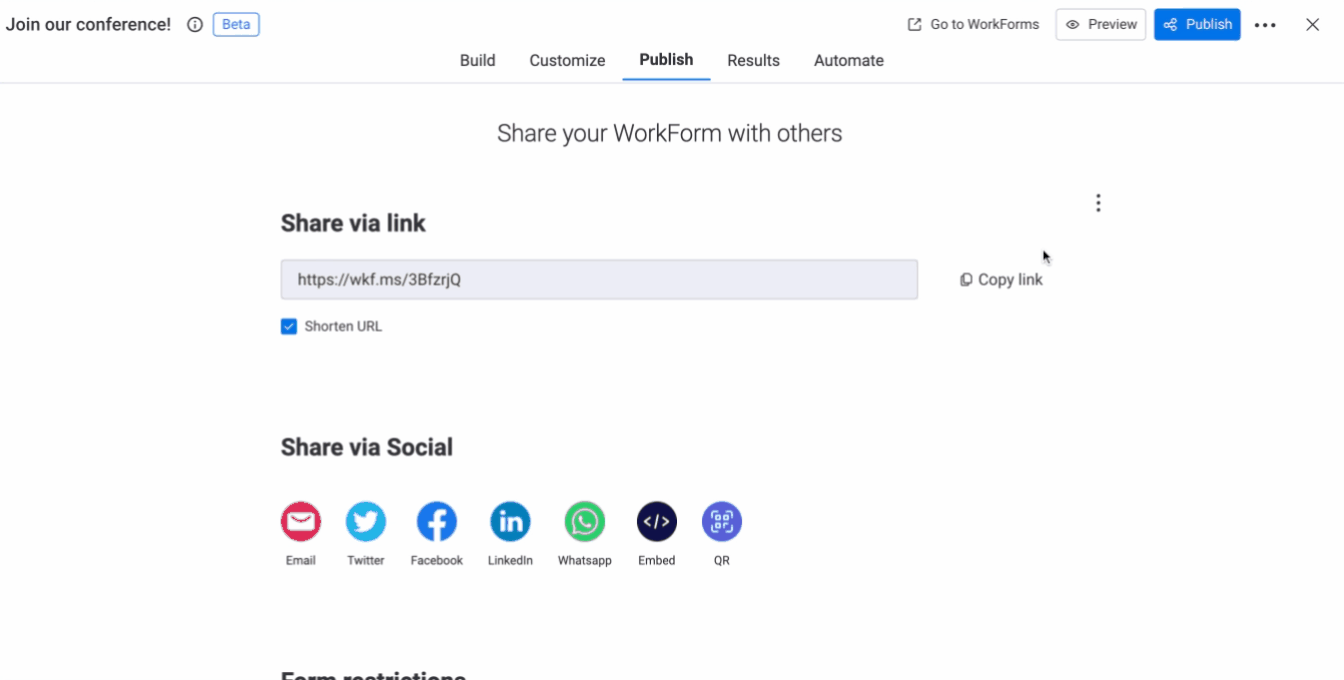 As an example, we've embedded our WorkForm below within this article. Just look how easy it is to scroll through the questions and answer them if you so wish! 🙌
Note: There is a 50 MB limit per each file uploaded in a form.

Now that your completed WorkForm has been shared, you'll be able to track all responses in the "Results" tab as shown below. From here, you can view your results either as a summary or as individual responses by selecting either option on the left side of the screen.
Let's go over what each of these options mean, below!
By clicking on "Summary", you'll be able to get an instant, interactive overview of your form results displayed as pie charts, bar graphs, and tables! Analyzing and pulling insights from your form responses has never been easier. 🙌
On the other hand, clicking on "Responses" on the left side will allow you to see each individual form response in the format of a monday.com board so that you can dive deeper into specific details from each one of your responses.
Tip: By clicking on "Connect to monday.com" you can have endless possibilities to visualize the data you collect using board views, Dashboards, and much more. 🙌
Automate it
And finally, to help further streamline the process of collecting your WorkForm responses, we recommend checking out the "Automate" tab of your WorkForm editor! Here, you'll be able to create custom automations to help reduce the manual work that you need to do and make your workflow evermore efficient!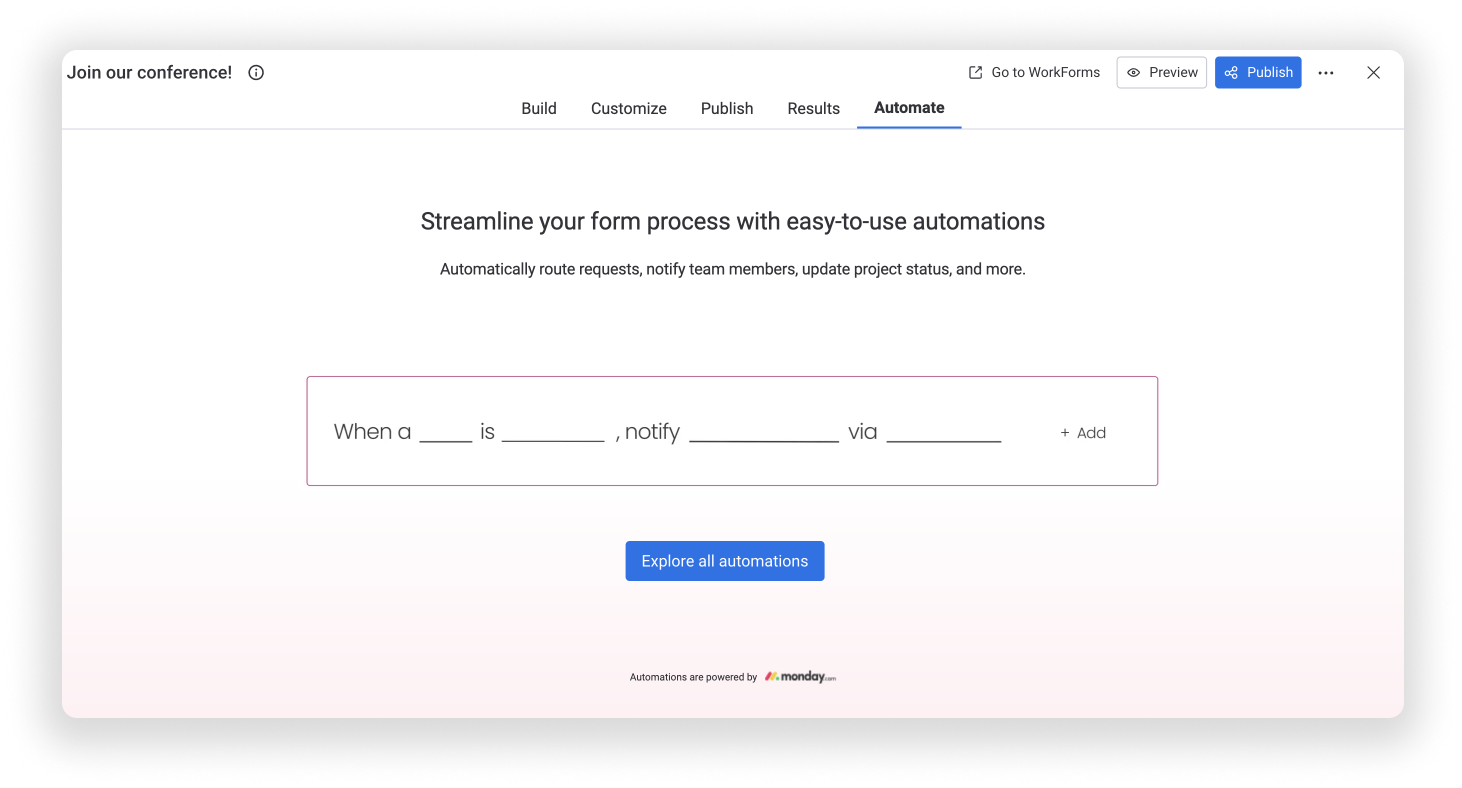 As an example, by creating the custom recipe that reads "When an item is created, then send an email to someone", you can easily automate the process of sending an email to any new person who submitted their details via your form. 🙌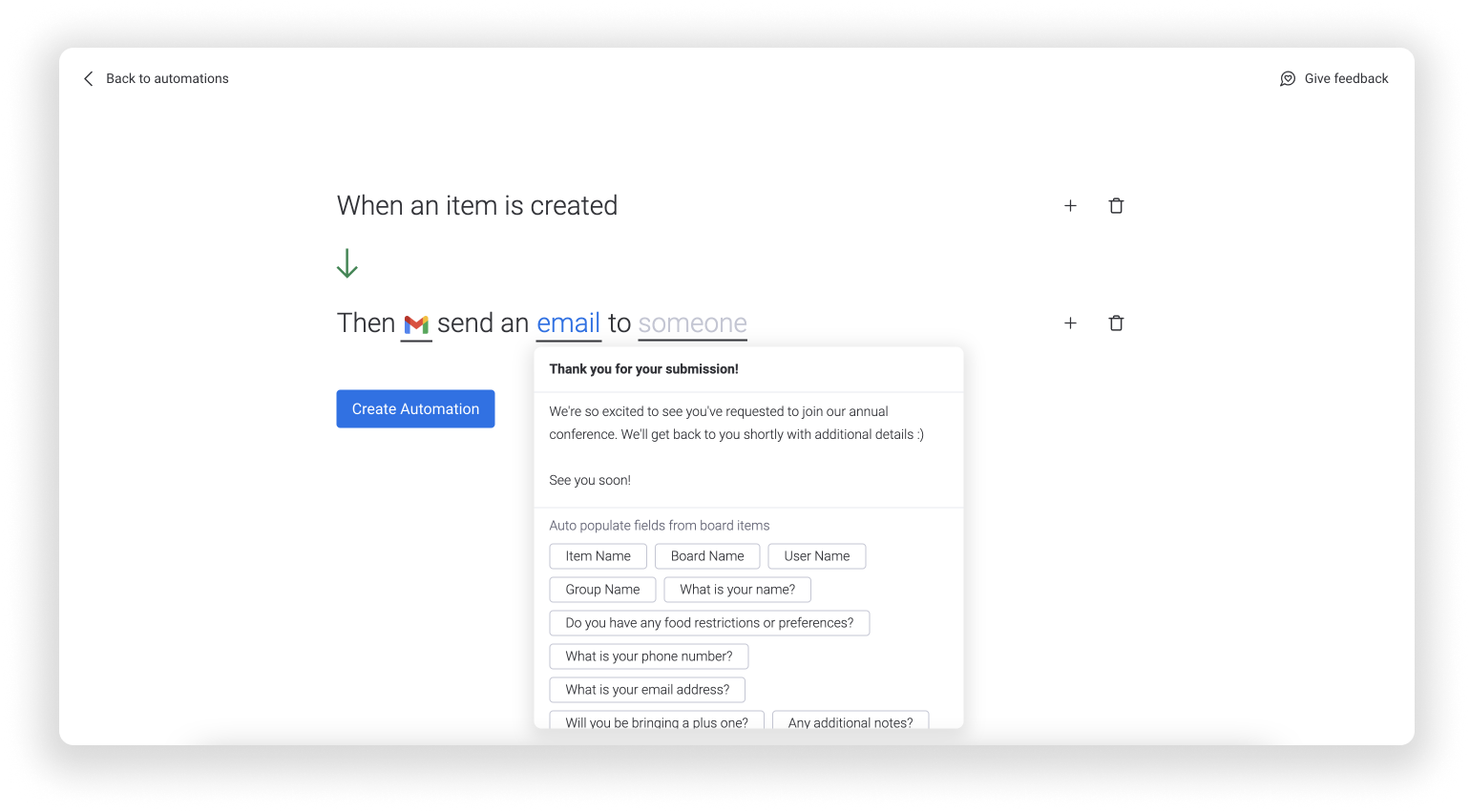 When creating your WorkForm questions, you'll be able to choose the type of question each one is. The question choice will also dictate the type of column that is created on your board in turn, if you choose to connect your WorkForm to a monday.com account.
Below, we've listed each question type and the column type that it will correspond to on your board!
FAQ's
Who can fill out a WorkForm?
Anyone and everyone, just as long as they have access to the shareable link or embedded form.
Can I have multiple WorkForms on one board?
You can! You can set up multiple WorkForms on one board and even have the answers from each form fill a different group on the board.
Simply add a new form from the drop down menu as below:
Once you've customized your new form, you can easily go back and forth between the two WorkForms on your board from the tabs above your board!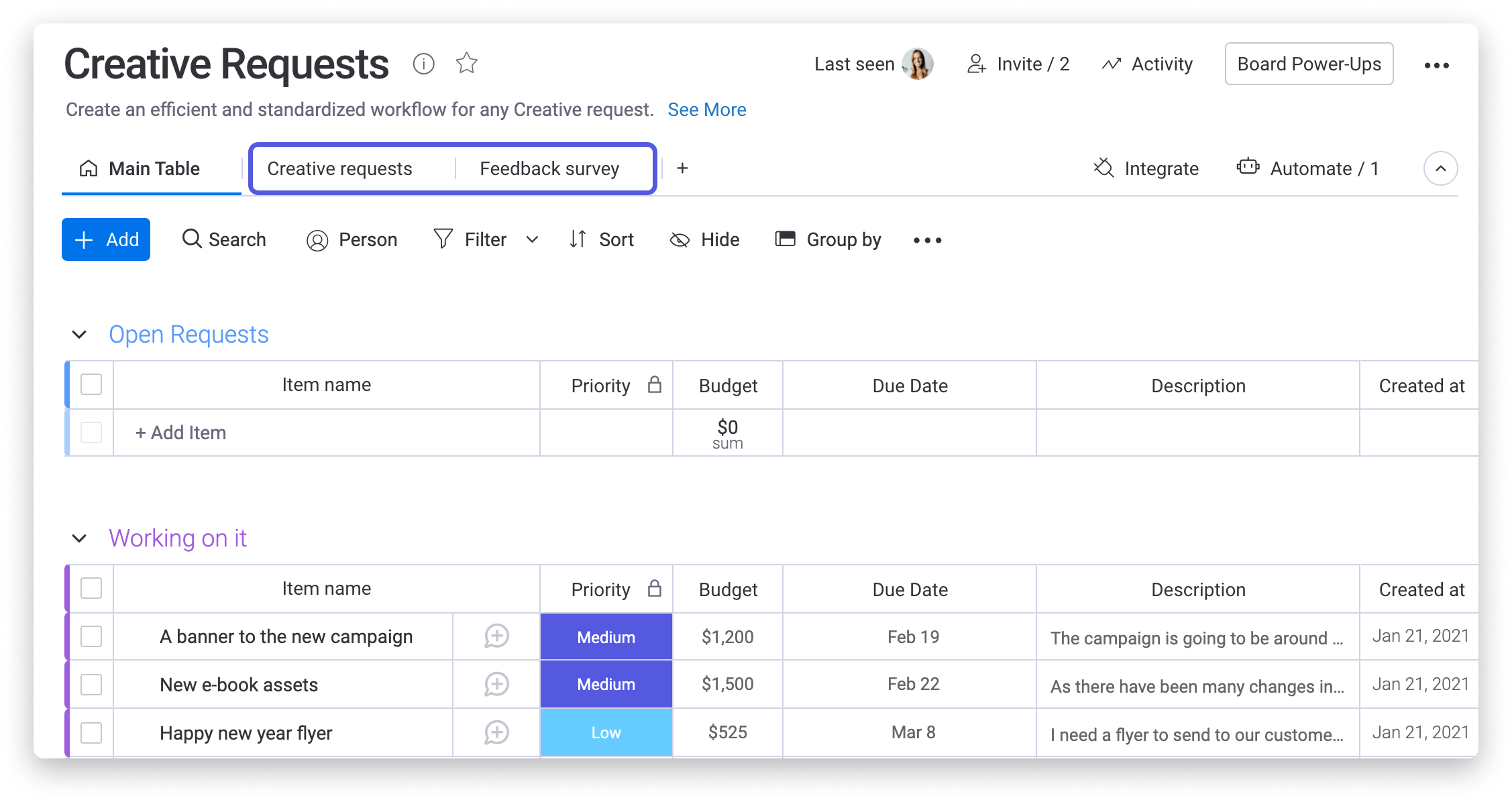 What happens when new columns are added to the board?
When new columns added to your board, they will show up on the WorkForm as new questions which will be hidden. You will then be able to click on the eye next to it to show the question and format it.
Do the WorkForms display who submitted it?
You can add the Creation Log Column onto your board and the platform will recognize the person filling out the form as long as certain criteria is met! The following three conditions must be met order for the creation log column to recognize the form submitter:
The user who submitted the form needs to be a user on your account and have access to the board which the form is on (either main board or subscribed to the private/shareable board)

The user needs to be actively logged onto the monday.com account at the time that they submitted the form

The user needs to be logged into this account only and not another one
If a form is submitted and either of these three conditions are not met, the creation log will show the name of the person who created the form instead.
Tip:

If the people filling out the form are external to your account and you would like to see who created the item through the form, we suggest adding a Text column onto your board and making "Enter your name here" a required field on the form!
How do I create anonymous WorkForms?
You can make anonymous forms through the settings of the WorkForm by going into the "Customize" tab and checking "Make this form anonymous" as so: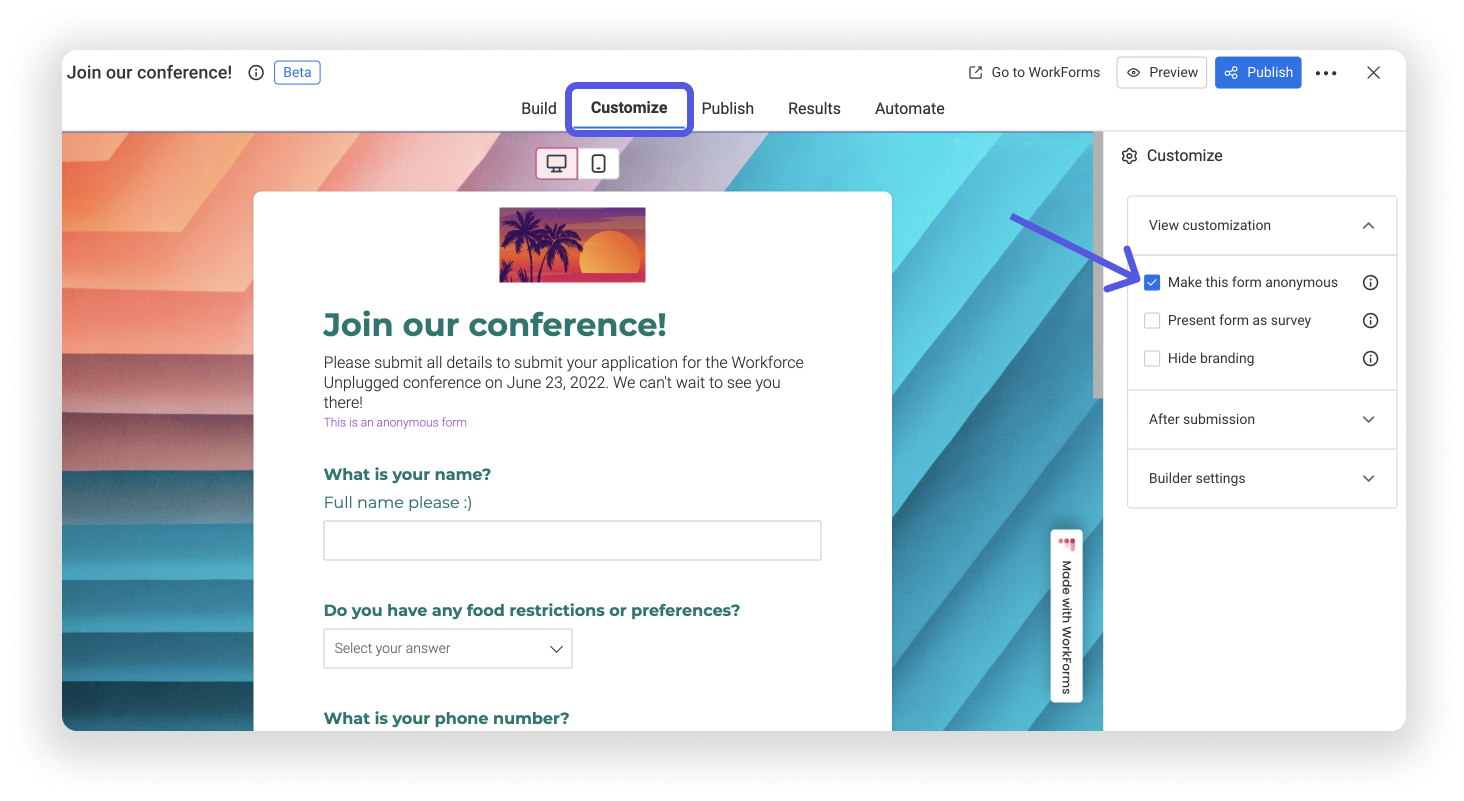 If an anonymous form was chosen then the user filling out the form will see a message informing them that the form is anonymous form. If it is anonymous - the user who created the form will appear in the creation log for all items. If a user has multiple monday.com accounts open when filling out the form we will recognize the user ID of the last account they signed into.
Can I deactivate a form that has already been shared?
You sure can! This can be done from the "Publish" tab by scrolling down and clicking on "Deactivate form". Anyone who has access to the deactivated form link or embedded page will see an error. You'll be able to activate the links by returning to the same share window and clicking the "Activate form" button: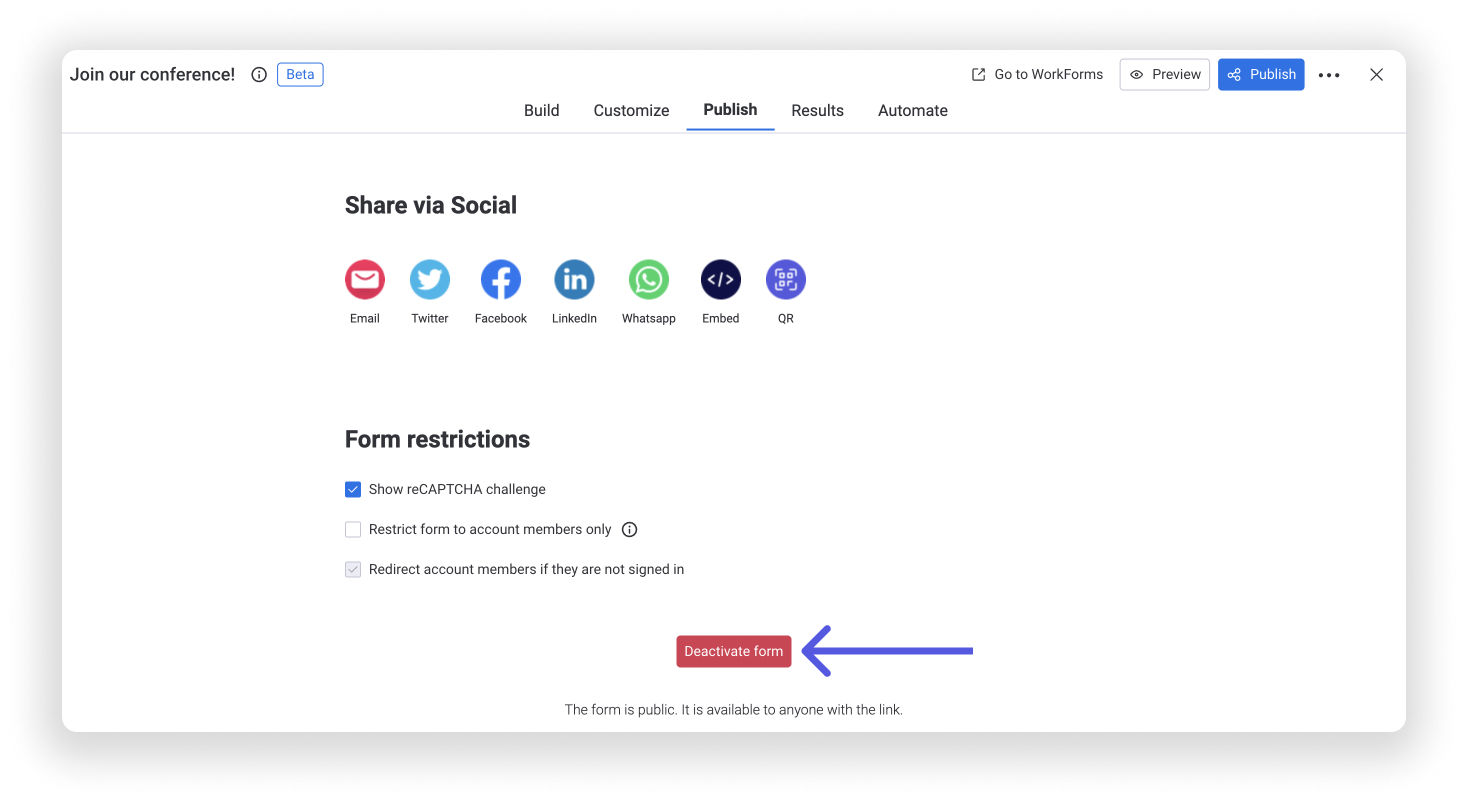 That's all for now! We hope you enjoy using our WorkForms product. 💥
If you have any questions, please reach out to our team right here. We're available 24/7 and happy to help.