4 min read
Feature
A board is the place where your workflows come to life! Think of it as a virtual white board where you can keep track of and manage anything, from simple everyday tasks to complex multi-step projects! Not only this, but boards are fully interactive and collaborative, so you and your team can work together to get things done.
This article covers everything you need to know about boards. Let's dive in!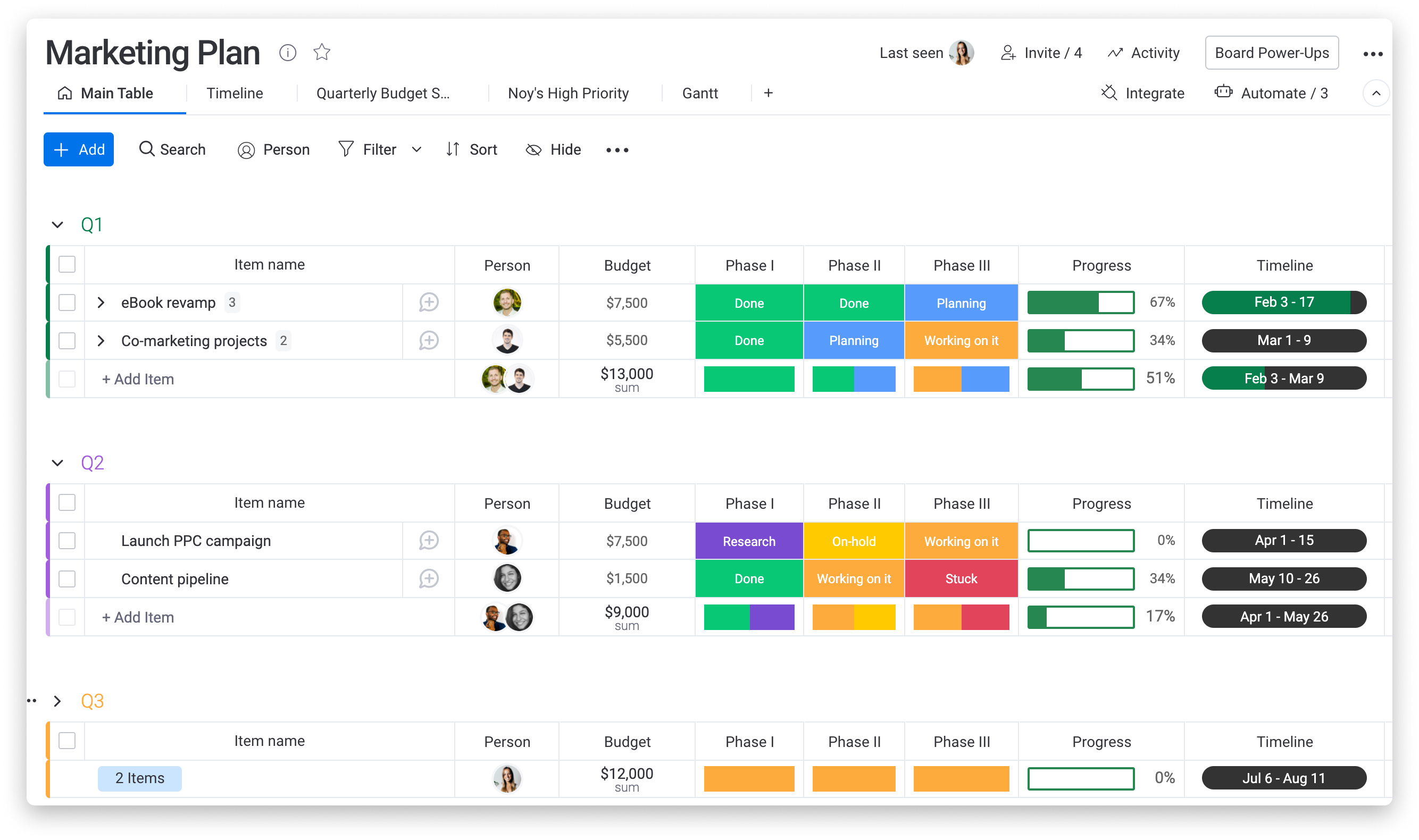 To add a new board, click on the "+ Add" button on the left pane on your screen and then select "New Board". From the same menu, you can also choose to import a new board from Excel, Google Sheets, Trello, and more, or choose from a pre-prepared template.
Structure of a board
Within a board, there are four main components that you should familiarize yourself with: Groups, Columns, Items, and Subitems.
Show me the definitions for these
If you no longer need your board, you can choose to delete or archive it by clicking on the three-dot menu at the top right of your board and then select either "Archive board" or "Delete board".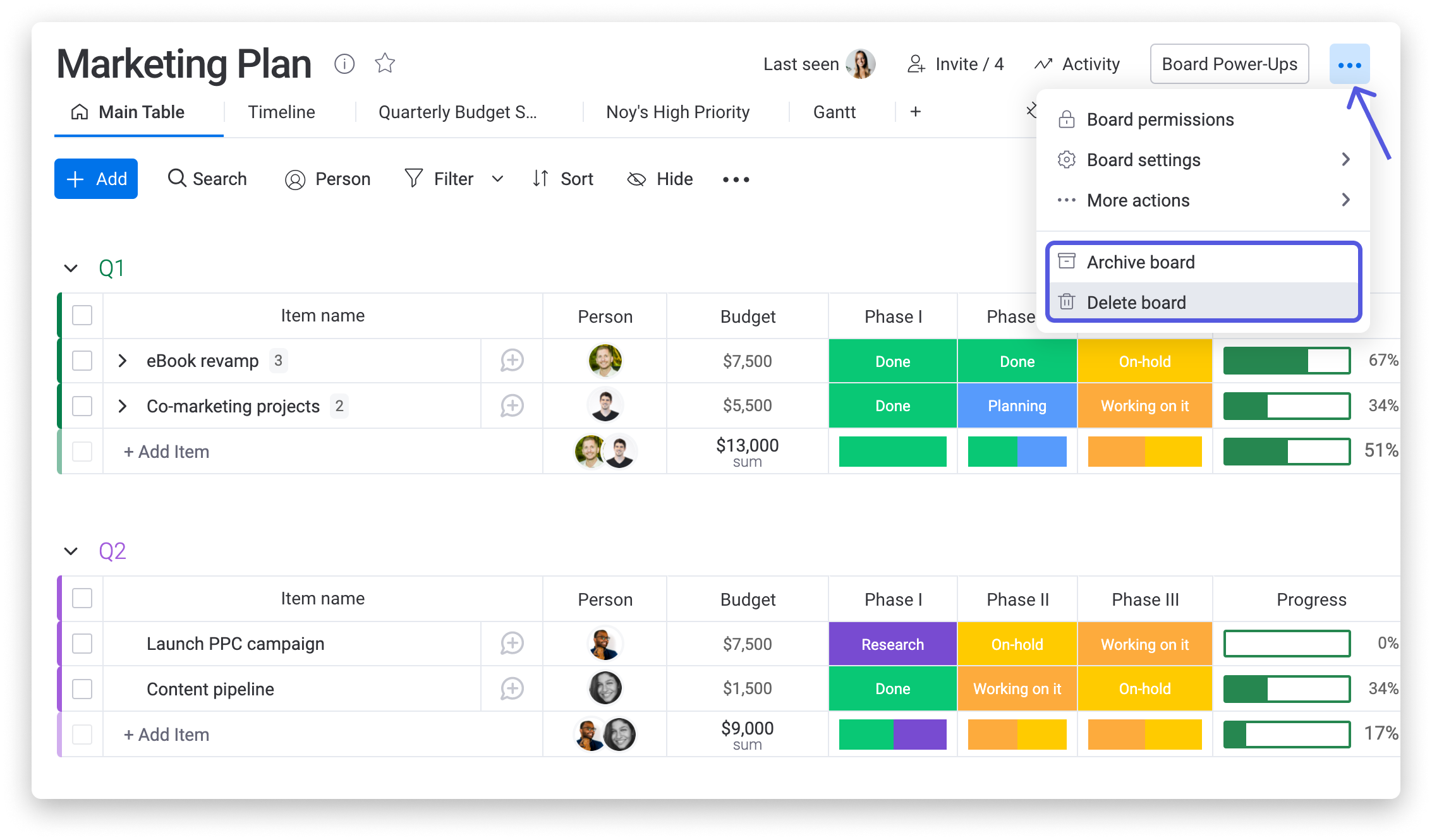 If you delete a board, it'll be retrievable from the Recycle Bin for 30 days. Archiving a board, on the other hand, will be retrievable from the archives section indefinitely.
Note:
If you delete or archive a board that has connections to other boards via the Connect Boards Column, all of its related connections will be removed.
Board owner
Board ownership is an important feature to be aware of when setting restrictions on boards, changing the board type, and more. With this said, a board owner is either:
The person who created the board

Any subscribers of the board which the board creator has chosen to be co-owners of the board. Only the initial owner of the board and admins of the account can add other owners to the board.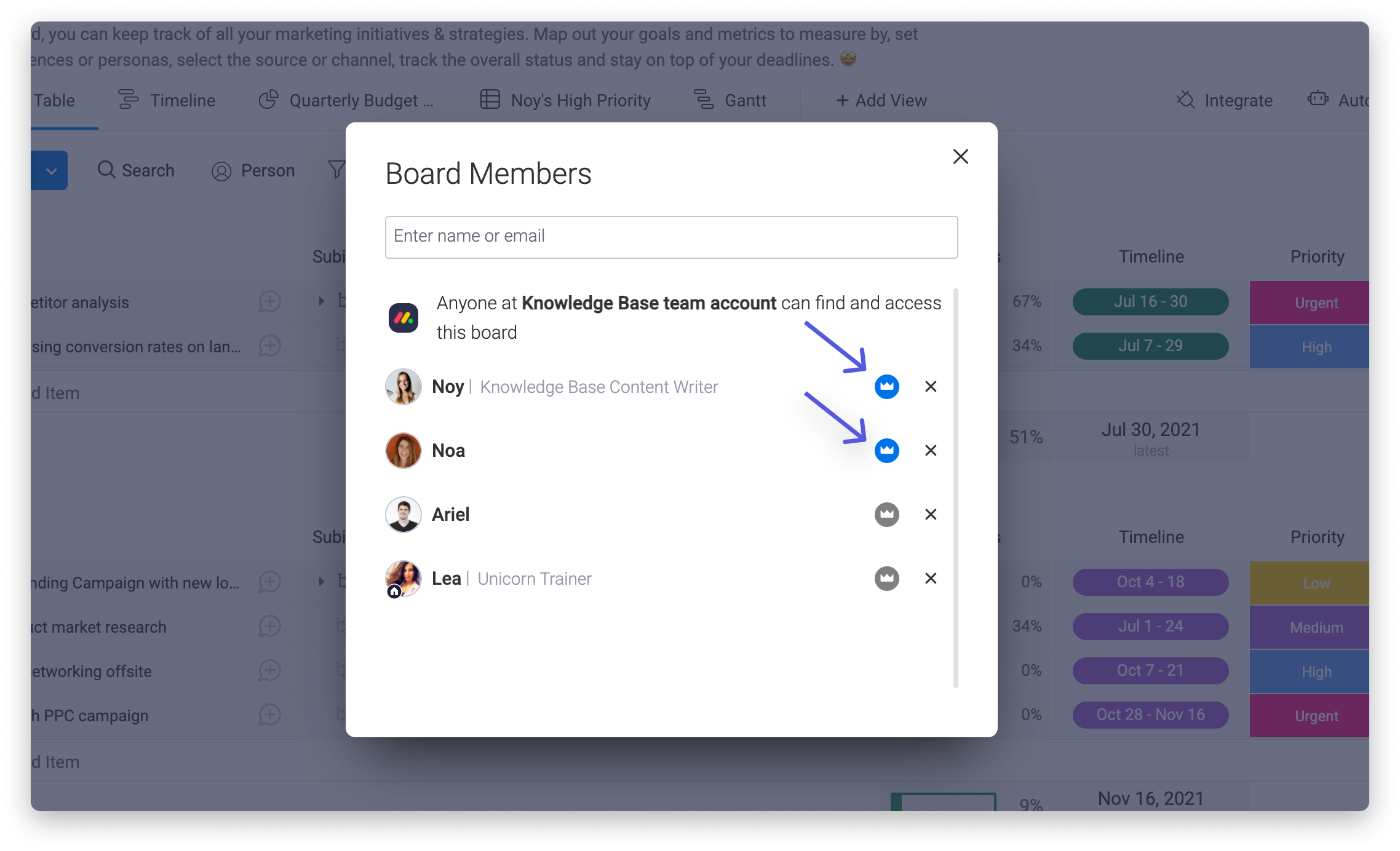 If your board owner has left the team, you can change ownership of the board to help recover it. For instructions on how to change board ownership, check out this article.
We offer three type of boards: main, shareable and private. The structure of all these boards is the exact same. What makes them different is the access level that they each provide. Check out this article to learn more about the difference between these boards.
As the board owner, you can change the board type by clicking on the three-dot menu at the top right of your screen and then selecting "Board settings". From there, click on "Change board type" and then choose the type of board that you'd like to change it to!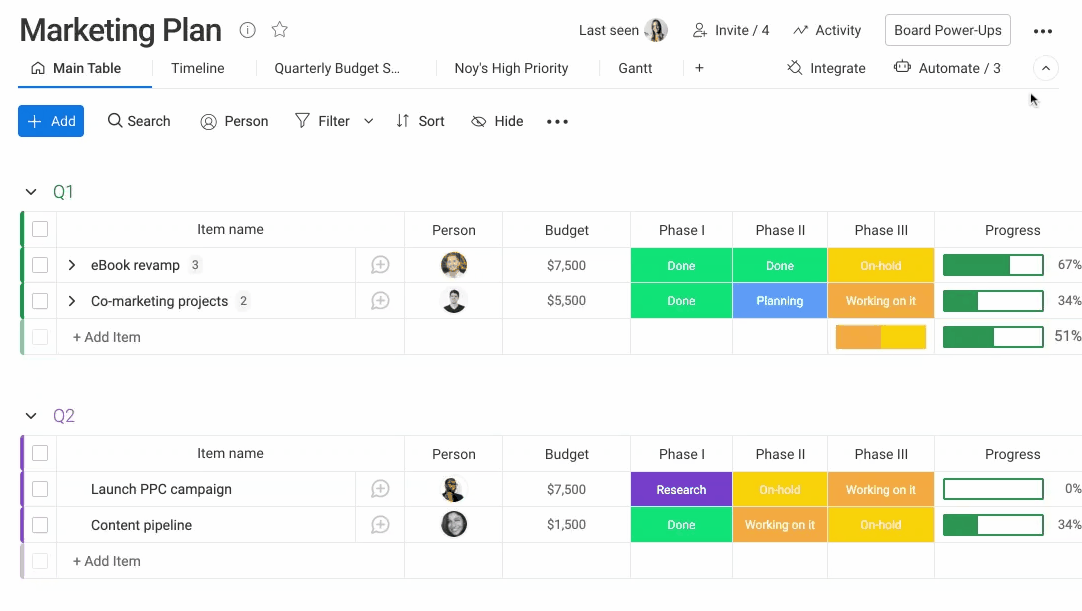 Note: You cannot change the board type if you are not the owner of it. You will need to ask the owner of that board to make this change.
The board description
You may find the need to add a description to your board to help the team understand the main uses of it, to provide any instructions, or for any other reason! To locate your board description click on the small "i" icon to the right of your board name as so: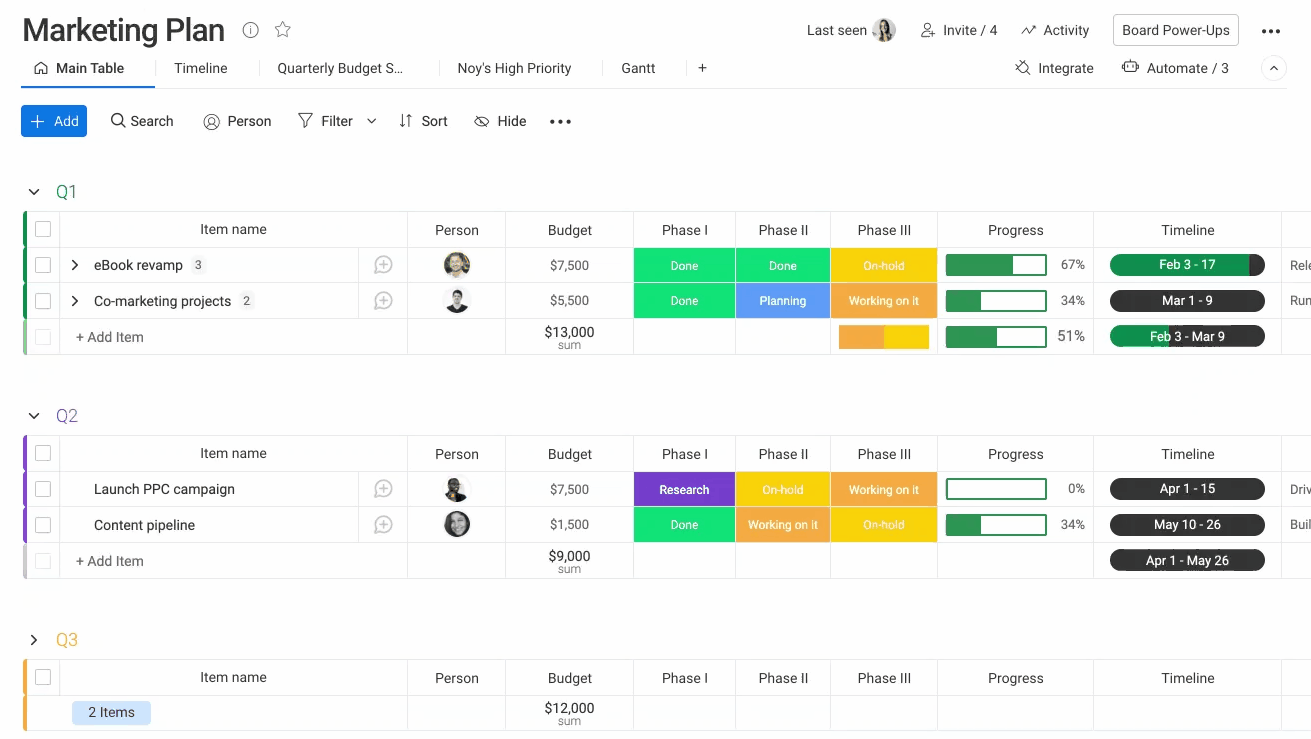 From here, you'll be able to view and edit the description of the board and you'll also find other relevant information about the board such as the Workspace it is located in, the board creator and date, it's owners, and more!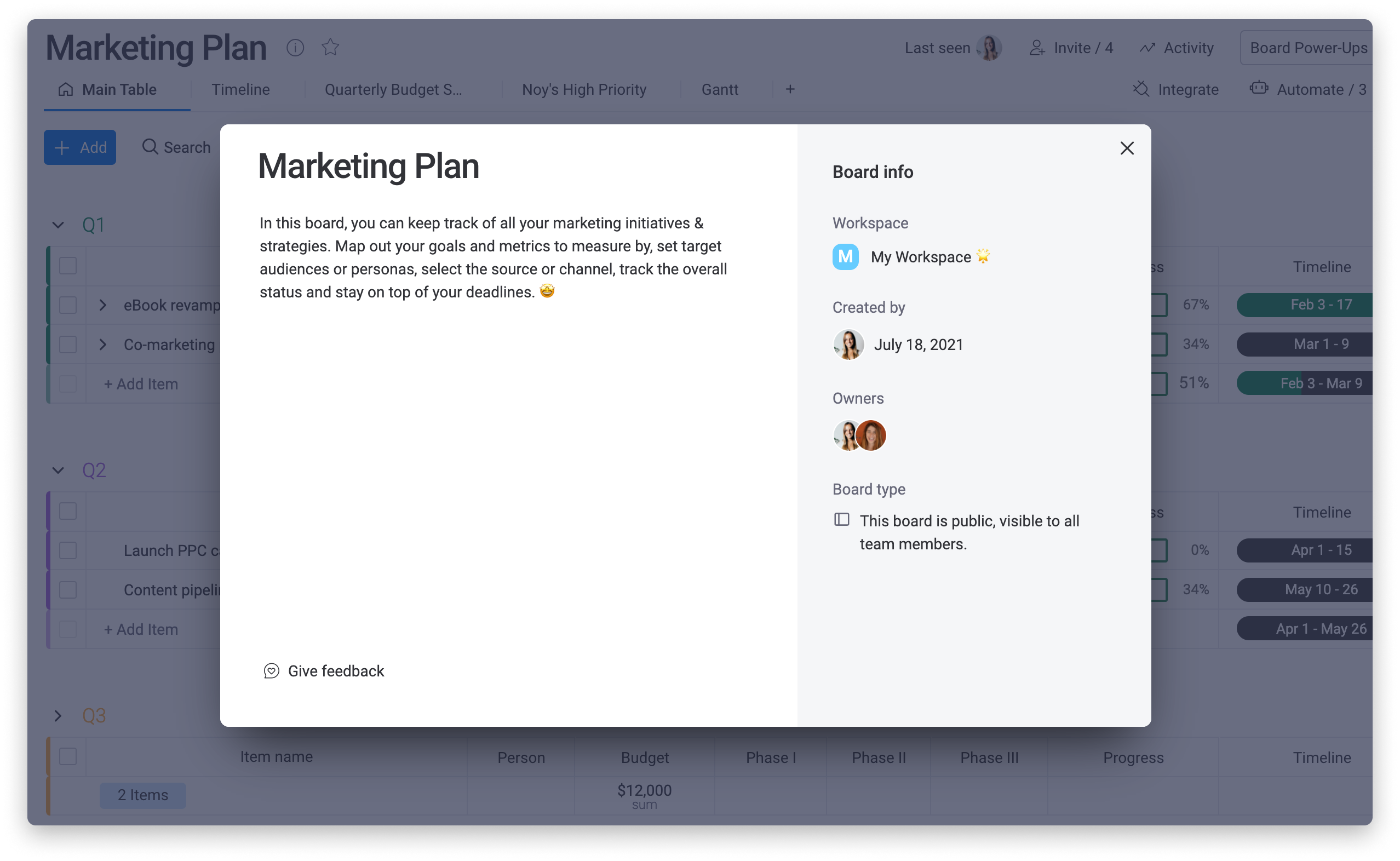 You can sort or filter your board customize the order in which you'd like to see your items, and to drill down on the specific ones that you are looking to see!
To sort the items on your board, click the "Sort" icon at the top left corner of your board, and then "+Add new sort". You can then choose the exact parameters that you'd like to sort your board by! As an example, we chose to reorder the items on our board according to their budget in descending order, as so: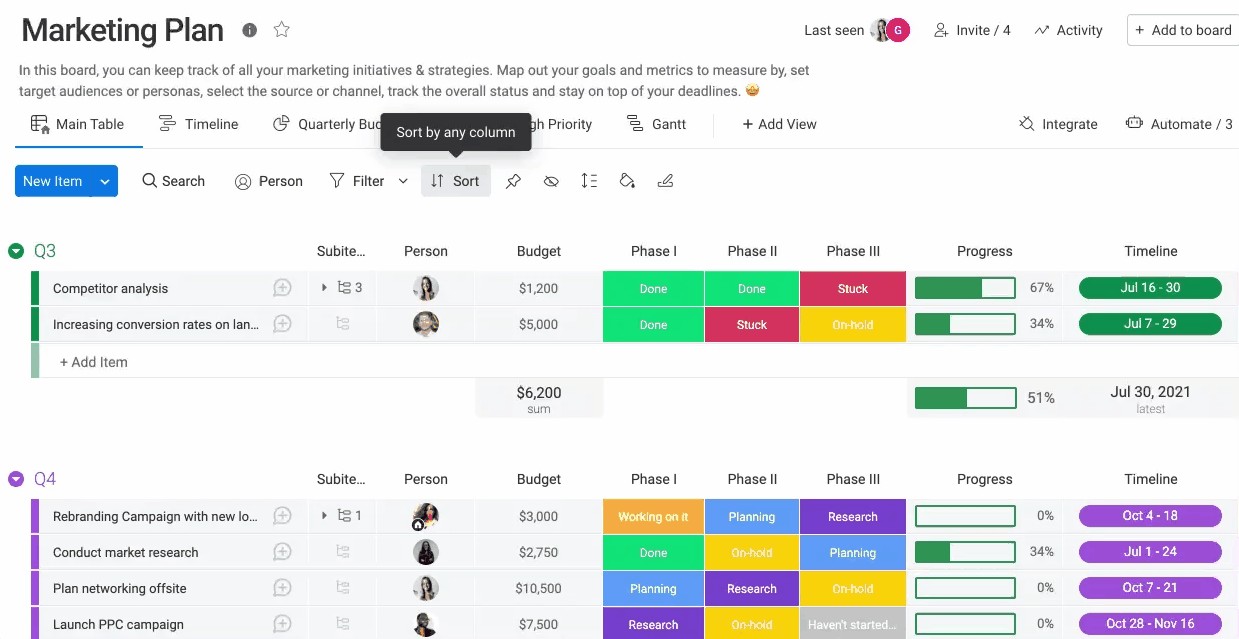 To filter your board, click on the "Filter" button at the top of your screen and choose the exact parameters of data that you'd like to display! For example, we wanted to see all items assigned to "Noy" and which have the "Phase I" status of Done, so we've set up the filter as so: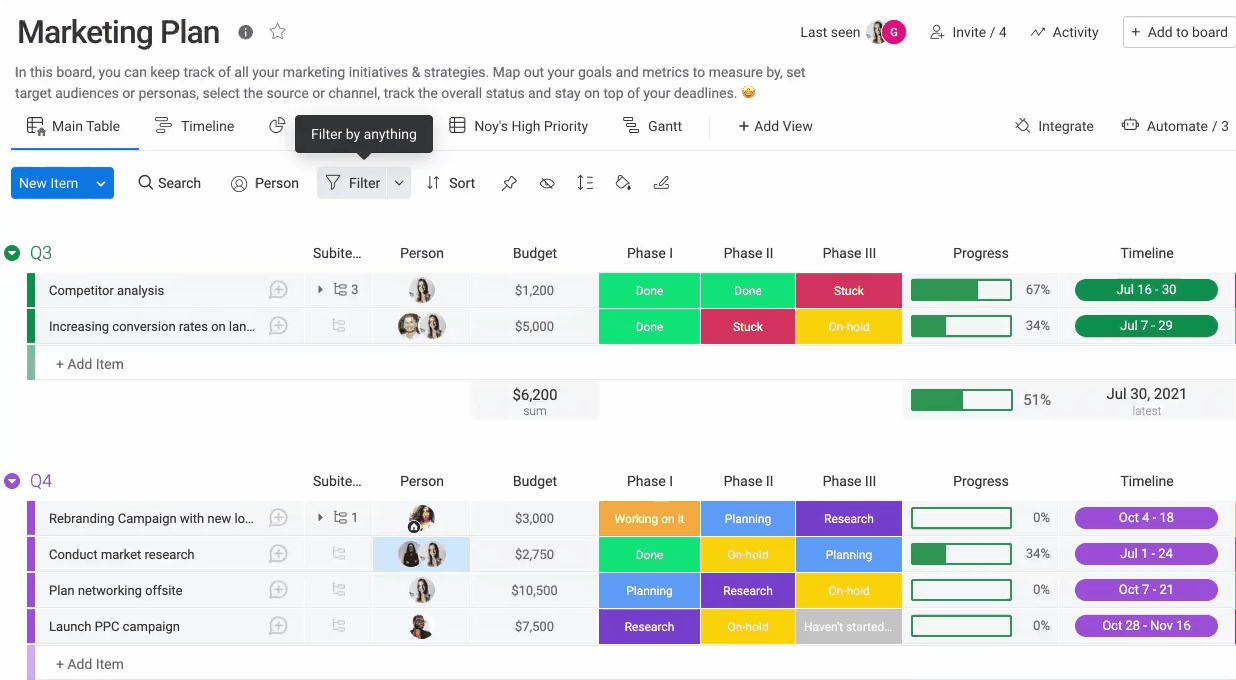 Rearrange your board's groups
With more and more information filling up your board, you may want toregroup your board according to different data points in order to easily see what you need! Using the "Group by" feature, you can slice, dice, and organize your data with more freedom than ever before.
Simply click on the "Group by" icon at the top of your board, select a column to group by, and watch your board be instantly organized according to the parameter that you choose!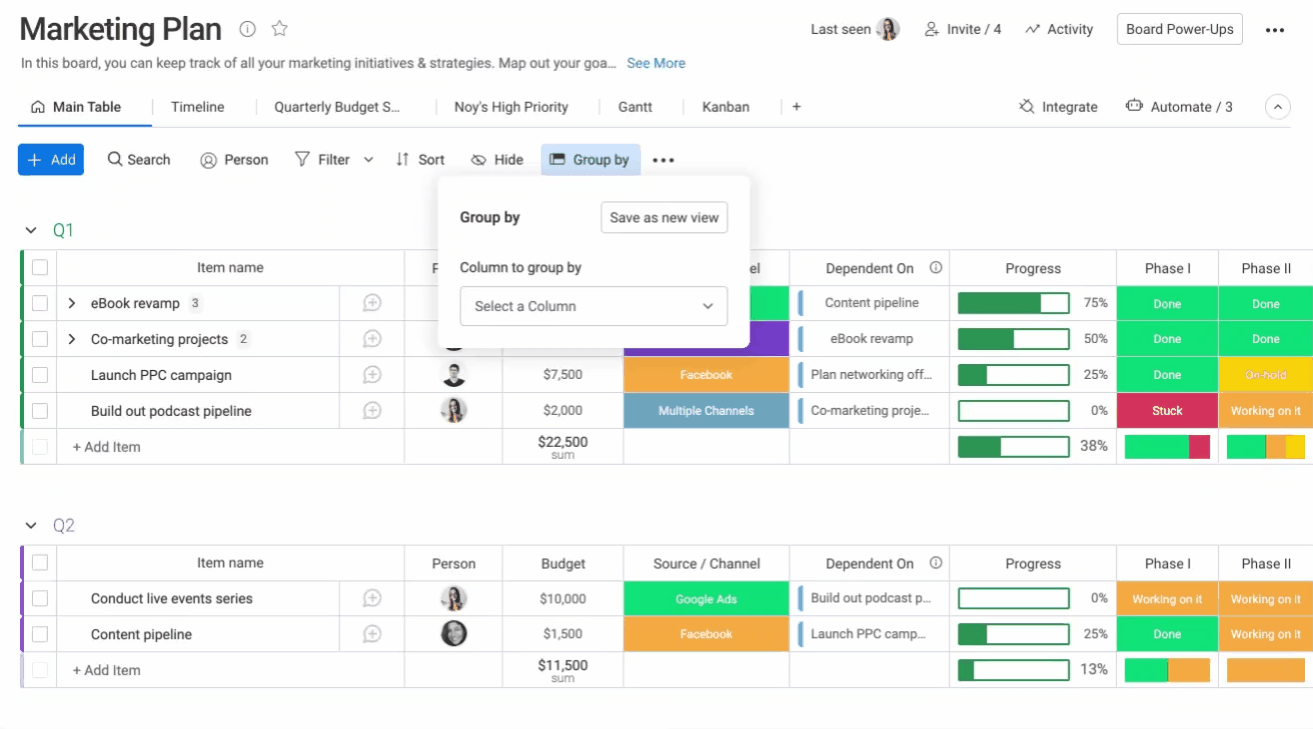 At the top right of your board, you will be able to see the icons of those who have most recently viewed your board.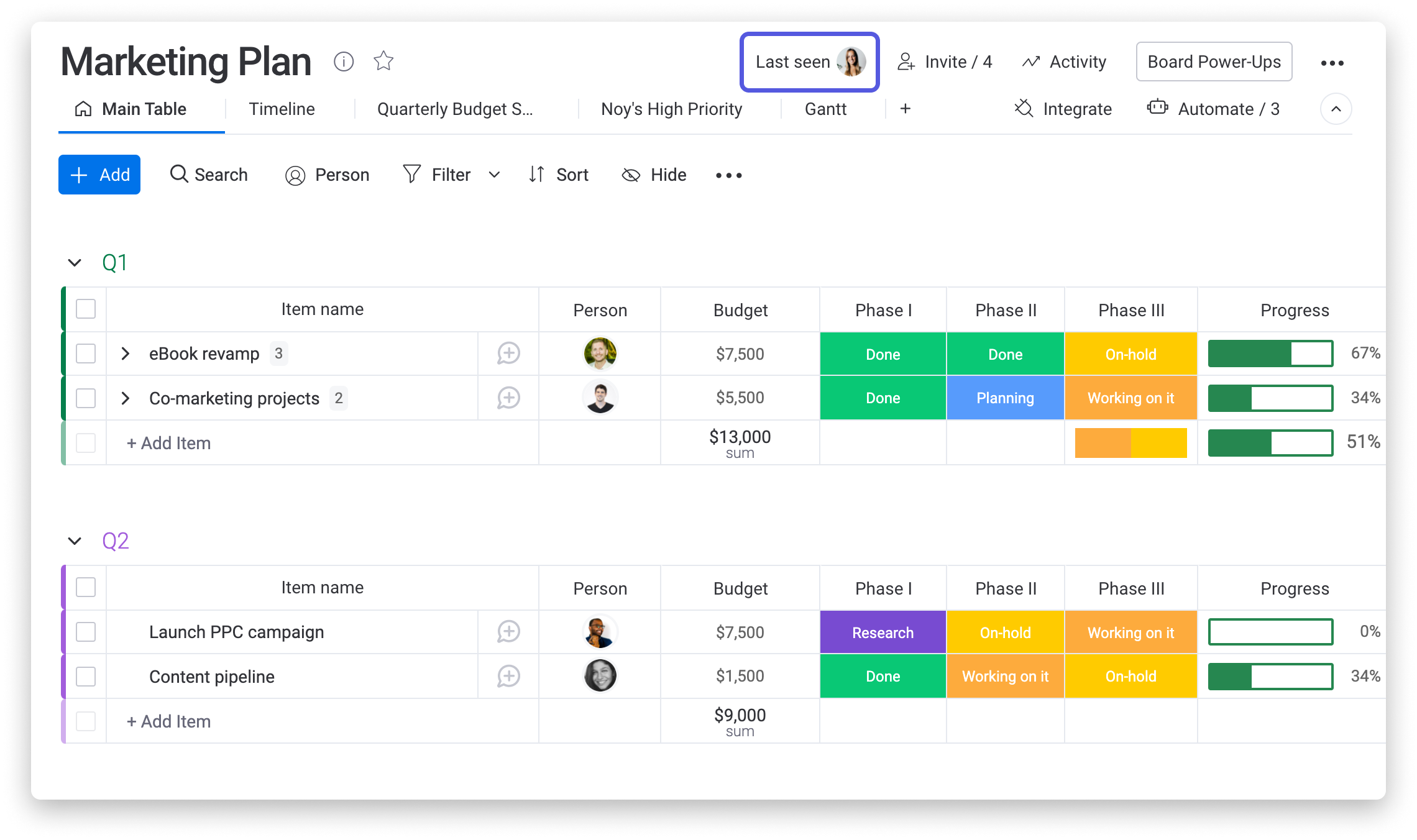 By clicking on any of the icons, you can open up the full log of who has seen you board and when. You can also find the activity log in the same area here to get a breakdown of recent board activities!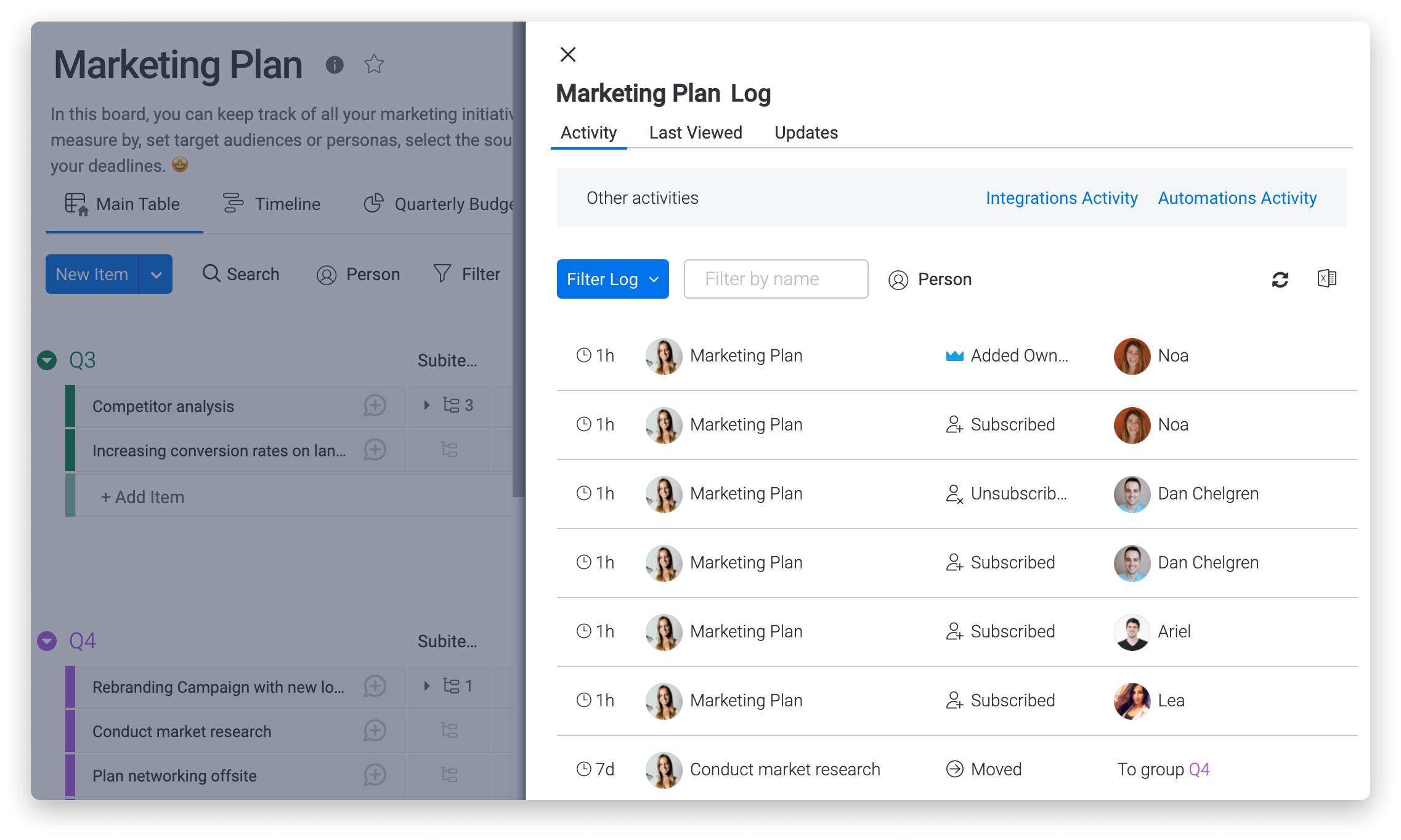 To print a board, click on the three-dot menu located at the top right of the screen. Choose "More actions" and then "Print board" as below: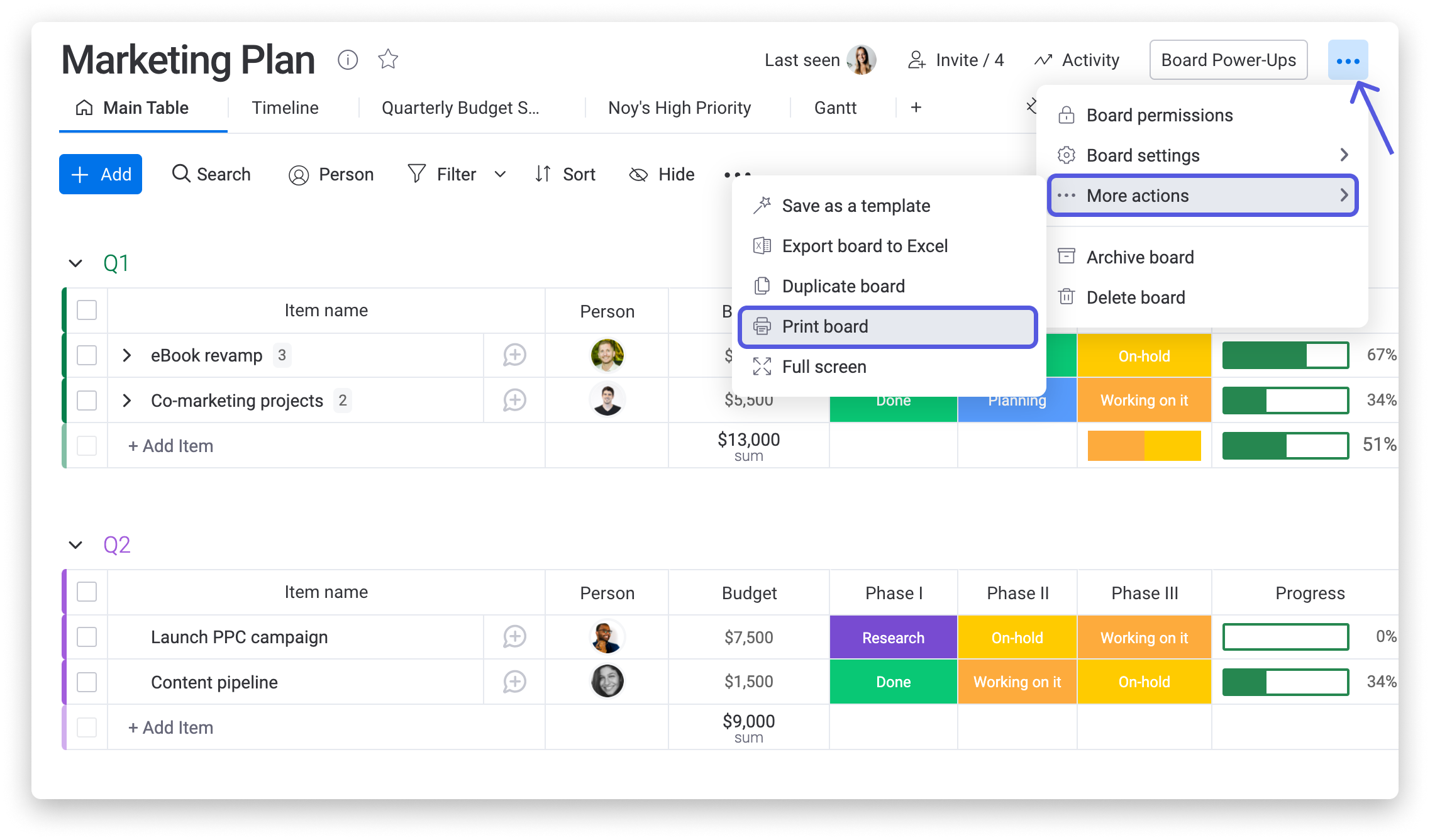 After you select "Print board", you will see the print preview as well as print settings that you can adjust. For example, on a Mac you might see: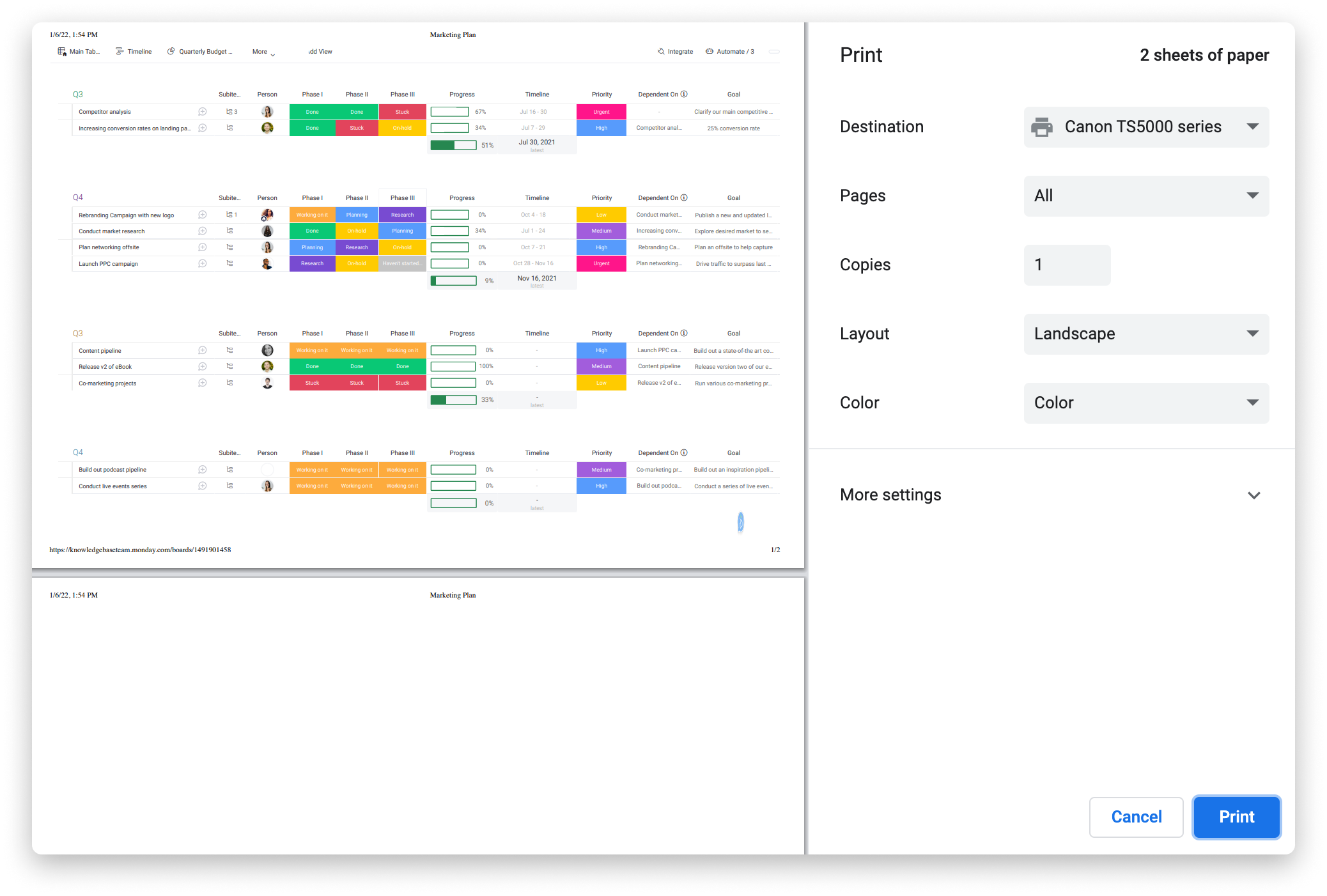 Customize the way it prints!
Prior to printing out the board, you can customize the settings so that your print displays what you need to see. For example, since most boards are quite wide, you may want to print it in landscape mode and to zoom out as well in order to display all of the columns that you need from your board.
To do so, simply adjust the print settings so that it displays "Landscape" as the layout and customize the scale of the print accordingly so that it can show all of the columns in one printed paper, as so: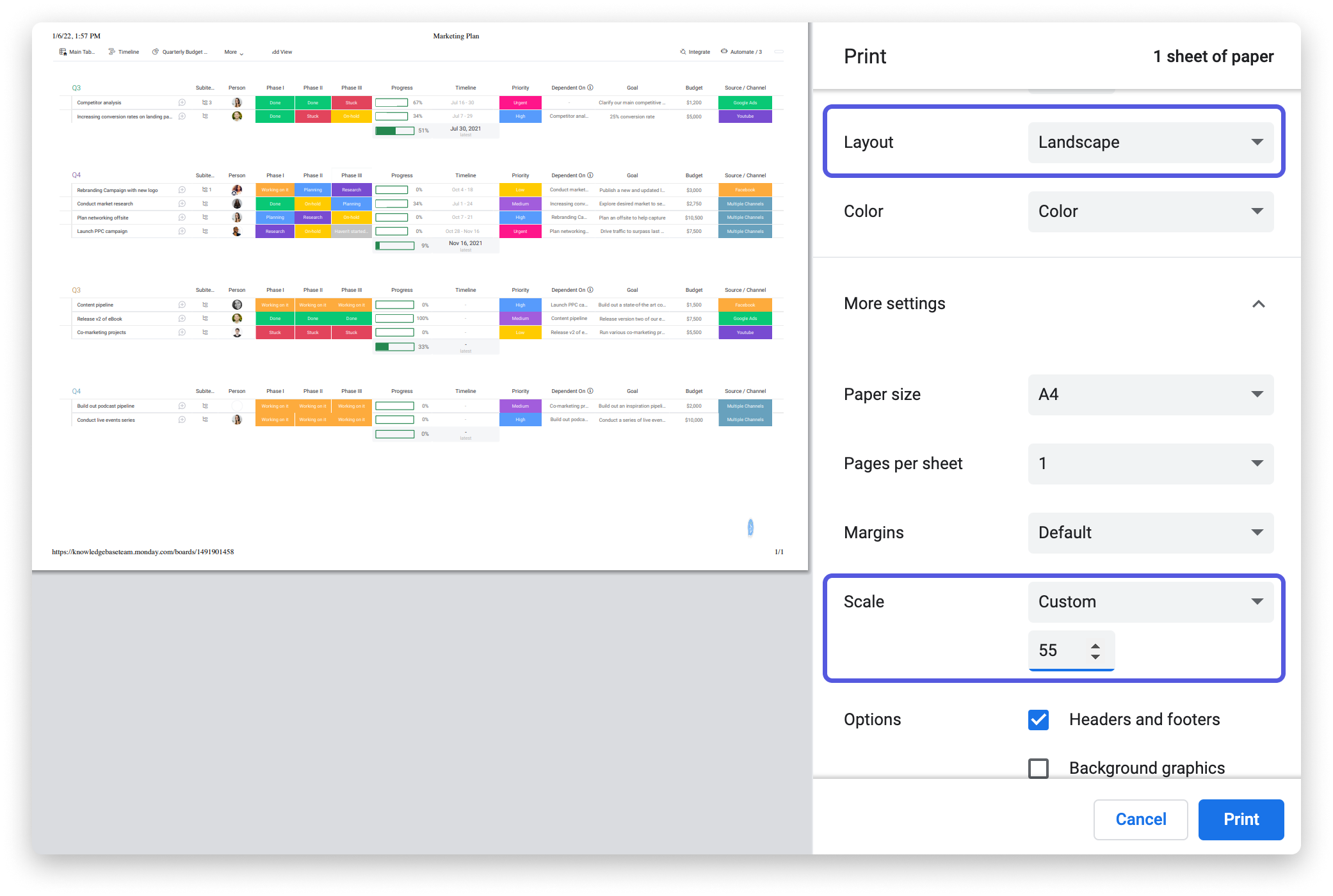 Once you've chosen your desired settings, click "Print" to see your board on paper! You can also use these same instructions to print any board view as well. 🖨
If you have any questions, please reach out to our team by using our contact form. We're available 24/7 and happy to help!