A board is the place where your groups of items are held. It's a virtual white board where projects are stored as a way to keep track of everything from everyday tasks to month/year long projects.. but so much better! This article covers everything you need to know about boards.
Just click + new button located on your left panel to create a new board as below👇

If you are new to monday.com or just looking for inspiration, you can use one of our board templates. You can also create your own board and make it a template for all your team to use. Check out this article to understand better how it works.
You can delete a board by following the below steps:
Click in to the board you would like to delete from the left hand pane
Click the three dots menu in the top right-hand corner
Then select Delete/Archive > Delete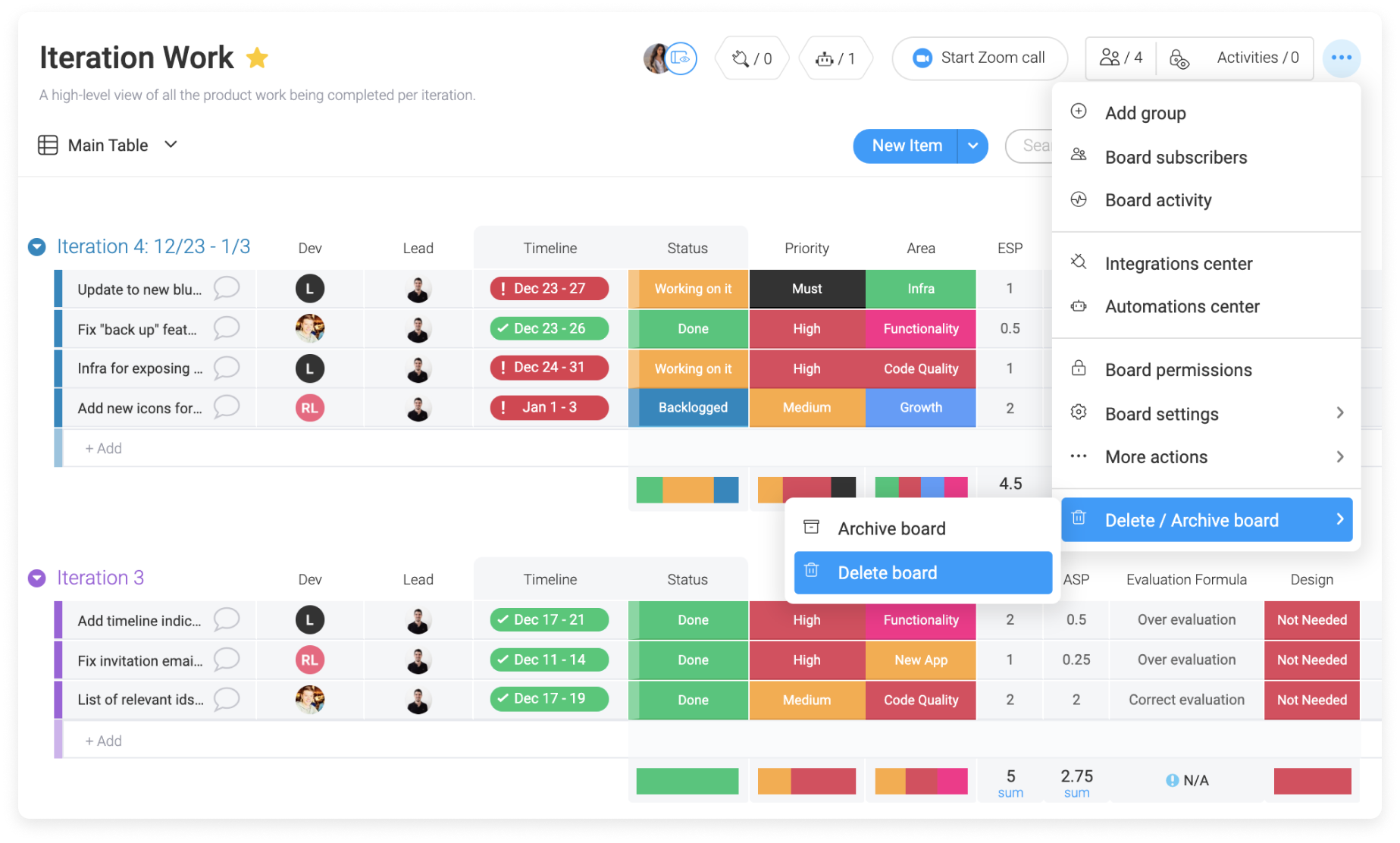 If you have accidentally deleted a board not to worry! You can restore the item within 30 days from the Recycle Bin. You can also archive a board instead of deleting it, in case you would like to restore it at any point.
We offer three type of boards: main, shareable and private. The structure of all these boards is the exact same. What makes them different is their access level. Check out this article to learn more about the difference between these boards.
If you are the owner of a main board that you would like to move to shareable and/or private (and vice versa), please do the following:
Click the three dots menu Icon in the top right-hand corner
Click on board settings
Click on change board type
Choose to change to Private or Shareable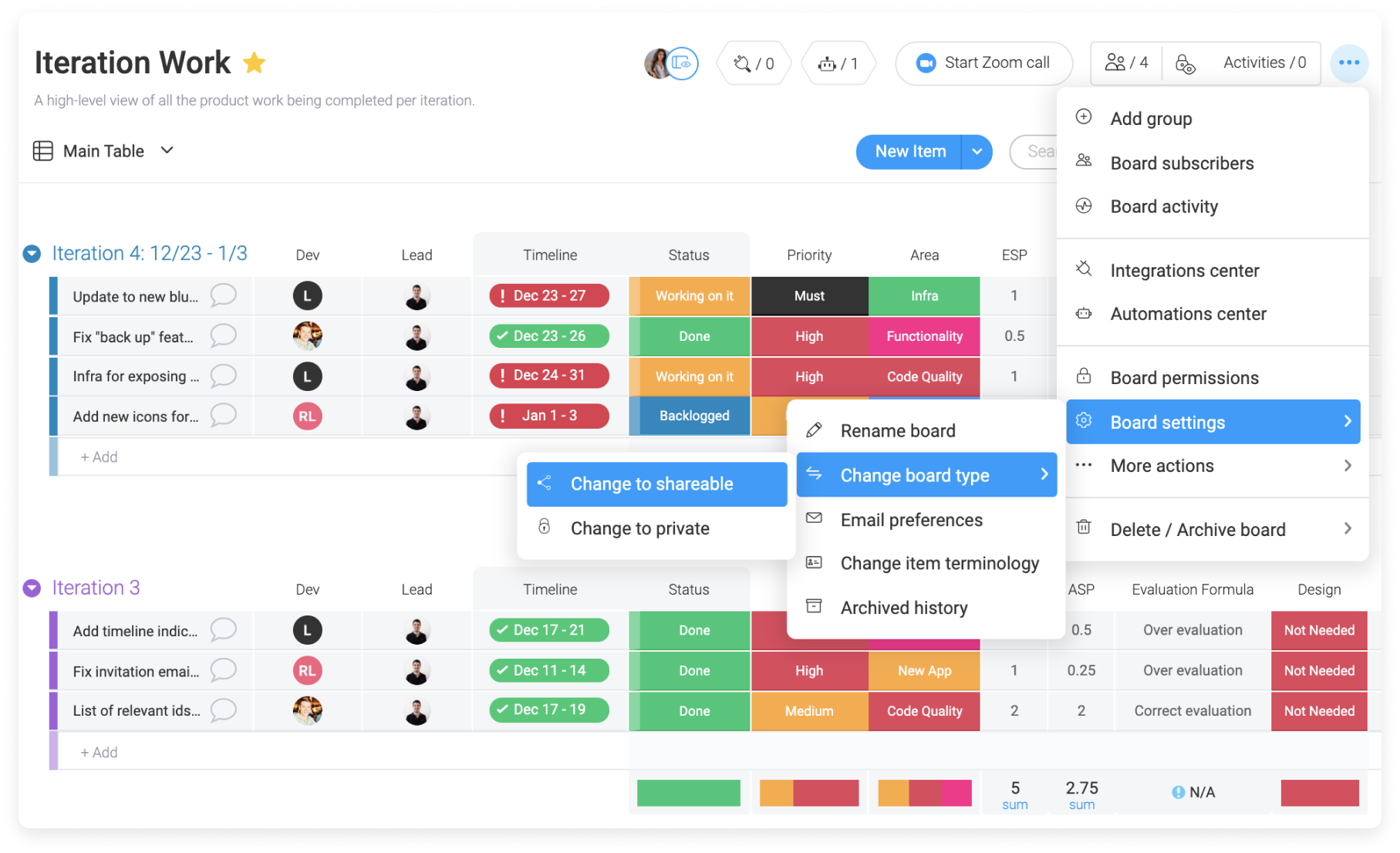 Note: You cannot move a board if you are not the owner of it. You will need to ask the owner of that board to make this change.
A board owner is either:
The person who created the board;
Any subscribers of the board which the board creator has chosen to be co-owners of the board.

Only the initial owner of the board and admins of the account can add other owners to the board.

To learn how to add an owner to a board, check out the What is a board owner? article.
Board ownership is an important feature when setting restrictions on boards, making them read-only for non-owners. You can read more about setting board permissions here.
If your board owner has left the team, you can still recover the board. For instructions on how to change board ownership, check out the Changing board ownership article.
Boards are the core of monday.com. These are made up of building blocks, which will create the desired structure that your team is looking for.
Boards are made up of the following three components:
Groups, which will help organize and segment the information on your board.
Columns, which allow you to store, reflect and refer to any important information.
Items, which will be the individual tasks, projects, clients, products or anything else.
Everything in your board is fully customizable including the board columns, status labels, item values and more! You will find some of the customization settings in the board settings menu on the top right corner.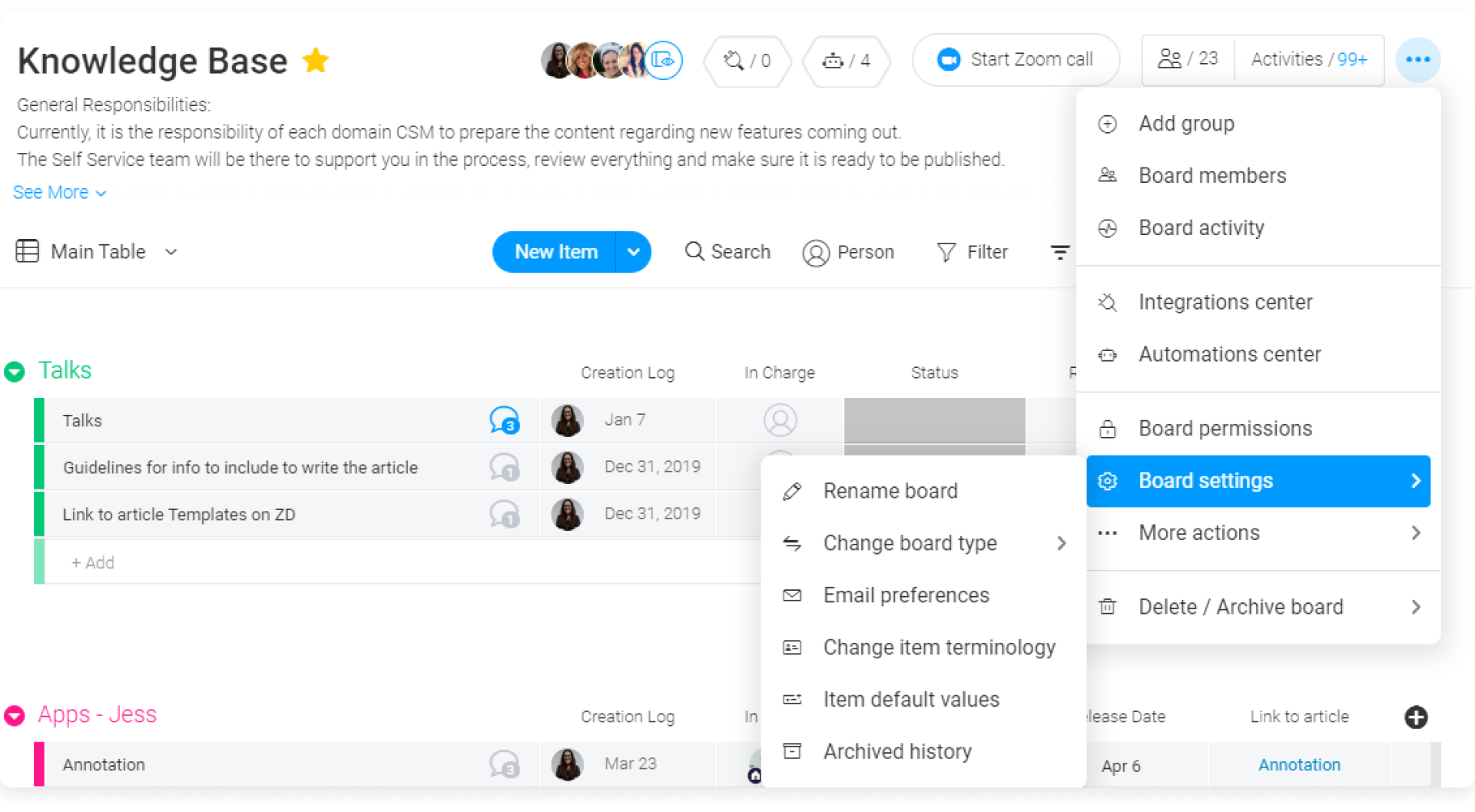 Minimize the board header
As your board fills up with more and more information, you may want to make more room to see the information that is important to you by collapsing the board header!
To do so, simply click on the small arrow at the far right of your board and you'll instantly have more room on your board to view the items that you need to see.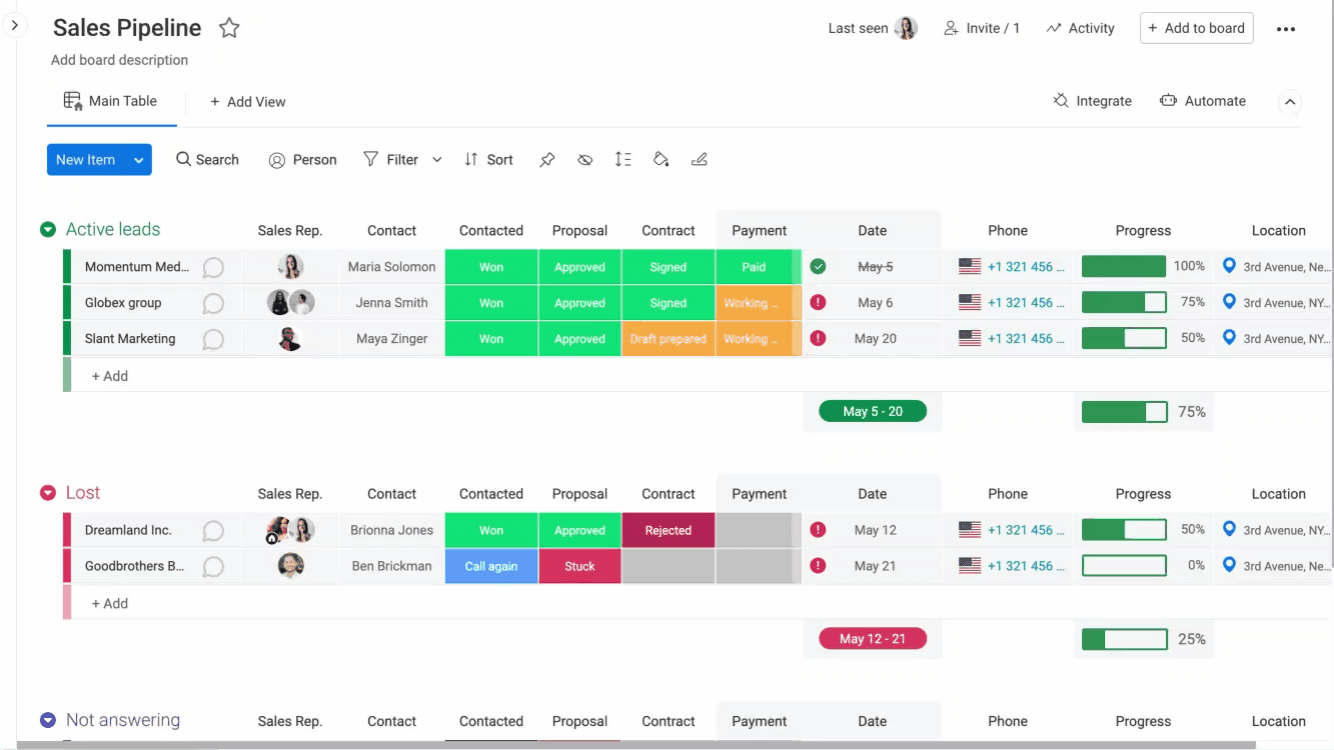 To print a board, click on the three dots menu located at the top right of the screen. Choose "More actions" and then "Print board" as below: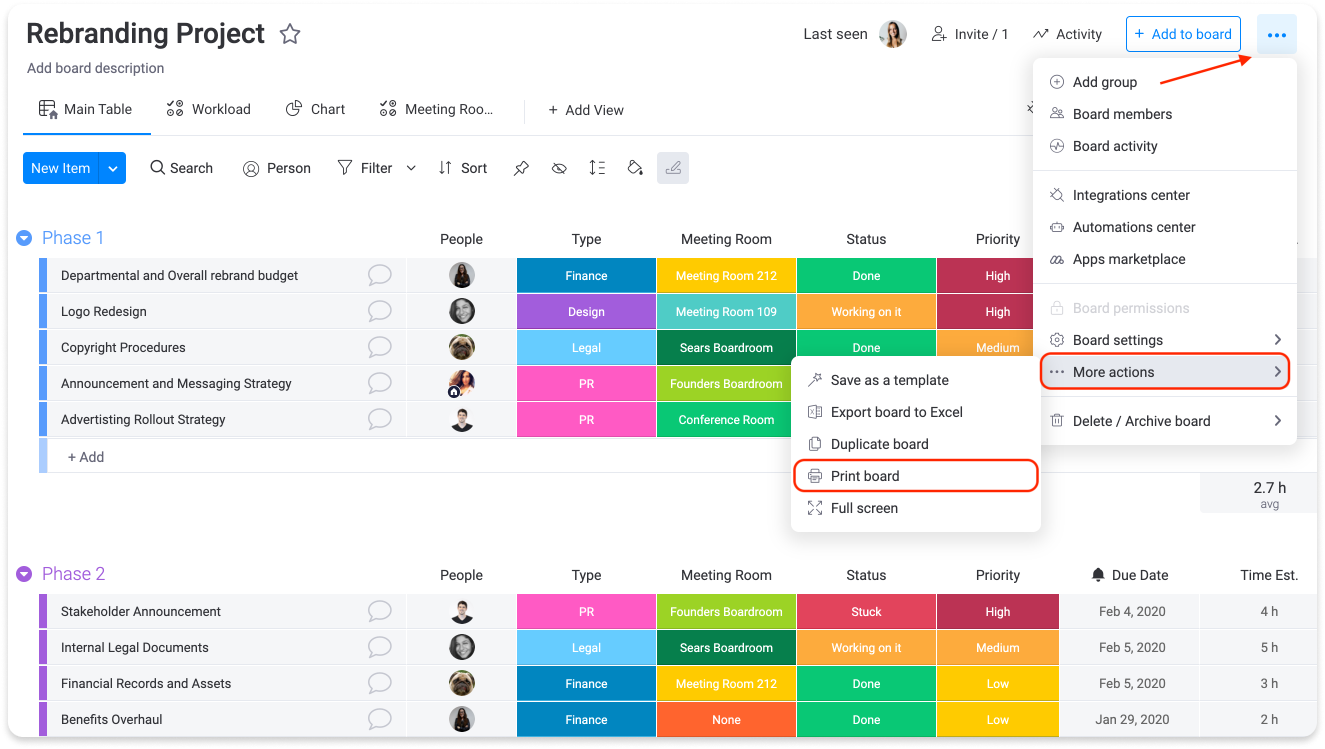 After you select "Print board", you will see the print preview as well as print settings that you can adjust. For example, on a Mac you might see: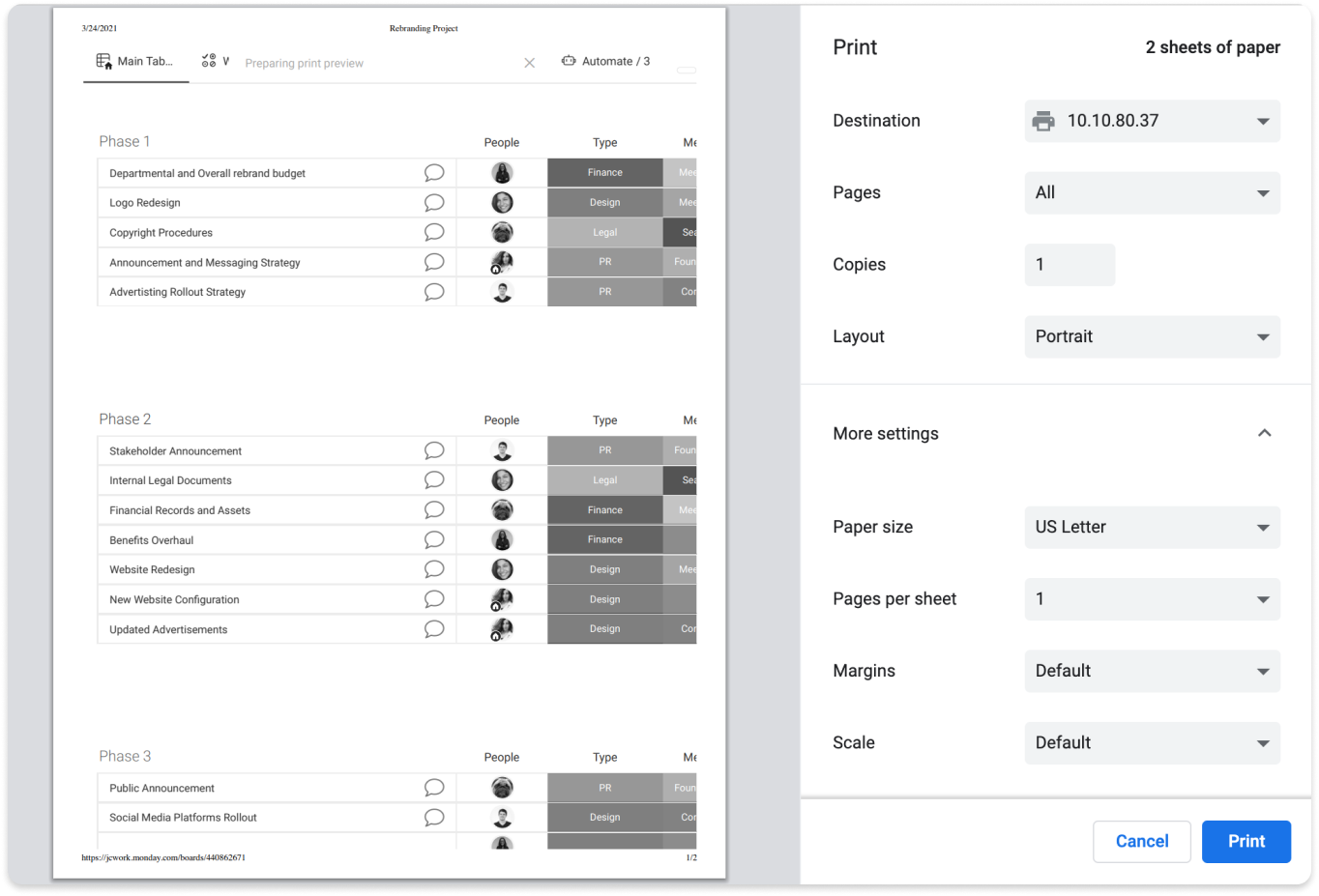 Customize it!
Prior to printing out the board, you can customize the settings so that your print displays what you need to see. For example, since most boards are quite wide, you may want to print it in landscape mode and to zoom out as well in order to display all of the columns that you need from your board.
To do so, simply adjust the print settings so that it displays "Landscape" as the layout and customize the scale of the print accordingly so that it can show all of the columns in one printed paper, as so:
Once you've chosen your desired settings, click "Print" to see your board on paper! You can also use these same instructions to print any board view as well. 🖨
At the top right of your board, you will see who has seen your board last.
By clicking on one of the icon, this will open the full log of who has seen you board and when.
You can read more about the activity log right here.
You can sort your board to display the order in which you'd like to see your items!
Click the "Sort" icon at the top left corner of your board, and then click "+Add new sort" like this:
Open the drop-down menu to choose which column you want to sort your items by: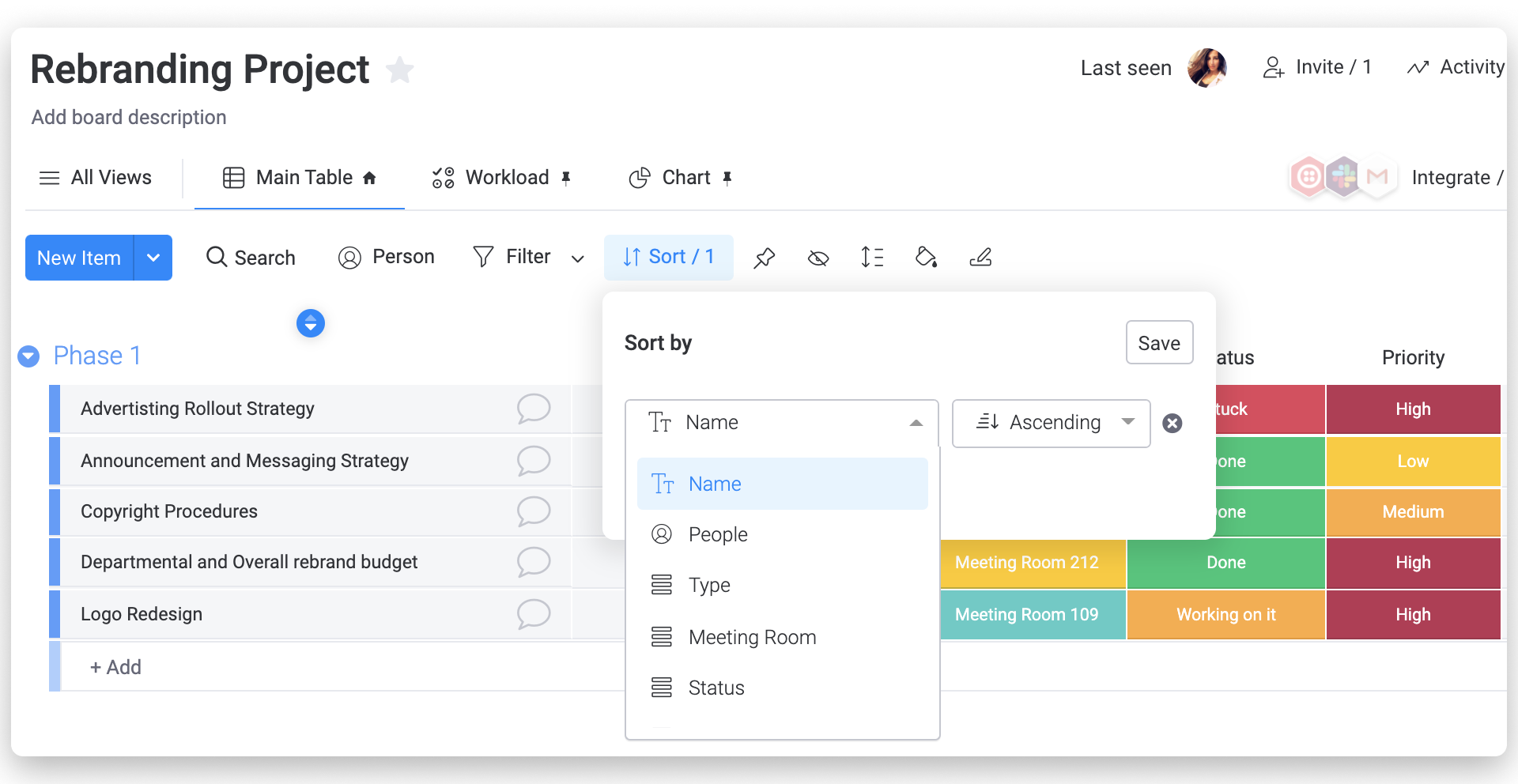 Next, choose whether you want to sort the items in ascending or descending order:
You can add a combination of several sorting recipes by clicking "+Add new sort". When you're finished, click "save" to refresh your board with your newly-sorted items!
If you have any questions, please reach out to our team by using our contact form. We're available 24/7 and happy to help!