At monday.com, we love to make everything visual: colors, graphs, shapes... So, we came up with the amazing board views! Board views allow you to visualize your board's information in multiple ways right from your mobile device! This article will take you through all of the views available on your mobile app, and how to navigate them flawlessly! 📊 📈 📉
How to add a view
Our high-level project management board allows us to easily track all of our running Construction projects! We want to add a few board views to make some of our data even easier to track while we're out in the field.
To add a board view, we'll click on the "Main Table" button located n the top left of your board, like this: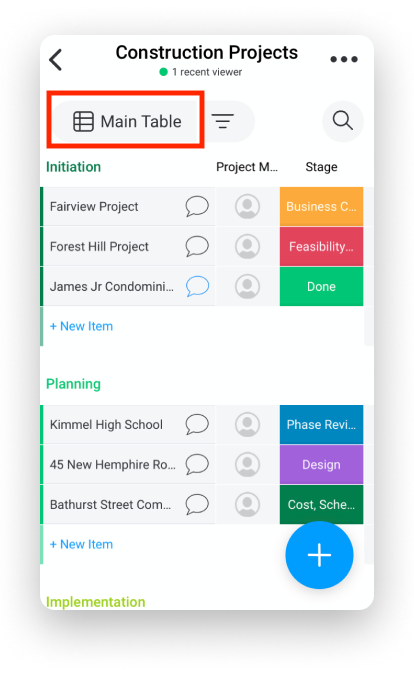 Next, we'll see a pop-up window at the bottom of our screen. In this window, we'll see all of the views added to our board under "Saved Views" and the option to "Add View" from all of the board views available on our mobile device!
We can select any view from this list to add it to our board!
Note:
In keeping with Apple store and Play store policies, our mobile app's board views are currently only available for paying accounts. Once you upgrade your trial account to one of our
paying plans
, you will receive all of the views included in your plan!
How to switch between views
To switch between views, we can just click the same "Main Table" button in the top left corner of our board that we used to add our view!
Note: The name displayed in this button will reflect the board view we are currently viewing, so it will not read "Main Table" unless we are viewing the Main Table View.
The Table View
The Main Table View is the default view for our board! This is the view where we can see all of our columns and items in the traditional monday.com board! Here, we can track all of the information we need to know about our construction projects.
The Calendar View
The Calendar View allows us to visualize our items in a calendar format of the day, week, or month. Here, we can see all of the upcoming "Status Update Meetings" for our running construction projects so nothing slips through the cracks. Take a look at this article to learn more!
The Timeline View
The Timeline View blocks out the dates of each of our projects in the context of a calendar! We can use this view to visualize the lifetime of each of our projects so we can see which projects overlap, and which projects run in tandem. Read this article to learn more about how it works.
The Kanban View
With the Kanban View, we can view all our items in Kanban-style cards. Each card represents a different status label from our Status Column, so we can see every project according to the stage it's currently in! We can flip through the cards by swiping left and right on our mobile device. Check out this article to learn more.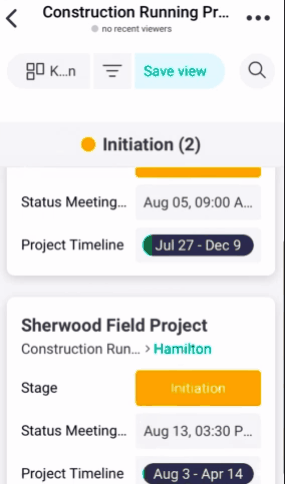 The Battery View
We can use the Battery View to see the distribution of our Status Column's labels across all of our projects in a battery-style chart! This view helps us visualize where all of our projects stand so we can give a push wherever needed. Take a look at this article to learn more about how it works.
Views that are not available on mobile
We are working hard to bring all of your favorite monday.com features to the mobile app, but so far, the board views listed above are the only ones available for use on the mobile app. Below is a list of the board views that are still only available from your browser:
Settings
You can reach the settings for your views from the "Views" pop-up window. When you are viewing one of your board views, click the views button, and you will see a cogwheel beside the name of your view in the list of board views, as shown below.
The available settings will depend on which view you are trying to edit. Visit the view's article to read more about its settings!
Filter your view
Filter any of your views by clicking the tornado "Filter" icon right beside your "Main Table" button, as shown below:
You can select groups or any of the board's columns to filter out the information you wish to view!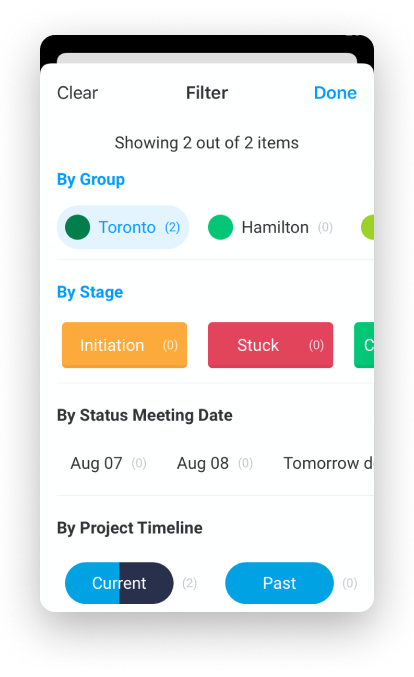 Search your view
You can search for something specific by clicking the magnifying glass icon at the top right corner of your board, like this: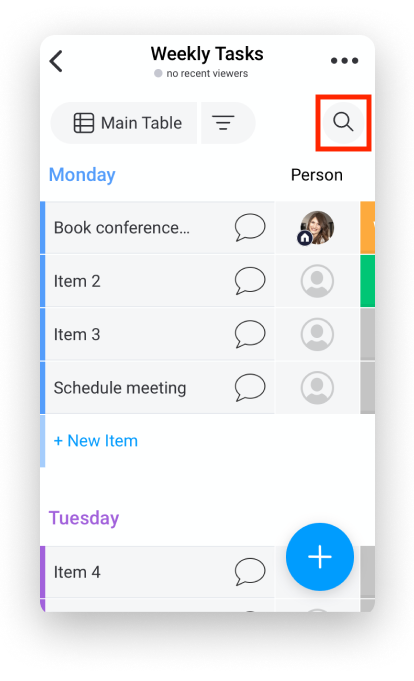 Use the search bar to type in any keyword to filter out your board views! In the example below, we searched the name of one of our Status labels to view all projects on our board marked with that label. Take a look at how our Battery View filtered the results:
If you have any questions, please reach out to our team by using our contact form. We're available 24/7 and happy to help!