Dashboards are a great way to display what's important in just one place. With 15 available widgets, users can understand project progress, track budgets, estimate teammates' workload and much more! You can reach them from your mobile app, so you'll never be without your goals and progress tracking!
At this time, dashboards can only be created on your desktop, but can be accessed and viewed on your mobile whenever you need them! Head over to your desktop to create the perfect dynamic dashboard for your team! Take a look at this article to learn about all of the different widgets and how to customize your dashboard!
To open up your dashboards on the mobile app, click on the stacked bar menu at the top left corner of your screen.
Next, select "Dashboards" from your left pane menu, like this:
Here, you'll find a list of all of the dashboards in your account which you have access to! You can scroll through them to select the dashboard you wish to view, or type its name into the search bar at the top of the screen.
When you open up your dashboard, you can view all of your widgets in full screen! Scroll through your dashboard to check up on all of your stats and updates!
Note: Currently, your dashboards can be viewed on your mobile app, but no edits can be made. Until we add the ability to edit from your mobile, any changes you wish to see in your mobile app can be made from your desktop.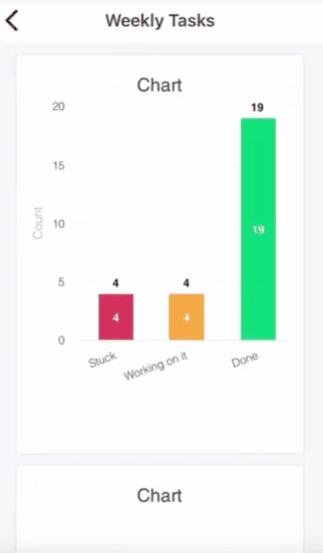 Let's take a look at some of the widgets you can view on your mobile device!
Tip:
The next few sections of this article will highlight some of the available widgets. Make sure to read
t
his article
and check out the Dashboards Center from your desktop to check out all of the different widgets and apps available!
Charts
Drill down to the details of your charts! When you click on a section of your chart, see what it represents! For example, this pie chart below represents the groups on our boards. When we click a slice of the pie, we can see which group it represents, how many items are in this group, and what percentage of our boards this group makes up!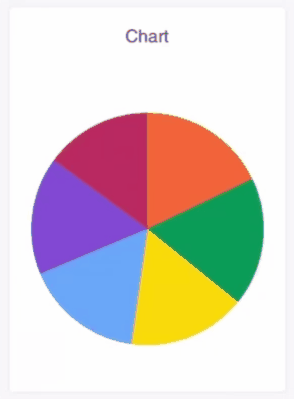 Check out this article to learn more about how you can customize it from your desktop!
The Numbers Widget displays a total sum from the Numbers Columns across your boards. In this example, our Numbers Widget displays the total sum of our budget spent across all of the boards connected to our dashboard! When we tap the widget, we can see the unit in blue down below (this can be sum, average, count, max, etc!).
Read this article to learn more about how you can customize it from your desktop!
The Calendar Widget displays the items from all of your connected boards in a calendar according to the Date or Timeline Columns on your boards. They are color-coded according to your widget's settings to help you to identify them from your mobile dashboard!
Take a look at this article to learn more about how you can customize it from your desktop!
The Battery Widget allows you to keep track of the progress of your boards in just one place. The different status labels used in your boards are represented as colored circles at the bottom of your widget. Click the circle to display the name of the label and the percentage of items marked with this label across your connected boards!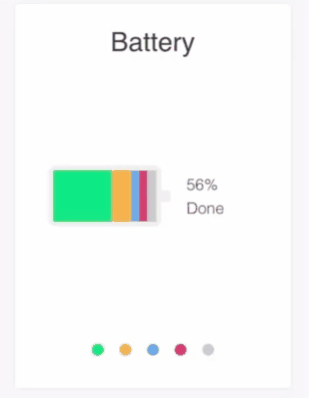 You can read this article to learn how to customize it from your desktop.
See every update you were mentioned in, in one clear view with the "I Was Mentioned" Widget! When you tap one of your mentions, you'll open a pop-up window displaying a date and time stamp so you can make sure to stay on top of your work!
Click here to learn more about how you can customize it from your desktop!
Note: At this time, the Timeline Widget, Workload Widget, and My Week Widget are not supported on the mobile app, but stay tuned - we are working on it!
You can view your dashboard both in Light Mode and in Dark Mode on your mobile app! To switch between Light and Dark Mode, you'll have to use your desktop app to set it however you're like to view it from your mobile!
If you have any questions, please reach out to our team by using our contact form. We're available 24/7 and happy to help!