Say goodbye to exporting all your data on Excel! Keep all your data in one place and manipulate it the way you want. You can create pivot tables in a snap to understand important metrics from your favorite tools like Zendesk, Slack, Microsoft Office, and more. Keep reading to find out how it works 🙌
Note: The pivot board can be used in both your board as a board view and dashboard as a widget.
What is pivot for?
Our pivot board view will allow you to better analyze the different verticals of your board by slicing and dicing the information. Being fully flexible and customizable, this view will enable a deeper level of reporting from many different perspectives.
How to add it?
To add a pivot board view, click on the arrow next to the button "main table" located on the top left of your board. Click on apps as below: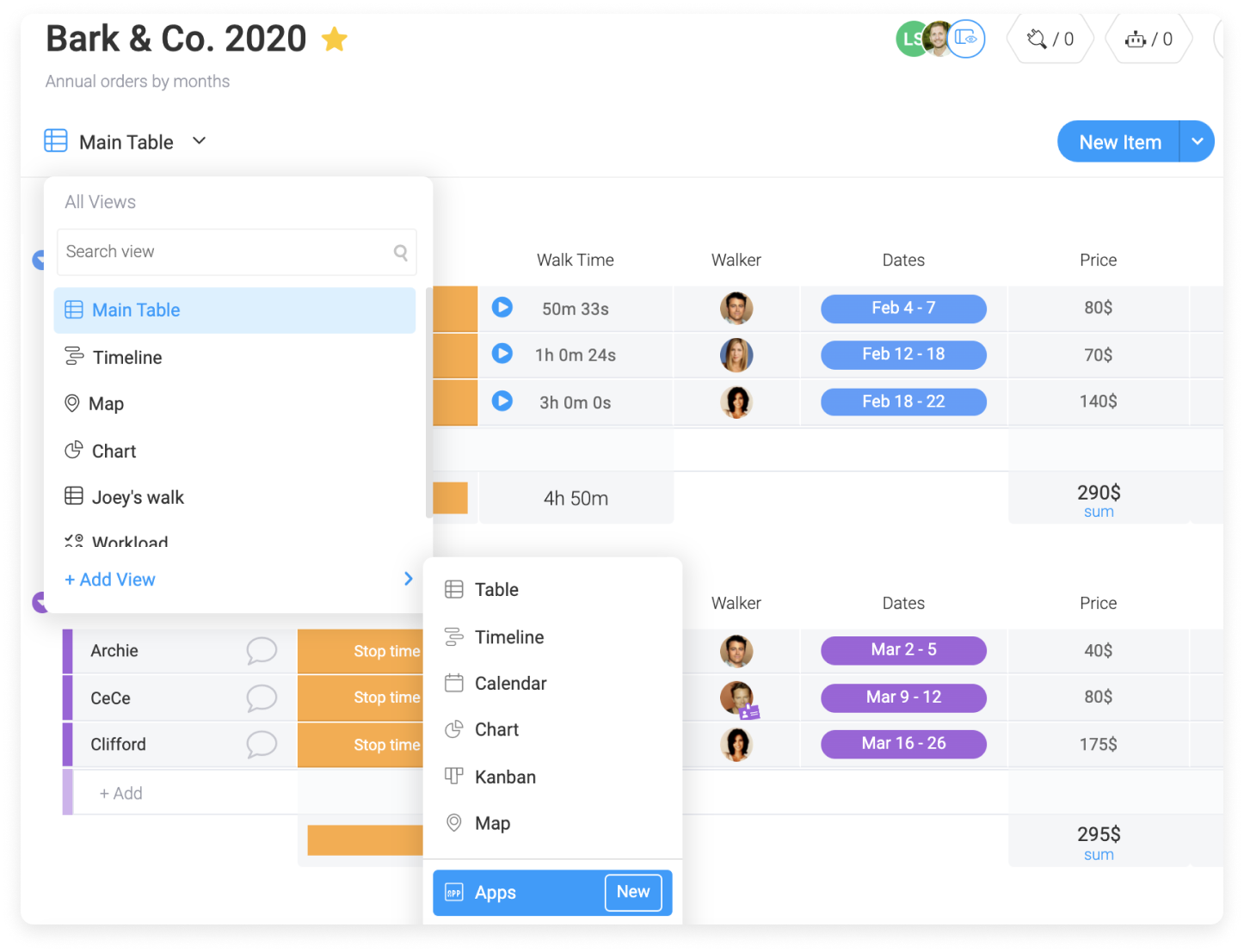 Once in the view center, search for "pivot board view" as below and add it to your board: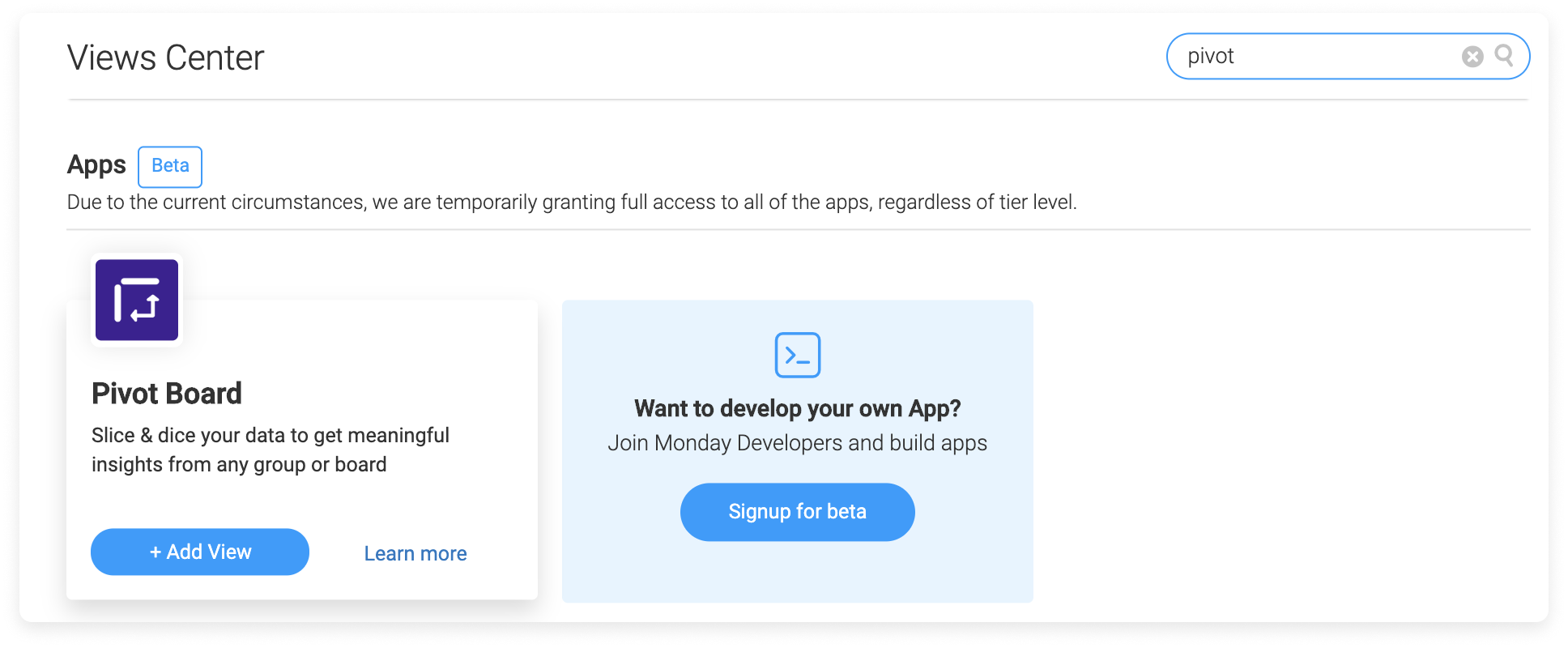 Open your Dashboard and simply click on "Add widget" at the top of the Dashboard page:
Once in the dashboard center, select "pivot board" as below: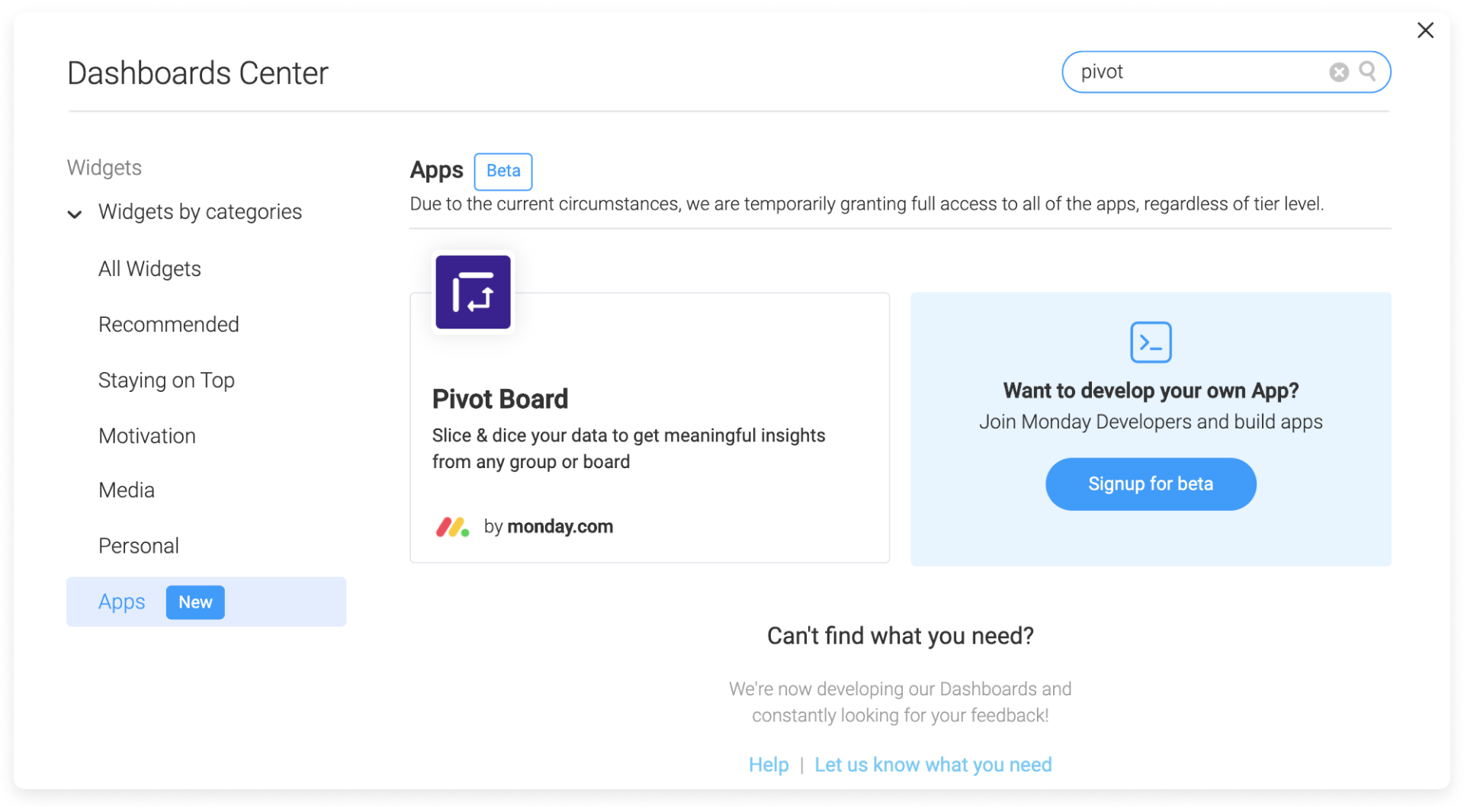 And you are all set! Now let's customize it 🙌
Customization
The customization part is crucial. In this step you will define which data from your table you'd like to see. Whether it's the number of tasks, clients or revenue, the pivot table is a great solution to adjust the information according to your needs. Let's get started!
Note: The pivot board does not support the formula column yet.
If you are using the pivot board on a dashboard, the very first step will be to choose your board. Currently the pivot board on dashboard only works with one board. It will support several boards in a near future so stay tuned 😃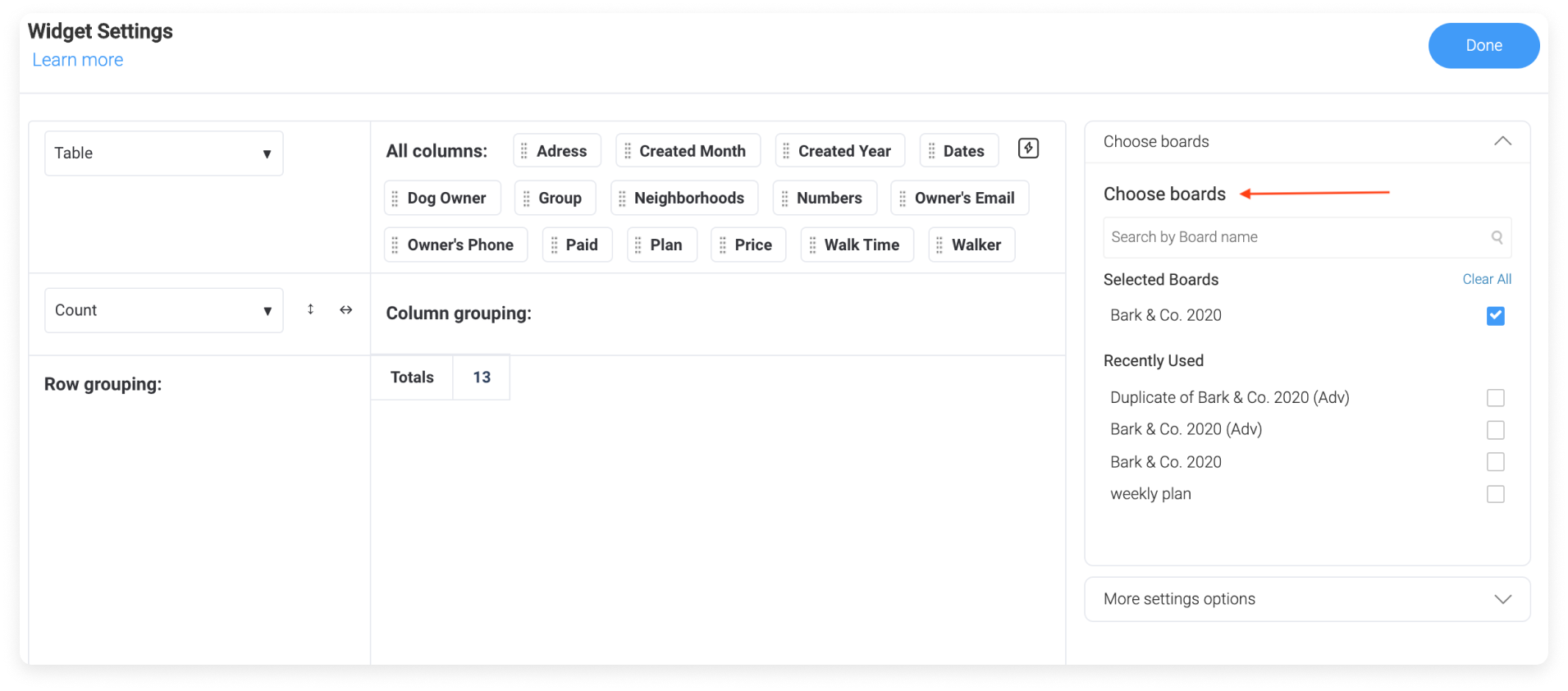 Define your rows and column grouping
On the top, under "All columns" you will see all columns available. These options are based on the existing columns of your board.
In order to define the rows and columns of your pivot, simply choose the columns you want to view and drag them to either "Row grouping" or Column Grouping" as below: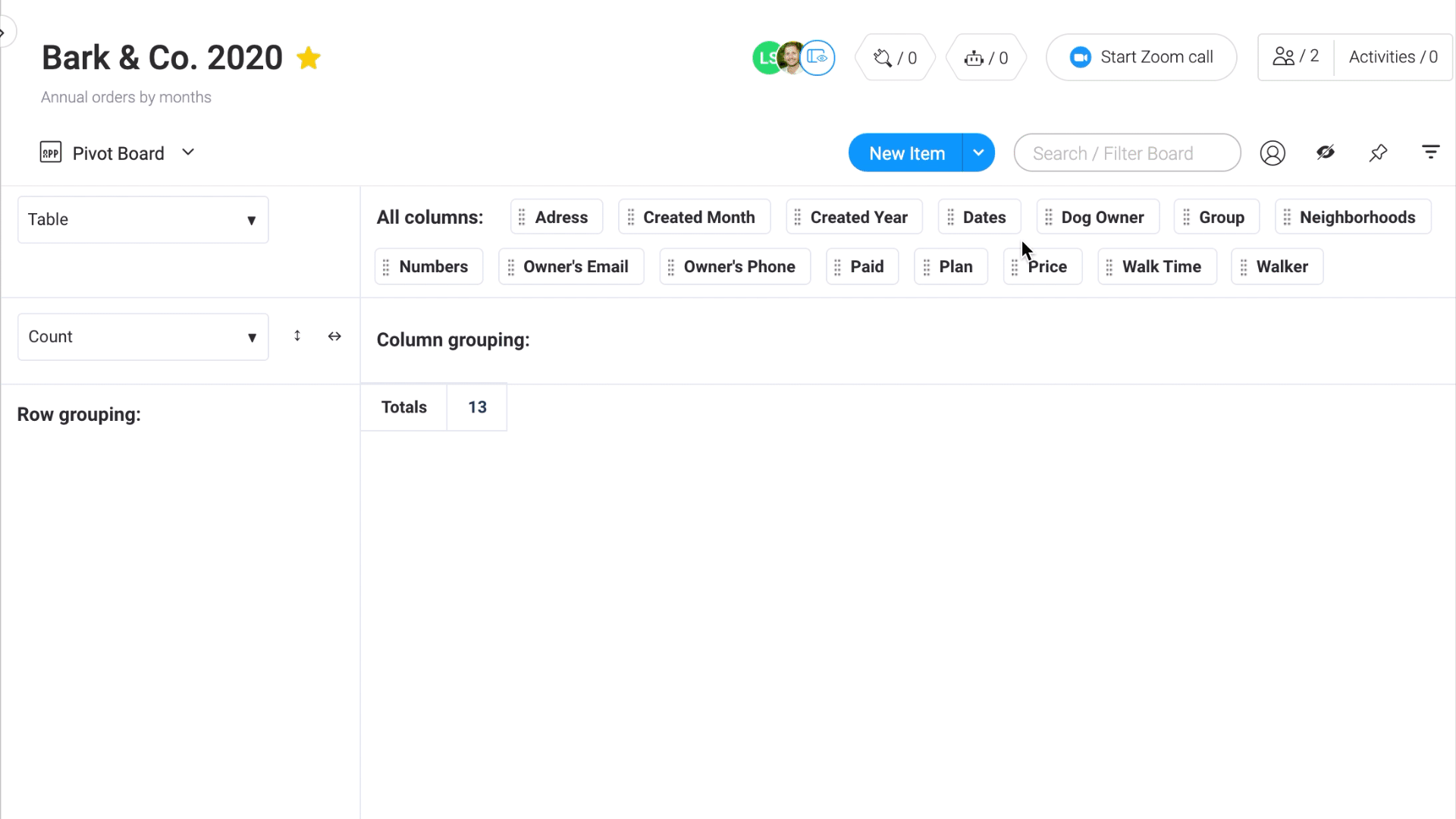 Once done, you will get a visual, sliced and diced view of your board's items.
In this example, we are managing a dog walking company. We are interested to see how many dogs each walker was assigned to per month. 🐾 Each row will be a dog walker and each column will represent a specific month.
You can even add multiple layers! This will allow you to gain a deeper analysis and identify trends on your board. Here for example, we have our columns split per month and per neighbourhoods.
Choose your summary calculation
You can summarize your data by the sum, average, median and more! On the top left of your pivot click on count as below and select your preferred setting.
In this example, we are interested to see how much each dog walker earned each month. We will choose sum and then price. Et voilà 🙌 Now we can see in one glance how much each dog walker earned
Choose your type of table
Whether you'd like to see your data in a table, line chart, heatmap or more... we've got you covered! On the top left of your pivot table, click on table and select your preferred style:
In this example, we've selected the heatmap to display the highest and lowest values. You can customize the colors of your map in the settings section of the view as below:
Filter your Pivot Board
You can filter your pivot by using the filters your board. It is a great way to narrow down the information even further.
Note: The filter option is not supported yet on the dashboard widget but we are working on it!
Click on the filter icon located on the top right of your view as below and select your preferred filter:
Next, save your filtered view for easy access at any given time. To do so, simply click on "save to this view" as below:
Whenever you will open your pivot table view from that board, the filter will automatically be applied. 🎉
Display settings
Turn your pivot board dark or light according to your preferences by selecting the light/dark mode in the display settings.
If you are using the pivot board view, you can also pick whether you want your pivot board to be in full view or split view. By choosing the split view, you will be able to see your pivot board and the board itself on the same view as below:
The pivot board is a super flexible tool that will help you summarize and manipulate your information in many different ways so you can identify trends, follow your processes and analyze your data better than before!
If you have any questions about this or anything else in this article, feel free to reach out to us at customer success at [email protected]