When signing up for the first time to a monday.com account, you will automatically be on our free plan. This plan offers you all the very basic features of the platform. It is great if you are using monday.com to organise your projects in a simple way, and to communicate and collaborate internally.
You can use monday.com with a limited number of features for free, but if you need more, you can unlock the trial plan.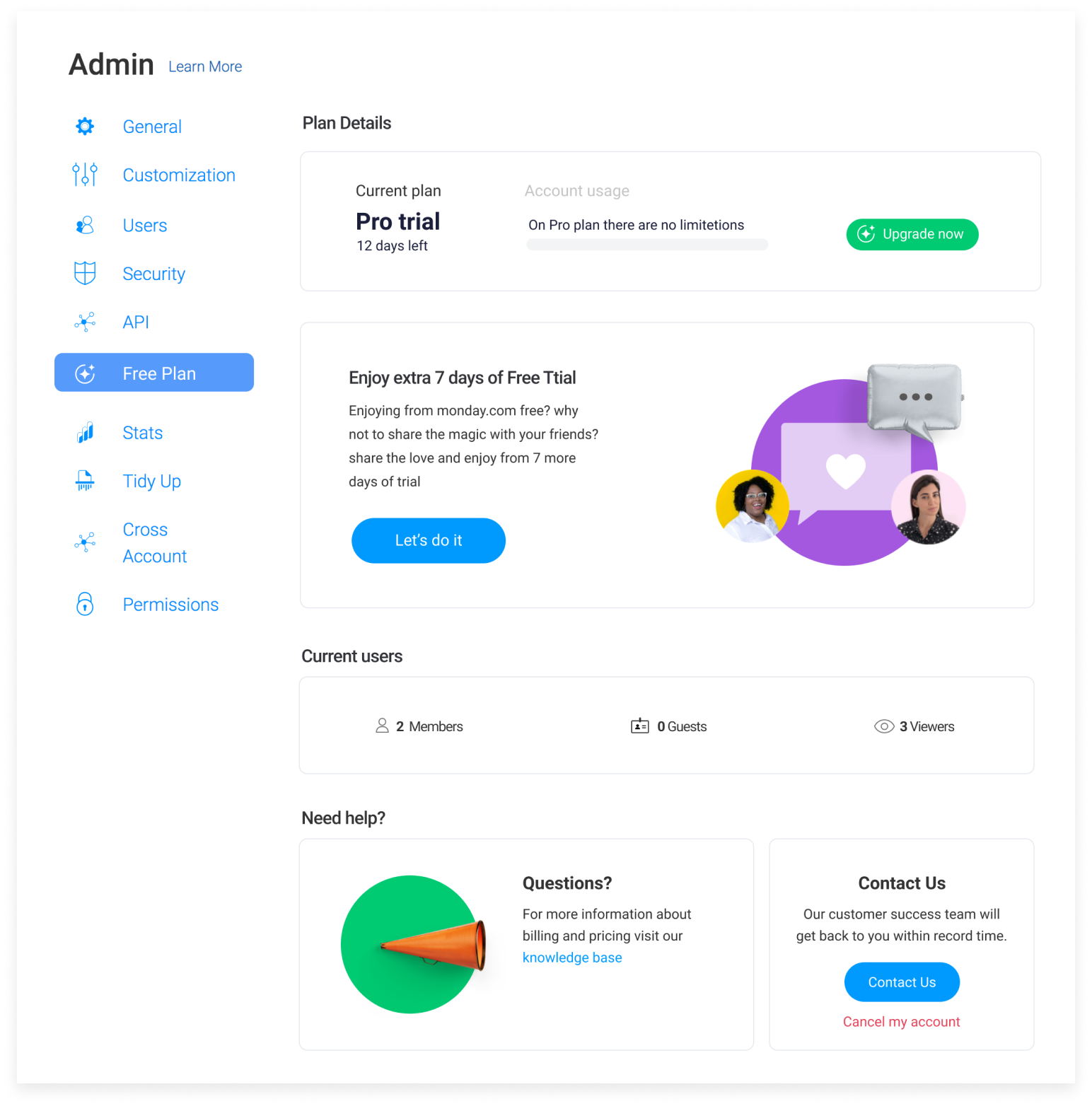 This article will answer all the questions you have about our trial plan. Keep reading to learn more. 🙌
How to unlock my Pro free trial?
If you'd like to try out some of our advanced features, you can unlock your free trial. You can do that by clicking on the feature itself and then selecting "start pro trial" as below:
Alternatively, you can activate your free trial on the admin section of your account. Click on your avatar, then admin and then free plan. You will then see the option to "start pro trial" as below: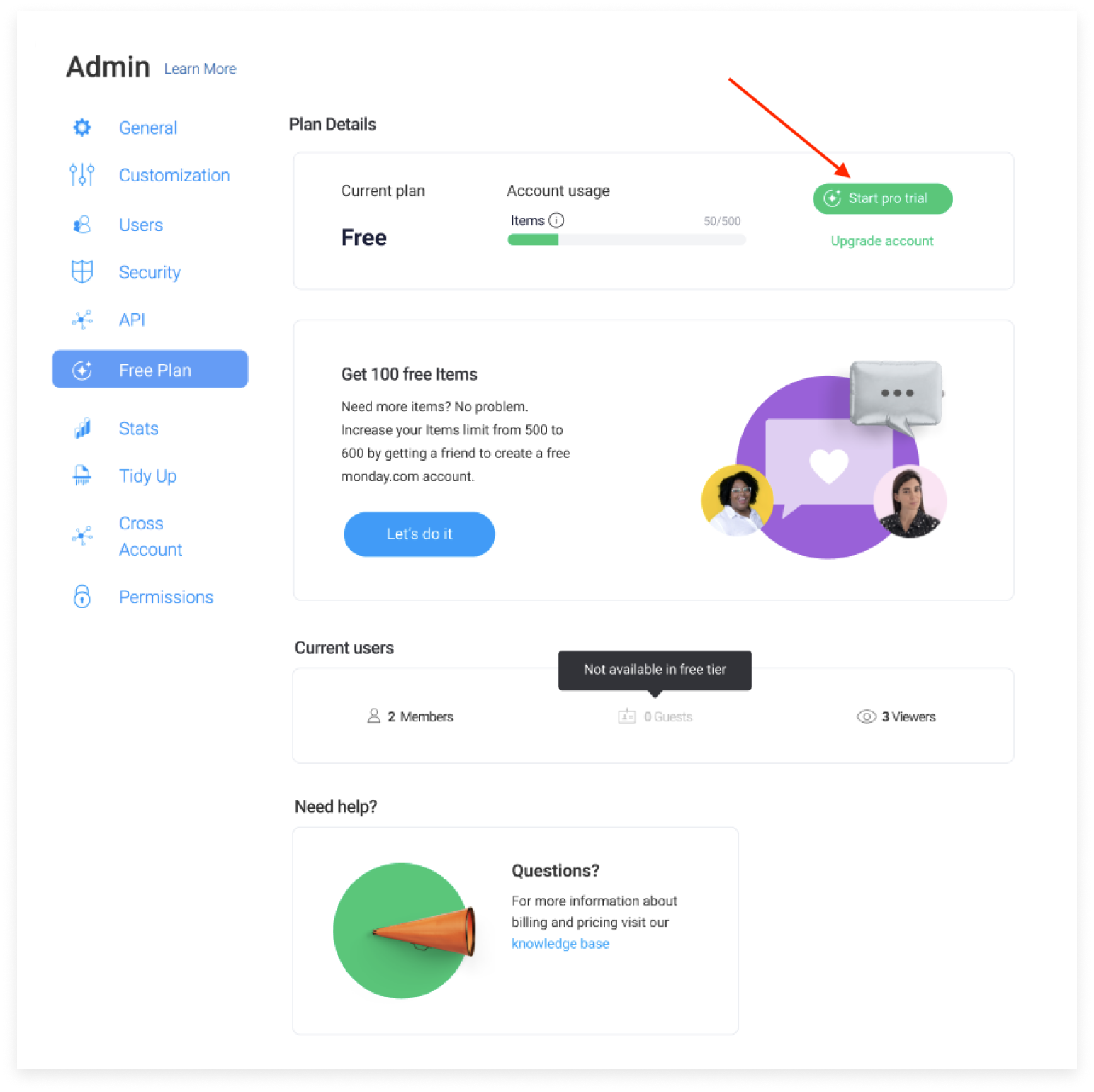 How long is my trial for?
The trial is for a period of 14 days. You can keep track of the remaining days on the admin section of your account as below:
On which plan is the trial based on?
The trial is based on our Pro plan and will allow you to test all the amazing advanced features of our platform. Head over here to see the differences amongst all plans.
Which features are included in the trial?
Shareable Boards are boards that you are able to work with outside users (guests). It offers you the ability to share projects with your outside users without giving them access to your full account. To learn more about the shareable boards, click here.
The private boards are meant to only be seen by the user and anyone that s/he invites into the board. This is great for when you would like to create a project, to do list or plan before executing it to your team. To learn more about them, click right here.
This column allows you to make calculations with other columns. It goes from simple mathematical equation to more complex functions and formulas. Learn more about it right here.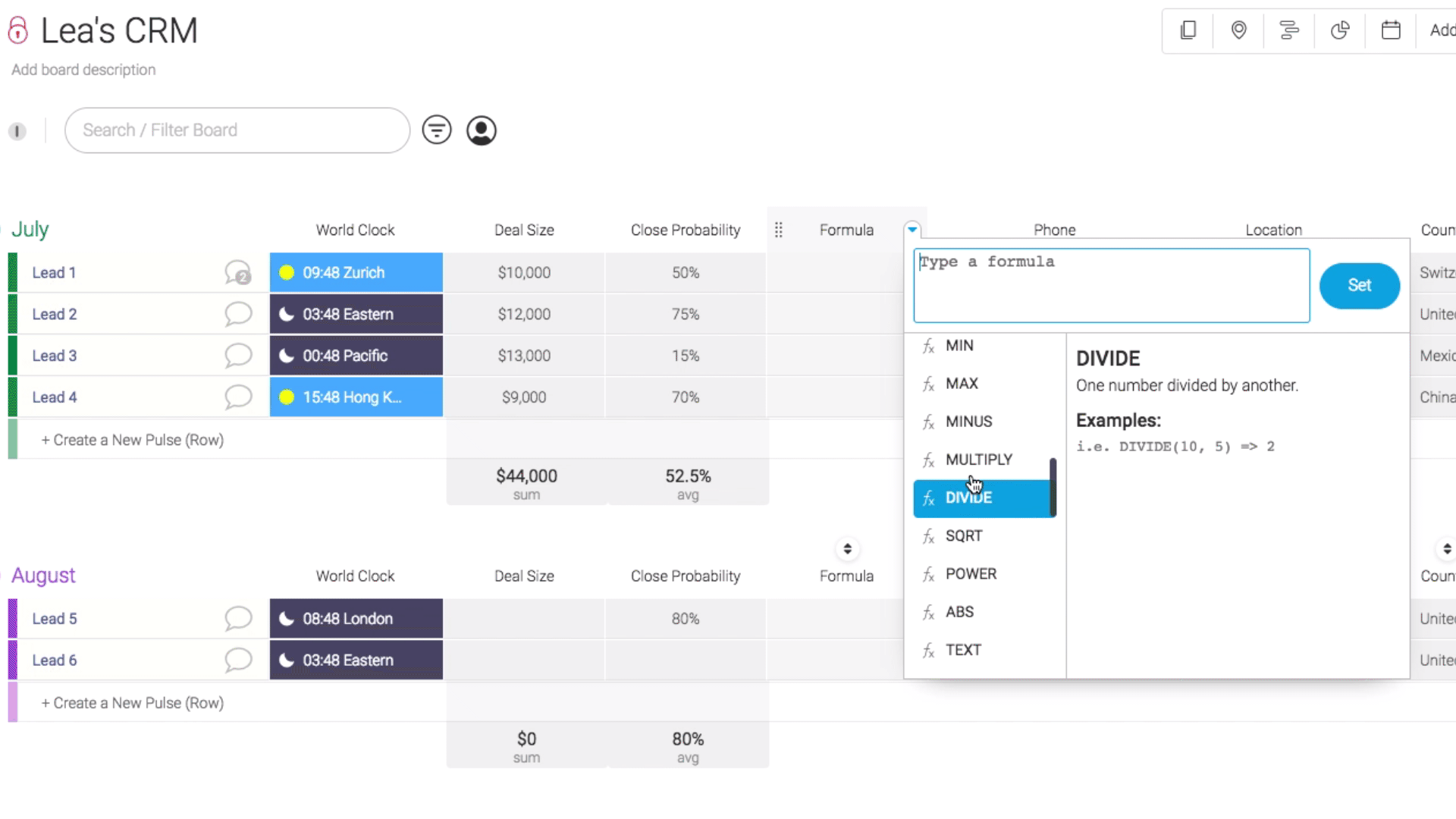 Wondering how much time you spend on each task? You now have the ability to track it with the time tracking column! ⏰ Check out how it works in this article.
The calendar board view allows you to visualize all your tasks that have a date/timeline column in a calendar. You can customize your calendar view per day, week or month. You can also decide which column you want to appear on your calendar. Check out this article to learn more about it.
The map view allows you to see your location and/or country columns in one single map. Check out this article to learn how it works.
You can enjoy the full access of our views center. This includes all the views available on the basic and standard plans as well as the amazing chart view. To learn more about the chart view, check out this article.
25,000 Automations/ Integrations
Do you want to remove manual steps and automate your processes? Looking to integrate monday.com with other platforms? On the Pro plan, you are allotted 25,000 actions for Automations and 25,000 actions for Integrations each month. Click here for more information on the pricing structure for automations/ integrations.
Dashboards are a great way to display what's important in just one place. With 15 available widgets users can now understand project progress, track budget, estimate teammates workload and much more! In the Pro plan, you can create as many dashboards and widgets you'd like. But, each dashboard can contain information from 10 boards.
What happens once my trial expires?
Once your trial expires, you have two options:
You can upgrade to a paid account: Standard, Pro or Enterprise. To learn how to upgrade your account, check out this article.
If you choose to not upgrade to a paid plan, your account will automatically be moved back to the free plan
Can I choose which plan my trial is on?
Currently no. Your trial is based on our Pro plan and this is not something we can change. Our reason? We want to give the ability to our users to discover all the features our platform and see its full potential. 😊
If you're not sure which plan is best for you and your team, just ask our awesome Customer Success Team by sending us an email to [email protected]! We're here to help 24/7!