3 min read
Guide
monday.com is a Work Operating System (Work OS) that powers teams to run projects and workflows with confidence. It's a simple, but intuitive, Work OS for teams to shape workflows, adjust to shifting needs, create transparency, connect collaboratively, and stop doing manual grunt work. monday.com makes teamwork click.
monday.com is super customisable and can be used for every industry. 🙌
🤸🏻‍♀️ Flexibility is the name of the game!
monday.com gives teams the ability to build custom work applications for any workflow. You can construct your apps to meet your specific operational requirements and customize your boards, dashboards, and docs to perfectly suit your team. It can be used for anything - across teams, departments, leaders and organizations - and for all types of projects and processes.
For each board, you can add columns according to your workflow. Think of the columns as building a process to include the different "blocks" or variables needed to complete the workflow. monday.com offers multiple column types to fit your needs, from a People Column to a Status Column, check out the options here.
🔎 Visual and intuitive
With monday.com you can view all projects and tasks with a single glance. You can see your progress and what steps to take to keep moving forward. This is a great way to get a clear overview of all your projects and have your entire team aware of what's ahead!
We love to make everything visual: colors, graphs, shapes...you name it. So, we came up with the amazing board views and widgets to help you see boards from every perspective.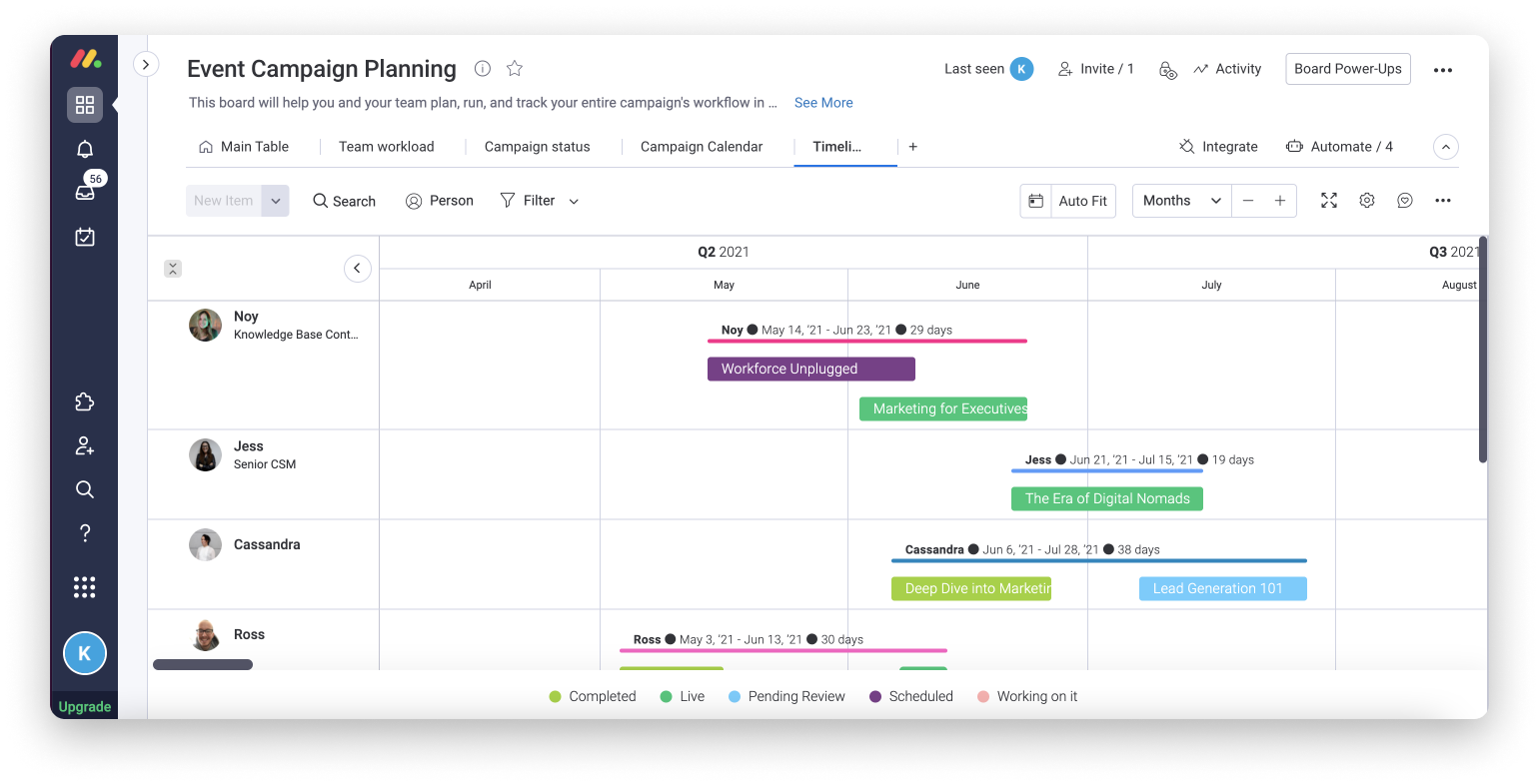 You can read more here: What are the board views?
💬 Easy communication and collaboration
monday.com eliminates the need for painfully long email threads and unnecessary meetings. All communication and files are centralized in one place, so you never miss any key information. This also makes it easy to collaborate across different locations, structures, and teams. Cross-collaboration issues, solved! ✔️ Read more here to learn more about communicating via updates.
Whether you're in and out of meetings, traveling a lot for work or you're working after hours from your mobile phone, monday.com has some great features to support you.
First, you can send new items to a board on your monday.com account from your email - awesome, right? This means if you're working from your email away from your desk, and you think of a task to add as a new item to an existing board, you can do it with just a few clicks of a button.
You can also send an update to an existing item from your email.
We also have mobile applications available in both iOS and Android, so you can manage your monday.com account from your phone!
📊 Dashboards
The Dashboards are here to facilitate your workflow, and make sure you stay updated on what is happening in multiple boards. Create summaries, reports, and get a high level view of everything that is important to you You can create a free-standing dashboard connected to multiple boards or create one within a single board!
🔌 Integrations
Having many different platforms to manage your work can be frustrating. We want you to be able to consolidate your work in one place - monday.com - and therefore, we have our Integration Center to allow you to connect to multiple platforms. Integrating your platforms means you can consolidate data and information within monday.com and use one, single source of truth for data-driven decision making. You can read more here: monday.com Integrations.
Don't have an account yet? Get started today by creating your free trial!
If you have any questions, please reach out to our team by using our contact form. We're available 24/7 and happy to help!