7 min read
Guide
From ongoing logistics planning, to budgeting, overseeing timelines, analyzing post-event data and more, managing a marketing event is no easy task! In order to ensure that everything runs smoothly, it's crucial to remain organized and to continuously track important aspects of the entire process.
In this guide, we'll take you through several workflow examples to ensure that you can manage your marketing events smoothly from A-Z. Let's dive in! 🌟
Get started with a template
In this guide, we'll explore various boards located in the Event Management folder as part of the monday marketer product! Alternatively, you can also check out other boards that we offer as part of our pre-made templates to help you get started right away.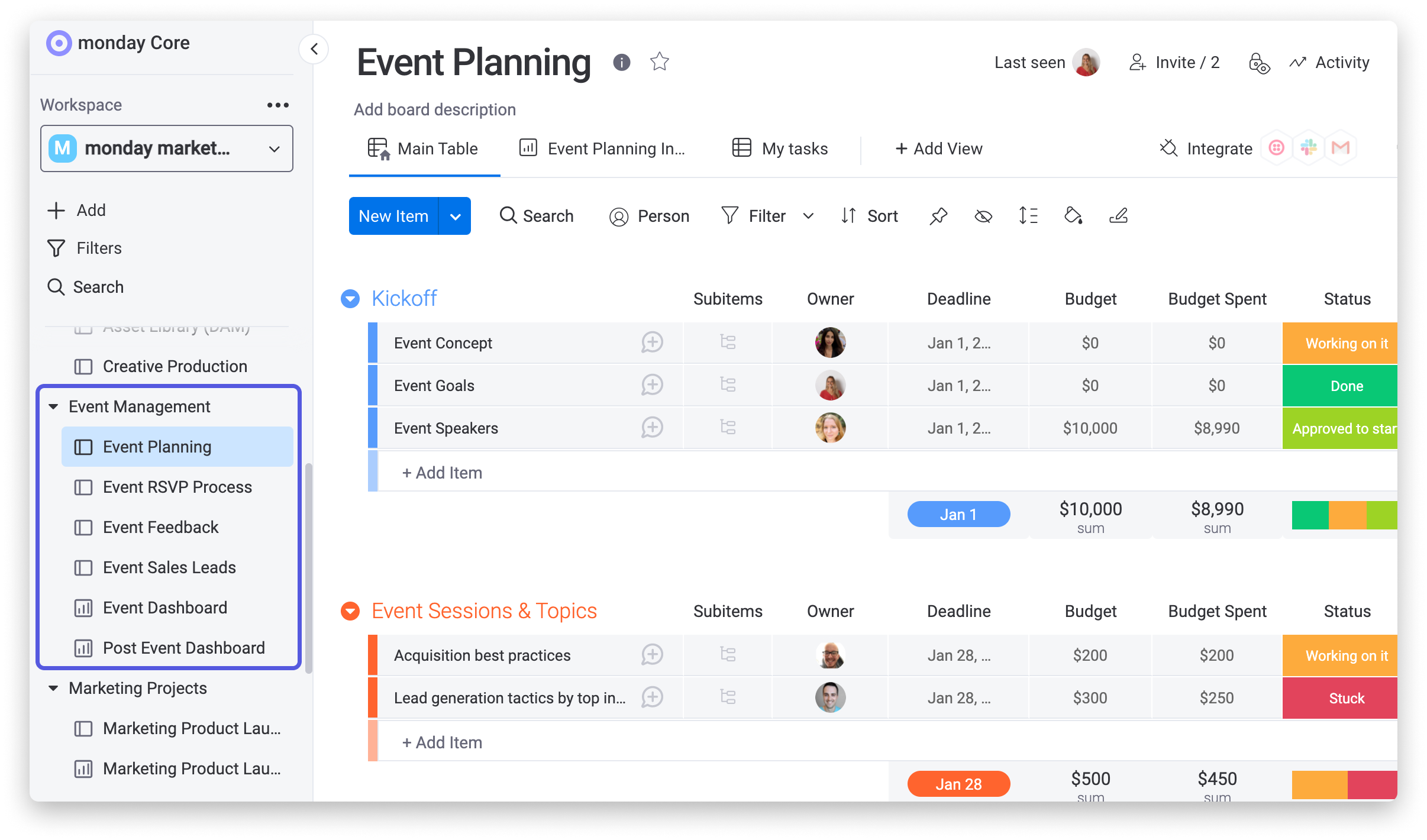 Map out

event details
From identifying high-level goals, to organizing speakers, catering, and more, it is important to plan out every aspect of your event to ensure that it can be successfully completed. Using the Event Planning board, you can make sure to have all bases covered when organizing your marketing event from start to finish.
Show me some key features of this board
Chances are you'll need content creation assistance from other teams as you plan your event, whether that is to create a video, banner, or more. For this reason, this board is ready-made with multiple editable automations, so that each content team can automatically receive requests and get started on them right away!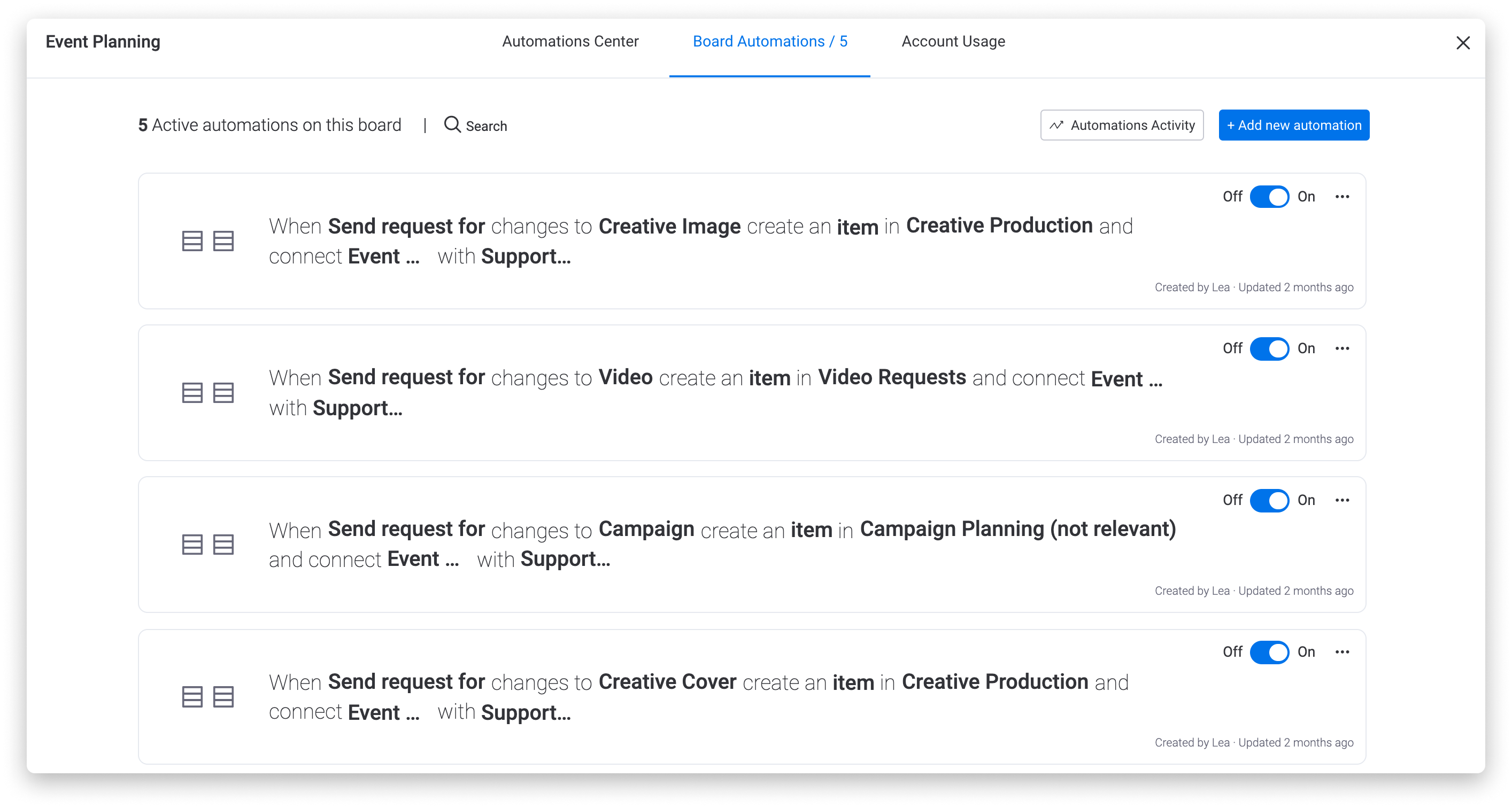 Gain event planning insights
To get a birds-eye view of the important metrics from all planned events, we've included a dashboard view. Using multiple different widgets such as the Chart Widget, Numbers Widget, Timeline Widget, and more, we're able to oversee important aspects of our event planning data in order to make informed decisions moving forwards.
Manage event registration
Attendees are the bread and butter of any marketing event, so having one place to streamline the process of registration, attendance tracking, and collecting potential leads is of utmost importance. Luckily, the Event Management folder contains the Event RSVP Board which is perfect for this!
With this board in place, we can easily see who RSVP'd for our event and keep track of their contact information, food preferences, notes and more!
Furthermore, this board is form-powered, meaning that items can be added to the board by simply filling out a form! Using this, potential attendees can complete out the form with all of their details and each submission will be instantly transformed into an item on the board for us to track.
Automate event reminders and confirmation
To take this workflow one step further, we chose to integrate our board with Twilio, a communication platform that allows you to automatically send and receive phone & text messages. To help streamline the process of registration confirmation, we've added the below Twilio recipe onto our board: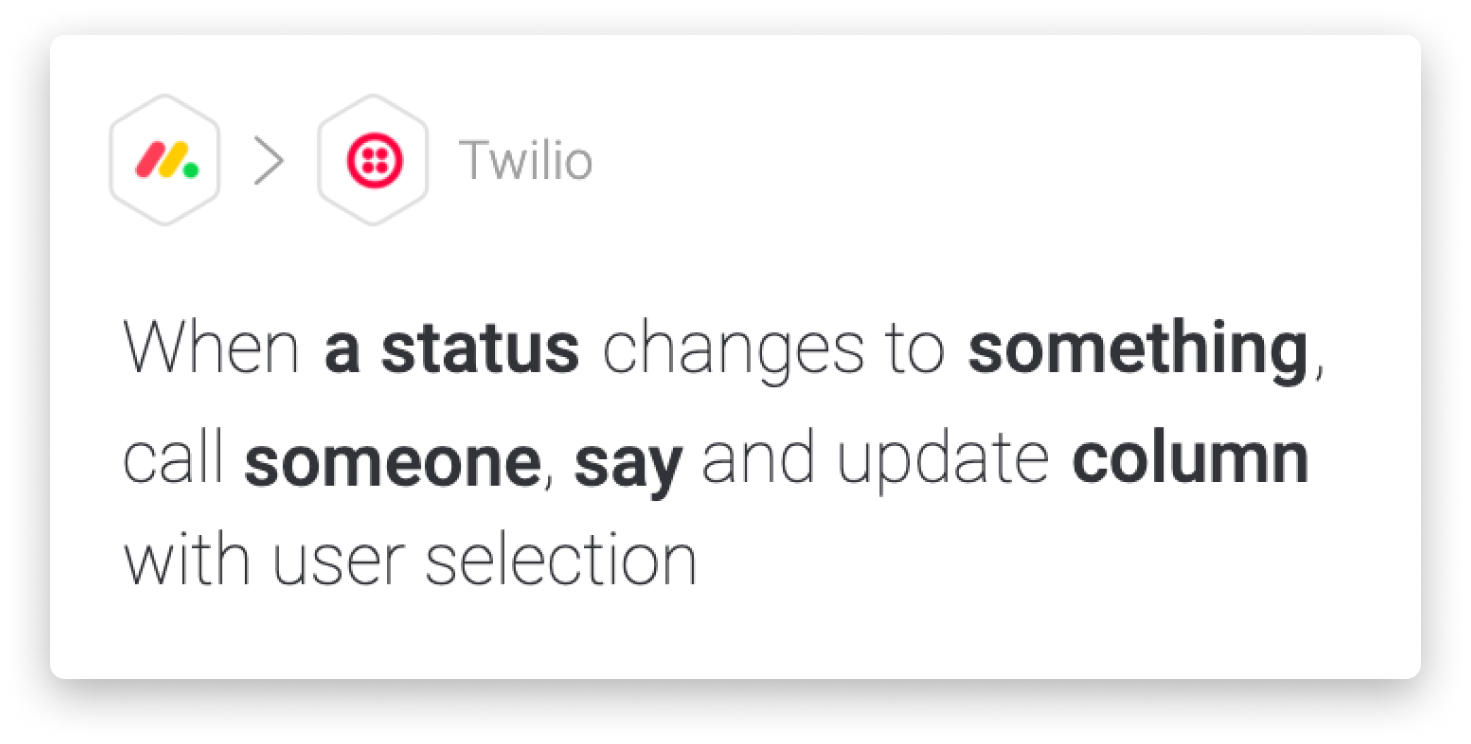 Since we want to automatically send out a call to the registrant to remind them to RSVP for the event and to update the board with their response, we configured the recipe as so: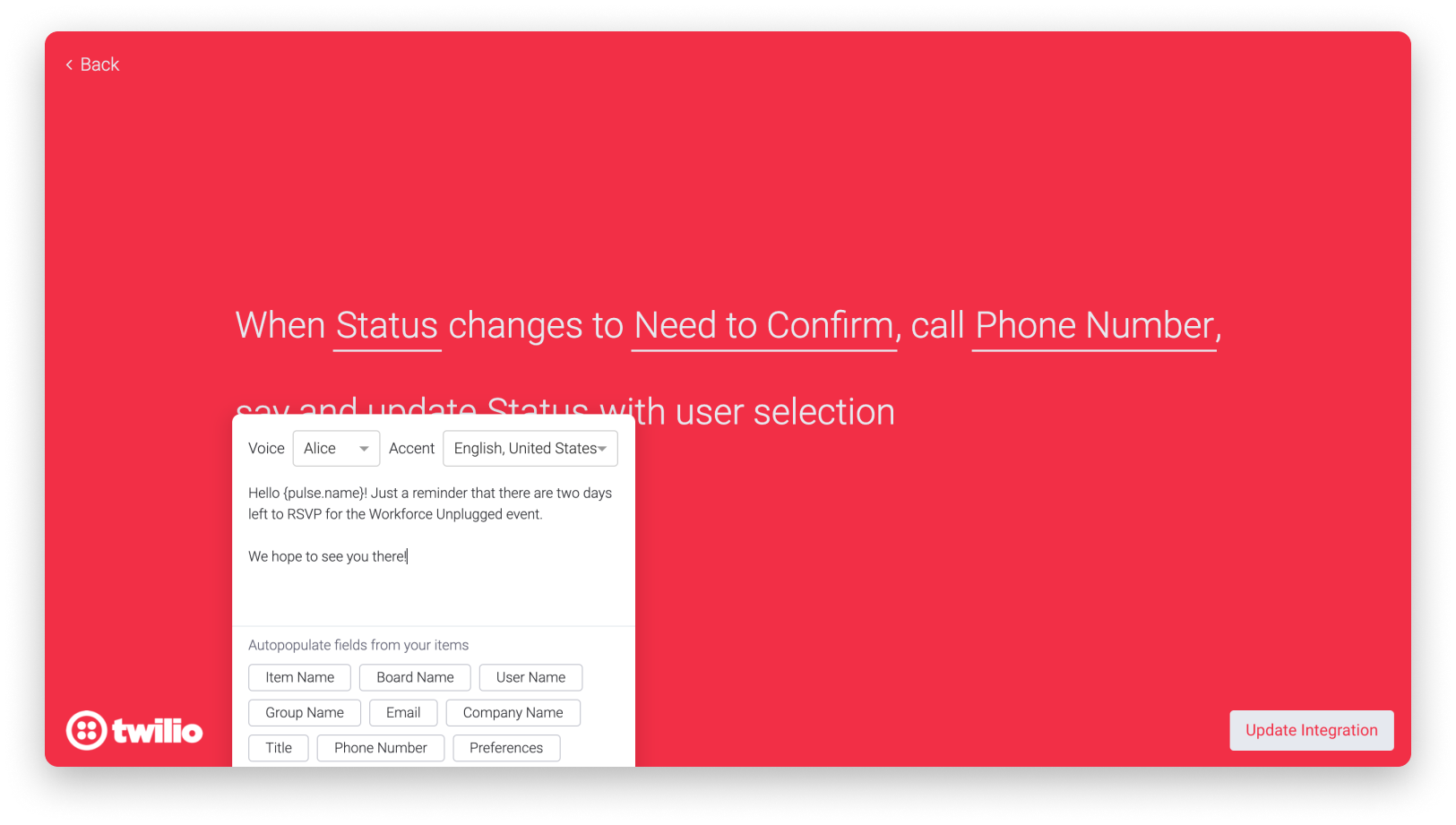 With this integration, once a status changes to "Need to Confirm" the registrant will automatically receive a phone call reminding them of the event and asking them to confirm. Not only this, but they can respond directly to the phone call to confirm their attendance and the board will be instantly updated in return - amazing!
Collect event feedback
With a completed event, it is now time to collect feedback in order to understand how the event performed! The Event Feedback board provides the perfect platform for you to customize and use so you can collect the data that you need from your event attendees.
Similar to the RSVP process mentioned earlier, a form allows us to gather feedback from the event attendees! Each response to the form populates directly into the board above so we can easily analyze the feedback received.
To take this workflow up a notch we've also implemented Automations to reduce the manual work that we have to do: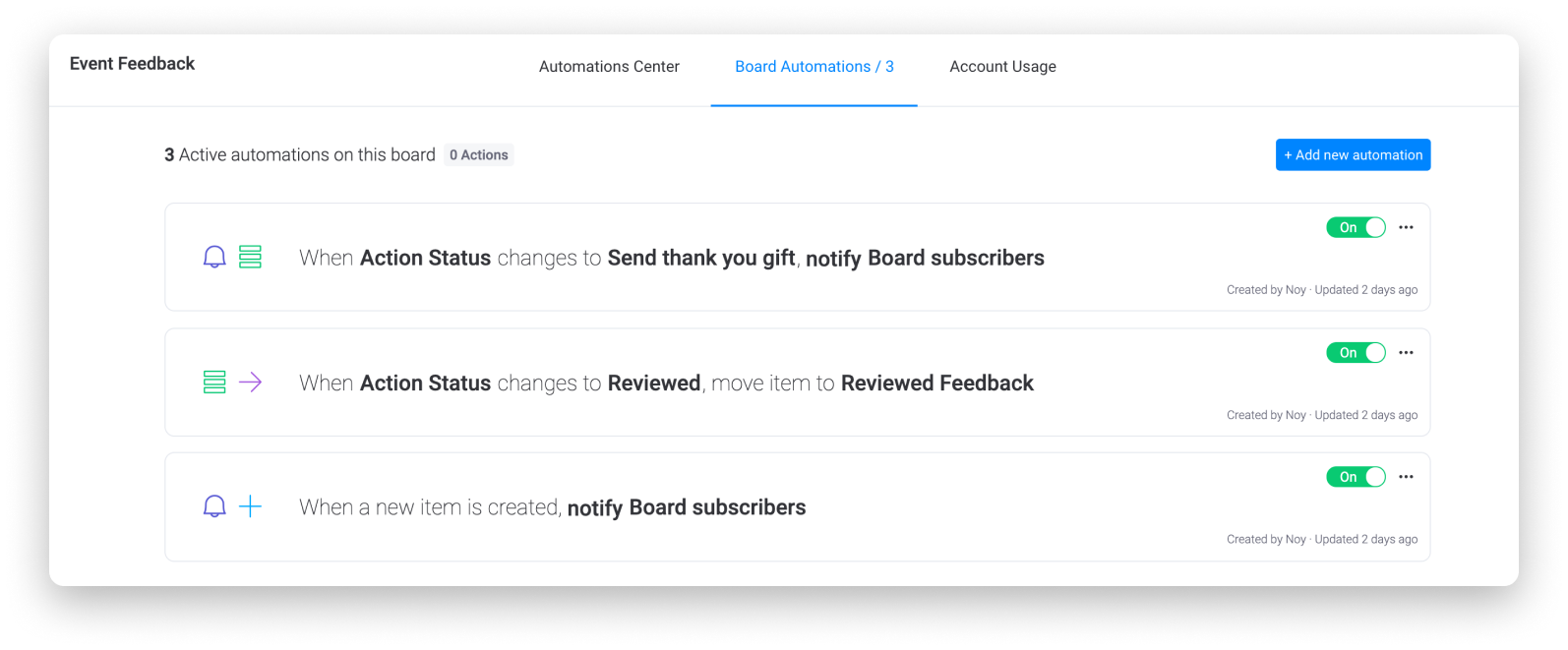 With these automations in place, the entire team will be notified if an attendee was qualified to be sent a thank you gift, reviewed feedback will automatically jump to the 'Reviewed Feedback' group, and the board subscribers will be aware of newly submitted feedback!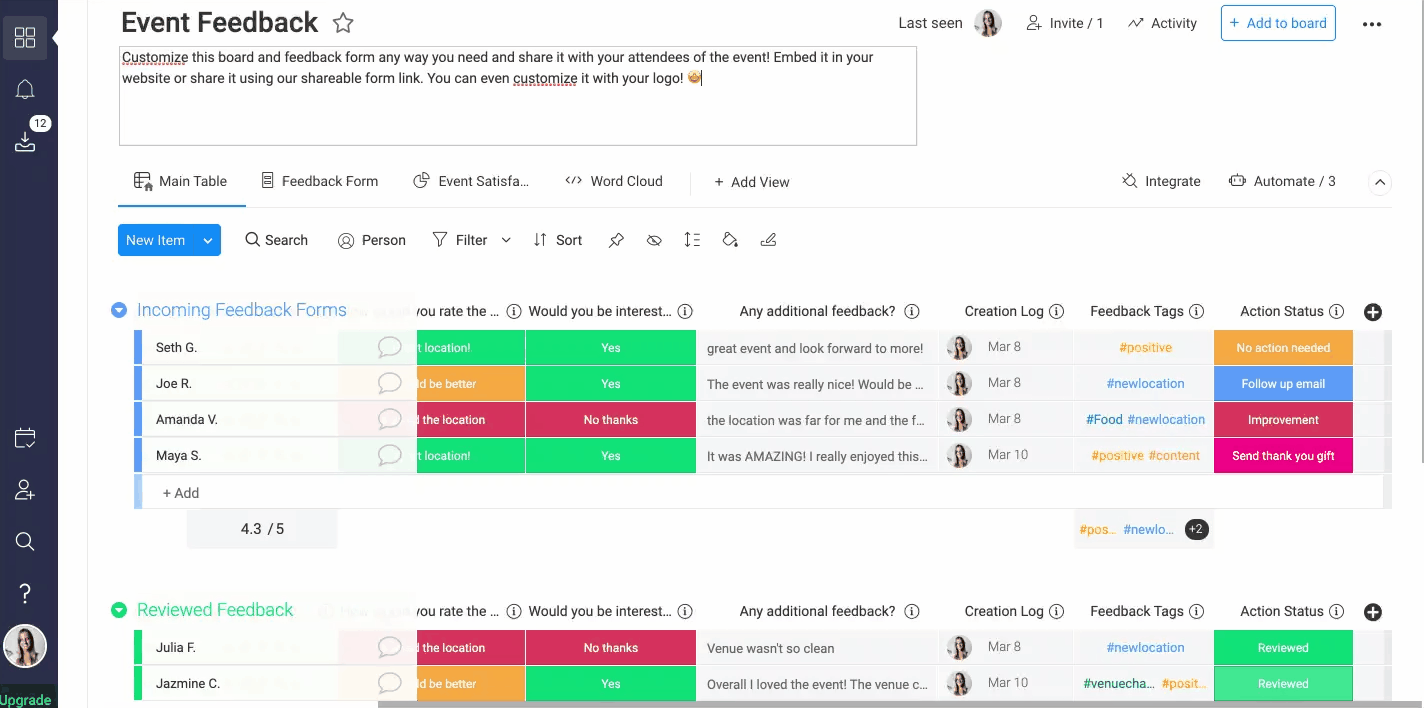 Turn event prospects into l

eads
Marketing events provide a valuable opportunity to convert highly interested attendees into leads for your company. The Event Feedback form and board is perfect for identifying satisfied event attendees who may be interested in becoming long-term customers.
With this said, any potential customers can be moved over to the Event Sales Leads board, which allows you turn interested prospects into your very own clients!
Tip:
Try adding an
automation
onto the
Event Feedback
board to instantly create an i
To streamline the process between the Event Feedback board and the Event Sales Leads board, we've gone ahead and added the following automation recipe onto the feedback board to automatically create an item with all the relevant details as soon as it has been given with the "Sales Lead" status label: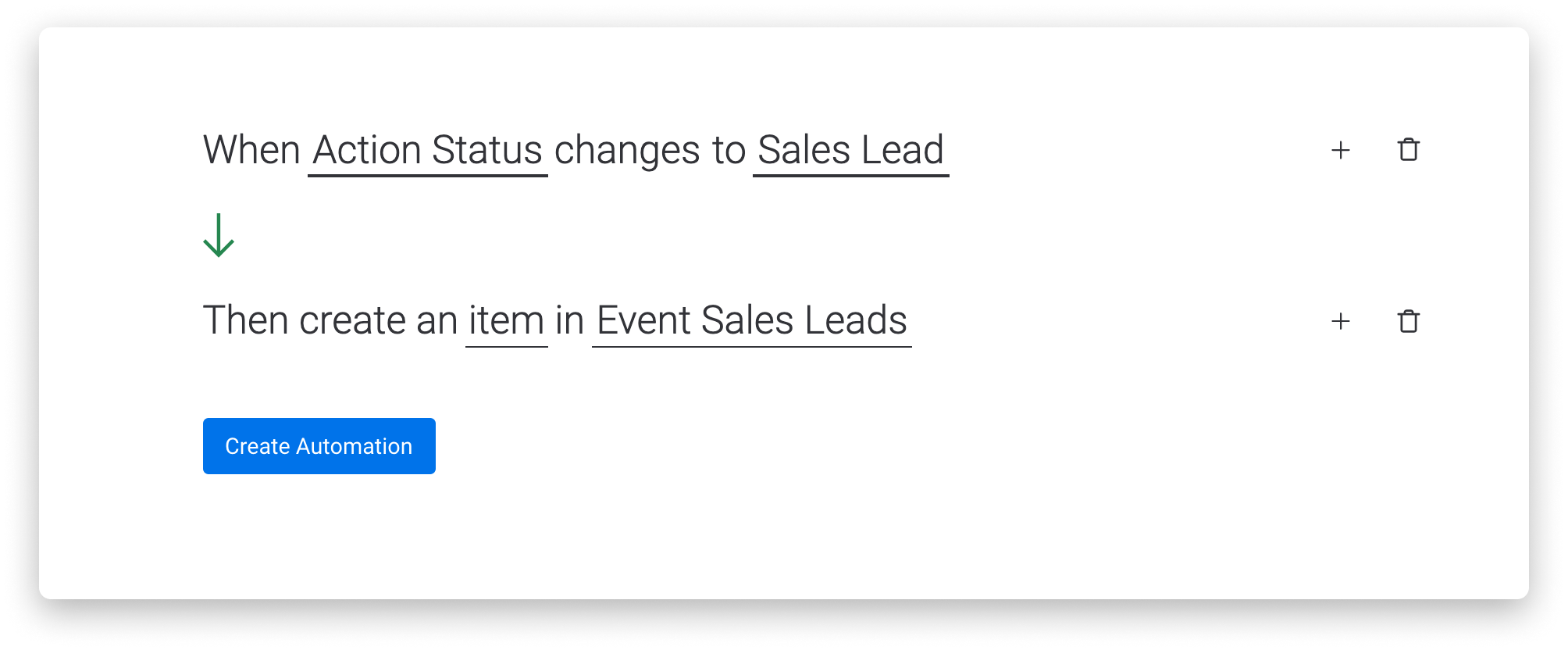 Now, with the click of a button, a qualified lead will be transferred onto our Event Sales Leads board so we can assign a sales rep to them and follow-up right away!
Summarize and analyze Event Data
To pull together all of our event data into one overview summary, we have the Event Dashboard as part of our marketing event workflow! Using a dashboard is a great way to centralize important parameters of data from multiple boards into a high-level, interactive report.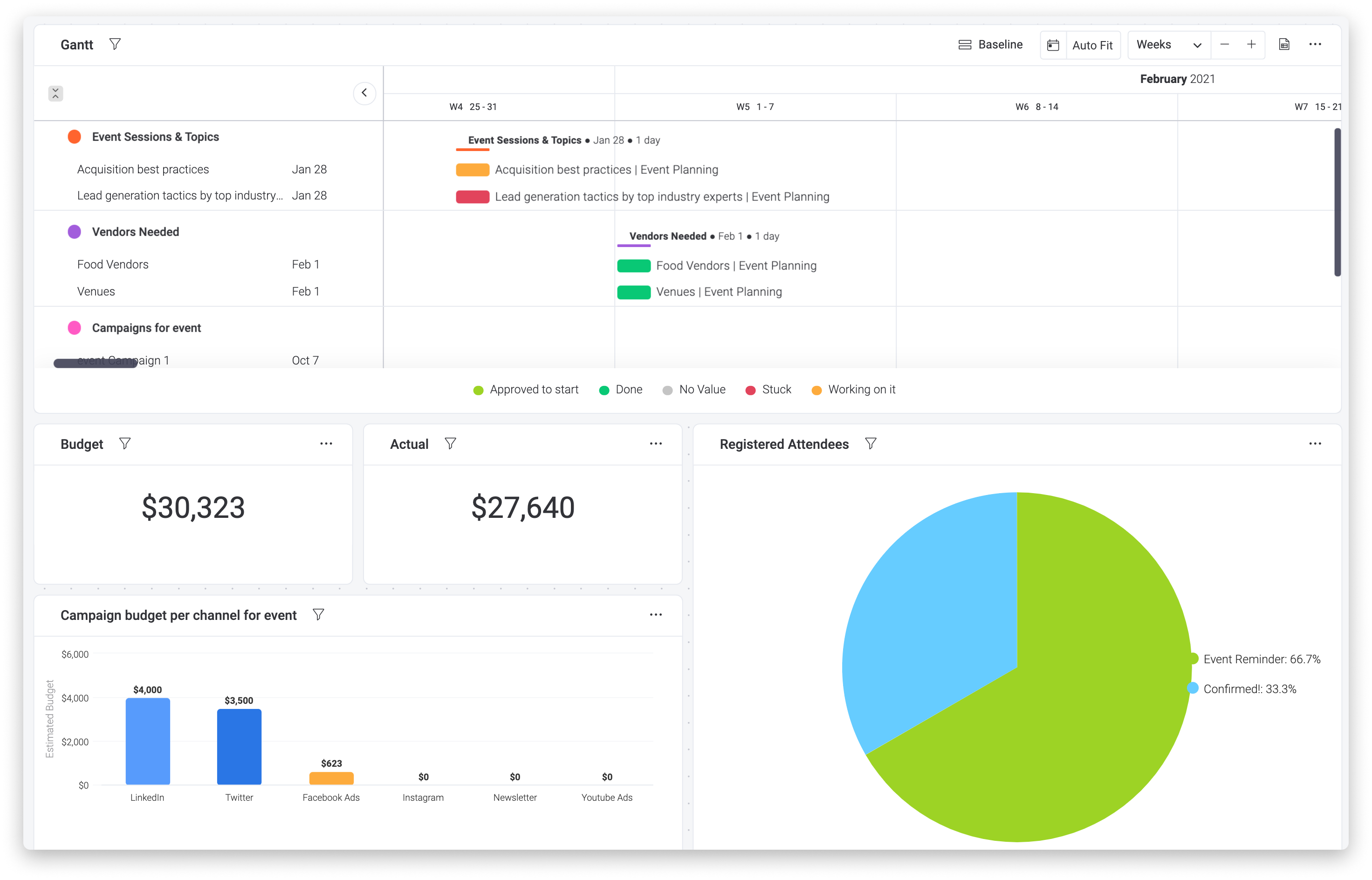 On this dashboard there are several widgets used such as multiple Numbers Widgets, Chart Widgets, Gantt Widget, and more to see an overview of our task dates, budgeted amount versus expenses, a breakdown of registered attendees, and more!
Get creative!
These boards, views, automations, and dashboards are intended to be a starting point to help you translate your marketing event processes into a monday.com workflow! You can use these exact boards in your workflow if they're right for you, but don't be afraid to experiment and test out all of the amazing features on monday.com!
Make sure to check out other prepared templates and explore the Columns Center to see all of the ways you can use columns as building blocks to customize your own one-of-a-kind board! You can make your own automations and enable integrations to really connect the dots in your marketing event planning workflow!
If you have any questions, please reach out to our team right here. We're available 24/7 and happy to help.