HubSpot is a software platform used for sales, customer service, marketing as well as a CRM. Now, with the help of this monday.com integration, you can have all your leads, contacts and companies managed in monday.com. Make sure your entire company is collaborating, managing, building and growing from one single hub using this quick and easy integration!
How to add it to your workflow?
Step 1
To add an Integration, go to the board you want to create an Integration for and click on the Integration button, located on the upper right of your screen as below: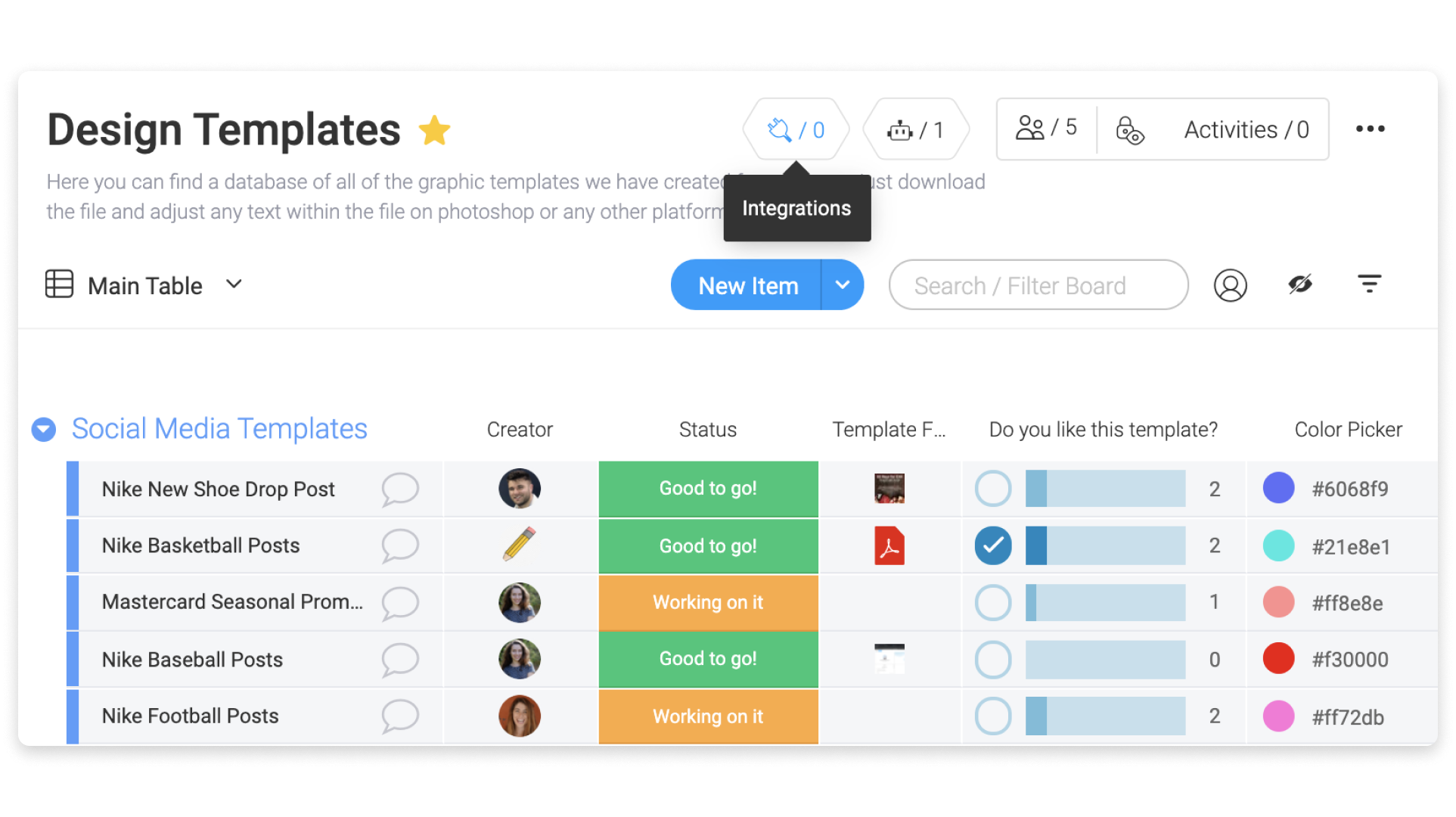 Once on the page, you will see all of the amazing apps we offer to integrate with, then go ahead and select "HubSpot":
Step 2
Once you click on the HubSpot integration banner, you will find three recipes the integration offers. These integrations will allow you to sync your HubSpot to monday.com.
These integrations include:
When a new contact is created in HubSpot, create an item and sync all future changes from HubSpot
When a new company is created in HubSpot, create an item and sync all future changes from HubSpot
When a new deal is created in HubSpot, create an item and sync all future changes from HubSpot
Select the automation you wish to create.
Step 3
Once you click on one of the recipes you will be asked to connect your monday.com account with your HubSpot account: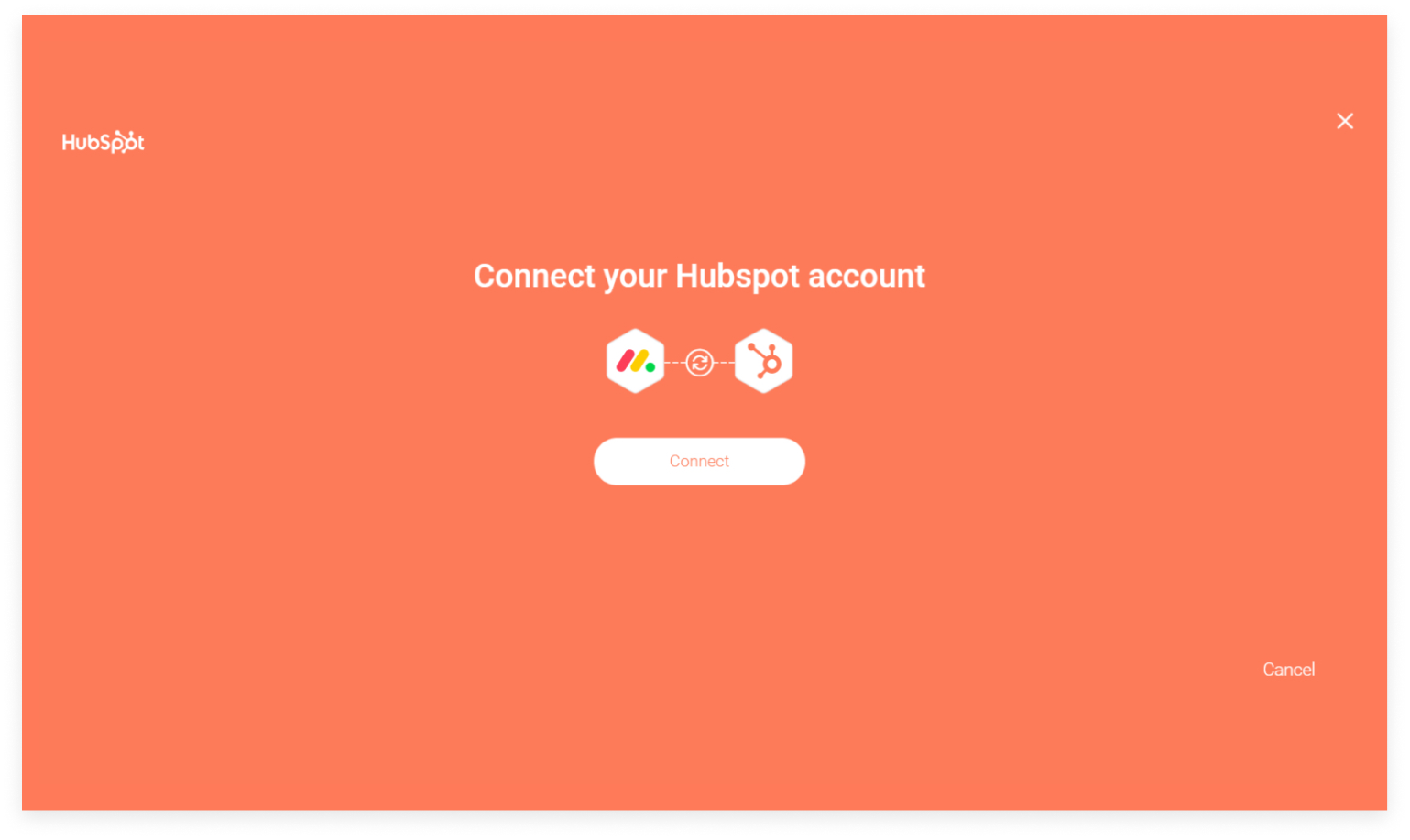 Then you will be asked to log in or choose the correct HubSpot account as shown below:
Congrats 🎉! You're officially connected to your HubSpot account - let's boost things up!
Note: You will need to be a Super Admin on your HubSpot account in order to set up the integration.
Step 4
Once you've chosen one of recipes, you will get to the integration window. This is where you will be able customize your automation and map out all the fields from the HubSpot contact, company or deal in monday.com.
Supported HubSpot Fields:
Currently, all HubSpot fields can be mapped onto a new item on monday.com, including both custom and non-custom fields.
Note: The sync will occur only for non-custom fields (ie, the default fields for the relevant contact, company or deal in HubSpot).
HubSpot integration column
After selecting which data will be mapped into each column, an integration column will be added automatically to your board, with a tip explaining the column's purpose- to maintain the connection between the parameters in both apps:
Great! You're all set up!
Now, any changes you make to the non-custom columns in HubSpot will be made in monday.com as well, eliminating the need for double work and allowing you to work from one, collaborative space!
Note: Each recipe will generate a different integration column.
Tip: Connecting the same HubSpot portal to multiple monday.com users and accounts is not supported. Only if all other integrations are deleted then( the subscription group is destroyed and ) can a different user create a new integration. When he/she does so, a new subscription group will be added that will belong to the newly integrated user. In order to be able to create more than one integration (connection), you will need to delete all HubSpot integrations previously created by other users to this portal and try again.
More Assistance
If you need help building custom integrations, we also have an option for paid assistance through our network of certified monday.com partners. If you're interested, please fill out this form and someone will be in touch shortly!
If you have any questions, please reach out to our team by using our contact form. We're available 24/7 and happy to help!