You asked, we listened! Slack's private channels can now be synced with monday.com 🙌
Are you looking to keep the whole team in the loop by seamlessly sending messages from monday.com to Slack? Instantly turn updates into messages in Slack so everyone will have the most up to date information and be able to work from both platforms and stay synchronized!
Note: If you are using the old Slack integration, the channel limit is 25. If you're using the new Slack integration, the channel limit is 1000.
How to add it to your workflow?
Step 1
To add an Integration, go to the board you want to create an Integration for and click on the Integration button, located on the upper right of your screen as below:
From there, select "Slack":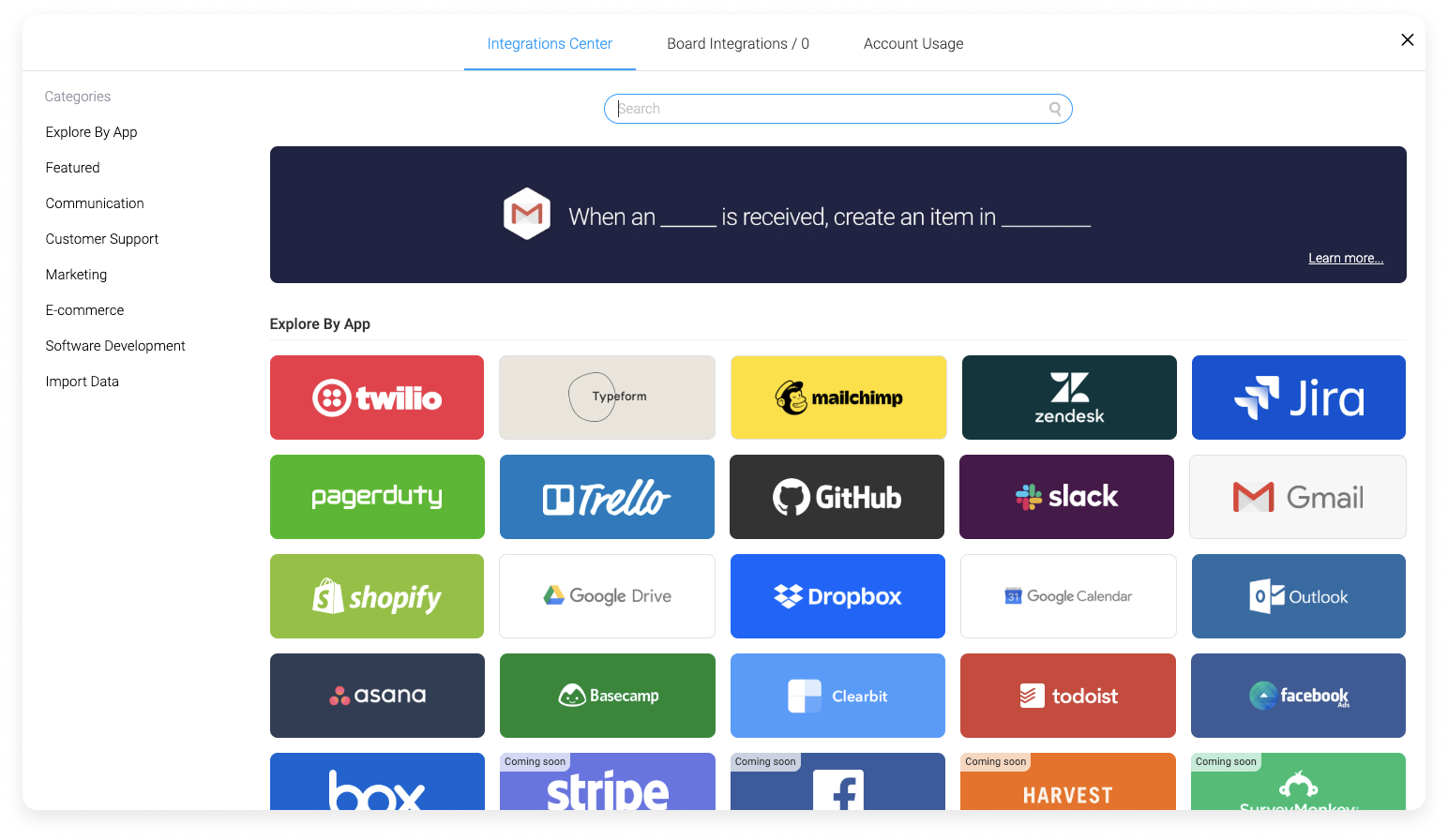 Step 2
Once you click on the Slack integration banner you will find the 6 recipes our integration offers:
When date arrives, notify in channel
When item is created, notify in channel
When a status changes to something, notify in channel
When a column changes, notify in channel
When an update is posted in this item, send it to channel
When any update is posted, send it to channel
Select the integration you wish to create!
Step 3
Once you click on one of the recipes you will be asked to enter connect your monday.com account with your Slack account:
Then you will be asked to give permission to monday.com to connect to your Slack account Click Authorize:
Yay! You have successfully connected your account to Slack. Now you can get busy building recipes to communicate efficiently with your team!
I don't see my private channels?
We now have the ability to sync with private slack channels. If you've integrated your Slack account prior to this update then you will need to resubscribe the app to monday.com.
To resubscribe, click on a slack recipe from the integration center > click on use another connection > Connect again to the same slack account.
Then private channels will appear. It's that easy 🙌
So how does it work?
Once you've chosen one of the six recipes and authorized monday.com to integrate with Slack, you will arrive to the integration window. This is where you will be able to set up your automation. You can customize the message that will be sent to the slack channel as seen below!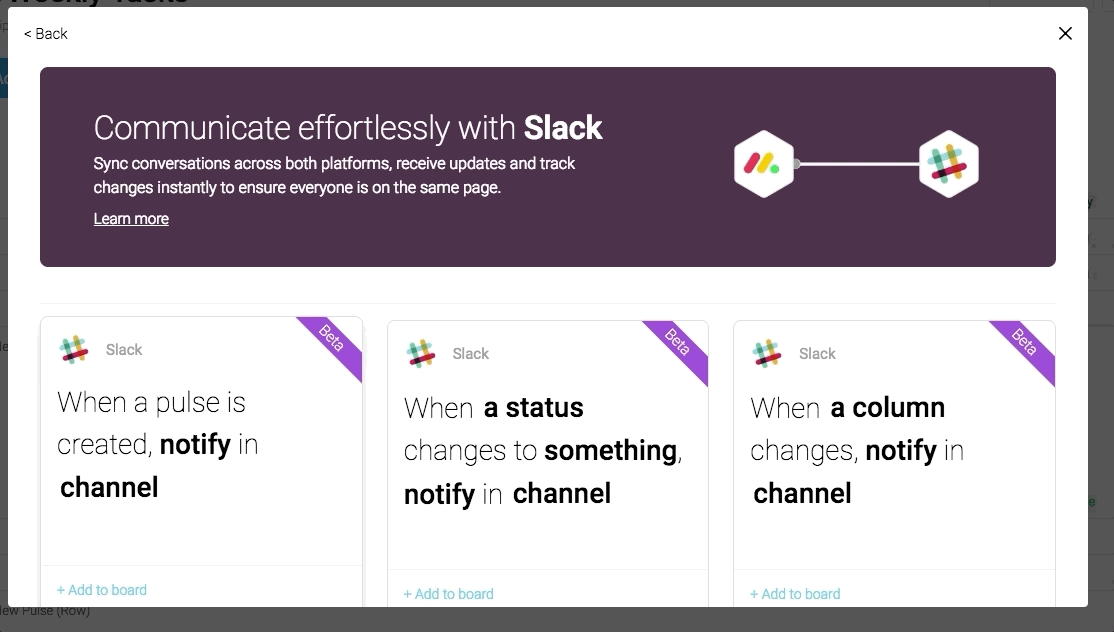 Use case 1: When a pulse is created, notify in channel:
This can be helpful to stay on top of new tasks and pulses being added to a group so you can be instantly notified of new tasks that are added to a board and make sure the entire team is aligned! First begin by choosing the message you want to appear in Slack. You can customize and include the user name who created it, the board name, and the pulse name as well as your custom message about it!
Once done, choose any channel from your Slack account you want to be notified of this message!
Use case 2: When a status changes to something, notify in channel
This is extremely helpful to stay up to date on the progress of the status of your projects and tasks. You can notify those who need to know when soemthing is stuck or done without having to check-in or schedule meetings. Sit back and know that once it has been updated, your entire team will be notified!
First choose the status that you want to keep track of:
Then choose the status that you want to be notified of changing, or you can choose anything to stay on top of each change.
Once you have created the custom message, and chosen your desired channel, you are all set!
This is the way the message will appear in Slack so you know it is coming from monday.com:
This really helps teams work efficiently and closely together on projects, especially with many task owners and dependent tasks.
What's next?
Stay tuned we are working on new Slack integration recipes! Don't find what you are looking for? Send us your ideas at [email protected]!
More assistance
If you need help building custom integrations, we also have an option for paid assistance through our network of certified monday.com partners. If you're interested, please fill out this form and someone will be in touch shortly!
And if you have any questions about this or anything else in this article, feel free to reach out to us at customer success at [email protected]