With the CommuniHub app, your team can manage hundreds of client or customer relationships from within monday.com! Keeping your communication centralized means that your team will spend less time tracking down the details for every interaction. With the CommuniHub app, you can send and receive emails, create your own email templates, capture meeting notes, events, and more! All in one visually optimized timeline.
Install the app
To install the app, navigate to the board where you'd like to use it. Then, open any item's Updates Section by clicking on the speech bubble: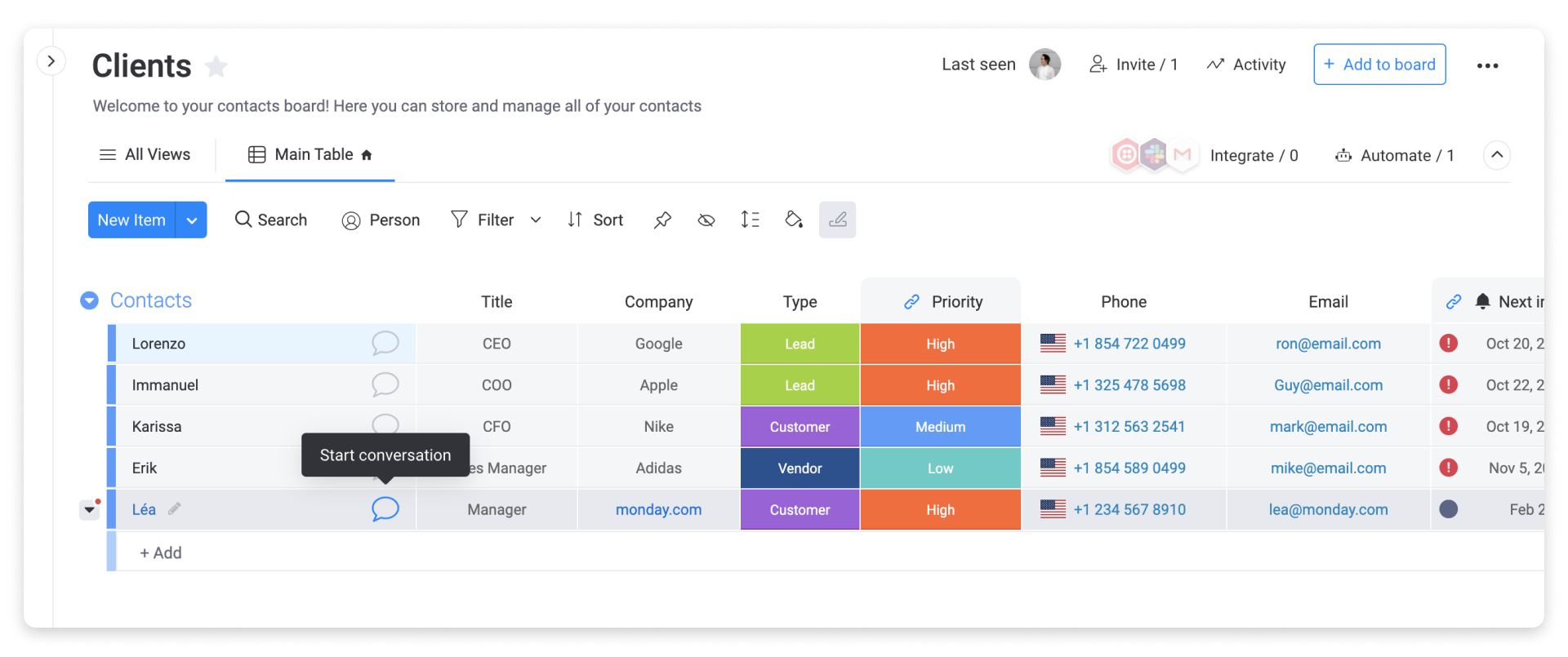 From here, select "Add View":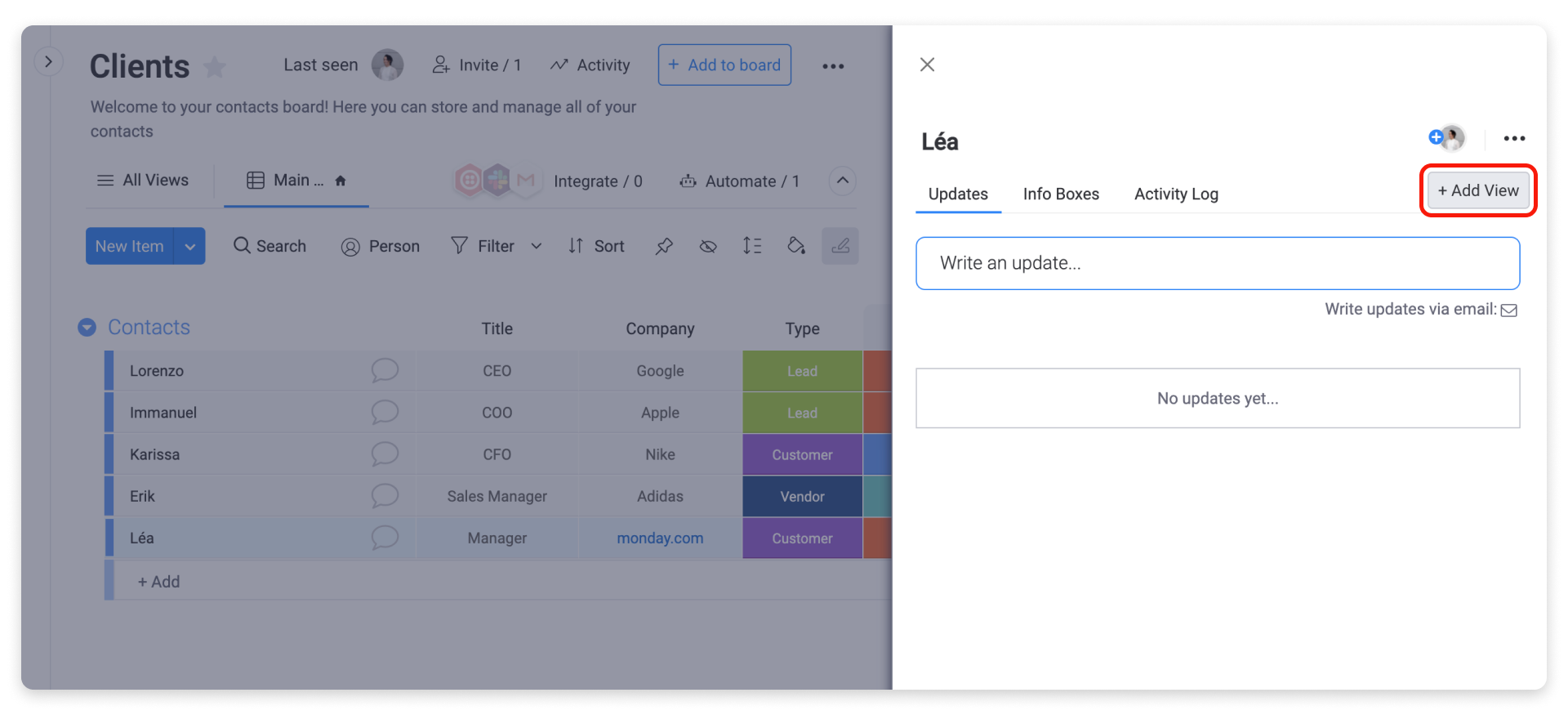 In the Item Views Center, hover over the icon for the CommuniHub app and click "Add Widget":
Send & Receive Emails
CommuniHub is designed to make email easy. There are a few features to review so, below, you'll find a menu of what's covered within this section.
In this section we'll cover:
To connect your email address, choose "New Email" from the app menu. You will then be asked to connect your Gmail or Outlook account:
For this example, we'll choose Gmail. Choosing either app will open up the internal integration: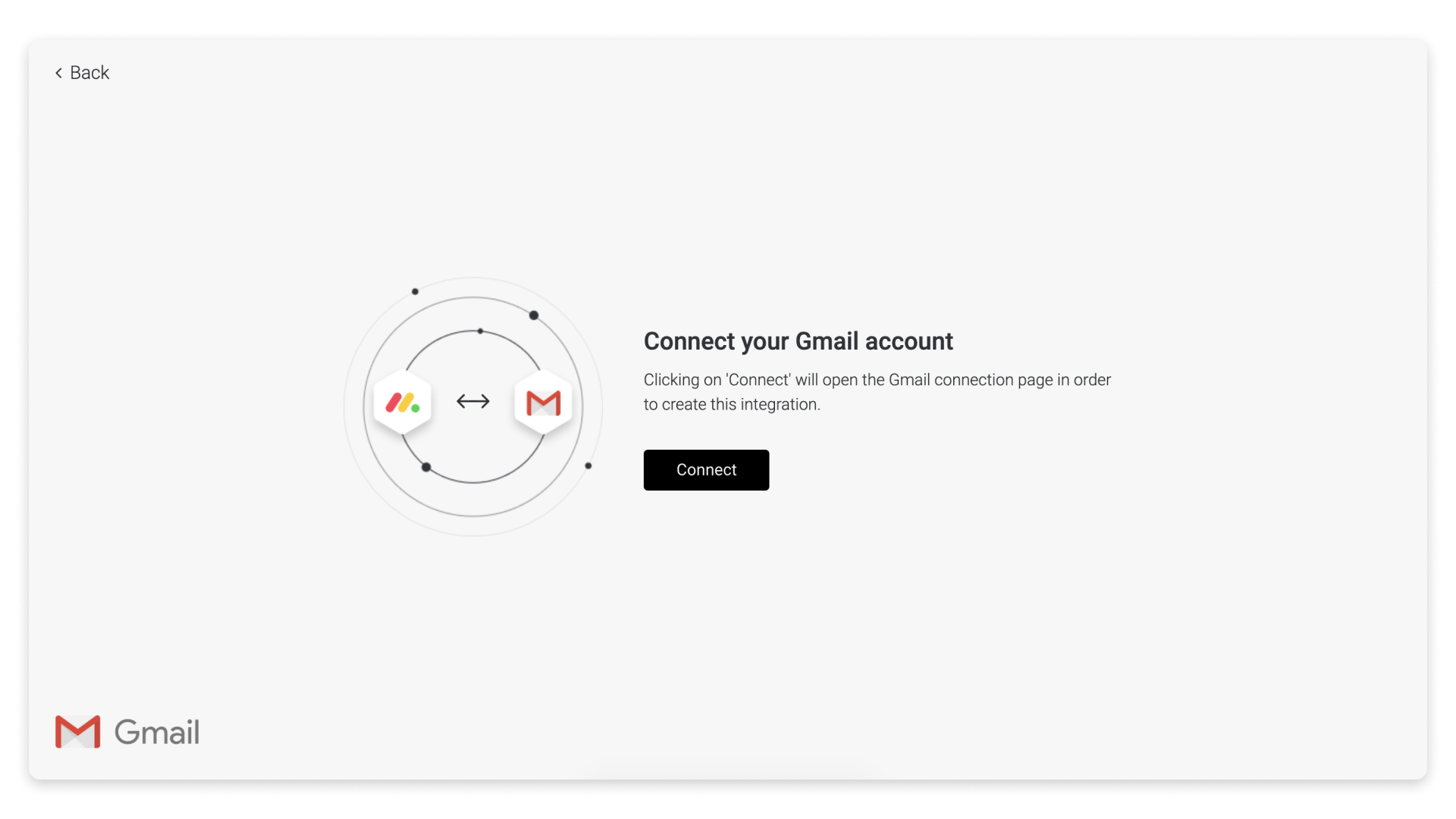 Click "Connect" and follow the prompts to connect your account with monday.com. When connecting your account, you must select "Allow" to use this app:
If you see a red error message when trying to connect your email account, it may be that this particular account has already been connected to another monday.com account. At this time, you can only integrate your email address on one monday.com account.
If you're using Gmail and run into this issue, go to your Google Account Security Checkup and "Remove access" under "Third-party access" to remove access and reconnect to a different monday.com account: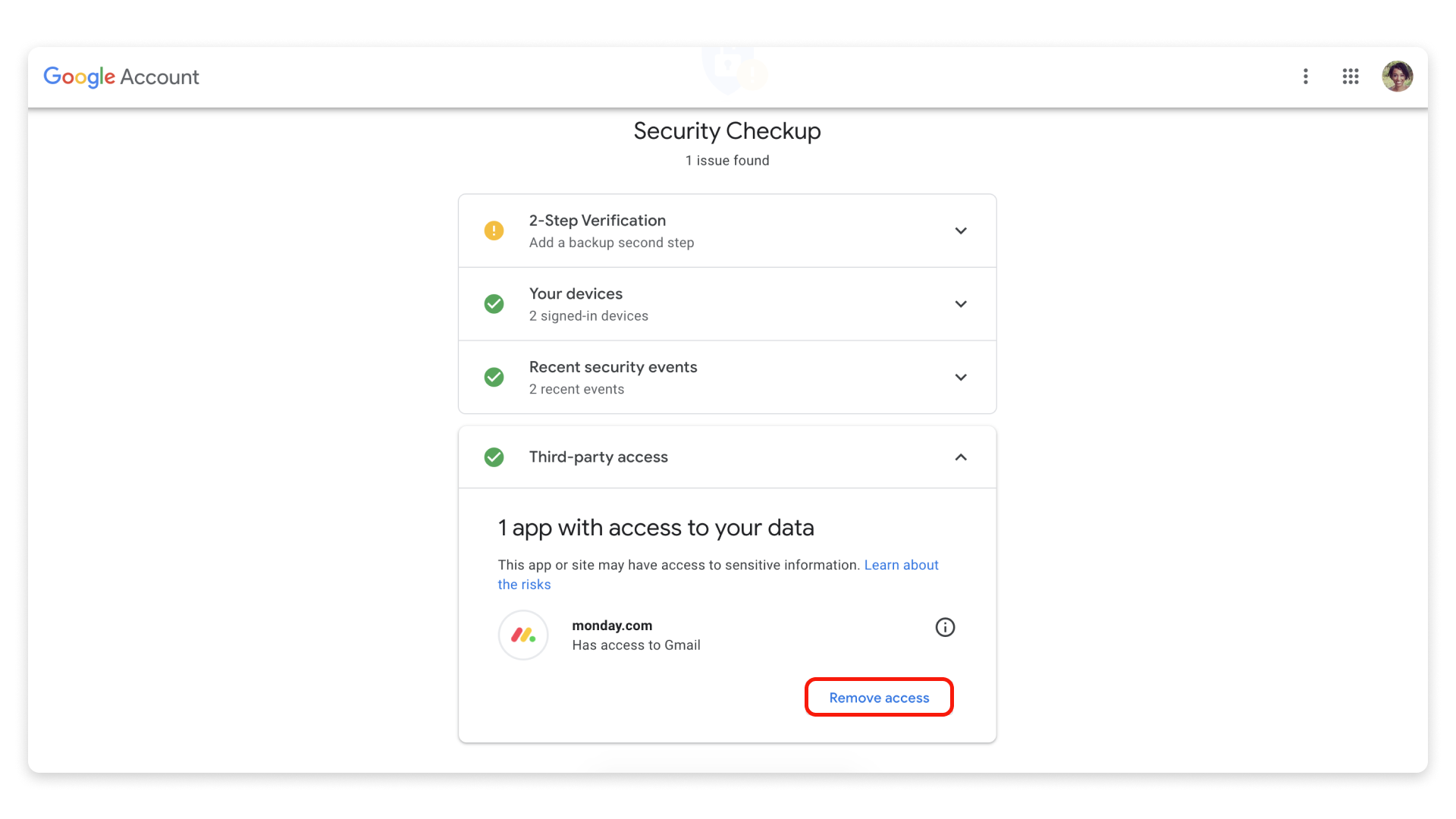 Follow these steps to revoke third-party access from your Outlook account.
Sending emails with the app is easy! To get started, select "New Email" from the top menu. If you have an Email Column on your board and it contains an address, that address will auto-populate in the "To" field. If you don't, no problem! You can send an email to any email address.
The app features a fully functional text editor for your emails. You can alter text and upload and attach files.
Type your message and hit "Send" to start the conversation. Any email you send from the app will show in your email program's Sent folder.
You will also see read receipts within the app, allowing you to track your email message after sending it. In the bottom right corner of any sent message, you'll see an eye icon with an indication of whether or not the message has been opened and how many times. Hover over the text to see when the message was opened: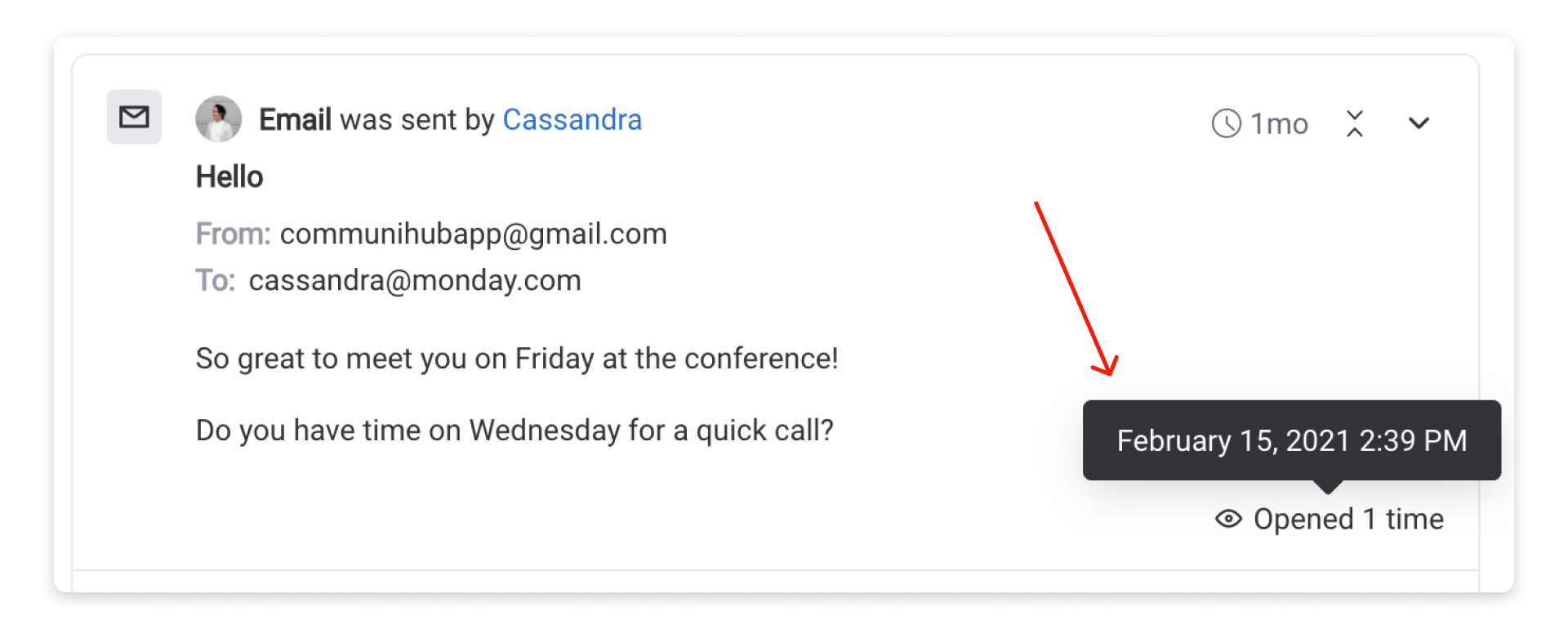 Replies will be received in the CommuniHub app! You won't be notified on monday.com about replies unless you set up an automation from the app's Email Settings. Replies will be stored within your email exchange as below: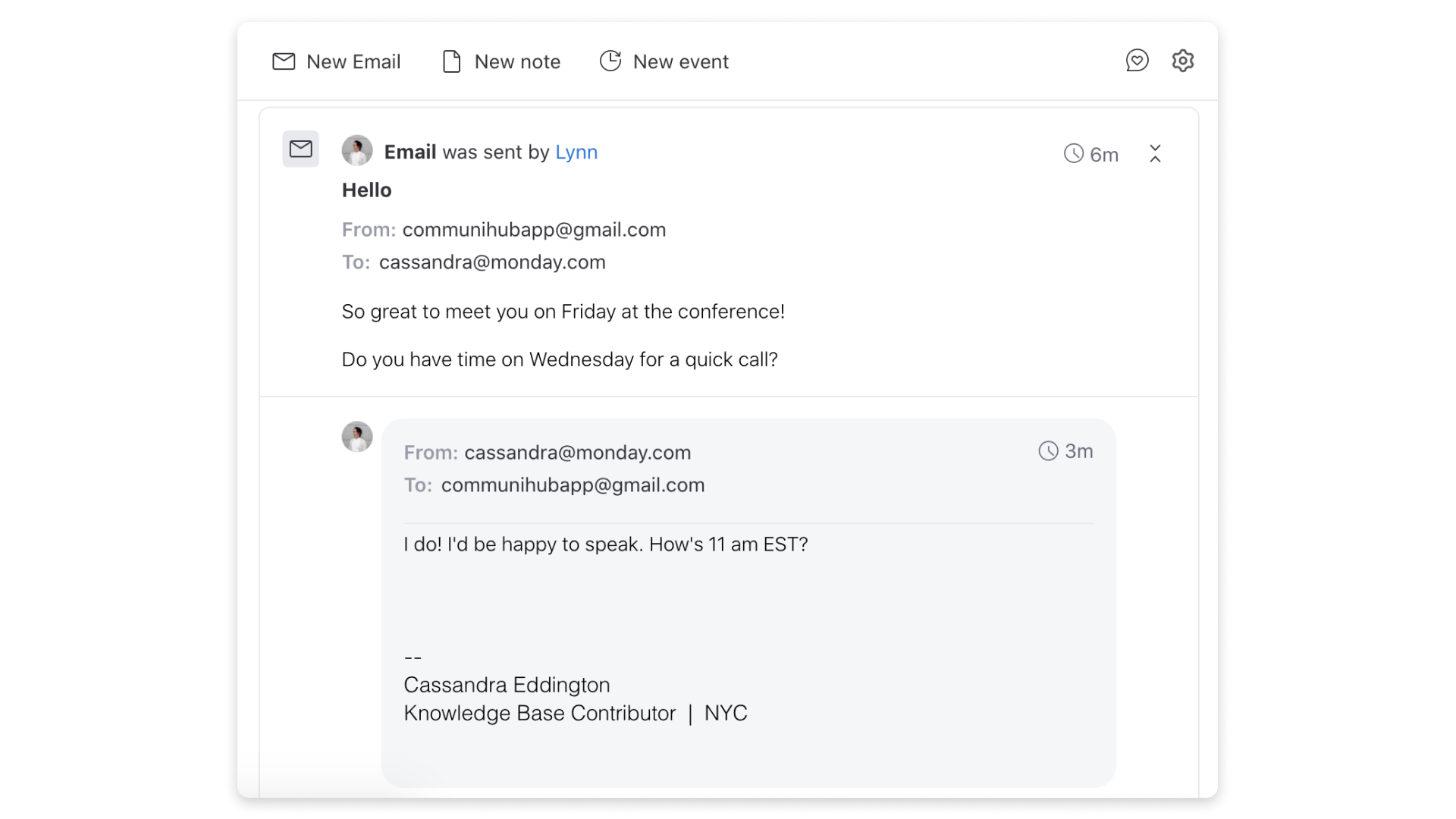 Any email you receive in the app will also be received in your email account (i.e. Gmail) Inbox.
To create a template, type in the body of the email that you want to save, open the three-dot menu to the right of the text editing options, and select "Save template". You will then have the opportunity to name your template and "Save":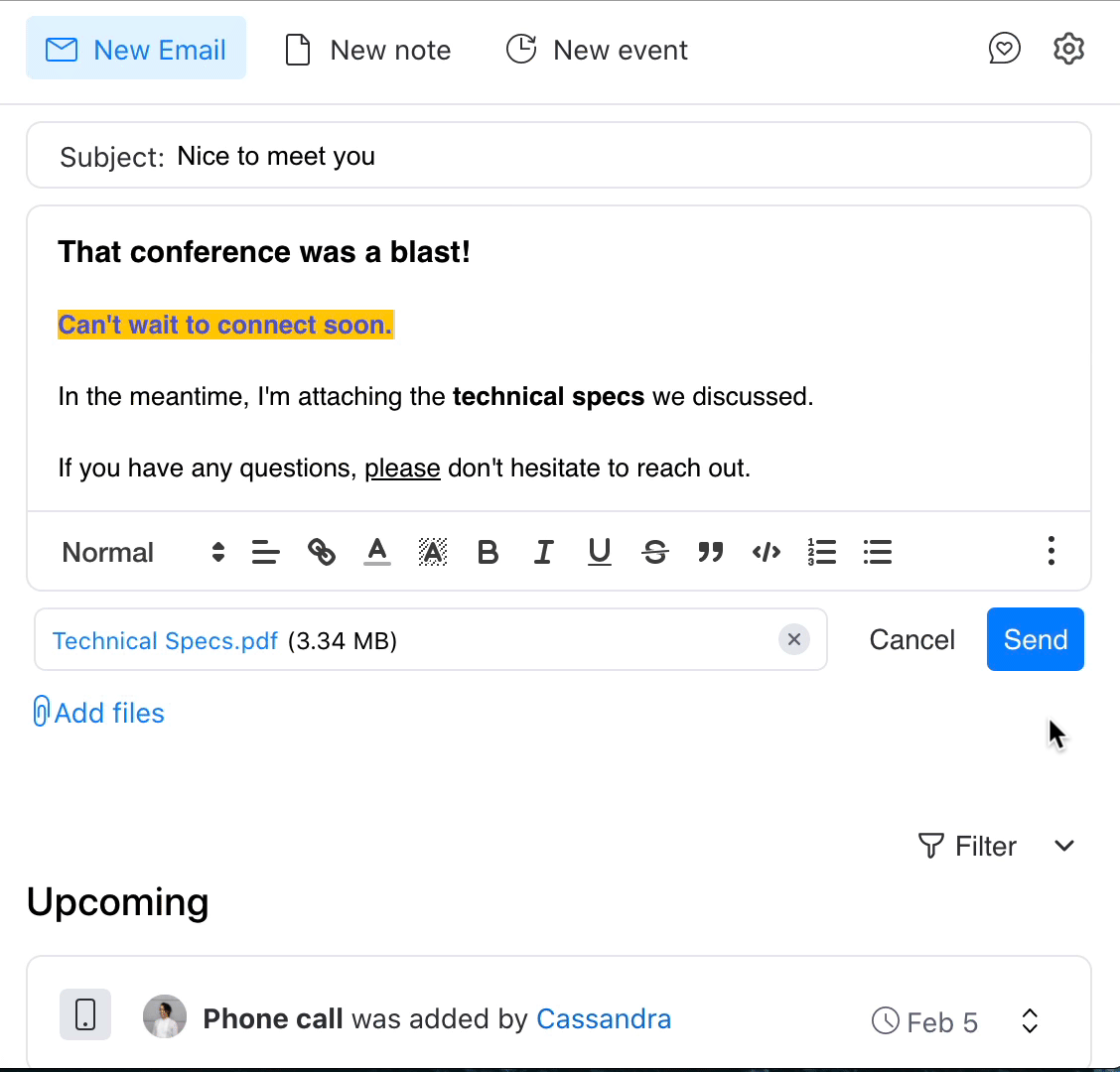 To use the template, create a new email, open the three-dot menu, select "Load template" and choose the name of the template that you would like to apply.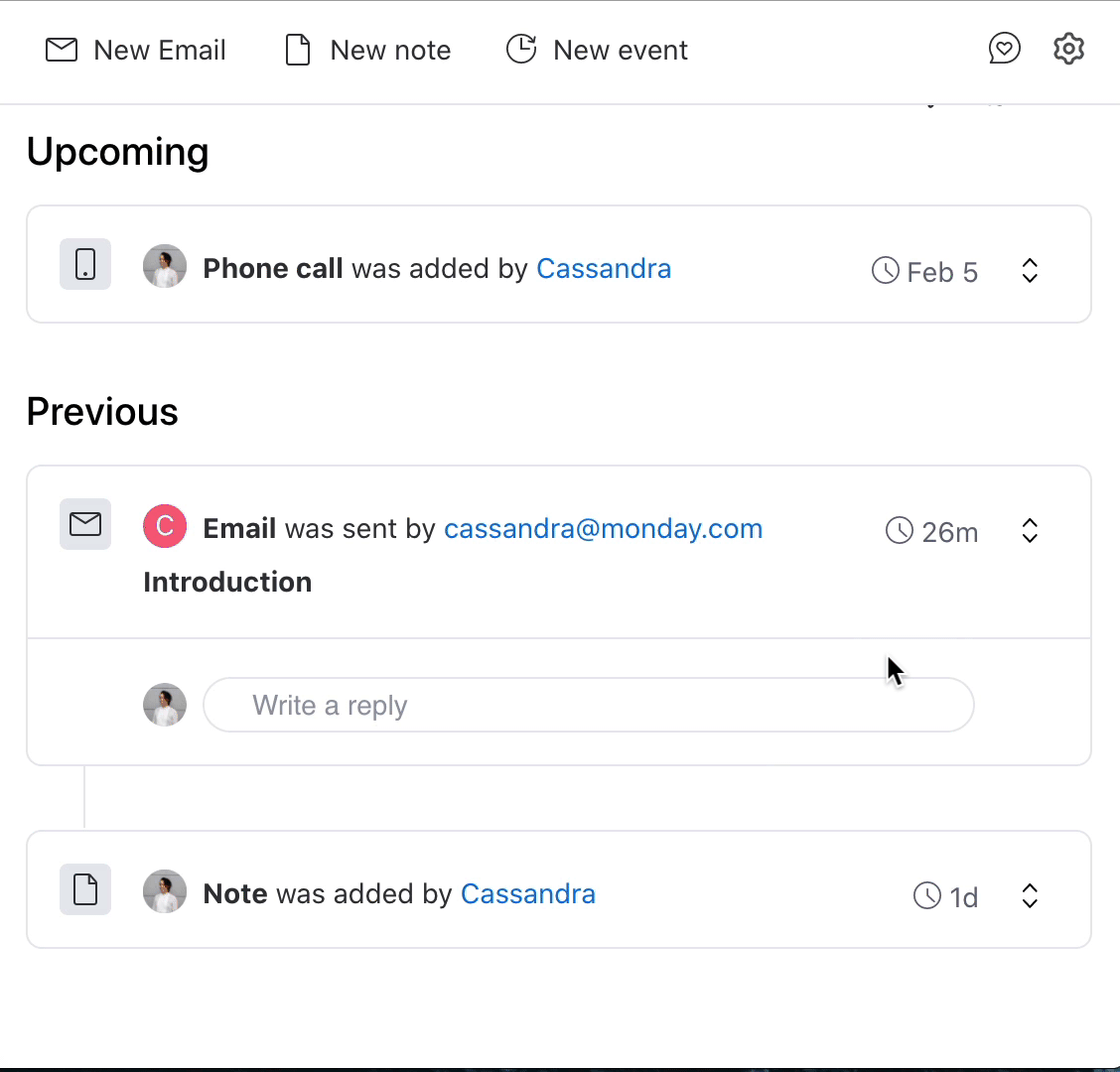 To access the email settings, click on the gear icon on the right-hand side of the app:
You will see six categories:
1. Capture outgoing emails with a BCC address
To log outgoing emails from your email program (i.e. Gmail) into the app, BCC the app email address when you send an email: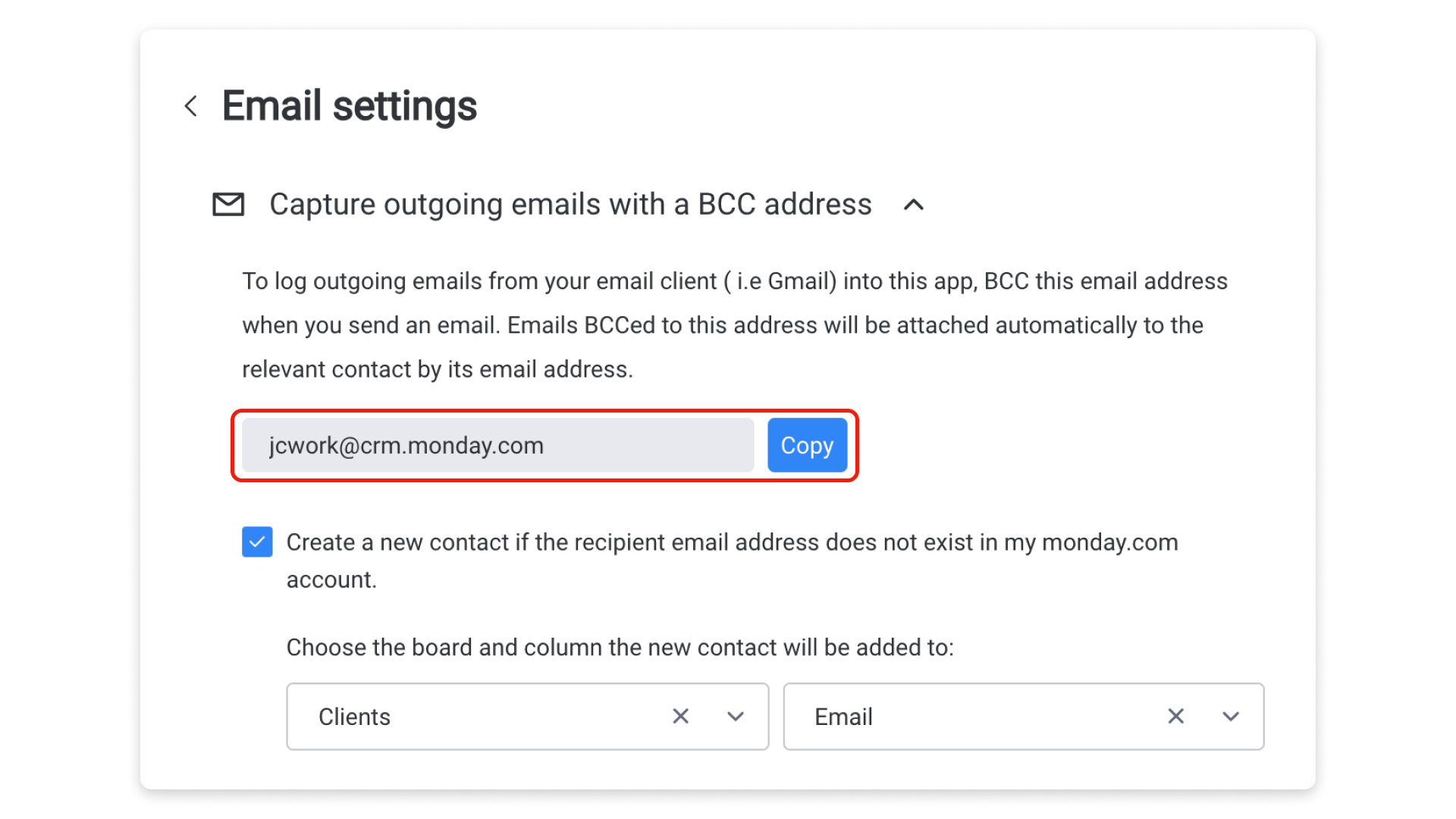 BCCed emails will be added automatically to the app. The app determines which item to log the email under by looking at the email address in the Email Column on your board.
If you choose to "Create a new contact if the recipient email address does not exist in my monday.com account", a new item will be created for each new email address that you contact only when the email is BCCed.
Create automations to save time, streamline your workflows, and get notified when new messages are received. Choose from pre-made automations or customize your own. When you click "Set up automations" you will be taken to this screen: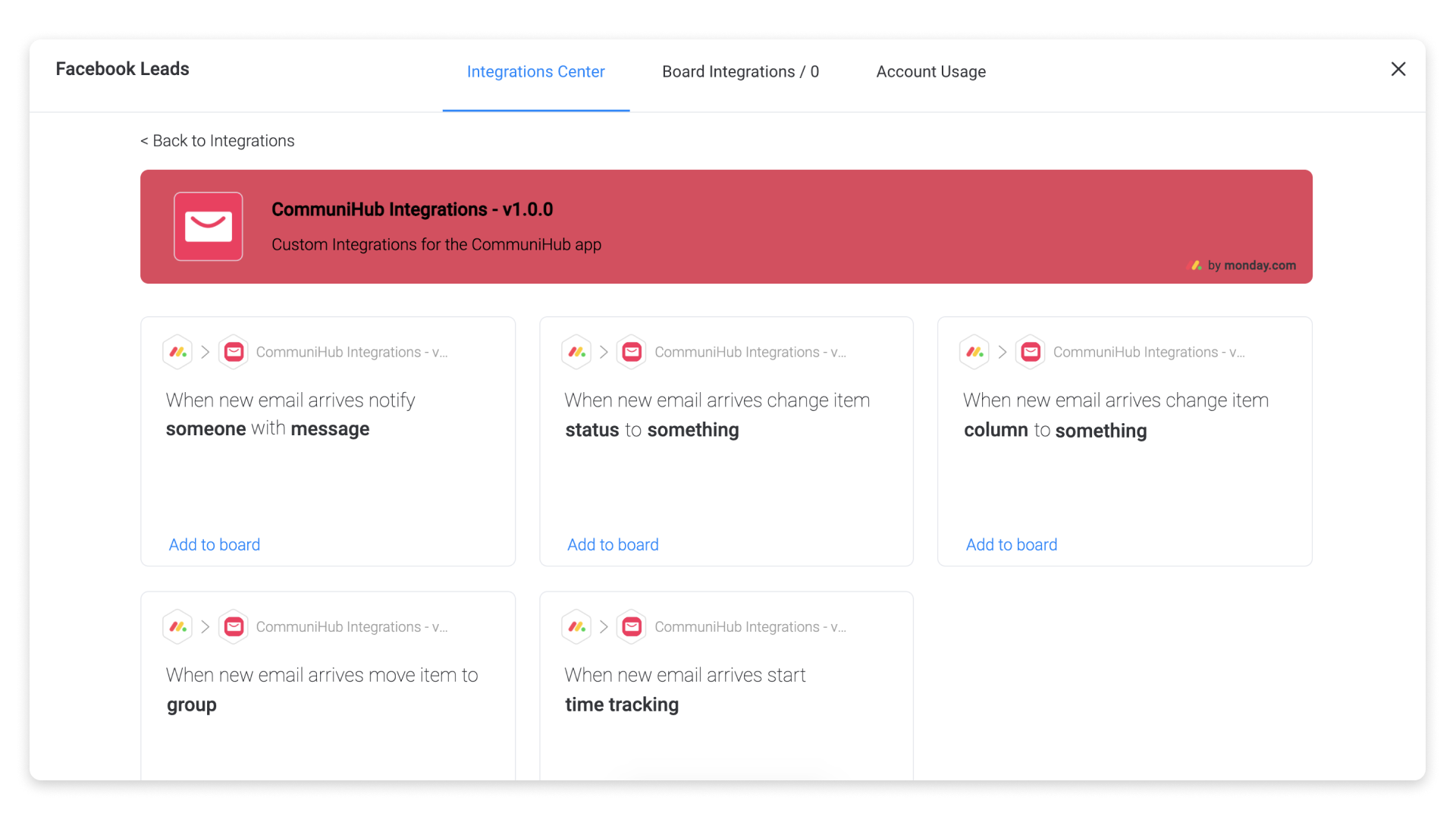 You can choose any of these recipes to make your communication seamless.
Share all of your conversations with others in your account. All aspects of your timeline will be visible to others.

Keep all of your conversations private. Conversations will only be visible to you.
By default, all of your conversations will be private. However, the Admin will still be able to see all conversations by any member of the account.
Click on the "Create signature" button to set up your email signature. When setting up your signature, you'll have the option to check or uncheck two boxes:
Check the box if you always want to show your signature when composing a new email.

Check the second box if you always want to show your signature when replying to an email.
By default, all emails you send from the app will have "Powered by monday.com" at the bottom of the email:

If you have purchased the Pro or Enterprise plan, you have the option to remove this branding from your emails. Check the box under this setting to remove all branding.
6. Never log
If you add an email address to the list under this setting, emails sent or received from the addresses you define will never be saved to your timeline. You can add as many addresses as you want to your "never log" list.
Schedule Events
You can use CommuniHub to schedule events and event reminders! The app makes it simple. Read on to learn more.
Choose "New event" from the app menu. There are several event types to choose from-- you can schedule a phone call, a meeting, a task, or other. You also have the option to adjust the date and time for any event:
When you create your first event, a board will automatically be created in the main workspace of your account. This board will be called the "Activities board" and will be visible to all members of your account by default. Using this board, each person can filter and track their upcoming events, create reminders, and generate reporting.
The board will look like this:
The event description will appear as the item name and the person who created the event will be assigned as the "Owner" of the item.
The "Due date" will reflect the date and time you input for the event.
The "Status" column label will be "Open" if the event is upcoming and "Done" if the event has passed.
The event type will appear in an additional Status Column.
To learn more about your options for creating reminders using this board, check out this article.
Log Notes
Log notes from meetings and phone calls to keep track of your evolving relationships. All notes are internal, meaning that only you and your teammates can see them.
To log a note, select "New note" from the app menu and start writing: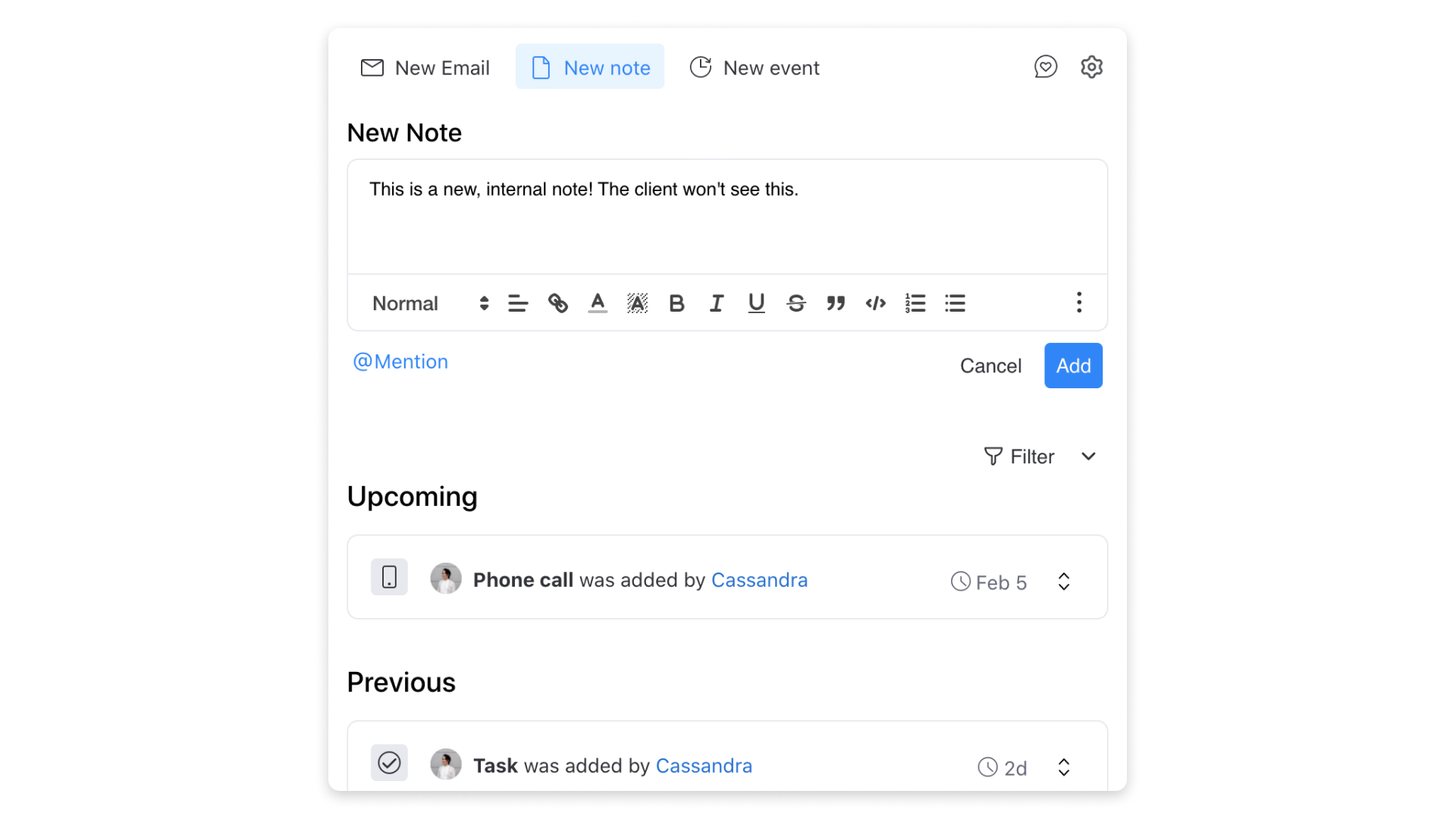 Click "Add" to add the note to your timeline.
Tip: Be sure to click on "New Note" and not "New Email" to avoid any client-facing mishaps! 😄
Navigating the timeline
You can view your timeline by scrolling past the email, note, and event generating icons at the top of the app. Your timeline will be broken down into two parts: "Previous" and "Upcoming". Any email or note will be in the "Previous" section. Any event that has been scheduled for a future date will be in the "Upcoming" section: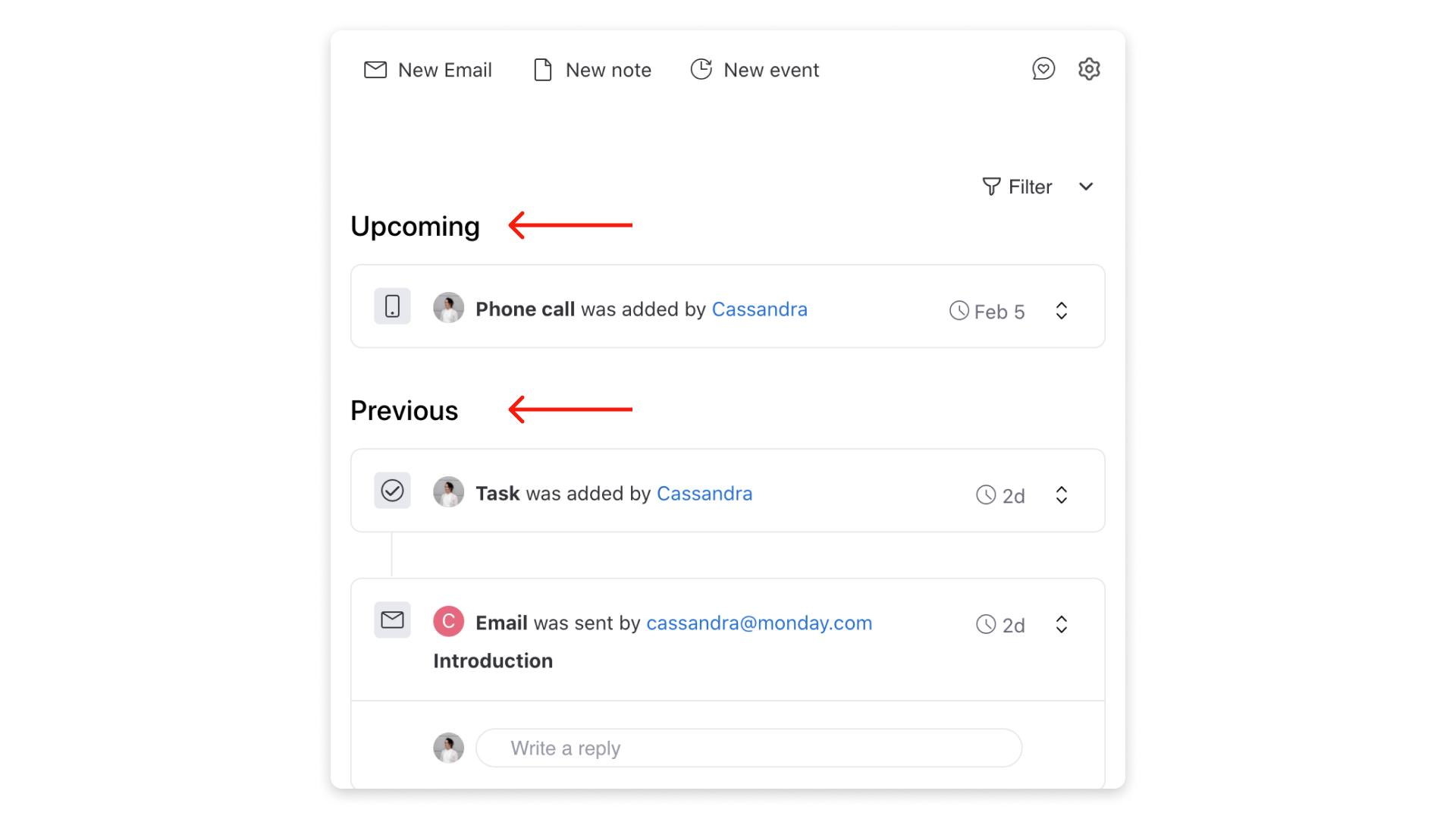 You can filter the timeline to only see the emails, notes, or events that interest you. You have the option to choose a date for your filter. You can also choose multiple filters to see, for example, all emails sent by you since a given date.
If you'd like to reset the filter, choose "Clear" to clear your selections.
App Settings
The app has three settings. You can find these under the three-dot menu on the right-hand side.
If you'd like to see this view first when opening the Updates Section, choose the Set Default View option. If you'd like to remove this app as the default view, return to this same menu.
Feedback
If you have feedback about the app, we'd love to hear it! You can submit your thoughts here.
And if you have any questions, don't hesitate to reach out to us at support@monday.com. We're here for you and happy to help! 😁